If you are planning a trip to Turkey, our 2 week Turkey itinerary will help you plan the perfect trip. Turkey is a large country, but if you have 14 days in Turkey you have time to explore many of the country's most famous highlights.
Our suggested 2 week Turkey itinerary includes visits to Istanbul, Cappadocia, Antalya, Fethiye, Pamukkale, Kuşadası, Ephesus, Troy, Çanakkale, Gallipoli, and Ankara. You'll have time to explore Turkey's most cosmopolitan cities, marvel at its ancient archaeological sites, relax on its beaches, shop at its traditional bazaars, visit several UNESCO World Heritage Sites, and enjoy its scenic landscapes. The detailed day-by-day itinerary covers some of the most famous and iconic places in Turkey as well as some lesser known spots.
Each day we provide a range of suggestions for what you might want to do to suit just about any person's travel style, budget, and tastes. Activity suggestions include hot air ballooning, food tours, hiking, museum visits, boat trips, cable car rides, art tours, Turkish hamam experiences, watching the sunset, cultural performances, and enjoying the local night clubs.
Laurence and I have visited Turkey several times and wanted to share this 14 day itinerary to help you plan your own trip. With 2 weeks in Turkey, you can see and do a lot, but you do need to be choosy as Turkey is a big country with lots of interesting attractions!
This itinerary can work no matter how you plan to get around Turkey. We have provided advice for those planning to travel by bus, car, train, plane, or as part of a guided tour. If you are thinking about booking a tour, we also give some recommendations for tours of Turkey that are similar to our itinerary.
Our 2 week Turkey itinerary includes day-to-day transport details, sightseeing highlights, activity options, and lodging recommendations. In addition, we've also included loads of tips, advice, and recommendations to help you get the most out of your Turkey vacation!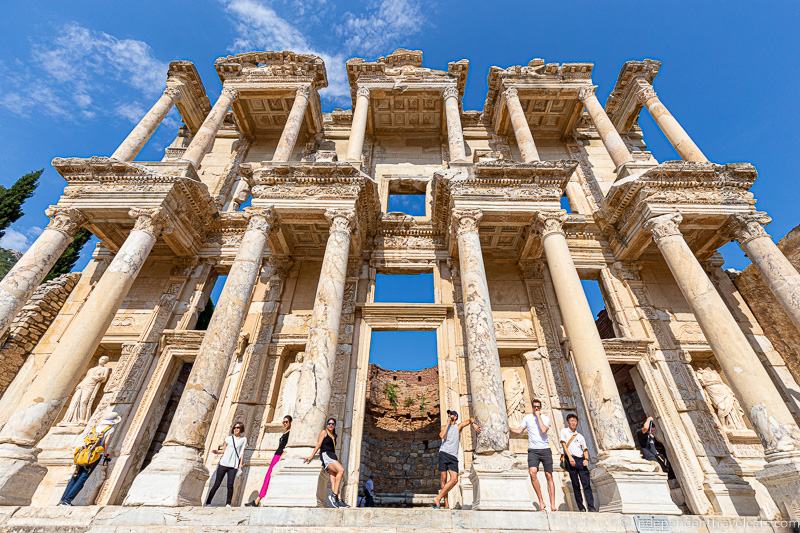 Preparing for your Trip to Turkey
Before we share our suggested 2 week Turkey itinerary, we wanted to share some tips and advice and answer some frequently asked questions about planning a trip to Turkey.
These include travel basics like knowing the local language and currency, the best time of year to travel to Turkey, how to get a visa, how to budget for your trip, and the best ways to get around Turkey.
The most important things you need to decide before planning out your itinerary is when you plan to visit, how long you plan to visit, and how you plan to get around the country.
Best Time of Year to Visit Turkey?
Turkey is a year-round travel destination. Generally, the months that are considered the best months to visit Turkey are April, May, September, and October. They are months when it is warm but not super hot outside.
The summer months of June through to August are often very hot in most parts of Turkey and can make it uncomfortable to spend long periods of time exploring outdoors. So be prepared for the sun and heat if you visit during the summer.
The busiest time of year to visit Turkey is from April to September. So if visiting during this period, just note that places will be busy. So expect crowds at the most popular sites.
The least busy times of the year are the winter months. If you don't mind a bit of cold weather, you might consider traveling between November and March. Just note that these also tend to be the windiest and wettest months as well as the coldest. Also some attractions in Turkey are seasonal and may be closed for part of this period.
It should also be noted that Turkey is a large country so the weather in Istanbul may be very different than that of Antalya, Bodrum, Ankara, or Kars at the same time of year. So best to check average temperatures and weather for the specific places in Turkey you plan to visit.
We've been to Turkey at many different times of the year, and for those who don't love hot weather, we'd definitely recommend against visiting in the summer if you can. The spring and autumn are definitely ideal for temperature.
We have also visited in late November and early December and found it cool but pleasant and crowds were much more manageable. But you do need to be more prepared for rain and bad weather.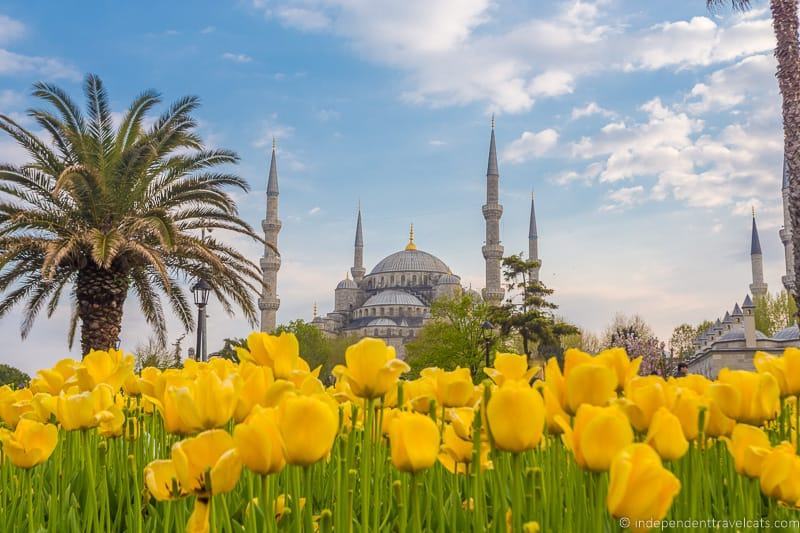 How Much Does it Cost to Visit Turkey?
Turkey is a relatively inexpensive country to travel to and it is easy to find affordable lodging, food, clothing, and transportation.
In Istanbul, you can pay USD $8.00 for a hostel bed or you can pay USD $500 for a luxury hotel room. Turkey can be a great destination for budget, mid-range, and luxury travelers alike.
If you are traveling on a budget, you can easily travel in Turkey for very little. You can get a bed in a hostel for under USD $10 and meals in inexpensive restaurants for under USD $5.00. Bus fares and train fares are also inexpensive. Even domestic flights are generally reasonably priced, especially if you book in advance.
To find out an idea of the current prices for things in Turkey we recommend checking out a site called Numbeo. Here you can check for the average prices of basic goods (bananas, taxis, gasoline, restaurant meals, wine) in Turkey or check on prices of goods for a particular city (see here for Istanbul).
Although most things in Turkey that travelers are likely to be purchasing are inexpensive compared to say the USA, Canada, Australia, and Western Europe, imported goods are often the same price or more expensive. This includes imported grocery items, electronics, alcohol, and cars. Fuel can also be expensive.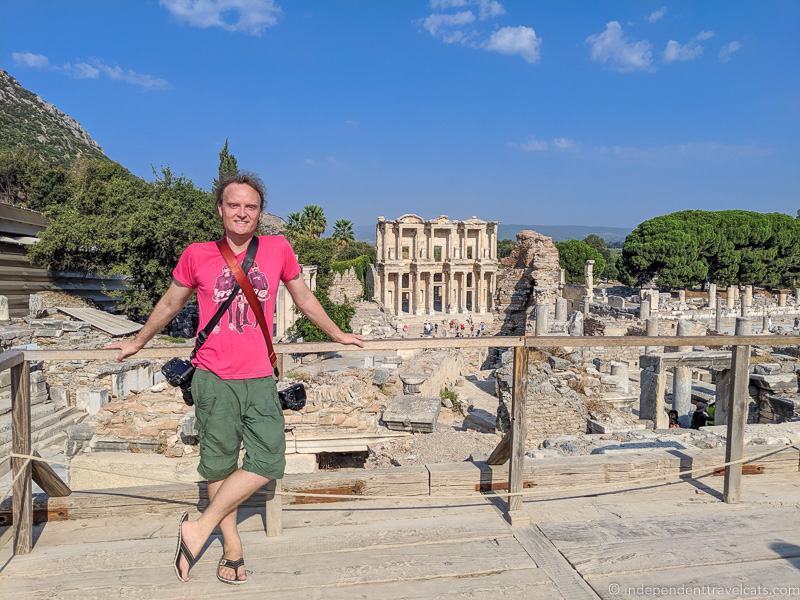 Turkey Travel Practicalities?
Turkey, officially the Republic of Turkey, is a huge country of over 75 million people and its capital city is Ankara. The largest city is Istanbul. Turkey straddles Europe and Asia and is a place where eastern and western cultural practices mix.
Here are some things you should know about Turkey before your trip.
Language in Turkey
The official language is Turkish and that is the first language of most Turks. Many people in Turkey also speak Kurdish.
You'll find English speakers in the larger cities and in all the main tourist hot spots; however, most Turkish people speak little or no English. If you are planning to travel independently, it is a good idea to have a Turkish-English phrasebook or translation app with you.
Religion in Turkey
There is no official religion in Turkey but the vast majority of the people are Muslim, with Sunni Islam being the largest sect. However, it is common to also see Christian and Jewish places of worship.
It is important to follow local customs regarding modesty and dress when visiting religious places. Both men and women are asked to dress modestly and you may also be asked to remove your shoes. Women will be asked to cover their heads.
We recommend that women always carrying a scarf or travel wrap with you to cover your head and shoulders as needed.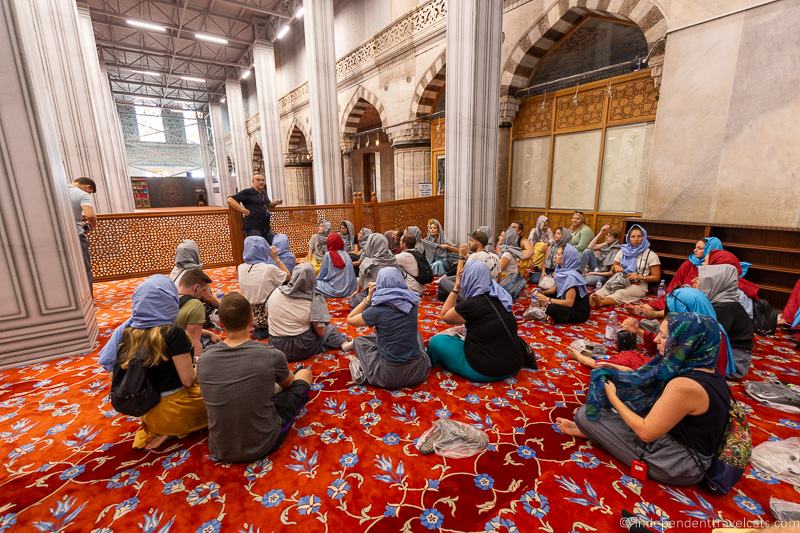 Electricity in Turkey
In terms of electricity, Turkey operates on 220 volts / 50 Hz and uses round-prong Type C or Type E plugs that fit into recessed wall sockets. If your devices do not have Type C or Type E plugs (common in many European countries), you will need to take some plug adapters such as these ones.
If you are traveling from a country with 120v voltage (such as the United States or Canada), you will want to make sure to only bring electronics that will support 220v voltage, or you'll need a separate voltage converter. You can see more in our guide about choosing a travel adapter for travel.
Currency in Turkey
The currency used in Turkey is the Turkish Lira (TRY). Credit and debit cards are widely accepted in Turkey, with Mastercard and Visa being the most commonly taken.
However, many small businesses, street vendors, taxi drivers, and market sellers do not take credit cards. You also will need cash for tipping. So it is always wise to have liras on you when traveling.
The best way to get liras is from a local ATM once you arrive in Turkey. But you can also get them from a currency exchange bureau or bank before or during your trip. You can check the current exchange rate here.
Drinking Water in Turkey
There are mixed reports about whether the tap water is safe to drink in Turkey. The tap water in some areas is considered safe to drink but not in other areas. So it is generally recommended that travelers do not drink tap water in Turkey. However, the water is considered safe for bathing and cleaning.
Although bottled water is available everywhere, the environmental impact of these plastic bottles is terrible. So we recommend instead that each person takes a reusable water bottle along with a water filtration system or purification tablets. Then you can fill it up with tap water from just about anywhere.
We use the LifeStraw water bottle and it not only filters out any bacteria and dirt, but also filters out chlorine and other chemicals that cause the water to taste bad.
Getting Online in Turkey
Wireless Internet is freely available at most hotels and other types of accommodation in Turkey. So that can be a free way to stay in touch and get online. If you want to be able to use your phone's service, you might want to consider getting a local SIM card.
If it is important for you to be able to get online easily during your trip, you might consider taking along a mobile hotspot. On our last 2 week trip to Turkey, we used a mobile hotspot from MyWebspot and it worked very well.
You can read our guide for more tips on staying in touch and using the Internet while traveling. For those concerned about online safety, we also recommend using a VPN while traveling in Turkey if you plan to use WiFi.
Safety in Turkey
Turkey has generally been considered a safe country for travelers. However, you should always check the latest travel advisories in your country and those issued in Turkey
There has been a lot of unrest in countries neighboring Turkey, particularly Syria, and there has been noted instances of violence, protests, and fighting along its borders. So you will likely see some travel advisories advising against travel to some of the border areas.
As with any country, we always recommend protecting your valuables, protecting yourself against pickpockets, and being aware of your surroundings at all times.
The main thing we have experienced is that you need to be very careful when handing over cash or exchanging money. Be sure to carefully count what you hand over and say the amount out loud, and make sure you get the correct change back.
We've had a taxi driver in Istanbul scam us by claiming we gave them a much smaller denomination note than we did and would not give us back the correct change. We ended up paying about 4 times the regular amount for a taxi ride. We've heard similar stories from many other travelers as well.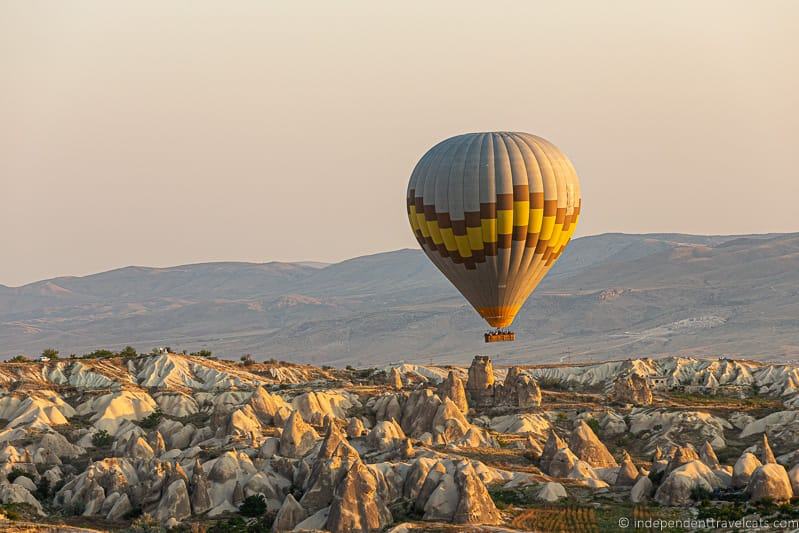 Do I need a Visa for Visiting Turkey?
Yes, most people, but not all, will need a visa to visit Turkey. Turkey has recently changed its policy so that residents of most European nations can enter Turkey without a visa.
You should check the current requirements for your particular country. Some countries may also have additional entry requirements.
Most nationalities that require a visa are eligible to apply for an e-visa in advance which is what we'd recommend doing. There are visa application places at the main ports of entry in Turkey but these can take longer and if your application is refused for any reason, you will be in a very undesirable situation. Best to apply and have it before you leave home.
With the e-visas, at most places the border patrol and authorities can check it in their system. But you will also want to bring along a digital and/or paper copy of your approved e-visa as well for back-up documentation.
How to Get to Turkey
Most visitors will arrive into Turkey via the international airport in Istanbul, but there are several ways to get to Turkey.
By Air
The main international airport in Turkey is the recently built Istanbul Airport in Istanbul. However, there are several major international airports in Turkey, including ones in Ankara, Mugla, Izmir, and Antalya.
There are direct or indirect flights to Istanbul from most parts of the world. The main airline operator in Turkey is Turkish Airlines.
By Car
It is possible to drive to Turkey via Bulgaria or Greece or to by taking a car ferry.
At the border you will need to provide a valid passport, visa (if needed), international driving license, vehicle license, international green card, vehicle registration details, and proof of insurance. Make sure your car insurance is valid for travel within all of Turkey. If the vehicle is not registered in your name, you may need a power of attorney document.
It may be possible to also enter by car from other countries to the east such as Iran or Georgia; however, the eastern borders are sometimes closed to private drivers and sometimes an authorized tour guide is required. Many rental car agencies will also not allow many of these border crossings. So do your research before your trip as it is often much easier to take a bus or train to make the crossing is there is one available.
By Bus
If you want to travel to Turkey by bus there are regular services between Turkey and several European and Middle Eastern countries. You can check bus routes and book tickets on BusBud.
By Ferry
There are ferry connections to Turkey for both cars and passengers, mainly from Greece and Cyprus.
By Train
Turkey has train links with eastern Europe and the Middle East; however, they are fairly limited and most trains are not daily so you will want to plan ahead. Wars and economic issues have closed a number of the long-distance international routes.
Currently, the two main places you can regularly get to Turkey directly by train are from Bulgaria and Iran.
If you are traveling in Europe by train and including Turkey in your trip, you will probably need to head to Sofia, Bulgaria and then connect to Istanbul via the Istanbul-Sofia Express train service. We took this train a couple of years ago.
If you are planning travel around Europe by train then you might want to consider a Eurail Global Pass (European rail pass for non-Europe residents) or Interrail Global Pass (European rail pass for residents of Europe). The Global Passes work for travel in over 30 European countries, including Turkey. The pass includes the Istanbul Sofia Express train service.
The most famous train service in the world, the Orient Express, once linked western Europe with Istanbul. It was a favored train by many famous writers, and we recommend taking along a book or two to enjoy if traveling by train.
A couple of novel suggestions include Murder on the Orient Express by Agatha Christie and Stamboul Train by Graham Greene. For a travel memoir, Paul Theroux writes about his experiences traveling by train in 1973 from Paris to Istanbul and from Istanbul to Tehran in his book The Great Railway Bazaar. He then retraces his train journeys over 30 years later in Ghost Train to the Eastern Star.
The terminus train station for the old Orient Express service is still there and once a year the Venice Simplon Orient Expres luxury train still makes this trip from Paris (or London) to Istanbul.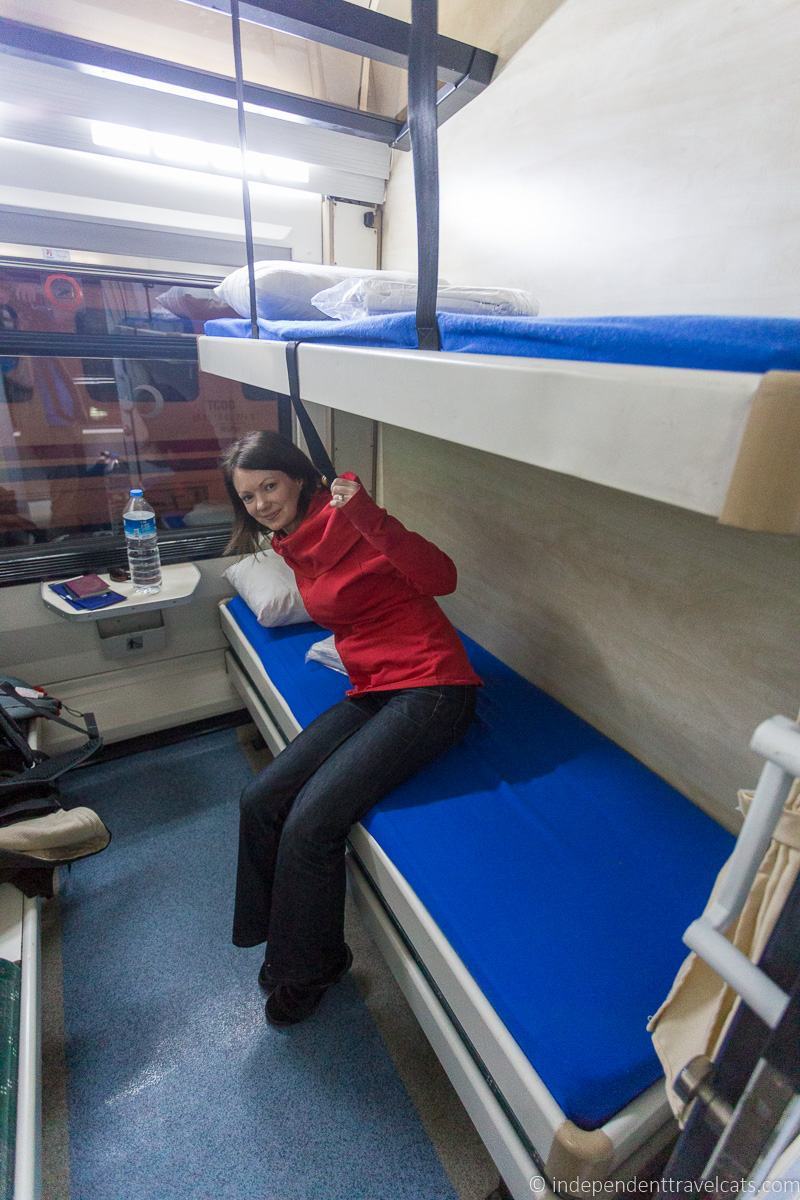 How to Get Around Turkey
You have a variety of options for getting around Turkey. These include traveling by bus, train, or plane, renting a car, or joining a guided tour.
The easiest way is to take a tour, where someone else handles all your transport, accommodation, and sightseeing. The cheapest is to travel by bus and train.
By Bus
In terms of public transport, Turkey has a good bus system which connects much of the country. There are both daytime and overnight buses, and there are usually a few services to choose from if you are heading to some of the more popular destinations, including those on our suggested itinerary.
There are several bus companies in Turkey. Many of the buses have amenities such as power outlets, WiFi, and onboard entertainment. Bus prices are very reasonable.
In places where the regular buses don't have a route (such as to suburbs or to tourist attractions located outside of a city) there are often dolmus that run in these areas. These are shared taxis or minivans that run a set route for a set price. Passengers can then get out of the dolmus at any point along its route by notifying the driver. See advice for using a dolmus here.
For most of the regular buses, you can check the routes and buy tickets online in advance. The best tool we've found for comparing timetables and booking bus tickets in Turkey is BusBud and you can check prices and book online here.
By Train
There is a train network in Turkey, but it is not as comprehensive as the bus network. However, it is sometimes faster to take a train than to drive or take the same bus route when it is an option. So while you can use it to get to some of the main travel destinations in the country, you will likely need to also use the bus.
The railway network in Turkey is run by the government-operated Turkey State Railways (Türkiye Cumhuriyeti Devlet Demiryollari or TCDD). This includes a network of long-distance, regional, commuter, and high-speed trains. You can check routes and buy tickets here.
If you are planning to take a few train journeys in Turkey then you might want to consider a Eurail Pass (European rail pass for non-Europe residents) or Interrail Pass (European rail pass for residents of Europe). You can get a Global Pass that works for 32 countries in Europe (including Turkey) or a Turkey Select Pass (only valid for Turkey). The Eurail and Interrail passes are valid on all trains in Turkey operated by Turkey State Railways.
You will probably find a combination of train and bus will be the optimal way to get around if you are taking public transport. Bus and train prices are often similar, so in those cases, you'll want to take whichever option is more time-efficient.
By Car
If you'd prefer to drive yourself, you can rent a car in Turkey. This can be a good way to get around if you want to have a more flexible itinerary and don't want to take public transportation.
To rent a car in Turkey as a foreign visitor, you will normally be required to show a valid passport and visa, have a valid credit card, a valid drivers' license in a Latin alphabet, and be age 21 or older (some age requirements may be as high as 27). If you don't have a driver's license in a Latin alphabet you will need to get an International Driving Permit prior to your trip.
The main roads in Turkey are in good condition and there are roadside services along the way. However, Turkey is known for a high number of accidents and bad traffic, especially in the cities. It can be a stressful experience for tourists not familiar with driving in Turkey. This is not to say you shouldn't consider renting a car in Turkey, just be aware of the situation, get insurance, and be prepared to drive defensively.
Many of Turkey's fastest highways and bridges have tolls. To drive any of these roads, you will need to first sign up for Turkey's high-speed toll system called Hizli Geçis Sistemi (HGS) and have an electronic toll payment device on your car. You can't pay the toll with cash or credit card at the toll booths. If renting a car, your rental car will likely come with the sticker and you should ask about it and any associated fees.
Just note that driving a car is generally the most expensive way to get around Turkey. You can often purchase 2 or 3 bus or train tickets for the cost of just the fuel between two cities. Given that drivers also have to take into account rental fees, insurance, parking, and highway tolls, driving a car is often even more expensive than flying.
Drivers should always keep local cash on hand as most of the tourist sites have paid parking fees and payment at some of these places is only accepted in cash.
You can rent a car in any of Turkey's main cities, and many people rent a car in either Istanbul or Ankara. If you want to rent a car, you can compare and check prices online here.
By Plane
Finally, as Turkey is a big place, there are a number of domestic flight routes which can help you to get between some of the major locations quite quickly. There are over 50 airports in Turkey.
Flights are relatively inexpensive if booked in advance, although they are usually more expensive than taking a train or bus. The main airline in Turkey is Turkish Airlines.
So flights can help you cover large distances in a relatively short time. Just don't forget to account for the time required to get to and from the airport and to check in and go through security. It is also important to think about the environmental footprint of taking numerous flights versus other modes of transportation.
However, airports are often located a fair distance from the tourism destinations so you will still need to combine flying with other modes of transportation such as a bus, train, car, taxi, or tour.
By Carpooling or Ridesharing
You can use carpooling or ridesharing services like BlaBlaCar to find rides in Turkey. However, given that the established bus network will get you to almost anywhere you need to go, that bus tickets are so inexpensive, and that carpooling is not that popular in Turkey means that you are probably better off using the bus (or train).
By Tour
One of the most popular ways to explore Turkey is to join a guided tour. We can definitely recommend it if you are considering a trip to Turkey similar to the one we suggest in this itinerary.
A tour makes travel in Turkey much easier. You don't have to figure out public transportation schedules or how to buy tickets, you don't have to spend long periods of time driving or figure out where to park, and everything is planned ahead for you.
The best thing about joining a tour is that you have a tour guide who can help explain all the things you are seeing and give you lots of great advice for places to go, dishes to eat, and things to see.
Many attractions in Turkey include very little posted explanations so having some sort of guide (whether a person, audioguide, or book) is important to get the most from your visit.
Private tours in Turkey with a guide are also possible and can be a good value for those traveling with a family or small group.
How Long Should I Spend in Turkey?
It really depends on what you want to do and see in Turkey. Turkey is a huge country and it would take months to see all of its highlights.
I would say an ideal amount of time for a first trip would be 10 to 14 days. This will give you plenty of time to get a taste of Turkey and see some of the country's most famous cities, historical attractions, and beaches.
Most first time visitors spend most of their time focused on the western part of Turkey and this is what we'd recommend. If you have 2 weeks, you can cover many of the highlights. If you have more time, or come back a second time, you can cover the lesser-known destinations of the west or expand your trip into the lesser-explored eastern part of Turkey.
For what to see with 2 weeks in Turkey, see our suggested itinerary below for an itinerary and day-by-day suggestions for what to see and do.
If you want to spend less time moving from place to place, you can easily just split your time between two places, for instance spending several days in Istanbul and then several days in another town or city, like Antalya, Fethiye, Ankara, or Izmir. You can spend time exploring the cities and take day trips to visit nearby attractions.
We've visited Istanbul several times now and still haven't seen everything the city has to offer!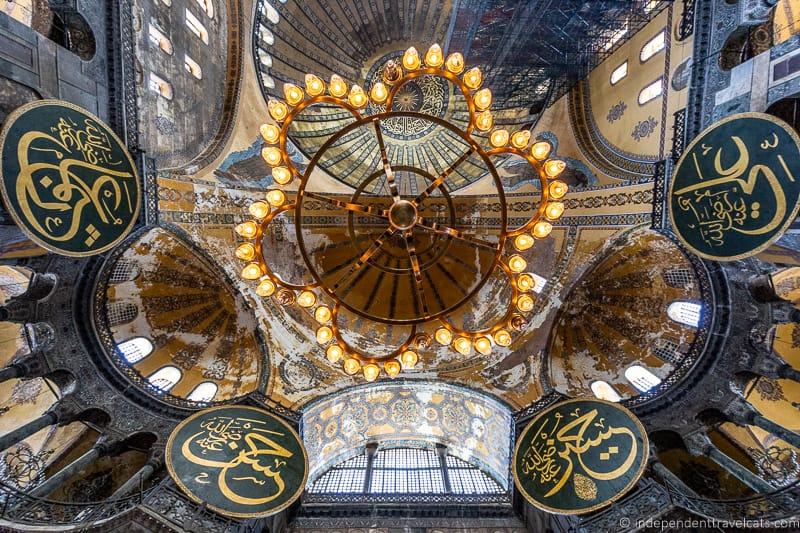 Tours of Turkey
Turkey is a big place and it is often a long distance between popular tourist attractions, resulting in quite large amounts of time transiting. While there is a fairly good public transport network and it's possible to hire a car, we think for many people a tour is the best way to get around.
This way you can let someone else handle all the logistics of your trip, from transport to accommodation, and you can just enjoy yourself and focus on the sightseeing
. It also means you don't have to worry about booking individual day trips for out of town sights, as most tours will already include stops at these attractions. You'll also get a tour guide for the duration who can help explain all the amazing things along the way.
You can also spend the time on the coach reading, chatting with your travel companions, catching up on sleep, or surfing the Internet rather than driving or negotiating public transit.
Turkey is a popular destination, and there are a huge number of tours to choose from, varying from a few days to a few weeks. Most are offered at a reasonable price, with lots of budget and mid-range options.
When choosing a tour, it's important to pick the style of tour that is right for you. Some tours are smaller groups, others are quite large. Some are geared to a younger traveler whereas others are more focused on a more mature traveler. Some include more time at historical and cultural sites whereas others may spend more time at beaches and seaside destinations. Check the comfort level of the accommodation and transport included.
It's also important to read what is included when comparing tours. For example, some tours might include all your entry fees and meals whereas others will allow you to choose whether you want to pay for those things or not. So don't just look at the price of the tour but also check what is and what isn't included.
A good tour company should also be able to give you an estimate of the costs for all the optional activities and attractions that aren't included, so you can budget accordingly.
For instance, we have taken a tour with Travel Talk Tours in Turkey and most of their budget-oriented tours work out to being about $50 to $80 per day per person for all inclusions, including transport, guide, attractions, meals, and lodging. You can read about our 12 day Turkey tour experience here.
We've put together a selection of tours of Turkey below which are quite similar to our itinerary, so you can pick a tour that is right for you. Most start in Istanbul but a couple start in Ankara.
As you can see, there are lots of tours to choose from so you can probably find a tour that suits your travel needs. You can also consider mixing independent travel with a tour as we find this a good way to enjoy some time sightseeing on our own (such as in Istanbul) and then taking a tour to explore further afield.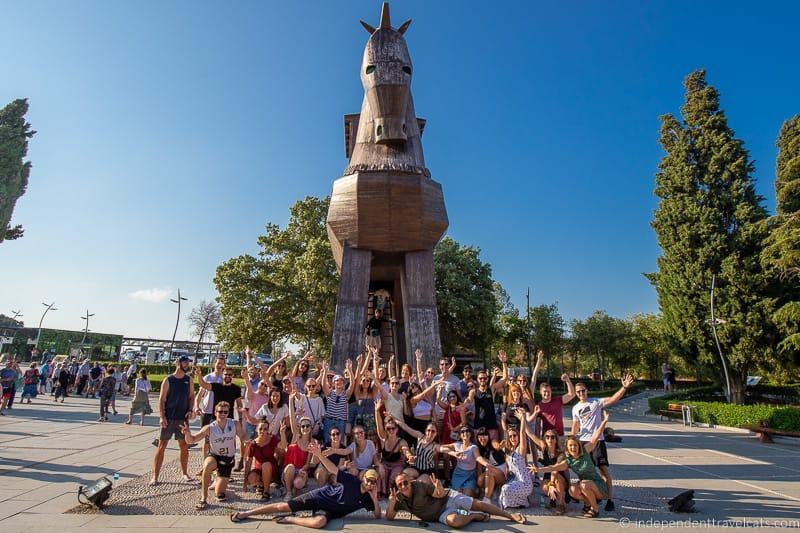 14 Days in Turkey Itinerary Summary
Here's a summary of our suggested 2 week Turkey itinerary to help you visualize what your two weeks in Turkey will look like:
Day 1: Istanbul
Day 2: Istanbul
Day 3: Gallipoli
Day 4: Troy & Kusadasi
Day 5: Kusadasi & Ephesus
Day 6: Pamukkale & Fethiye
Day 7: Fethiye
Day 8: Antalya
Day 9: Antalya
Day 10: Cappadocia
Day 11: Cappadocia
Day 12: Ankara
Day 13: Ankara
Day 14: Istanbul
2 Week Turkey Itinerary
The goal for this two week Turkey itinerary is to visit some of the many highlights the country has to offer.
Obviously, in a country with such a rich history, there's no way to see everything on offer in two weeks. In addition, Turkey is a big country, so you also will want to factor in distance and travel times.
However, we feel that this itinerary would make a great starting point for anyone planning to spend between 10 days and two weeks in Turkey. It can, of course, be tweaked and adjusted based on how much time you have and your own personal interests, but we hope it gives you some inspiration for your own trip.
If you are planning to book a tour, this 14 day Turkey itinerary can help you decide which destinations you want to make sure are included in your tour itinerary. For those not taking a tour, we give travel suggestions for those traveling by bus, train, plane, and car throughout the itinerary.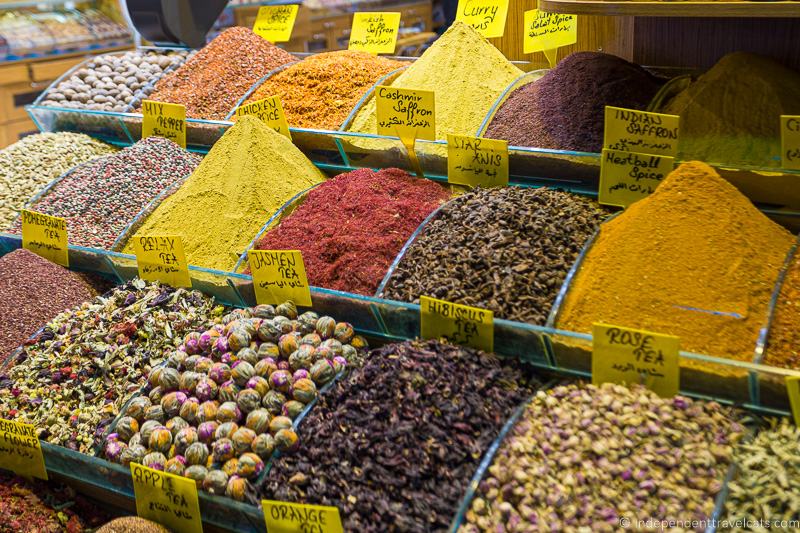 Turkey Itinerary Day 1: Istanbul
We think the best place to start (and end) your trip to Turkey is in Istanbul. The city has the best international connections, especially by air, meaning it's easy to get here from elsewhere in Europe and further afield.
As an introduction to Turkey, Istanbul is also a great starting point. Known as the "bridge" between Europe and Asia, the city is literally split between continents. The Bosphorus Strait separates Europe and Asia, and Istanbul spreads across both sides of this divide.
Istanbul is the largest city in Europe by population; however, it's not the capital of Turkey—that would be Ankara. Founded over 600 years before the birth of Christ, Istanbul has literally seen the rise and fall of empires. It is a city that has been known by many names over the centuries, including Byzantium and Constantinople.
In terms of what to see when you're in Istanbul, two full days will let you see many of the highlights, but it will definitely leave you wanting more! So you will want to prioritize what you want to do and see most in the city.
We'd suggest that you spend your first full day exploring the most famous of the historical sites and attractions in Istanbul, most of which are part of the World Heritage Site in Istanbul. Most of the main historic sites in Istanbul are located in the Sultanahmet area of Istanbul within the Fatih district which is where we recommend you start.
Some of the highlights you might want to visit in this area include the 6th century Hagia Sophia (Ayasofya), the 17th century The Blue Mosque (officially the Sultan Ahmed Mosque), Topkapi Palace, the ancient Hippodrome of Constantinople, the Basilica Cistern (Yerebatan Sarnici), and the Istanbul Archaeological Museums. A bit further away is also the impressive 16th-century Süleymaniye Mosque which is well worth a visit if you have the time.
These sites are all relatively close together and are easy to visit on foot, although taxis, public buses, and sightseeing buses are also options. As you visit these sites and wander the streets of the Old City, you will be taking a journey across thousands of years of history, including the Roman, Egyptian, Byzantine, and Ottoman periods!
You'll also want to make time for a visit to the Grand Bazaar, which began in the 15th century and is one of the largest and oldest covered markets in the world. Here you can buy a lot of things, including ceramics, lanterns, rugs, clothing, tea, jewelry, and books. But do be careful of what you are buying as you'll find everything from locally handcrafted rugs and jewelry to cheap Chinese made souvenirs, so price and quality varies widely.
Another market you might want to visit is the Egyptian Spice Bazaar, or Misir Çarsisi, which is another large market in Istanbul. Vendors here are known primarily for selling spices, but you can also find sweets, tea, dried fruit, Turkish delight, souvenirs, etc.
If you are looking for a guided walking tour of the historical area of Istanbul, there are several tours you can join that cover all the highlights of the historical area of Istanbul. A few options include this full day tour with lunch, this small group highlights tour, and this customizable private tour.
After a day full of sightseeing, we recommend ending your day with a relaxing Turkish dinner at a local restaurant or consider a sunset cruise on the Bosphorus Strait.
A cruise on the Bosphorus allows you to truly appreciate the incredible size of the city. The Bosphorus separates the European and Asian parts of Istanbul so you will be floating along the continental divide. Many of the cruises include dinner and entertainment, such as this cruise and this one.
Where to Stay in Istanbul
We suggest staying in or near the old part of the city (the Sultanahmet neighborhood in the Fatih district) for easy access to the city's most popular sights.
Here are some accommodation options to consider in Istanbul across a range of budgets. Istanbul has a huge number of properties to choose from and prices are very reasonable.
If you are looking for a self-catering stay, options include these apartments in the Fatih district on Booking.com and these Fatih district apartments in Istanbul on Vrbo. If you are not finding what you want, you can see this list of apartment booking websites.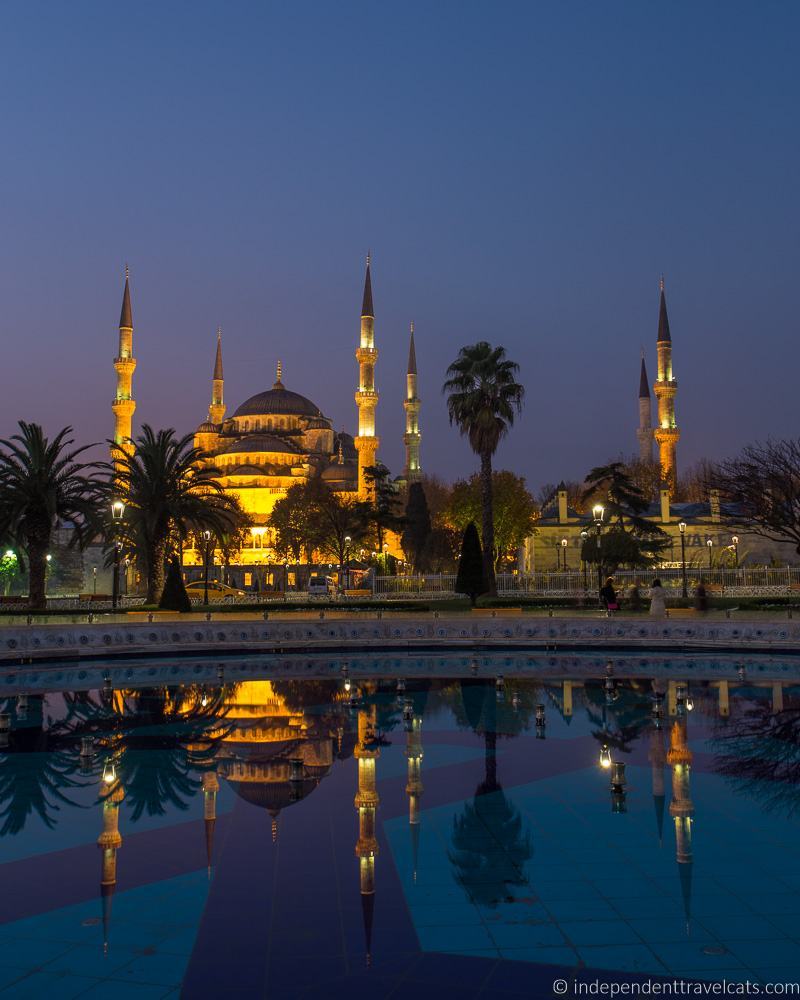 Turkey Itinerary Day 2: Istanbul
For your second day in Istanbul we recommend crossing across the Galata Bridge and exploring this part of the city. The Galata Bridge, which crosses the Golden Horn, is often seen as the link between the traditional and the more modern areas of Istanbul.
Highlights include the Galata Tower, a restored 15th-century tower that has an observation deck on top, enjoying the European style buildings and shopping along the picturesque Istiklal Avenue (Istiklal Caddesi), and the Taksim Square area which features the Republic Monument and is a lively area for shopping and nightlife. There are a lot of art galleries and museums in this area including SALT Galata, Pera Museum, and the Istanbul Museum of Modern Art Museum.
We can also recommend visiting Dolmabahçe Palace, this beautiful 19th-century palace was once the home of the sultans as well as the first President of Turkey Mustafa Kemal Atatürk. It is the largest palace in Turkey and today is a museum.
If you are looking for a place to relax and have a coffee, you might want to make a stop at the cafe or tea lounge at the luxurious Pera Palace Hotel. The hotel is one of the most famous historical hotels in the city having such past guests as Agatha Christie. Or find a street cafe along Istiklal Avenue to people watch or wander over to a seaside cafe to enjoy the view over the water.
Or maybe you'd like to try a traditional Turkish hamam experience such as this one at Aga Hamami, which is the oldest hamam in Istanbul. Note that this is a traditional Turkish bathing practice, not a spa but it is a relaxing and cleansing experience.
Depending on what you want to do and see on this side of the bridge and how far you are willing to walk, you can explore entirely on foot or you can take public transit just about everywhere. Transport options include public buses, trams, taxis, and sightseeing buses. Or you can join a tour that includes transport.
For those on foot, note that Turkey has a lot of hills and there is a steep hill to get from the Galata Bridge to Istiklal Avenue. However, you can take the Tünel funicular that will take you up this incline. This is one of the oldest subway stations in the world.
If you are looking for a guide on your second day in Istanbul, this walking tour focuses on this area north of the Golden Horn, this small group art expert-led tour covers the main modern art museums and art spaces in this part of Istanbul, and here is a guided tour of the palace.
For your second evening in Istanbul, you might want to finish your day with an evening food tour, sampling some local nightlife, or a cultural event in the evening.
Those interested in seeing and sampling more of the local food scene in Istanbul may want to consider a food tour. There are several food tours in Istanbul to choose from such as this evening food trail tour and this small group food tour.
Those looking for an evening cultural performance might see what is playing at the local theaters, Süreyya Opera House, or see a Turkish dance performance or whirling dervishes show at the Hodjapasha Cultural Centre. Those looking for a more wild night out might want to check out the nightlife in and around Taksim Square or join a local-led pub crawl.
We then recommend spending a second night in Istanbul. This works well for those taking a tour, flying, or those driving themselves. However, those taking a bus may want to consider heading to Çanakkale today instead so you have more time to explore Gallipoli the next day.
How to Get to from Istanbul to Gallipoli
If you are not joining a tour in Istanbul, you have three main options for getting from Gallipoli from Istanbul. If you decide to take a flight or bus, you'll want to head to Çanakkale (or Eceabat) and then take a tour or find transport to the nearby historical sites at Gallipoli.
By Car: It is about a 186 mile (300 km) drive from Istanbul to the Gallipoli peninsula which takes about 4 hours. If you leave on the morning of your third day, this will give you time to stop and see the main sights in Gallipoli before overnighting in Çanakkale.
By Plane: The fastest option is to fly. Flights take around an hour from Istanbul to Çanakkale and are usually reasonably priced if booked well in advance.
By Bus: The bus journey is generally about 6 hours from Istanbul to Çanakkale, or a little less if you go to Eceabat. Check bus times and prices, and book online here. Depending on bus schedules, those wanting to explore Gallipoli may want to catch a late afternoon or evening bus on Day 2 to have more time to explore Gallipoli on Day 3.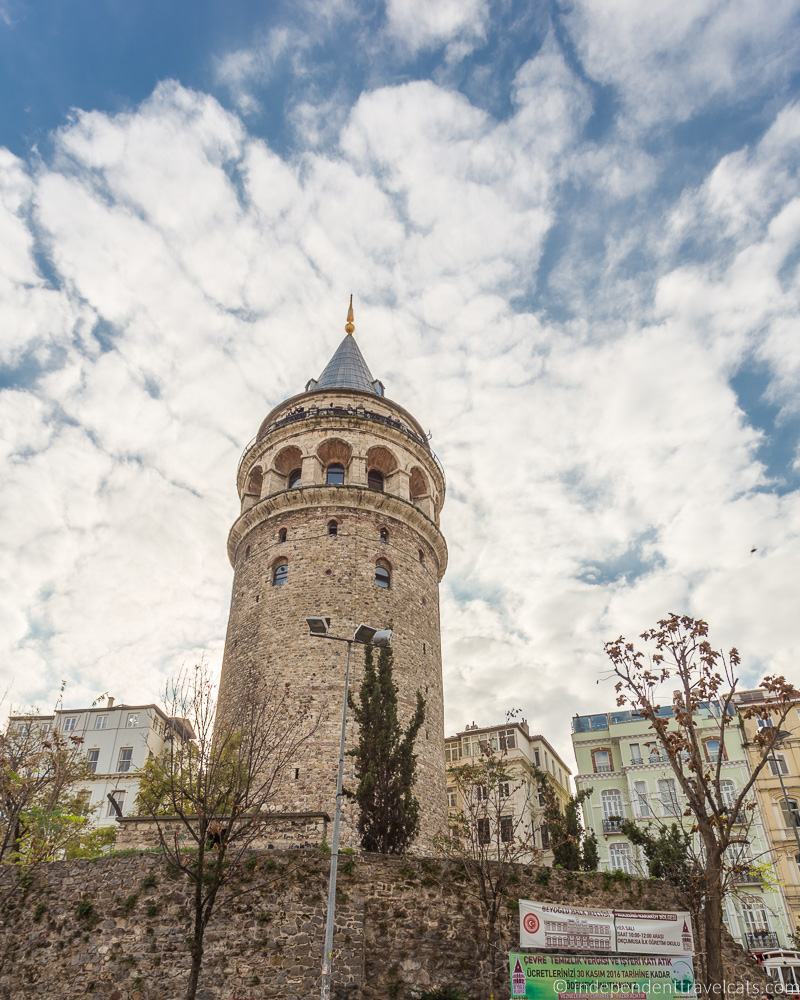 Turkey Itinerary Day 3: Gallipoli
Today we recommend leaving Istanbul after breakfast and heading southwest to the Gallipoli peninsula. The peninsula lies between the Dardanelles and the Gulf of Saros and is best known as being the location for the Gallipoli Campaign during World War I.
Most of the area is part of the Gallipoli Peninsula Historical National Park which was named a UNESCO World Heritage site in 1998. Whereas most historical attractions in Turkey date back thousands of years, this is a place where you can learn about more recent history.
On the Gallipoli peninsula in 1915, Allied Forces (which included British, Australian, New Zealand, Indian, French, and Newfoundland troops) mounted an ultimately doomed attack on the Ottoman Empire to try to capture Constantinople (now Istanbul) and take control of a vital supply route. After about 9 months of fighting and minimal gains, and with around 250,000 casualties on each side, the Allies withdrew.
The event was a huge disaster for the Allied war effort, and had lasting repercussions. For Winston Churchill, then First Lord of the Admiralty, his promotion of the failed campaign would lead to him having a demoted role in politics and the failure would haunt him for years. It would have been difficult for anyone to imagine him as a later wartime Prime Minister!
Turkey was at that time part of the Ottoman Empire and was fighting on the side of Germany. For the Turks, one of the army officers for the Ottoman defense at Gallipoli, Mustafa Kemal Atatürk, would later become the first president and founder of modern Turkey.
The Gallipoli Campaign was one of the most important events in the war to take place from an Australian and New Zealand perspective. The Australian and New Zealand Army Corps (ANZAC) were deployed, and like many of the countries involved, suffered heavy losses. The campaign is largely regarded as the trigger for the national consciousness of both countries, and to this day both countries formally remember their fallen on ANZAC Day (April 25th) each year.
For Australians and New Zealanders visiting Turkey, a trip to the Gallipoli peninsula is usually high on the priority list. However, we think this is a trip that should be of interest to anyone, regardless of nationality, in order to learn more about this event and reflect on the effects of war.
There are a number of places to visit across the Gallipoli Peninsula, including landing sites, memorials, and graveyards. A few of the more popular places for visitors include ANZAC Cove, Lone Pine Cemetery and Memorial, and Canakkale Martyrs' Memorial. What you want to visit probably depends on your specific interests and your nationality, and you can see a full list of the sites here.
There are also a few museums in the area that focus on the Gallipoli campaign, including the Kabatepe Promotion Center And Museum in Kabatepe, Salim Mutlu War Museum (Salim Mutlu Özel Harp Anilar Koleksiyonu) in Alçitepe, and the Gelibolu War Museum in Gelibolu.
If you want to know more about the battles that took place here, we recommend getting a book such as Gallipoli: The Battlefield Guide. We would definitely recommend some sort of guidebook if you are planning to explore on your own without a tour guide.
Expect to spend a few hours here. It is a challenging place to get around unless you have your own vehicle, and we would definitely suggest taking a tour if you don't have your own transport. There are a lot of tour options so it is usually easy to find a good value tour.
Here are some day tour options to consider, some also include Troy, which is on our itinerary for the next day.
Now if you have extra time in Çanakkale, there is a fortress (Çimenlik Castle), an enclosed market called the Mirror Bazaar, a few museums you can visit (Military Marine Museum, city history museum, and Ceramics Museum), and a harbor area you can stroll around where you can find the wooden Trojan horse from the 2004 film Troy starring Brad Pitt. There is also Kilitbahir Fortress located just across the strait.
If you are staying in Eceabat, you can also spend some time relaxing on the beach there.
Where to Stay in Gallipoli
We would recommend spending the night in either Çanakkale (a short ferry ride from the Gallipoli Peninsula) or Eceabat. Eceabat is slightly closer to the Gallipoli sites, but Çanakkale has more services and attractions.
If you are traveling by bus, you'll probably want to choose a place near the bus station.
It is easy to find good value accommodation in this area. Here are some options to consider at both locations:
How to Get from Çanakkale to Troy and Kusadasi
Your next stop of the trip is going to be Troy, after which you'll head south via Izmir to Kusadasi. If you happened to already visit Troy today, then you can skip that stop and head straight to Kusadasi.
If you are not taking a guided tour, you have a few choices today:
By Car: It's around a 30 minute drive to Troy from Çanakkale, and then a little over 5 hours down to Kusadasi. We'd suggest spending a couple of hours at Troy, and then aiming to arrive in Kusadasi mid-afternoon if you are driving yourself.
By Plane: You can do part of the day by plane if you wish as you can fly from Çanakkale to Izmir. However, you will need to take a bus, car, taxi, or tour to get to and from Troy and then from Izmir to Kusadasi. Those planning to fly may want to base in Izmir instead of Kusadasi.
By Train: Part of today's journey can be done by train as there is a train that you can take between Izmir and Selçuk (town next to Ephesus).
By Bus: There are regular buses (approximately every hour) from Çanakkale to Troy, the journey takes around 45 minutes. To head onto Izmir, you'll need to backtrack to Çanakkale or head to Ezine, and from either you can get a bus to Izmir (about a 5.5 hour journey). From Izmir, it is about a 90-minute bus journey to Kusadasi.
You might consider taking a local private or shared taxi (called dolmus) to and from Troy. Then connect to the intercity buses in Ezine or Çanakkale onwards to Izmir and Kusadasi.
Check bus times and prices, and book online here.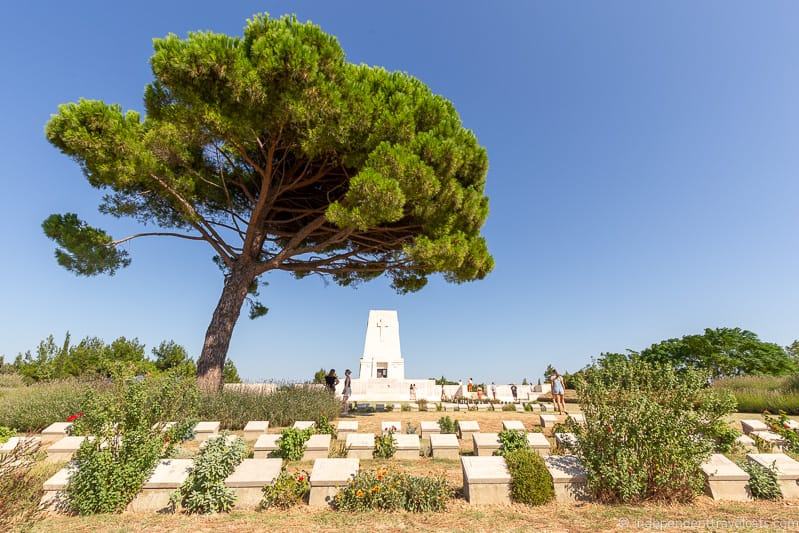 Turkey Itinerary Day 4: Troy & Kusadasi
For your fourth day in Turkey, you're going to visit the ancient city of Troy and then head down the western coast of Turkey to the city of Kuşadası. You may also want to make a stop in Izmir, along the way.
We recommend heading out straight after breakfast so you have time to explore Troy in the morning.
The first stop of the day is Troy which is only about a 30-minute drive south of Çanakkale. A city has been at this location known as Troy from around 3,000 years B.C. right up until about 450 A.D.
Of course, as it existed for almost four millennia, Troy saw a lot of changes in its time. In fact, there were in fact no less than nine cities on this location, which was favored due to its waterfront location. Reasons for its demise are unclear, but the fall of the Roman Empire was likely a factor in its final abandonment.
The main reason that Troy is famous today is that it was the main setting of Homer's Iliad about the Trojan War. This ancient Greek epic poem gave us the famous story of the Trojan Horse and the disastrous love triangle between Helen of Troy, King Menelaus, and Paris. The historical accuracy of the tale is highly debated but many historians do believe there was some sort of war and siege of Troy by Spartan and Achaean warriors in the 12th or 13th century BC.
The actual location of the ancient city of Troy was lost to history in the subsequent centuries. Later travelers and archaeologists searched for the location of the famous city and many believed it was somewhere in the Anatolia region of Turkey, particularly the Troad peninsula. It was Englishman Frank Calvert who would first excavate the hill at Hisarlik and find what is now believed to be the remains of the ancient city of Troy.
Whether the events of the Iliad took place here or not, UNESCO notes that the archaeological findings at Troy are the "most significant demonstration of the first contact between the civilizations of Anatolia and the Mediterranean world". Structures have been found at Hisarlik from a number of periods including the Bronze Age and the Roman and Greek periods.
Today, Troy is a protected archaeological site, a national historical park, and a UNESCO World Heritage Site. As a visitor, you can wander around and learn about the history of the place while seeing the various layers of the different cities. Naturally, there's a giant wooden horse you can take a photo of as well. The recently opened Troy Museum (Troya Müzesi ) holds a number of artifacts from the archaeological site. We're recommend allowing 2 to 3 hours to visit Troy.
From Troy you'll continue south along the coast to the city of Kusadasi. Along the way, you'll go through Izmir. Izmir is one of the oldest settlements in the Mediterranean, and was originally believed to have been settled in 6500 BC! It is now the third-largest city in Turkey by population.
Izmir offers lots of attractions and services. Some of the main tourist sites include the Roman Agora of Smyrna, the hilltop castle of Kadifekale (the "Velvet Castle"), the seafront and Kordon esplanade, Konak Square and its clock tower, several museums, and the Kemeralti shopping district. There is also a rich Jewish heritage here with several synagogues and other Jewish landmarks to be found here, especially in the Kemeralti district.
So Izmir may be a good place to stop and stretch your feet, and maybe visit an attraction or two. You could also decide to overnight in Izmir; however, our advice is to press on to Kusadasi as it's closer to upcoming highlights and also has its own attractions.
Kusadasi is a popular coastal town in Turkey, which offers a wide range of accommodation options as well as beaches and attractions. It is also very close to Ephesus, one of Turkey's most famous ancient ruined cities.
Today will be a long journey, regardless of your means of transport, so we recommend having a relaxing evening once you arrive in the Aegean seaside town of Kusadasi. Perhaps a stroll around town or a dip in the hotel pool, and then a nice dinner.
We recommend spending two nights in Kusadasi. However, those who are traveling by public transportation may also want to consider Selçuk (town next to Ephesus) as a base instead for the two nights as the transit connections are a bit easier there.
Where to stay in Kusadasi
Kusadasi is a popular resort town and there are a great many hotels to choose from, the majority of which offer excellent value. Most have pools and some are next to a beach.
Kusadasi is pretty spread out and we generally recommend staying within walking distance of the city center and seaside. Those traveling by bus will want to stay within walking distance of the bus station and bus stops. Some options to consider for your 2-night stay are as follows:
Where to stay in Selçuk
Those traveling by bus or train may prefer to spend the two nights in Selçuk instead of Kusadasi. For those using public transit, we recommend staying in central Selçuk within walking distance of the bus station and train station.
Here are a few accommodation options in Selçuk: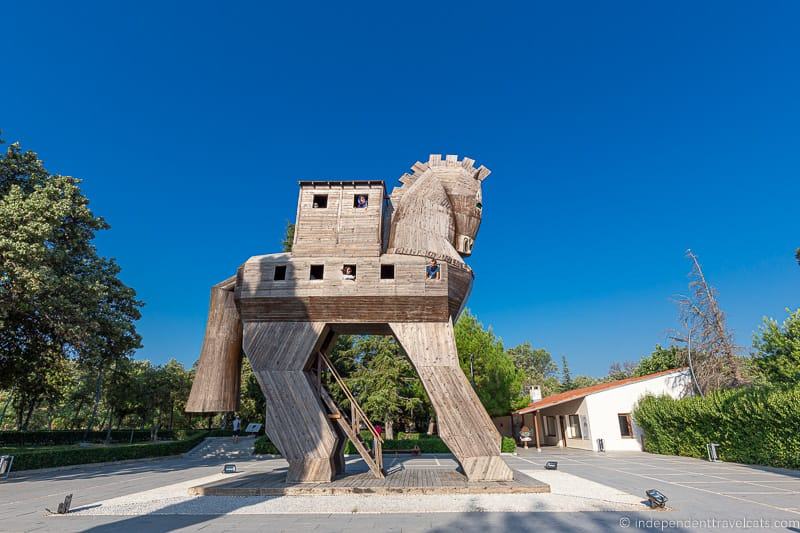 Turkey Itinerary Day 5: Kusadasi & Ephesus
Today, we recommend heading to Ephesus after breakfast to explore the archaeological sites there. Then return and spend the latter part of the day exploring Kusadasi itself. Ephesus is very popular and can get very crowded, so going early is a good idea to avoid some of the crowds and the afternoon heat.
Many people visit Ephesus as part of a tour, but it is also easy to get to on your own. It is about a 25-minute drive, bus, or taxi ride away. If you are taking public transport, you can take a dolmus (shared taxi or minibus) from Kusadasi which can drop you at the lower gate of Ephesus.
Ephesus is one of the most significant archaeological sites in Turkey so it is on many visitors must-see lists. This UNESCO World Heritage Site was an ancient Greek city, founded in the 10th century BC, and only abandoned around the 15th century AD after centuries of decline, mainly due to the harbor silting up. At its height, it was second only to Rome in size and importance in the ancient world.
Today, Ephesus is a large and important archaeological site where you can see the remains of temples, theaters, wide marble streets, agoras, bathing complexes, tombs, aqueducts, fountains, terrace houses, and more. Some of the main sights include the spectacular Library of Celsus, the Temple of Hadrian, and the Great Theatre.
Ephesus is an important religious destination too, especially for Christians. It was the location of one of the Seven Churches of Asia (or Seven Churches of the Apocalypse), the seven major early Christian communities, as noted in the New Testament Book of Revelations in the Bible.
It is believed that the Gospel of John may have been written here, and that Mary, mother of Jesus, lived out her final years nearby in the care of John. Important early Christian sites in Ephesus include St. John's Basilica, Church of the Virgin Mary, and The House of the Virgin Mary.
Also located nearby is the ruins of the Temple of Artemis, one of the Seven Wonders of the Ancient World. Unfortunately today, very little remains of the ancient temple.
For those interested in seeing some of the artifacts found here, you may want to take time to visit the nearby Ephesus Archaeological Museum in Selçuk after visiting the archaeological sites. It contains a number of statues, columns, coins, sarcophagi, tools, and other artifacts uncovered in Ephesus.
Most visitors just visit the main archaeological complex which contains over 25 main points of interest. There is an entry fee that covers all the sites (there is an additional ticket required if you want to go inside the terrace houses), and you can enter at the upper or lower gates and exit from either side. There are taxis, shuttles, and carriages that can transport you between the two if you wish.
It's quite a large site, which runs from the top of a hill to the bottom, but once you get here you can visit everything on foot. Just be prepared for a bit of walking by wearing comfortable shoes and bringing your water bottle.
As you would imagine, there is a lot to see and take in here, and there isn't a lot of information on display. We would recommend renting an on-site audioguide, joining a guided tour such as this one, or bringing a guidebook (like this one) so you have an idea of what you are looking at. Most people spend 2 to 4 hours exploring the complex.
There is more to explore outside the main archeological complex for those with more time and interest. Sites located outside the main archaeological complex include the Temple of Artemis, House of the Virgin Mary, St. John's Basilica, and the Ephesus Archaeological Museum. Other attractions in Ephesus include Selçuk Castle, Ayasuluk Citadel, and Isa Bey Mosque.
If you are considering a tour from Kusadasi (or Izmir), there are a variety of tours of differing lengths. We think that around 4 to 5 hours would work and then give you time to sightsee in Kusadasi in the afternoon, but you could also do a full-day tour if you want more time in Ephesus. Some tours to consider to Ephesus from Kusadasi are:
Once you have finished touring Ephesus, it's time to return to Kusadasi. Kusadasi is a popular resort town and has a lot of cafes and restaurants as well as beaches. Depending on how you are feeling and how much time you have, you might want to visit one of the beaches (Ladies Beach is the most popular public beach), spend some time exploring the city's attractions, or just relax by the hotel pool.
Our favorite thing to do is to take a walk over to Güvercinada, or Pigeon Island, a small island linked to the mainland by a causeway. There is a castle here that you can visit if you wish.
How to get from Kusadasi to Pamukkale & Fethiye
The next part of the trip involves a long day of travel, no matter what method of transportation you choose as the attractions are spaced far apart.
If you are not taking a tour, your best options are to take public transit or drive.
By Car: If you are driving, Pamukkale is about a 120 mile (190 km) drive from Kusadasi, and that drive takes about 3 hours if taking the toll roads (about 4 hours if not). From Pamukkale, it is another 125 mile (200 km) drive to Fethiye which is around another 3 hours of driving.
If that sounds like too much driving, you could skip Pamukkale, and just head south along the coast from Kusadasi to Fethiye. Then you would have more time to spend in either Kusadasi or Fethiye.
By Plane: You can fly from Izmir to Denizli (town near Pamukkale) and then from Denizli to Fethiye (airport in Dalaman). However, many of these flights connect via Istanbul meaning the flights often take as long (or even longer) than taking public transit or driving.
By Bus: From Kusadasi, it's relatively easy to get to Pamukkale by public transport. You can go by bus, either directly from Kusadasi or via Selçuk. The bus takes between 3 to 4 hours.
Note that some of the bus companies (and the train) terminate in the town of Denizli and do not go directly to Pamukkale. So you may need to take a short 25-minute minibus or taxi ride to get from the bus station to Pamukkale which is located just outside Denizli. Just be sure to ask so you know if you need to transfer or not.
Then from Denizli, you can then take a bus to Fethiye, which will take around 4 hours. Check bus times and prices, and book online here.
By Train: You can do part of the route today by train. Take the local bus from Kusadasi to Selçuk (the town next to Ephesus), from where you can catch a train to Denizli. The train takes around 3 hours, and the first departure is usually around 9:00am. You can check train times and tickets here.
Then from the Denizli station, you can get a 25-minute minibus or taxi ride to Pamukkale. There is no train between Denizli and Fethiye, so you will have to take a bus from Denizli.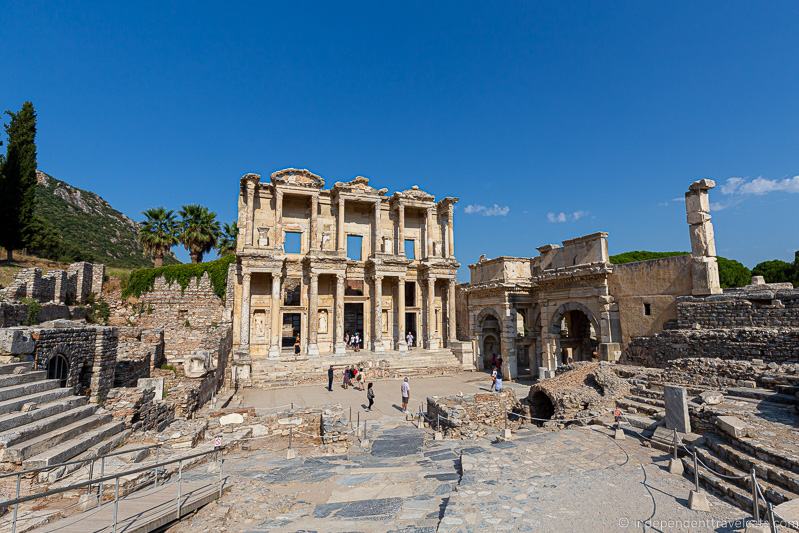 Turkey Itinerary Day 6: Pamukkale & Fethiye
For your sixth day in Turkey, our suggestion is to head east inland to Pamukkale and then south to the coastal town of Fethiye.
Pamukkale, which means "cotton castle" in Turkish, is another of Turkey's UNESCO World Heritage Sites. It's famous for two reasons. First, it well-known for its photogenic natural white travertine (a type of limestone) terraces which are filled with thermal water. Second, the ruins of the ancient Greco-Roman city of Hierapolis are located here.
Springs in a cliff above the terraces provide the mineral-rich waters which have created the incredible landscape of petrified waterfalls and terraced basins of thermal water at Pamukkale. The milky white water is due to the large amount of calcium carbonate found in the water.
A thermal spa at Hierapolis was built on top of Pamukkale to take advantage of the hot springs in the 2nd century BC by the kings of Pergamon. It grew into a small city and you can see the Greco-Roman ruins here today. Pamukkale has been a popular tourist destination for about two thousand years.
The main reason people visit Pamukkale today is to see the white limestone terraces here, which are really quite incredible. These terraces cover a large area of almost 2 miles (3 km) in length. Although the terraces are natural, the bathing pools are artificial and have been created for tourists. Some of these are open to bathing or swimming.
Unfortunately, the thousands of years of tourism, as well as the more recent rise in mass tourism, has taken its toll on the location. Large sections of the pools don't look like you see them in photos as many often have little water in them and the ones open to the public are often crowded with people.
To protect the site, most of the pools are now closed entirely to bathers, with only a small area accessible for swimming at one time. The water can be a bit dirty with all the people in them and they can also be very slippery so do be careful if you plan to go in them.
In addition to the small terraced pools, you can pay extra to swim at Cleopatra's Pool, a former Roman pool, which is a thermal pool and spa that is privately run and includes locker rooms and showers. You need proper swimwear to enter this pool.
However, the good news is that the Pamukkale site is very large, and if you move away from the main crowds you can enjoy lovely views of the terraces with hardly any people around you.
After seeing the thermal spa and perhaps dipping your toes into one of the thermal pools, you can then take some time to explore Hierapolis. Many people come and just see some of the thermal pools and leave, but if you are going to take the time to come all the way to Pamukkale, we recommend taking some time to explore the rest of the site.
The city has Greek and Roman ruins, including ancient bathing complexes, gates, a huge theatre, temples, shrines, a martyrium, and an extensive Necropolis. The site has the Tomb of Philip the Apostle and the earliest evidence of the use of a crank and rod mechanism (as depicted on a sarcophagus). Housed in the former Roman Bath building is the Hierapolis Archaeology Museum which you can see some of the many artifacts unearthed at the site.
If you don't have a guide but want to learn more about the history of Pamukkale and Hierapolis, we recommend taking along a good guidebook like this one.
There's lots to see here, and it's all included on the entry ticket, so take advantage of it. Most people spend about 3 hours here, but you'll want to plan to spend longer if you want to fully explore Hierapolis.
Once you are done sightseeing in Pamukkale, continue on to Fethiye where we recommend you spend the night. Fethiye is a city (and district) located in the southwestern area of Turkey along the Aegean Sea. It is a popular tourist area and there are a lot of attractions in and around the city.
Given that you will likely be coming from a long day of travel and sightseeing, we recommend using your first evening in Fethiye to relax. We recommend spending two nights here.
Where to stay in Fethiye
You have two main options for where to stay in Fethiye. You can stay near the marina and old town for easy access to the sights, or you can stay a little further north on the 4km long Çalis Beach. So just depends if you prefer to be near the city center or have easy beach access.
Here are some options for places to stay in Fethiye: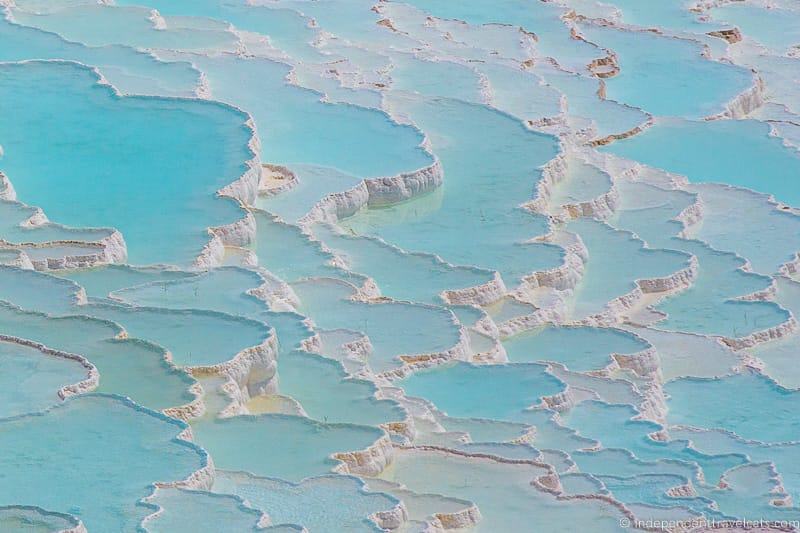 Turkey Itinerary Day 7: Fethiye
Fethiye is a beautiful coastal city and resort town on Turkey's Aegean Sea. The area is known as the Turquoise Coast because of the incredible color of the water you'll find here.
Fethiye has a lot to offer, but one of the most popular things to do here is to get out on the water and take advantage of the scenic coastline, beautiful waters, and nearby islands. Popular water activities include boating, swimming, snorkeling, SCUBA diving, fishing, and water skiing.
The Travel Talk tour we did included 3 nights on a traditional gulet boat. This might be too much boat time for many, but we definitely recommend considering spending part of a day on the water here.
On a boat trip, you can take in the scenery, swim, snorkel, and sightsee at a relaxed pace. Then you can return to your hotel, take a shower, and head out to watch the sunset and enjoy a bit of the city's culture and nightlife.
Or if a day on a boat sounds like too much, you can just find a pretty beach to lie on! Çalis Beach is a popular beach that stretches along the city or you can find a smaller and less crowded one further away.
Alternatively, if you are up for some more sightseeing and cultural sites today, there are a number of attractions in and around Fethiye. These include the Fethiye Museum, Saklikent National Park, the rock tomb of Amyntas, the Roman theatre above Fethiye, ancient Lycian hilltop citadel of Tlos, ancient Lycian city ruin of Cadyanda, Butterfly Valley, and the spectacular beach at Ölüdeniz Lagoon. Paragliding is also a very popular activity in this area.
Of course, many of these attractions and activities are located outside the city, so you'll either need to have your own transport, take a bus, or take a tour to experience them.
Below, we've put together some recommend boat tours, as well as other day tours from Fethiye you might consider. Alternatively, feel free to just wander the city itself, which is very beautiful and has a number of sights worth visiting.
Hopefully, this gives you some inspiration for your day in Fethiye. We recommend enjoying the sunset from the beach, a seaside cafe, or your hotel balcony. Lots of nightlife opportunities here in the evening to enjoy in this popular resort town.
How to Get From Fethiye to Antalya
We recommend heading to Antalya on the next part of your trip. If you are not taking a tour, you have three options for getting from Fethiye to Antalya:
By Car: If you are driving, it's about a 125 mile (200 km) drive if you take the most direct route which takes about 2.5 to 3 hours.
However, you can take the more scenic coastal route along the D400 between Fethiye and Antalya if you have more time and want to enjoy the scenery. It's a nice drive. Taking the scenic route will add another 2 hours to your drive so I'd estimate about 4.5 hours.
By Plane: It is possible to fly from Fethiye (Dalaman Airport) to Antalya. Most flights are 3.5 to 4.5 hours long as most make a stop in Istanbul.
By Bus: In terms of public transport, there are regular direct buses from Fethiye to Antalya, with journey times taking around 3 to 3.5 hours on average. You can check bus routes and ticket prices online here.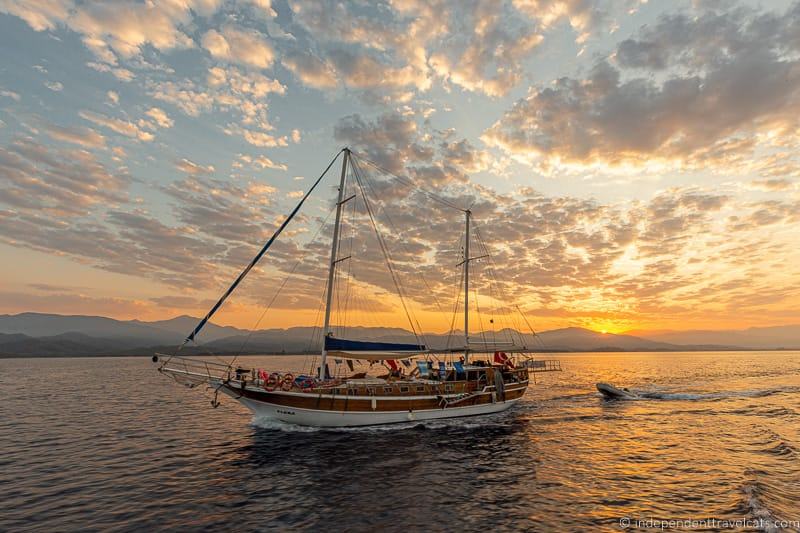 Turkey Itinerary Day 8: Antalya
Today, we recommend leaving Fethiye in the morning and heading to the southern coastal city of Antalya. But there's no rush today so feel free to spend some more time in Fethiye if there is something you missed yesterday.
It takes about 3 to 4 hours to get to Antalya, depending on route and transport. So if you leave in the morning, you'll still have half the day left to explore Antalya. Those traveling by car or tour bus may take the coastal route along the D400 which is slower but a very nice scenic route.
Antalya is believed to have been founded by King Attalus II of Pergamon around 150 B.C. and so has a long history. Most of the historical architecture in the city now dates to the medieval Ottoman period. The city is situated along the Turkish Riviera and has become Turkey's most important international seaside resort.
There is a lot to do in Antalya and we recommend spending two nights here, giving you about 1.5 days to explore Antalya and the surrounding area. Once you arrive in Antalya and check into your hotel, we recommend spending your first afternoon exploring the town of Antalya and its city center attractions and perhaps spending some time on the beach.
In the town itself, we can recommend exploring the old town (Kaleiçi) on foot as there are a number of things to see here including Hadrian's Gate, the Roman Tower (Hidirlik Tower), Yivli Minare Mosque (Fluted Mosque), and the Antalya Museum (regional history museum).
The Old Marina area is also worth exploring and is a great place to enjoy a meal or drink. You can also take a sightseeing boat tour from here.
Elsewhere in town you'll also find a panoramic elevator for views over city, several city parks, a toy museum, and lots of other historical attractions.
If you prefer something more relaxing, you may also want to head to one of the area's beaches. There are also some nice beaches within 10km of the city center, including Lara Beach (sandy beach) and Konyaalti Beach (pebble beach).
In the evening, Antalya is a lively place with lots of restaurants, bars, cafes, and nightclubs. The city also has cinemas and some movies are shown in their original English (with Turkish subtitles). There are also regular shows which include traditional Turkish music and dance and belly dancing performances.
Those who enjoy the theater or opera will also find the Antalya State Theater and the Antalya State Opera and Ballet here. There is also the popular Fire of Anatolia Dance Show that is regularly held at the Gloria Aspendos Arena.
If you are visiting in the summer months, you may want to see if the Aspendos International Opera and Ballet Festival is taking place during your visit. Throughout this popular festival, regular performances are held at the ancient Aspendos Roman theater.
Where to Stay in Antalya
Antalya is a large city and there is also a lot of accommodation throughout the Antalya region along the coast. We have two different recommendations depending on your interests and budget.
Our first recommendation is to either stay close to the Antalya Old Town center so you are within walking distance of the majority of attraction in the city itself. This is great for those who are are interested in the city attractions and nightlife here, and for those needing the public transit connections here.
Our other recommendation is to consider spending these two days at a nice coastal resort outside of the city. Antalya boasts some of the nicest hotel resorts in Turkey and if you are looking for an all-inclusive resort, you have a lot of options. These all tend to have multiple restaurants and bars, swimming pools, spas, fitness centers, and kids' activities. Some also have beach access.
Here are some lodging options near the Antalya Old Town:
Here are a few resort hotel options to consider near Antalya:
Xanadu Resort – This 5-star resort near Belek includes swimming pools, water slides, a kid's club, fitness activities, several restaurants, a spa, and access to a private beach.
Gloria Serenity Resort – This 5-star resort includes swimming pools, a fitness center, sports center, several restaurants and bars, a spa, a game room, kids' club, and beach access. We have stayed in one of the villas here and it is a great place if you want a relaxing place to stay on your trip.
Land of Legends Hotel – This family-friendly hotel is geared to kids and all guests get free access to the Land of Legends theme park. The hotel and park feature roller coasters, a water park, pools, restaurants, children's shows, and more.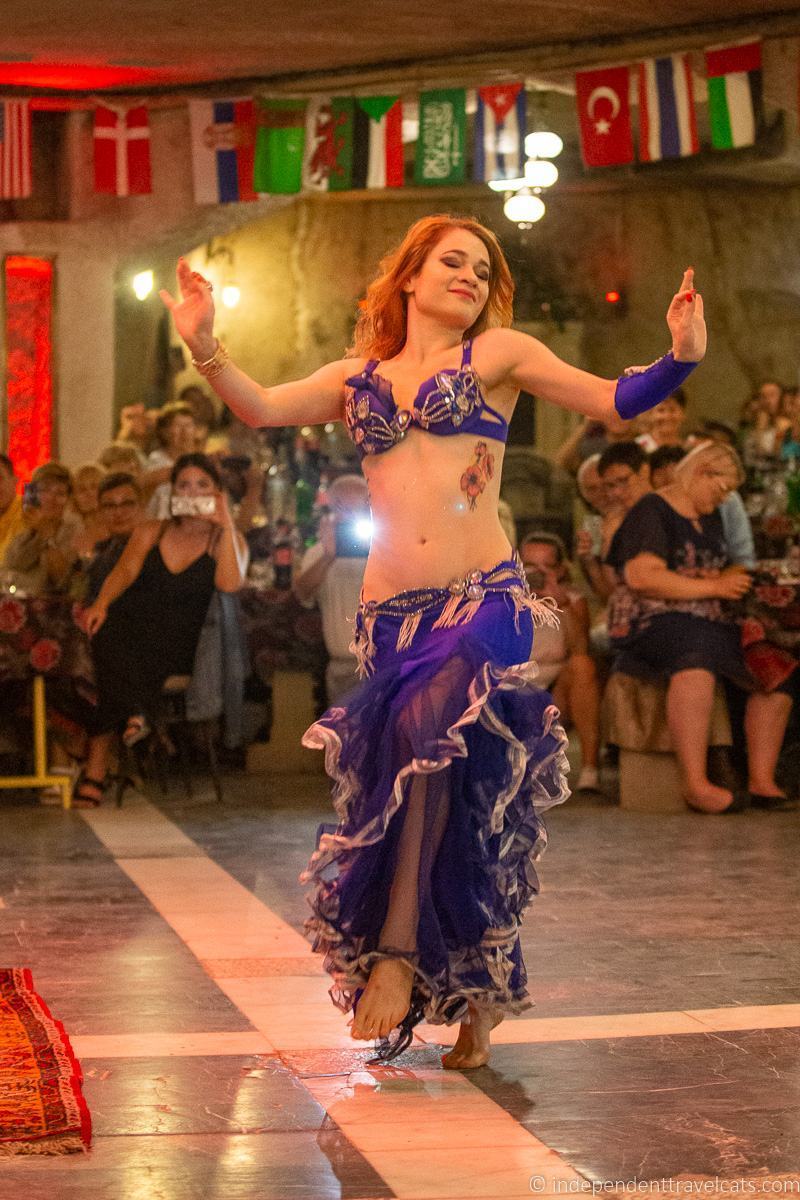 Turkey Itinerary Day 9: Antalya
Today you'll spend a second day exploring Antalya. There are lots of options for how you can spend your day, depending on your interests.
If you didn't explore the historic city center and Old Marina areas yesterday, you might want to do that today. You can wander this area easily on foot.
Or perhaps head to the Beydaglari Coastal National Park. Here you can take the cable car (Olympos Telferik) to get a great view of the area. The park offers opportunities for hiking, paragliding, climbing, and other outdoor activities. In the winter there is skiing and snowsports.
For those interested in waterfalls, there are several waterfalls in the area. The most popular are the Upper Duden Falls and Lower Duden Falls. We can also recommend a visit to Kursunlu Waterfall.
For those looking for historical and archaeological sites outside the city, we can recommend the ancient Greco-Roman city of Aspendos. Here you can see the impressive remains of a Roman theatre, aqueduct, and basilica are well worth the visit. Another option is the ancient Greek city of Perga (or Perge) that contains a Bronze Age acropolis among many other of its ruins.
Those who like theme parks may want to spend the day at The Land of Legends, which is an amusement park with roller coasters, water slides, live shows, a surf pool, and a cinema. Very popular with families visiting the area.
Golfers may want to hit the links and try one or two of the many golf courses in the area. Belek and the surrounding area is considered the top golf destination in Turkey with over 20 different golf courses in Antalya. In 2012, the Turkish Airlines World Golf Final was hosted at the Antalya Golf Club in Belek.
If you are feeling like a lazy and inexpensive day out, consider just heading to a beach and having a relaxing day in the sun. Or if you are staying a resort, you can just spend your full day enjoying the resort amenities.
Note that many of these attractions, like the waterfalls, Aspendos, and the national parks, are located outside of the city center. Some you can reach by public bus, but many you will need to either hire a taxi or join a tour if you don't have you own transportation.
Here are some day tours you might consider taking today:
In the evening, we recommend enjoying more of the Antalya nightlife. There is something to suit just about any taste whether you are looking for a relaxing seafood dinner at the harbor, a dance performance, a sunset cruise, or a night out at the clubs.
Those traveling by bus may want to consider taking an overnight bus to Cappadocia tonight instead of spending the night in Antalya.
How to Get from Antalya to Cappadocia
Your next destination in Turkey is Cappadocia. Note that Cappadocia is the name of the region, rather than a specific city. The main tourist destinations in the region are in and around the town of Göreme.
By Car: It is a long 310 miles (500 km) drive from Antalya to Göreme, and the drive will take you about 7 hours. So this will use up most of your day. You may want to stop to visit the Derinkuyu Underground City before heading into Göreme today.
By Plane: Flying is the quickest option to get from Antalya to Cappadocia. Direct flights take about 1 hour, but those with connections usually take about 3.5 hours. In the summertime, there are often direct flights, but off-season you'll likely have to connect through Istanbul.
The two main airports in Cappadocia are Kayseri Erkilet Airport in Kayseri, around a 1 hour drive from the main tourist sights, and Nevsehir Kapadokya Airport in Gülsehir, around a 40 minute drive away. From the airports, you can book an airport transport service to hotels in the region here.
By Bus: If you are traveling by public transport, there are a number of buses from Antalya to Göreme. The buses take about 9 hours, and most are overnight buses although there are some daytime routes as well. Check bus times and prices, and book online here.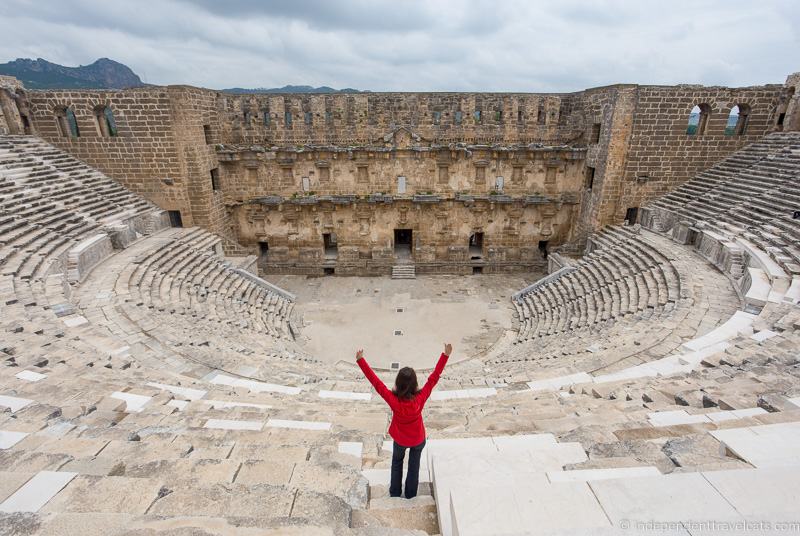 Turkey Itinerary Day 10: Cappadocia
Today we recommend leaving Antalya after breakfast and heading to Cappadocia. Cappadocia is one of Turkey's most well-known tourist regions and it is definitely an area worth exploring.
Cappadocia is a region of central Turkey that has been inhabited since at least the 5th century BC. It is best known for its distinctive "fairy chimneys" and rock formations formed by erosion, the many rock dwellings carved into the rock valleys by the troglodytes (cave dwellers), and the carved rock churches, some of which still have existing frescos. There were entire underground villages here.
Cappadocia today is one of the most popular and visited areas of Turkey by international travelers. Visitors come to see its surreal landscapes, interesting rock formations, and ancient cave dwellings. It is also one of the most popular places in the world to take a hot air balloon flight!
The main town is Göreme and we recommend using this as a base to explore this region. There is a lot that you can see and do in the region, so you'll want to prioritize your time here.
One of the most popular places to visit in the area is the Göreme Open Air Museum. The large outdoor complex contains ancient rock-hewn homes and some of the area's most important rock churches and chapels. Many contain well-preserved frescos dating back to the 9th to 12th centuries. This site is a designated UNESCO World Heritage site, along with several other locations in the region, including the underground cities of Kaymakli and Derinkuyu.
A number of underground complexes built in this area. In terms of ones you can visit, Derinkuyu and Kaymakli are both partially open to visitors. The two underground cities were once connected. At Derinkuyu, it is believed that as many of 20,000 people could have lived there at one time!
Most of the area's rock formations are made of soft volcanic tuff, which made it easy to carve and some of the dwellings were quite large. One of the better-known formations is the so-called Uçhisar Castle which is a mountain-castle that served as both a monastery and residential housing for up to 1,000 people in the Byzantine era.
Natural erosion of the rock has also lead to the interesting rock formations found throughout the region. There are lots of places to see these formations as they are scattered throughout the region.
For seeing local rock formations, you can visit one or two of the many valleys that feature a large concentration of these formations. These include Pigeon Valley (or Valley of the Dovecotes is full of dovecotes carved into the volcanic rock), Ihlara Valley (canyon full of cave dwellings and rock churches), Love Valley (full of phallic-shaped pillars), and Monk Valley (full of fairy chimneys and other rock pillars).
Most of these valleys offer plenty of opportunities for hiking as well. Some valleys also permit quad biking tours which are also popular.
This region is also known for its traditional arts and crafts, particularly pottery, and earthenware pottery has been made here for centuries. If you are interested in pottery and handicrafts, you'll want to visit the town of Avanos which has a number of shops and galleries. We recommend a visit also to the Güray Museum in Avanos, which is an underground cave museum filled with antiques, ceramics, and pottery.
This is also an important region for those interested in the Hittites who were a people in the central Anatolia who established a Bronze Age empire in the region. The empire's capital was in Hattusa, and the ruins of the ancient city can be visited today and are another UNESCO World Heritage Site. Hattusa and the main Hittite archaeological sites are about a 2.5 hour drive from Göreme.
As Cappadocia is a bit spread out, again you will either need your own transport or to take a tour for the majority of these attractions. There's also a hop on hop off bus you might consider, which visits many of the attractions.
There are lots of tour options around Cappadocia so they are all pretty competitive with each other so you should be able to find one at a decent price. Most include lunch in the tour price. Here are some tours of Cappadocia to check out:
Depending on how you travel to Cappadocia, you are likely spending a large portion of today traveling between Antalya and Cappadocia. So you may not have much time to explore on your first day.
If you don't get into Cappadocia until the late afternoon or evening, there are still some activities you might consider on your first day. For example, you might consider a sunset ATV tour, sunset horseback riding tour, or night show performance and dinner. Or maybe just heading to Sunset View point to watch the sunset before dinner.
We recommend going to bed early so you can be up to take a hot air balloon flight or watch them take off from afar in the morning!
Where to Stay in Cappadocia
Our recommendation for your time in Cappadocia is to stay in Göreme, Ortahisar, or Ürgüp. These three towns are next to each other and all feature a wide range of accommodation options.
You can see the hot air balloons from all of them, depending on weather conditions, with Göreme being the closest to the main launch sites.
Our recommendation is to stay in one of the many cave hotels on offer in this area, which is a unique experience! Just be aware that many of the cave hotels offer a range of accommodation options, and not all of them will be in a cave, so do double check before booking a specific room type if this is important to you.
Here are some accommodation options to consider in Cappadocia: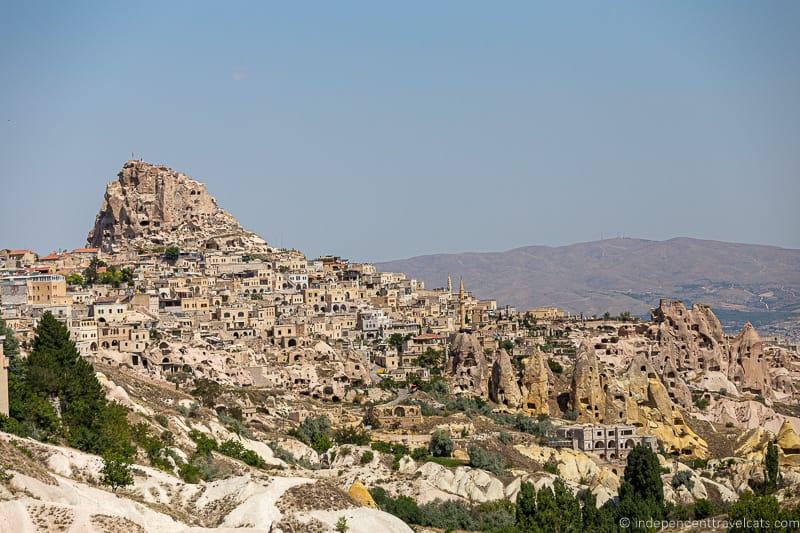 Turkey Itinerary Day 11: Cappadocia
This morning we recommend getting up early to enjoy a hot air balloon flight. Cappadocia is very well-known for hot air ballooning and up to 100 balloons fly here on most days (weather permitting). Due to the unusual landscapes and wide open places, it is considered one of the best places in the world to experience a balloon flight.
If you want to take a hot air balloon flight, just be sure to book once in advance. If you are traveling with a tour, almost all tours offer this as an optional activity.
You'll need to get up early as the balloons fly in the morning around sunset. How early will depend on the time of year and this can range from a very early 4:00am to 7:00am. Most balloon companies offer pick-up from your hotel and many also include breakfast (or at least coffee and a snack).
Most flights last between 1 hour and 1.5 hours in the air and you travel slowly over the scenic landscape. It is great to see all the interesting rock formations from above as well as see all the other hot air balloons in the sky. If you are looking for a splurge experience in Cappadocia, this is a good one to consider.
We've been to Cappadocia twice and have done hot air balloon flights with two different companies, and we can say that some companies definitely are better than others. We can wholly recommend booking a flight with Royal Balloons based on our experience. The staff, food, and safety precautions were all excellent.
Hot air balloon flights are widely available from many companies, but you will want to book in advance to secure a spot. Here are some few suggested options to consider for a hot air balloon flight in Cappadocia.
Just remember that hot air balloon flights are weather dependent so cancelations are common if the winds are too strong or the weather is bad. So we recommend trying to have flexibility in your schedule for the next morning to do the flight if it is canceled. This will allow you to reschedule and hopefully get a chance to go up the next day.
If you are not interested in taking a balloon flight or the flights are a bit above your budget, you might still want to get up to watch them take off in the morning. The majority of hot air balloon flights launch from around Göreme. You can see them from many of the hotels (ask at yours specifically) and from many parts of the city.
The Sunset View point we mentioned for sunset is also a good place to watch sunrise and the balloon launch, and take photos.
After your morning balloon experience, you may be tempted to crawl back into bed for a nap, but we'd recommend using the rest of your day to see more of the wonderful landscapes and explore the local cultural attractions. There is plenty to see and do in the region to keep you busy all day!
If you are planning to take a balloon flight and then join a day tour today, just make sure that you will have time to get back from your flight before the tour departs.
For those who do want a more relaxing day time activity, you might consider shopping, spending time at one of the local spas (some hotels have their own spas) or hotel pools, going hiking in one of the valleys, or enjoying a mud bath at the Cappadocia Mud Baths & Spa. Laurence found a visit to the mud baths invigorating after a day of travel.
In the evening, we recommend enjoying the sunset and having a nice dinner. There are plenty of evening experiences you can enjoy as noted on Day 10. But if you got up early today, you are probably ready for an early night!
How to Get from Cappadocia to Ankara
Your next destination in Turkey is Ankara, the country's capital. You have several options on getting between the Cappadocia area and Ankara. If you are planning to use public transportation, we'd recommend checking the schedules in advance.
Those with less than 2 weeks in Turkey may want to skip the stop in Ankara and head onwards to Istanbul today.
By Car: It is about a 180 mile (290 km) drive from Göreme to Ankara, which takes about 3.5 hours.
By Plane: You can fly from Cappadocia (Kayseri or Nevşehir airport) to Ankara, but there are rarely direct flights so you will likely need to layover in Istanbul. Flights often take 4 to 5 hours.
By Train: There are usually two regular trains a day that run from Kayseri to Ankara, one during the day and one overnight train. They are not high-speed trains so the journey takes about 6.5 hours. Check train times and book online here.
By Bus: You can take the bus from Göreme (or other town in Cappadocia) to Ankara. The bus journey takes about 5 hours on average. Check bus times and prices, and book online here.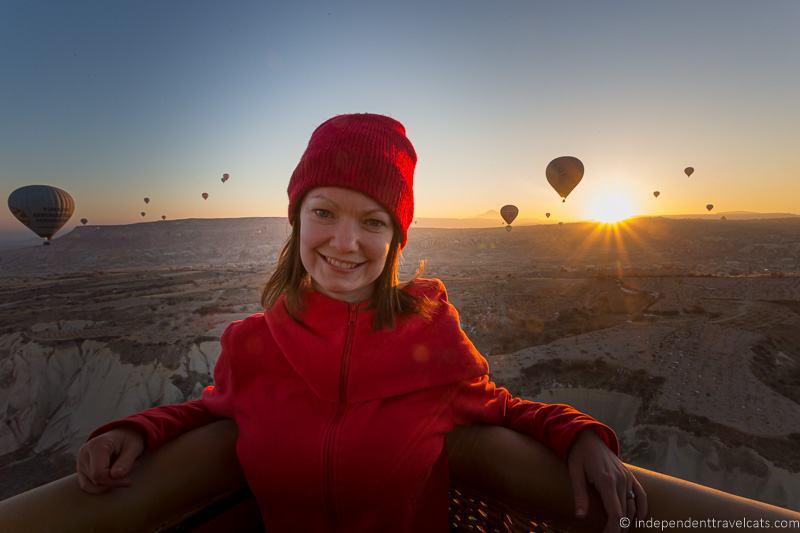 Turkey Itinerary Day 12: Ankara
If you had a really early morning the day before, you may want to enjoy a relaxing later breakfast to start the day. Then it is time to head onward to Ankara.
If you weren't able to take a balloon flight on the previous morning for any reason, you could do that this morning. Also if there is anything else you missed in Cappadocia, you could fit it into your morning and then head to Ankara in the late morning or early afternoon.
Ankara is the capital of Turkey, and the second-largest city after Istanbul. Like most cities in Turkey, it has a long and rich history and has been inhabited since at least the Bronze Age. The city became the capital of the Republic of Turkey in 1923 and is today a major center of government, industry, and culture.
Despite being the capital city, Ankara is not nearly as well-known to travelers and is not as touristy as Istanbul. Many of its attractions are focused more to Turkish people than to international visitors, giving the city a much different feel than that of Istanbul and the more touristed regions of the country.
It is a great place to see and learn more about how Turkish people live, eat, work, and play. We recommend taking the time to explore this city and to consider hiring a local guide or joining a local walking tour during part of your time here.
The most popular visited attractions in Ankara is the Anıtkabir or the Mausoleum of Mustafa Kemal Atatürk. Atatürk was the first president of Turkey, and is regarded as the founder of modern Turkey and was a leader of the Turkish War of Independence. He died in 1938, having served 15 years as President. Anıtkabir is a monumental complex of plazas, towers, statues, and a museum.
The city's second most visited attraction is the Museum of Anatolian Civilizations and this is probably the one must-see place for most foreign visitors. The museum's galleries tell the story of Turkey's people in the past 8,000 years in chronological order, including the Neolithic, Early Bronze, Assyrian, Hittite, Phrygian, Urartian, Greek, Hellenistic, Roman, Byzantine, Seljuq, and Ottoman periods. The museum is especially known for holding the most comprehensive exhibition on Hittite artifacts in the world. It was named the first "European Museum of the Year" in 1997.
Ankara has many archaeological and historical sites. These include the Ankara Castle (a.k.a. Ankara Citadel), Roman Theatre, Temple of Augustus and Rome, the Roman Baths, and the Roman Road. Most of the Roman ruins can be found in or near the Ulus quarter in central Ankara.
The largest mosque in the city is the Kocatepe Mosque which has become a landmark of the city. Other impressive mosques the 16th-century Yeni Mosque, the 15th-century Haci Bayram Mosque, and the 12th-century Alâeddin Mosque.
Ankara offers a lot of shopping opportunities, from traditional bazaars to modern shopping malls. The street bazaar along Cikrikcilar Yukusu, also known as the "Weavers' Alley", is one of the best places to go in the city for traditional shopping. Another nearby popular market is Bakicilar Carsisi which is famous for its copper products. Those looking for more modern stores may want to head to the Kızılay area.
We also recommend a wander around the Hamamönü, which is a restored late Ottoman neighborhood in the center of Ankara. The area has been restored and amongst the historical structures are handicraft markets, shops, cafes, and restaurants.
If you enjoy museums, there are about 50 of them in and around Ankara. They focus on everything from war to art to steam locomotives to technology. In addition to those already mentioned, some museums you might consider are the Ethnographic Museum, Çengelhan Rahmi Koç Museum (technology), Independence War Museum, and Republic Museum.
Ankara is also a cultural performance hub. You can see the state opera and ballet companies of Turkey perform, as well as classical music orchestras and theatre performances.
For those looking for a different type of nightlife, the large student population of Ankara means there are also things happening in the bars, clubs, and cafes located in the more student-friendly areas of the city.
Here are a few tour ideas in Ankara:
This private full-day tour of the city's highlights is designed to help you understand the history of Ankara with visits to some of the city's main attractions including the Museum of Anatolian Civilizations, Ankara Citadel, Ataturk Mausoleum, and the Old Copper Market.
This private tour with a local guide can be booked from 2 to 6 hours and focuses on introducing visitors to Ankara. This tour is designed to show you the local side of Ankara and help you plan the rest of your time in the city.
This full day private day tour visits the Hittites sites of Yazilikaya and Hattusas. Includes hotel pick-up and lunch.
As you can see, there are plenty of things to do to fill a couple of days in Ankara!
Where to Stay in Ankara
Ankara is a big city, so ideally you will want to stay relatively close to the center to minimize transport times. We recommend staying near the city center, so in the area around Ankara Castle and the train station, as this will put you in walking distance of most of the main sights in the city.
Here are some accommodation options in Ankara to consider:
If you are looking for a self-catering option in Ankara, there are a number of options to rent a private room, apartment, or villa. You can check out these city center apartment options on Booking, and these city center options on Vrbo.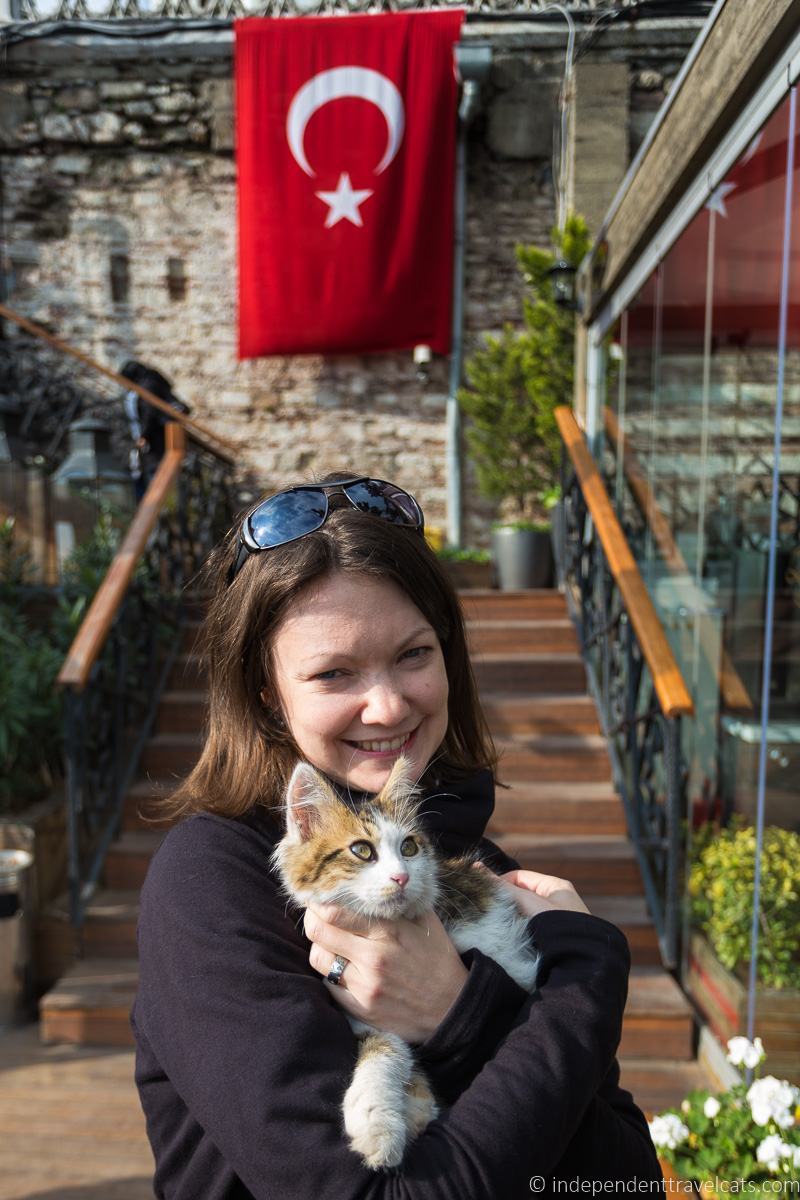 Turkey Itinerary Day 13: Ankara
For your second day in Ankara, we recommend you use it to do the things that you didn't have time to do on the first day.
If you visited many of the most popular attractions like Anitkabir, the Museum of Anatolian Civilizations, and Ankara Castle yesterday, you might want to spend a more relaxing day wandering around one of the neighborhoods, doing a local food tour, and shopping. Ankara is a good place to search out any Turkish foods you haven't had the chance to try yet or buying any last minute souvenirs or gifts.
Also a good time to do anything you had been wanting to do in Turkey that you hadn't been able to do yet. For instance, if you had been wanting to try a Turkish hamam, you could do that today. One central historical hamam to consider is Şengül Hamamı.
If this is your final night in Turkey, we recommend planning something nice to do in the evening!
How to Get from Ankara to Istanbul
As the two largest cities in Turkey, Istanbul and Ankara are very well connected so you have lots of options on how to travel between them. The fastest way to get from Ankara to Istanbul is to fly although taking a direct high-speed train is also a good option.
By Car: If you're driving, it's around a 280 miles (450 km) drive from Ankara to Istanbul, and the drive takes around 5 hours.
By Plane: There are many daily direct flights between Ankara and Istanbul and these flights take about 1 hour.
By Train: The direct train takes around 4 to 4.5 hours. Several trains run this route each day and there is also an overnight sleeper train.
By Bus: Bus journeys between Ankara and Istanbul take between 6 and 7 hours on average. There are a great many bus services to choose from, including overnight options. Check bus times and prices, and book online here.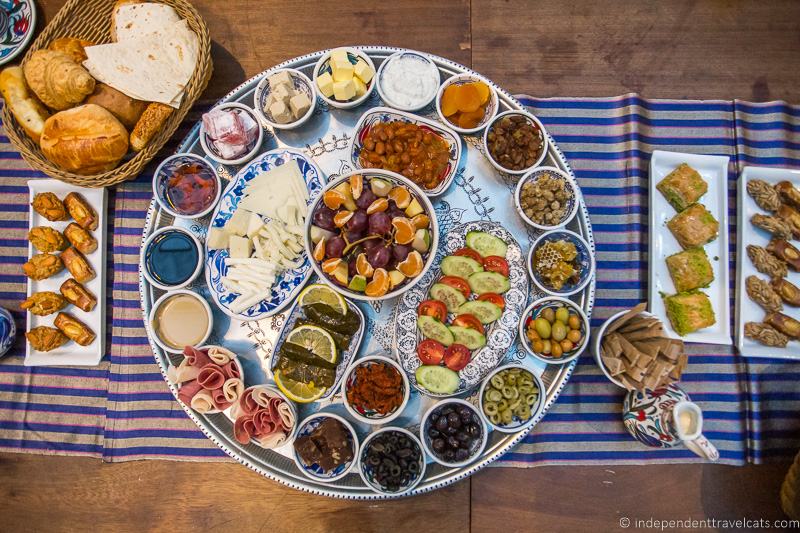 Turkey Itinerary Day 14: Istanbul
You're back in Istanbul, having completed your fantastic 2 week trip in Turkey!
If you have more time in Istanbul, you can see anything that you didn't have time to see during your first visit here. There are plenty of things to see and do in the city. You can also do some final souvenir shopping and enjoy a final Turkish meal.
If you are flying home from the Istanbul airport, you may want to pre-arrange an airport transfer.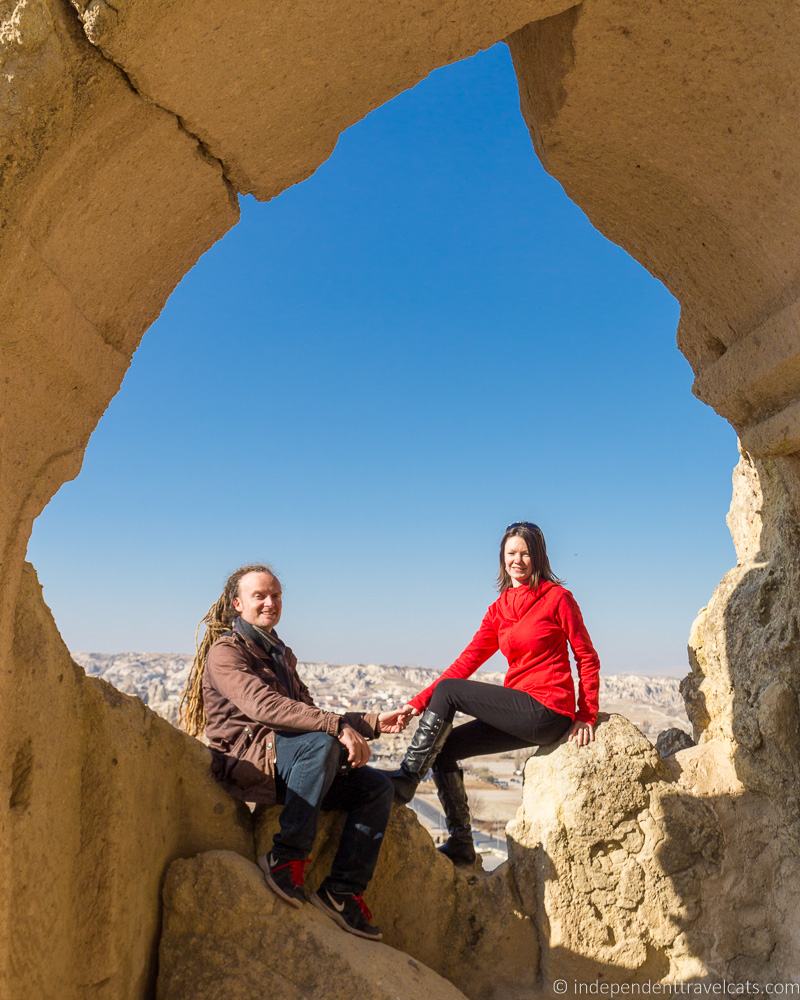 Our 2 Week Turkey Itinerary Map
We have marked out our suggested route for our 2 week Turkey itinerary on Google maps. This should help you more easily visualize the route over the 14 day trip through Turkey.
You can access our route map here or by clicking on the map image below: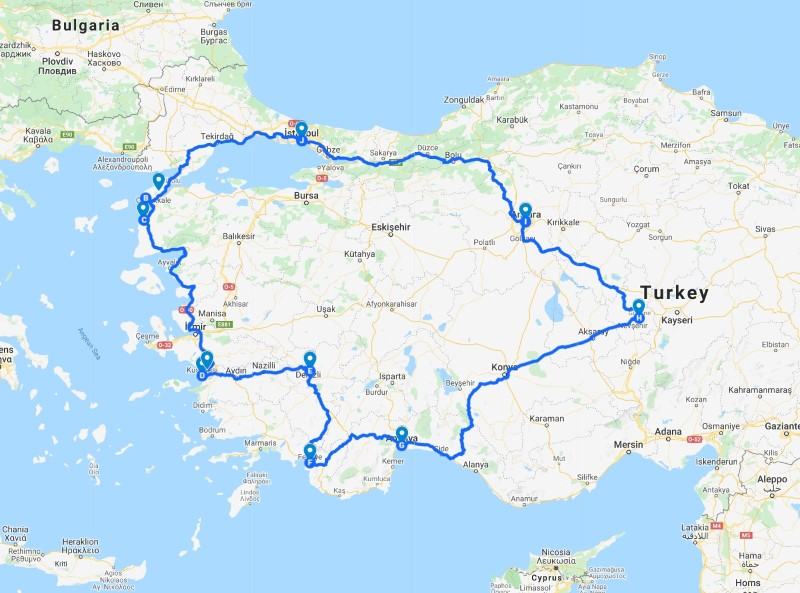 There you have it, our suggestions on where to travel in Turkey for 2 weeks!
Like what you see above but don't want to book the transport, hotels, and activities yourself? Considering booking a guided tour, you can see our list of recommended tours of Turkey earlier in the post.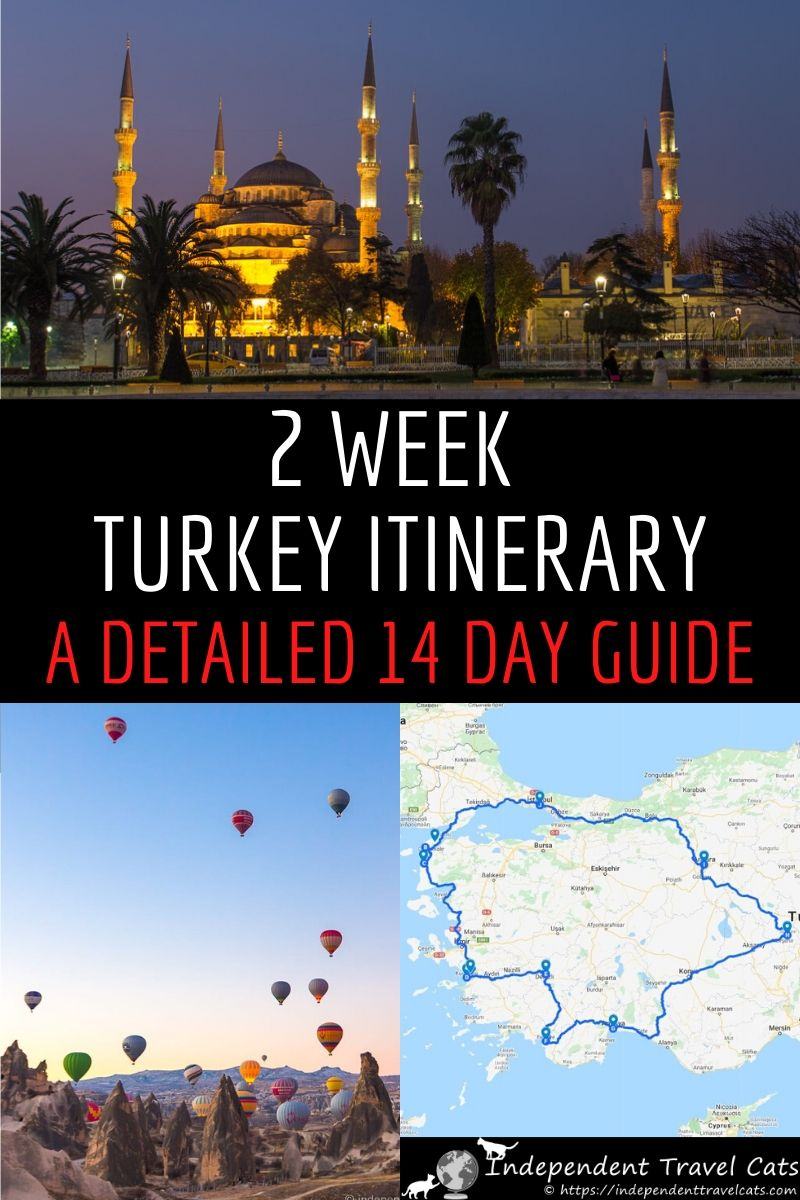 Which of these places would be on your Turkey travel itinerary? Have you been? If so, we'd love to hear about your favorite places or tips on traveling in Turkey.
If you have any questions about traveling to Turkey or our 2 week Turkey itinerary, just leave them as a comment below and we'll try our best to answer them. As always, we love to hear from you!