If you are trying to see as many highlights as you can in London in one day, you might consider taking a full day London walking tour. These walking tours take you through the heart of the capital city with a knowledgeable local guide and give you a chance to see and learn about London's most famous sites.
During my first visit to London, Laurence and I did a full-day London walking tour to get a good orientation of the city and see some of the most iconic sites. In one day, we saw so many recognizable landmarks, including the Tower of London, Tower Bridge, Buckingham Palace, Trafalgar Square, Downing Street, Westminster Abbey, and the Houses of Parliament.
In addition to seeing all these iconic London sights, we also got to visit and partake in some fun London experiences, including a visit to the Tower of London before the crowds, a short boat ride on the River Thames, and witnessing the Changing of the Guard in front of Buckingham Palace.
If you are interested in seeing the highlights of London and only have a short time in the city, a half day or full day London walking tour may be the best option to make the most of your visit. You get a knowledgeable guide, pre-booked entrance tickets to a couple of London's most iconic landmarks, and a wonder around the most popular area of central London.
We'll share what we saw and did during our Best of London walking tour and share some photos and descriptions of the main places we visited. We'll also tell you everything you need to know to choose and book your own full day London tour to see the highlights of London in one day.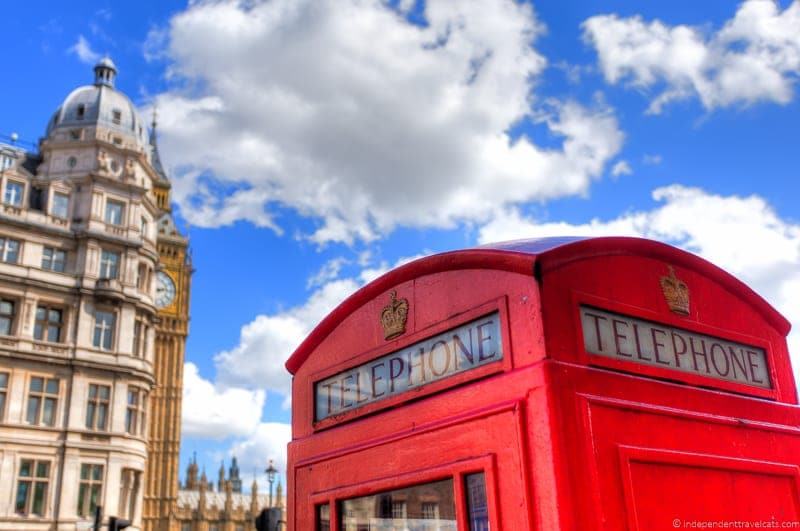 Choosing a London Walking Tour
It can be difficult to choose the best London walking tour for your specific visit, needs, and time in the city. We'll tell you the things to look for to help you evaluate various tours and also provide a list of London walking tours that we personally can recommend.
Tips for Choosing the Best London Walking Tour
Below are some questions to ask to help you choose the best London walking tour for you.
How long is the London walking tour?
Be sure to check to see how long the tours lasts, and check the starting time and ending time. Most tours have breaks in the afternoon for lunch so a 7.5 hour walking tour may be 9 hours if you include the lunch break.
Depending on how much time you have and how much you want to see, choose a tour that aligns well with your available time. Note that tours may run a bit long so be sure to plan so you are not rushed to make a train or flight.
Also be sure you are up for the amount of walking needed to take the tour. Are you OK with 6 to 8 hours of walking and standing with a break for lunch? The walking on all of these tours is mainly on flat even ground but there will be some steps and uneven pavement.
If you (or a member of your group) is concerned about the amount of walking, consider a tour that includes a driver and air-conditioned coach to reduce some of the walking time such as this popular tour.
These tours are long so may not be well-suited for those with younger children who may need more breaks and may get bored after a few hours. Consider a half day walking tour or a private tour designed for families with children in mind.
Most group tours in London are not recommended for those in wheelchairs or with reduced mobility. Those with special needs or concerns should consider a private tour like this one, which can be modified to suit the needs of almost any traveler.
Also be sure you know where it starts and ends so you can plan ahead. Most tours start and end in different places. But almost all end near major attractions with good public transit connections.
What London attractions are visited?
Make sure you check to see what attractions are included on the tour and which attractions and museums you will be allowed to actually go inside and visit. For instance does the tour go inside the Tower of London or just take a look from the outside?
If there are any must-see attractions you definitely want to see (e.g., Tower Bridge or Big Ben) be sure to make sure it is on the list of places seen on the tour.
What tickets are included in the tour price?
Most tours will include the entrance fees for the attractions that are visited on the tour, but not always. We recommend booking tours that include your pre-booked tickets and entrance fees if possible.
What sections are guided?
Although all the tours we recommend include a licensed tour guide, some sections of the tours may not be fully guided. For instance, some attractions do not allow tour guide visitors inside or only allow Blue Badge tour guides to guide inside.
The Tower of London and Westminster Abbey are two of these attractions. If your guide is not able to accompany you, you should be provided with an overview from your tour guide, entrance tickets, audioguide (if applicable), and given tips to make the most of your visit by your guide.
Is a meal included?
Generally, a meal is not included in most walking tours of London. But normally tours over 6 hours include a break for lunch that is at your own expense. These breaks are normally between 1 and 2 hours and the guide will provide suggestions for places to eat nearby.
So be sure to check and bring money for food and drinks on the walk if meals are not included.
What are the reviews like for the tour?
What do past customers say about the tour? Are the reviews overwhelmingly positive or are there a number of negative ones?
Negative reviews don't necessarily mean a tour is terrible as people may leave negative review for a variety of reasons, but if you see a lot of them for a particular tour (especially if they say something similar), I'd choose another tour with more positive reviews. We give some of our own recommendations in the next section.
Total cost of the tour?
If you are deciding between multiple tours that sound good, price may help you decide. Be sure to consider the total cost of the tours if there will be additional costs during the tour (lunch, transport, entrance fees).
Leaving a gratuity for your guide is not obligatory on these walking tours in London, but it is common and most people do leave a tip at the end. But you should feel free to tip whatever amount you feel comfortable with if you enjoyed the tour.
Our Recommended Full Day London Walking Tours
There are numerous full day London walking tours that include a number of the city's highlights. However, we recommend checking out the ones below, which are all with companies we have personally used and can recommend for walking tours in London.
This well-rated 8-hour full day walking tour by Take Walks with a Blue Badge guide includes early morning entry to Westminster Abbey and a visit to the Tower of London, viewing the Changing of the Guard ceremony (and/or Queen's Life Guard), a Thames river cruise, a walk across Tower Bridge, and views of many of London's landmarks, including the Houses of Parliament (Big Ben), Trafalgar Square, St. Paul's Cathedral, and the Shard. Includes a break for lunch on your own. We love the walking tours by Take Walks and this tour consistently is rated 5/5 by customers.
This full day guided tour includes early morning access to the Tower of London, a short boat ride on the Thames, the Changing of the Guard ceremony in front of Buckingham Palace (or Queen's Life Guard), and a view of the highlights of Westminster, including the Houses of Parliament, Westminster Abbey, Trafalgar Square, Whitehall, Parliament Square, and Downing Street. Includes a break in afternoon for lunch on your own. I did this tour by City Wonders on my first visit to London in 2015 and it provides a great jam-packed introduction!
This half day tour is essentially the morning part of the above described tour and includes early morning access to the Tower of London, Thames river shuttle, walking tour of Westminster, and Changing of the Guard ceremony. At only 4 hours, it is a good option for those who don't have a full day but still want to see some of London's top highlights and royal attractions.
This 8-hour private tour (for up to 8 people) with Context Travel includes a private Blue Badge guide with visits to the Tower of London, Borough Market (lunch break here), and Westminster Abbey. It also includes watching the Changing of the Guard and exterior views of famous spots like the Houses of Parliament, The Shard, Tower Bridge, and St. Pau's Cathedral. A car service can be added if desired. Since it is a private tour, small modifications can be made to the itinerary in advance to suit the group.
**Note that if you are thinking about a private tour with Context Travel, all Independent Travel Cats readers receive a 10% discount on any Context Travel tour when you book using our link: 10% OFF Context Travel tours Please let us know if you have any difficulty receiving your discount upon checkout.**
Our Best of London Walking Tour Experience with City Wonders
Surprisingly, my first visit to London took place fairly recently in Spring 2015! Laurence had grown up in the United Kingdom and lived in London for a couple of years, but for me it was my first time experiencing this famous capital. We thought it would be a great idea to do a London walking tour so that I could get my bearings of this large city and see some of the highlights.
After we had booked this tour, we received a confirmation voucher via email with the tour information and meeting time and place. Laurence and I arrived around 8:15am outside the ticket office for the Tower of London. We were greeted by our friendly tour guide named Shabby who we quickly learned was quite the entertaining character, and we were also joined by two young coffee-toting American ladies.
Admittedly, the weather was not great during the morning (cloudy, grey, and drizzly) but we felt very lucky to have such a small group of only four people. Expect larger groups unless you are traveling out of season.
Our tour began promptly at 8:30 with an introduction to the day's itinerary and more about the history of the infamous Tower of London which was the first place we visited.
Given that our tour was almost 7 hours long over the course of 9 hours, I will spare you all the details and share only our highlights from this tour below: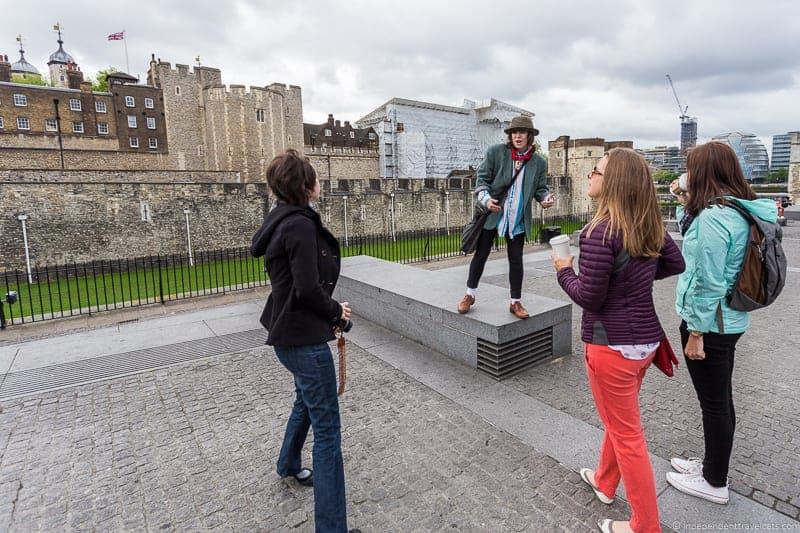 Tower of London
The Tower of London was the start of our London walking tour with City Wonders and probably the highlight of the tour for us. This is one of London's UNESCO world heritage sites and it has served as a fortress, prison, armory, Royal Mint, and place of execution among other uses during its long history. It currently holds the Crown Jewels which have been housed in the Tower of London for centuries.
Our group was among the first people let into the Tower of London that morning which is a special feature of this tour. Shabby, our guide, did not accompany us into the fortress but gave us information about the Tower outside and then gave us tips to guide our visit inside since people had different priorities in what they wanted to see.
Laurence and I were the first to see the Crown Jewels that morning which usually require a patient wait behind a long line of people. So that was a great feature of this particular tour. The Crown Jewels are definitely the most popular thing to see at the Tower of London, but you could spend all day visiting the various exhibits, buildings, and museums within the complex.
For instance the White Tower (oldest part of the complex) built by William the Conqueror is a must-see place for many. You can also see and learn about the Tower's famous ravens, visit the Medieval Palace, take a short guided tour (free with entry) with one of the Yeomen Warders (Beefeaters), walk sections of the medieval walls, learn more about the executions at the Tower, or visit the Fusilier Museum which provides the history of the British infantry regiment.
Obviously, you won't have time to do all these things as part of a walking tour, but you can choose a couple that are most appealing. We chose to see the Crown Jewels, visit the White Tower, and see the Tower Green and execution site during our time.
This was a great overview of the Tower of London, but it is definitely a place I'd like to return to again!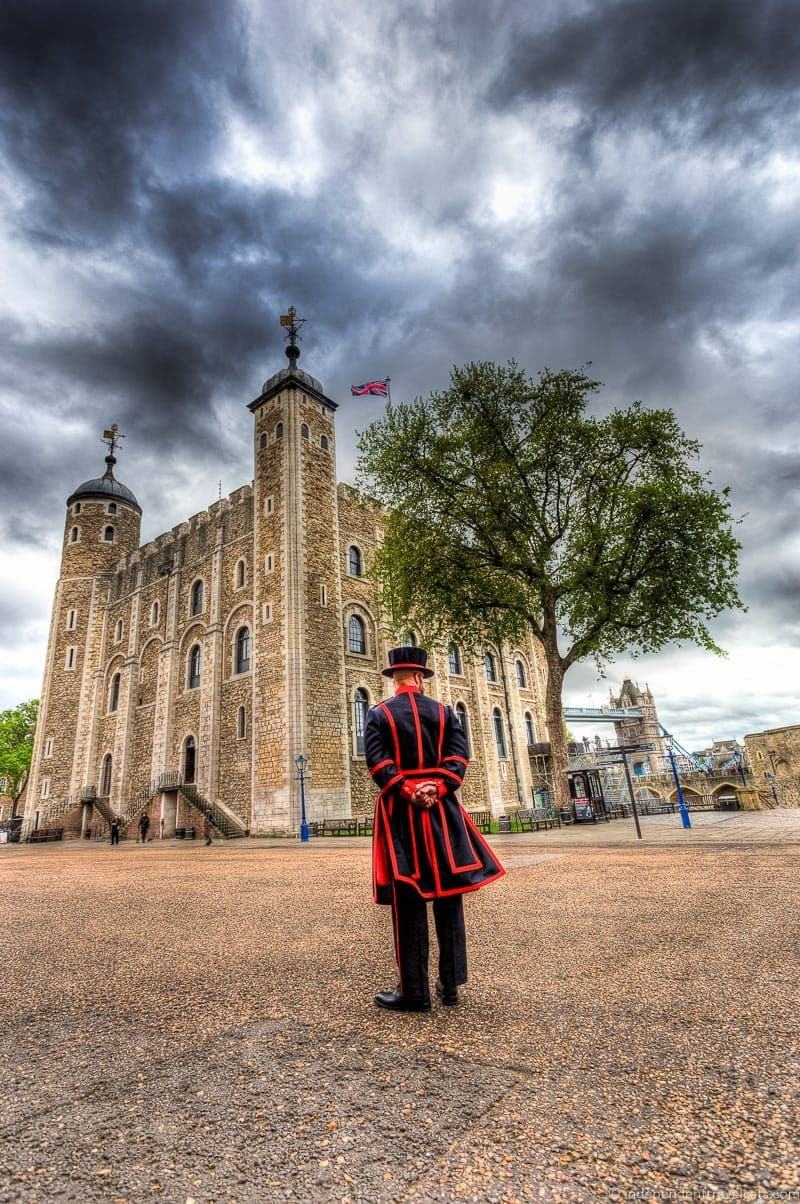 Boat Ride on the River Thames
After our visit to the Tower of London, we walked a short distance to catch one of the boat shuttles that goes up and down the River Thames. We also had a great view of the famous Tower Bridge from here.
The cruise was about 30 minutes long and took us from the Tower of London to Westminster. Although it was a relatively short boat ride, it gave us some time to relax and we had time to get a tea or coffee. During the cruise, Shabby pointed out notable sights along the way to our next destination like the HMS Belfast, the Shard, London Bridge, and Shakespeare's Globe.
During our Thames ride Shabby explained to us that we would be spending our time in Westminster, which is a distinct section of London that constitutes its own city: the City of Westminster. Westminster contains many of the most famous London tourist attractions, including Buckingham Palace, Trafalgar Square, Downing Street, Piccadilly Circus, Houses of Parliament, Westminster Abbey, and Hyde Park.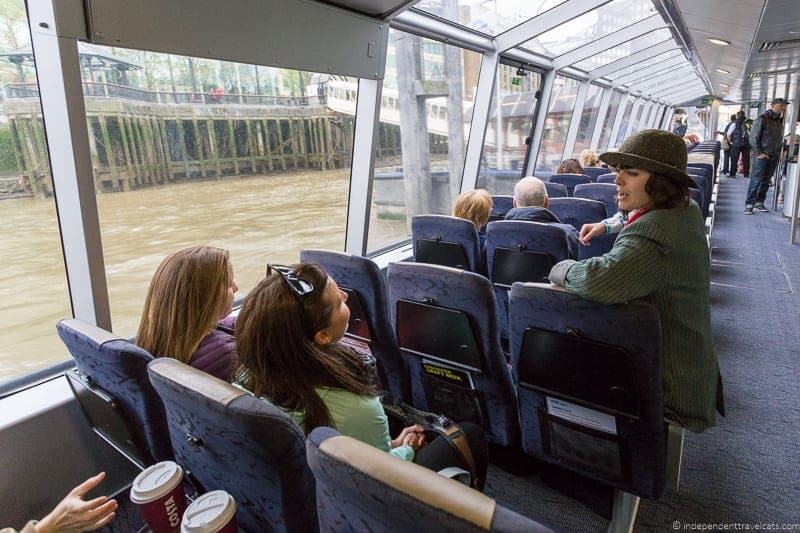 Buckingham Palace & Changing of the Guard
Probably the most famous place in the United Kingdom, Buckingham Palace serves as the current primary London workplace and residence for the reigning sovereign of the United Kingdom. It was originally built as a private residence by the Duke of Buckingham (hence the name) in the early 18th century, but was later acquired by British royalty and expanded over time.
During our visit Queen Elizabeth II was not in residence, as indicated by the flying of the Union Flag instead of the Royal Standard above the palace. However, we were not able to actually visit Buckingham Palace during our time in London as the palace is only open for public visits for about 8 to 10 weeks per year (generally August and September).
If you are visiting London while the palace is open to the public and you want to visit later in your trip, be sure to book your tickets well in advance as they often sell out.
Depending on the walking tour you book and the day you book the tour (as well as weather and security conditions) you will likely see either the Changing of the Queen's Guard at the forecourt of Buckingham Palace and/or the changing of the Queen's Life Guard at the Horse Guards Parade.
If you want the best chance to see the Changing of the Guard, I'd book your tour for a Monday, Wednesday, Friday, or Sunday.
The space in front of Buckingham Palace is always crowded during the time of the Changing of the Guard and so Shabby took us to a spot in front of St. James' Palace where we got very close to some of the regiments, including the Nepalese Brigade of Gurkhas that were part of the Changing of the Guard ceremony that day.
After the changing of the guard ceremony, we were able to get a much closer look at the palace and then we had a break for lunch. Shabby gave recommendations for lunch and pointed out where to meet after our lunch break.
Laurence and I decided to use our break time to visit the Royal Mews (royal collection of historic carriages and coaches) next door on our own since we had a 2-day London Pass (read our detailed London Pass review to find out if it worth buying for your trip). Then we just grabbed sandwiches to eat before heading back to the meet-up point to rejoin our group.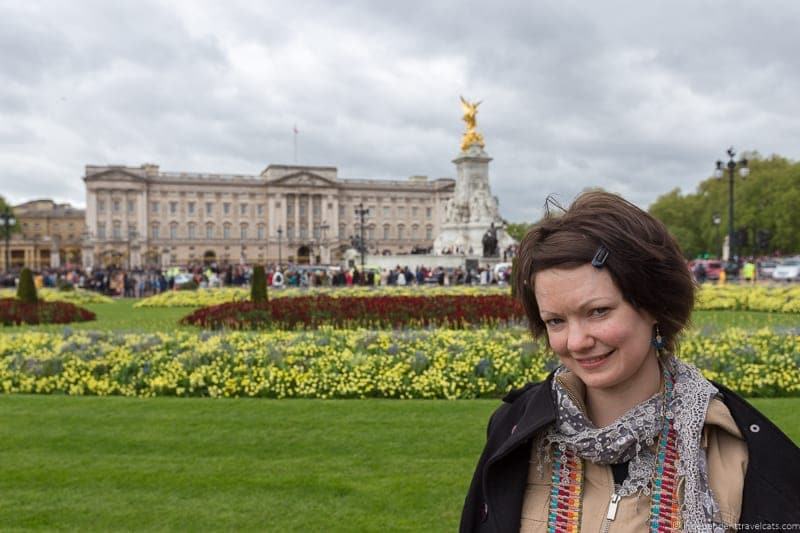 Trafalgar Square & Nelson's Column
The second half of our tour began with a walk to Trafalgar Square. This famous public square contains Nelson's Column, built to commemorate Vice Admiral Horatio Nelson who died at the Battle of Trafalgar, at its center which is guarded by the four famous bronze lion statues.
Here we learned from Shabby a bit about Trafalgar Square and some of the famous sights that surround the square, including the National Gallery, National Portraits Gallery, St Martin-in-the-Fields Church, and the Strand.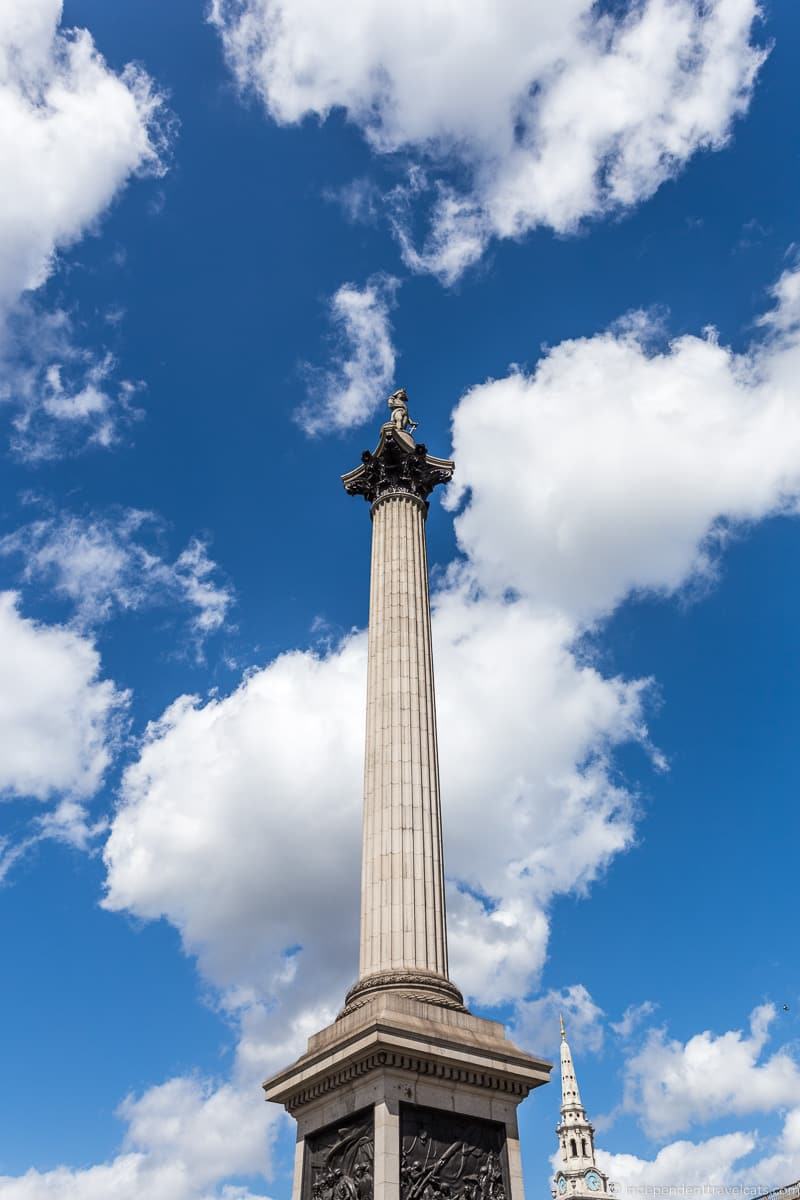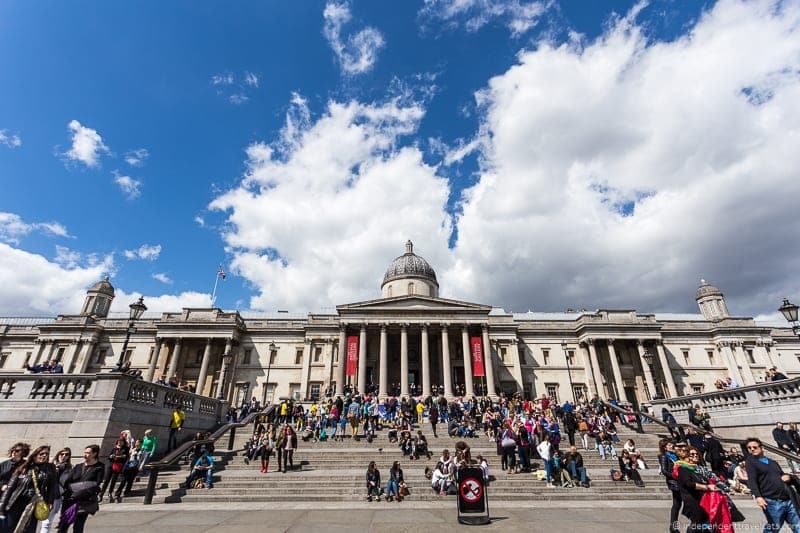 Whitehall
We then took off down Whitehall street, learning about the famous former Whitehall Palace along the way. The Palace of Whitehall was the largest palace in Europe until it was destroyed by a fire in 1698. Only a small portion of it still survives.
Along the walk, we made brief stop to look at the Horse Guards, the Cenotaph (national war memorial), and to take in the official residence of the British Prime Minister at 10 Downing Street. Unfortunately there is not much to see through the gate at Downing Street except for a fairly unimpressive facade and a door.
At the end of the walk down Whitehall street, we reached Parliament Square.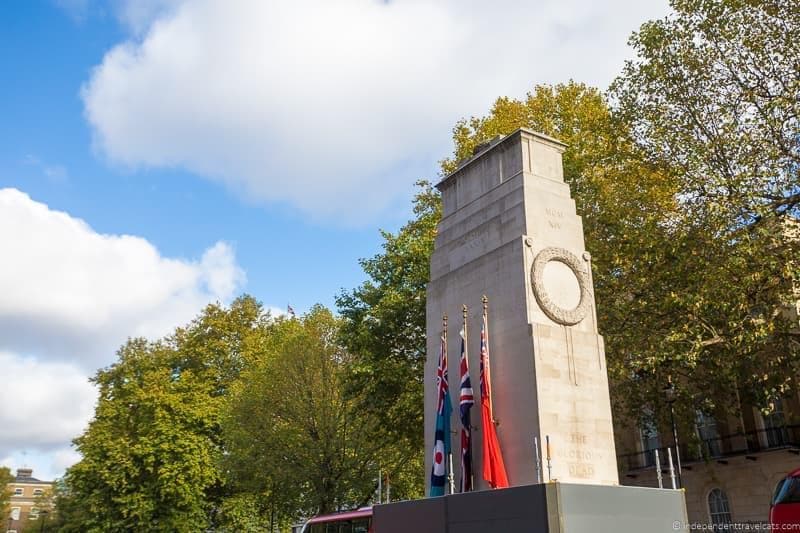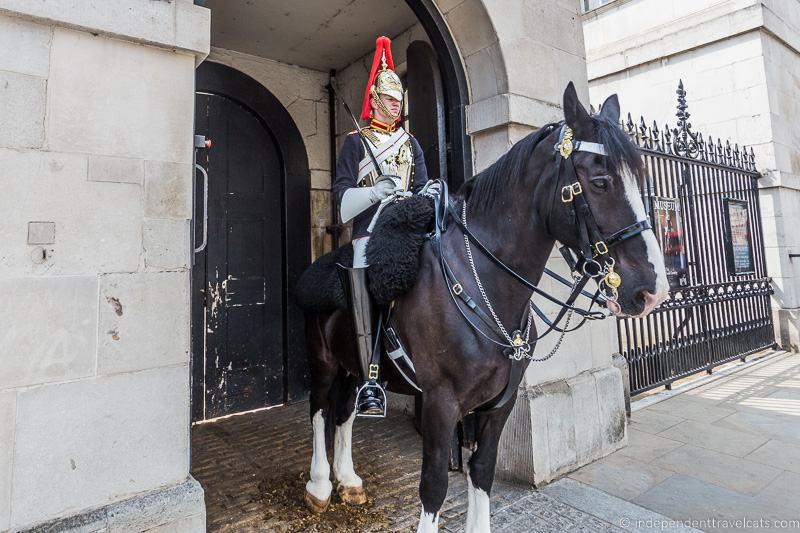 Parliament Square
Perhaps the most famous square in London, this green square is surrounded by a number of iconic sites as well as a number of administrative buildings, including Westminster Abbey, the Palace of Westminster, the Supreme Court, and many government buildings of Whitehall.
The Palace of Westminster, also known as the Houses of Parliament, is the meeting place for the British Parliament (both the House of Commons and the House of Lords) and is most recognizable for its famous Elizabeth Tower, often referred to as as Big Ben.
Few visitors know that Big Ben is actually the name originally given only to the large bell within the clock tower while the tower itself is officially known as Elizabeth Tower. There are great views of the Houses of Parliament from the square as well as along the Thames River nearby.
Parliament Square also contains a number of statues of famous people, including Winston Churchill, Abraham Lincoln, and Nelson Mandela.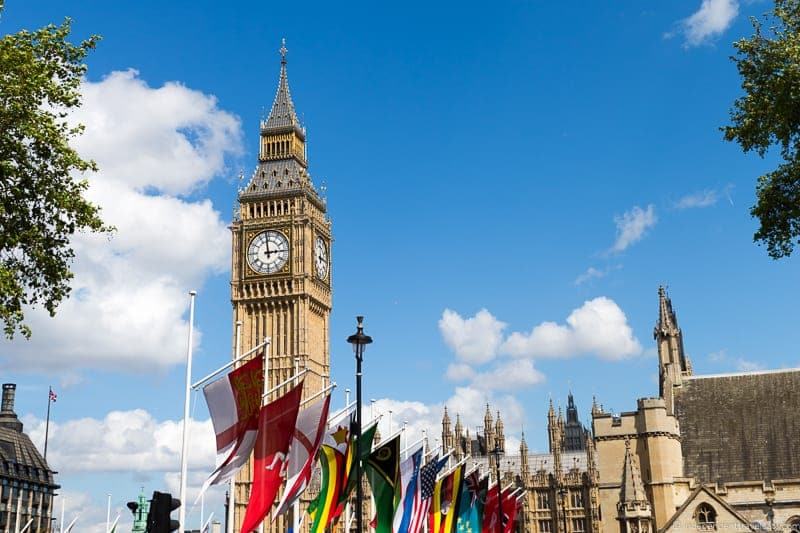 Westminster Abbey
Many London walking tours either begin or end with a visit to (or at least a good look at) Westminster Abbey. It is definitely worth a look inside if you have the time while in London. It is one of several UNESCO World Heritage sites in London.
Westminster Abby is one of the most important historical and religious sites in London and has been used for all English and British coronations since William the Conqueror in 1066. In addition to coronations, it has been used for over a dozen royal weddings, including Prince William and Catherine Middleton in 2011. It is also the final resting place of lots of famous people, from royalty to notable scientists.
Highlights here include the nave, quire, high altar, coronation chair, Lady's Chapel, Poet's Corner, and the many shrines and graves. There are also other areas such as the Chapter House and cloisters that are worth checking out, as well as the new Queen's Diamond Jubilee Galleries.
If you are visiting with a guide, they'll take you to all the highlights, but if not, the audioguides here are excellent. Walking tours led by abbey staff, called vergers, and are available several times a day for a small additional fee.
Note that Westminster Abbey is closed to visitors and tour groups on Sundays and certain holidays.
Overall Thoughts on our Best of London Walking Tour
The full-day Best of London walking tour with City Wonders definitely delivered on showing us the highlights of London. We saw so many of the most famous landmarks and sights in central London, from the Tower of London to Westminster Abbey.
A highlight for us both was touring the Tower of London and it was great to have early entry since it can get quite crowded there, especially around the Crown Jewels. It was also great to have the experiences of doing the short boat ride on the Thames and seeing the changing of the guard. The break in the middle was also nice.
Our guide, Shabby, was quirky, knowledgeable, and friendly and she definitely made the history of the places we saw come alive. She was also quick to answer our questions when she could and give us additional tips for our time in London.
Our visit inside the Tower of London was great but it was not guided by our tour guide during our time inside as she was not a Blue Badge guide and therefore unable to provided guiding here. This did not matter to us as it allowed us to more easily cover the places we wanted to visit separately from the group, but it is something to consider.
Note that this walking tour also did not include an interior visit to Westminster Abbey. If you wish to also have a visit to Westminster Abbey included as part of the tour and wanted a guided tour of both the Tower of London and Westminster Abbey we'd recommend considering this group tour or this private tour instead which are both led by Blue Badge guides.
Overall, we both really enjoyed this tour and I think it is a great tour for any first-time visitor to London as it gives you a great overview of central London and a look at so many of London's iconic attractions. I can't wait to return to London to spend more time inside the Tower and do a guided tour inside Buckingham Palace!
Have more than a day in London? Check out our 2 day London itinerary, 3 day London itinerary, and 6 day London itinerary which each include a day-to-day London itinerary, transport tips, walking maps for each day, and money savings tips.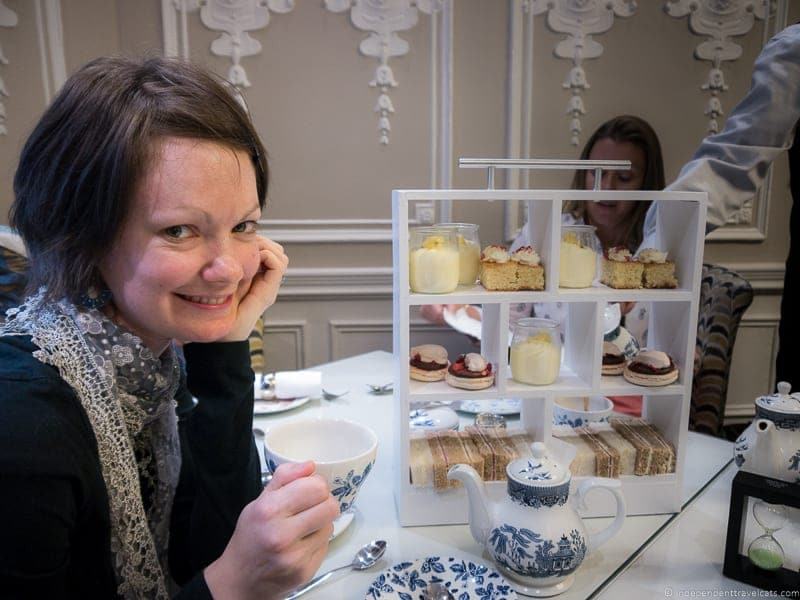 So as you can see, you can see a lot of the city highlights a London walking tour! Hope this article has helped give you a sense of what to look for in London walking tours, how to to choose the best London walking tour for yourself, and what to expect on a full day London walking tour.
If you are planning your own trip to London in the future and are thinking about taking a London walking tour, you may want to PIN this article to Pinterest to find it again easily in the future: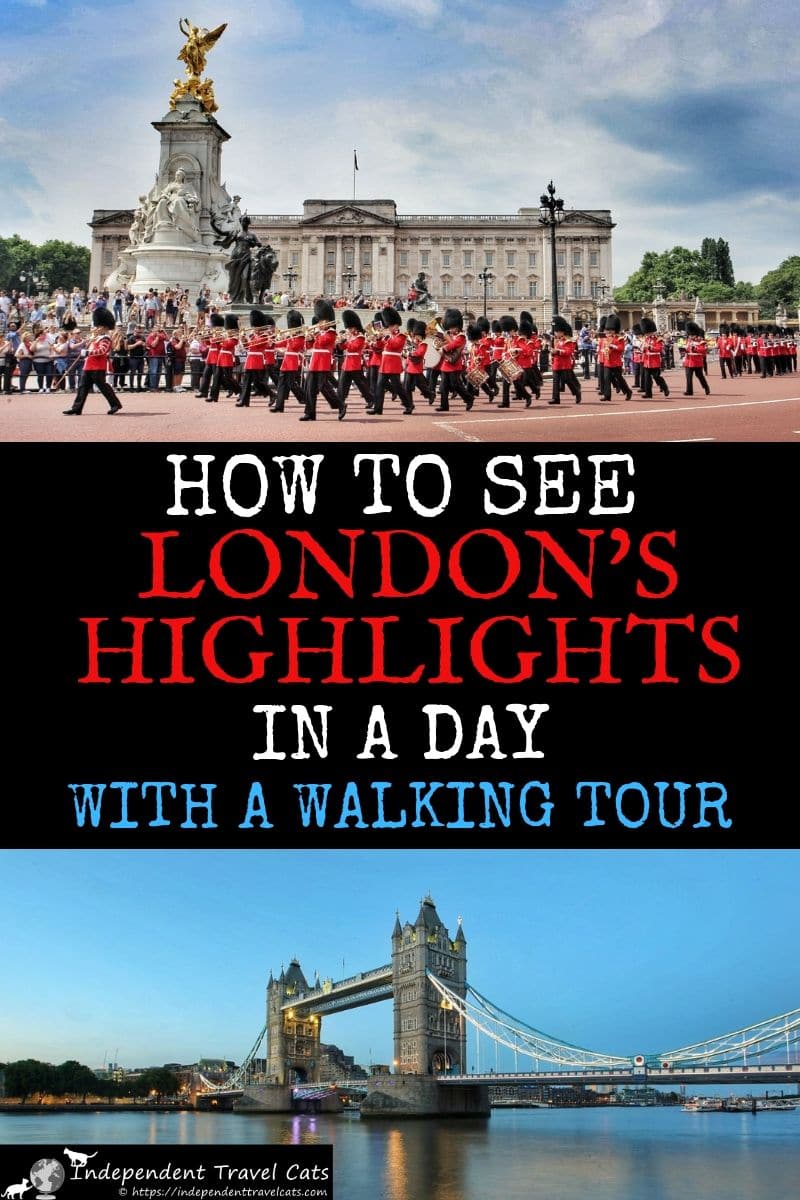 Have you taken a London walking tour? As always, feel free to share you own tips and advice about walking tours in London.
If you are planning a trip to London, feel free to ask us any questions about London walking tours or anything else related to visiting London. Just leave us your questions in the Comments section below.
**Disclosure: We were invited to go on a complimentary tour by City Wonders in order to review their tours and provide feedback; however, this article contains only our own honest thoughts and opinions. We were not financially compensated for this post.**