If you are planning a trip to Iceland, our 7 day Iceland itinerary will help you plan the perfect Iceland road trip. If you have 7 days in Iceland you have time to explore the capital city of Reykjavík, the west coast, the famous Golden Circle, and the south coast of the country.
Our suggested Iceland itinerary includes cultural highlights, waterfalls, glaciers, national parks, Icelandic horses, fishing villages, black sand beaches, lava fields, and loads of scenic views. It covers some of the most famous and iconic places in Iceland as well as some lesser known spots.
This itinerary is perfect any time of the year, including in winter where many places in Iceland become inaccessible or close for the winter. We visited all these places ourselves this last winter on a self-drive trip. Although you certainly can't explore all the wonderful places Iceland has to offer, you can see a lot of the highlights of Iceland in 7 days.
Our 1 week Iceland itinerary includes day-to-day driving details, sightseeing highlights, and lodging recommendations. In addition, we've also included loads of tips, advice, and recommendations to help you get the most out of your Iceland vacation!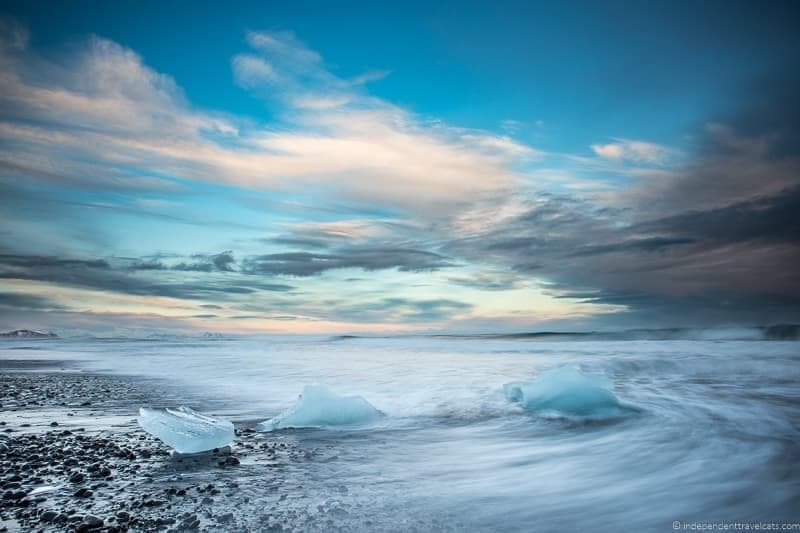 Information for Visiting Iceland in the Winter
Before we share our suggested 7 day Iceland itinerary, we wanted to share some tips and advice and answer some frequently asked questions about planning a trip to Iceland. These are focused on visiting Iceland in winter, but most apply to those traveling at any time of the year.
We'll go over the pros and cons of traveling to Iceland in the winter, how to decide the best way to get around Iceland, provide driving tips for Iceland, give some packing and budgeting advice, tell you how to maximize your chances to see the Northern Lights, and provide links to additional resources for planning your trip.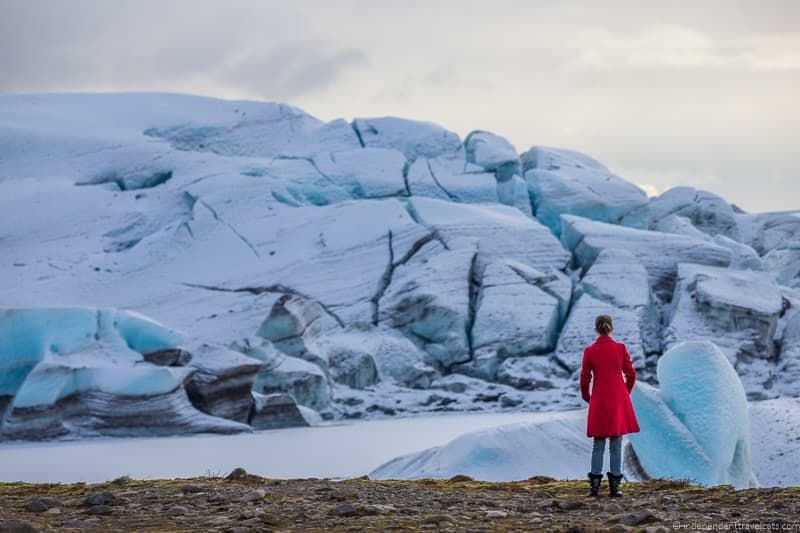 Should I visit Iceland in the winter?
There are many reasons why you may want to visit Iceland in the winter and many reasons why you may not want to visit Iceland in the winter. We'll go through some of the main pros and cons of visiting Iceland in the winter to help you decide.
Note that the "winter season" in Iceland is longer than in some other parts of the world, running from about mid-October to the end of April. Many of the highland roads are closed during this period.
The pros of visiting in winter are that it is the best time to visit if you want to see the Northern Lights in Iceland, it is the least busy time of the year so less crowded, and you get the chance to see some wonderful wintry landscapes and experience winter weather.
However, there are a number of cons to consider such as fewer daylight hours, many business have shorter opening hours or close completely during the winter months, potentially hazardous winter road conditions, less bird life for those interested in the seabirds, road closures are common and some parts of the country will be inaccessible or closed off to traffic, and, well, it's cold.
Note that if you are interested in visiting in winter but have some reservations you can do things to mitigate some of the cons. These include visiting in March versus December to get the most sunlight hours, planning each day so you maximize your daylight hours, knowing the best places to go in the winter that are not so dependent on weather and road closures, and packing properly so you can stay dry, warm, and comfortable during your trip.
Should I drive or take a group tour in Iceland?
It really depends on a few things: your budget, your comfort with driving in Iceland, how much you want to plan ahead, and your travel style.
Many people join group tours for the ease of it as they don't have to worry about driving (especially in the winter), don't have to book anything, and have tour guides for information. Group tours can also be great for those traveling alone who enjoy the company of others as they travel and they can also save you money (although this is not always the case).
Some winter Iceland guided tours to check out are this Snaefellsnes, Golden Circle & South Iceland tour, the Complete Winter Tour, and this shorter Highlights of the South Shore tour. For more Iceland tours, check out this excellent list of guided tours in Iceland. Private tours are also possible although are generally very expensive.
Those who enjoy more independent travel and feel comfortable driving can plan their own do-it-yourself independent trip and hire out a rental car, reserve their own lodging, book their own activities, and plan their own route.
Another alternative is to book a self-drive trip in Iceland where all the bookings are made for you (e.g., rental car, hotels), but you still travel independently and drive yourself.
You can see a selection of self-drive tours on Tour Radar here and on Guide to Iceland here, both of which offer a variety of trips from different companies in Iceland.
See our prior post with Iceland travel planning tips to help you decide what option might work best for you. No matter what option you choose, you can still use our 7 day Iceland itinerary to help you choose what places you want to visit.
I want to drive but should I book a self-drive trip or plan it all myself?
If you've decided you definitely want to drive yourself rather than taking a tour, you then need to decide whether you want to book everything yourself or book a self-drive trip trip through a site like TourRadar or Guide to Iceland.
The main advantage of doing it on your own is that you can have more flexibility in your schedule, you don't need to book accommodation in advance, and it may or may not save you money. The disadvantage is that you have to do all the planning and booking yourself and don't have the expert guidance of a travel company.
The main advantages of booking a self-drive trip with a company is that someone else sorts out all your arrangements and makes your bookings for you, you have someone to call if anything goes wrong or you have questions. The main disadvantage of booking a self-drive trip is there is less flexibility if you already have a general route and hotels booked in advance.
In terms of which will save you money, it really depends as cobbling together your own itinerary allows you to look at hotel and rental car offers, special discounts, and consider peer-to-peer rentals through apartment websites like Airbnb.
However, booking a self-drive itinerary trip can be less expensive if you plan to book similar places and do the same activities as often tour companies get discounts on car rentals, hotels, and activities that may translate into savings for you as well. So the two are both great options for the independent traveler and you should choose the one that best fits your travel style.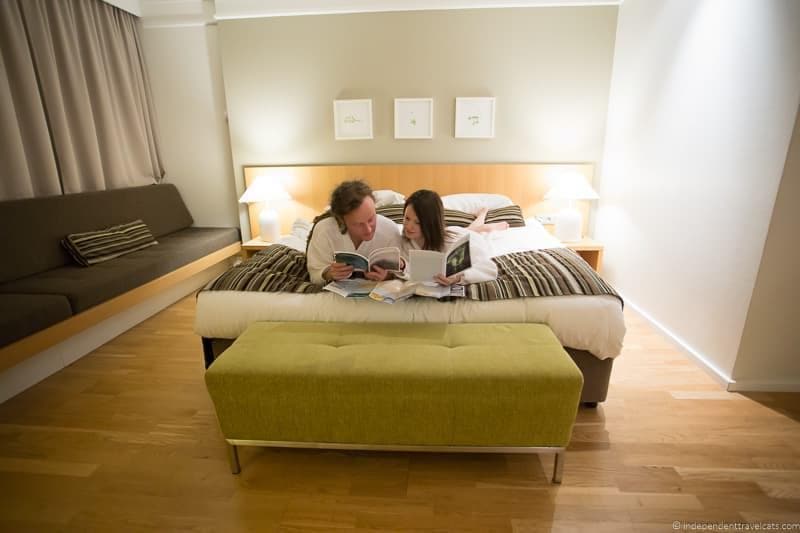 What was our Iceland Travel self drive trip like?
We worked with Iceland Travel during most of our first trip in Iceland. The Iceland-based company has been offering tours in Iceland since 1937 and offers a number of day tours, group bus tours, excursions, and self-drive trip itineraries (including campervan trips). We decided to do a self-drive trip as we had little time for in-depth planning and wanted the advice of experts on what to see and where the best places were to go during the winter.
We were able to choose an itinerary, tell them the type of accommodation we wanted (we went for their comfort option; they range from budget to superior), type of car, optional activities we wanted to do, and other details.
The self-drive trip prices generally include all your accommodations, breakfasts, rental car with CDW, car pick up and drop off, itinerary planning, and an Iceland Travel Companion digital tablet which has your itinerary, hotel details, safety advice, digital maps, and GPS. They also include an emergency contact in case you have any trouble outside normal business hours.
Our itinerary presented in this post is a less detailed version of our self-drive tour with some modifications based on the rest of the time we spent in Iceland. For a more detailed overview of our trip with Iceland Travel, check out the review of our Iceland road trip by Laurence.
If you are looking for a self-drive trip that is similar, I'd look at this 6 day self-drive trip which covers the south coast and ice caving or this 7 day self-drive trip which covers the west and south coasts. Click here for a comprehensive list of self drive trips in Iceland on TourRadar, and here for Guide to Iceland.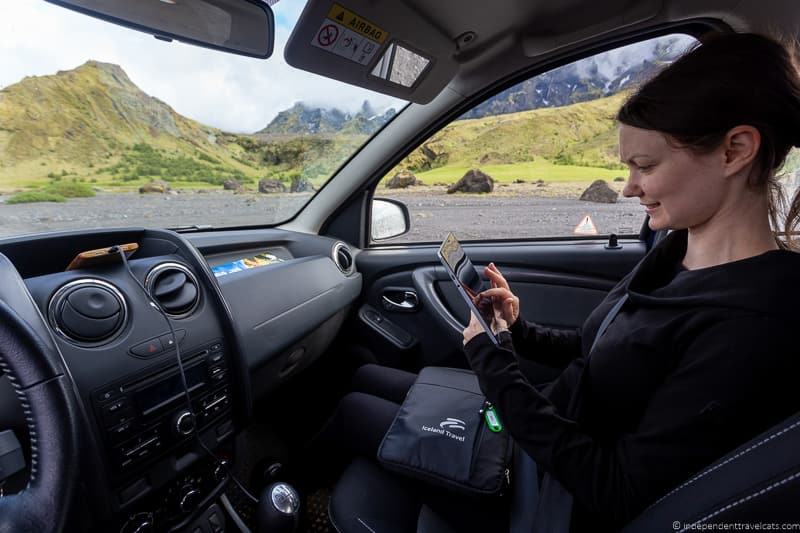 Driving Tips for Iceland?
If you are used to driving on the right side of the road and have driven in winter conditions, you'll likely have few problems following our suggested itinerary. You can read our Iceland winter driving guide for tips and advice on everything from the road conditions to expect, driving laws, how to prepare for the winter weather, and what to do in the case of an emergency.
We found driving fairly easy in Iceland, although you do need to be very careful during storms and bad weather conditions which can happen fairly suddenly. We found road signs well posted along the main routes although we also used a GPS, our phone, and a detailed paper road map for directions. We'd recommend having a GPS with you as well as a paper map (or downloaded offline map) as you'll likely lose satellite connections/phone service in some areas along the way.
In terms of rental cars, you certainly don't need a "superjeep" or large SUV, but I would recommend something with 4-wheel drive and winter tires. If you are planning to stay on main roads, you don't need a 4WD Jeep either. But a 4WD of any kind is good if you slide off the road a bit and need to get back on. If you get your tires stuck in a ditch with a 2WD, you'll likely need to call a tow truck whereas you may be able to just drive out with 4WD.
We had a rental car from Hertz Iceland that was a 4-wheel drive passenger car with a GPS and winter studded tires. We would highly recommend the same as although the main roads on this itinerary are kept cleared, you are still likely to encounter some snow or ice on the road during your trip and it always good to be prepared. We drove through a short snow storm at the end of our trip and were happy to have a 4WD car with studded tires.
To find the best deal on a rental car in Iceland, we recommend comparing rental car prices on rental car comparison sites like Rentalcars.com here and on specialist Iceland rental agency Northbound here.
Northbound specialize in Icelandic car rental, and they allow you to add the Icelandic specific insurances such as sand and ash protection when searching as well
When looking up locations, the English spellings (or any language spellings) of Icelandic words often vary. This can be particularly trying when trying to type places into a GPS or Google Maps but just be patient and you should be able to find it. Some quick tips is that generally the following is true: æ = ae, ð = d, and Þ = th. Also note that like in many countries, there are sometimes more than one town or attraction with the same (or similar) names so do double-check that your GPS is sending you the right direction before setting out.
When driving in Iceland, plan that all your destinations are going to take longer to reach than planned. Most of the time it is because you are going to make unanticipated stops to check out a waterfall, a viewpoint, a museum, or a shop. Sometimes it is also that traffic is just slow, animals may be crossing the road, or there is bad weather. If you build some extra time into your day, you won't have to be rushing around at the end of the day.
A few general Iceland driving rules are that drivers drive on the right side of the road, seatbelts are required at all times, it is illegal to drive off-road in Iceland, it is illegal to use a cell phone while driving (unless hands-free), it is illegal to drive under the influence of alcohol (very low limit), and vehicle headlights should be on at all times when driving (day and night). See our Iceland driving tips post for more.
Watch out for animals on the road, especially sheep. Be careful when pulling off the road and be sure to park in designated parking areas to protect the environment. While it might be tempting to just stop on the road to look at something or take a photo, it is not only illegal but can cause an accident.
Throughout the winter, the "highland roads" or "mountain roads" are all closed and you'll see signs marked Impassable posted. If you choose to go pass these signs, note that it is illegal and you could receive fines if caught, it is likely against your rental car agreement, and if you get stuck you'll likely be waiting awhile to get towed/rescued and will likely be subject to heavy expenses and fines.
For more Iceland driving rules and tips and to stay up to date on road conditions, check out the Road Conditions website and for all kinds of safety and travel information in Iceland check out the Safe Travel website. I'd bookmark both of these websites if you plan to drive in Iceland.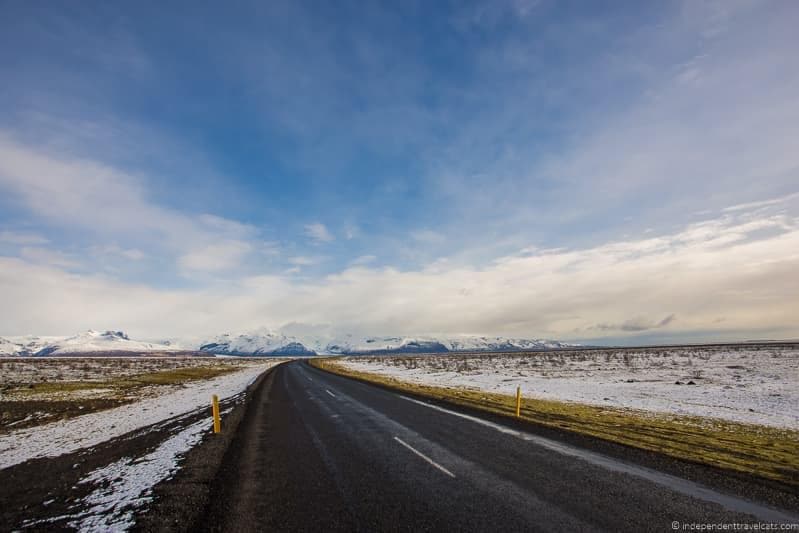 Can I drive the Ring Road in winter?
Yes, but it is not recommended. Iceland's Ring Road is a nickname for Route 1 which loops around the island connecting the most populated towns together (very few people live in the country's interior). It circles the outer part of the island at a length of 1,332 kilometers (828 miles).
Whereas most of the road is paved and two lanes, there are sections, especially in the east and north that are unpaved gravel and there are blind curves and one lane passes along the route. In the winter months, this road can often be dangerous and hazardous. Even if you start the trip with good weather conditions, winter storms and icy conditions can occur very quickly and leave you stranded.
We did a trip with Iceland Travel, who have been doing trips in Iceland since 1937, and they do not sell Ring Road self-drive trips in the winter as they don't feel it is safe enough for visitors to do it on their own. Not only can sections of the drive be hazardous, but also many of the attractions are often not accessible due to winter closures of roads and many businesses shut down or have limited hours during the winter.
Also road closures can play havoc with your plans and actually as I write this (in May!), a storm has closed a section of the Ring Road on the east side of the island because of a storm.
If you are going to do it anyway, be sure to have a 4WD vehicle with studded tires, and carry emergency supplies. But if you really want to drive the full Ring Road and see all of its attractions, I'd visit between the late Spring to early Autumn.
The good news is that you can safely drive the better maintained and traveled sections of the Ring Road in the winter (west and south) where you can see many of the road's most popular highlights and they are included on our itinerary.
Another alternative is to book a group tour such as the Iceland Complete Winter tour which does a guided tour of the Ring Road highlights tailored for winter.
If you are driving outside of winter, then we can certainly recommend the Ring Road if you have at least 7 days and you can check out our suggested Ring Road itinerary.
Tips for to saving Money in Iceland in Winter?
Iceland is an expensive country and the prices of fuel, alcohol, food, and clothing are some of the highest in the world. One good thing about winter is that the prices of some things, such as lodging, are often a bit cheaper in the winter compared to the busier summer months.
But there are still lots of ways to save money and stay within your budget. These include finding cheap flights, using fuel discount cards, drinking the free tap water, cooking your own meals, carpooling, using local coupons, and looking for free attractions.
Check out our guide to traveling to Iceland on a budget for 21 budget tips that cover ways to save money on everything from flights to food to attractions in Iceland.
What if I have less than (or more than) 7 days in Iceland?
We present a suggested 7 day Iceland itinerary but even if you have more or less than 7 days in Iceland, it is easy to modify. For those with 5 days for example, you might eliminate Day 2 and Day 3 and head directly to the Golden Circle on Day 2 and then do the rest of the itinerary. If you have only a few days, I'd prioritize a few places you really want to visit and head there.
We also have a guide to visiting Iceland on a three day stopover for those of you looking to visit for a shorter time.
For those with more than 7 days in Iceland, I would just slow everything down and add days to the areas that sound most interesting to you. With more days, you can avoid having a lot of one-night stands (changing hotels every night), head out on longer hikes, book more activities, visit more museums, and get to see more of the local sites.
It is easy to modify the suggested itinerary and if you have questions or want recommendations, just leave us a comment and we'll tell you what we think!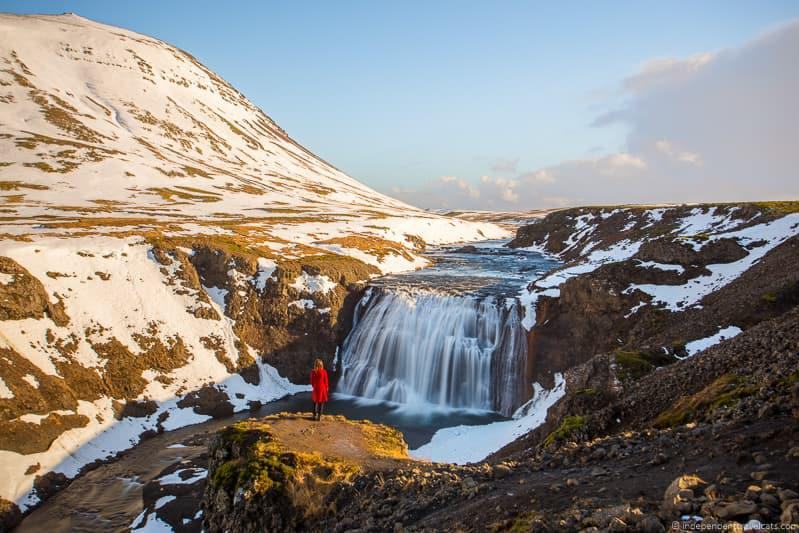 Determining a Budget for Iceland?
Iceland is expensive. Cheap flights are available from many locations (particularly western Europe and North America) but travel costs within the country are high.
Whereas reasonably priced lodging can be found throughout the country, food, drinks, entry fees, fuel, and guided activities are expensive compared to most other destinations. It is expensive not only for tourists, but also for the people living there.
For example most people think the UK is an expensive country but the cost of living in Iceland is 68.74% higher on average than living in the UK using May 2017 prices. Also visitors should note that Iceland is not part of the European Union and does not use the Euro, but they use the króna (normally abbreviated ISK) for currency. It is easy to withdraw króna or exchange most currencies at the airport or major banks in Reykjavík.
You can save money during your trip by grocery shopping (although note even grocery prices are quite high), eating at fuel stations, diners, and fast food places, going to regular public baths rather than tourist-oriented ones, staying in hostels, guesthouses, and farm stays versus hotels, limiting the number of activities you book, and limiting alcohol consumption. Just note that currently a loaf of bread will cost you about USD $4 and a Subway meal is about USD $15 so even groceries and fast food aren't exactly cheap.
Activities such as horseback riding, snowmobiling, and glacier tours are often over USD $100 per person and often in the USD $200 to $400 range depending on what is included. A 4-hour helicopter tour over Iceland can cost you almost USD $2,000 per person.
Of course you don't want to spend your whole trip eating gas station food and avoiding doing any fun adventure activities, so even if you are on a tight budget, it is best to plan for at least a couple of splurges to make the most of your time. I would check the current prices in Iceland before you go so you have a good idea on how to budget and what to expect as many people we met on our trip were shocked by the prices.
Read our post on traveling in Iceland on a budget for lots of advice on setting a budget and budget tips.
Tips for Booking Lodging in Iceland?
There are less chances of accommodation being full in winter, but often there is limited lodging options the further you get away from Reykjavik, so booking in advance is advised. Also if you are looking for a certain type of property (e.g., hotel with a restaurant) or have a certain budget it is definitely best to book ahead.
Also note that although things are changing, there are few luxury properties outside of the Reykjavik and the Blue Lagoon areas so most places fall into the mid-range to basic category with most lodging options in other parts of the country being comfortable but basic hotels, guesthouses, B&Bs, farm stays, and apartments.
We've provided lodging suggestions throughout the itinerary to give you some places to start if you are booking your own accommodation.
Tips for seeing the Northern Lights in Iceland?
Winter is the best time to see the Northern Lights in Iceland. In fact you have almost no chance to see them in the Summer and much lower chances in the Autumn and Spring. In order to see the Northern Lights you need a combination of several things: high levels of solar activity, darkness (you can only see them at night), clear or partly clear skies, and an absence of light pollution.
Some of these elements you can't control (e.g., solar activity, cloud cover) and in fact even though we were in Iceland for 12 days, we never saw the Northern Lights in Iceland even though we tried as they were just not active. But you can control where you are and you can head to sparsely populated areas where there is little light pollution and you can also check the weather forecast for areas with clear skies.
Check the aurora forecasts for the best days and times to see them by using online websites, apps, or asking at your hotel (hotel desk staff often post the daily aurora forecasts and many hotels offer a wake-up service if there is activity). We used the Icelandic Meteorological Office Aurora Forecast to monitor activity during our trip as it is probably the best one to use in Iceland, and also got on the list at most of our hotels for the aurora wake-up service.
Often if the activity is low you won't be able to see them with your naked eye, but you may be able to detect green glows using your camera. If activity is strong, you'll be able to see them with your naked eye and if they are really strong you may be able to see them even if you are in an area with some light population as our friend actually saw them from his hotel in Reykjavik.
Most tour companies in Iceland run evening Northern Lights tours you can book (such as this one and this one) and they'll pick you up from your hotel and take you to spots where you have the best chance to see them. Northern Lights tours often include other activities as well (e.g., visits to other attractions, meals, snowmobiling, campfires, hot tubbing) since seeing the Northern Lights is far from guaranteed.
It can be tricky to get good photos of the Northern Lights, and you can check out our guide to how to photograph the Northern Lights for tips and advice.
Booking winter activities in Iceland?
There are a number of fun things to do in Iceland in winter such as skiing, snowshoeing, dog sledding, snowmobiling, ice skating, and participating in holiday festivals. The more adventurous may want to try heli-skiing or diving.
Many activities in Iceland require booking a guided experience since they are not safe to do on one's own. Most also require special equipment. These include exploring ice caves, ice climbing, whale watching, dog sledding, glacier hiking, and snowmobiling tours.
If interested in some of these winter experiences, you can see our post that gives a fairly comprehensive overview of the available winter activities in Iceland, and how you can do them on your own (if possible) and how you can book a guided experience.
What should I pack for a trip to Iceland in winter?
Iceland is a country where the weather can change very quickly no matter what time of year you visit, so packing layers is always a smart option. Essentially you need to pack as you would for any cold weather destination and also factor in any activities you may be doing that may require special items (e.g., hiking, horseback riding, snowmobiling, diving, fishing, visiting public pools).
Check the weather forecast before you go and be sure to pack all the needed essentials as trying to buy a coat, camera accessories, or even shower shoes in Iceland can be very expensive and options are limited.
In the winter, we'd suggest packing and wearing thermal base layers, then warm mid-layers like fleeces, followed by waterproof and windproof outer layers. Be prepared for snow, rain, mist from waterfalls, and heavy winds so be sure that you have a warm coat with you that you can wear in cold temperatures and is made for snow and rain (or alternatively pack a second jacket that is rain and wind proof).
You're also going to want good waterproof hiking boots if you plan to hike, a pair of winter boots if you plan to walk around in the snow, a quality pair of gloves, a warm hat, and sun protection.
If you're visiting any of the thermal springs or pools, you'll definitely want to pack your swimsuit and may also want to bring a towel (provided at Blue Lagoon but not at public pools), a pair of sandals or shower shoes, and a waterproof case or bag for your phone and/or valuables.
If you are planning to do a specific outdoor activity (e.g., skiing, diving, hiking), then you may want to bring along some additional things like prescription goggles, ski pants, or a waterproof hiking pack. For serious hikers, I'd also pack waterproof pants, a travel first aid kit, and waterproof covers for your packs and gear. Other than that you don't need to pack anything particularly special for a trip to Iceland.
Check out our full Iceland packing list for winter for more packing suggestions and tips, as well as a printable packing list.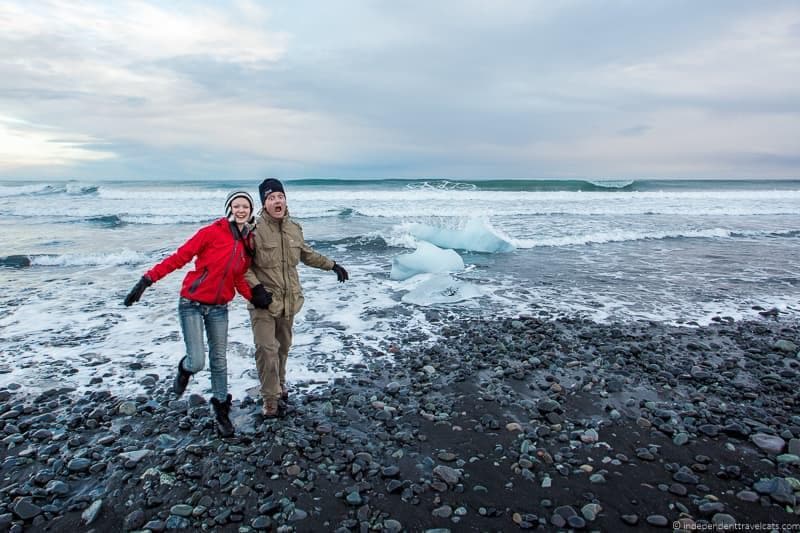 More tips for traveling in Iceland?
First, I'd begin with our other post on tips for traveling to Iceland that should help you get started on planning your Iceland trip no matter when or how you plan to travel. For winter travel, also check out our guide to popular winter activities in Iceland.
If you are looking for great photo locations, check out Laurence's guide to photography locations in Iceland (all are possible in the winter!). For budget tips, check out our Iceland budget tips. Game of Thrones lovers, will want to check out our list of Games of Thrones filming locations.
Also you can check out the official Reykjavík tourism and Iceland tourism websites for further information to help you plan your trip to Iceland.
If you have questions, we have a good knowledge of Iceland now and also have contacts in the country, so are happy to try to answer any questions. Just ask them in the Comments section at the very end of the article.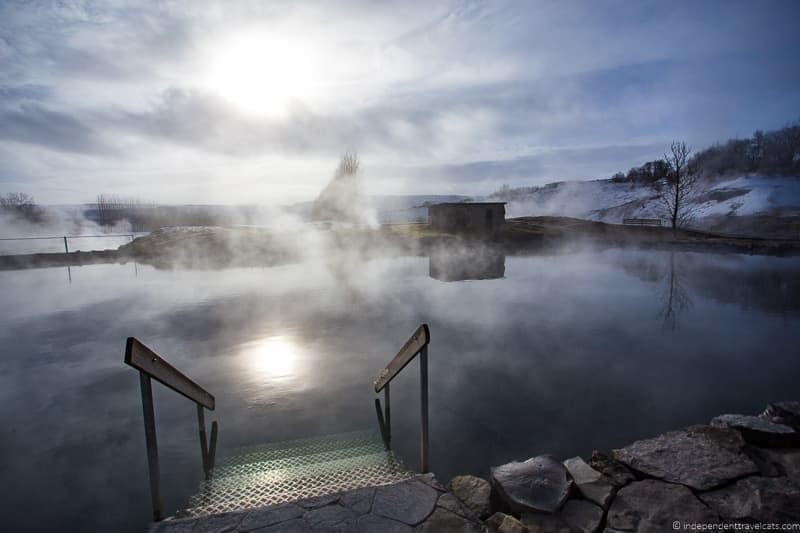 7 Days in Iceland: Summary Itinerary
Here's a summary of our 7 Day Iceland itinerary before we go into the day by day breakdown.
Day 1 –

Visit the famous Blue Lagoon and explore Reykjavík

Day 2 –

Explore western Iceland, enjoy coastal views, see your first waterfalls, and consider a glacier or cave tour.

Day 3 – Explore the beauty of the Snæfellsnes Peninsula
Day 4 – Explore the famous Golden Circle
Day 5 – Waterfalls, black sand beaches, and lava fields
Day 6 – Visit one of Europe's largest national parks, glaciers, and icebergs
Day 7 – Glacier, fishing villages, return to Reykjavik or airport
Our 7 Day Iceland Itinerary for Winter (or Anytime)
This 7 day Iceland itinerary is a modified version of the self-drive trip we did with Iceland Travel and you can read more about it above. Also, although the itinerary and suggestions are all geared for those traveling in the winter, this itinerary works all year round and includes the most popular tourist attractions in the country.
Our itinerary is easy to modify to add or subtract days or reduce the amount of driving. If you have any questions, just ask! So here we go, our 7 day Iceland itinerary:
Iceland Itinerary Day 1
Summary: Visit the famous Blue Lagoon and explore the world's most northernmost capital Reykjavík
Day 1 Total Driving Distance: 44 miles (72 km)
Keflavik International Airport –> Blue Lagoon: 14 miles (23 km)
Blue Lagoon –> Reykjavík: 30 miles (49 km)
What do Do?: We'd recommend that you make the famous Blue Lagoon your first stop to kick off your Iceland trip as it is located near the Keflavik airport. It is easy to enjoy the milky blue waters of the Blue Lagoon as you wade about, enjoy a cold drinks, and cover your face with the algae and silica mud masks.
You can visit the geothermal pool at any time of the year, and winter is a special time to visit as you have the cool winter air, snow topped lava landscape, and the steam rising from the hot blue waters.
Icelandic people love their pools and many visit their local pool daily although you won't see many here as it is expensive and primarily a tourist destination. But it is worth a one-time stop as it really is a beautiful place.
The Blue Lagoon is one of the most visited attractions in Iceland so expect crowds, especially later in the day. Pre-book your ticket online (you do need to book in advance) and you'll receive a timed entry to the spa. Plan to spend at least 2 hours here. See our Blue Lagoon tips to make the most of your visit.
Alternatively, you can also visit the Blue Lagoon on Day 7 as your last stop before you head to the airport as it fits easily into that day as well.
Reykjavík is Iceland's capital city and the largest and most vibrant city in Iceland. Here you'll find the best art, culture, restaurants, city parks, theaters, architecture, festivals, and museums that the country has to offer. Iceland is the most sparsely populated country in Europe (only about 330,000 inhabitants) and the majority live in or within an hour's drive of Reykjavík.
The country may not have the world-famous attractions of Italy or England, but it does have some great smaller museums and attractions that are often overlooked by visitors.
With just one day you might consider doing a walk along the Old Harbor area and seafront and choosing a couple of attractions to visit such as the National Museum of Iceland, Hallgrímskirkja Church, The Settlement Exhibition, Reykjavik Family Park, Saga Museum, Árbaer Open Air Museum, or one of the city's many art museums (combined admission entry to Hafnarhús, Kjarvalsstaðir and Ásmundarsafn is good for 24 hours).
For shopping in Reykjavík, you'll likely want to head to the city centre where you'll find a number of shops, restaurants, and cafés clustered together. Laugavegur is the main shopping street here and considered the best place to shop for the latest clothing, homeware, and accessories.
Where to Stay? We'd recommend spending your first night in Reykjavík although if you are not interested in the capital's attractions, you can also stay near the Blue Lagoon or airport. There are loads of options of places to stay in Reykjavík from hostels to apartments to luxury hotels. I would suggest basing your decision on what you want to see in the city and stay nearby although it is pretty easy to get around the city.
In Reykjavík we stayed at the Grand Hotel, Guesthouse Galtafell, and Reykjavik Natura Icelandair Hotel. We would recommend making reservations once you know your dates as many places do book out in advance.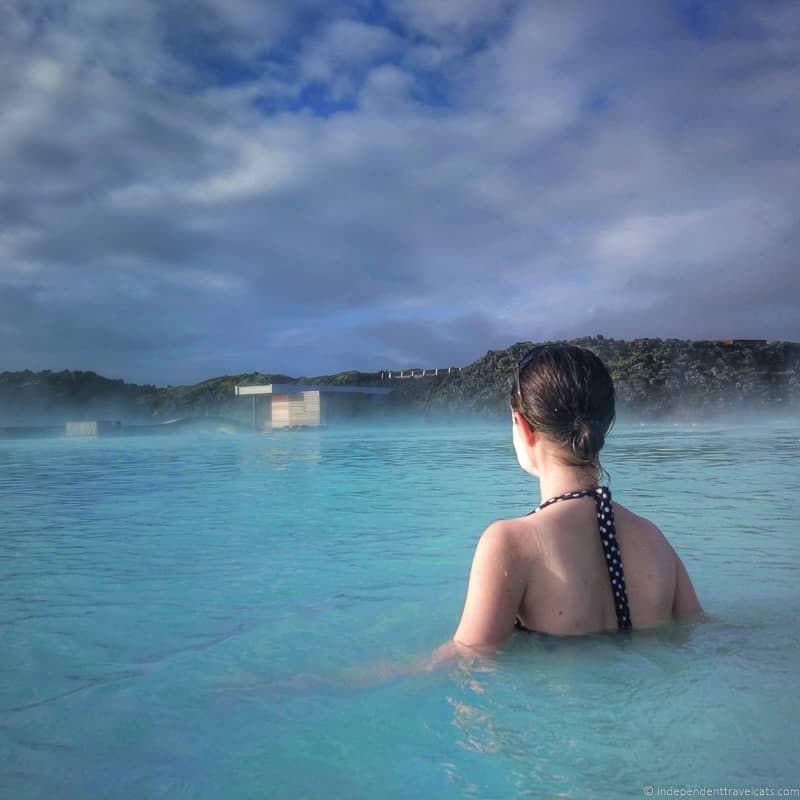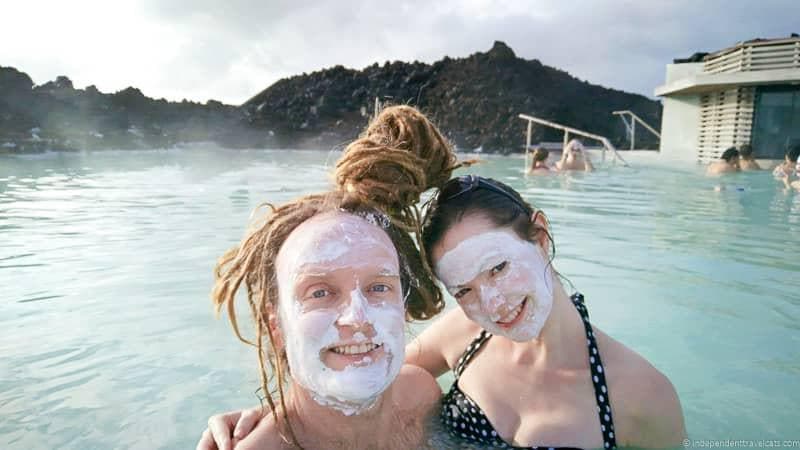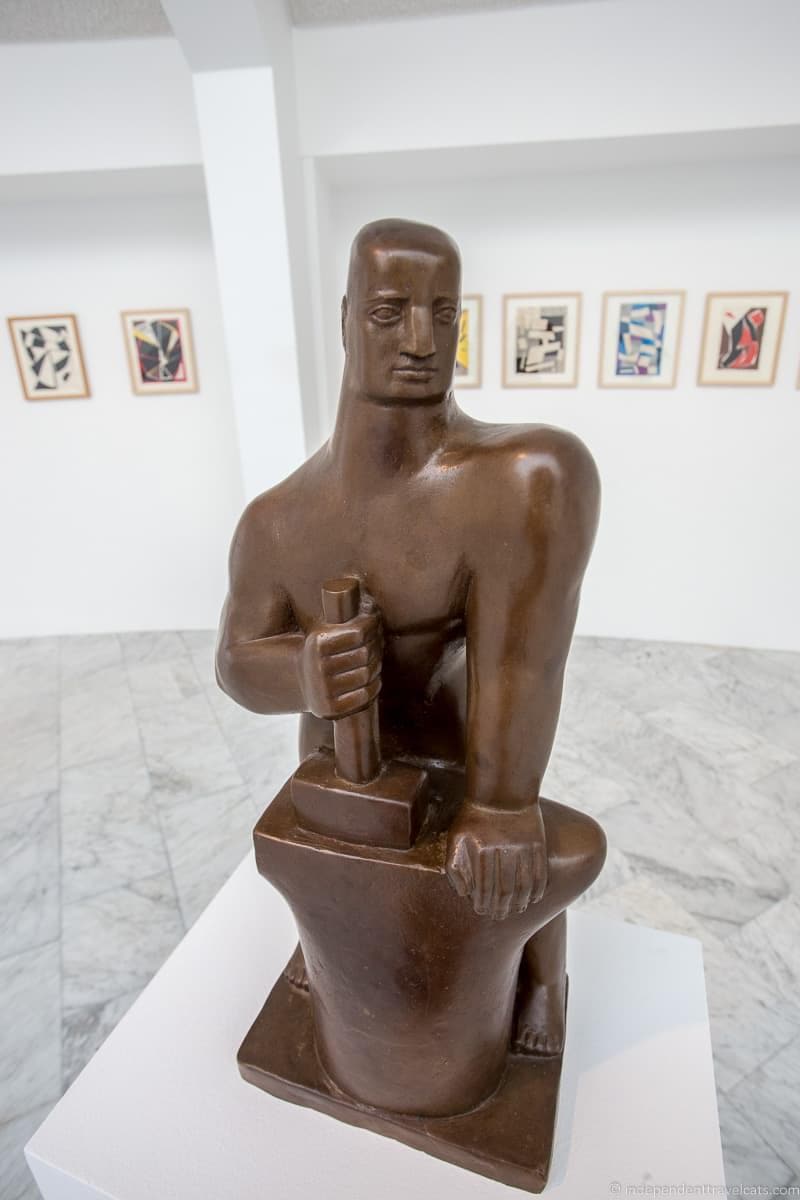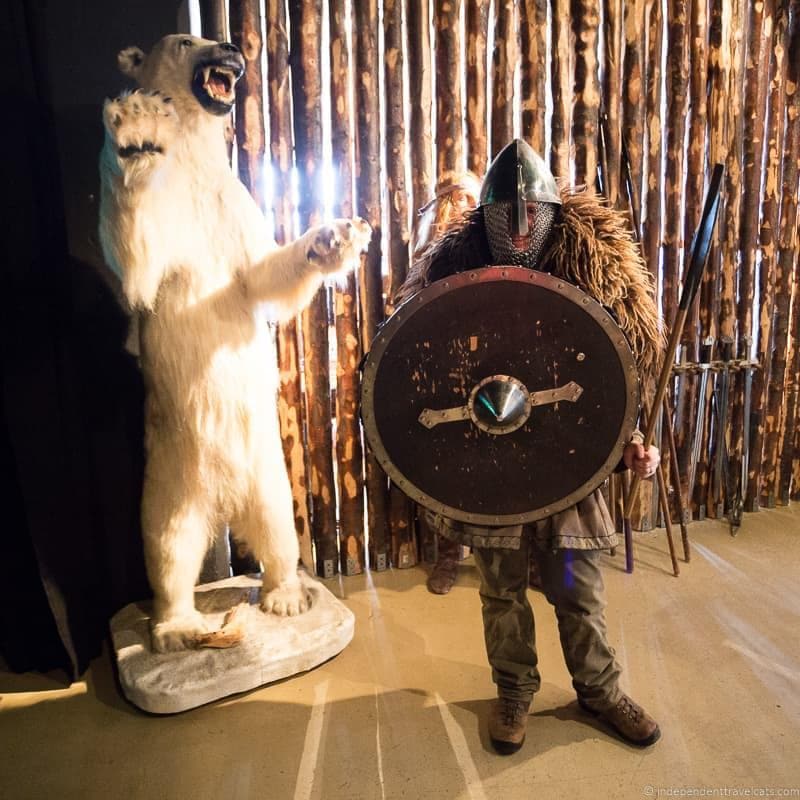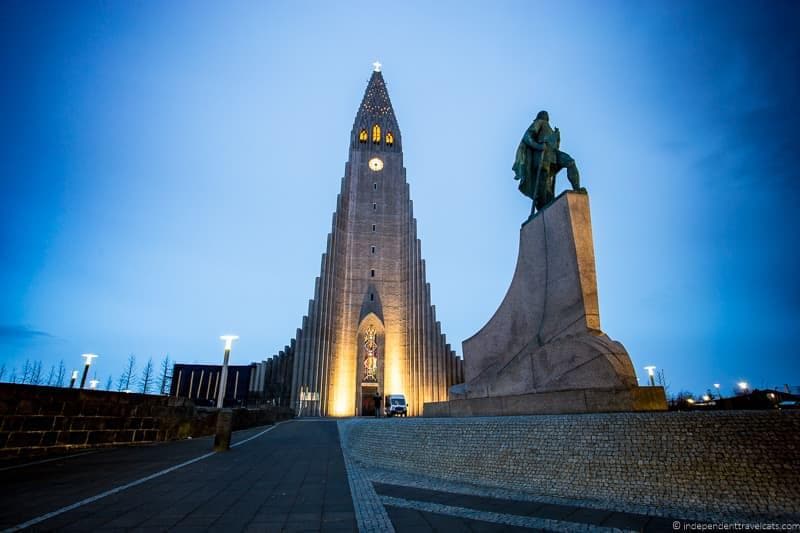 Iceland Itinerary Day 2
Summary: Explore part of western Iceland, enjoy coastal views, visit a couple of towns, see your first waterfalls, and consider a glacier or cave tour.
Day 2 Total Driving Distance: ~ 123 miles (199 km) – if you use tunnel, drive to Húsafell, & overnight in Borgarnes
Reykjavík –> Borgarnes (using undersea tunnel): 43 miles (69 km)
Reykjavík –> Borgarnes (not using undersea tunnel): 69 miles (111 km)
Borgarnes –> Reykholt: 25 miles (41 km)
Reykholt –> Húsafell: 15 miles (24 km)
Húsafell –> Vidgelmir Cave: 6 miles (11 km)
Húsafell –> Borgarnes: 40 miles (65 km)
What do Do?: Head north from Reykjavik towards Borgarnes. You can take the undersea tunnel at Hvalfjordur (small fee, can save about 30 minutes) or you can follow along 47, a coastal road. You can then stop in Borgarnes and explore this former fishing town that sits on the shores of a scenic fjord.
Borgarnes is famous for being near the spot of Borg where the Viking poet and warrior Egill Skallagrimsson lived in the 10th century. In the town, there are a few restaurants and you can also visit the award-winning Icelandic Settlement Centre (learn about the settlement of Iceland and Egil's saga) and/or the Borgarnes Museum.
Next head onto road no 50 and then make a short stop at Deildartunguhver hot springs (near junction of 50 and 518), which are the most powerful hot springs in Europe with water flowing at about 180 liters/second with water temperatures around 206°F/97°C! You can also often buy fresh produce grown in the greenhouses heated by the geothermal energy here.
There is also a new geothermal spa here next to Deildartunguhver hot springs Krauma Baths which has 6 baths, a steam room, and relaxation room. They also have a really good restaurant that serves both lunch and dinner. We can recommend the spa and/or restaurant for anyone needing a break this afternoon!
Then head on to tiny Reykholt which is known for having been the home of one of Iceland's most famous writers and scholars Snorri Sturluson. Visit the Snorrastofa, the Visitor Center and Exhibition Center, if you want to learn more about the work of Snorri Sturluson as well as the culture and history of the area.
Next get ready for your first waterfalls of the trip with at stop at Hraunfossar (a series of waterfalls that flow from underneath a lava field into the Hvítá river) and Barnafoss waterfall (just a short walk upstream from Hraunfossar).
Heading further on to Húsafell, this is where many of the tours to Langökull Glacier (Iceland's second largest glacier) depart in the winter. If you want to visit a cave, you can continue on to find Vidgelmir Cave, Iceland's largest lava cave that can be visited on a guided tour.
You may also want to book an activity in the area for your day here (or add a day if you want to spend more time doing glacier or cave activities). There are a load of activity options and some to consider include the Into the Glacier tour where you take a 8-wheel vehicle tour onto Langjökulll Glacier and into an enormous ice tunnel, snowmobile & ice tunnel tour of Langjökull Glacier, or a tour of Iceland's largest cave, Vidgelmir Cave. Or maybe just an afternoon relaxing at Krauma Baths or an evening Northern Lights tour!
We've done the Into the Glacier tour into the Langjökull glacier ice tunnel from Húsafell and the Vidgelmir Cave tour, and enjoyed both. Be sure to book any activities at least a few days in advance to guarantee a spot and note that many are weather dependent and may be cancelled in bad weather.
Where to Stay?: We'd recommend staying in or around Borgarnes or Húsafell depending on what you plan to do. I'd personally recommend returning to Borgarnes as there are more lodging options and it is closer to the Day 3 route. You can also overnight at Borgarnes for 2 nights as it is also a convenient place to base for Day 3. However, if you have an evening tour booked around Húsafell, then it may be easier to spend the night there.
In Borgarnes, you may want to check out Hotel Hamar (where we stayed), Kria Guesthouse, Borgarnes Bed & Breakfast, or Hotel Rjukandi. Near Húsafell, you might consider the well-rated Hotel Husafell.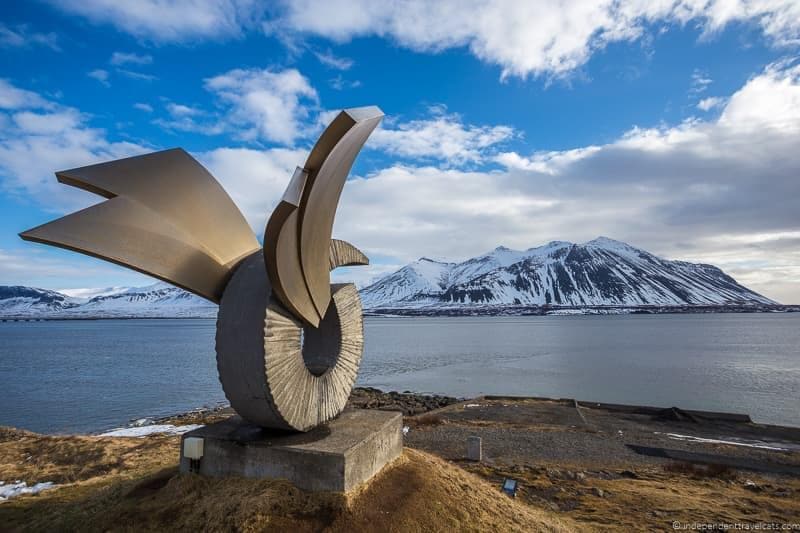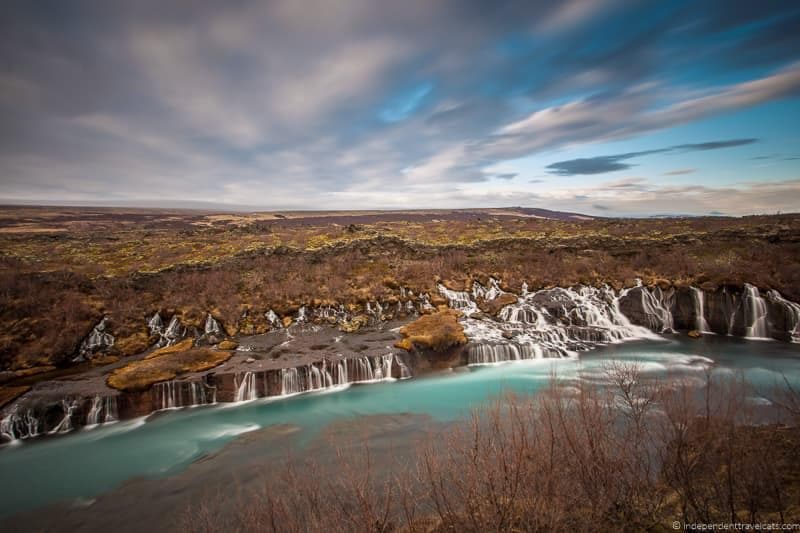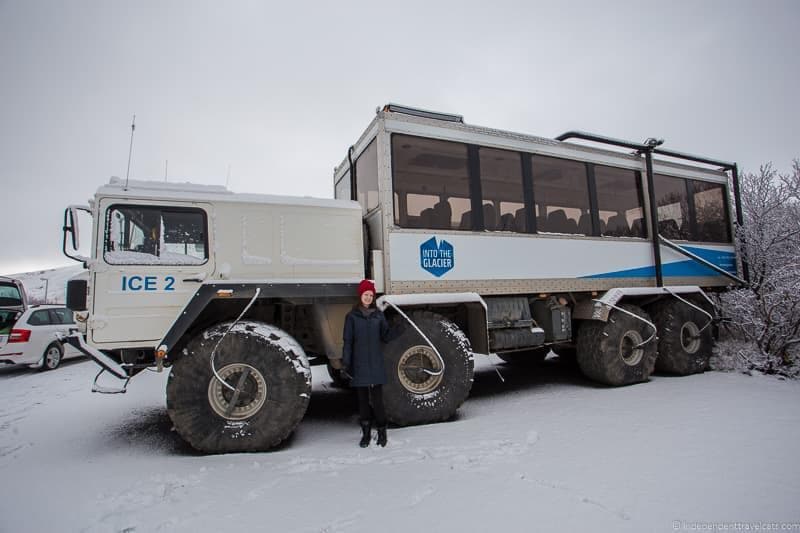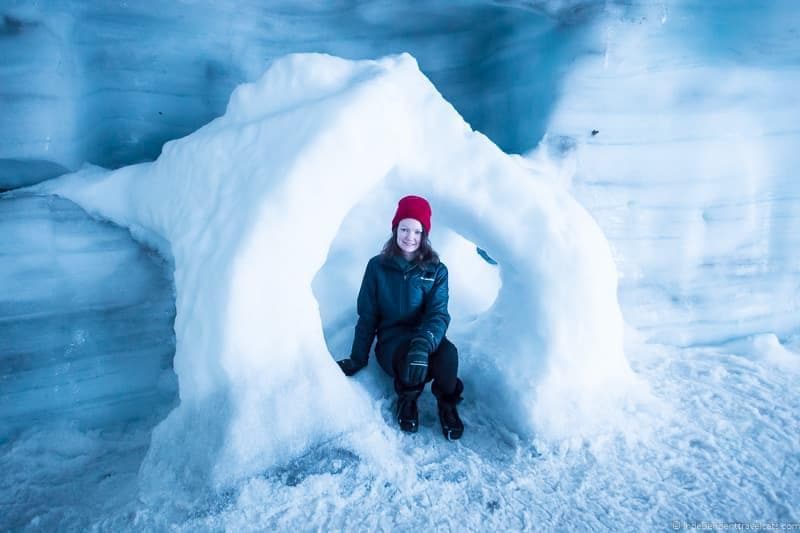 Iceland Itinerary Day 3
Summary: Explore the beauty of the Snæfellsnes Peninsula which offers scenic coastline, waterfalls, boat tours, caves, a glacier, volcanoes, and specialty museums
Day 3 Total Driving Distance: ~ 198 miles (321 km) – round trip visit from Borgarnes
Borgarnes –> Stykkishólmur: 59 miles (96 km)
Stykkishólmur –> Hellissandur: 45 miles (73 km)
Hellissandur –> Búðir (Budhir): 34 miles (55 km)
Búðir –> Borgarnes: 60 miles (97 km)
What do Do?: We recommend that you spend a full day exploring the Snæfellsnes Peninsula (Snaefellsnes Peninsula) as it is a beautiful area of Iceland with lots of scenic attractions. There is a lot you can do here and you should pick and choose what sounds best to you given the time you have to explore. The itinerary route for this day is also totally reversible.
You may want to start with a visit to Stykkishólmur, the largest town in the area with a naturally sheltered boat harbor and a good place to get visitor information (and any supplies/groceries/fuel you need). There are a few attractions here you may want to visit such as The Norwegian House (Norska Húsið), the Library of Water (Vatnasafn), and the Volcano Museum.
Heading south, you may want to make the quick climb of Helgafell (Holy Mountain) which has some nice views or visit the Bjarnarhöfn Shark Museum to learn about shark fishing and have a taste of fermented shark meat (hákarl). You'll drive through the Berserkjahraun lava field (you might want to stop off and read the story here) and there is also a trail you can follow.
Around Grundarfjordur, you'll see both Mt. Kirkjufell and the Kirkjufellsfoss Waterfall (one of the most known waterfalls on the peninsula although you'll likely notice several smaller ones as you drive around).
Along the coast you can stop at some of the small fishing villages (many of the villages are more focused on tourism than fishing these days) such as Rif, Ólafsvík, and Hellissandur. Sightseeing boat tours, whale watching tours, and fishing trips are also possible along the coast on the peninsula and leave from several towns including Stykkishólmur, Grundarfjördur, and Ólafsvík.
The most known attraction on the peninsula is the glacier-topped mountain Snæfellsjökull as it was featured in Jules Verne's Journey to the Center of the Earth as an entry point to reach the center of the earth.
The Snæfellsjökull National Park Visitors' Center is in Hellissandur, and a good place to stop to learn more about the mountain and glacier and plan what you want to do there. In the winter, you often can't access the glacier by car (it was not possible when we visited), but you can book a tour or follow the road up to the glacier edge on foot.
We walked up part of Route 570 on foot to Songhellir (the "Singing Cave") and got a view of the glacier from here. In the winter, it can be difficult to distinguish the glacier from the snow while in warmer temperatures it is much more striking and easier to visit.
Consider booking a snowmobile, guided hike, or snow scooter tour if you want to go onto the glacier, and/or a Vatnshellir Cave tour (currently only operated by Summit Adventure Guides) if you want to visit the inside of the major cave here.
After leaving Snæfellsjökull National Park, you can explore the other side of the peninsula and visit a few more scenic fishing villages such as Hellnar and Arnarstapi. Both have some great coastal views and there is a great coastal path that runs between the two if you have time for a hike.
You can stop and see the Bjarnarfoss waterfall as you get close to Búðir (Budhir) or make a short detour to see the Búðakirkja (a 20th century reconstruction of an 18th century village church) or hike through the surrounding lava fields here.
As you leave the Snæfellsnes Peninsula, you might want to make a short pitstop to fill your waterbottle at Olkelda mineral spring (a short detour off 54) where the mineral-rich water is supposed to have health benefits (tastes terrible but not as bad as fermented shark!).
Where to Stay?: We'd recommend spending the night in Borgarnes as it is a good base and you can skip changing hotels if you were already staying there on Day 2. However, there is also lodging on the peninsula itself and if you are wanting to do things at night, it is best to probably overnight there. Stykkishólmur is the main tourist center and largest town with the most options but you'll also find limited lodging elsewhere.
On the Snæfellsnes Peninsula, you may want to consider Fosshotel Stykkishólmur, Our Home Apartments (Stykkishólmur), Hotel Egilsen (Stykkishólmur), Old Post Office Guest House (in Grundarfjordur), Fosshotel Hellnar (in Hellnar), Arnarstapi Guesthouse (near Arnarstapi), Guesthouse Hof (near Budir, where we stayed), and Hotel Budir (in Budir).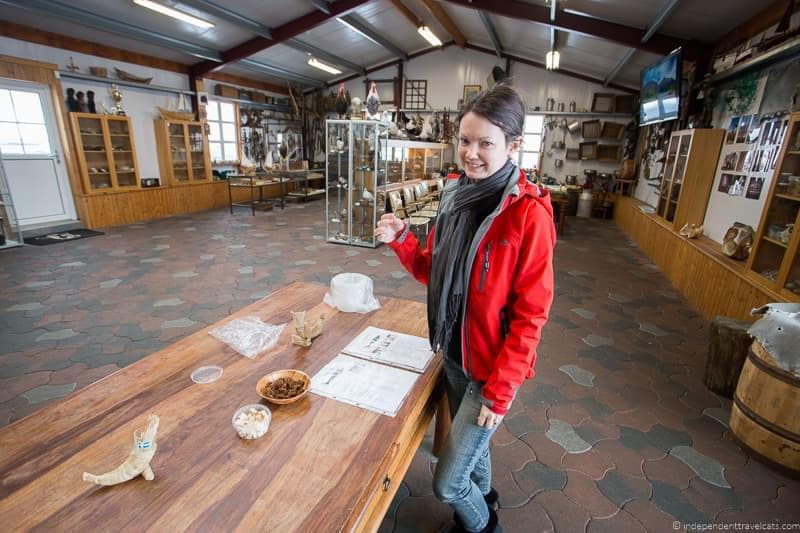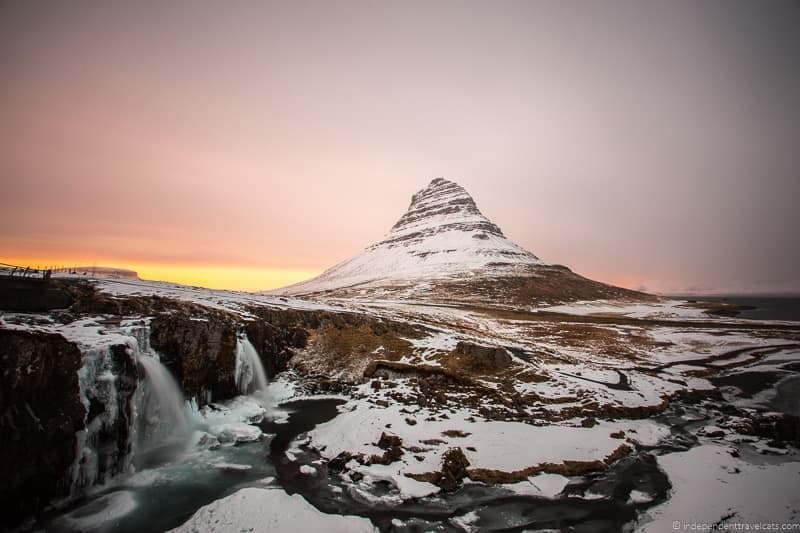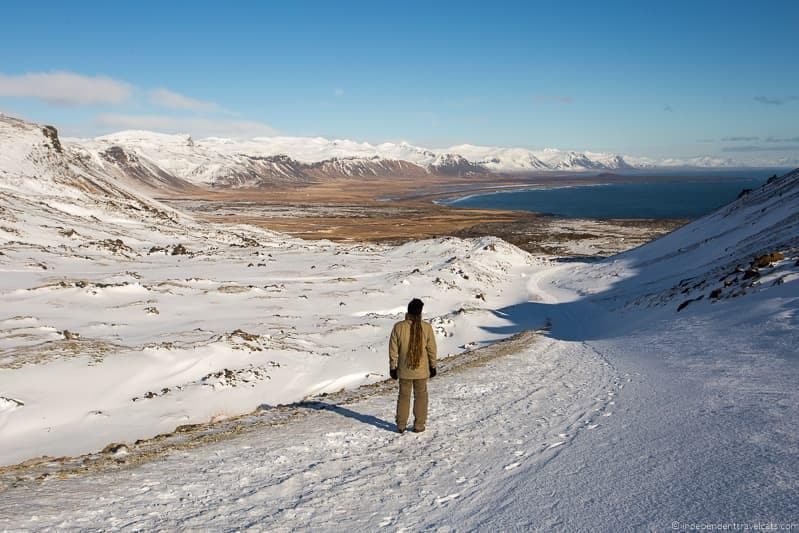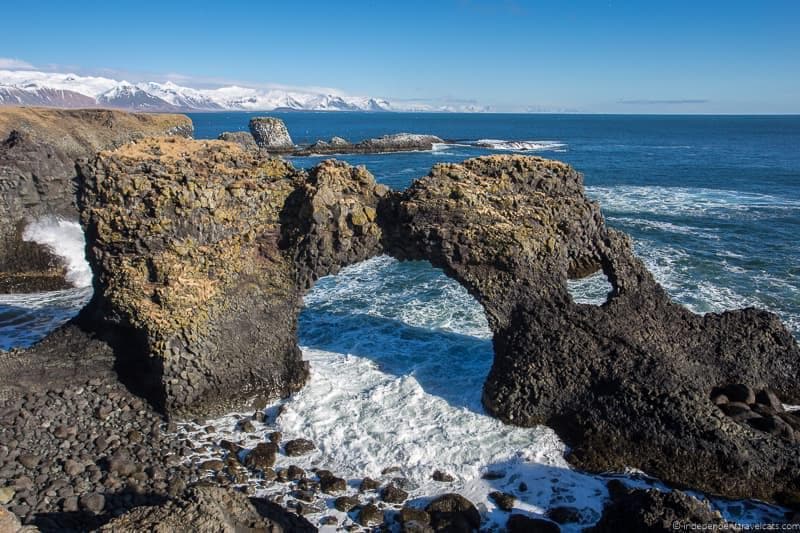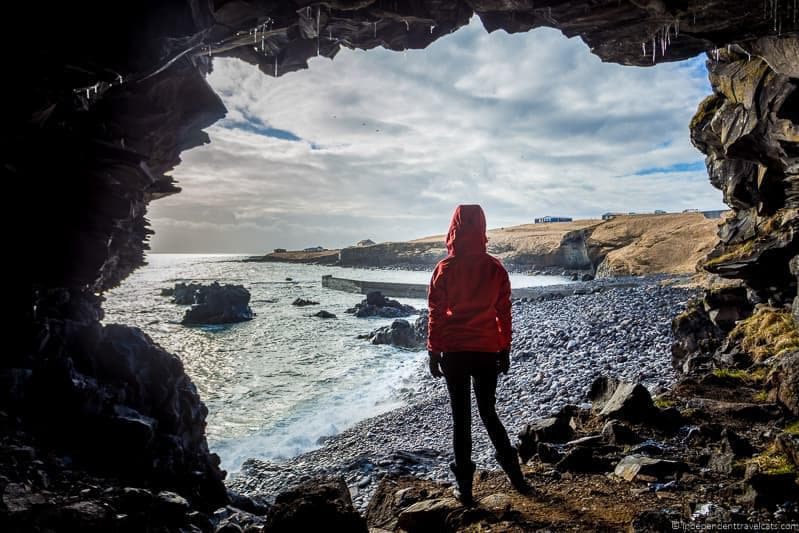 Iceland Itinerary Day 4
Summary: Explore the famous Golden Circle – national park, waterfalls, and geysers + optional Iceland horse farm riding activity
Day 4 Total Driving Distance: ~ 142 miles (230 km)
Borgarnes –> Mosfellsbær (Mosfellsbaer): 39 miles (63 km)
Mosfellsbær (Mosfellsbaer) –>Þingvellir (Thingvellir) National Park: 16 miles (26 km)
Þingvellir (Thingvellir) National Park –> Gullfoss waterfalls: 43 miles (70 km)
Gullfoss waterfalls –> Selfoss: 44 miles (71 km)
What do Do?: Today you'll get up early to leave Borgarnes (or the Snæfellsnes Peninsula) and head back south towards Reykjavik to begin your exploration of the famous Golden Circle.
First though, if you love Icelandic horses, you may first want to make a stop at a horse farm like Laxnes Horse Farm near Mosfellsbær to learn about their Icelandic horses and do a 1.5 to 2 hours horse riding activity. These need to be booked in advance.
The first main stop today will be in Thingvellir (Þingvellir) National Park which is one of the most famous historic, geological, and religious spots in Iceland because it was the place of the first church, the site of the first parliament in Europe (the Alþingi general assembly), and has a number of notable geological features. In addition to waterfalls like Öxarárfoss, you can find interesting stone formations, including being able to see parts of both the North American and Eurasian continental plates.
If you have certified diving experience, you can even go diving here in two submerged rifts in the National Park, Silfra and Davíðsgjá! Snorkeling and diving can also be done year-round at Silfra. You'll want to book with a company in advance, and we recommend this snorkeling tour for those wanting to snorkel Silfra. If you want to dive (you need to have a dry suit certificate & suitable experience), check out these diving tours.
Next you can head towards Lyngdalsheiði, a geothermal area and soon you'll pass the Fontana Geothermal Baths (a less expensive alternative to the Blue Lagoon) in Laugarvatn. Then you'll head to Geysir which gave its name to the international word geyser. The most popular geyser here is Stokkur (the Churn) which erupts about every 10 minutes.
Then continue on to see the beautiful Gullfoss waterfall, the two-tiered waterfall is one of the most well-known and beautiful in Iceland. It is quite large and it is difficult to see it all from one viewpoint!
If you are looking for a winter activity in this area, you can also join a tour to go on a snowmobile tour or glacier walk such as this tour which takes you snowmobiling on Langjökull glacier, or this tour to an ice cave.
Then if you haven't run out of daylight you can head on through to Hvammsvegur (there is another popular geothermal spa here called the Secret Lagoon!).
Where to Stay?: We'd recommend spending the night in either Flúðir or drive on further and stay around Selfoss which will put you closer to your first stop tomorrow.
Around Selfoss, you may want to check out Hotel Selfoss, Hotel Hlid, Selfoss Hostel, and Gesthus.
Around Flúðir, you can check out Icelandair Hotel Fludir (where we stayed), Guesthouse Dalbaer, Viking Villa Fludir, and Guesthouse Fludir.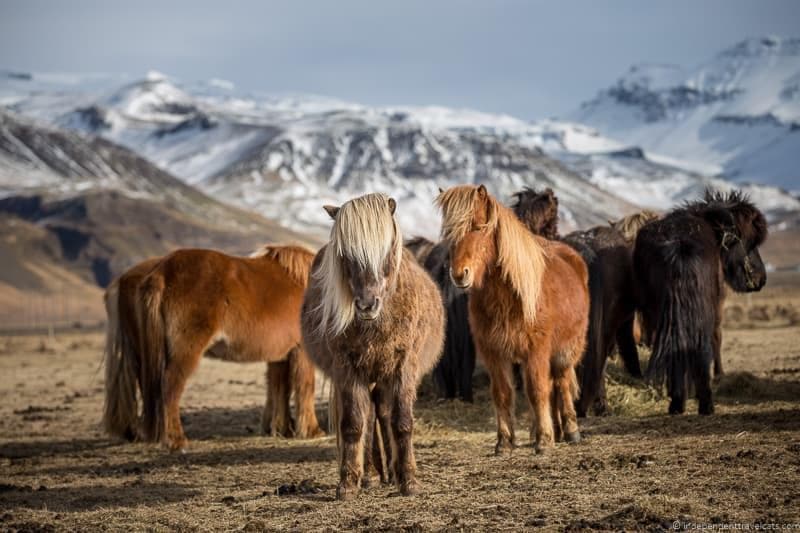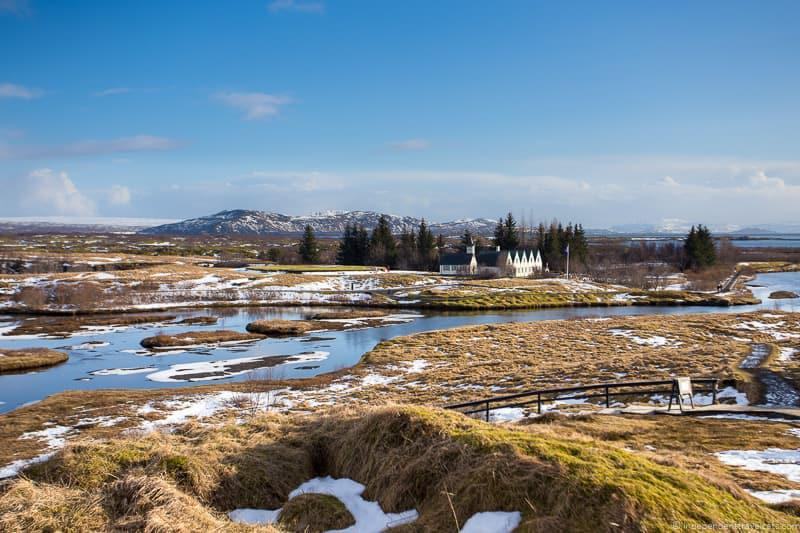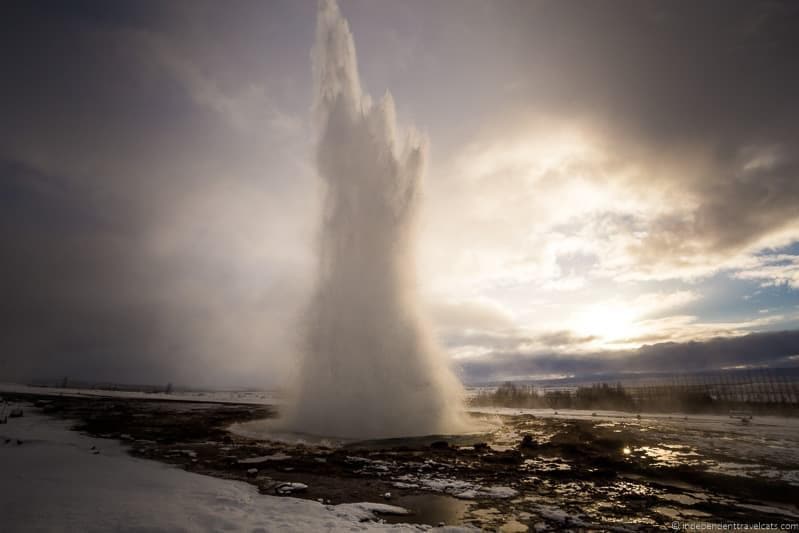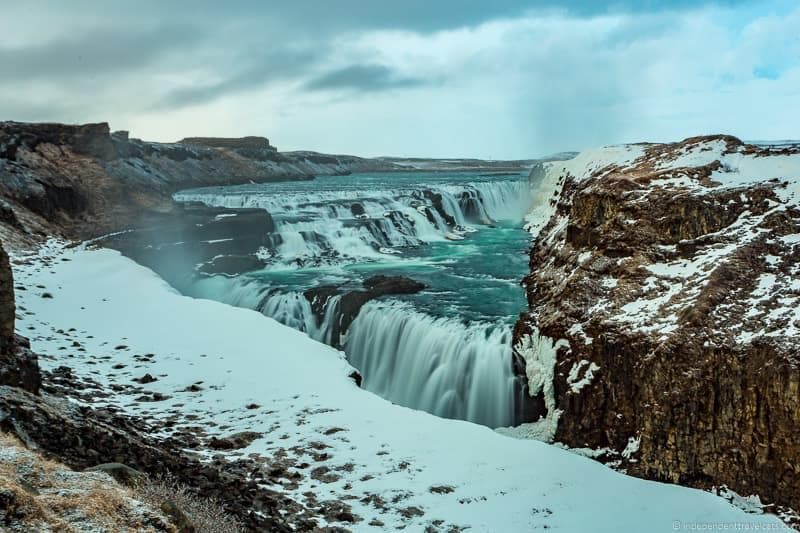 Iceland Itinerary Day 5
Summary: Waterfalls, black sand beaches, and lava fields
Day 5 Total Driving Distance: ~ 122 miles (197 km)
Selfoss –> Hvolsvöllur: 30 miles (49 km)
Hvolsvöllur –> Vík: 50 miles (80 km)
Vík –> Kirkjubæjarklaustur: 42 miles (68 km)
What do Do?: Today you'll head east along Iceland's southern coast, passing through farmland and lava fields, staying mostly on Route 1. Note that there is a lot to cover today but don't worry if you can't see it all, most of these places can also been seen on Day 7 on your way back to Reykjavik.
Selfoss is a good place to get supplies and fuel before heading east towards Hvolsvöllur where you may want to visit the Saga Centre where you can learn about the Njal's Saga.
If the skies are clear you'll get views of Mt Hekla, Iceland's most famous and active volcano (last big eruption in 2000), as well as the glacier topped volcano Eyjafjallajökull (well-known for its 2010 eruption) and possibly even the Westman Islands which have amazing birdlife in the warmer months.
You'll want to make a stop at the Seljalandsfoss, a pretty waterfall you can actually walk behind if the path is open (although be careful as it is wet and steep in places). Note that you need to pay to park at this waterfall (there are several machines in the parking area) and display your paid parking receipt on your car before heading to the waterfall.
Also nearby, just a little further up the road (you can easily walk here along a walking path from Seljalandsfoss), is the waterfall Gljúfrabúi. Less picturesque than Seljalandsfoss, it is often called the Hidden Waterfall as it is partially obscured by a giant rock. You can get inside the gorge by wading up the stream or see it from a steep upper path, but be careful as both can be icy and the path can be wet and slippery year round. I'd only get up close here if you have waterproof boots and don't mind getting wet.
In Skógar, you you can visit another beautiful waterfall Skógafoss as well as the local folk museum Skógasafn. The open-air museum complex is one of Iceland top cultural museums with over 15,000 artifacts and 6 historical buildings. Here you can learn about Icelandic culture, technology, and see the inside of old turf buildings, homes, and a church.
Around the Skógar and Vík area, there are also plenty of opportunities to do some fun winter activities. For instance, you can do a guided glacier walks like this 3-hour glacier hike at Sólheimajökull, ice climbing, snowmobiling from Vik, or visit ice caves (departs from Vík) in this area.
Be sure to book any tours you want to do in advance with a professional guide if you want to do these activities as they are not safe to do on one's own. You also want to make sure you can fit them your itinerary.
If you are looking for the wrecked US Navy Douglas Super DC-3 plane (Douglas R4D-8 17171) that crashed here back in 1973, it is located off Route 1 between Skógar and Dyrhólaey. It is also known as the Sólheimasandur plane wreck, and it was made famous (in part) by Justin Bieber in a 2015 music video.
There is a 4 km (2.5 mile) path to the plane wreck site that takes between 40 to 60 minutes each way. Sometimes there is someone renting out bikes here for use to cycle to the plane wreck and back. Read this guide to visiting the plane wreck.
Note that the plane is located on private property and you are not allowed to drive or camp here (access was restricted in 2016 so you may see outdated blog posts or guidebooks saying you can drive to the wreck). If you are rushed for time, I'd skip this site as it will eat up about 2 hours of your day and there is nothing else to see along the path. It is probably the most boring hike in Iceland!
Dyrhólaey is the southernmost point in Iceland and you can take a short detour on road no. 218 to drive to the top (steep drive, not recommended in bad weather) for a nice view and to see a huge stone archway.
As you now head towards Vík, you may want to make a stop first at Reynishverfi's scenic black beach with basalt columns. This is a popular tourist stop for its scenery. But be very careful of the waves and tides here as they can be dangerous.
From Vík you'll have a good view of the sea stacks and it is also a good place to stop for food if you are hungry. A unique new attraction here is the Icelandic Lava Show, where you can learn about lava and volcanoes and actually see and hear molten lava in person.
Continue on to Kirkjubæjarklaustur and you'll pass through part of the moss-covered Skaftáreldahraun lava field, believed to be the largest lava field created from one eruption. In Kirkjubæjarklaustur you'll find a number of lesser known attractions such as a lake, small waterfall (Systrafoss), Kirkjugólf (Church Floor) basalt columns, and lots of craters.
Where to Stay?: We'd recommend spending the night in or around Kirkjubæjarklaustur although Vík is also a good option.
Around Kirkjubæjarklaustur, you may want to check out Hotel Klaustur (we've stayed here), Hotel Geirland, Hotel Laki, and the Eldhraun Guest House.
Around Vík, you can check out Hotel Katla Hofdabrekka, Icelandair Hotel Vik (we've stayed here), Grand Guesthouse Gardakot, Guesthouse Steig, and the Volcano Hotel.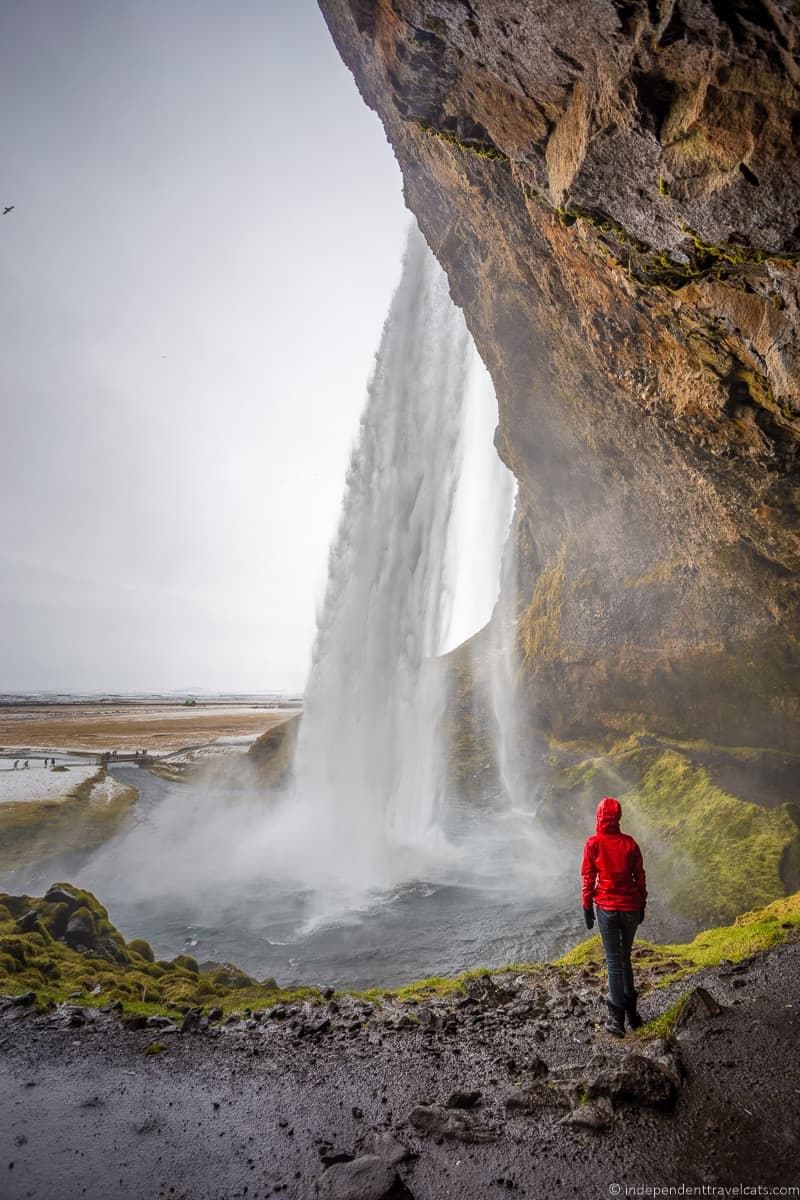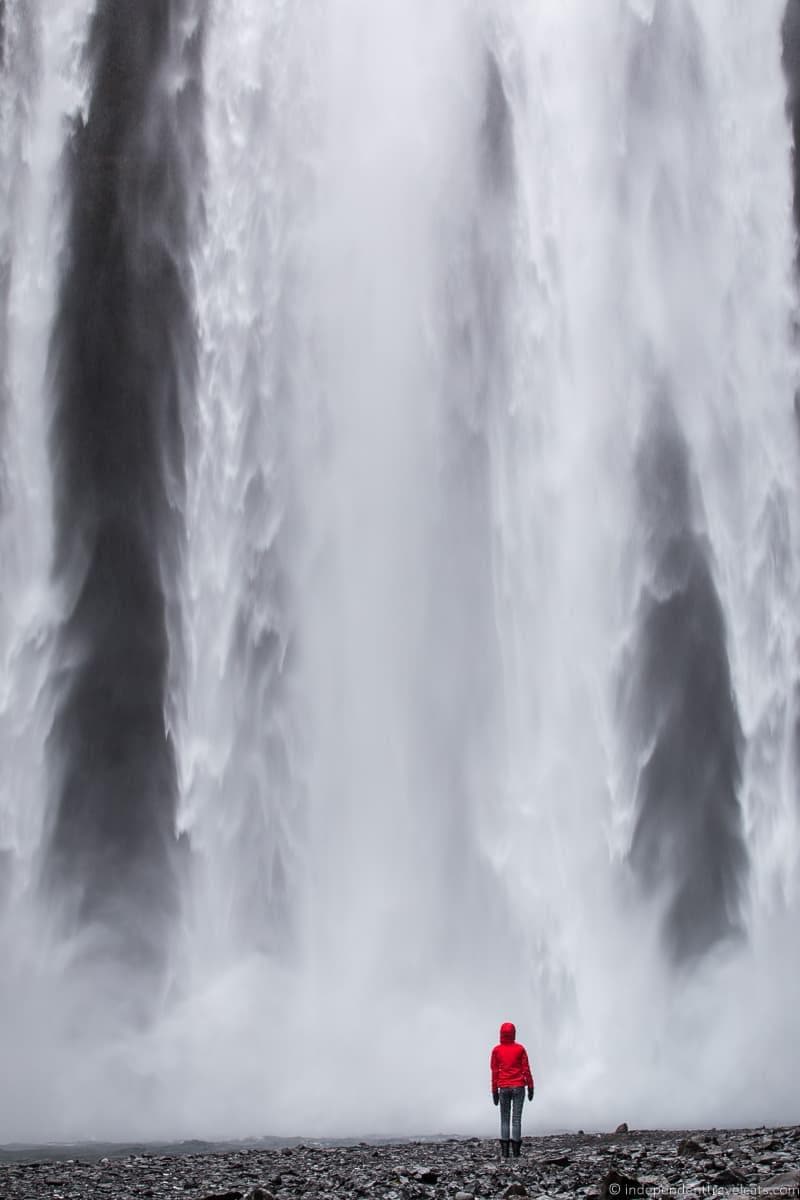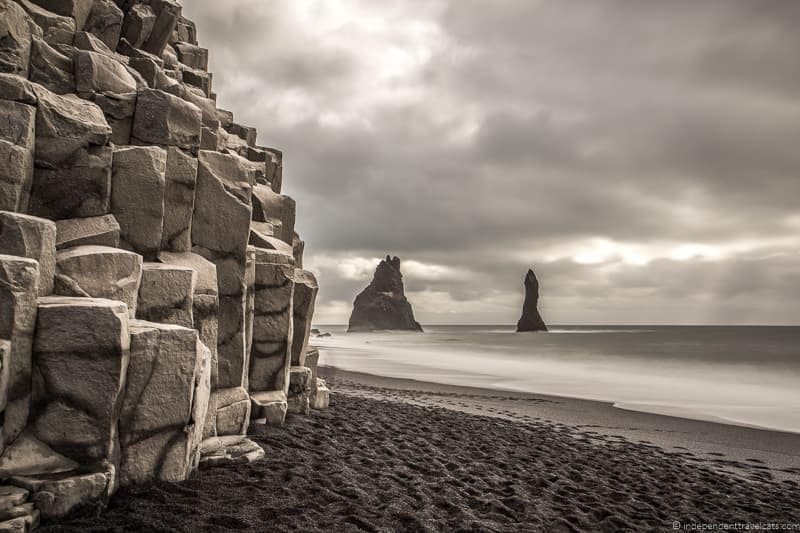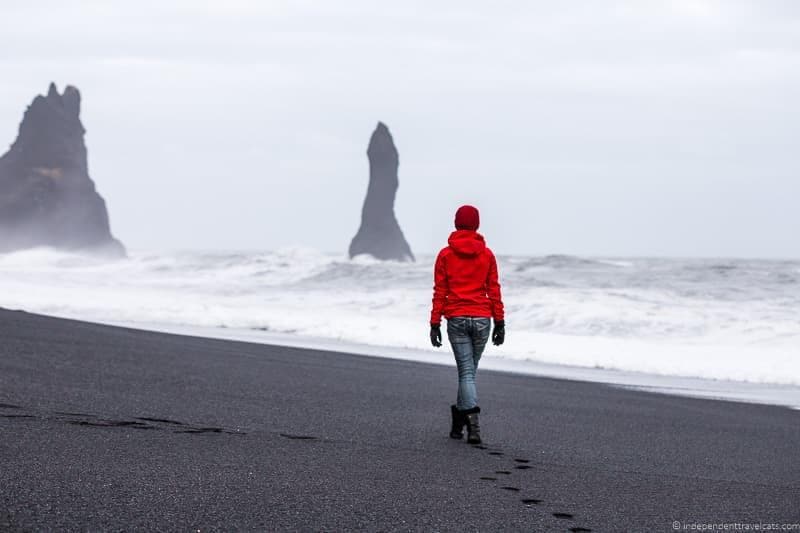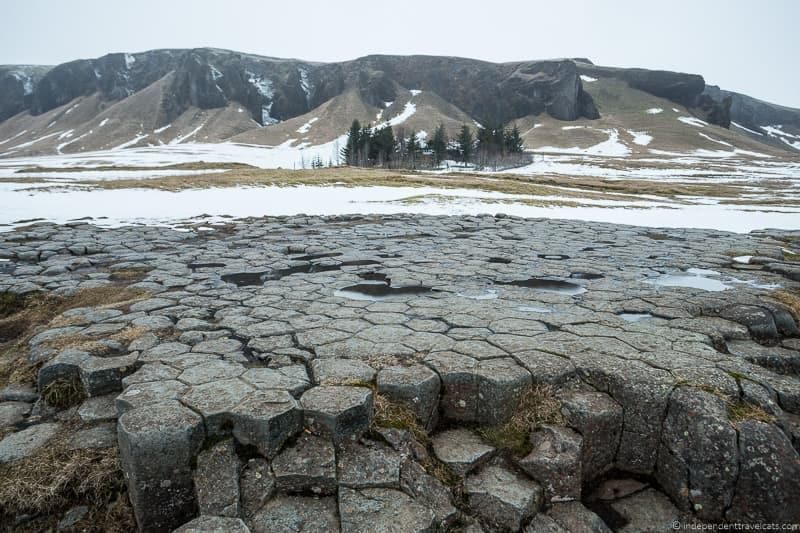 Iceland Itinerary Day 6
Summary: Visit one of Europe's largest national parks, glaciers, and icebergs
Day 6 Total Driving Distance: ~ 156 miles (253 km) – round trip from Kirkjubæjarklaustur
Kirkjubæjarklaustur –> Skaftafell: 44 miles (71 km)
Skaftafell –> Jökulsárlón: 34 miles (56 km)
Jökulsárlón –> Kirkjubæjarklaustur: 78 miles (126 km)
What do Do?: Today you'll continue to head east on Route 1 and the day will be focused on spending the day in Vatnajökull National Park.
From Kirkjubæjarklaustur, your first main stop will be in Skaftafell to visit the Vatnajökull National Park Visitor Center (there are other visitor centers as well).Here you can learn more about the park, decide on which areas you want to visit, and get information about the hiking trails. Note that you need to pay to park here – go inside and register your car information (you'll need to know your license plate number) inside the visitor center at the digital terminals.
If you want to hike, be sure to check in about any closed roads/hiking trails and weather conditions before you set out. Highly recommend doing at least one hike here if the weather is good (a couple of them are even wheelchair accessible).
From the visitor center, you can take a hike to see the edge of Skaftafellsjökull glacier tongue which is a fairly easy relatively flat 1 hour round-trip hike.
Another popular hike in the park is to scenic Svartifoss waterfall, a waterfall against a basalt column background. This one is fairly easy as well but the path is steep in places. It takes about 1 hour 30 minute round trip from the visitor center if you go directly to the waterfall and back, but there are much longer hikes available that include the waterfall. If you are looking for a peaceful hike I'd pick another hike as it can be quite busy and crowded around the waterfall.
If you are looking for an activity, local tours companies offer activities such as guided trail hikes, glacier hikes, glacier hikes with ice cave visit, ice cave explorations, and ice climbing in the area. If you don't have anything pre-booked (recommended that you prebook any activities), there is usually a couple of companies with kiosks in the Skatafell Visitor Centre parking area and they may have same day availability.
If you are not tired of glaciers, you may also want to drive to see Svínafellsjökull glacier tongue where you can get a good view of the outcrop of the massive Vatnajökull glacier which is about a 5 minute walk from the parking area. Within this large national park, you have barren lava fields, glaciers, meadows, waterfalls, and gorges.
Before you leave, you'll want to head further towards Jökulsárlón, where you can see the famous glacier ice lagoon with floating icebergs. There is also a black sand beach here, and you may also get to see seals swimming along the coastline here.
Boat trips, such as this one, are also possible in the lagoon from May to October. But there are no regular boat tours available in the winter.
Where to Stay?: We'd recommend returning back and spending the night in or around Kirkjubæjarklaustur (or Vík) so you can spend two nights there rather than having to change lodging although there is also limited lodging in the Skaftafell area.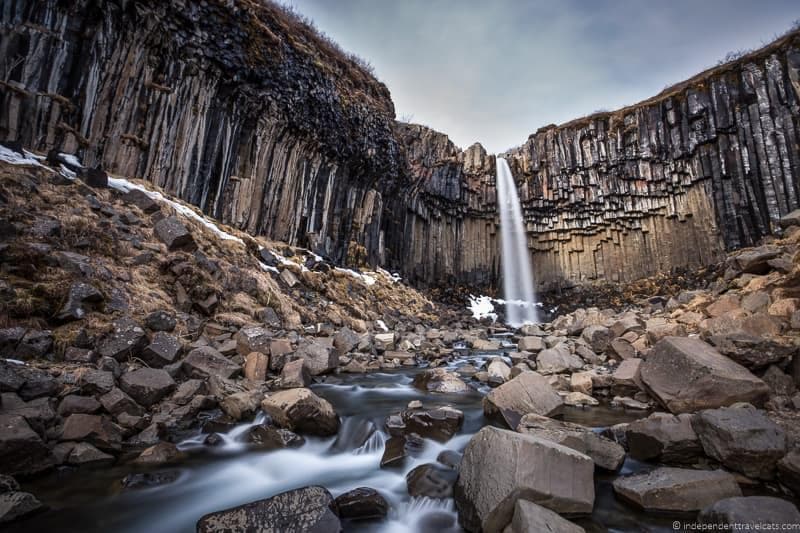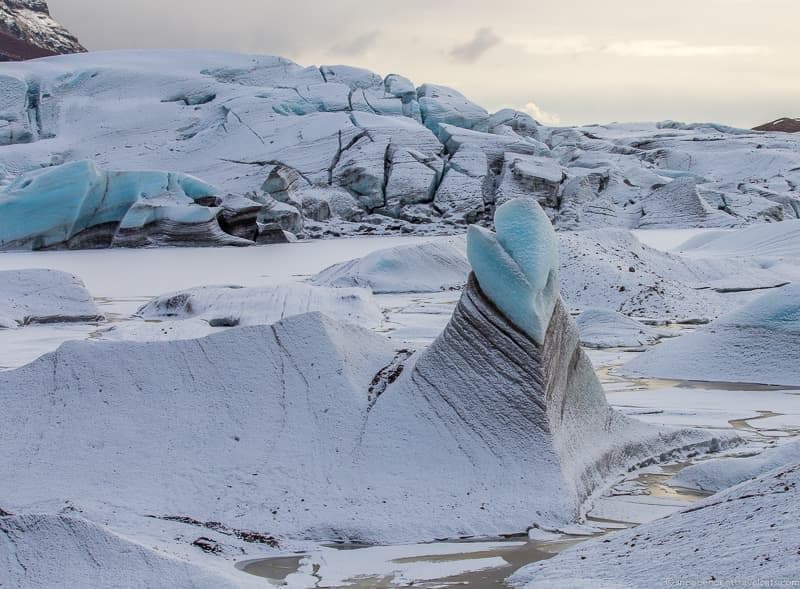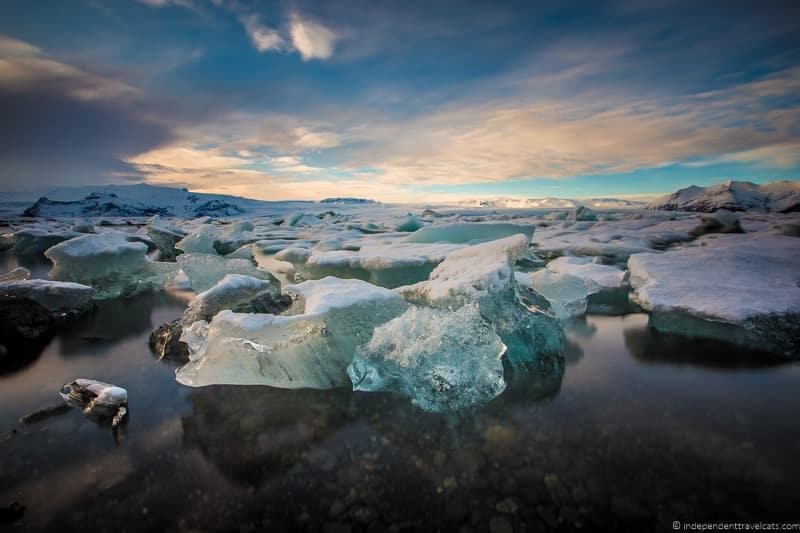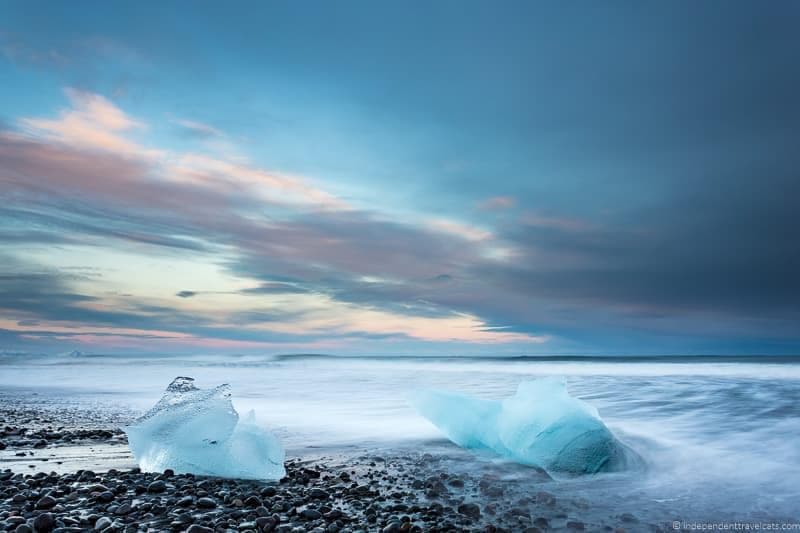 Iceland Itinerary Day 7
Summary: Glacier, fishing villages, visit anything leftover sites from Day 5, return to Reykjavik or airport
Day 7 Total Driving Distance: ~ 211 miles (341 km)
Kirkjubæjarklaustur –> Selfoss: 122 miles (197 km)
Selfoss –> Stokkseyri: 9 miles (14 km)
Stokkseyri –> Eyrarbakki: 4 miles (6 km)
Eyrarbakki –> Grindavík: 44 miles (72 km)
Grindavík –> Reykjavík: 32 miles (51 km)
What do Do?: Last day of our 7 day Iceland itinerary. Today you'll return along Iceland's scenic southern coast and return to Reykjavik or head to the airport. You can also visit anything you didn't get to see on Day 5, or plan a visit to the Blue Lagoon if you missed it on Day 1 or the Laxnes Horse Farm if you missed it on Day 4.
If you have limited time (if your flight is leaving today) you can just head to the airport directly (182 miles/294 km, allow at least 3 hours and 30 minutes to get to the airport).
Head west towards Selfoss along Route 1, and along the drive you'll pass the glacier Mýrdalsjökull in the distance which sits on top of Katla, a massive sub-glacial central volcano. You'll also pass back through Hvolsvöllur where, if you have time, you might want to stop at the recently opened interactive LAVA Centre where you can learn all about Iceland's volcanos and geology. You can buy tickets in advance of your visit here.
You'll also pass along a number of sites from Day 5 if you missed any. Once you reach Selfoss, if you have time take route no. 34 to visit some of the fishing villages like Stokkseyri. If you are in a rush, I'd stay on route 1 to continue towards Reykjavik or the airport.
Stokkseyri is known for its langoustine soup (stop at Fjöruborðið [Fjorubordid] Restaurant if you are hungry) and also has a few quirky cultural sites and art galleries, including the Ghost Centre and the Icelandic Wonder Museum (focused on elves, trolls, and the Northern Lights).
If you are not in a rush, you can then head onto Eyrarbakki which has a number of attractive old houses and a village church (which houses an altarpiece painted by Queen Louise of Denmark). You may want to stop and visit one of the city's museums such as the Maritime Museum or the Húsið Husid (one of the oldest houses in Iceland with exhibits).
You can then follow along the coast to the fishing village of Grindavík which has its own harbor, a golf course, geothermal baths, a cute orange lighthouse, and is home to the Saltfisksetur Íslands Museum, a museum about local culture and the saltfish industry. Hiking trails are also found here and you can book adventure tours here as well (fishing, biking, hiking, ATV trips, biking tours).
Now you can return to Reykjavík and see any remaining cultural sites, pick up any souvenirs, and perhaps splurge on a final nice dinner before you return home. Or alternatively explore more of the Reykjanes peninsula (e.g., Bridge Between Continents, Krýsuvík geothermal area), relax in the Blue Lagoon, or head to the airport.
Where to Stay?: If you are spending the night, there are plenty of lodging options in Reykjavík. If you stayed here on Day 1, you may want to return to the same place. I would book in advance as many hotels do get full in the capital. Note that it takes about 45 minutes to drive to the airport from the city center.
If you have an early flight or don't want to drive back into Reykjavík, you may want to stay in Keflavík instead where there are a lot of accommodation options. Last time we stayed at the Northern Light Inn which is conveniently located next to the Blue Lagoon and about a 17 minute drive from airport.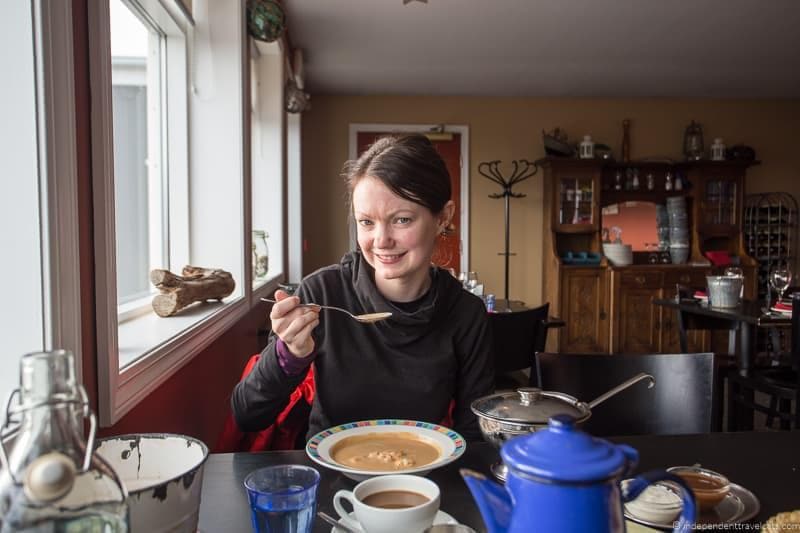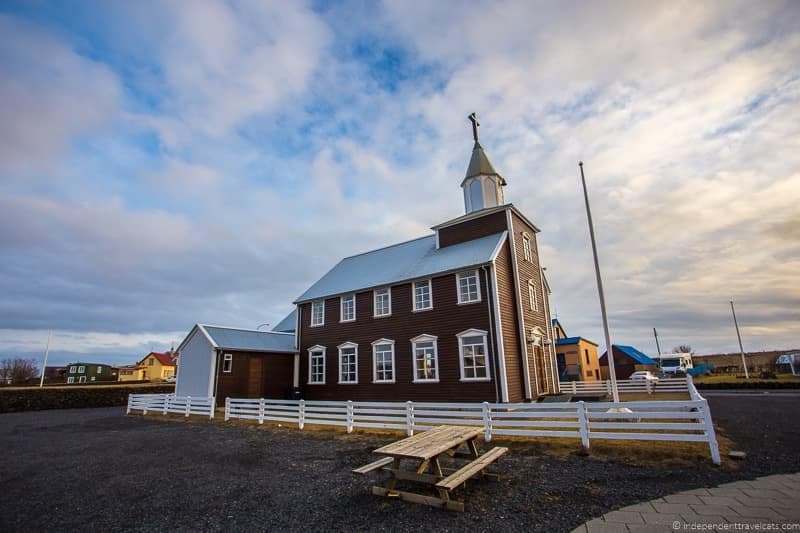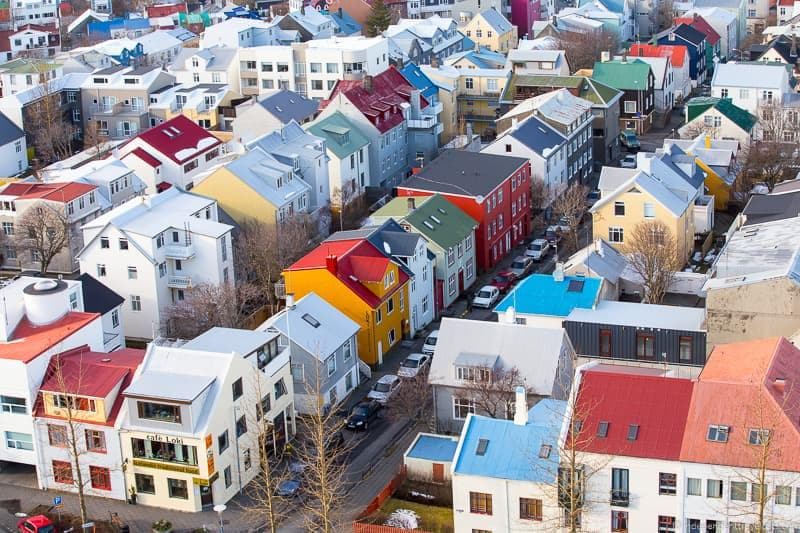 Our 1 Week Iceland Itinerary for Winter Map
We also marked out our suggested route on Google maps. Although you can probably follow along easily enough with the text, this might be helpful to use in conjunction with the itinerary above and can help you better visual the driving route.
You can access our route map here or by clicking on the map image below. There are different map layers for each of the 7 days of the Iceland itinerary as outlined above.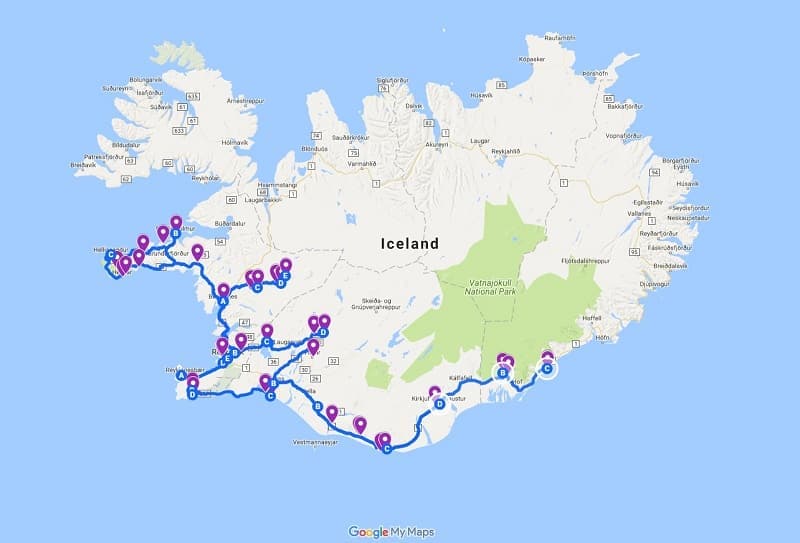 There you have it, our 7 day Iceland itinerary! The itinerary is designed specifically for winter but it can be used at any time of the year as it takes in the most popular spots in Iceland.
Like what you see above but don't want to book the car, hotels, and tours yourself? Consider a self-drive trip around Iceland where a company sorts out your rental car, driving directions, maps, itinerary, hotels, breakfasts, and can make tour reservations for you. They are also always available in case you have questions or problems during your trip. All you have to do is pack and show up!
If you are looking for a self-drive trip that is similar, I'd look at this 6 day self-drive trip which covers the south coast and ice caving or this 7 day self-drive trip which covers the west and south coasts. Click here for a comprehensive list of self drive trips in Iceland.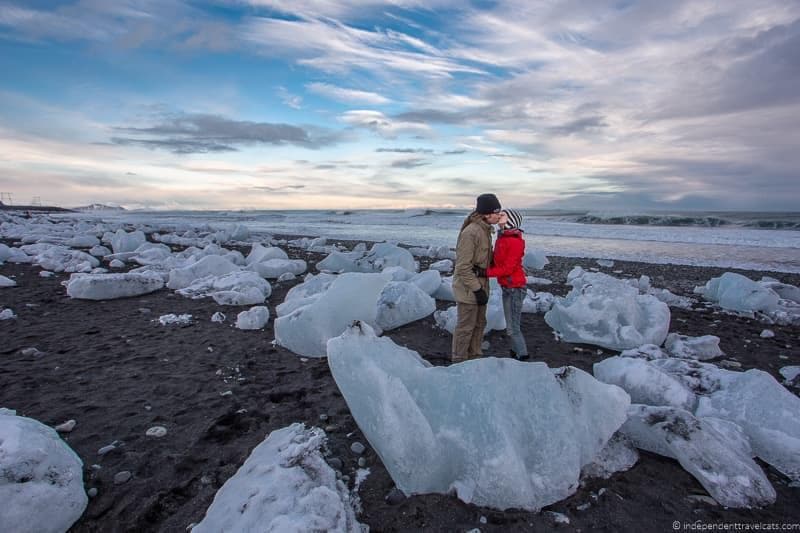 Which of these places would be on your Iceland travel itinerary? Have you been? If so, we'd love to hear about your favorite places or tips on traveling in Iceland.
If you have any questions about traveling to Iceland or our 7 day Iceland itinerary, just leave them as a comment below and we'll try our best to answer them. As always, we love to hear from you!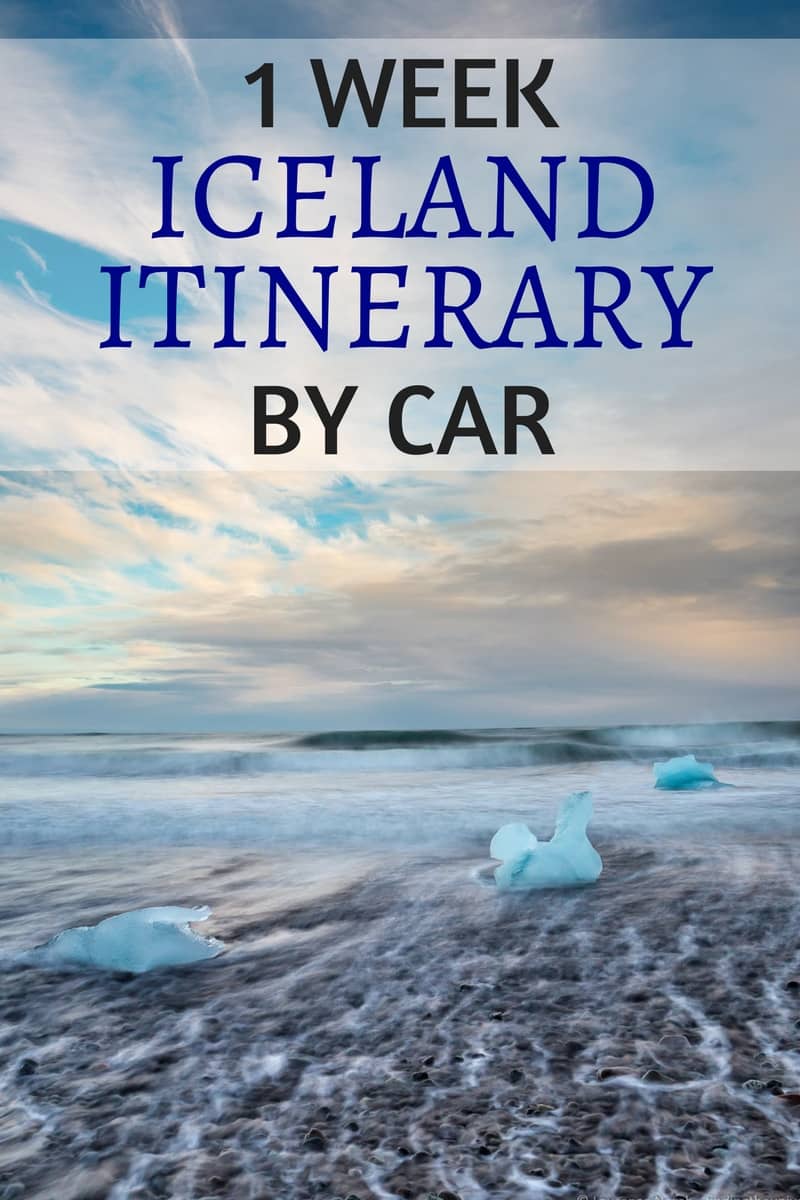 Disclosure: We received a free self-drive tour in Iceland with Iceland Travel as travel writers, which included our accommodation, rental car, and fuel for a 7-day period. We covered our own flights and all our travel expenses (e.g., fuel, rental car, lodging, entrance fees) for our remaining time in Iceland. As always, this article contains only our own honest thoughts and opinions. You can read more in our Ethics Code about how we accept work.