Iceland is a popular but expensive travel destination. To help with your trip planning, we've put together a guide to how to travel to Iceland on a budget. Our advice is based on the 6 weeks we have spent traveling throughout this beautiful country.
In this post we're going to share our top Iceland budget tips to help you save money on your Iceland trip. We'll start with giving you an idea of what things costs in Iceland and how to set up a budget for your trip, and then we'll share 21 different budget tips to help you travel in Iceland on a budget. We share ways to save money in Iceland on flights, accommodation, rental cars, dining out, camping, alcohol, groceries, fuel, and sightseeing.
Whether you are traveling on a $1,000 budget or a $10,000 budget, you want to get the most out of your money and your trip to Iceland, and that's what this post will help you do!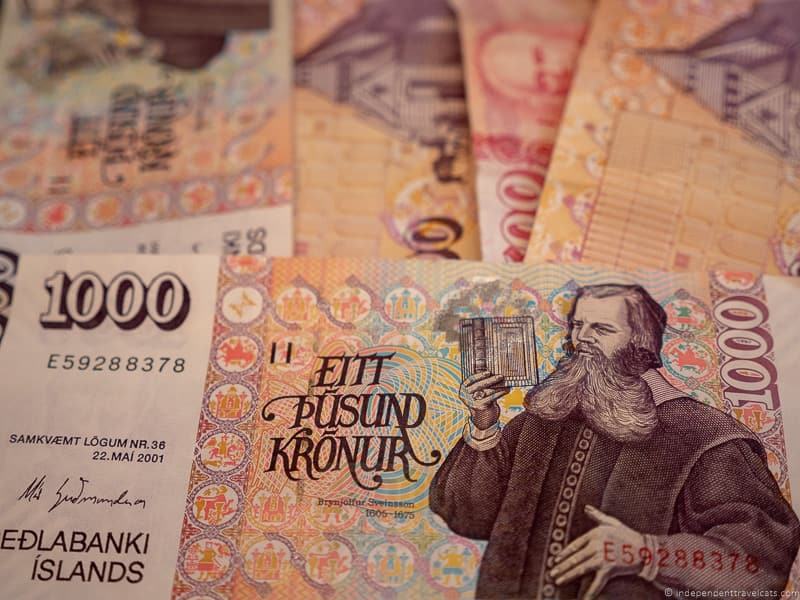 Planning your Iceland Budget
Planning your Iceland budget is a really important part of planning your Iceland trip. You definitely don't want to arrive and suffer sticker shock and end up spending much more than you anticipated.
With a bit of advance planning we think you will be able to come up with a realistic idea of how much your trip to Iceland is going to cost you, and this section of the post will help you figure that out.
How Much Do Things Cost in Iceland?
Iceland uses the Icelandic krona (ISK) so be sure to check the current exchange rates of the krona with your home currency before you to know the exchange range. You'll also want to have an idea of the current costs of goods and services.
To find out a good rough idea of the current prices for things in Iceland we recommend checking out a site called Numbeo. Here you can check for prices of basic goods (bananas, a pair of Levi jeans, gasoline, restaurant meals, wine) by country or check on prices of goods for a particular city (see here for Reykjavík).
NOTE: The prices in this post were last updated on February 2020 and are rough estimations to give you an idea. ISK currency rates have taken a huge dip since this post was originally written in July 2018. For the USD currency conversion, the conversion rates at time of writing are 1 ISK = 0.008 USD (or 1 USD = 120 ISK).
Grocery Items – Iceland currently has some of the highest prices in the world for grocery items. Here are some average prices: loaf of fresh white bread (357 ISK; USD $2.98), bottle of mid-range red wine (2400 ISK, USD $20), 1 kg of bananas (260 ISK; USD $2.17), 1 kg of white rice (330 ISK, USD $2.75), and 1 kg of boneless chicken breasts (2050 ISK; USD $17.08).
Eating Out – 450 ISK (USD $3.75) for a hot dog from a hot dog stand, 1089 ISK (USD $9.08) for a 12-inch Subway sub of the day special,1,750 ISK (USD $14.58) for hamburger at fuel station, and 12,000 ISK (USD $100) for 2-course meal (no drinks) for 2 persons at mid-range restaurant.
Tours & Activities – Prices range a lot based on the type of tour, length, and inclusions but here are some general prices (per person) to give you an idea: 5000 ISK (USD $42) for 1 hour puffin watching boat tour from Reykjavik, 10,000 (USD $83) for a full-day Golden Circle sightseeing bus tour, 15,000 (USD $125) for a 2 hour snorkeling trip, and 20,000 (USD $167) for an ice cave tour. For multi-day tours, 80,000 ISK (USD $667) for a 3 day/2 night tour, 160,000 ISK (USD $1,333) for a 6 day/5 night tour, or 220,000 (USD $1833) for a 8 night/7 night tour.
Lodging – Prices depend a lot on location and time of year as summertime prices can be double wintertime prices and expect to pay more in Reykjavik than in the countryside. But we provide some rough average prices. 3,000 (USD $25) for a bed in a shared dorm room in a basic hostel, 5,000 (USD $42) for a bed in a shared dorm in a nicer hostel, 8,500 ($71) for private guesthouse room with shared bathroom, 12,000 (USD $100) for a budget hotel or guesthouse, 20,000 (USD $167) for room in mid-range hotel, and over 30,000 (USD $250+) for a room in a 4-star + hotel.
Campsites – Campsites are about 1,000 to 2,200 ISK (USD $8 to $18) per person/night plus a small overnight tax that is currently 333 ISK (USD $2.78) per tent or campervan. Additional small fees often apply for use of extra services like laundry, waste disposal, and showers.
Museum Entry Fees – On average, museum and attraction entry fees range from 800 ISK (USD $6.67) to 2500 ISK (USD $21). Museums are the most expensive in Reykjavík and less expensive outside of major tourist towns.
Rental Cars – Car rental prices range but here are some rough estimates to help guide your budget: 3,200 ISK (USD $27/day) for a 2X2 compact car, 5,500 (USD $46/day) for a small 4X4 Jeep, 9,000 ISK (USD $75/day) for a small campervan with roof tent, and 13,000+ (USD $108+/day) for luxury cars and Jeeps. All rentals generally come with mandatory insurance (often called basic CDW) but to upgrade to include physical damage/gravel coverage is generally an extra 2,000 to 2,500 ISK ($17 to $21)/day
Gasoline – The estimated average cost for 1 liter of gasoline is 222 ISK (USD $1.85). Note that 1 liter is only about 1/4 of a gallon. A gallon of fuel would be 888 ISK (USD $7.40).
Public Transportation – A one-way regular adult bus ticket in Reykjavík costs 460 ISK (USD $3.84), but you can save money with a bus pass if taking the bus a number of times. In Akureyri, the local city buses are free. Long-distance bus ticket prices depend on location and time of year, but a ticket from Reykjavík to Akureyri will likely cost between 8,000 ISK (USD $67) and 11,000 ISK (USD $92).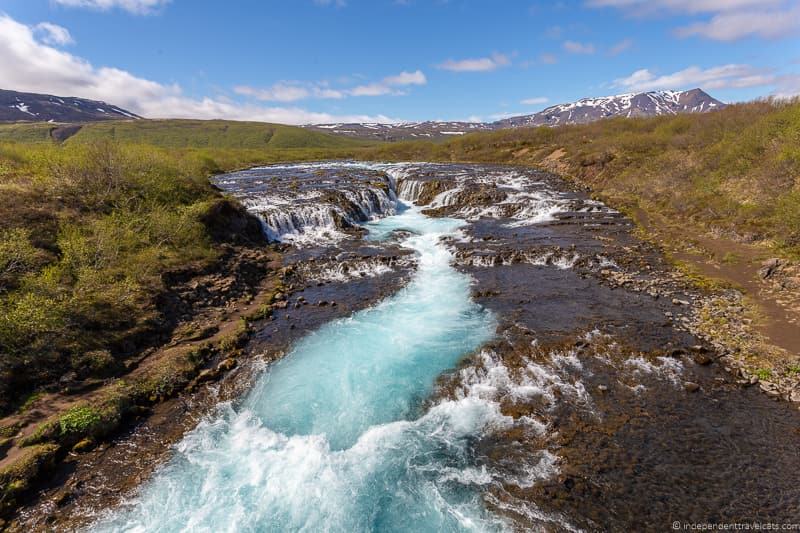 Why is Iceland so Expensive?
Prices are high in Iceland for a variety of factors. It doesn't just affect travelers though, Iceland has one of the highest costs of living in the world.
The high prices are partially due to the isolated nature of Iceland's location as an island in the North Atlantic as the cost and time to import goods is high. Another factor is that Iceland is a small country with a relatively small workforce in a country where the costs of living are very high so labor costs are high. The country also has to depend on hiring foreign labor, especially in the fishing and tourism sectors.
Another factor on some items is taxes and import fees. For instance the taxes on alcohol and fuel are very high in Iceland.
However, another big factor is the country's currency. When we last visited the economy was very strong and the Icelandic krona was very strong (some were saying too strong). This, of course, means that the prices of everything are very high. However, when the country has a recession or a financial crisis (such as in 2008), the krona crashes and prices tumble.
So as a traveler, the prices you pay are going to depend a lot on how well Iceland's economy is doing. Good to check this out before your trip as if you use price estimates from 6 months ago, your budget could be way off.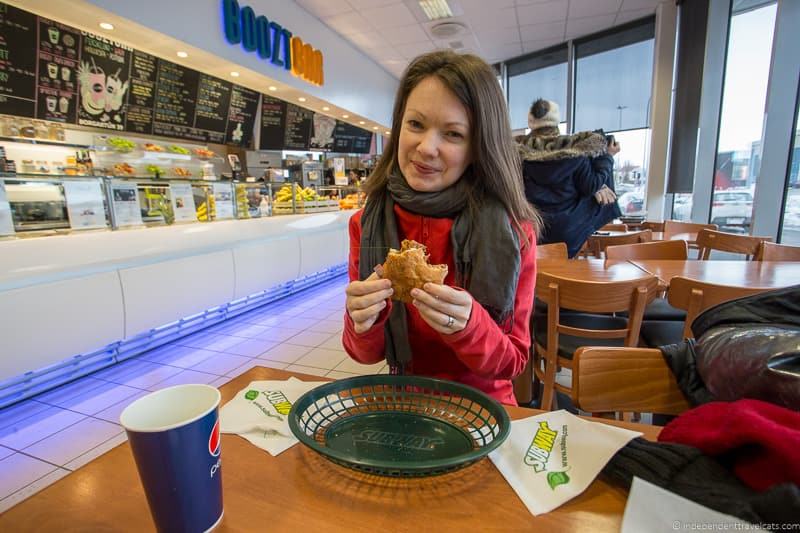 Tips for Setting your Personal Iceland Budget
Use your research to set a realistic budget for your trip.
A good budget should:
1.) Be comprehensive – It should include all your major costs of traveling including your flights, lodging, transportation (buses, rental car [fuel, insurance], ferries, etc.), meals, tours and activities, sightseeing admission fees, and extras (e.g., shopping, souvenirs, snacks, camping gear rental).
2.) Be practical given the average costs in Iceland.
3.) Sit comfortably within your financial constraints. Be sure to leave a little room for unexpected expenses.
4.) Not be too restrictive. Don't plan a trip that is so restrictive in terms of budget that you have doubts about whether you will actually be able to enjoy the trip.
What if I Can't Afford to Travel to Iceland?
If you find after doing some research into prices and checking out our budget tips that you have significant concerns about the costs, consider a shorter trip (e.g., 3 days instead of 5 days) or consider waiting and saving up a bit of money first. Iceland will still be there next year.
You don't want the travel stress of worrying about money on the trip and also you don't want to feel so restricted on the trip that you don't have any fun. For instance, would you enjoy Iceland if you are not being able to do any paid activities and having to eat boiled rice each night?
Determine how much money you need to save and then figure out how long it will take you to save the money for your trip. The best strategy is to save a little money each week (or each month) until you reach your savings goal.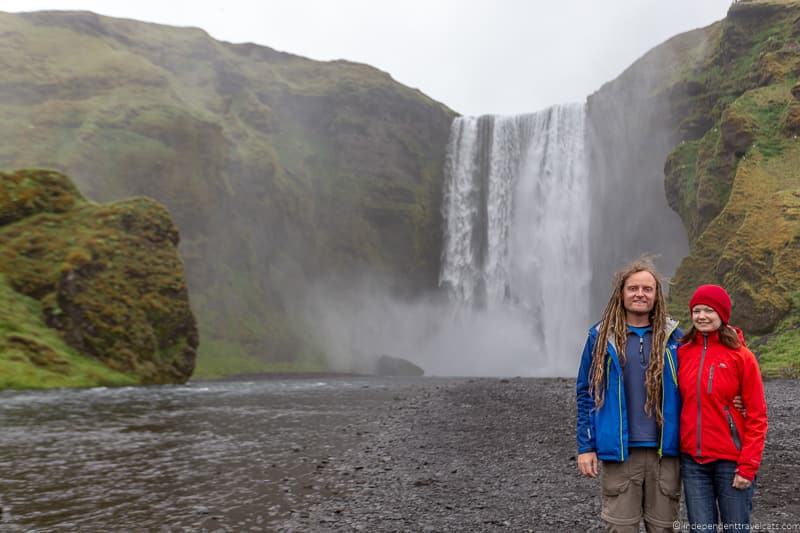 Iceland on a Budget: 21 Ways to Save Money in Iceland
Below we'll share 21 ways to save money in Iceland. These include ways to save money on flights, lodging, groceries, sightseeing, restaurants, camping, fuel, transportation, and activities. Many of these tips you can start using right now as you begin to plan and research your trip, and should help you stay within your budget while traveling in Iceland.
The ISK prices in this post were last updated on February 2019. For the USD currency conversions, the conversion rates at time of writing are 1 ISK = 0.008 USD (or 1 USD = 120 ISK). So do keep this in mind and please check the latest exchange rates for your country's currency.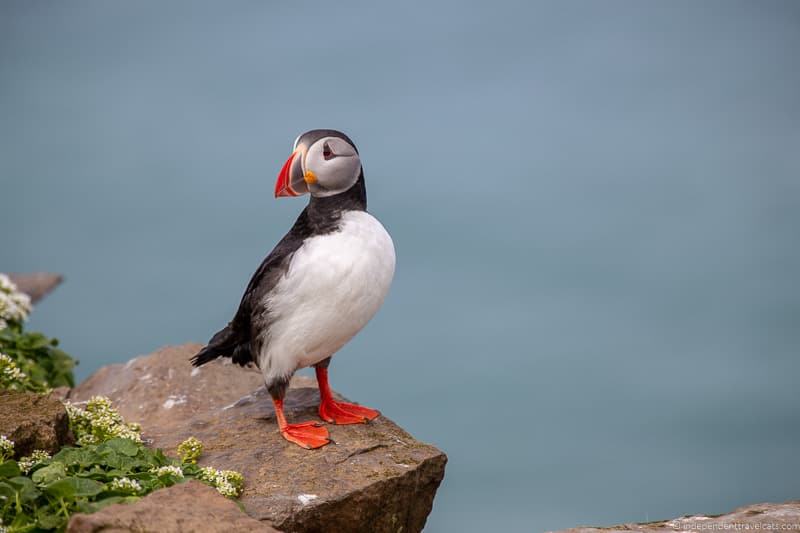 1. Travel to Iceland Off Season
The busiest and most expensive time to travel to Iceland is in the summer months. The high season in Iceland is from about mid-June to end of August. Hotels, activities, car rentals, and other services are often higher during this period. We have been in both summer and winter and the increase in accommodation prices was particularly noticeable. With higher demand, expect higher prices.
So if you are flexible in when you travel, consider traveling outside of the summer season, particularly July and August. You'll avoid paying the highest prices and also avoid the most crowded time in Iceland. If you still want to travel around this period, consider going just outside of the busiest period, say late May, early June, or September.
However, despite the higher prices, there is a reason that most people choose to visit in the summer. It is partly due to this is when most people can take their vacation time, but it is also when Iceland generally has its best weather and the greatest number of tourist-related businesses, attractions, and services are open. It is also the safest time in terms of driving, hiking, and camping, and summer is the best time to see wildlife in Iceland. So keep in mind both the pros and cons to make your decision.
If you are planning to travel in the summer months, our 1 week Ring Road itinerary and 5 day all-season itinerary may be useful.
If you are thinking about traveling in the winter (December to April), you can check out our suggested 7 day Iceland winter itinerary for an idea of more of the pros/cons of winter travel and an idea of where you might want to go. Here is a list of fun winter activities that you can do in Iceland which include skiing, ice cave explorations, snowmobiling, snorkeling, and Northern Lights hunting.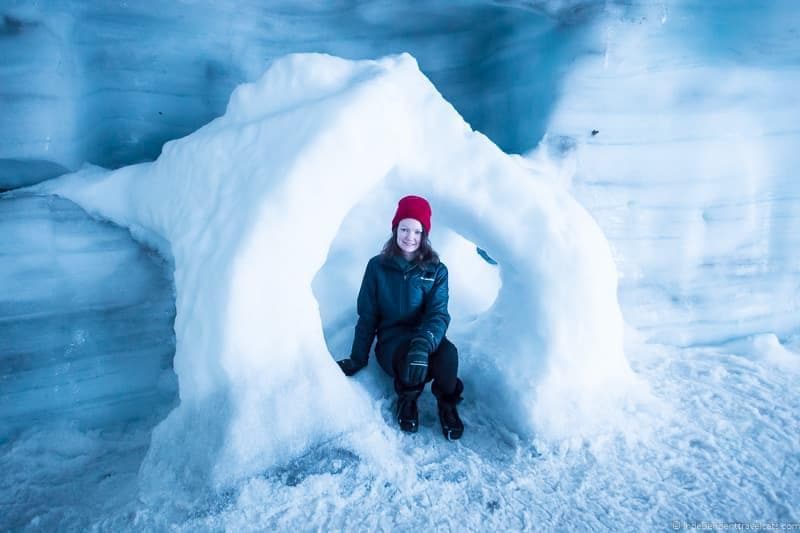 2. Book a Cheap Flight
Try to save money for your trip by looking for inexpensive airline tickets. If you live in North America (particularly the Midwestern or eastern United States), Western Europe, or Northern Europe you can probably find low airline fares. If you are patient and have flexible dates, you should be able to find decent flights.
The main providers of inexpensive flights to Iceland are Icelandair (main Iceland airline). Previously the budget Iceland airline was WOW Air but it ceased operating in March 2019. Flight prices have been ridiculously low in recent years.
For example, in the UK you can get round-trip flights to Reykjavík for as low as USD $50 and Americans from a select number of cities are sometimes able to get round trip flights to Reykjavík from the east coast or Midwest for as low as USD $200!
Just be sure you check the baggage guidelines and inclusions for the airline as most budget airlines have strict weight and luggage requirements. You'll need to add in extra luggage fees, as needed, into your flight cost. For example, a IcelandAir Economy Light ticket does not allow for any checked luggage.
Many people end up paying a lot in extra baggage fees at the airport because they did not pre-pay. If you need to bring additional baggage, purchase the additional luggage allowance with your ticket rather than at the airport to save money.
If you don't live in a country or near a city where Icelandair operates, you might try booking a flight that connects to one of those cities to take advantage of cheap fares. For booking flights we like Priceline, Kiwi, Southwest (for flights within the USA only).
Many people also visit Iceland on a stopover on their way between North America and Europe, or vice versa. Stopovers with Icelandair are available on most transatlantic flights at no extra cost and you can stay in Iceland for 1 to 7 days. A stopover is a great way to see Iceland if you only want to visit some highlights but it is not your primary holiday destination. See our guide to visiting Iceland on a stopover for some ideas.
NOTE: All international flights currently land at Keflavík International Airport, about 30 miles southwest of Reykjavík. There is an airport within Reykjavík but it is used for domestic flights only (and a few from Greenland & the Faroe Islands).
3. Compare Lodging Options
You can save money by comparing different lodging options and looking across different websites.
In Iceland, there are a variety of lodging options from hostels to guesthouses to apartments to hotels. Reykjavík has the greatest number of lodging options and properties range from budget to luxury. There are fewer choices in the less populated areas of the country. Guesthouses, bed-and-breakfasts, and small hotels are the most common types of places throughout the country.
If you are booking your own lodging, be sure to compare options and consider alternative options to what you normally book.
Here are some places to start to get an idea of prices:
Booking.com – One of the largest and most competitive online booking websites, it offers all kinds of accommodation options including hotels, guesthouses, holiday homes, apartments, and hostels. This is the website we use the most to book our lodging worldwide.
HostelWorld – Our recommended place to search for & book hostels around the world. Hostels are usually your cheapest option in Iceland (except for campsites).
Book directly – It is always a good idea to check out the hotel website to see if they can offer a better deal.
Vrbo – A popular online place to find apartments, and holiday homes for a variety of budgets. Note that like many places, there are a lot of illegal vacation rental properties in Iceland and the large increase in vacation rental properties over the past few years has been driving up rental prices for locals. So these services are often unpopular with some Icelanders!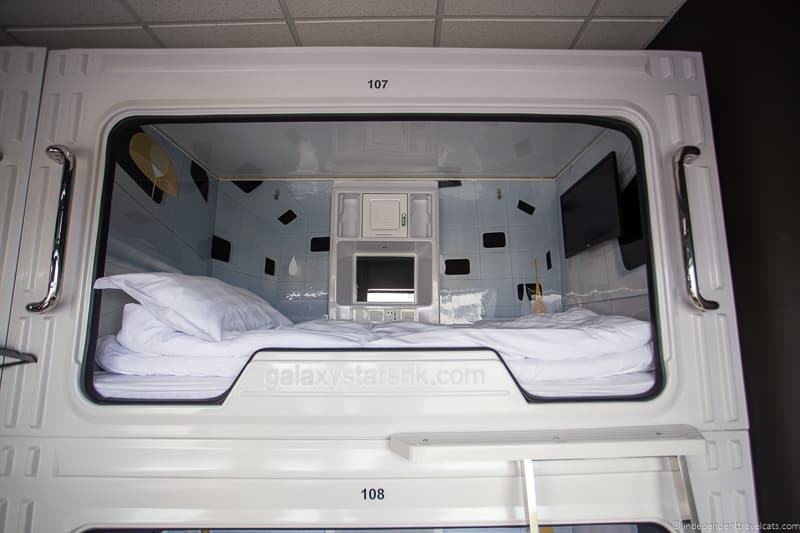 4. Book Accommodation in Advance
As with many destinations, booking your accommodation in advance can save you money. It also gives you access to the most variety in lodging and can help ensure you get a room within your budget. Last minute rates, especially in high season, can be very expensive (we've seen them triple the normal rate).
Once you have your dates set and flights booked for your trip, I'd start investigating lodging options within your price range. Not only can booking in advance save you money, but it also ensures you have a place to stay. Driving around late at night looking for a place to stay is never fun!
Even if you are not 100% sure of your plans yet, it may still be a good idea to book your accommodation if you have the option to cancel it if necessary. On many online hotel websites, like Booking.com, most properties allow you to book a hotel room, guesthouse, or apartment, and then cancel it if your plans change. You just need to cancel it by a certain date as will be indicated on the booking (normally 24 hours to 1 week in advance depending on the property).
By booking in advance, you lock in the current rate and know you have a place to stay, but can still change your mind later.
5. Consider a Camping Holiday
Camping is one of the least expensive ways to overnight in Iceland and also gets you outside and under the stars. This is a great way to travel in Iceland on a budget. We'll share all the information you need to know to decide if camping is right for you and how much you can expect to pay per night.
Finding Campsites in Iceland
Camping is fairly inexpensive in Iceland and is one of the best budget ways to travel around Iceland if you plan to self-drive. Campsites are normally about 1,000 to 2,300 ISK per person/night (approximately USD $8.30 to $20 per person) plus a small overnight tax (currently about 333 ISK, or USD $2.78 per tent or campervan). So you can save money by checking rates before choosing a campsite.
Do I need to book campsites in advance?
You don't need to book camping in advance in Iceland. In fact, most campsites do NOT take advance bookings. There is normally a lot of space (most are open fields) and people are rarely turned away.
It is a good idea to know where campsites are located in advance so you can loosely plan where you will stay each night during your trip. Space is allocated first come, first serve at most places, so just don't show up too late during the busy season, especially if have specific requirements (e.g., large caravan that needs water & electric hookups). Checking in by early evening is a good idea and most campsites allow registration and check-in between set hours so it is a good idea to check ahead.
Those traveling in winter should note that many campsites in Iceland are seasonal and are closed in the winter months. So be sure to check campsites' operating dates when planning your driving route.
There are no great campsite websites out there (at least none that we have found anyway) that have all the Iceland campsite information on them. But here are two websites to check out for a rough idea of campsite locations: here (lists 60+) and here (lists 40+). Note that there are more small campsites around the country that are not captured on these websites, and local Visitor Centers are good places to stop for all the options in a specific area of Iceland.
If you are renting a campervan in Iceland, your rental will likely come with a list of recommended campsites and campsite information.
Ways to save money on campsites in Iceland?
Those who plan to camp for several nights or more in Iceland and are visiting between May and September, may want to check out the Camping Card. The card gives you overnight stays (campervan or tent) for up to 2 adults (plus up to 4 children under age 16) in any of the participating 40+ campsites. You can stay in any 1 campsite for up to 4 days maximum. It is valid for up to 28 nights and will definitely save you money if you are camping for several days or more in Iceland!
The Camping Card (currently 19,900 ISK or USD $167) can be purchased online and shipped to you before your trip, or purchased after you arrive in Iceland. Within Iceland you can purchase it at numerous locations including a number of tourist information offices, campervan and car rental agencies, 10-11 grocery stores, and post offices.
Some RV and campervan rentals come with a Camping Card or the option to add one to the rental price in advance such as this rental.
Are there camping packages available?
Yes, there are a few self-drive camping tour packages available that include your campervan or RV rental as well as a suggested itinerary and camping essentials. For those planning to drive the Ring Road, this 8-day self-drive camping trip deal (available May to September) includes your campervan rental, basic CDW insurance, camping gear, a Camping Card, and a detailed travel plan and suggested itinerary.
For those looking for a hiking plus camping tour, you can do a guided hiking tour that includes camping such as this 5 day Landmannalaugar hiking tour or this 7 day guided trek that includes Iceland's 2 most famous hiking trails. These tours include transportation to/from Reykjavik, luggage transfers, meals, and a guide.
Can I camp for free in Iceland?
The answer for in the majority of cases is NO unless you are wild camping (tent camping) under certain circumstances. There is a common misperception that you can camp or park almost anywhere in Iceland for free, but this is not true. Iceland used to have pretty lenient rules on wild camping and did not really regulate illegal RV and campervan parking.
However, in the past few years with increased tourism and increased destruction of the environment by campers, new rules were introduced and illegal camping is more widely regulated and policed. New laws are designed to protect of the environment, avoid traffic accidents, and to prevent damage to private property. Many landowners and even entire regions of Iceland now prohibit any camping (tent or campervan) that is not within a designated campsite.
Basically if you want to sleep in your campervan, car, tent trailers, campervans, RV, or any other sort of motorized vehicle, you need to overnight in a designated campsite. The main exception is if you have the explicit permission of the landowner to overnight on their property, which is how many Icelandic people are able to camp for free.
Camping is inexpensive in Iceland (see above section) and there is no good reason to try to illegally camp in Iceland. Be a responsible traveler to this beautiful country.
Now if you wanting to do real wild camping (a traditional tent pitched well off the road away from buildings), then there are places you can still wild camp for FREE for 1 night at a time in Iceland. Although note that it is still recommended that you use a designated campsite when one is nearby, but is a great option for uninhabited areas of Iceland (e.g., Hornstradir Nature Reserve or central Highlands areas) and for those wanting to do multi-day hiking treks.
There are a lot of restrictions and areas that do not allow camping of any kind (see list here), but if you want to tent camp for free legally, there are still some places you can do it.
Unless you are a seasoned camper with good cold-weather gear, we would only recommend tent camping in the summer months as the weather can be very cold and wet throughout the rest of the year and make for some really uncomfortable camping situations. Camping in Iceland is definitely best during the summer months.
If you plan to camp in Iceland, be sure to check out the Environmental Agency of Iceland website which covers all the overnight Iceland camping rules as well as lots of safe travel tips.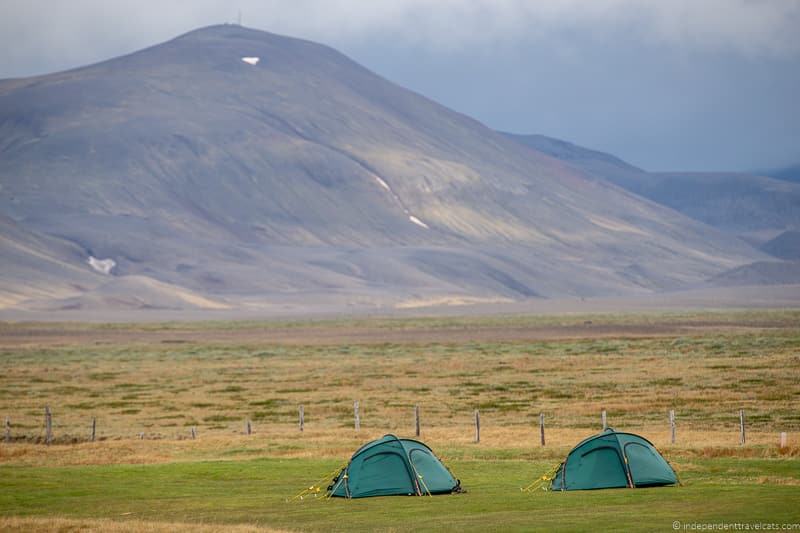 6. Consider All your Iceland Travel Options
Although you probably have an idea of how you plan to travel around Iceland, it is a good idea to consider all your options. The least expensive option may depend on the size of your travel party, time of year, and how many days you have in Iceland.
Although budget is definitely an important factor, you also want to consider your travel comfort, time you have in the country, how much time you have to plan, how much time you want to spend planning, and other important factors.
Iceland Travel Options:
Guided Tour – Join a guided group tour that goes to the places you want to visit. Your itinerary, hotels, sightseeing, and transport will be taken care of with little planning needed. Although it can be more expensive than planning everything yourself, tours allow you to have a very good idea of all the major expenses before you start the trip. Example guided tours in Iceland are this 5 day winter ice cave & South Shore trip and this 10 day Ring Road trip. See this great list of guided tours in Iceland for a curated list of options.
Day Tripping – A popular way to travel in Iceland is to base in a city (or two), and explore from there. You can either hire a car and drive yourself or book day trip tours. For example from Reykjavík, you can explore most of western and southern Iceland on day trips, and from Akureyri you can explore most of northern Iceland. See a guide to popular Reykjavík day trips to get an idea of what you can see if you are considering basing in the capital.
Self-Drive – Hire a car, set your own itinerary, choose your own activities, and book your own lodging. You control your bookings and budget. Everything is up to you!
Self-Drive Package – If you want the freedom of driving yourself but don't want to do a lot of planning, you can book a self-drive package where your rental car, hotels, and any tours are booked for you and you are given a suggested itinerary based on your preferences. Here's a list of self-drive trips in Iceland to give you some ideas.
Travel By Public Transport – You can travel by public bus to get around the country. This is definitely one of the cheapest forms of travel available in Iceland. You can also travel using a Bus Passport in the summer months.
Camping – Camping is one of the least expensive ways to overnight in Iceland, and you can choose to get around via a regular car, campervan, or by public transport.
Hitchhiking – Although a popular recommendation in budget forums and guides, we don't recommend hitchhiking as your primary means of getting around Iceland. Icelanders we spoke to think it is strange (and unsafe) for tourists to show up in a foreign country expecting to hitchhike their way around. Depending on the kindness (or pity) of strangers to drive you around is not the best (or most efficient) way to get around Iceland, especially if you have limited time. Instead consider sticking to one area you can explore on foot or by bike (e.g., Reykjavík), taking the bus, getting a Bus Passport, or consider carpooling.
Each of the options above has its pros and cons, and I'd read this planning guide for more information if you need help deciding on how to travel in Iceland.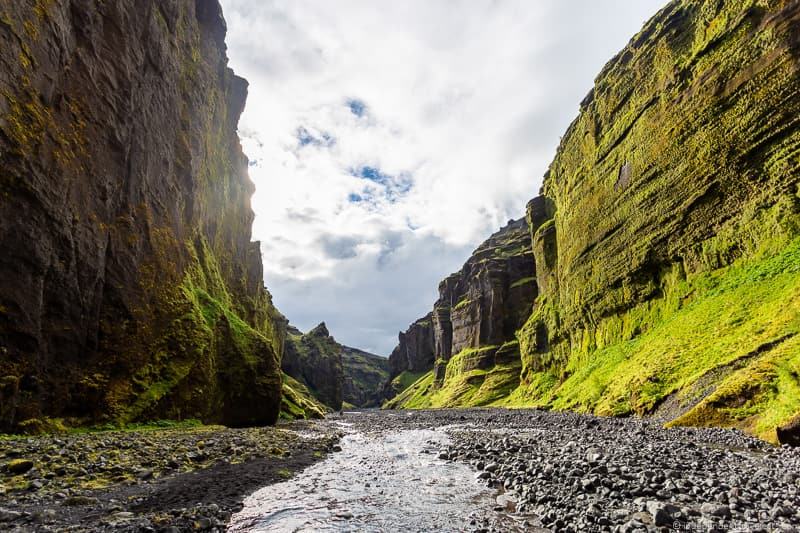 7. Consider Using Public Transit
Public transportation covers Reykjavík and the surrounding area very well. It is a great and relatively inexpensive way (460 ISK per ticket) to get around the capital compared to taxis or a rental car. There are also bus passes as well if you plan to use the bus multiple times during your time in Reykjavík.
You can pay the bus fare on the bus to the driver (bring exact change) or using a credit card in advance using the Strateo phone app. The buses are free for those using a Reykjavík City Card.
Akureyri, the country's second largest city in the north, has free city buses that visitor can use to get around!
For those traveling around Iceland, the public transportation network connects all the major towns and cities. You can see the public transport network here with most of the regular bus routes run by Strateo. For the long-distance buses, you can pay for tickets using a credit card.
Whether or not the public bus is a good option for you will depend on where you plan to go and what you plan to visit as while towns throughout Iceland are well-connected, many tourist sites like waterfalls and remote beaches are not going to be located near bus stops.
8. Buy a Bus Passport
One of the disadvantages of the regular buses is that they only connect places that local people will be traveling and are not necessary well-suited for tourists. However, in summer, you can purchase a Bus Passport where hop-on hop-off buses operate around the country that pick-up and drop-off passengers at the most popular hiking spots and tourist attractions in Iceland.
The Hikers Passport is for those wanting to hike in the Highlands which includes two of Iceland´s most popular and beautiful hiking routes: the Laugavegur hiking trail and Fimmvörðuháls hiking route. The hop-on hop-off buses stops at several locations along the routes (Skógar, Skaftafell, Landmannalaugar, Þórsmörk) so it can suit those wanting a shorter or longer hike.
The South Shore bus pass covers a number of attractions along the South Shore including Hveragerði, Seljalandsfoss waterfall, Skógarfoss, Vík, Skaftafell National Park, and Jökulsárlón Glacier Lagoon.
There is also this Reykjavík Excursions bus pass that covers the Reykjavík area, South Shore, and a few popular northern Iceland attractions including Dettifoss and Akureyri. This one works a bit differently so be sure to read the terms and conditions.
There are also special hiker bus passes and services offered through Trex and Thule Travel in the summer months.
Bus passes can represent a really good value for transportation if you plan to use it for several days or more. Check the routes and schedule to find out if it would be a good value for your trip. The bus passports can be purchased online or once you are in Reykjavík.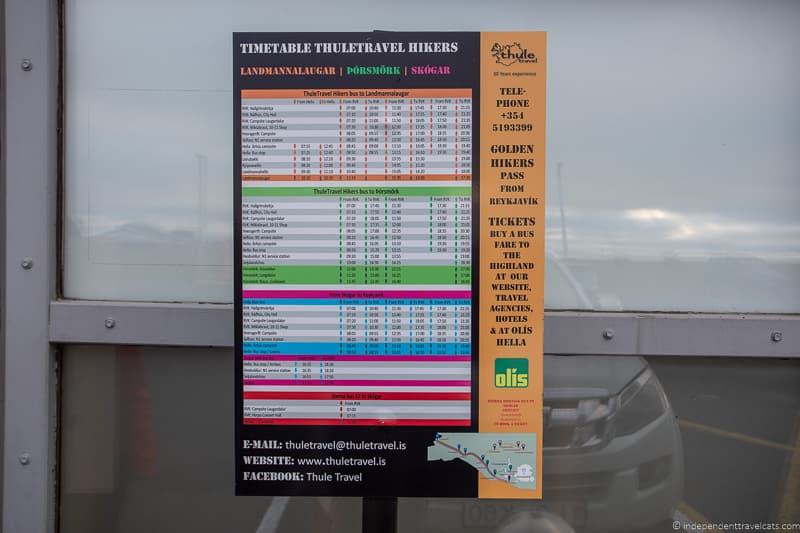 9. Travel as a Group
If you are considering traveling to Iceland alone or as a couple, you might consider getting some travel companions if you need to save money on the trip. Groups can make everything from cooking meals to apartments to rental cars to private tours less expensive. For example, a $600 rental car split between 4 persons is much more affordable than split between 2 people.
Maybe you have family or friends who are interested in visiting Iceland and willing to join you and split costs? Or if you don't know anyone and are not averse to traveling with strangers, you may want to check out travel message forums such as this one to see if anyone else is looking for a travel companion to Iceland. Once in Iceland, hostels are a good place to find like-minded budget-focused individuals who may want to share the cost of a rental car or a grocery store bill.
Note that more is not always merrier. If you are traveling in a group of 5 or more adults, you will have more limited options in terms of both transport and accommodation. This could actually increase your costs of travel per person.
If you can't find travel companions, be sure to compare your travel options. For instance, a group bus tour may seem expensive and beyond your budget, but the prices usually include almost all your major trip expenses including transportation, a guide, lodging, luggage transport, sightseeing, and breakfasts. These may end up working out as less expensive (or about the same cost) than doing it all yourself once you factor in all the costs, especially if you are traveling alone.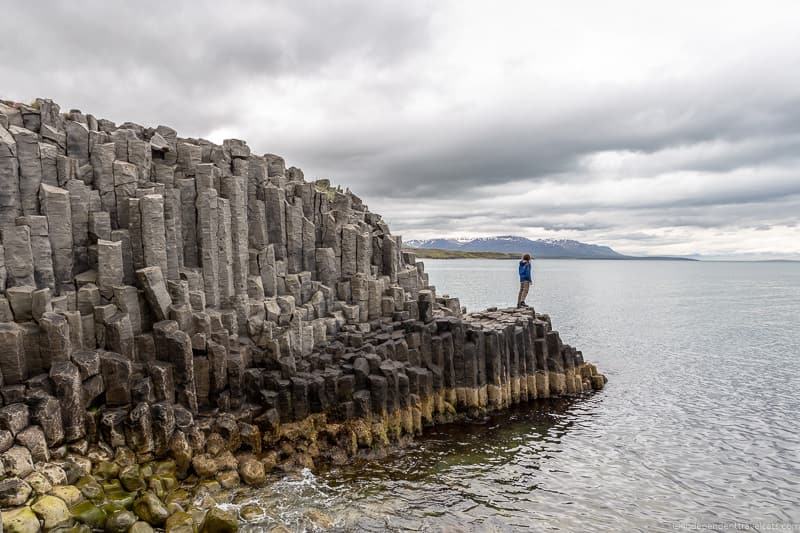 10. Do Your Research on Rental Cars
If you decide that you want to rent a car and drive in Iceland, you can save money by comparing car prices, minimizing rental days and understanding your car insurance options. You also want to do what you can to prevent any damage to your car as car services and repairs are expensive in Iceland.
If you are not sure if you want to rent a car or not, I'd compare the cost of renting a car (including insurance) with other options (e.g., joining tours or a Bus Passport). Car rentals are not cheap in Iceland and are not the best option for all travelers.
Compare Rental Car Prices
If you are thinking about renting a car in Iceland, you'll want to compare prices to get the best deal.
Here are some places to check prices and consider booking:
Guide to Iceland – This is the largest online marketplace for rental vehicles in Iceland and the one we most recommend. The websites lists cars, SUVs, vans, and campervans from a number of rental agencies in Iceland.
Priceline – This is our go-to comparison car rental website for finding rental cars in many parts of the world.
SADCars – This company rents out older model vehicles and is often the cheapest website. However, it has received worse customer reviews compared to other rental car companies in Iceland. We haven't used them so can't offer any personal experience, but may be an option to consider for those on a tight budget. Just be sure to check recent reviews first.
NOTE: You need to be at least 20 years of age to rent a car in Iceland and many companies require drivers to be at least 23 or 25 years of age. Extra rental fees are sometimes charged to drivers age 25 or younger.
Book in Advance
Don't wait to decide if you want to rent a car last minute once you get to Iceland, especially in summer. You'll have fewer options and be at the mercy of the car companies in terms of rates and the remaining cars available. Rates are generally better online than if you call or walk into a rental car agency needing a same-day rental.
Minimize Car Rental Days
Save money by only renting the car for the days you will be actually using it to minimize the number of rental days. Do you really need a car for your entire trip? Organize your trip so that the days you don't need a car fall together to save money.
For example, it is easy to catch a shuttle to and from the airport to Reykjavík and you can get around central Reykjavík by foot, bike, or public bus. You also don't need a car if you are planning to take any full day tours such as to go on a guided glacier hike or bus tour out to the Highlands.
Make an Informed Car Insurance Choice
Let me preface this with the fact insurance in Iceland (as in most places) is complicated and we do not pretend to understand it completely or to offer any legal advice. But we will try to share the basics to get you started.
In Iceland you must have basic third-party liability insurance to legally operate a vehicle which is normally covered under the CDW (collision damage waiver) insurance included with your car or campervan rental. Be sure to check that this is included but just about every rental comes with this included in the price since it is a legal requirement.
The Basic CDW coverage generally includes the mandatory third-party liability insurance and accident insurance for the driver and the owner. It may also include additional things like vehicle theft protection.
The basic CDW that comes with most rental cars often comes with a fairly high deductible (~ $1,500 to $3,000) so an accident can still cost you up to that amount. You can generally decrease the deductible by paying a little bit more (we paid to decreased ours down to $0).
The basic CDW coverage included in rental car prices also usually does NOT include windscreen cracks, general physical damage, sand damage, wind damage, paint scratches, water damage, etc. Damage, such as windshield chips, dents, and scratches, are fairly common in Iceland given the gravel roads, wind, and large number of inexperienced drivers on the road.
Parts and labor are expensive in Iceland and these are often even higher when charged by a rental car company. So for instance a chipped windshield could cost you 75,000 ISK to 100,000 (~ USD $625 – $834) as they'll need to replace the windshield, a dent from someone else opening their door into your car could cost you 50,000 to 200,000 (~ USD $417 to $1,667), and a damaged door from opening it into the wind could cost you 500,000 ISK ( ~ USD $4,167).
It is of course totally up to you if you want to purchase any additional protection beyond the legal amount required, but we would highly recommend getting coverage for at least the most typical kinds of damage, especially if you plan to have the car for more than a couple of days and/or plan to drive on any gravel roads.
The "Super CDW" insurance option upgrade typically includes a zero (or very low) deductible and includes all the general kinds of physical damage to the exterior of the car like paint scratches, dents, chips, broken door hinges, and windscreen cracks. This is what we purchased and it also included theft protection. This gave us much better piece of mind and what we'd recommend to most travelers to avoid any large surprise costs during your trip.
Another common add-on insurance option is "sand and ash protection". This protects your car from any damage caused by sand or volcanic ash. This is a less common form of damage but sandstorms do happen in Iceland, especially on the South Coast. The primary damage here is that the sand (or ash) will scratch and strip the paint off your car and repainting a car is obviously going to be a very costly expense.
We declined the "sand and ash protection" and were just careful to check the road and travel conditions. You'll need to use your own judgement as to whether this is something you want to purchase or not.
As with any insurance coverage, no insurance will cover you for any damage incurred during illegal driving such as off-road driving, speeding, drunk driving, and driving on closed roads. They also won't cover you if you do anything not allowed under your rental car contract, which in Iceland often include things like driving on Highland F roads (some 4X4 rentals in summer are allowed but check your contract closely) or crossing unbridged rivers or streams. Be sure to check the rental car contract associated with your car carefully.
NOTE: If you have CDW insurance included with your credit card (some American credit cards come with this as a feature) or travel insurance, you can usually decline the CDW, but you can not decline Third Party Liability Insurance or Personal Accident insurance as these are mandatory under Icelandic law. In most situations, it is best to just accept the CDW but you can contact your insurance company and the rental car company about your specific situation.
Regularly Check Travel and Road Conditions
Anyone driving in Iceland should be checking on travel conditions on a daily basis as the weather can change quickly in Iceland and can be pretty unpredictable. Not only will this help keep you safe on the road, but avoiding bad weather and poor road conditions can keep you from incurring costly damage to your rental.
Here are the two websites we recommend monitoring throughout your trip:
Safetravel.is – safety website operated by the Iceland Association for Search and Rescue
road.is – road conditions website managed by the Icelandic Road and Coastal Administration
Closed roads, storm warnings, sandstorms, strong wind warnings, flooding, avalanche warnings, etc. will all be noted on these websites.
If driving in the winter, we recommend reading our tips for driving in Iceland in winter.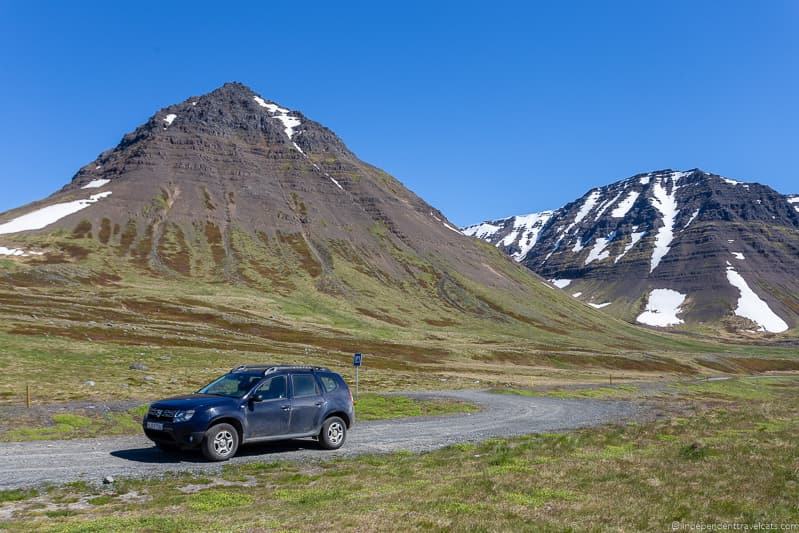 11. Consider Carpooling
A rental car or guided bus tour may be too expensive if you are traveling to Iceland on a budget. One way to save money is to join someone looking for passengers to share the cost or you can offer a ride to someone else. If you don't have the money to rent a car yourself, you can find a fellow traveler to join you in carpooling on a website called Samferda.
The simple website allows you to put in a request for a ride (you don't have a car, but want to join a carpool) or request fellow passengers going to the same place in Iceland (you have a car, but want passengers to join you). Be sure to be clear about the cost sharing expectations up front.
You might use this for a one-time travel need (e.g., getting to the airport) or even for your whole trip if you find suitable companions who want to travel to the same places. This is a good alternative to hitchhiking.
12. Pack Wisely to Avoid Unnecessary Purchases
Packing all the things you need for your trip will not only ensure you are prepared, but it will help you save money. It also pays to make sure you have proper protective gear (e.g., a drybag or waterproof cover) to protect expensive items (e.g., cameras, phones) from damage. We experienced this firsthand as waterfall spray caused damage to our camera's WIFI functions.
It is easy to find high quality clothing and winter gear in Iceland but it is pricey. For instance I checked simple knitted hat prices in a number of stores and had a hard time finding anything under USD $55 (a similar hat would be priced around USD $15 in the United States). Other consumer goods like water bottles, towels, electronics, camping gear, etc. are also much more expensive in Iceland than most other countries.
So it is wise to do some research in advance to know what you'll need for your trip. Then I'd recommend making a list to make sure you pack what you'd need to avoid having to purchase it in Iceland. We met several people in Iceland who had to purchase warmer clothing, waterproof shoes, or proper hiking gear in the country because they came unprepared.
Check the weather forecast in advance as well as right before you go to know what to expect from the weather. Check out some recommended packing list for the time of year you want to visit, such as this winter packing list for Iceland.
See what you need for any activities you want to do (e.g., snorkeling, skiing, birdwatching, golf, thermal baths) while in Iceland. You probably don't want to have to have to rent or buy things like binoculars, gloves, swimwear, hiking poles, or ski goggles if you already own them.
No matter when you'll be traveling to Iceland be sure to have warm layers of clothing (preferably at least a couple of wool items), comfortable waterproof hiking shoes or boots, waterproof and wind resistant outer layers, hat, sunscreen, swimwear (for spas and pools), and a warm jacket or coat. Even in summer, temperatures can be cool and you'll need warm layers.
A towel is also recommended for most travelers. On our last trip, we packed 2 towels, a regular beach towel and a fast-drying travel towel just like this one. A towel is great for anyone planning to visit the geothermal pools as it will save you from having to rent a towel and many of the pools don't offer towel rentals. A towel will also likely come in handy if staying in hostels or campsites and is good to use to dry off if you get soaked in the rain or by waterfall spray.
We recommend packing a drybag or waterproof cases (such as these ones) for your phone and valuables, especially if you plan to visit pools, go on long-distance hikes, join boat tours, or do water sports. For those with pricey cameras, we recommend an inexpensive rain sleeve to protect them. Backpackers and hikers will also want to make sure they have a waterproof cover for their bags. These items will also help protect your valuables from the spray from waterfalls (if windy, the spray at some waterfalls can drench you pretty quickly!) and rainstorms.
Those traveling in the winter season (this period roughly lasts from November to the end of April) will want to be especially prepared for the rain, snow, wind, and colder weather. We have a winter Iceland packing list to help provide some recommendations and tips.
In the summer months (roughly June to end of August) it won't generally be as cold so you don't need full winter gear, but it can still be cold and it never gets hot here. So you'll still want to be prepared for potential cold weather (check the forecast), rain, and strong winds. We were here for the entire month of June and wore wool baselayers on about 60% of the days as it was cooler and more rainy than a typical June.
For the summer, you'll want to pack sunglasses (or a hat) and an eye mask.The midnight sun (where the sun sets only briefly) can make it hard to sleep well during the night so we definitely recommend investing in a comfortable sleeping mask. Many hotels, guesthouses, and apartments do NOT have proper blackout drapes or blinds. We also packed a drape clip (a few clothespins will work) to help close gaps in curtains and drapes.
13. Seek Out Less Expensive Dining Out Options
There were no places in Iceland that we ate at that I would describe as "cheap" but there are definitely places you can spend less money than others. At a typical Icelandic restaurant, a starter and main course for dinner for one person will be around 6,000 ISK (~ USD $50) without drinks.
Throughout the country, the most inexpensive meals in Iceland can be found at grocery stores (e.g., pre-made sandwiches, wraps, salads, snack food), fast food chains such as Subway (located only in main cities and town like Reykjavík, Akureyri, and Egilsstaðir), local diners, and gas station restaurants. Many museums and attractions have cafés or restaurants, and these often offer reasonably priced options such as sandwiches, soups, waffles, and cakes.
Many people unintentionally go on a soup and bread diet in Iceland. Soup is often the least expensive option on menus (generally between 12,000 to 18,000 ISK) and offers a reasonably healthy option. Often you get a free refill (or even unlimited free refills!) of soup. Common soup options in Iceland (based on our experience) are fish soup, Iceland lamb soup, and mushroom soup.
Reykjavík is probably the best place to find budget eats in Iceland. You can find cheap eats at hot dog and sandwich stands as well as grocery stores and fast food chains. Bæjarins beztu pylsur is a popular hot dog stand that has been serving hot dogs since 1937. You can get an Icelandic hot dog for about 400 to 500 ISK. Waffles are another relatively cheap food you can pick up in many places.
If you have a car, another place you can get a reasonably priced meal near Reykjavík is IKEA! Believe it or not, the restaurant within this huge Swedish budget home furnishings store is a popular dining spot for Icelanders because of its relatively low prices for food and alcoholic drinks. It is especially popular for those with families as they offer inexpensive children's meals. We actually ate here on our first visit as we stopped to purchase a towel and were really surprised by how busy it was!
For those driving around the country, the best places for less expensive hot meals throughout Iceland are actually gas stations. Many of the fuel stations in Iceland (such as the Olis and N1 chains) offer both food you can grab (pre-made sandwiches, snack food, drinks) as well as restaurants serving hot food items such as hamburgers, hot dogs, pizza, fish stew, and paninis. You can get a hot meal for 15,000 ISK to 25,000 ISK.
The food varies across fuel stations based on our own experience from pretty good to not so good, but these places usually offer the best prices in town. Note that not all fuel stations include restaurants or stores, especially those in more remote areas, which may just be a set of automatic gas pumps.
Just be aware that if you are going to a familiar chain like Subway or IKEA, prices will still be higher than you are used to paying. For instance, a Subway sub in Iceland will cost you about double the price of the same sub in the United States, but it is still a good deal considering Icelandic restaurant prices!
If you are trying to set a budget for food, you could probably survive on a budget as low as USD $20/person/day for food, but you would have to work really hard at it! With a really low budget, you will probably need to cook your own meals (see section below), share meals with someone, or be stuck with limited and/or unhealthy options.
A more realistic, and not so restrictive budget, would be around $50/person/day for 3 meals a day. But even at $50/person/day you will still be limited, especially if you enjoy eating at sit-down restaurants. So your budget will really depends on how you want to travel and where you like to eat.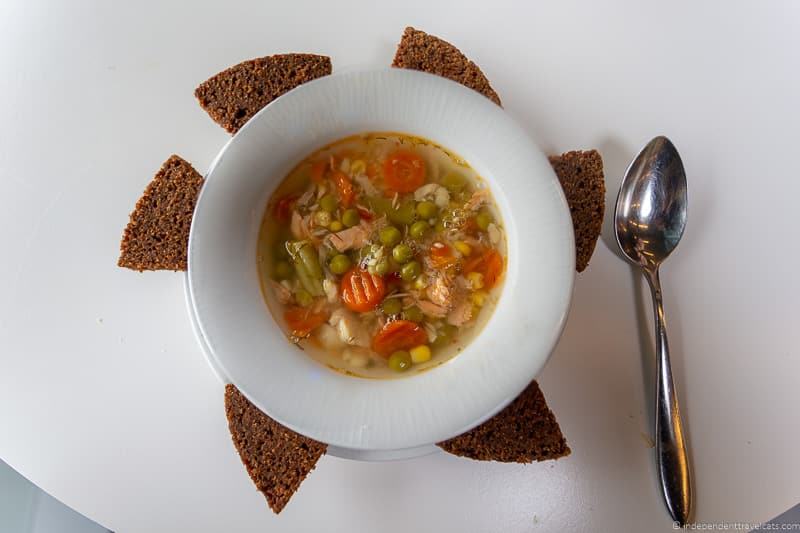 14. Cook Your Own Meals
If you book self-catering lodging or are planning to stay at campsites, you have the option to cook your own meals. Groceries are more expensive in Iceland than in most places in Europe (e.g., last time we were there it was USD $4 for a loaf of bread), but you can still save money if you go grocery shopping and cook your own meals compared to eating out at restaurants.
To get an idea of recent food prices, costs of alcohol, and restaurant meal costs (as well as other costs of living), you can check out this website.
Best Budget grocery stores in Iceland
Like in most countries, you can save money in Iceland by shopping at the lower priced grocery stores where the same items can be up to 50% less than in other stores. Budget grocery store chains we recommend in Iceland include Bónus, Nettó, Kronan. We recommend that budget shoppers avoid the 10-11 convenience grocery stores which are, on average, much more expensive than other grocery stores in Iceland.
Most grocery stores, including the 3 budget grocery stores above, have a budget brand for essential items. Look out for these items as they are often the least expensive option in that category (e.g., the least expensive mustard, coffee, or paper towels). For example in Bónus the budget brand is Euro Shopper and Nettó offers Coop and X-tra products.
Grocery bags are not free (and Iceland is looking to potentially ban plastic bags in the future), so you can save a little money by packing a few reusable bags if you plan to do grocery shopping a lot while in Iceland. Or you can purchase reusable bags in the grocery stores.
How to Find Self-Catering Lodging
You have a lot of self-catering options, including hostels, apartments, and campsites that are geared towards those who want to do their own cooking. Most hotels, guesthouses, and B&B's do not allow guests to do their own cooking.
Some apartments, hostels, and campsites also offer laundry service options, so if you are traveling for a longer time, that may help you save on hotel laundry service fees. See our guide to doing laundry while traveling for all kinds of ways to do and to save money on laundry.
Here are some good places to start your search:
Apartments – Most apartments in Iceland come with cooking facilities and basic cookware.
Hostels – Most hostels in Iceland come with shared kitchen facilities that allow you to cook your own meals.
Vrbo – Many of the options on Vrbo come with a kitchen that allows you to cook your own meals. Be sure to read the House Rules before booking to ensure you are allowed to cook.
Campsites – You can do rustic cooking if you have your own camping stove and some campsites provide shared cooking facilities.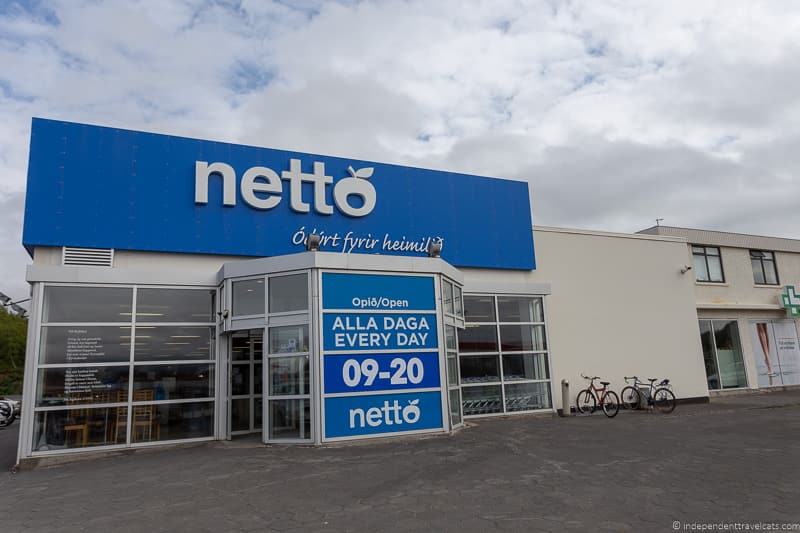 15. Limit Alcohol
Due to high taxes and importation fees, alcohol is very expensive in Iceland, whether you purchase it in a store or order a drink in a bar or restaurant. In fact, alcohol prices in Iceland are about the highest in the world at the moment. The best way to save money is to not drink, but if that is not an option for you, you can try to seek out the cheapest drinking options.
First of all, the least expensive alcohol is usually available in the duty free shop at the airport. So consider buying your alcohol in either your departure airport (if allowed) or at the Keflavík International Airport once you arrive. For most people, the duty-free shop at Keflavík is going to be the least expensive and most convenient option.
It is often less expensive to purchase a full bottle of liquor or 6-pack of beer than to purchase individual drinks in a bar. However, you are limited in where you can buy alcohol in Iceland and you cannot purchase alcohol at grocery stores or fuel stations. In Iceland you can only purchase alcohol at the duty-free shop at the airport and at state-run stores called Vínbúdin. You have to be at least 20 years of age to purchase alcohol in Iceland.
If you want to go out, seek out happy hours where you can get find less expensive drink prices and 2 for 1 deals. We found that drinks could be up to 50% cheaper at Happy Hours. Note that most happy hour offers are in larger towns and cities such as Reykjavík (check out the Appy Hour app) and Akureyri so you may have a hard time finding cheaper drinks in small towns or rural areas.
Drinking and driving laws in Iceland are very strict and you can be arrested for driving with a very low blood alcohol level. Drunk driving is considered a serious offense and fines (even for first time offenses) are very high. So be sure to wait to drink until you have stopped traveling for the night!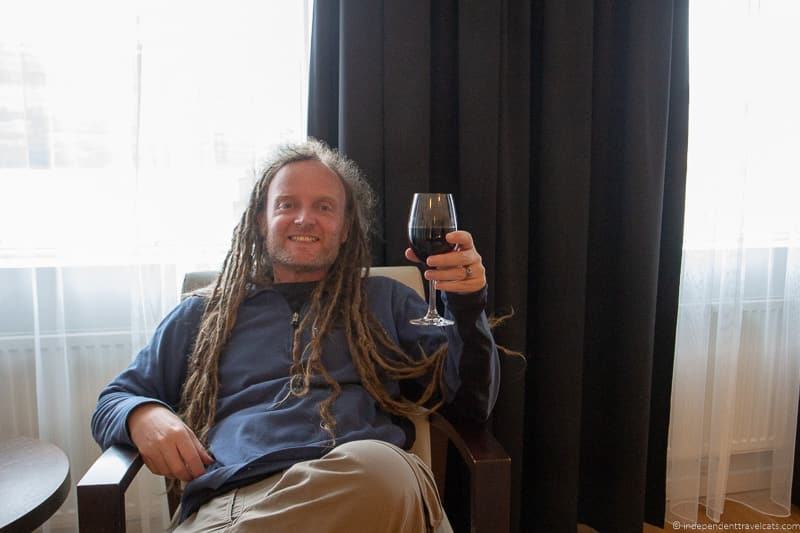 16. Drink Tap Water
Drinks are expensive in Iceland, but tap water is free and safe to drink throughout Iceland. The drinking water in Iceland is of a very high quality. If at any location you are unsure about whether the water is safe to drink, just ask.
In many cafés, fuel stations, and fast food restaurants, pitchers of water are often in a common area for guests to help themselves or are brought to the table in sit-down restaurants. If not, just request water when you order.
Bring a reusable bottle for water with you so you can fill it in sinks and water fountains and not need to pay for drinks or purchase bottled water. If you need to get a water bottle for your trip, we personally like this one and this one. You'll be saving money and creating less plastic waste.
NOTE: The hot water in some places in Iceland, notably Reykjavík, is geothermal water that is pumped in straight from the ground so it has an odor and taste of sulphur. It is safe to drink but doesn't taste very good and isn't intended to be used for drinking. However, the cold water comes from a different source and is safe to drink without the odor or bad taste. So just let the water run cold before filling your bottle!
17. Use Fuel Discount Cards
If you are driving, fuel discount cards can save you a little money on fuel and gas station purchases.
If you are in a city or town that has multiple fuel stations, you can compare prices as some are less expensive than others. The two main brands we saw in Iceland were Olis and N1, but there are also others like Shell, Skeljungur, and Orkan. However, in reality, you are often not given many choices in less populated areas and you are lucky to find more than one station to choose from.
But one way to save money is to get a discount card to one (or more) of the fuel chains. To our knowledge (as of July 2018), both Olis and Orkan / Skeljungur offer discount cards in Iceland. There is a good chance that if you are renting a car or campervan, that your keys will come with a discount card or discount key fob.
We had a Olis discount card attached to our key fob from our car rental company (on both of our visits to Iceland), but you can also pick up a Olis discount card at the fuel stations. It gave us 3% discount on fuel and up to a 10% discount on the restaurant. The discount applies to almost everything in the fuel station which often carry a bit of everything includes snacks, car accessories, basic groceries, souvenirs, travel things (maps, guidebooks), and meals. The discount does NOT apply to some items like cigarettes.
NOTE: In smaller towns and outside of regular business hours, many of the gas stations are unmanned so you need to have a credit card with a 4 digit pin. If you don't have a credit card or don't have a PIN set up (recommend doing this before your trip), you can get pre-paid cards that will work at the pumps such as this N1 card.
18. Seek out Free things to Do
Whereas many of the activities, tours, and museums in Iceland can be expensive, there are also a lot of free things to do in Iceland.
Here are some ideas for free (and inexpensive) things to do in Iceland:
It is free to visit many of Iceland's most popular attractions such as waterfalls, beaches, gardens, public art installations, churches, monuments, geysers, and lava fields. You can easily create an itinerary that is full of free attractions.
In Reykjavík, there are loads of things to do for free. For instance, you can take a "free" walking tour (donations are expected), marvel at the Hallgrímskirkja (free to visit, although small fee to climb church tower), taste the offerings at the Hlemmur Food Hall, visit the botanic garden, hike around the Öskjuhlíð, or explore the weekend Kolaportið flea market.
Make time for free (or inexpensive) outdoor activities like hiking, swimming, snowshoeing, scenic drives, searching for the Northern Lights, birdwatching, climbing, biking, or picnicking. If visiting in winter, check out our Northern Lights photography guide.
Take advantage of any amenities offered by your hotel. It sometimes pays to stay at nicer hotels. For instance, some hotels offer free on-site hot tub and spa access, swimming pools, binoculars you can borrow for birdwatching, or free bike or canoe rentals.
You don't have to pay a lot (or even anything) to visit a thermal pool in Iceland. For instance, the Nauthólsvík beach and hot pool in

Reykjavík

is free in summer, and you'll find free (or inexpensive or donation only) small hot pools throughout less populated areas of Iceland (e.g., Westfjords). Public city pools, found in almost every town in Iceland, are inexpensive and a great place to meet locals.
Be sure to check for free museum days, festivals, concerts, or other events that may be taking place during your trip. There is almost always something free taking place, especially on summer weekends, in cities like Reykjavík and Akureyri!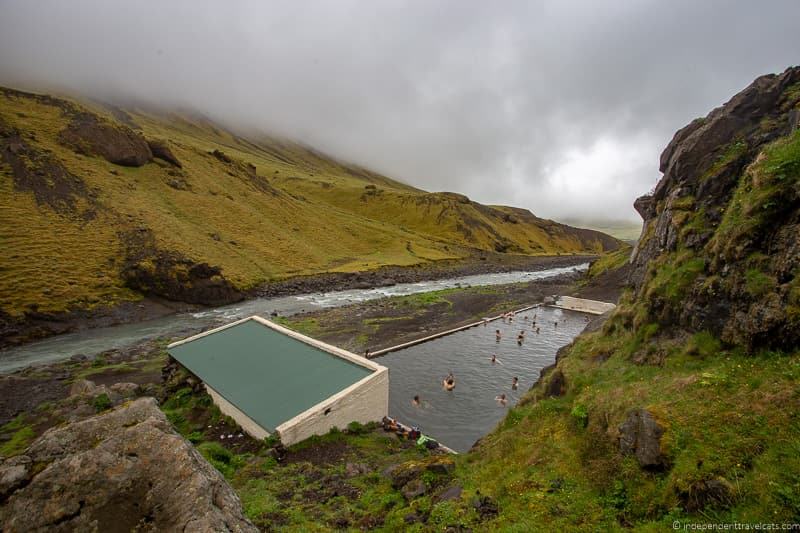 19. Take Advantage of Discount Passes & Coupons
One way to save money in many destinations is to check for available discount passes, special offers, and coupons. We list some of the ones we know about below, but we recommend keeping your eyes open for deals as you travel. For instance, a number of attractions offers discounts to other nearby attractions with the purchase of a ticket.
Here are some discount cards and coupons to consider in Iceland:
Reykjavík City Card – The Reykjavík City Card offers free entry to several museums and attractions within Reykjavík including Árbæjarsafn (open-air museum), Reykjavík Zoo & Family Park, National Museum of Iceland, and the National Gallery of Iceland. It also includes free access to the city's public thermal pools and saunas, free bus service within the city, and restaurant and attraction discount offers. Although not designed for all travelers, it can save you quite a bit of money if you plan to visit several of the included attractions while in the capital and take the bus. We've used it on our first trip and saved money using it.
Icelandic Coupons – This is a discount printed brochure (and now also in app form) that gives you a number of discounts to a variety of attractions and services in Iceland geared to travelers, including restaurants, car rentals, spas, bars, and tours. The coupon book is cheap (about 1,500 ISK) and you can often get your money back by using one coupon. The best part is that you can check most of the coupon deals online before purchasing it to see if it will save you money. You can purchase the new app online or the coupon book in Iceland at these locations.
Reykjavík Art Museum – This isn't a pass but the museum has three separate locations in the capital and if you purchase admission to one site, you have free admission to the other 2 as well. The admission ticket is valid for 24 hours for Hafnarhús, Kjarvalsstaðir. and Ásmundur Sveinsson Sculpture Museum. A good value for art lovers.
Camping Card. – Already mentioned under the camping section earlier, this card should be considered by anyone planning to camp in Iceland. The card allows for up to 2 adults (plus up to 4 children under age 16) to camp for up to 28 nights total (in a tent or campervan) in any of the participating 40+ campsites! You can only stay overnight for up to 4 nights in each campsite.
Hostelling International Membership — If you are planning to primarily stay in hostels, you might consider becoming a member of this non-profit hosteling organization. Many hostels in Iceland (as well as around the world) are part of the Hosteling International group and members save at least 10% on the hostel rate. You can purchase a low-cost 12 month membership at any participating hostel or buy it online before your trip.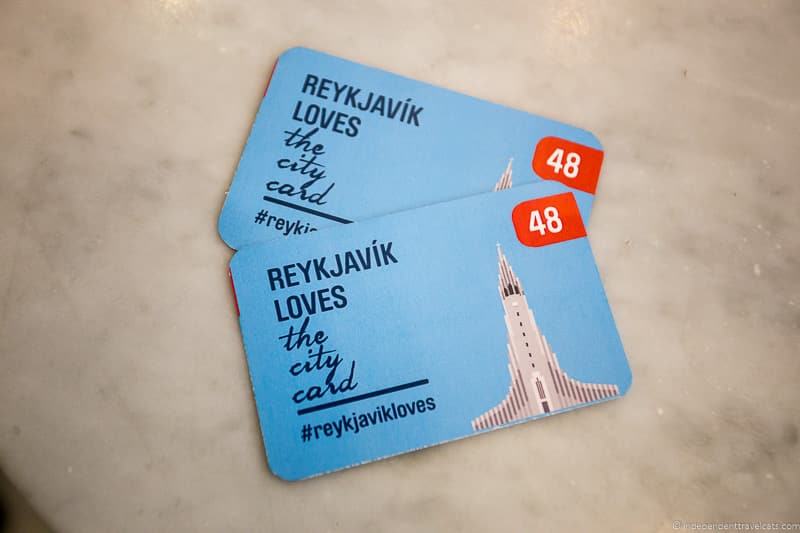 20. Spend Money on Tours & Experiences You'll Remember
If you are traveling to Iceland on a budget, you will want to spend your money on experiences that are special. Luckily there are loads of free things to do in Iceland! But we recommend that all travelers, even those on a tight budget, to Iceland choose one or two special things to splurge on while in Iceland.
For instance, for many people, the Blue Lagoon is a must-see splurge experience. But for others it might be a glacier hike, snorkeling between the teutonic plates, a reindeer safari, a whale & puffin boat watching tour, a Northern Lights Jeep hunting tour, a beer walking tour, or exploring an ice cave.
Or maybe it is a day exploring the museums in Reykjavík, an evening performance at the Harpa, a night in a "space pod" at the Galaxy Pod Hostel, or a fancy dinner out.
Let your budget and interests guide you in your choices. Just choose experiences that you think offers good value and will be something that you'll remember long after the trip!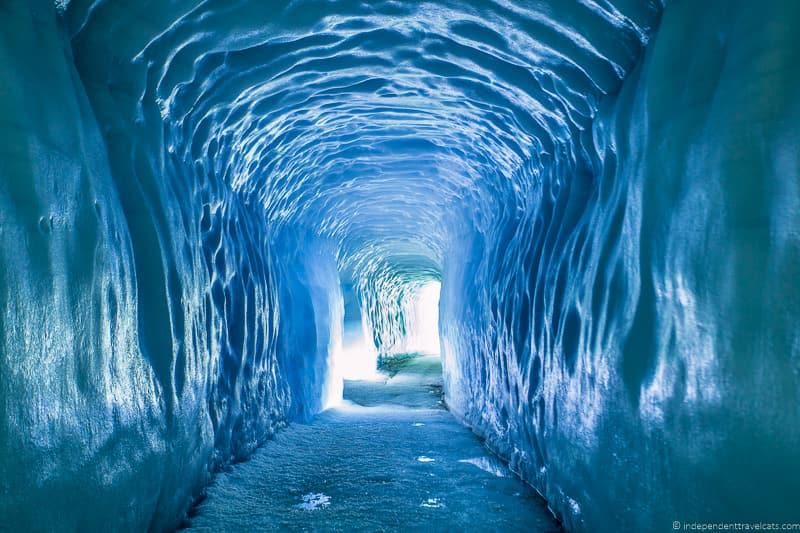 21. Be Prepared!
Finally, we'd like to just reiterate that it pays (literally) to do a little research and be prepared for your trip. One of the main ways people end up spending more than they expected is because they didn't do much travel research before their trip. People who show up in a country unprepared are much more likely to end up spending more money, especially in an expensive country like Iceland.
If you are traveling to Iceland on a budget, you don't have to plan out every day of your trip, but do at least a little homework. Read a little about the culture and history of Iceland, know what places you definitely want to visit, understand the currency conversion rates and average prices for things, book things like must-do tours in advance, check the weather forecasts and road conditions, and pack the things you'll need like waterproofs, warm clothing, and swimwear. Investing a little time in advance will help you save money and travel smarter in Iceland!
You can find loads of information on travel blogs like ours (you're already doing your research!!), the Iceland official tourism website, and in guidebooks such as this Lonely Planet guide and this Rick Steves guidebook. If purchasing a guidebook, choose one that has been published (or edited) in the last year or two.
Just note that there is a lot of outdated (and not so accurate) information out there, particularly on message boards and travel blogs. If you not sure about something and are finding conflicting information, keep searching and try to check a more authoritative source (e.g., official tourism website, well-regarded recently published guidebook, Safe Travel website, the Environmental Agency).
If you have any questions, feel free to reach out to us. We don't know everything but we're more than happy to give you our own travel advice based on our travels in Iceland. We also have contacts in Iceland and are happy to try to point you in the right direction for anything we don't know ourselves!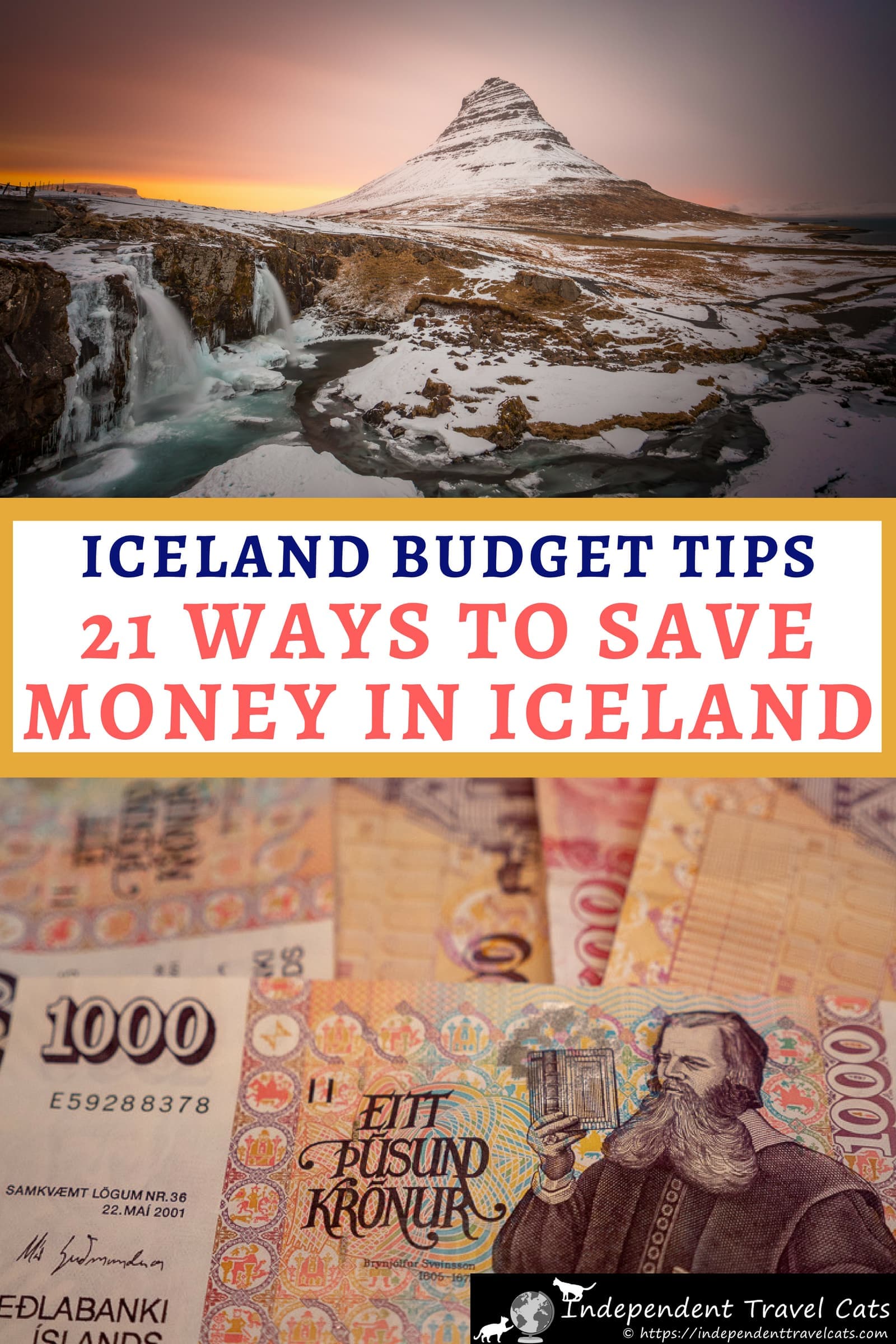 So that's our Iceland on a budget guide to how to save money in Iceland! Have you been to Iceland? If so, do you have any money saving tips of your own? If you are planning a trip to Iceland, feel free to leave us any comments or questions in the Comments section below. We love hearing from readers!