The Blue Lagoon is one of the most popular tourist attractions in Iceland. The steamy milky blue water against the black lava rock landscape creates an otherworldly setting like no other. Sitting in the hot waters of the geothermal spa can be a truly intoxicating and relaxing experience.
Its proximity to both the Keflavik Airport and Reykjavik make it a perfect pit stop even if you are only in Iceland for a short layover. In fact, it is the mostly commonly visited paid attraction in Iceland.
Of course, the Blue Lagoon is not for everyone and is an expensive spa considering that there are hundreds of less expensive spas and thermal pools in Iceland. If you are on the fence about visiting and wondering if the Blue Lagoon is worth it or not, hopefully this guide can help you decide if it is a good fit for you or not.
We've created this guide to visiting the Blue Lagoon in Iceland with all the questions we commonly get from our readers in mind. Our guide covers how to get there, cost, what to expect inside the spa, what you need to bring, how to protect your hair, how to protect your camera, Icelandic spa etiquette, and how to book add-on experiences. We also provide lots of tips on making the most of your time at the Blue Lagoon!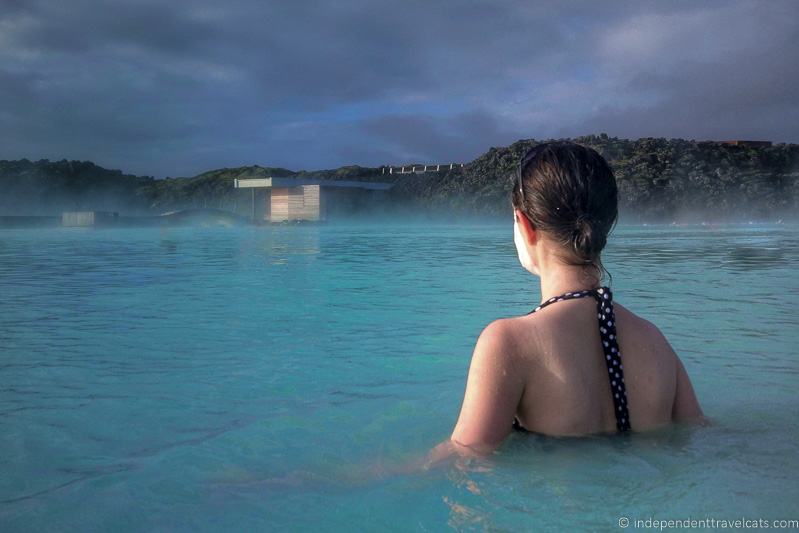 Guide to Visiting the Blue Lagoon in Iceland
This guide will walk you through everything you need to know about the Blue Lagoon before your visit. It will cover how to get there, the history of the Blue Lagoon, what you need to do to visit, costs, what to bring, what you can do there, and tips for making the most of your visit to the spa.
If after reading this guide, you still have questions (or have an additional tip to add), please just leave us a Comment at the end of our article.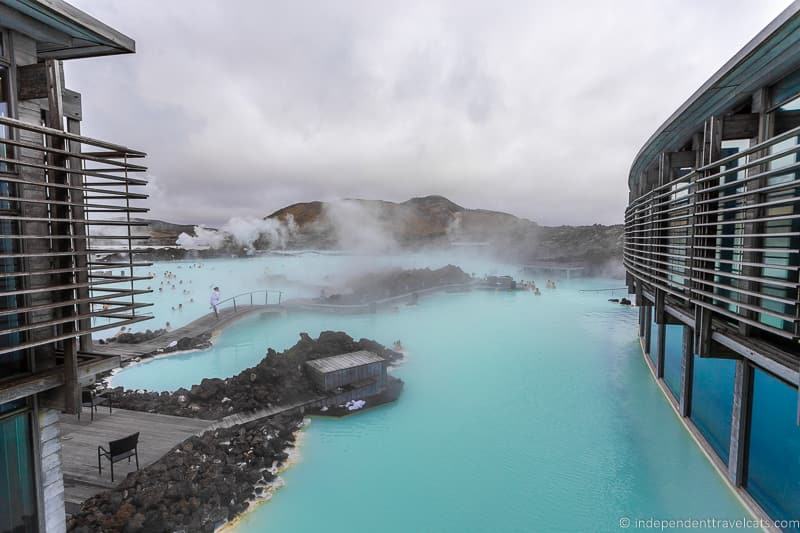 What is the Blue Lagoon?
The Blue Lagoon, or Bláa Lónið in Icelandic, is Iceland's most popular geothermal spa and the most visited paid attraction in Iceland. It's famous for its steamy milky blue water contrasted against the black rocks of the surrounding lava fields of the region.
Despite its organic looking appearance and being listed as a top "natural attraction" by many travel sites and magazines, the Blue Lagoon is not really a natural attraction. The lagoon is fed by runoff water from the nearby Svartsengi geothermal power plant, making it a sort of quasi-natural attraction. The Blue Lagoon contains both seawater and freshwater of geothermal origin.
The water in the Blue Lagoon hovers around 100 degrees Fahrenheit (38 degrees Celsius), and both the water and the mud in the pool are rich in minerals like silica and sulfur. The mineral-rich waters are believed to have therapeutic properties, especially for sufferers of psoriasis and eczema.
Today, the Blue Lagoon is operated as a spa resort and visitors have the option to bathe in the main Blue Lagoon pool or to book special spa treatments. There are also a variety of dining and lodging options available on site.
A Brief History of the Blue Lagoon in Iceland
The Blue Lagoon's creation was purely by accident as it is fed by the runoff water from the Svartsengi geothermal power plant. The Svartsengi Power Station opened in 1976, and by 1977 the pools began to form.
The Svartsengi Power Plant is a significant power source in Iceland and was the world's first geothermal power plant for electric power generation and hot water production for district heating. It is still used to heat thousands of households located on the Reykjanes Peninsula.
In the early 1980's, a few men with psoriasis, such as Valur Margeirsson and Gísli Kristjánsson, started bathing in the waters and reported that it had helped alleviate their symptoms. By the late 1980's it had become a popular local bathing area for those with skin diseases and later a clinic was established there in 1994.
It was officially opened to the public for bathing in 1987, and the Blue Lagoon company was established in 1992. The company also began selling a line of skin and bathing products. By the mid 1990's it began attracting a larger number of international visitors, and was receiving about 50,000 visitors a year. A new bathing facility opened in 1999.
Since 2010, tourism to Iceland has increased dramatically. Increased international coverage about the Blue Lagoon on television programs, its appearance on must-see lists by prominent travel magazines, marketing by the Blue Lagoon company, and photos on social media would help boost visitors numbers to the Blue Lagoon.
A large percentage of visitors to Iceland visit the Blue Lagoon and it has become the most visited paid attraction in Iceland. By 2017, there were close to 1.3 million visitors annually, and up to 4,000 people a day visit the famous geothermal spa!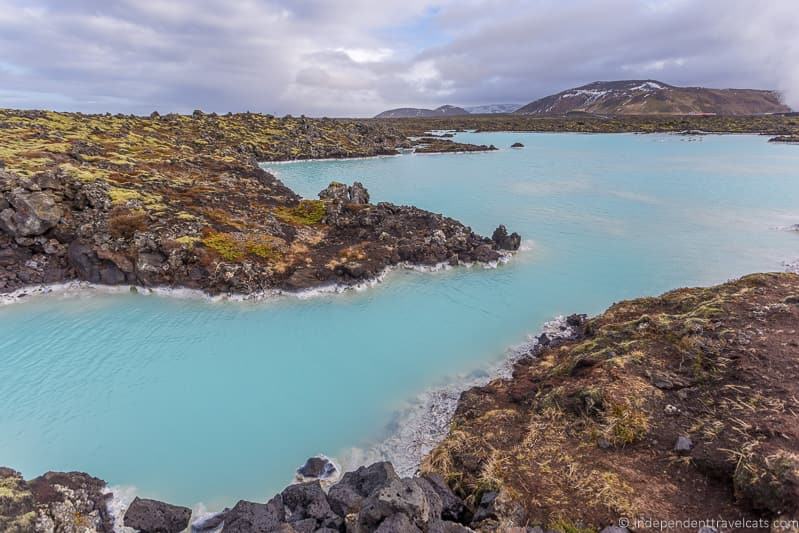 Where is the Blue Lagoon?
The Blue Lagoon is inside the Reykjanes UNESCO Geopark. It is located approximately 13 miles (20 minutes driving) from the Keflavik Airport or 30 miles (45 to 50 minutes driving) from central Reykjavík.
Address: Blue Lagoon, Norðurljósavegur 9, 240 Grindavík
GPS Coordinates: 63.8804° N, 22.4495° W
How to get to the Blue Lagoon?
The Blue Lagoon is located approximately 50 minutes outside Reykjavík and 20 minutes away from Keflavik Airport (the main international airport in Iceland).
So the most popular times to visit the Blue Lagoon for visitors are often on their way to or from the airport, as a day trip from Reykjavík, or as part of a Golden Circle day tour.
If you are driving there is free parking for visitors in front of the Blue Lagoon reception area.
Blue Lagoon from Keflavík Airport
One popular way to visit the Blue Lagoon is on your way to or from the Keflavík Airport. It is about a 20 minute drive from the airport to Blue Lagoon. You can rent a car and drive yourself or you can take a shuttle or taxi.
It is easy to rent a car at the airport, and we recommend checking out the rental cars available online here, which focuses specifically on car rental in Iceland and also allows you to add on the specific Icelandic insurances like sand and ash protection.
If you are looking for a shuttle to the Blue Lagoon from Keflavík Airport, you can book the official shuttle here. You can book other journeys with the official shuttle, including back to the airport on or to Reyjkavik here.
Blue Lagoon from Reykjavík
Another popular way to visit the Blue Lagoon is as a trip from Reykjavík. It is about a 45 to 50 minute drive from central Reykjavík.
If you are looking for a shuttle to the Blue Lagoon from Reykjavík, you can book a shuttle here. You can also book the official shuttle here. The bus will pick up and drop off visitors off at most hotels and guesthouses in Reykjavík or to the nearest bus stop.
If you are travelling as a small group, you might find it easier and just as cost effective to book a private transfer.
Blue Lagoon as Part of a Day Tour
There are a number of guided day tours from Reykjavík that include a stop at the Blue Lagoon, especially those exploring the Golden Circle. This is another popular way to visit the Blue Lagoon.
Note that most day tours do not include your reservation or entrance fee, so be sure to check on this. If not, you will need to be sure to book your entrance time in advance to correspond with the visit of your tour. The tour should provide this information to assist you in making your Blue Lagoon booking.
Here are some day tours to consider that include visits to the Blue Lagoon: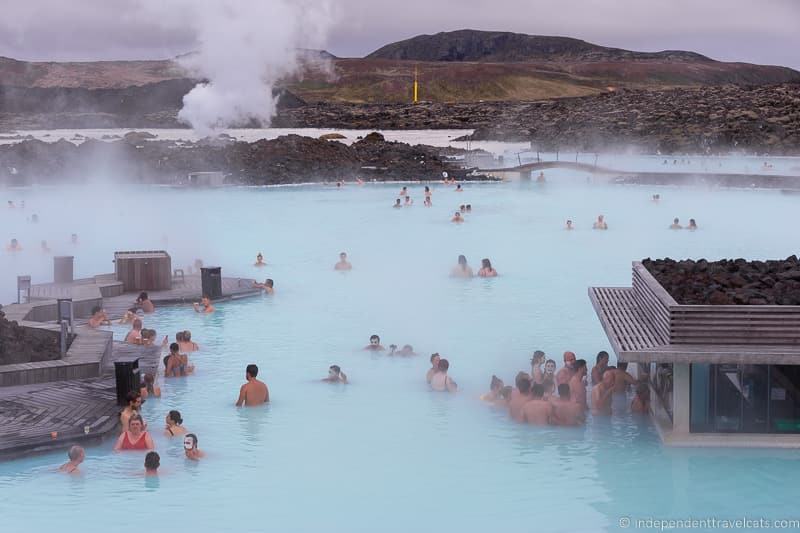 How much does the Blue Lagoon cost?

The cost of visiting the Blue Lagoon depends on the date, the time of day, and if you choose any of the spa add-on services. Going off-season and at less popular times of day can save you money on the entrance tickets.
All entrances to the lagoon include a towel rental and admission to the pools, sauna, and steam rooms, and an indoor relaxation area.
Here are the entrance fees (last checked January 2022):
Comfort Package: Entrance to the pools, a silica mud mask, a ticket for one free drink, and a free towel rental. Price ranges from ISK 6900 to ISK 12000.
Premium Package: Includes all of the amenities of the Comfort Package plus a second face mask, a bathrobe, a table reservation at the Lava restaurant (can eat in provided bathrobe if you wish), and a bottle of sparkling wine. Prices range from ISK 8900 to ISK 15000
Luxury Retreat Spa Package: A 5 hour exclusive experience at the Retreat Spa including access to a private part of the lagoon, a private changing room, skin care amenities, and the Blue Lagoon Ritual (a series of special treatment rooms). Guests have access to the Spa Restaurant (or can book a table at the LAVA or Moss Restaurants). Price starts at ISK 59000.
There are also several additional experiences you can book including therapy treatments, massages, dining options, and even a hotel. These will be discussed later in the post.
Note: Recently, the Blue Lagoon stopped offering slippers as an inclusion with each Premium admission as part of their sustainability program.
Do I need Blue Lagoon reservations to visit?
Yes, it is strongly recommended to make a reservation to the Blue Lagoon ahead of time as it often books up completely in advance. The Blue Lagoon has a timed ticket entry and it limits the number of guests who can visit daily.
You can make reservations easily on their website. Or you can book your tickets on GetYourGuide for the comfort package (limited time slots are available, but there is a better cancelation policy). You can also check prices on Viator here..
If you book direct, just be sure to note the latest Blue Lagoon's ticket terms and cancellation policy. In 2022, if you cancel more than 48 hours before your reservation, you will receive a full refund. If you cancel with less than 48 hours notice, you will not receive any refund. If you need to modify your booking with less than 48 hours notice, there is a charge of ISK 1800
If you book via GetYourGuide, as of their latest terms (be sure to double check!), you can cancel for a full refund up to 24 hours in advance. So booking via GYG may be better than booking direct for those who may need to cancel their reservation at shorter notice. This may be a particularly good idea for those planning to visit within 48 hours of arrival into Iceland in case of flight delays or cancelations.
For any kind of ticket, if you show up late, you are not guaranteed entry.
What do I need to bring to visit the Blue Lagoon?
Really the only thing you need is proof of your Blue Lagoon reservation and your swimsuit.
But here are some things you may want to pack for the Blue Lagoon:
Swimsuit or trunks
Waterproof case for smartphone or action camera if you plan to take photos
Comb / brush and any other hair styling essentials
Hair tie for those with longer hair to help keep hair out of water
Deodorant, facial moisturizer, body lotion, and other toiletries for after shower
Sandals / water shoes / shower shoes
Breathable waterproof bag for storing wet swimsuit and other wet items after swim
Change of clothing for those who want fresh clothing after shower
Sunscreen (recommend SPF 30+) – we like the brands Neutrogena & La Roche Posay
Sunglasses
Swim cap (for those who don't want to get their hair wet)
Clarifying shampoo (for those concerned about their hair)
We'd recommend having these items in a separate bag from the rest of your luggage so you can easily bring these items into the spa. We also left our jackets and coats in the car to avoid having to store them inside.
Most suitcases and larger bags will not fit in the lockers or be permitted into the Blue Lagoon. There is luggage storage (for a fee) available at the Blue Lagoon for those who need to bring luggage, you'll just need to do this before checking in.
If you have your own towel (a travel towel is recommended for those visiting other swimming pools in Iceland where towels are not free or available), I'd recommend not using it here. Just use the provided towel so you don't have to worry about carrying around a wet towel the rest of the day.
The Blue Lagoon includes complimentary shower gel and shampoo in the shower area, as well as body lotion in the changing area. So if you are OK with using those provided, you don't need to bring your own soap, shampoo, or body lotion.
If you want a robe, I'd recommend getting the package where a bathrobe is included rather than bringing them as they are very bulky to pack.
Really, though, you can show up with just a booking and rent or buy everything you need including swimwear, swim caps, robes, and sandals. But this is very expensive so we would recommend bringing all the essentials you need with you.
Is the Blue Lagoon worth it?
This is subjective, and depends on what you are looking for. For some people the Blue Lagoon is a can't miss bucket list attraction, an obligatory Instagram photo, and a must-do experience. Other people might find it an overpriced, crowded nightmare.
It is good to have realistic expectations when deciding whether or not to visit or not. If you are expecting to visit an uncrowded milky blue paradise in the middle of a remote part of Iceland, you may be very disappointed. The Blue Lagoon gets about 4,000 visitors a day, is a developed resort area, and is located next to a geothermal power plant.
However, that said, the Blue Lagoon is unique and beautiful and we were very happy that we visited. But it is not for everyone, and if budget is a concern, you might want to skip it and visit another geothermal swimming pool or spa during your time in Iceland.
For those concerned about the price but still want to visit, we would definitely recommend the lowest priced package (currently the Comfort Package) as this includes everything you need to enjoy the lagoon including a towel. We also recommend setting aside plenty of time to enjoy the Blue Lagoon so you feel you get your money's worth. Those who are rushed are more likely to feel that the experience was not worth the money.
If you are looking for a peaceful luxury experience, you won't likely find it at the Blue Lagoon with regular entry. If you want a luxury spa experience, you'll want to book the Luxury Retreat Spa experience where you get access to private changing rooms and showers, another area of the Blue Lagoon, and extra spa facilities and treatments. This area is also limited to those age 12 or older.
Blue Lagoon Alternatives
If you are interested in visiting a geothermal bath in Iceland, the Blue Lagoon is definitely not your only option.
A good alternative (although still pricey) to the Blue Lagoon is the Mývatn Nature Baths in northern Iceland. This is probably the place that most resembles the Blue Lagoon, and was our favourite in Iceland.
There is also, of course, the new Sky Lagoon (opened in summer 2021), which is located just outside of Reykjavik. Sky Lagoon is actually closer to the capital than the Blue Lagoon. The Sky Lagoon is smaller and doesn't have the silky blue waters of the Blue Lagon, but it does offer more impressive views. The focus here is more on the offered 7-step ritual.
Sky Lagoon prices are fairly similar to the Blue Lagoon but it has been offering discounts to attract visitors here. Note that only those age 12 and older can visit the Sky Lagoon, so those with younger kids will want to go elsewhere.
Other nicer baths in Iceland to consider include Krauma Baths, Secret Lagoon, and Laugarvatn Fontana. We've been to all these and many more, so if looking for advice, just leave us a comment.
There are also many free (or donation only) natural hot springs around the country and many low-priced public baths and swimming pools that locals frequent. There are over a dozen public geothermal swimming pools in Reykjavík alone, and all are a fraction of the price of the Blue Lagoon.
Can I still visit if I don't want to swim in the Blue Lagoon?
Yes, people are welcome to visit the café, restaurant, and gift shop without a ticket or reservation. You will still be able to view sections of the baths from the windows of the café and from a viewing area.
However, you can not enter the Blue Lagoon swimming area, locker areas, spa, or explore the rest of the complex without a ticket and electronic bracelet (wristband).
The café can be a good waiting spot for families and groups where not all members want to visit. We saw a number of people sitting here having coffee or a meal at the cafe while their family or group went into the Blue Lagoon. We recommend bringing a book or something to do if you plan to wait.
However, in general, other than eating or buying something from the gift shop, there is not too much to do or see if you are not going into the Blue Lagoon. There is no exhibition or museum or anything here. So not really a recommended stop unless you (or those you are traveling with) are planning to go into the spa.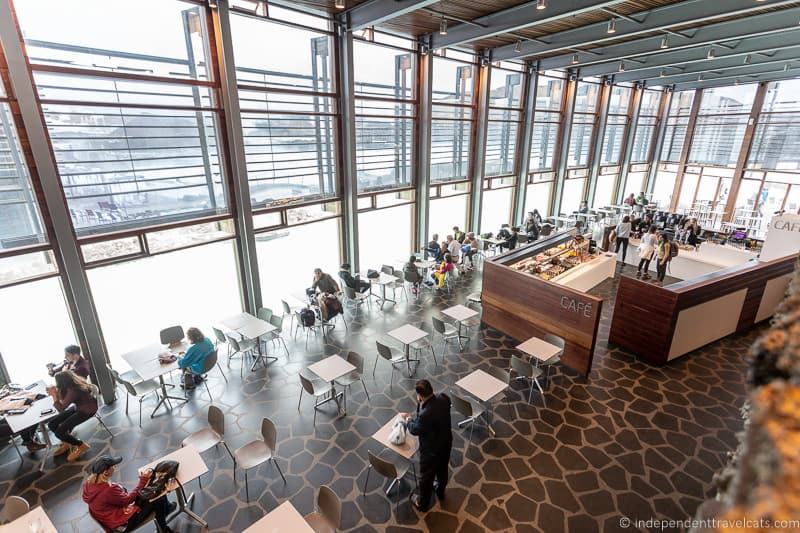 Can children visit the Blue Lagoon?
Yes, children over the age of 2 years can visit the Blue Lagoon. Children under the age of 2 are highly sensitive to the water's mineral content, and it can be harmful to them, so they are not permitted into the swimming area.
Children age 2 to 13 years old can visit the Blue Lagoon for free. Children under the age of 8 must wear arm floats in the lagoon for safety reasons, which are available for free on-site.
The minimum age to visit the Retreat Spa or the Retreat Lagoon at the Blue Lagoon is 12 years old.
What is there to do within the Blue Lagoon?
The most popular thing to do inside the Blue Lagoon is to simply soak in the warm milky water while enjoying the unusual scenery and atmosphere. Stand beneath the waterfall and let the hot water pound your shoulders, enjoy a silica mud face mask, take shelter in the steam cave, and have a drink at the swim-up bar.
Your entrance includes a free drink from the swim-up bar, so you can relax and enjoy your beverage in the water. There are also mud mask bars where you can coat your face in the mineral rich mud. For an extra fee you can get a massage while floating in the water.
Outside of the water, you can visit the sauna and steam room. There is also a relaxing viewing area with chairs where you can rest and look out over the lagoon. Note that there is limited space in these areas so you may need to wait your turn if the Blue Lagoon is busy during your visit.
There is also a full service spa, restaurants, snack bar, and a gift shop on site.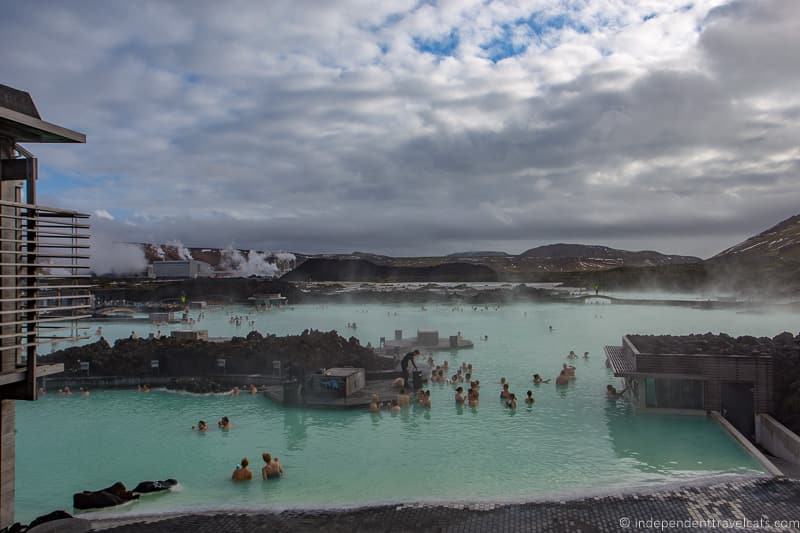 How long can I stay in the Blue Lagoon?
You can stay at the Blue Lagoon as long as you like, from your scheduled entrance time until closing. Most people spend 2 to 4 hours at the lagoon, relaxing in the various pools and spas, and many break to have a drink or meal.
How much time does it take to visit the Blue Lagoon?
We recommend allowing at least 2 hours at the Blue Lagoon to have enough time to really enjoy the pools. Remember that some of your time will be taken up by standing in line to gain entry, changing, showering, drying off, and getting ready to leave. Add more time if you plan to eat here and/or need to store luggage.
When is the best time of day to visit the Blue Lagoon?
The least popular, and therefore least crowded and least expensive, times of day to visit the lagoon are first thing in the morning and late in the evening. For the least crowds and lowest prices, we recommend booking a time slot in the morning around opening time.
For those who want to visit in the evening, just note that if you book a late time slot, you will have more limited time. So be sure to double check closing time to make sure you will have enough time to enjoy your visit.
However, many people choose to visit the Blue Lagoon later in the afternoon or early evening as a place to relax after a busy day out and about. It can be the perfect place to wind down after a long day of travel or sightseeing.
Note that although a lot of people do visit the Blue Lagoon each day, the timed entry and large size, means that it can absorb crowds fairly well. It covers a large area so you can usually almost always find an area of the lagoon that is not crowded.
When is the best time of year to visit the Blue Lagoon?
The Blue Lagoon is open all year round and there are pros and cons to visiting in different seasons. The water temperature itself stays about the same year-round so it is only the air temperature that is different across the seasons.
In the summer months, the air temperature is more agreeable (it's never really hot in Iceland), and the sun is more likely to be out. In the summer the lagoon is open until 22:00 or 23:00 in the evening and the midnight sun means it will still be light outside.
In the winter, there is a strong juxtaposition between the cold air and the warm water that many people enjoy. The water looks extra steamy and inviting. In the winter you even have a small chance of seeing the Northern Lights if you stay past nightfall. But you also have to contend with a greater possibility of rain or snow, and it is chilly getting in and out of the lagoon.
The least busy time of the year in Iceland is normally the Spring months, so this can be a great time to visit the Blue Lagoon and Iceland if you are wanting to avoid the crowds.
What is the temperature of the water at the Blue Lagoon?
The temperature of the water at the Blue Lagoon stays between 37°C to 40°C or 98°F to 104°F all year round. Its a really nice temperature and feels like slipping into a hot bath.
What is the chemical composition of the Blue Lagoon water?
The Blue Lagoon holds approximately 9 million liters of geothermal seawater which is naturally renewed about every 2 days. The water is rich in a number of minerals, primarily salt, silica, and algae.
But the Blue Lagoon contains a number of naturally-occurring minerals including potassium, calcium, magnesium, sulfate, chlorine, and fluorine. You can read more about the chemical composition of the waters in this research article.
Why is the Blue Lagoon blue?
The Blue Lagoon is actually a bit of a misnomer. The water itself it not blue, but a milky white color thanks to the large concentration (140 mg/kg) of silica in the water. Silica radiates more blue in daylight than other colors, so the reflection of the sky on the water makes the pool appear a glowing blue color.
This means that on overcast days the pool will not look to be as vividly blue as it does on clear ones.
Also note that the water does not always look blue, as sometimes it tends to look more green than blue depending on the mineral content and light.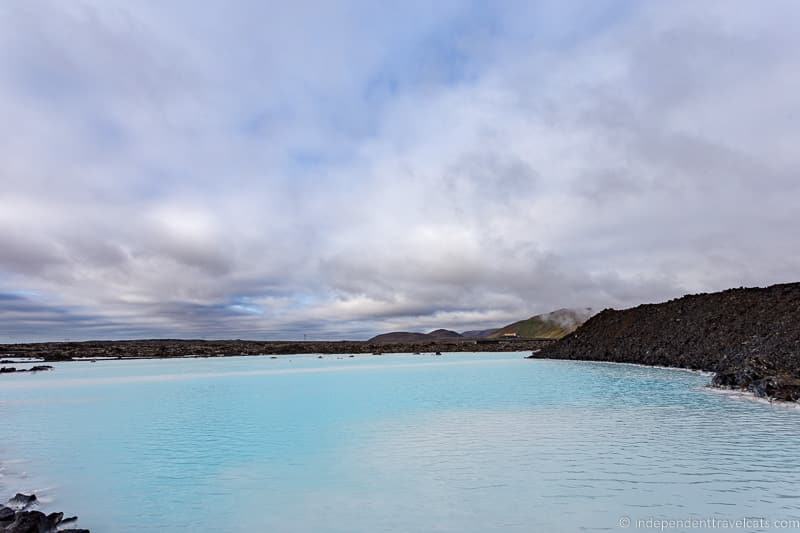 Is
photography allowed at the Blue Lagoon?
You are allowed to take photos and make videos in the main Blue Lagoon outdoor area, but photography and videography is not allowed in the changing/shower areas (obviously!), sauna, Retreat Spa, or any the spa sections.
Many people bring in a waterproof action camera or their smartphone into the pool. If you plan to bring your phone into the Blue Lagoon we recommend getting a waterproof phone case, these are relatively inexpensive and can help protect your smartphone from the steam and water.
We would not recommend bringing a regular camera into the Blue Lagoon unless you have it in a waterproof case or pouch that fits your camera as it is likely to get wet and could be ruined by the steam from the pools.
If you are not planning to take photos, you are probably best leaving your phone and/or cameras in the car, bus, the changing room lockers, or luggage storage facility.
Is there luggage storage available at the Blue Lagoon?
Yes, the Blue Lagoon offers luggage storage facilities. So if you are traveling to or from the airport and need to leave your luggage, you can do so.
The luggage facility storage building is located next to the carpark. There is a small fee per suitcase or bag (ISK 550 per bag at last check). Be sure to keep your baggage claim ticket somewhere safe in your locker to be able to retrieve your bags.
If you are visiting the Blue Lagoon on a time crunch (have to catch a flight or bus) be sure to allow extra time if checking luggage here. It can take an extra 20 minutes to get through the luggage check desk and to then get your luggage before you leave if there is a large number of people checking luggage at the same time.
What food is available at the Blue Lagoon?
There is a café near the entrance to the building that offers a range of (comparatively) affordable snacks, sandwiches, drinks, and smoothies.
The Lava Restaurant at the Blue Lagoon is a more upscale dining experience that overlooks the lagoon. Along with à la carte options they offer a set 2-course or 3-course menu at lunch (currently 6600 ISK or 7600 ISK per person) and a tasting menu at dinner (currently 10,300 ISK). They also have a children's menu. Reservations are recommended if you wish to dine here. You can wear nice "relaxed casual" clothing, or you can wear your bathrobe over your swimwear to dine here during the day until 16:00 (4:00 pm).
People visiting the spa can also dine at the dedicated Spa Restaurant which offers an all day à la carte menu. Most diners dine in their bathrobe over their swimwear here within the spa.
The newest fine dining option is the Moss Restaurant which offers a modern take on classic Icelandic cuisine. The restaurant only serves dinner, with various 5- and 7-course tasting menus on offer starting at 13,900 ISK per person. Reservations are essential and can be difficult to obtain. Dress code is "smart casual".
You can find out more about the various dining options and make reservations here.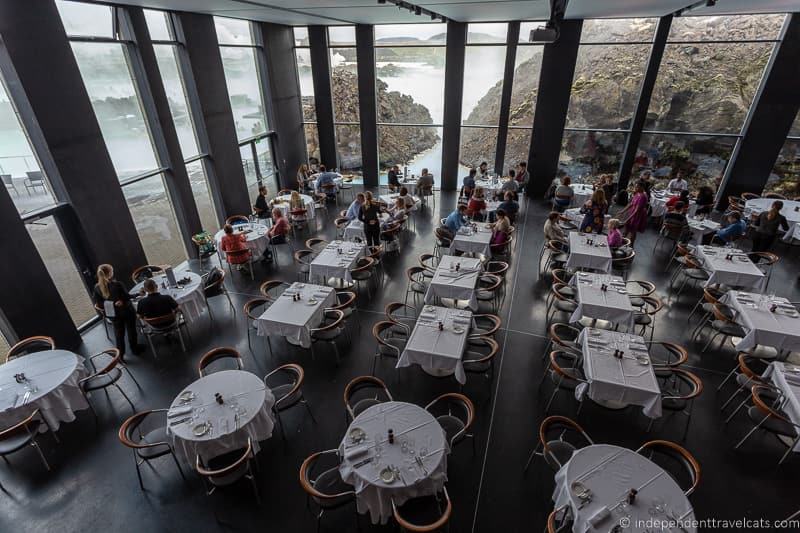 Are towels provided at the Blue Lagoon?
Yes, a towel is provided to each guest with the cost of admission to the Blue Lagoon. This is for your use throughout your time at the Blue Lagoon and must be returned before you leave.
If you book the Premium or Luxury packages, then your entrance also includes a bathrobe.
If you have your own towel (or bathrobe), you are welcome to bring it to the Blue Lagoon to use. However, we recommend just using the free towel provided as otherwise you will have wet towels to take home with you.
What are the changing rooms at the Blue Lagoon like?
The main Blue Lagoon changing areas are divided by sex, there is one large changing area for men and a separate one for women. The locker room and changing area at the Blue Lagoon consists of a few large open rooms filled with lockers and benches. There are also some mirrors and hair dryers you can use here.
As you walk through the locker rooms and changing area, you'll eventually come to the shower area. The shower area is mostly open showers but there are also more private showers where you have curtains. Soap, shampoo, and shower gel are provided.
You will see signs asking you to follow the Icelandic public spa etiquette before entering the waters of the Blue Lagoon. This means that you need to shower naked BEFORE putting on your swimsuit. Icelanders take cleanliness and swimming pool hygiene very seriously to keep their swimming pools clean and free from bacteria. You are asked to specifically wash with soap, concentrating on your hair, face, underarms, groin / genital area, and feet.
If you are timid about being naked in public, there are a handful of modesty changing stalls in the locker room area that you can use. There are also now a number of showers with curtains or screens that you can use—previously there were very few showers with curtains but they seem to have increased the number over the years.
It is much quicker and easier to just change in the public area, but you can definitely visit the Blue Lagoon without getting nude in public if you wish. Getting the package with a bathrobe (or bringing your own) may also help you feel more comfortable as you make you way from the locker room to shower to pool.
If you really don't want to share a public locker room or shower room, the best option is the Luxury Retreat Spa package which includes access to a private changing room area and shower. Those who pay for this package can change and shower in private and have access to nicer showers and amenities. They also have access to a separate pool, spa area, and dining area.
Is there a place to dry wet swimsuits?
Unlike many of the regular pools in Iceland, the Blue Lagoon does not offer swimsuit driers. However, there are free plastic bags in the changing rooms where you can put your wet swimsuits.
We have been to several public pools in Iceland and most of them have wall mounted centrifugal swimsuit driers in the locker rooms. So we were surprised they were not available here. So we asked why and were told that this is because of the mineral content of the water which can ruin both the driers and your swimsuit. Drying the silica onto your swimsuit can ruin the fabric.
The silica in the water is not great for your swimsuit, so be sure to rinse it out while or after you take a shower. We recommend that you rinse your bathing suit in the shower, then squeeze out as much water as you can, and then store it in one of the provided plastic bags in the changing rooms.
If you are looking for a more secure or environmentally-friendly option to store your wet items during your trip, consider a breathable wet bag like this one.
Is the Blue Lagoon wheelchair accessible?
The Blue Lagoon is wheelchair accessible! There is disabled parking available and the entire main complex is wheelchair accessible. The lagoon itself can be accessed directly with specially designed wheelchairs which they will provide upon request.
Guests who require special assistance are allowed to bring along a companion to assist them free of charge.
If you have questions about accessibility or whether particular special needs can be accommodated, I would recommend calling the Blue Lagoon in advance before booking to be sure a visit is right for you.
What additional spa services are available at the Blue Lagoon?
The are many additional spa services available at the Blue Lagoon for an additional price. Some of these include:
An in-water massage – starts at ISK 15,000 for 30 minutes.
Private massages
Beauty treatments including facials using silica, algae, and other natural elements.
If you are interested in more of the spa services, I'd recommend looking at the Luxury Retreat Spa package which includes access to additional spa services and treatment rooms.
Are there psoriasis treatments available?
Yes, the reason for the Blue Lagoon's initial popularity with bathers was after it was reported that the waters may be beneficial to sufferers of psoriasis in the early 1980s. In the 1990s clinical studies supported that the waters of the Blue Lagoon can be beneficial to those suffering from psoriasis and a clinic was established here.
Today, those suffering from psoriasis can enjoy the regular areas and treatments at the pool or can book special treatments designed for psoriasis. You can read more about the available treatments and make booking for the clinical treatments here.
Note that clinical treatments for psoriasis at the Blue Lagoon may be covered by insurance for some visitors.
Can I stay overnight at the Blue Lagoon?
Yes, there are two luxury hotels attached to the Blue Lagoon: The Silica Hotel and The Retreat Hotel.
The Silica Hotel offers access to a private lagoon and private verandas that overlook either the lava fields or the mountains. Rooms start at around ISK 65,000 a night.
The Retreat Hotel is Iceland's first 5 star luxury hotel. It is attached to the Retreat Spa and offers access to the private spa lagoon and the Retreat Spa. All suites at the Retreat Hotel open out to the moss fields or onto the lagoon. Rooms start at ISK 135,700 a night. The most expensive suite even has its own private lagoon pool!
What else is there to do near the Blue Lagoon?
There are a number of places to see near and within a short driving distance of the Blue Lagoon. This includes the sites of the Reykjanes Peninsula, the capital city of Reykjavík, and the Golden Circle attractions
We have a lot of content on Iceland across our two travel blogs, and have many more articles planned. We would recommend starting out with our Iceland trip planning guide to decide how you want to travel in Iceland and when you want to go.
For suggestions on things to do and itinerary planning, you can see our 3 day stopover itinerary, 7 day Iceland itinerary, and 1 week Ring Road itinerary.
We also have articles on Iceland winter driving tips, best guided tours in Iceland, Iceland on a budget tips, best day trips from Reykjavik, best winter activities in Iceland, Game of Thrones locations, where to see puffins in Iceland, best waterfalls in Iceland, suggested winter packing list, and many more.
We have traveled in Iceland in both summer and winter, and have traveled through most of the country so if you have any questions after reading through our articles, feel free to leave us a Comment with any questions!
Hotels near the Blue Lagoon in Iceland?
Most people who visit the Blue Lagoon choose to stay in Reykjavik, but if you would like to stay closer to the Blue Lagoon or the Keflavik International Airport, here are some options to consider:
The Base – This hostel is a great budget option for those looking for an inexpensive (for Iceland anyway) place to stay near the airport or lagoon. They offer 6-bed dorms, double, triples, and family rooms. Great value for those traveling as a group. The Base is right next to the airport and is about a 18 minute drive from the Blue Lagoon.
Geo Hotel Grindavik – This 3-star modern hotel is only 6 km from the Blue Lagoon and the hotel offers free shuttle service back and forth to the lagoon. They offer cozy single and double rooms, with WiFi and flat screen TVs. The hotel is located in the village of Grindavík so guests are within walking distance of the village businesses, including cafes, supermarket, bank, and public swimming pool. The hotel is about a 9 minute drive or ride from the Blue Lagoon.
Northern Light Inn – This is the closest hotel to the Blue Lagoon that is not on-site, and you can see the geothermal plan and the steam from the Blue Lagoon from the hotel. There is a free shuttle to the Blue Lagoon throughout the day. The hotel also has an on-site restaurant and spa, and they can arrange a taxi service to or from the hotel (fee). We stayed here on our last visit to Iceland, and it is only about a 3 minute drive or ride to the Blue Lagoon.
Keflavik Luxury Apartments – Close to the airport and the Blue Lagoon, these upscale apartments have everything you need to feel at home. They feature fully-equipped kitchens and comfortable living rooms and balconies. These are located next to the airport and are about a 20 minute drive away from the Blue Lagoon.
The Retreat Hotel is a 5-star luxury hotel located on-site at the Blue Lagoon, and one of the nicest hotels in Iceland. It is attached to the Retreat Spa and guests are offered unlimited access to the private spa lagoon and the Retreat Spa. All suites at the Retreat Hotel open out to the moss fields or onto the lagoon. If budget is not a concern, this is a fantastic hotel option for those who want to really enjoy the best of the Blue Lagoon.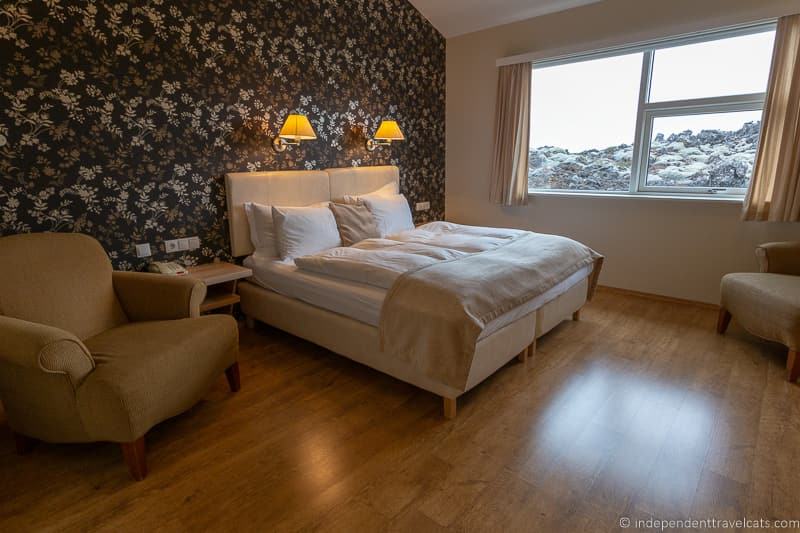 Blue Lagoon Visit Step By Step Process
The Blue Lagoon is very visitor friendly, even for people who have never visited a public bath before. But if you want to be prepared for exactly how to visit the Blue Lagoon, here is a step-by-step guide of what to expect when you go:
Check your reservation timeslot and be sure to arrive at this time. You'll need a copy of your reservation confirmation, either a printout or the ticket to scan from a smartphone.
Once you arrive, take in everything that you need but leave everything you don't in your car, tour bus, or the Blue Lagoon luggage storage facility. It is a good idea to pack everything you need to take into the Blue Lagoon into a large purse, backpack, grocery bag, or day bag as everything you bring needs to fit into a relatively small locker.
When you enter the reception area, there are usually separate lines for those with reservations (most people) and those who are with a reserved group (most tours). There is also often a line for those without a reservation but we recommend pre-booking so hopefully you are not in this line!
At the reception desk you will show staff your reservation confirmation and they will check you in and explain briefly the process. You will be given an electronic bracelet (which allows you entry into spa area, is your locker key, and can be used to pay for drinks from the bar and other services), a towel, and anything else specified in your reservation. Some packages include a bathrobe and other extras.
Once you have checked in, you will then be directed to the changing areas. There are separate facilities for men and women. You will need to use your electronic bracelet to lock and unlock your locker. Remember your locker number!
Next step is to get naked and shower as showering in the nude is required before entering the Blue Lagoon pools (and all public pools in Iceland). So you will want to take off your clothes and grab your towel and swimsuit and head to the shower. Shower gel, shampoo, and conditioner are provided for free in the showers. You should wash your entire body including your hair. Once washed, put on your swimsuit. Swimsuits are required in the Blue Lagoon.
Some of the minerals in the lagoon water are extremely harsh on your hair, so apply liberal conditioner and consider leaving some in as extra protection against the water. If you have long hair you will probably want to put it up in a bun. Those with more vulnerable hair may want to keep it out of the Blue Lagoon water entirely.
Now you will exit the shower area and head to the entrance to the Blue Lagoon, which is through the shower area. Be sure you have all you need (towel, bathrobe, sandals, waterproof case for phone etc.) before you leave. You do not need money or credit cards in the pool as you can charge any purchases made within the Blue Lagoon area to your account using your electronic bracelet. Make you way to the lagoon.
There are several large racks for you to hang your towel, bathrobes, and leave your sandals or slippers. Just note that it can be very difficult to find the same towel or bathrobe again if you are using one from the Blue Lagoon, so it's a good idea to remember the number on the rack where you left yours. I would not leave anything valuable here.
Now you can walk directly into the soothing warm waters of the Blue Lagoon! Enjoy! Make sure to get your free mud mask, your complimentary beverage from the swim up bar, and any other things included with your package. Take as long as you like in the soothing water.
If you want to purchase an additional drink, snack, or service while in the Blue Lagoon, you can do so using your electronic bracelet. This will charge it directly to your account and you will pay for it as you exit.
If you like, you can also make time to visit the steam room, sauna, and relaxation lounge. These areas are all co-ed so you will probably want to leave your swimsuit on. These areas are also limited in space so you may need to wait a bit to find a space.
When you're ready to leave the spa area of the Blue Lagoon, head back to the locker room. You will want to shower a second time, rinsing your hair thoroughly and reconditioning your hair.
The minerals in the water can be tough on your swimsuit, so be sure to rinse and wring it out while in the shower. You can then place your wet suit and any other wet clothes in a plastic bag (provided in locker room) or your own breathable waterproof bag.
Now you can dry off and get dressed. There are mirrors and hair dryers in the locker rooms if you need them. Use your electronic bracelet to reopen your locker. Be sure to take everything out of your locker before you leave.
On the way out you will need to leave anything you rented (towel, bathrobe, etc.), scan your electronic bracelet and settle any outstanding charges (if you purchased anything during your time in the lagoon), and leave your electronic bracelet.
You can head out to the parking area or stop into the Blue Lagoon's cafe, restaurant, or gift shop.
Note: The above is, of course, subject to change but it should give you a really good idea of what to expect and how to be prepared for your visit.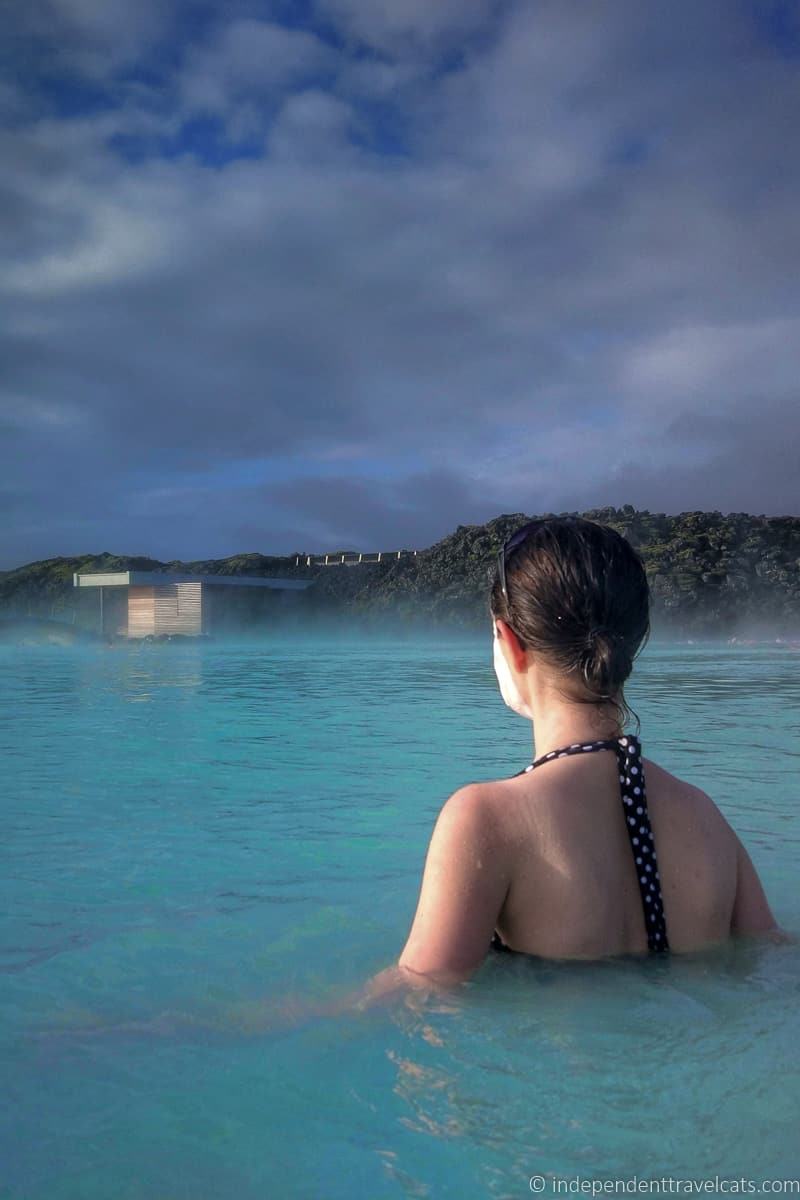 Our Experience at the Blue Lagoon in Iceland
Laurence and I didn't quite know what to expect when visiting the Blue Lagoon for the first time. Our visit was in the morning around opening time in winter. We had our reservations booked and the line to check-in was short. We did the Comfort Package which included the towel, one free drink, and silica mud mask.
We went our separate ways to go to the designated changing area (one for men and one for women). There were lots of free lockers and showers in the changing area, and electronic bracelets were easy to use to open and close lockers. There was free shower gel, shampoo, and conditioner in dispensers to use in the showers.
It was a bit confusing to find out how to get to the pool (via the shower room) but I think they've updated the signage since then to make it more clear.
The weather was freezing when we visited so we both quickly deposited our towels and sandals on the towel racks and raced into the hot water. The water felt nice, especially on such a cold morning. The bottom is soft on your toes with all the silica and minerals.
Note that while there are numbers on the hooks of the towel rack, people throw and place there stuff everywhere (especially when it is busy) including on top of other people's stuff. So you may or may not get the same white towel back. We would not recommend leaving anything valuable (wallet, keys, camera, phone, jewelry, etc.) here!
There are a number of staff around the pool who are serving as lifeguards, drink servers, security, providing massages, etc. So if you have a question or concern, you can find a staff member without having to go back inside. Many of the staff members were wearing yellow safety vests.
Laurence and I floated around and explored the different areas of the spa. We spent a couple hours in the pool, had fun with the silica mud masks, took a few bad selfie photos, and drank tasty blueberry fruit smoothies. We checked out the steam cave which is a pretty cool cave-like area. We also had a look at the sauna and relaxation lounge. Mostly though we just enjoyed the warm water!
Laurence had his smartphone out and used it for the first 15 minutes or so we were in the lagoon. Then he decided to return it to his locker so he didn't have to worry about holding it for the rest of the time. Screens get steamy fast so definitely recommend a waterproof case or waterproof action camera if bringing any sort of camera.
We were one of the first people in that morning but it did begin to be more crowded by the time we left. However, the Blue Lagoon is large and can hold a lot of people. We found that people tend to stand together in clumps (especially around the entrance, mud mask area, bar, and waterfalls) and we were easily able to find spots with few or no people as we moved around the pool area.
We spent about 2 hours in the pool and it was difficult to get out of the water. If you go in winter, be prepared to never want to get out of the thermal pool and back into the freezing air!
Then it was back to the showers and changing room. You leave your towel (and robes and slippers) in a designated bin before you leave and your electronic wristband is scanned on the way out. If you owe any money (for drinks, food, massages) you'll be presented with a bill as you head out.
We then had a snack at the cafe and a quick browse of the gift shop before leaving. Overall it was a fun and fairly hassle-free experience. We both enjoyed it much more than we thought we would.
The Blue Lagoon is expensive, that is just a fact. Are we glad we visited? Yes, we were. But we would not recommend it to those traveling on a tight budget as there are much better value thermal spas to try in Iceland.
Would we return again? Well, yes, we actually have, but mainly because we are travel writers and wanted to see what it would be like in summer versus winter. But I think if we were just regular travelers, this would probably be a one time visit as there are so many other thermal pools, spas, and swimming pools in Iceland.
We've returned a couple times since our first visit to experience the Blue Lagoon in the summer months and to see if at different times of day. So you can see in the photos below the color of the lagoon, amount of steam, etc. do look different depending on time of year, chemical composition, amount of light, and angle of shot.
We present a variety of photos from different angles. You can even spot the Svartsengi Power Station in the background in some of our photos in this article, particularly the fourth one below. You won't often see the power plant included in the Lagoon's website and brochure photos!
Here are a number of photos to give you a realistic idea of what it looks like at the Blue Lagoon: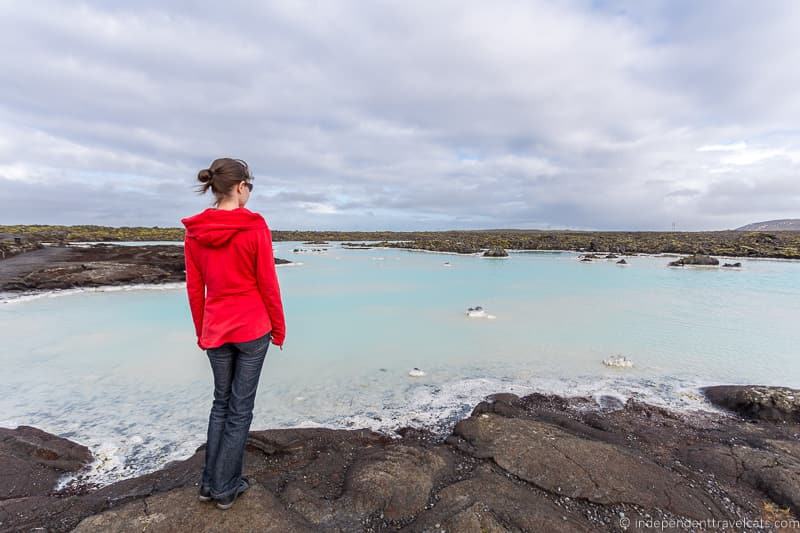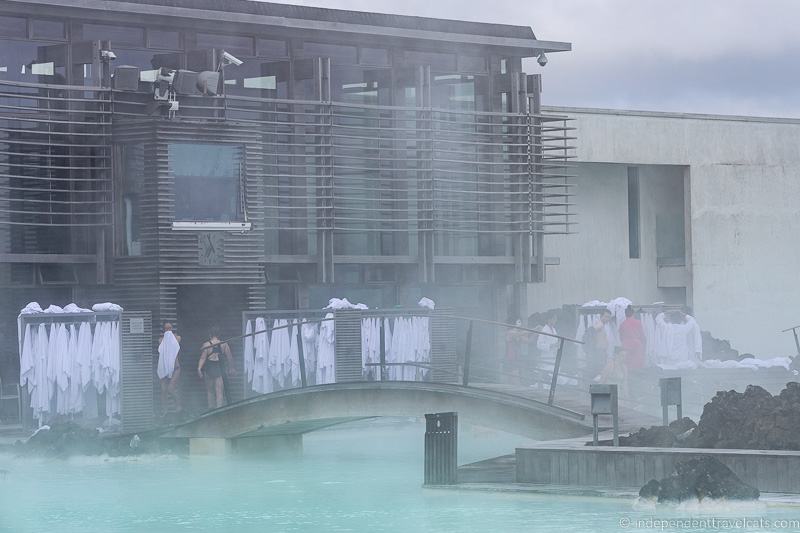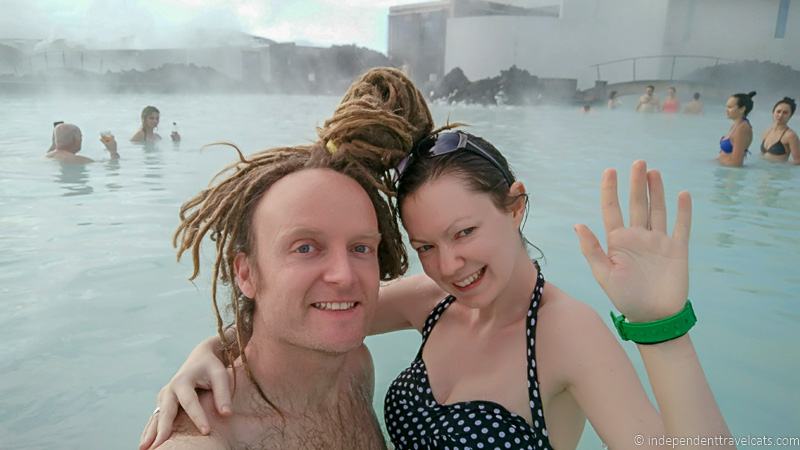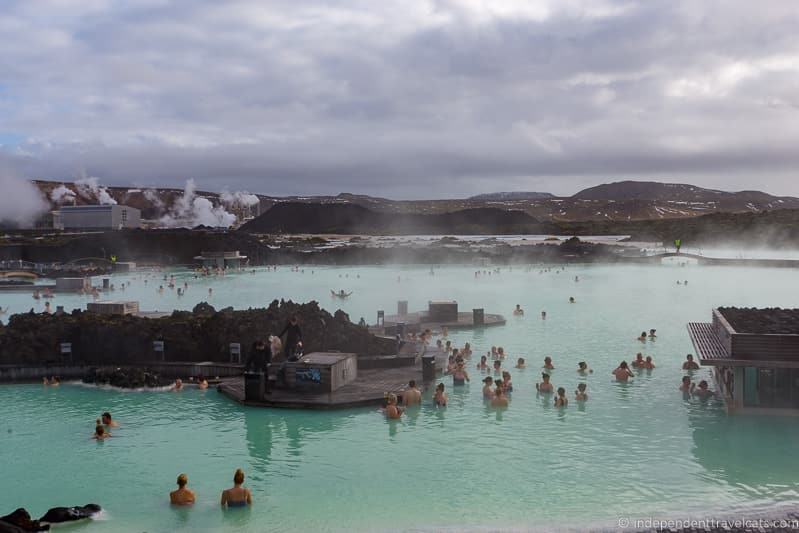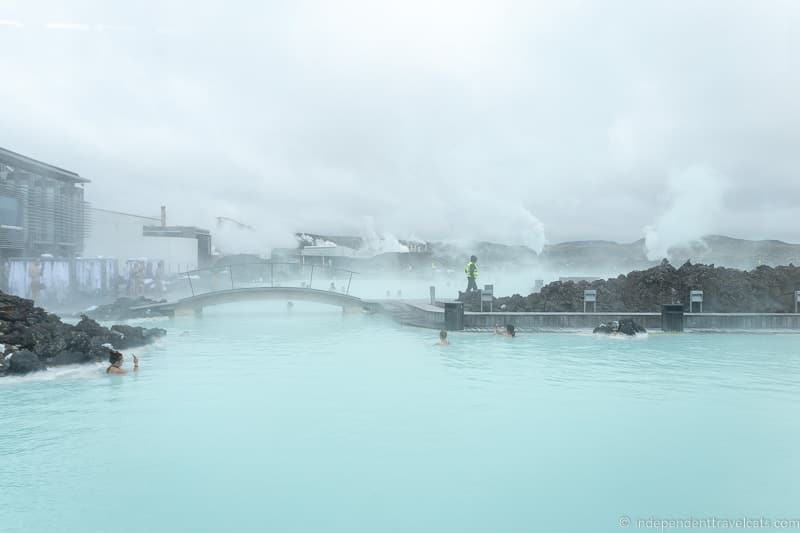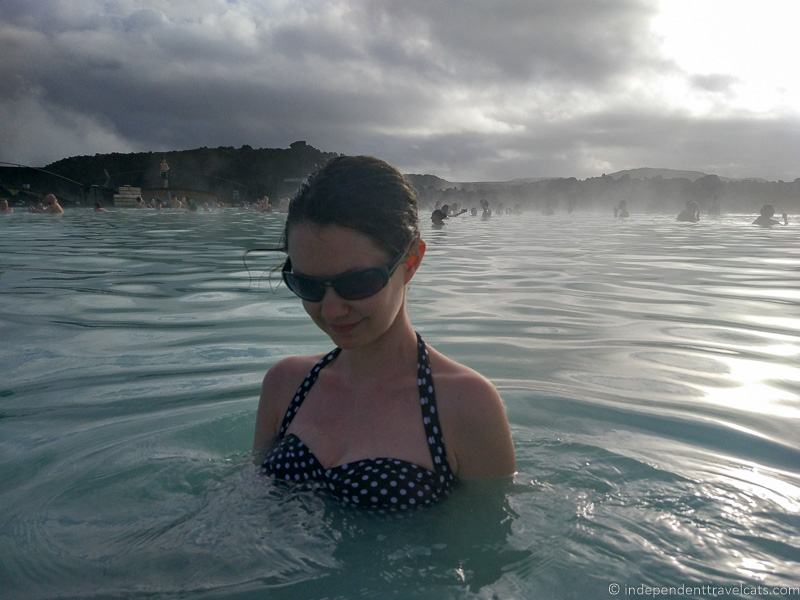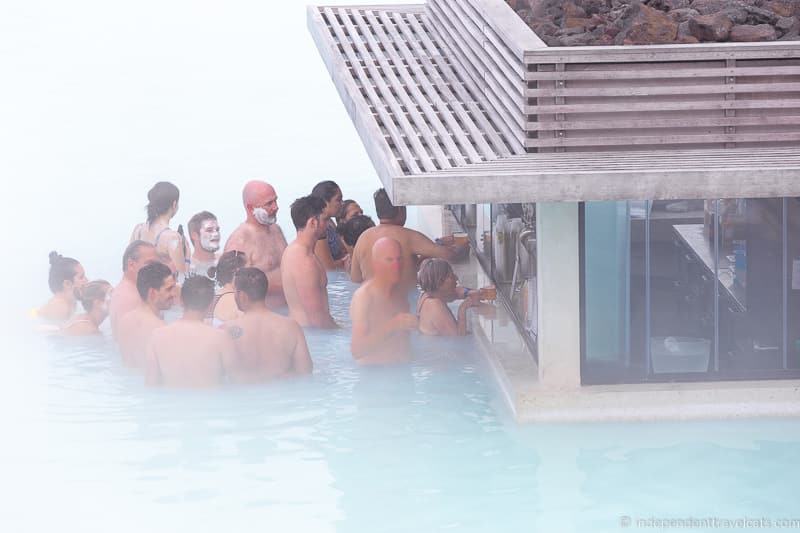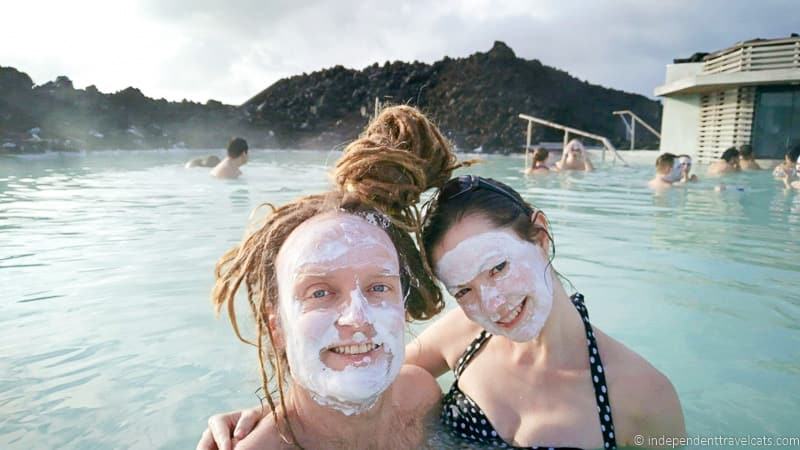 12 Tips for Visiting the Blue Lagoon in Iceland
If you've read this far then you should have a pretty good idea of what to expect on a visit to the Blue Lagoon. Here are our 12 tips to remember to help make the most of this once in a lifetime experience.
1. Make your Blue Lagoon Reservations Ahead of Time
The Blue Lagoon is extremely popular and often sells out days or even weeks in advance. As soon as you know your travel dates and when you want to visit, we recommend booking your entrance so that you don't miss out and don't have to wait around for an available time slot.
2. Plan your Transport to the Blue Lagoon in Advance
The Blue Lagoon is nowhere near downtown Reykjavik, so you need a plan to get there. You have a few options. You can rent a car and drive there (free parking), take a shuttle (you can book the official shuttle here), book a private taxi, or visit as part of a day tour like this one.
3. Make Restaurant Reservations Ahead of Time
While not absolutely required, it's a good idea to make a reservation ahead of time if you want to eat at the Lava Restaurant or especially the Moss Restaurant. You can make reservations online or by phone.
No reservations are needed (or taken) if you just plan to get food or snacks at the café.
4. Consider Visiting On Your Way to or from the Airport
The Blue Lagoon is just 20 minutes away from Keflavik International Airport (the country's main international airport), making it a perfect stopover between Reykjavik and the airport. You can book shuttles to and from the Blue Lagoon from the airport or Reykjavik.
The Blue Lagoon is a perfect first stop in Iceland as the water feels so relaxing after a long plane ride, and it's a great introduction to Iceland's beauty.
Alternatively, it makes a nice final stop on your way out of the country and a perfect goodbye to Iceland. Just be sure to plan ahead so you have enough time to enjoy the Blue Lagoon, get dry, and have plenty of time to get to the airport.
5. Bring a Waterproof Case for your Phone or Camera
You will likely want to take pictures in and around the water, so make sure you have a way to keep your camera from getting damaged if you are taking it into the pool. The steam and mist is not great for your camera.
We recommend taking a smartphone or waterproof action camera like a GoPro rather than a larger camera into the Blue Lagoon. If you bring in a smartphone, we recommend getting a waterproof case to protect it from getting wet or damaged in the pools.
If you are traveling as a couple, family, or larger group, you might just want to bring one phone or camera into the water and share photos afterwards. The less things you have to carry or worry about in the pool, the better.
6. You Can Rent a Swimsuit & Other Gear But Best to Bring your Own
If you are not prepared for a swimming pool or spa experience, most items can be rented or purchased at the Blue Lagoon. However prices are fairly high, so it is best to pack everything that you need before you leave home.
It's obviously cheaper and more comfortable to bring your own swimsuit, but if you forgot to pack one, the Blue Lagoon has swimsuits that you can rent. They also have shower caps, bathrobes, sandals, slippers, skin care products, and other items that can either be rented or purchased on-site.
All admission packages of the Blue Lagoon currently include a towel so there is not reason to bring your own unless you really want to do so.
7. Take Care of Your Hair
One common complaint from visitors is that the chemicals in the water at the Blue Lagoon can do a serious number on your hair. Even the most luscious manes often come out of the lagoon water dry as straw, matted, and unmanageable. The water can be particularly harsh on those with dyed or color treated hair.
The water doesn't permanently damage your hair, but it can leave it dry and unmanageable for a few days after a swim. But there are several things you can do to prevent this and help treat your hair afterwards.
To protect your hair, rinse it and coat it liberally in conditioner before going in. Don't rinse out the conditioner before going into the Blue Lagoon. Put your hair up in a pony tail or bun and try to keep it out of the water if possible.
The best way to protect your hair, and what is recommended by the Blue Lagoon staff if you really want to keep your hair from getting wet, is to wear a swim cap. If you don't have one, they can be rented or purchased at the Blue Lagoon.
After your dip make sure to shower and wash your hair thoroughly (consider bringing along a clarifying shampoo if your hair reacts harshly to minerals/chemicals) and condition it again. You might want to pack along a deep conditioning hair mask to use the next day as well.
Even if your hair does end up a bit fried, don't freak out. Usually the damage resolves itself within a week.
8. Make Sure To Remove Your Jewelry and Contact Lenses
Make sure you take off any jewelry, eyeglasses, watches, and any other valuables before going into the Blue Lagoon. This is for two reasons. First, the geothermal water can damage some types of jewelry so best to leave it at the hotel or in the locker. We wore our wedding bands in the Blue Lagoon but nothing else.
Second, you don't want to lose or drop anything in the water as you may never find it again. The water is filled with minerals and the water is not clear. The bottom is covered by a thick layer of silica and is often shifting as the water is recycled and the bottom is constantly disturbed by bathers. Not a good place to lose a ring, contact lens, or earring!
It is strongly recommended by the Blue Lagoon that you remove your contact lenses. If you don't, silica can get trapped in your eyes and it can be painful. If you can't see without your contact lenses, you might consider bringing prescription glasses or sunglasses, or just be extra careful to avoid getting water on your face.
9. Wear Sunscreen and Sunglasses
You may not think about using sunscreen before taking a hot dip, but the sun can be strong when reflecting against the water, especially in the summer months.
Iceland is one of the few countries in the world where you can get a sunburn at 10pm! So it is good to use on at least your face and upper body to prevent burns. Sunscreen is especially recommended for children.
Sunglasses are a good idea as well, as the sun bouncing off the water can be a bit blinding on a really sunny day.
10. Stay Hydrated
Hot baths, saunas, and steam rooms can be extremely dehydrating so make sure you are drinking lots of water. You can bring a reusable water bottle with you to save money on beverages inside the complex. Tap water in Iceland is safe to drink.
Your Blue Lagoon ticket entitles you to a complimentary drink while in the pools. While the swim-up bar in the lagoon does serve a range of beer and wine, we recommend limiting alcoholic drinks which can lead to further dehydration. It might be smarter to take advantage of the yummy fruit smoothies.
11. Remember to Shower Both BEFORE and AFTER Going into the Blue Lagoon
There are lots of reminders telling you to shower before you can enter the pool, but don't forget to shower afterward so that you can wash all the minerals off and out of your hair. Moisturize heavily after the shower with the free moisturizing lotion provided in the changing area, or bring your own.
Also be sure to rinse out your swimsuit thoroughly with water as well so it doesn't get damaged from the silica. You can use either the provided free plastic bags in the changing rooms or bring your own breathable waterproof bag to store your wet items.
12. Leave Plenty of Time to Enjoy the Blue Lagoon
A visit to the Blue Lagoon should be a relaxing experience. Once you've entered you are allowed to stay as long as you like (until closing) so take your time exploring and soaking.
Be sure to get your free face masks and drink, explore the nooks and crannies, and check out the steam room, lounge room, etc.
Don't book an entrance time too close to closing, or too close to your flight if you are headed to the airport afterwards. You don't want to feel rushed and you want to get your money's worth so spend as much time as you want.
Enjoy!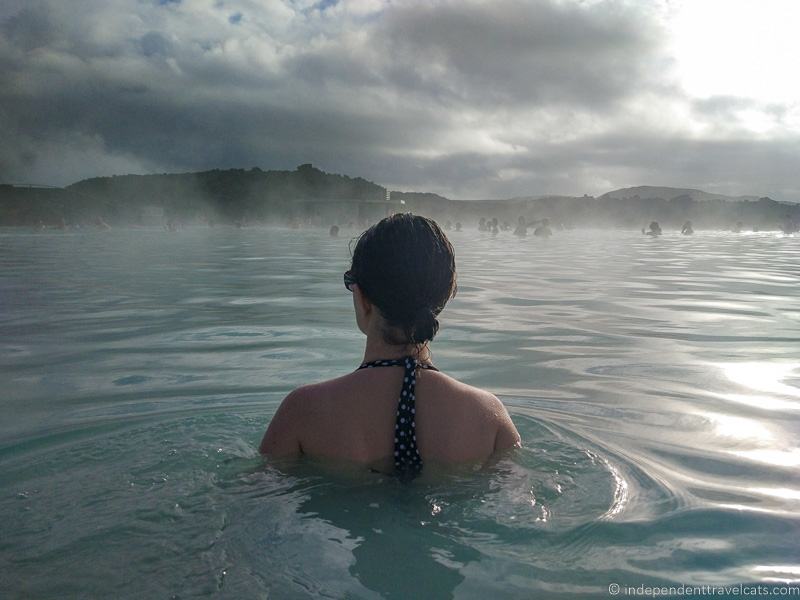 Nearly everyone who visits Iceland makes a stop at the Blue Lagoon. It's iconic, beautiful, and relaxing to boot. Hopefully these tips will help you have the most enjoyable Blue Lagoon experience possible.
If you are planning a visit to the Blue Lagoon in the future, consider pinning this article to Pinterest to find it again easily in the future: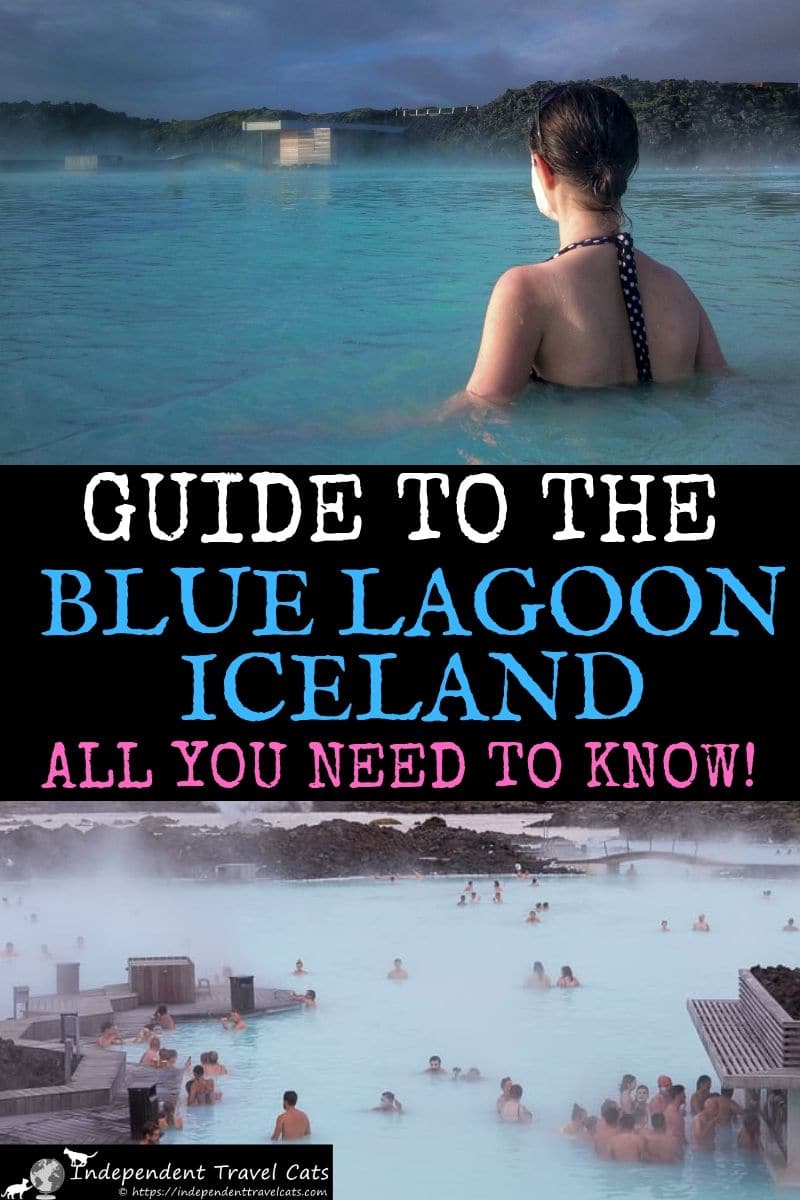 Have you been to the Blue Lagoon? What was the experience like for you? Any tips we missed?
Planning your own trip to the Blue Lagoon? As always, feel free to ask us any questions you may have about the Blue Lagoon or things to do in Iceland.