Interested in attending a fashion show in Paris? Paris is one of the Big Four cities of fashion in the world along with London, New York City, and Milan, and it is no wonder that many visitors to the City of Lights are interested in catching glimpses of svelte models sashaying down a catwalk in the latest original silky creations.
But chances are that your visit to Paris won't coincide with the semi-annual Paris Fashion Show, and even if it did, tickets are almost impossible to obtain for those of us who are not part of the fashion industry or press world. But no reason to despair, you can still attend a fashion show held regularly throughout the year at the Galeries Lafayette.
Until recently the department store offered a free fashion show in Paris; however, they began charging admission in 2017. We've attended the 30-minute show held on Friday afternoons at the Galeries Lafayette twice. We'll share our experience of making reservations and attending the fashion show, as well as provide some general tips and information on attending this fashion show in Paris.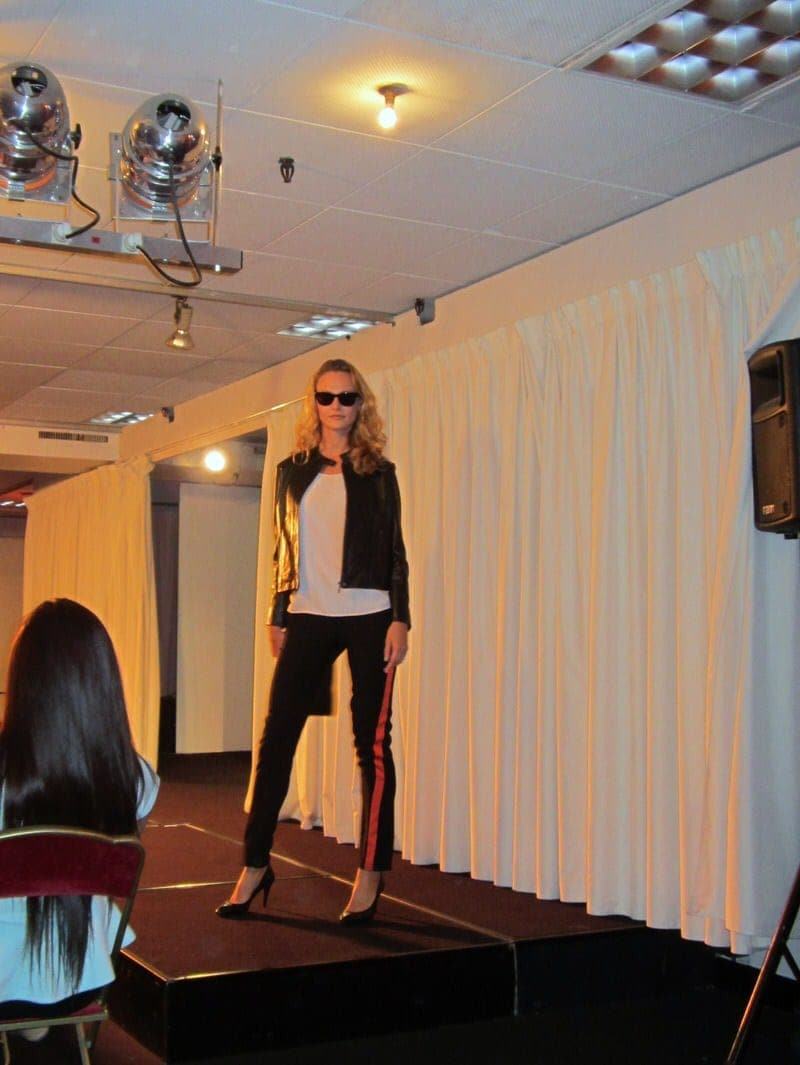 Basic Information 
Where: Garleries Lafayette, 40 Blvd Haussmann, 75009 Paris. The fashion show has always been in the main store, the Lafayette Coupole at Galeries Lafayette Haussmann. On our most recent visit it was in the Salon Opéra on the 4th floor of the store near the lingerie section. Check your email confirmation for the latest information as it has been held in other locations in the past.
When: Most Fridays at 3pm (15:00) throughout the year. They also now have special shows on Saturdays at 11am in July and August
Duration: 30 minutes, although you are asked to show up 15 minutes early to check-in and be seated
Cost: Current price is 12 euros per adult and 9 euros per child. Note that this used to be a free fashion show for many years but the store began charging admission as of 2017. 
Buy Tickets: You need to purchase tickets in advance to attend, and the easiest way to buy tickets is online through this site.
Website: For the Galeries Lafayette main store website, click here and for the store fashion show info, click here. 
Getting there:
Parking: Galeries Lafayette parking garage. Entrance on Rue de Provence in Lafayette Homme building.
Metro: Chaussée d'Antin (most convenient to main store entrance), Opéra, Trinité
RER: RER A : Auber (closest), RER E : Haussmann St. Lazare
Bus: Lines 20, 21, 22, 24, 26, 27, 29, 32, 43, 53, 66, 68, 91, 94, 95
Access: Seating is limited so you must have advanced reservations. Bring your confirmation voucher and an ID to ensure a seat.
Dress Code: Smart casual (guests were dressed in everything from jeans to business wear)
How to Make Reservations to the Fashion Show 
After you decide you want to go, you'll need to confirm that there is a fashion show happening during the Friday (or Saturday) that you are visiting and then make a reservation. 
There used to be a number of ways to book tickets, but now almost all booking are taken online. You can book tickets here or use this online booking system, both offer the same tickets at the same prices.  You simply choose your date, number of tickets, and purchase them online.
After your purchase, you should receive a confirmation email with your ticket that you will want to print off or have on your phone to show to gain entry at the show. You'll need the ticket and your ID to get into the show.
If you have questions or want to book a private fashion show event you'll need to email them at:  mice@galerieslafayette.com or events@galerieslafayette.com.
Finding the Salon Opéra
As I noted above, the free fashion show at Galeries Lafayette has taken place in at least two different rooms in the two times I have gone. So just be sure to check your email voucher and follow the directions. The Galeries Lafayette is huge and located across multiple buildings so it is good to check out the store map beforehand if you are not familiar with the store.
If the fashion show is taking place in Salon Opéra on the 4th floor of Coupole, you'll want to enter the main building of the Galeries Lafayette (not the Lafayette Maison or Homme buildings), and take the main escalator to the 4th floor. The Salon Opéra is located near the lingerie department.
When we arrived last time, we wondered around the lingerie and asked a store associate who pointed out a woman with a clipboard. We were about 30 minutes early, and she told us to return in about 20 minutes as they do not normally open the doors until at least 15 minutes before the show.
If you get lost in the store, the main Information/Welcome desk is located on the ground floor (Floor 0) and any of the store employees should be able to point you in the right direction.
Our Experience at the Fashion Show
This is of course a department store fashion show in Paris with models showing off read-to-buy clothing, and not a haute couture show during fashion week. While they try to stimulate a real fashion show, the room itself felt a bit like a small business conference room with a small runway and lots of chairs.
But the dimming of the lights, provided program, spotlights, and upbeat music helps make up for this. The room can be a bit warm with so many people seated side by side, so you might want to dress in layers.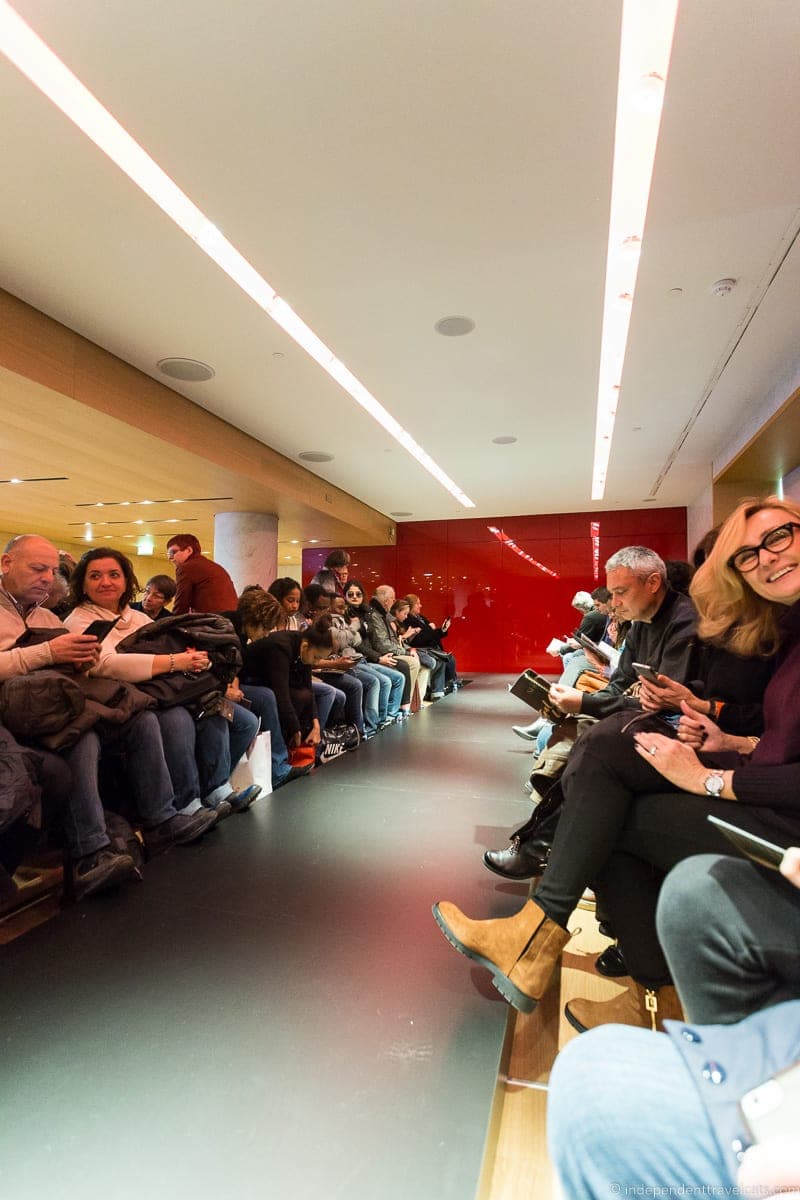 Back in 2013, it was clearly written that photography and videotaping was prohibited (although blatantly ignored by many); however, I saw no such rules during our 2015 visit. I imagine that videos are likely prohibited, but photography seemed to be fine and most people were discreetly taking photos on their phones during the show.
Just don't bring an iPad and obstruct the views of others behind you as one man did during my 2013 experience when were sitting in the second row!
It is best to get there a bit early to get a seat in the front row. It is a narrow t-shaped runway with people sitting on each side and at the very end of the runway. In 2015, there was no choice given to seating and people were seated in order of arrival next to the prior guests. However, it is worth being there when they open the door so you get a seat without someone sitting directly in front of you.
There was only one row on the side we were sitting, but there were three rows on the other side. However, the room is quite small with seating for 100 people or less so you should be able to see relatively well no matter where you are seated.
In 2015, we found a bottle of water and a fashion show program on each seat. Programs are provided in English (almost all attendees appeared to be from English-speaking or Asian countries) that list the clothing items and labels worn by each model in order of appearance, which made it easy to follow along.
As of the 2015 show, there were also photos in the brochure of the models wearing each outfit so it was even easier to link each clothing item to the ones worn by the models on the runway. During the shows, the clothing is grouped into separate themes (e.g., Palm Springs, Vintage, American Retro) with clothes and shoes by a variety of designers including Michael Kors, Marc Jacobs, Tommy Hilfiger, Eden, Kooples, Tara Jarmon, Ralph Lauren, Manoush, Minelli, and Diane von Fürstenberg.
While most of the clothes are for women, there was one male model who appeared several times on the catwalk to show off some clothing from the Men's Store.
Below are several pictures from our visit in 2015.
If you are interested in any of the clothes during the show, the program provides the brand and the floor of the store where you can find them. What was surprising to me is that once the show is over, the models go backstage, the lights come back on, and the room is quickly cleared. There wasn't really anyone around to talk to about the clothes.
If the goal is to sell the clothes, the store would probably get more customers to buy them by having either sales associates or the models circulate and talk about the clothes and where they can be purchased for a brief period after the show.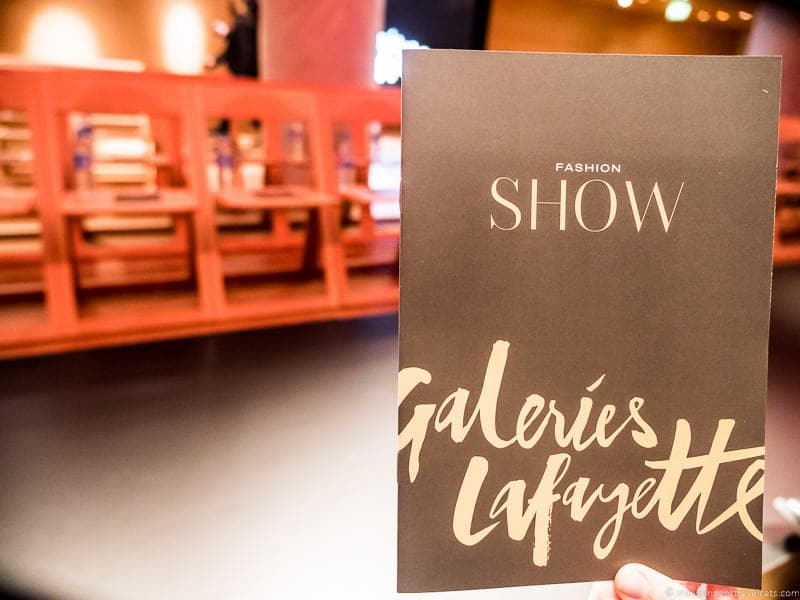 Overall, it was an entertaining 30 minutes and definitely worth it as it was a free fashion show in the two times I attended. Obviously, now there is a booking fee so you will have to decide if it is worth it or not. It can be a fun show for those interested in fashion. The other attendees in both shows seems to enjoy themselves.
Given that Galeries Lafayette (and nearby Printemps) also happens to be a perfect place to do some shopping (clothes, accessories, home decor, souvenirs, and gourmet food!) or take a break for a meal or coffee, you can really make a full afternoon out of your visit.
You might also consider visiting the nearby Palais Garnier by taking a tour or attending a performance which is another of my favorite buildings in Paris. I'd also recommend checking out the Fragnord Perfume shop and museum (near the opera house, free to visit), and you can even book a perfume making workshop here!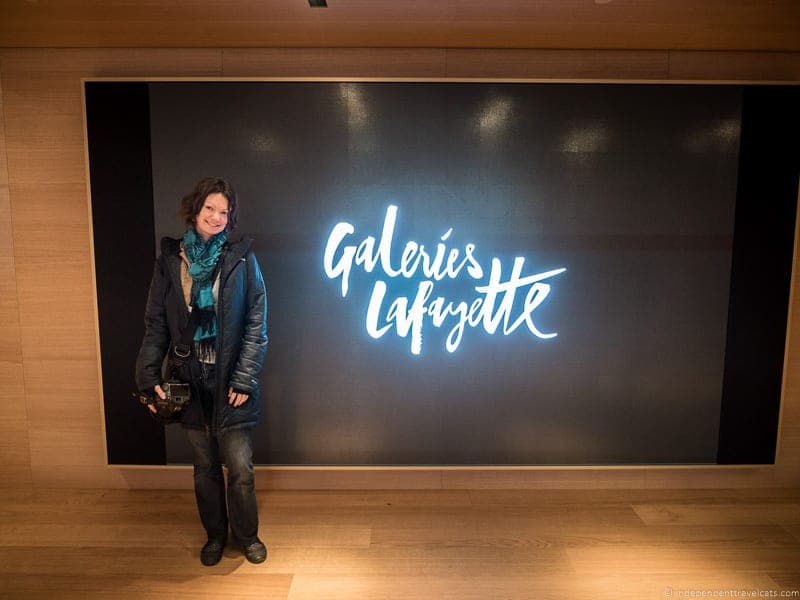 So what did you think about this post? We'd love to hear any of your thoughts or questions. During your next visit to Paris, will you be attending the fashion show in Paris at Galeries Lafayette?