Interested in attending a performance—an opera, ballet, recital, or concert—at the Palais Garnier in Paris? This article will comprehensively provide advice and tips on all aspects of your visit to the Opera Garnier such as when to arrive, what to wear, and what to expect so you can make the most out of your visit to this beautiful and historic venue.
I really love the Palais Garnier and have attended two ballets and one opera here—our most recent visit was in June. While you can also see performances at the other Paris Opera location—the Opera Bastille—there is nothing quite like seeing a performance in this opulent venue. The Palais Garnier is arguably the most famous opera house in the world and for many it's a once in a lifetime experience to attend a ballet or opera here during their travels.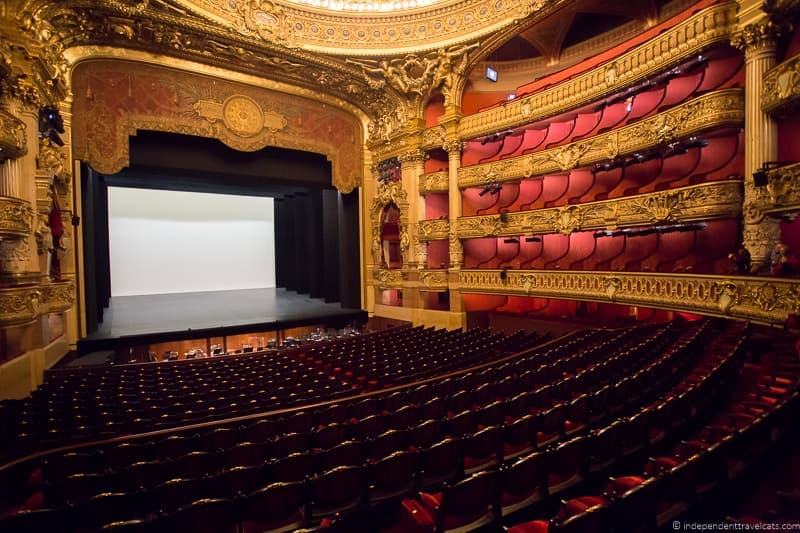 Now, if you have not yet booked your tickets or have any questions about seating, please review this article on tips on booking tickets to the Paris Opera. Once you have your tickets booked, read on and we'll provide tips on making the most of attending a performance at the Opera Garnier based on our own experiences.
Basic Information about the Palais Garnier
• Built and named after architect Charles Garnier. It was built over a period of 15 years and the first performance took place at the Palais Garnier in 1875.
• The Italian-style horseshoe-shaped auditorium has 1,900 seats.
• Official website for the Opera de Paris is here.
• Primary telephone line from outside France: + 33 (0)1 71 25 24 23
• Primary telephone line from within France: 0 892 89 90 90
• Address: 8 rue Scribe, Place de l'Opera, 75009 Paris, France (located in the 9th arrondissement, at the corner of rue Scribe and rue Auber)
• Metro: Opéra stop right across the street from Palais Garnier, use lines 3, 7, or 8
• RER: line A, station Auber
• Bus lines: 20, 21, 22, 27, 29, 42, 52, 53, 66, 6 8, 81, 95
• Nearest Car park: Place Vendôme
Before the Performance Tips
• Note that almost all performances are performed in their original language, so very few performances will be in English and most are also not in French. We saw a performance in Italian for example with French surtitles provided on a screen during the performance. Some performances have both French and English surtitles and this information should be noted in the performance information provided on the website.  If the performance is not in a language you know (and there are no surtitles in your language), this is a good reason to read about the performance beforehand. If this bothers you, consider choosing a recital or ballet over an opera where language is not as important.
• Read the "More about the Production" links on the specific production's Paris Opera webpage before you attend to learn more about the composer and performers, history of the production, and see video clips of the performance. I also generally do an Internet search as well to get a fuller description of the performance so I can read it beforehand.
• If you have a physical handicap or a sight or visual impairment, you should contact the theatre to inquire about special accommodations and special seating. Ideally, you should check on this prior to booking your ticket as some seats are definitely not handicap accessible. You can call: + 33 (0)1 40 01 18 50
• What should you wear to a performance at the Palais Garnier? This is probably the most common question from visitors. In the three times I was there, almost everyone was dressed in business dress clothing (many people are in fact just getting off work). Unless you are going to a gala evening event, almost no one will be in gowns or tuxedos. Even full suits are not that common although you won't be out of place if you wear one. For women, a dress, blouse/skirt, or blouse/nice pants is fine. For men, a dress shirt, nice pants, and nice shoes are fine. Many people were in business casual style clothing during all three of my visits. The two French men sitting in front of me during my last visit were both just wearing sweaters and khaki pants. So don't overdress (e.g., show up in an evening gown) or underdress (e.g., no tennis shoes, shorts, jeans, tank tops, tee-shirts, etc.) and you should be fine.
• It can be helpful to think about the shoes, socks, and hosiery you might need when packing as you might not want to wear white hiking socks under your black pants. Ethan for example just wore the same black leather Merrill shoes throughout our entire trip, but changed into black socks for the opera. Below are pictures of what we have worn to the opera, and note we were actually more dressed up compared to some of the other attendees.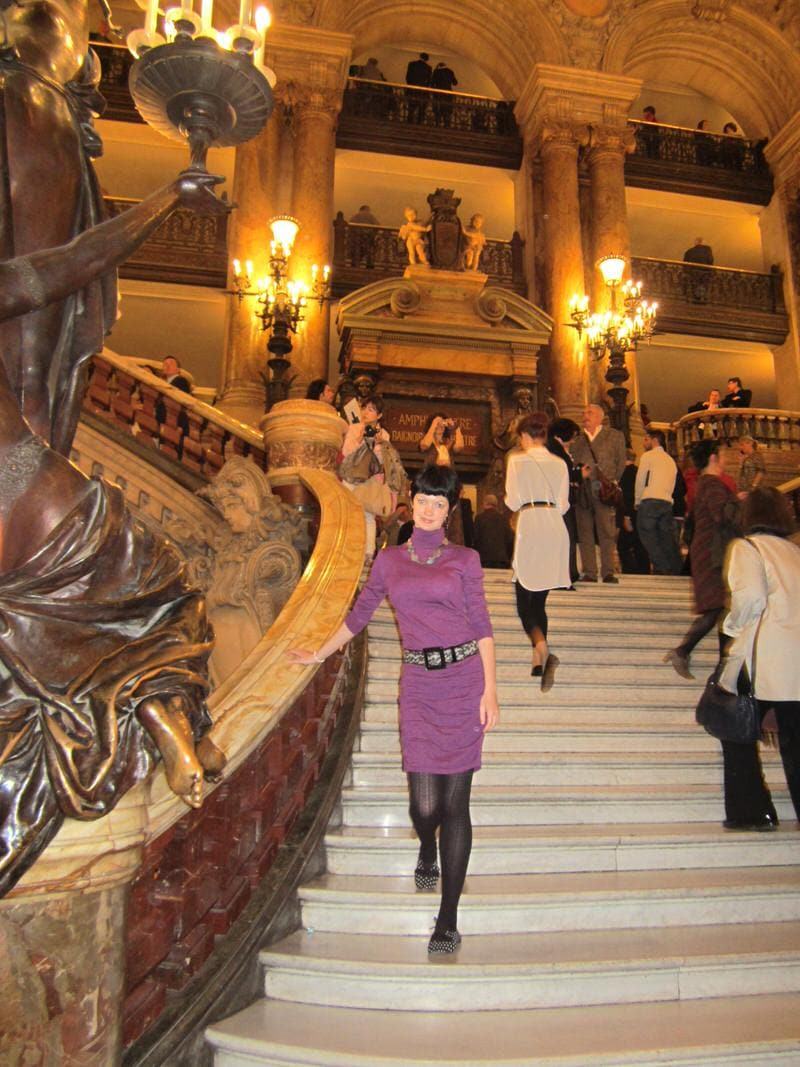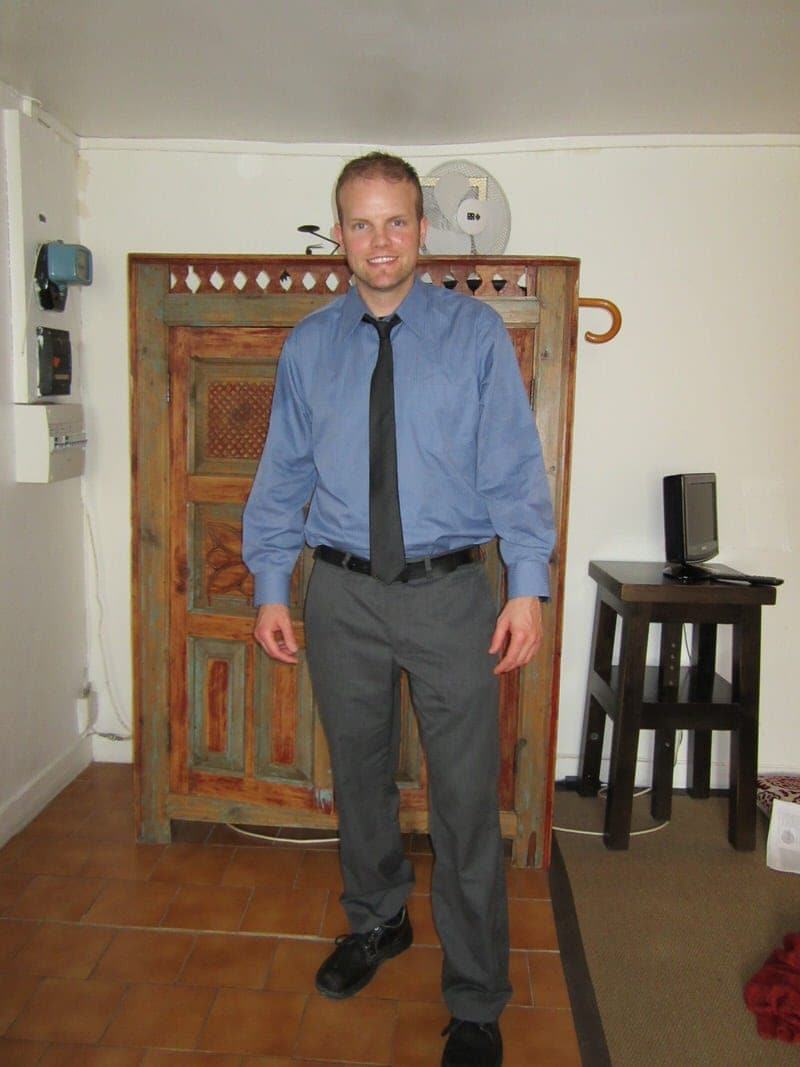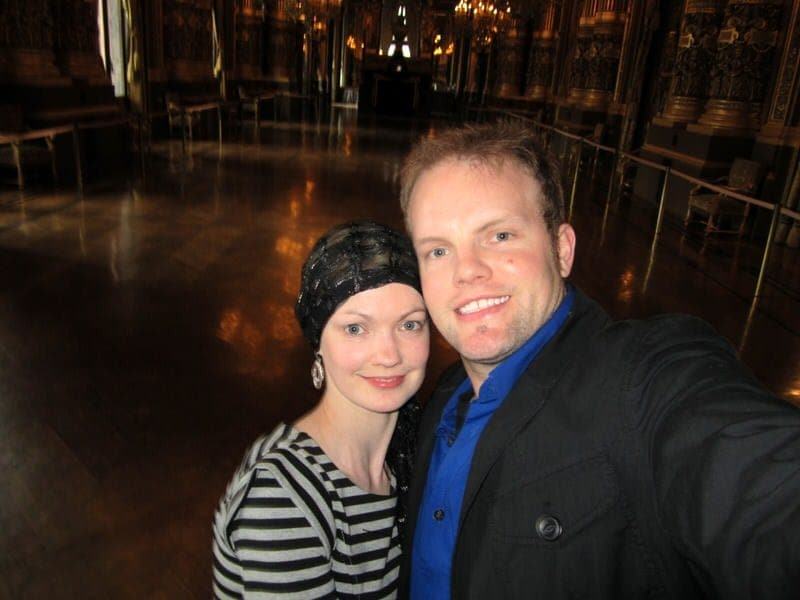 • Now, if you are going to a gala evening event, the dress code is more formal. The dress code for a gala events is generally black tie. So for men, this means a tuxedo (traditional black or midnight blue) and for women a cocktail or evening dress. However, women can also get away with a formal pant or skirt suit with jacket if you don't want to wear a dress. People tend to dress more conservatively in Paris than in the U.S. so keep bare flesh to a minimum, avoid bright colors, and choose a hemline that fall below the knee. A simple black evening dress and black heels are always a good option.
• Need a quick caffeine break before the performance? The Starbucks located within walking distance on 3 Boulevard des Capucines is one of the most opulently decorated Starbucks we've ever been in with velvet chairs, chandeliers, and a gilt-leaf ceiling depicting cherubs aloft in a blue sky. While the product is definitely American, the setting may help get you in the mood for the Palais Garnier.
• Inside the Opera Garnier, a little bar sells champagne and other refreshments. It opens about 45 minutes before the start of the performance and will also be open during the intermissions.
• Arrive 30 to 45 minutes early so that you can walk around this beautiful building. The opulence of this building—the grand marble staircase, the gilded statues, and ornate foyers—are certainly worth taking the time to appreciate. Not to mention the giant crystal chandelier, red velvet covered seats, and Chagall-painted ceiling of the actual auditorium. There were also past ballet and opera costumes on display during our visit. You'll also have short intermission breaks during performances, but it's better to explore before the performance if you can.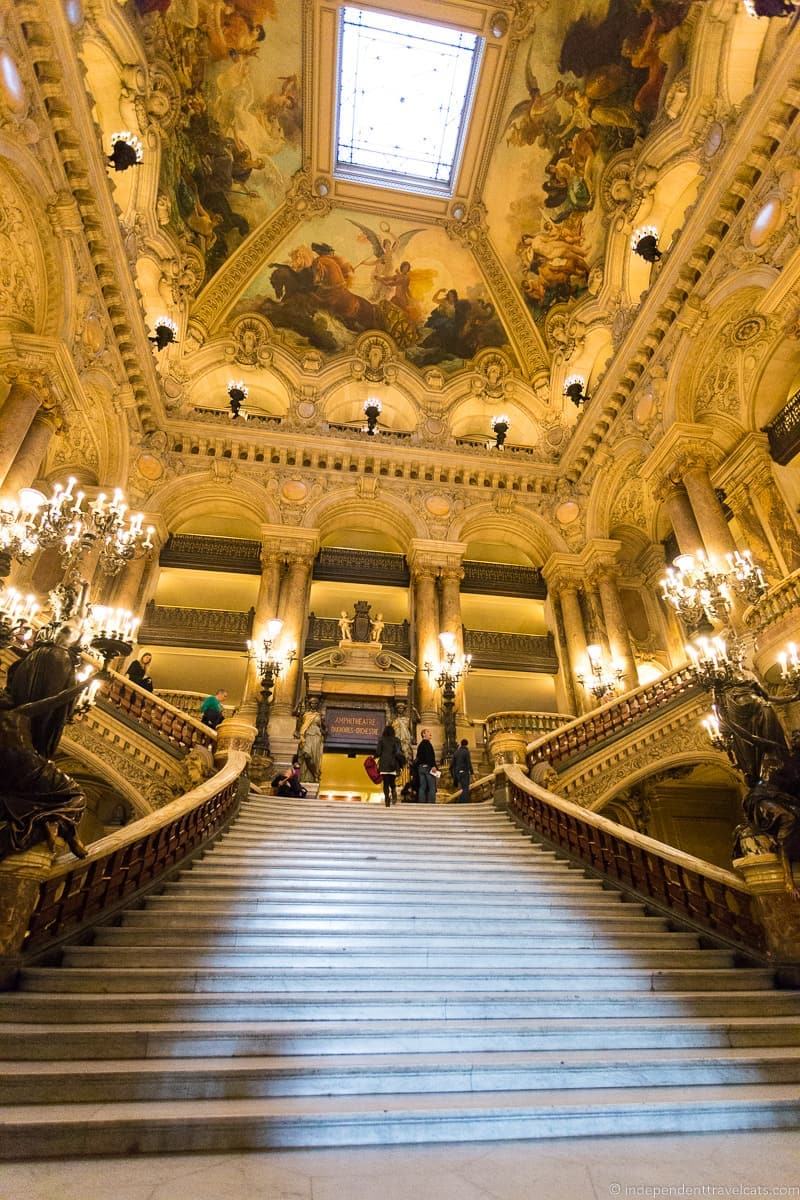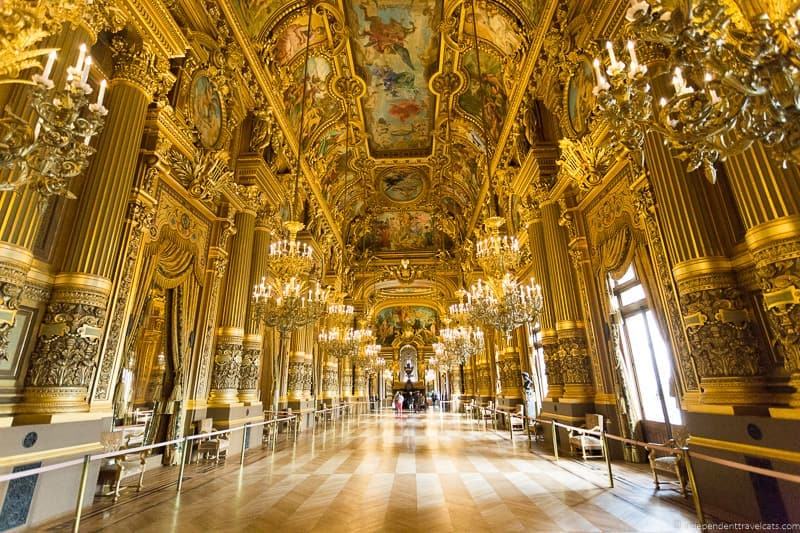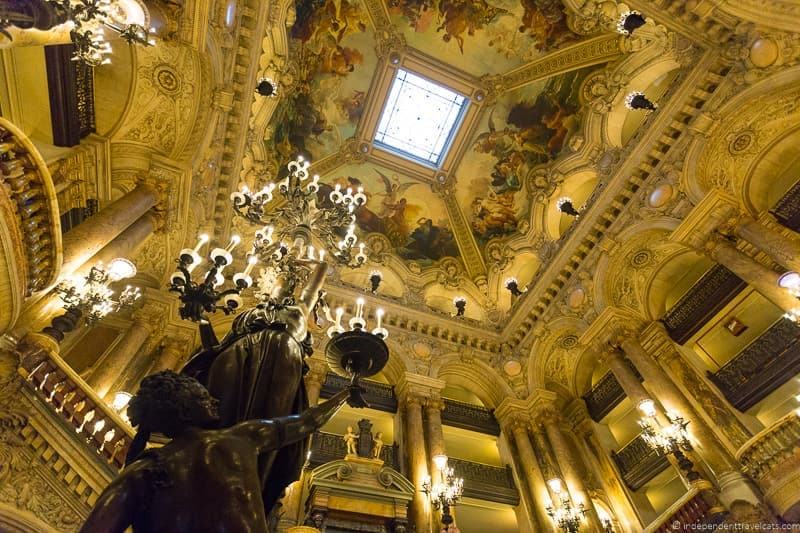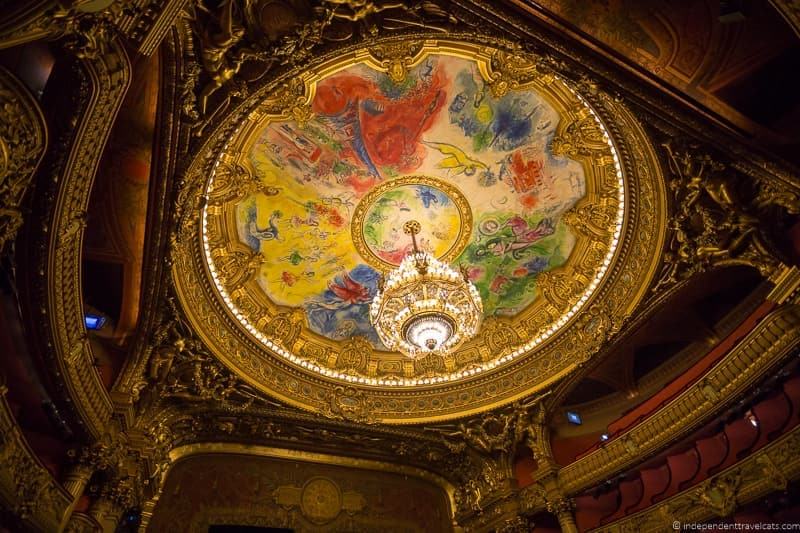 • Feel free to bring along opera glasses or small discreet binoculars. These can be very useful if you have a seat that is far from the stage.
• The printed performance programs are not free, but are quite well-designed and can serve as a nice memento. They generally cost around 12 euros and can be purchased inside the building near the main staircase. However, they may or may not have them available in English.
• A quite loud (and somewhat obnoxious in my opinion) bell rings to denote that it is time to start heading to your seats at the beginning of the performance and during intermissions. Remember if you show up late to either the beginning of the performance or following an intermission, the ushers may refuse entry if they feel you will disturb other patrons.
• You can take your coat inside the auditorium with you or have it checked. We've always taken them into the auditorium with us.
• It's good to make note of the nearest restroom location before going into the auditorium as there are generally long waits during intermissions, particularly for women.
• After you go up the staircase, you'll see signs above the auditorium door entrances on each floor regarding the seating section. However, if you have any trouble figuring out the location of your seat, just show your ticket to the nearest usher and he or she can help you.
• Tipping the ushers is not expected at the Opera Garner and I have not actually seen anyone tipping them. Another opera goer told us that tipping is prohibited in the state theaters such as Palais Garnier, but it is expected in private theaters.
During the Performance Tips
• If the performance is not in French, French surtitles will be displayed on a monitor above the stage. English surtitles may also be displayed as well.
• Don't forget to look up at the colorful Chagall ceiling inside the auditorium. If you don't have a good view of the ceiling from your seat, make your way to the orchestra area at some point. I've done this both before performances and during intermissions, but just remember that other people are trying to get in and out of their seats so please be courteous.
• This is an old theatre and the seats and temperature are not always the most comfortable for a long performance. For instance, we had very little leg space and it was quite warm and stuffy in our Amphitheatre seats in June. Others have complained of being cold. So come prepared if you know this is likely going to be an issue—dress in layers, bring something you can lightly fan yourself with, bring small binoculars if you know your seat is far away, etc. While you can't mitigate everything, it is good to go in with the attitude that not everything has to be perfect as there is bound to some minor annoyance, whether it's the temperature, sightline, or the movement of the guest next to you. It's best to take it in stride and enjoy the performance.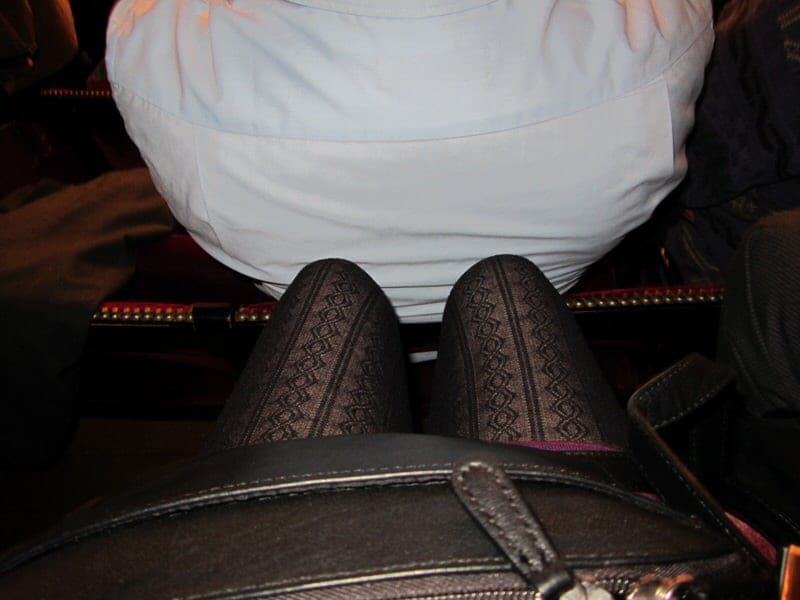 • No smoking or using cell phones allowed in the auditorium. Obviously there is also no eating or drinking.
• No photos or videotaping during performances in the auditorium. Take any pictures before or after the performance.
• Given that lines for the restroom can be quite long during intermissions, it is best to head there as soon as you exit the auditorium. I've had to wait in line for over 10 minutes before with the bell already ringing.
• If you want a drink at intermission, head to the little bar. A glass of champagne costs about 12 euros.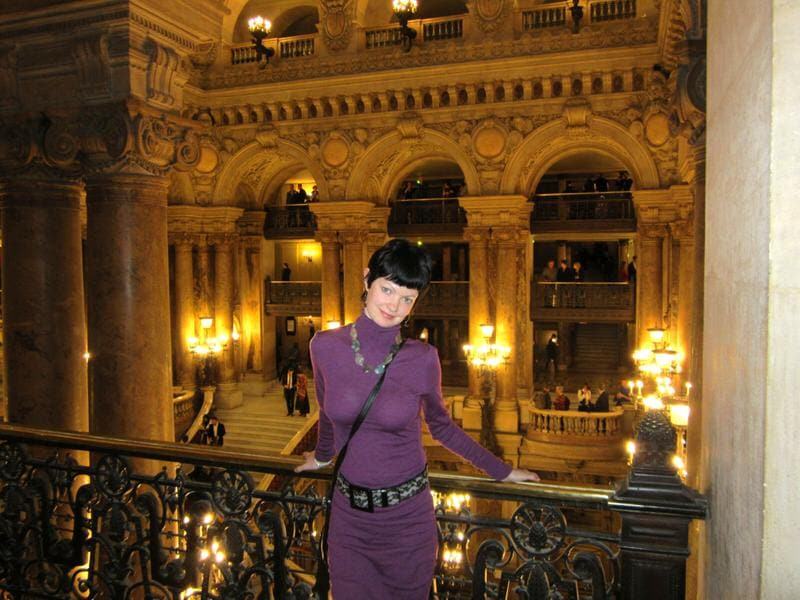 After the Performance Tips
• The Opera metro stop is right across the street across from the entrance to the Palais Garnier. The Paris Metro stops running at 1:15am (later on Saturdays).
• If you are looking for a convenient dinner option after an opera performance, you can try the recently opened L'Opera Restaurant which is located at the Palais Garnier. It should be open before and after most performances, and you can make reservations online.
• Other restaurants within walking distance include the famous Café de la Paix (12, Boulevard des Capucines), Le Grand Cafe Capucines (4 Boulevard des Capucines), Café Drouant (18 Rue Gaillon), La Fontaine Gaillon (1 rue Gaillon), Lucas Carton (9 Place de la Madeleine), New Balal (25 Rue Taitbout), and l'Absinthe (24 Place du Marche Saint-Honore).
• We normally use LaFourchette to make restaurant reservations in France.
• Just note that Paris is not New York City and many restaurants in Paris are not open super late. Many restaurants don't accept reservations for seatings after 9pm or 9:30pm, so it's good to figure out when your performance ends (generally between 9:30pm and 11:00pm) so you can choose a restaurant and make reservations accordingly.
Find this article helpful? Still have questions related to attending a performance at the Palais Garnier? Have additional tips of your own to share? We'd love to hear from you!