Interested in attending an opera or ballet at the historic Palais Garnier in Paris? This article explains in detail how to book tickets online for the Paris Opera. It will provide step-by-step guidance on using the Paris Opera website along with a number of tips based on our own experiences on booking tickets and attending performances at the Opera Garnier. It also gives you resources if you are trying to book a performance that has been sold out or if you need to resell your Paris Opera tickets.
Now if you have already booked tickets, go to our article that provides Paris Opera tips on what to wear and what to expect during the actual performance.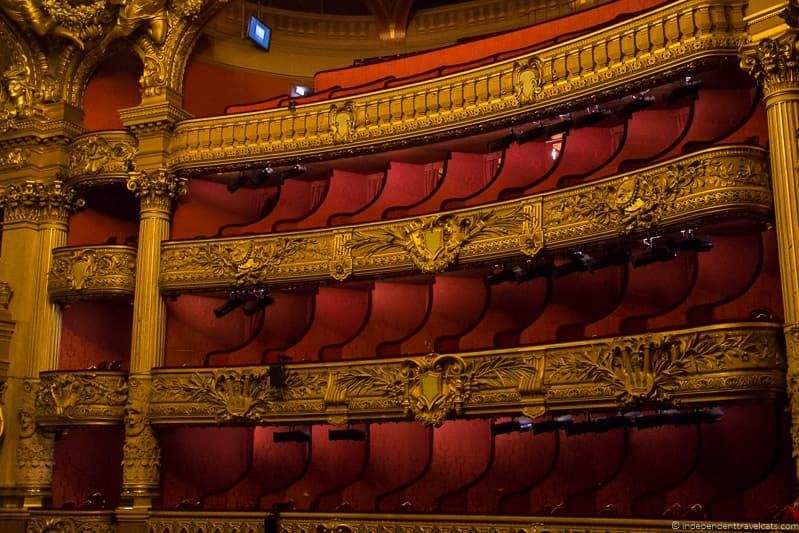 While most people's visits to Paris may not be complete without a visit to the Lourve or the Eiffel Tower, all three of my trips to Paris thus far have included attending a performance at the Palais Garnier, often referred to as the Opera Garnier or the old Paris Opera House. I really love the Opera Garnier and find it to be such a beautiful building, full of history and myths. It is quite amazing that it is still functioning as a world-class venue for concerts, theatre, and opera.
My first experience was in 2001 where I attended a performance of Kenneth MacMillian's L'histoire de Manon while sitting below the beautiful ceiling painted by Marc Chagall in orchestra seats. In my two more recent trips, I have sat in more economical seats in the Amphitheatre. First to see the Tokyo Ballet present a ballet called Kabuki in 2012 and then most recently to see Handel's Giulio Cesare opera in 2013. While you can also see performances at the more modern Opera Bastille, it does not offer the same sort of old world ambiance that can be found within the walls of the opulent Palais Garnier.
Step-by-Step Guide on How to Book Tickets Online to a Performance at the Palais Garnier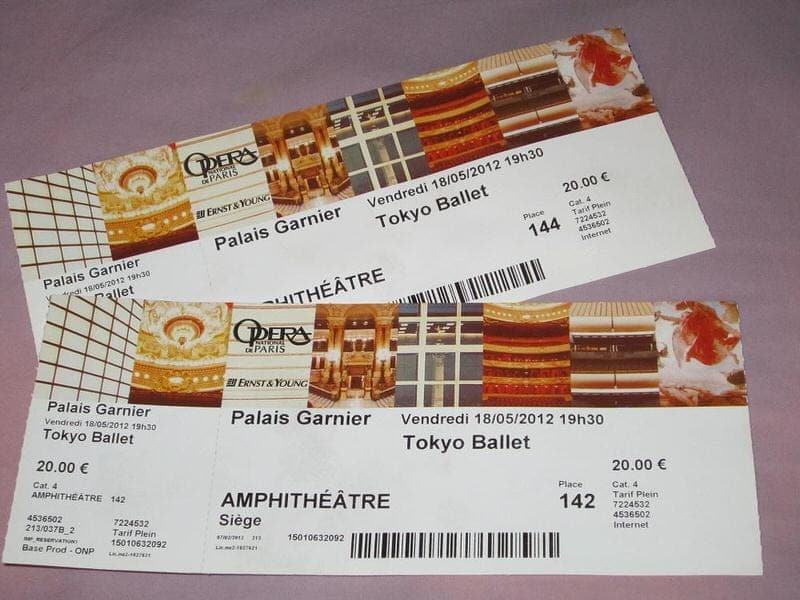 Note: This guide was last updated in 2017, and the procedure and website has changed a lot over the last few years. When I first wrote this guide, the website was quite terrible and many people had difficulty using it, but it has since improved greatly so you should be able to figure it out using these guidelines even if things have changed a bit. Please feel free to leave me a comment if you notice any changes and I will modify the instructions for future readers. If you have any questions, I am happy to answer them and provide any help I can.
1) Check schedule of performances online at the Paris Opera website . This schedule includes performances at BOTH the Paris Opera Garnier and Opera Bastille. You can change the website language to English by clicking English in the menu from the top of the page.
2) Click on Calendar to see everything that is playing by month. This will give you information on date, time of the start of the performance, the title of the performance, type of performance (ballet, opera, concert), and venue (Bastille or Garnier).
3) Once you note what performances are happening during your visit, click on the link to the performance of interest. On the left hand side of the screen, you'll see the booking calendar for that performance. If the date is an orange color, it means booking is available and open. If it's gray, it means either booking is not yet open or there are no seats currently available for that performance. If booking is not yet open, you can then check the Booking Calendar to see the opening sales dates for tickets sold by Internet, telephone, in-person purchases (at the ticket office counter located at the opera), and group booking.
4) Next, whether you are able to book now or need to wait for booking to become available, you should register on the website now as you'll need to do this if you plan to book online. You can do this by clicking on the "Log In" or "Register" links at the top of the home page. This will take you to an area where you can register as a new user and create an account. Put in your information and make sure you know your country's telephone code (United States is +1 and France is +33 for instance). Once registered, you should get an e-mail from the opera and you should be able to log into your account by going to the "Sign In" link.
5) For those waiting for booking to open, it will open on the stated date at 9:00 am Paris time (you'll need to figure out when this is in your own time zone) for both telephone and online sales. If you believe that the performance you want to see might sell out quickly, need a group of seats next to one another, or you really want a specific type of seat, it is probably wise to plan to book online as close to that opening time as possible. Ideally, you will be at your computer, logged into your account, and on the booking link for the performance and date of choice 20-30 minutes prior to opening as an "online line" sometimes forms for popular performances. If a queue does form on the day you want to book, as long as you are on the website and logged into your account you should then be asked to join the line to be able to book. Once it is your time, you need to be on your computer as you will generally then be given 7 to 10 minutes to make your booking. It is a good idea to go through the rest of the steps below now for practice so you know how the booking process works. It will also help you get a better idea of the types of seats and the views of the stage from different seats. You can simply cancel the transaction at Step 10.
6) Once you are ready to book, you will login using your e-mail and provided password. You can change the password if you wish once you login by going to Change My Password.
7) Now, go to the Booking link of the performance you want to attend and click the appropriate date. You'll likely see a timer on the side that tell you how much time you have to complete your order (this is often 7 minutes or 10 minutes).
8) You'll be asked to first choose the number and category of seats. Prices will be displayed for each seat category type and a crude color-coded drawn map of the seating areas will be shown (don't worry you'll get more info later). At this point, you'll likely see a timer on the side that tell you how much time you have to complete your order (this is often 7 minutes or 10 minutes).
9) Once you choose the seat category and number of seats, click "Add to Cart" and you'll be taken to a screen that will actually show you the seat numbers and a snapshot of a view of the stage from those seats. Make sure seats are contiguous if you want more than one seat next to one another (generally it does this automatically if available and will say "These seats are not contiguous" if not underneath your listed seats). To find out the view from your seat, just click s on the little stage images and they will give you a general idea of what the view will be from each seat. If these don't seem acceptable or you want to know more about where these seats are located, click on the "View/Modify My Seats" and check out the new feature that allows the user to actually see available seats and click on available seating options. This is a fabulous new feature (as before there was no real way to tell where seats were within the theater) but it can be quite slow to access. However, one complication is that it might not let you can't take two seats if 3 seats are available next to each other and will give you an error: "It is required that you don't leave isolated seats." If you do choose new seats just click on the new seat locations on the map and then click "Modify my selection"
10) At this point you'll want to do one of the following: 1 ) accept the offered seats (or modified ones) and move forward with payment, 2 ) Delete these seats and start again if you want to choose seats from a different category and repeat Step 9, 3) or Delete seats and Cancel the reservation. Now, if it is a popular performance I would keep the first offered seats in your shopping cart until you find alternative seats as if there are only a few available seats left, you may end up with no seats if you wait too long to book. At this stage, you also will sometimes have the option to purchase a program voucher (~ 12 euros) and this will be used to collect a printed program on the date of the performance.
11) Once you choose seats and hit Book, be sure to carefully review your order information as once you purchase the tickets you will not get refunded unless the performance is cancelled so make sure the date, performance, venue, seat number, and price are all correct. Before you start entering your payment information, you will be given the option to have the tickets mailed to you at your home mailing address for a small fee (3 euros), or you can simply print the electronic tickets for free. You'll receive a confirmation e-mail of your purchase at your registered e-mail address. If you opted for electronic tickets, the tickets will be available as a PDF that can be downloaded and printed by logging into your Paris Opera account. If you opted for paper tickets, they will be mailed at least 2 weeks prior to the performance, so before choosing this option make sure that this does not coincide with the dates you will be traveling.
More Information and Tips about Booking Tickets and Seating at the Palais Garnier
If you are having difficulties using the Paris Opera website or there are no available tickets for the performance of interest, you can check for tickets on Classic Tic, which sometimes has tickets even when performances are shown as sold out.
As pointed out by one of our readers, you might want to call your credit card or debit card company prior to booking if you do not regularly make international payments just to be sure your card is not declined.
When looking at the website's crude seating chart of the Paris Opera Garnier, even-numbered seats are on the left half of the chart, uneven-numbered ones on the right side. While if you book in-person at the opera, they can show you a detailed seating chart, and during online booking you can also see a detail seating chart. Go to "View/Modify Seats" link and this will show you where your seats are and allow you to view and choose other available seats in your chosen seat category.
If you are interested in a performance, but seats are shown as being sold out online, keep checking back as seats regularly go back on sale. You can also try calling the box office once phone booking opens up, as even if there are no tickets currently available they may be able to provide advice on how to optimize your chances to get tickets. You can also try booking tickets on the Classic Tic website or the Opera's sponsored ticket exchange website. Lastly, you can try the box office 45 minutes before the performance for last-minute tickets (sometimes they can put you on a waiting list for reserved tickets) and for specially discounted tickets (for young adults, unemployed, seniors, etc.).
If you are physically disabled or have visual or auditory impairments, you should contact the Opera box office for accommodation options.
On certain Wednesdays at midday (noon Paris time), the Opera de Paris has flash sales online on discounted tickets and sells the last tickets for sold-out performances, you can find out more here.
If you need to book tickets for more than 6 people for the same performance, you will not be able to do this under the same account. You can either wait until phone booking opens or better yet have a companion book any additional tickets under a separate account. Sometimes for particularly popular shows, they may limit the number of tickets even further to 2 or 4 tickets per account. If you are booking at least 10 seats, you may qualify to book through the Opera's Group Service booking option. Check their website or e-mail them (groupes@operadeparis.fr) for more information about group booking.
We have chosen our seats based on trying to get the best tickets for our budget. Since we have so far attended more for the ambiance and experience than the specific performances, we have opted for cheaper seats. However, if you are really excited about the specific performance or place a high value on comfort, it would be wise to spend a little extra for a better seat. For instance, our 20 euro each Amphitheatre seats (Category 4, seats 144 and 146) in 2013 had a great, if distant, view of the stage and came at an excellent price; however, these seats are narrow folding seats with little leg space and are placed high so that shorter people's feet (like mine) don't quite touch the ground. It can also get quite stuffy in the auditorium, especially in the upper areas such as the Amphitheatre. It became quite hot and uncomfortable after about 30 minutes during the last performance we attended.
If you want a seat in a box (loges or baignoires), I would try to get one in the first row (Seats 1 and 2) as those in the rows behind often need to lean over or even stand up for a good view of the stage.
Note that Balcon (which are not like actual balcony seats, but are the second set of seats behind the orchestre seating section) and Baignoires (which are ground-level little boxes) are not the same thing. Balcon seats are generally preferred, and more expensive, compared to Baignoire seats.
The best seats can be debatable and a matter of preference, but generally the seats most people would likely choose to sit in if price was not object would be Optima seating (when available), Orchestra, Balcon, and first row seats in central boxes (loges de face).
For seats in the orchestra, balcon, and amphitheatre, the lower the seat number, the closer it is to the stage.
An example of deciphering a seat location: 3emes (this is the third floor) loges de côté 16 (it is a side box, box number 16) 1 (seat one)
Note that côté means side (so a loge de côté box seat is a seat in a box to the side of the horseshoe-shaped theatre) while face means facing (so a loge de face would be a seat in a box facing center stage).
The categories of tickets of the Opera Garnier are Optima (best and most expensive) and then Categories 1-6 (tickets in the 1 category being the best of these and the most expensive and those in the sixth being the least expensive with generally the worst views). Be advised that tickets in the latter two categories (5 & 6) may have quite obstructed views of the stage and you may need to stand to see anything. My advice would be to only buy Category 4 or better tickets, especially if seeing an opera or ballet where a view of the stage is important. The cheapest tickets are generally not available online and must be purchased through the box office.
The row and seat numbers can be confusing if you are not used to this style of seating, but generally if you want contiguous seats (seats next to one another) even seats (44, 46) will be next to one another as will odd numbered seats (3, 5). Also seats 1 and 2 will be next to each other on a row. In boxes (loges), the number of seats varies, but Seats 1 & 2 are always in the first row. In a 6-seat loge, Seats 1 & 2 are in the first row, 3 & 4 second row, and 5 & 6 third row. The website will generally tell you if the offered seats are not contiguous prior to purchase. The numbering system can be a bit confusing, but you can check the seating chart to be sure (under "View/Modify Seats" as noted above in the Booking steps).
You can also check out our follow-up article that covers common questions such as when to show up, what to wear, and what to expect in our Opera Garnier guide.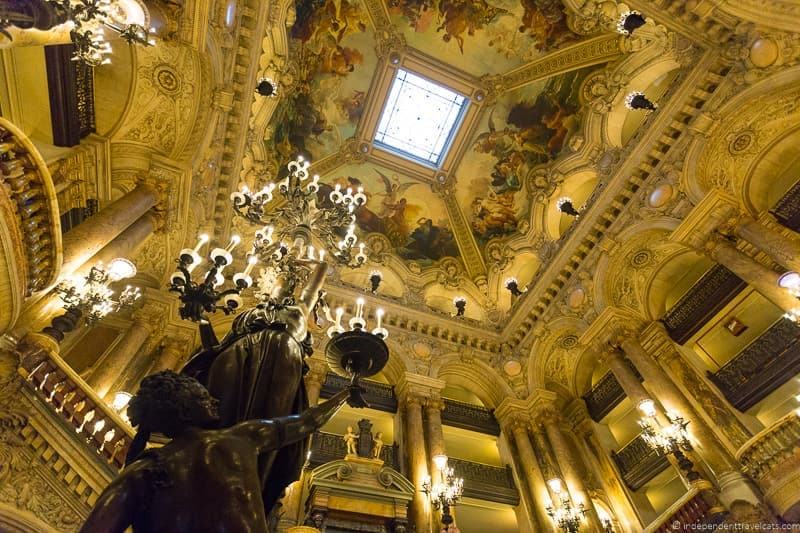 OK, so at this point, hopefully, you have successfully booked your tickets and are looking forward to your visit to Paris and the Palais Garnier. Enjoy this article? Have additional tips or questions about booking tickets online to the Paris Opera Garnier? Feel free to leave us a comment below.