If you are planning a trip to Paris and want to spend some time admiring great artwork and visiting grand monuments, you'll likely save money and time by purchasing a Paris Museum Pass. The Paris Museum Pass not only allows for free admission to a number of the top-visited attractions in Paris (i.e., Louvre, Orsay Museum, Arc de Triomphe, Notre-Dame tower, Versailles), but it also allows you to skip the long entrance lines at many of these attractions. However, in some cases, the Paris Museum Pass may not be a good deal for you, especially if this is not your first visit to Paris or you have only a day or two in the city. We'll help provide all the information you need to know to decide if the Paris Museum Pass is a good deal for you, decide on which pass to buy, and how to get the most value out of your museum pass. We'll also share our own experiences using the Paris Museum Pass and give you an honest breakdown of our own cost-savings.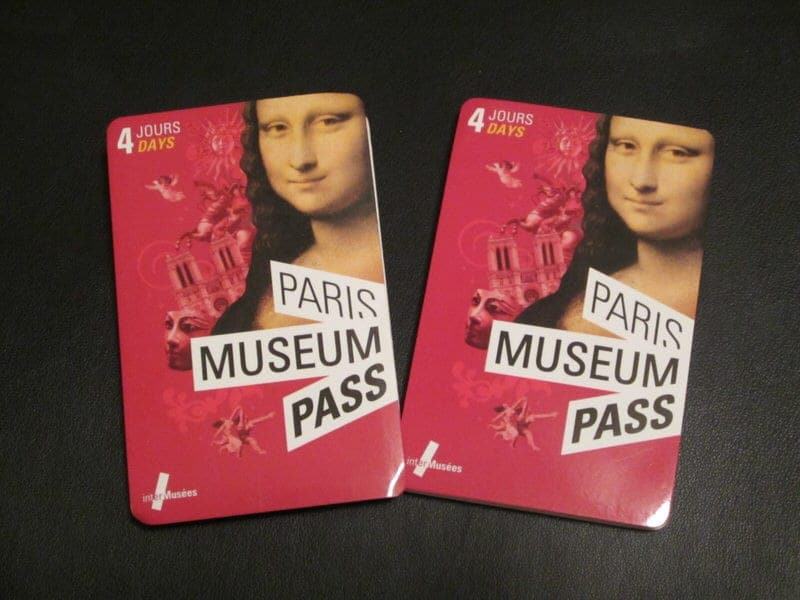 Which Attractions are Included in the Paris Museum Pass?
Currently, free admission to approximately 60 museums, monuments, palaces, castles, and other sites is granted to pass holders. These include some of the most popular Parisian attractions such as the Louvre, Arc de Triomphe, Musée Rodin, Musée d'Orsay, and Sainte-Chapelle as well as popular sites near Paris (Château de Versailles, Château de Fontainebleau). You can check out the full list here. Note that while the pass ensures general admission, the pass may not cover admission to special exhibits, audioguides, or special events.
Now there are several major attractions in Paris that are not included with the Paris Museum Pass that you should take into consideration. These include the Eiffel Tower, Opéra Garnier, Grand Palais, the catacombs, Espace Dalí (Salvador Dalí Museum), Jacquemart-André Museum, Luxembourg Museum, Marmotton Museum, Montmartre Museum, elevator at La Défense, treasury at Notre-Dame, and the dome at Sacré Coeur. Further the pass does not include any transportation passes and does not include Seine River boat cruises.
Types of Paris Museum Passes?
All the Paris Museum Passes cover the same attractions and the only decision you need to make concerns the length of your pass. They are currently sold as 2-day, 4-day, or 6-day passes. Passes are activated after your first usage and must be used on consecutive days. So if you purchase a 4-day pass with your first visit on May 5th, it will be valid from May 5th through May 8th.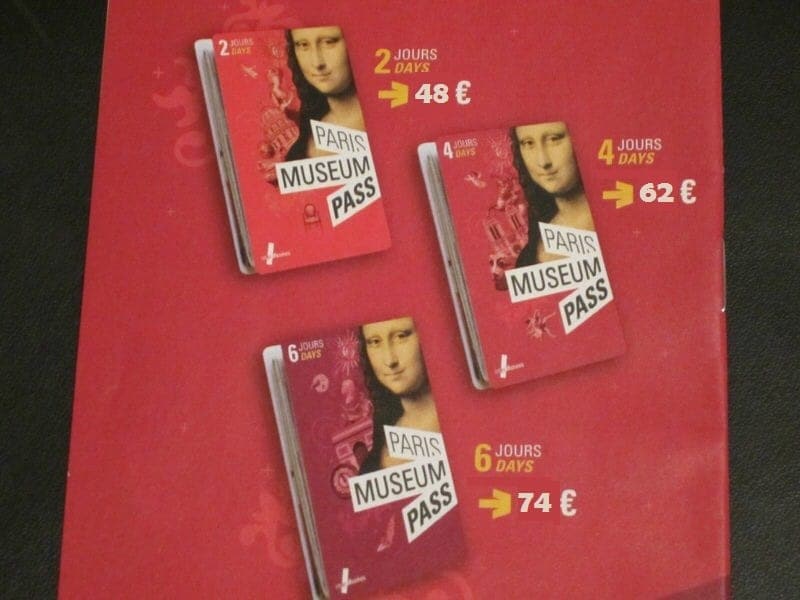 It is important to note that we are specifically discussing the Paris Museum Pass. However, there are a number of other similarly named Paris passes, most notably the Paris Pass. These are completely different passes and have different advantages and disadvantages; the Paris Pass actually now includes a Paris Museum Pass as part of the package as well as a transit pass. We found the Paris Museum Pass to be a far better value for our needs at the time, but you should look into each pass to decide for yourselves. However, all information in this article will only apply to the Paris Museum Pass. Note that some sellers also sell a bundle of passes that include the Paris Museum Pass but also include other passes or attraction tickets. Just make sure you know what you are buying.
How do I Decide if the Paris Museum Pass Will Save Me Money?
First, you should make a list of all the attractions you want to visit during your time in Paris. Try to come up with a realistic list based on the amount of time you'll be in Paris as you don't want to spend your entire trip going from museum to museum. Next, check entrance fee cost for each online or using a recent guidebook. Add up the costs to come up with a total. UPDATE: This example has been updated from to 2016 prices in May 2016.  
Example: I want to visit the Louvre (€15), Sainte-Chapelle (€10), Cluny Museum (€8), Conciergerie (€8,50), Versailles (€18), Napoleon's tomb at the Army Museum (€11), and the Paris Sewer Tour (€4,40) = €74,90.
Next, you'll need to decide how many days it will likely take you to visit all the attractions. Remember it can be easy to be too ambitious and think you'll take in three art museums and two churches in one day, but that will simply leave you exhausted and overwhelmed. Try to be realistic.
Example: I want to spend a full day at Versailles, combine Sainte-Chapelle, Conciergerie, and the Louvre in a second day, and try to do the Cluny Museum, a quick look at Napoleon's tomb, and the Paris Sewer tour in a third day. This means I would need 3 days.
Now, compare the price of the needed pass (2, 4, or 6 day) with your entrance fee total. Current prices (updated in 2016) are €48 for a 2-day pass, €62 for a 4-day pass, and €74 for a 6-day. Typically, you'll find that you'll save money if you plan to visit more than four or five attractions with the pass. However, this is not always the case so do try to use tips above to figure out if they are worth it for you.
Example: OK, so it would cost me €74,90 as an adult to visit all the places on my list and I think I need 3 days. Since there is no 3-day pass, I'll need to purchase the 4-day pass which is €62 (in 2016). If I visit all the listed attractions in the 4-day period, I'll have a cost savings of €12,90 and it should also keep me from waiting in ticket lines. Further, buying the 4-day pass gives me more time to visit these attractions without trying to squash them into 3 days which may end up being too rushed.
How to Buy the Paris Museum Pass?
In Person: You can buy the Paris Museum Pass at a number of locations, including at many of the museums and monuments that accept the pass, FNAC stores, several visitors centers in Paris, tourist information desks at both Orly and Charles de Gaulle airports, and even a few theater booth kiosks. There are even a few places in countries outside France that you can now buy the pass. You can see the full list of vendors on the Paris Museum Pass website. I would suggest purchasing the passes at a place where you won't have to stand in line for long such as a visitors center, FNAC store, a smaller museum, or airport information desk. If you try to get them at a place like the Louvre or Musée d'Orsay , you'll likely end up waiting in line.
Online with Hotel or Home Delivery: You can purchase the Paris Museum Pass online from Paris Tourist Office and have them delivered before your trip or have them delivered to your hotel in Paris. However, you will have to pay shipping costs that will likely decrease the cost savings of the pass, so I would suggest just buying it in-person once you get to Paris or doing the voucher option below. 
Online Voucher for Pick-Up: To avoid shipping costs, you can order the Paris Museum Pass online from Paris Tourist Office and then collect your order free of charge from the central Paris Tourist Office located at 25 Rue des Pyramides, 75001 Paris, France. You can also purchase the 2- or 4- day Paris Museum tickets online via TicketBar and pick them up with your emailed voucher at their Paris agency located at Pyramides Agency Located on 2 Rue des Pyramides, 75001 Paris. Compare prices before booking as sometimes they are less expensive at one vendor than the other.
Tips on Getting the Most Out of Your Paris Museum Pass
Plan ahead. Do a little research and figure out what attractions are included with the pass and which ones you plan to visit so you can make an informed choice of whether the pass makes sense for you or not.
Remember that once you first use the pass, the time begins and it is only good for the next 2, 4, or 6 consecutive days. When we had the pass, we thought about our days in Paris as either Pass days (focused on Pass attractions) or non-Pass days (focused on free things and attractions not covered by the pass). Also note that you have unlimited entry to museums during your Pass days so if you want to make 3 visits to the Louvre, you can!
If you get to a museum and are not sure if you are in the correct line for pass holders, ask a security guard or museum personnel. We witnessed countless people with museum passes who were standing in the regular lines. While sometimes a museum won't have any priority access lines open, it never hurts to ask as it may save you an hour or two!
Note that the pass often isn't a good value for children as they often get reduced entrance fees anyway and some sites grant free admission to children if their parents have a Paris Museum Pass. So if you are traveling with children, check out the prices before buying a pass for the kids.
Make note if any of the attractions you want to visit offer a free admission day. If they do, you could always visit them on a non-pass day. For instance, we've visited the Louvre, Château de Fontainebleau, and Musée Cluny on free admission days without needing to have a pass.
Most attractions in Paris shut down for at least one day per week. Smaller attractions may have limited hours and may only be open a few days each week. Also attractions may be closed or partially closed for long periods of time for restoration work. If you have a 2-day pass and plan to see 5 attractions, you should check ahead to make sure those attractions will be open and how you can best use your Pass days.
Read the tips provided on the Paris Museum Pass website and/or the printed information that comes with each pass about each attraction regarding closures, best entrances, and best hours to visit. Even though we read that we should get to Versailles by 10am to best ensure priority access, we still decided to sleep in and arrived around 11am. We should have listened as we had to wait in a very long line as they were allowing for priority access in the afternoon.
At most places you will indeed get to be in a shorter priority line (perhaps even just walk inside); however, some places with tighter security still require that you wait in the same security line as everyone else. These include the Notre-Dame tower (ticketing and security line the same), Sainte-Chapelle (only priority access for ticketing, not security line), and Versailles (can skip ticketing line but must wait in same security line). For these three busy attractions (especially Versailles), I would suggest trying to get there around opening to avoid a long wait.
Don't try to see all the museums (or even half) in one visit! Some people get their Paris Museum Passes and go down the list visiting as many as they can squeeze into their trip. We certainly know the feeling of wanting to see everything, but if you do this, you are going to be exhausted. Paris has so much to offer that is not on that list and you'll want to take time to slow down and soak up the city whether it is lingering over a cup of coffee at a café, sitting in a manicured park, watching the sunset over the Seine, or dancing at a club. Hopefully you'll be back again in the future to catch those attractions you miss, but don't go through Paris as if it is one big checklist of famous museums.
Our Experience Using the Paris Museum Pass & Our Cost Savings
Ethan and I purchased the Paris Museum Pass for our week-long trip to Paris in Spring 2012. We purchased two 4-day Passes from the Tourist Information Desk at Charles de Gaulle Airport. Since we had made reservations to visit the Eiffel Tower on the first evening (not included in the Pass) and had tickets to a performance at the Opera Garnier for later in the week, we validated our pass on the second day of our trip. All you need to do to begin using the pass is to write your name and the date of first use on the back in pen. Some places will just take a look at it and others will scan the barcode when you enter.
During our 4-day period, we ended up visiting 8 attractions covered by the Museum Pass. We would also visit the Cluny Museum, but we did so as part of a special evening event with free admission. While we spent a lot of time in some of the attractions we visited (Louvre and Versailles for example), we spent much less time at some of the other museums such as the Panthéon. While Ethan spent some quality time examining war artifacts at the Musée de L'Armée, I was able to walk over to the Rodin Museum and stroll around the pretty sculpture gardens before popping back over to take a look at Napoleon's tomb. The great thing about having the pass is that you can drop by for a quick visit of the less crowded attractions that you might otherwise have not visited.
In all instances, we were able to bypass the ticket buying lines and it was great to be able to avoid a couple of really long lines with this pass. However, for a couple of the places we still had to wait in lines. Notably, the security line for Sainte-Chapelle and Versailles. As we mentioned earlier, we had read that we should get to Versailles before 10am to ensure getting priority access, but we didn't do this and by the time we got there, they were not allowing priority access for anyone since the lines were so long.
As far as cost-savings, here is how things worked out for us:
So as you can see we ended up with a savings of €59 and a few hours saved from not having to buy tickets and being given priority access. We were definitely very happy with our decision and would highly recommend the pass to save both money and also precious vacation time. However, it should also be stated that we probably would not have visited all of these places if we did not have the pass. For instance we probably would not have taken the time to visit the Pantheon and I probably would not have paid the full admission price to only visit Napoleon's tomb at Musée de L'Armée. As a history lover, it would be easy for me to museum hop my entire visit, especially with the Museum Pass. But you don't want to spend your entire time in Paris looking at artwork and learning about French history, so be sure you plan some down time to get to know the Paris beyond the walls of the museums.
Before your trip to Paris, I would highly recommend taking a look at what the Paris Museum Pass can offer and decide if it is a good value for you. During our most recent visit to Paris in 2013, we decided not to purchase a Paris Museum Pass as a lot of the things we wanted to do during our visit were not covered by the pass so it didn't make sense financially to do so. Instead we visited several free monuments and museums and even planned it so we got free entry to both Château de Fontainebleau and the Louvre. The pass covers over 30 places we have yet to visit and we will likely purchase the pass again in the future as we hopefully get the opportunity to keep exploring this wonderful city.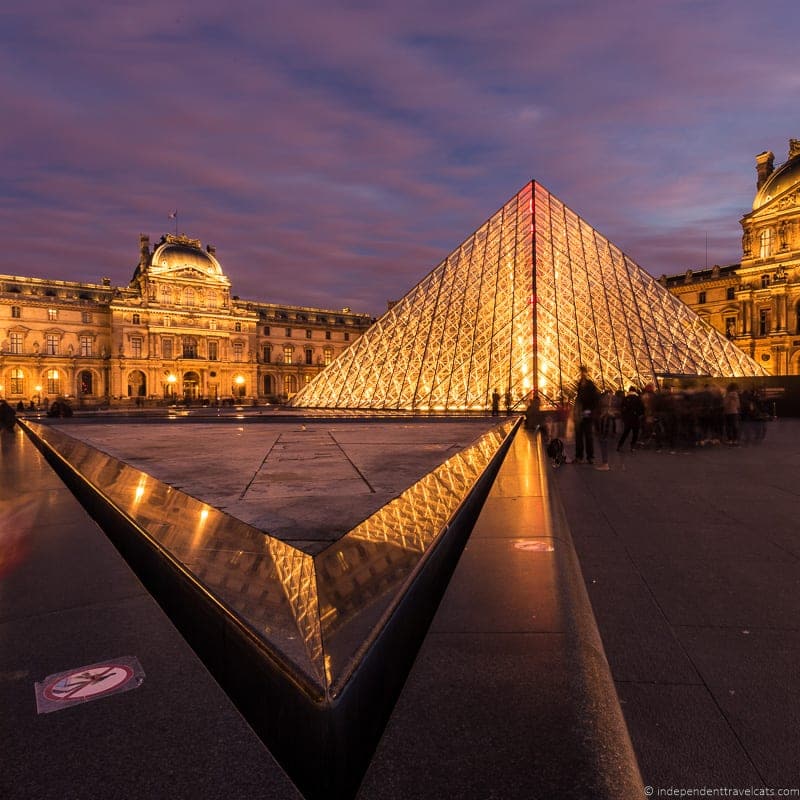 We hope this information is helpful. Feel free to shoot us any questions you have about the Paris Museum Pass and we are happy to try to answer them! Also, we'd love to hear from others who have also used the passes.