Galeries Lafayette is a grand department store in Paris that is known for its upscale fashion, gourmet food, beautiful Art Nouveau architecture, and in-store activities. It has long been a popular tourist attraction in Paris, welcoming thousands of Parisians and visitors each day. So we wanted to share our guide to visiting Galeries Lafayette Paris Haussmann.
We're going to cover all the things you can do at Galeries Lafayette in Paris. You may be wondering what else there is to do at a department store other than shop. There are actually a lot of other things you can do here including learning how to bake macarons, joining a guided history and architecture tour, having lunch, attending a fashion show, taking French cooking classes, and admiring sweeping views over Paris.
My first visit to Galeries Lafayette Paris Haussmann was in 2012 and we've visited several times since then. We've shopped, ate, explored, and taken part in many of the offered activities at the department store over the years. So we'll share our tips and experiences so you can plan your own visit here.
In this article, we'll share a brief history of Galeries Lafayette, tips on getting to the store, the top things to do and see in Galeries Lafayette Paris Haussmann, and advice on how to book the various activities and tours.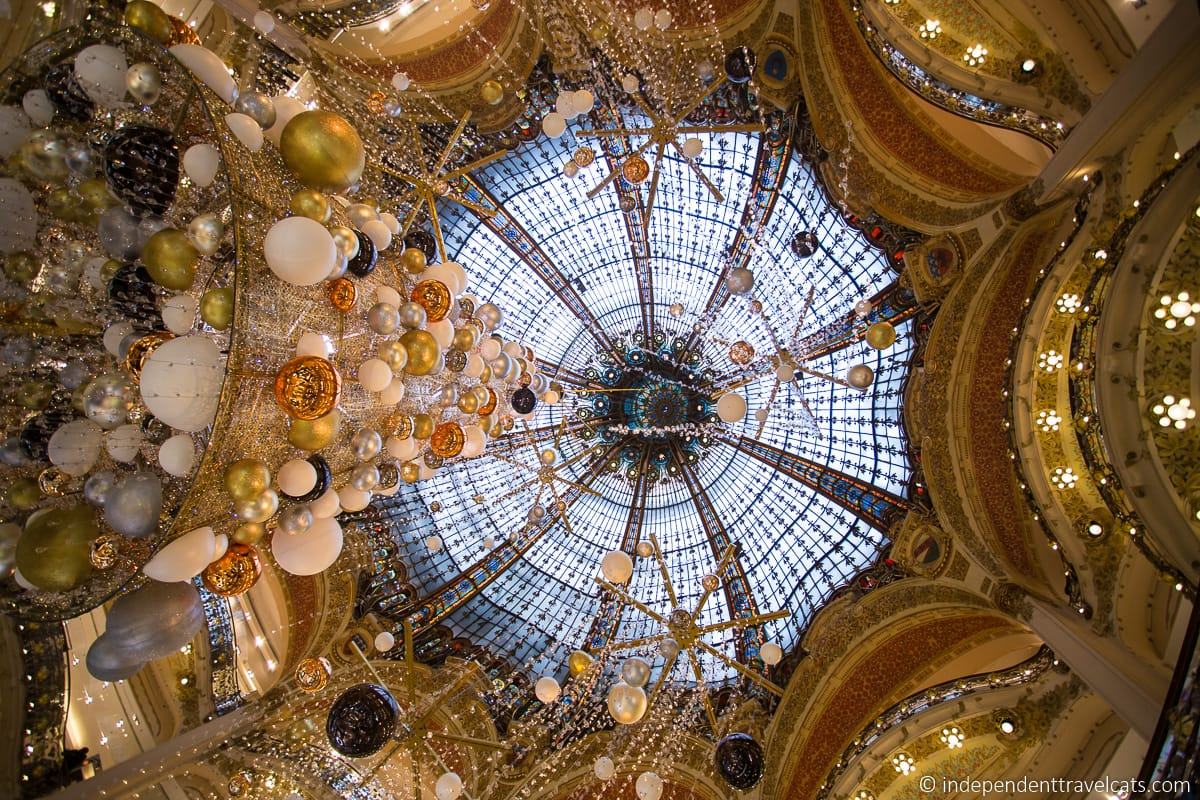 Brief History of Galeries Lafayette
Galeries Lafayette is an upscale Parisian department store chain that sells clothing, accessories, cosmetics, home decor, gourmet foods, and much more. The store's beginnings date back to 1893 when two cousins from the Alsace, Théophile Bader and Alphonse Kahn, decided to open a small haberdashery shop in Paris on rue Lafayette.
In the mid-nineteenth century, department stores were popular and were spreading across the big cities of Europe and the United States. Instead of shopping at lots of small shops, consumers could now go to one large department store and get all the things they needed.
In the early 20th century, Bader and Kahn would greatly expand their store and it would eventually become a department store. Architectural renovations would lead to the addition of a number of Art Nouveau features, including a grand staircase and its famous central glass dome. Galeries Lafayette would soon become a premier shopping destination in the city, joining the ranks of the other great department stores in Paris, including Le Bon Marché, Printemps, and La Samaritaine.
Galeries Lafayette continues to be a popular shopping destination in Paris today. The store has also become a tourist attraction due to its architecture and offered in-store activities such as macaron baking classes and weekly Paris fashion shows.
Today the original flagship store is now spread over 3 buildings along Boulevard Haussmann. There are also two other store locations in Paris (one on Champs-Elysées and one in Beaugrenelle) and over 50 Galeries Lafayette locations across France. There are also several international locations of the store.
Although there are three Galeries Lafayette stores in Paris, this article just focuses on things to do at the Galeries Lafayette Paris Haussmann store. Some of these things apply to the other stores as well, but many are unique to the large flagship store.
How to Get to Galeries Lafayette Paris Haussmann?
Galeries Lafayette Paris Haussmann is located in the 9th arrondissement of Paris (Opéra District). The department store is easy to reach by public transit or taxi from central Paris. There is also an on-site parking garage if you are driving yourself.
For assistance in using public transit, you can check the RATP website which covers the Meto, RER, buses, and tramways. We also find that having a laminated street map that includes a metro map helpful when navigating Paris.
The main store's address is: Galeries Lafayette Paris Haussmann, 40 Boulevard Haussmann
75009 Paris.
The other two store buildings, Galeries Lafayette Homme (Men's store; 48 Boulevard Haussmann) and Galeries Lafayette Maison (Home & Food store; 35 Boulevard Haussmann), are located next to the main store.
Galeries Lafayette Paris Haussmann by Paris Metro:
There are several Metro stations within a short walk of the store. The closest station to Galeries Lafayette is Chaussée d'Antin (Line 7 and 9), but Opéra (Line 3, 7 and 8) and Havre – Caumartin (Line 3 and 9) are also located about a 3 minute walk away. Trinité (Line 12) is about an 8 minute walk away.
Galeries Lafayette Paris Haussmann by RER
The closest RER line station is Auber on RER A which is about a 2-minute walk away from the store. Another close station is Haussmann St. Lazare along RER E which is about a 5 minute walk away.
Galeries Lafayette Paris Haussmann by Bus
There are a number of bus stops within a short walking distance of the store. Bus lines you could take include lines 20, 21, 22, 26, 32, 42, 53, 68, and 98. Bus stops located within a 5 minute walk include Gluck-Haussmann, Opéra – Scribe, Auber, Paris – Opéra, Opéra – Rue Halevy, and Opéra.
Most of the Paris sightseeing buses also make stops nearby, normally in front of the Palais Garnier (Paris Opera). These include both the Big Bus and Tootbus hop-on hop-off buses. It is about a 5 minute walk from the Palais Garnier opera house to the department store.
Galeries Lafayette by Taxi, Minicab, or Rideshare
There are a number of taxi, minicab, and rideshare services available in Paris. In addition to just hailing a taxi, you can also arrange a taxi via an app or online via Uber, G7, or Free Now.
If you need any assistance when leaving the store, the Concierge can help you arrange a taxi if needed.
Parking at Galeries Lafayette
There is a parking garage at Galeries Lafayette that is currently operated by Indigo. The entrance is off Boulevard Haussmann in front of the Lafayette Homme building (48 Boulevard Haussmann). The parking garage is normally open 24/7. There is a parking fee and the parking fee amount depends on the length of stay. You pay upon exiting the parking garage.
NOTE: There are three Galeries Lafayette store locations across Paris, so be sure you have the right one if looking up the address or using a GPS for directions. The main flagship store is Galeries Lafayette Paris Haussmann.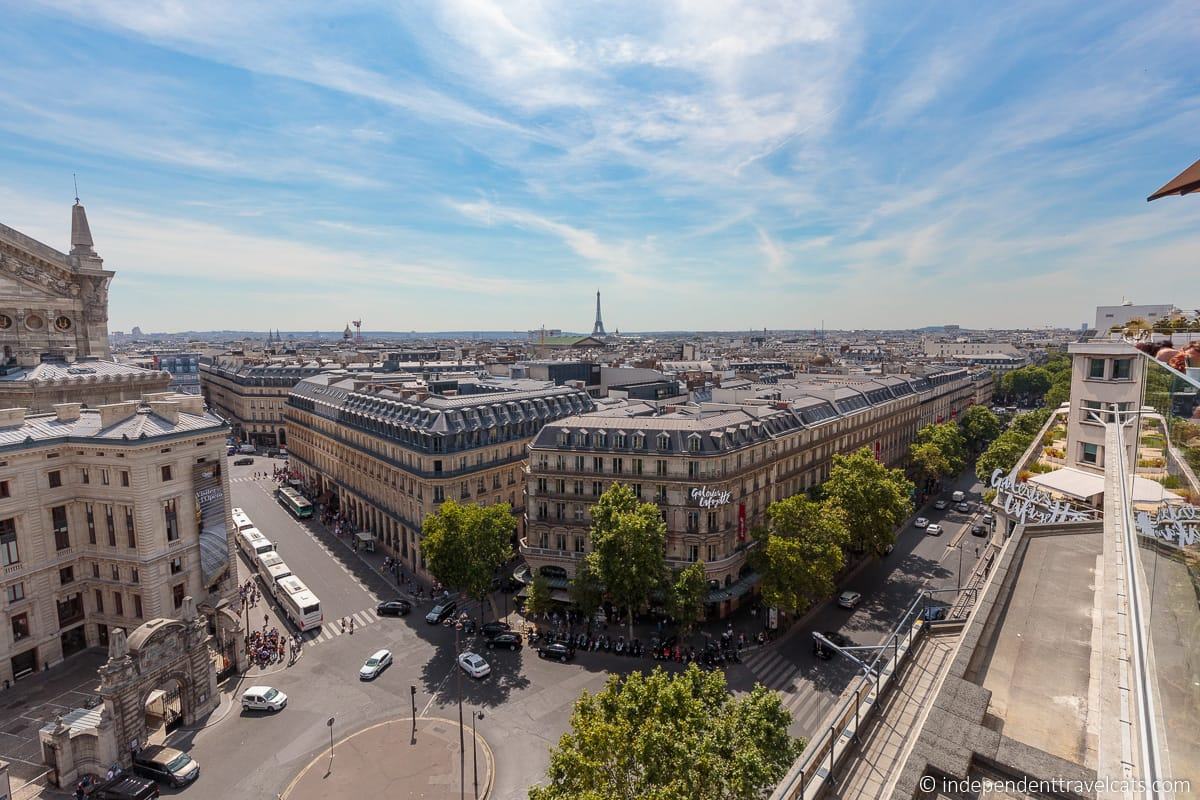 10 Things to Do at Galeries Lafayette Paris Haussmann
There are lots of things to do at Galeries Lafayette and we have included our top things to do at the store to help you plan your trip.
Shopping
Shopping is of course the main reason why many visitors come to Galeries Lafayette. Galeries Lafayette mainly sells fashion items, fragrances and cosmetics, gourmet food, and home furnishings. But you can also find souvenirs, luggage, toys, books, and even small appliances at the store.
Galeries Lafayette Paris Haussmann is a huge department store spread out across 3 multi-floor buildings offering over 3,000 brands.
The three buildings are:
Galeries Lafayette / Magasin Coupole (Main Store Building): Women's fashion and accessories, dome, cosmetics, jewelry, children's fashion and toys, souvenirs, main shopper services, books, luggage
Galeries Lafayette Homme / Magasin L'Homme (Men's Store): Men's fashion, accessories, and shoes
Galeries Lafayette Maison / Magasin Maison & Gourmet (Home & Gourmet Store): Food, home decor, home furnishings, linen, cookware, small appliances
The main department store (women's) and Men's Store buildings are located next to one another and are connected by an enclosed bridge that you can walk across. The Home & Gourmet Store is located across the street. You can see a store map here.
Although the department store definitely carries more of the luxury and expensive brands (e.g. Chanel, Gucci, Armani, Cartier, Louis Vuitton), they do have some lines that fall into the moderate to even budget price levels. The store has even recently launched a second-hand section, called (Re)Store, where you can buy lightly used and vintage clothing and fashion accessories.
The store also regularly has pop-up shops and spaces in its store as a way of introducing newer and smaller fashion brands as well as highlighting new collections from established brands. They also do pop-up shops for food and drinks as well.
Just note that the flagship Haussmann store can be overwhelming as it can get very crowded, especially in the summer and around the holidays. Not only is it a store, but it's also a popular tourist attraction. There are sometimes lines just to get into some of the luxury accessory shops for brands like Chanel, Louis Vuitton, and Prada. So just be prepared for that.
When we really need to shop for something and want some peace, we tend to go to one of the other Galeries Lafayette locations. There are 2 other Galeries Lafayette store locations in Paris (one on Champs-Elysées and one in the Beaugrenelle Paris shopping mall) and over 50 store locations across France. Although the other stores tend to be less crowded than the flagship store, most are smaller and offer less selection.
If you are wanting some help finding some items for your wardrobe, the store offers a personal shopping service. There is also a virtual live video version of this service available for those who can't travel to Paris. I believe that both basic personal shopper services are still offered for free, although you can pay more for private stylist services at the store if you are looking for a more VIP experience. You need to reserve an appointment in advance.
Remember if you spend over 100 euros at the store and live outside of the European Union, you may be eligible to get a 12% VAT refund on your purchases. There is a desk at Galeries Lafayette that can help you with tax refunds. You can also see this page for more information on VAT refunds and how to apply.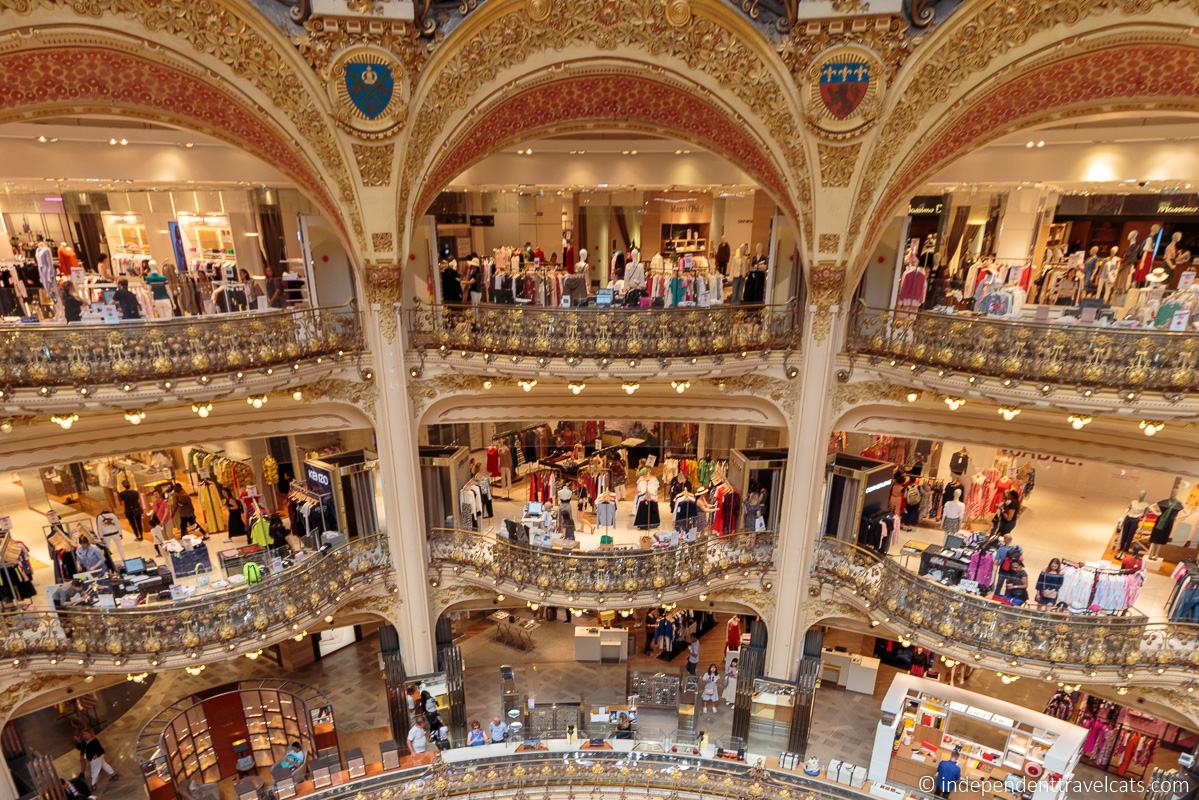 Admire the Dome
Today, the 43-meter (141 feet) high stained-glass dome is an icon of the Galeries Lafayette store. It is located in the center of the main building (Coupole Store). Many people come to the store just to look at the beautiful Art Nouveau dome.
The main store actually gets its building name, Magasin Coupole or Coupole Store, from its dome. The word coupole in French means cupola or dome in English.
However, the dome has not always been a part of the store. The store underwent a huge renovation in 1912 by Ferdinand Chanut to expand it and decorate it in the Paris Art Nouveau style. The dome was designed by master glassmaker Jacques Grüber and is made of stained glass and lead mountings. The pattern is meant to imitate a large flower and the stained glass panels are divided into 10 sections.
After renovations, the store was reopened in October 1912, and here is how the store website describes the opening day: "Golden light, filtered through the domed roof, would flood the grand hall and set the products aglow."
The dome is still the architectural focal point today and lets light illuminate the central part of the store. Some of the glass has been lost over the years (some was hidden too well during World War 2) and many pieces have had to be replaced or restored over the years.
Each year during the holiday season, a Christmas tree is suspended from the dome. This is a tradition dating back to 1976. So the holidays are a popular time to come see the dome as the decorations change each year.
You can see the dome from any floor of the building, but you get the best overall views from the lower floors. However, from the upper floors, you can get a better peek at the details. If you want to savor a view, you can grab some coffee or a juice at Joe & the Juice on the 2nd floor as the tables there provide great views of the dome and over the store's ground floor below.
In 2018, for the holiday season, Galeries Lafayette built a 9-meter long glass walkway that stretches out under the dome from the 3rd floor of the store. This walkway, known as the Glasswalk, allows one to get a lovely view beneath the Art Deco dome. Just note there are often lines here and the time you can spend on the walkway is limited by staff to allow everyone a chance to walk here and take photos.
Paris is full of wonderful architecture and art, but the dome remains one of our favorite architectural details you can see for free in the city. Even if you are just walking by the store, it's worth taking 10 minutes to walk into the store to admire this beautiful dome.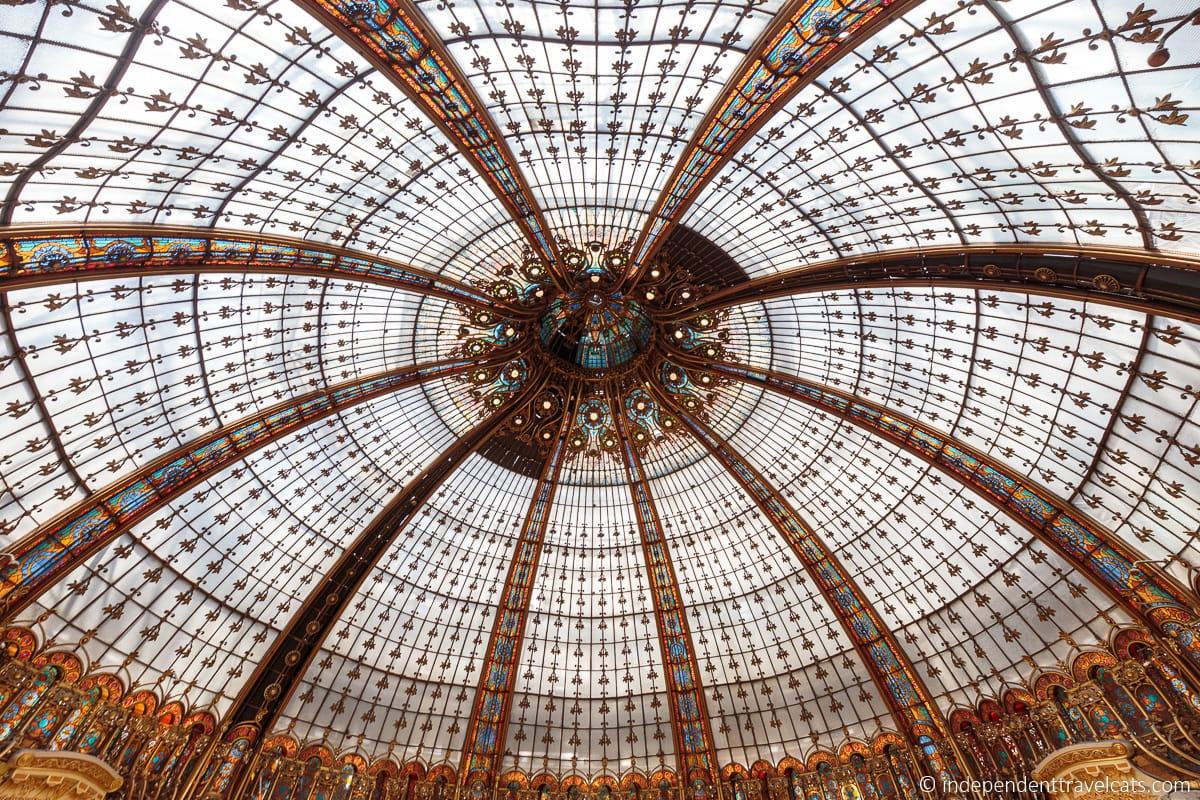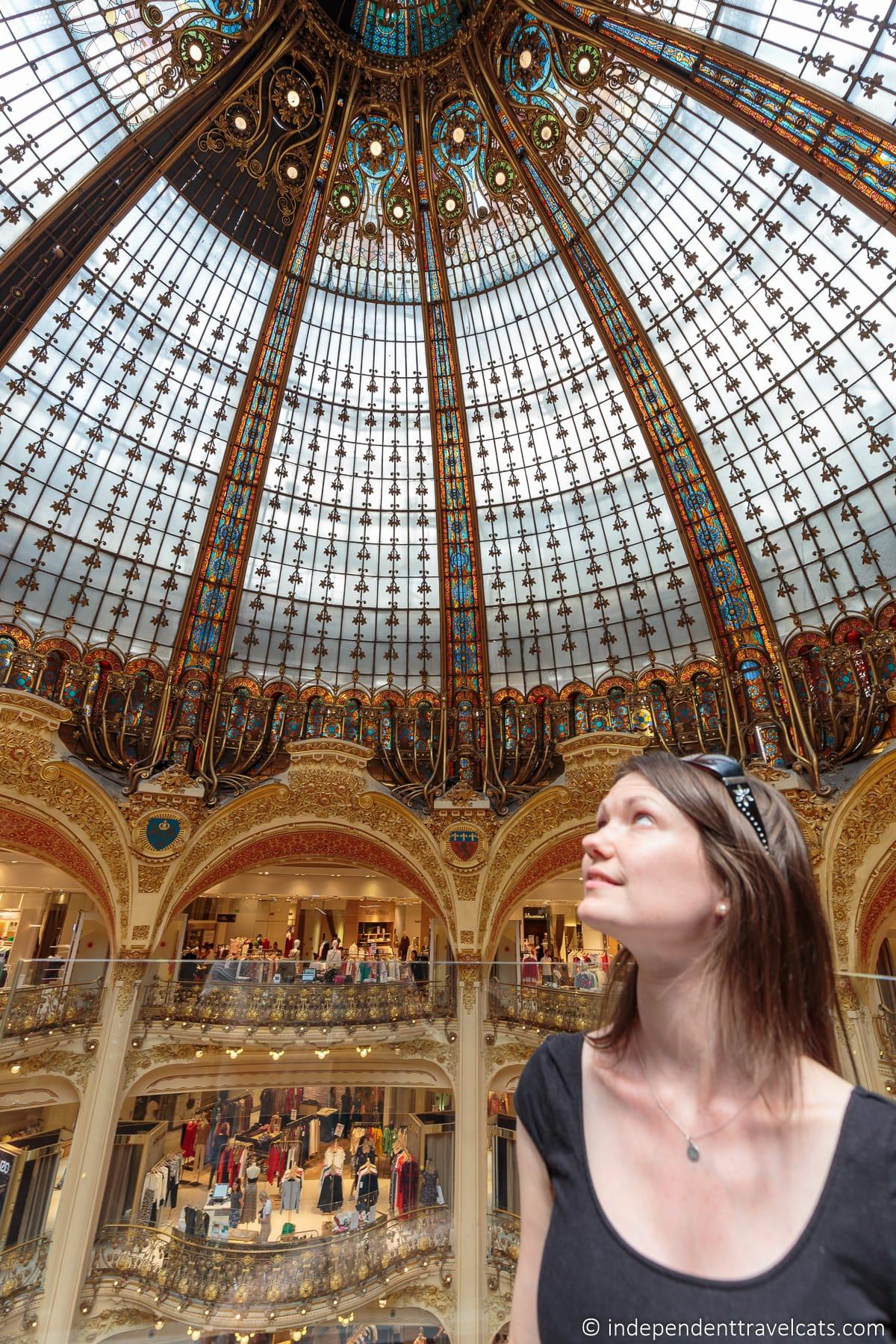 Attend a Fashion Show
The Galeries Lafayette Paris Haussmann holds a weekly fashion show. Here models show off the latest ready-to-wear fashion collections available in their stores from brand names such as Michael Kors, Marc Jacobs, Tommy Hilfiger, Kooples, Ralph Lauren, and Minelli.
While it's not like attending a runway show during Paris Fashion Week, it is an entertaining 30-minute show that most fashion lovers will enjoy. They dim the lights, put on music, and have models show off a number of pieces. The clothes change with the seasons, and each show normally features 30 to 40 different looks.
If you want to know more about the experience, you can read our article about attending the Galeries Lafayette fashion show. We've been a few times over the years.
The show generally lasts for about 30 minutes and takes place every Friday afternoon (normally at 3pm) throughout the year. Sometimes in summer they hold it twice a week. But this obviously means that if you want to attend, you will need to make sure that the dates and times of your trip align with the show schedule.
You can check available dates and book tickets online here. You need to make a reservation and book your tickets in advance. The tickets often sell out, especially in the summer months.
The fashion show is currently held in the Salon Opéra on the 4th floor of the main building. You'll want to arrive at least 15 minutes early to check-in and get in line before the show starts. Be sure to bring proof of your reservation (note phone reception can be sketchy inside the store so I'd recommend either printing it or saving it to your smartphone) and a photo ID.
Note that if you have a Paris Pass (or plan to purchase one), the Galeries Lafayette fashion show is included as part of your pass. But you do still need to book tickets in advance. Once you have the pass, you can read how to reserve your free tickets here.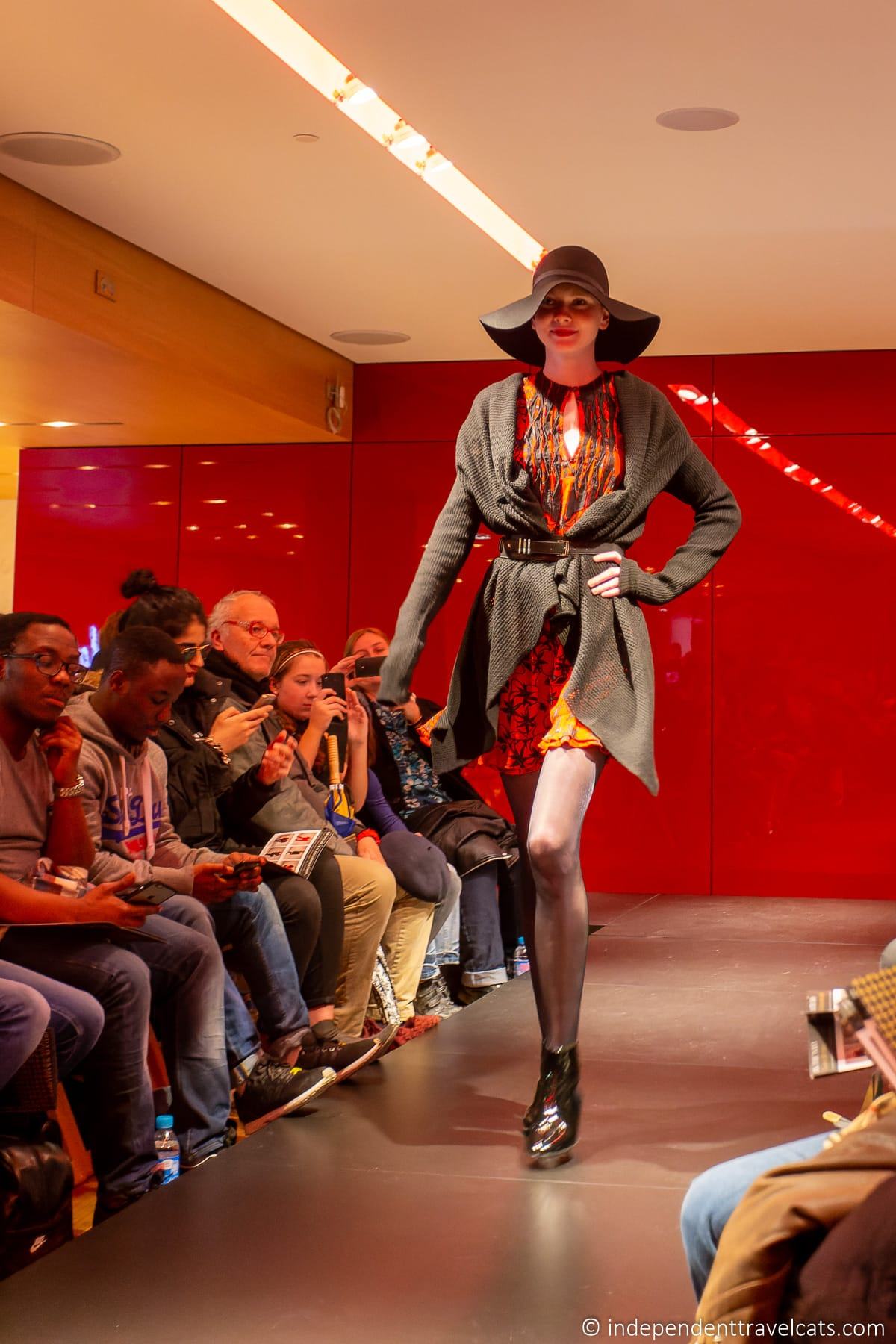 Have a Meal or Coffee
Galeries Lafayette has several cafes and restaurants that you can stop at to have a meal. These range from fine dining and champagne and caviar sort of places to coffee shops and a cafeteria. There are also takeaway meal options available.
Cuisine types offered vary and include French, Mediterranean, American, and Asian. I don't think any of the restaurants require reservations, but reservations can be made at some of the sit-down restaurants to ensure a table. The cafes and restaurants do change fairly regularly, and you can see the current options here.
If you are just looking for a drink there are places you can stop to have coffee, tea, juice, wine, alcoholic drinks, or a soft drink. In the summer months, they usually have pop-up restaurants and a cafe on the rooftop terrace so you can enjoy a drink or meal there.
There are food and drink options in all three of the buildings, but the main food options are in the main Coupole building and the Gourmet building.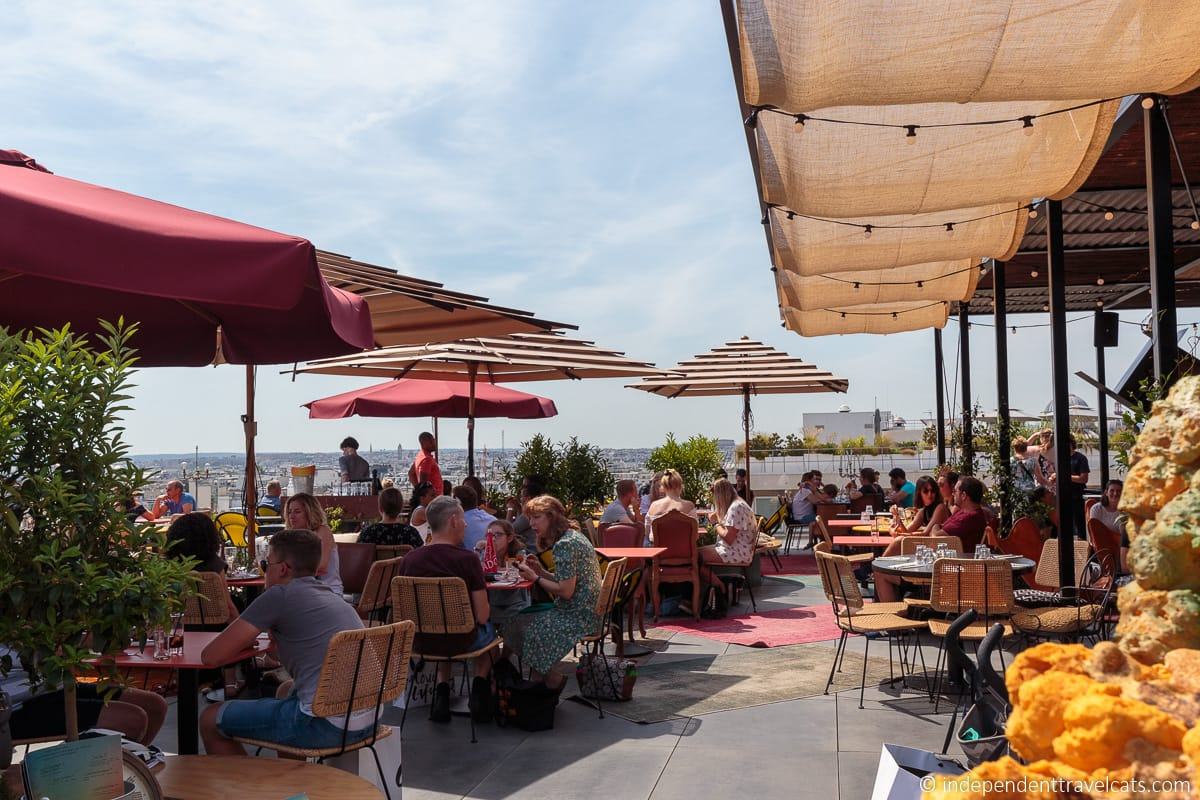 Enjoy the Rooftop Terrace View
You can head up to the 8th floor of the Galeries Lafayette Coupole Store (Main Store) to enjoy a nice view over Paris. You can see lots of Paris from here, including Opéra Garnier, the Eiffel Tower, Sacré Cœur, and Notre Dame. You also see the very top of the store's dome from here.
This isn't our favorite view of Paris, but it is still a very nice view overlooking the city. Certainly worth the effort to visit if you are at Galeries Lafayette.
The rooftop is usually open to the public and is free to visit. It is open the same hours that the store is open. I believe that the only way to access the terrace is to take the stairs from the 6th floor. You can reach the 6th floor by escalator, stairs, or elevator, and then take the stairs the rest of the way up.
In the warmer months, they often have food, snacks, and drinks on offer here that you can enjoy while sitting on the terrace. So summer is a particularly nice time to visit and enjoy the terrace here.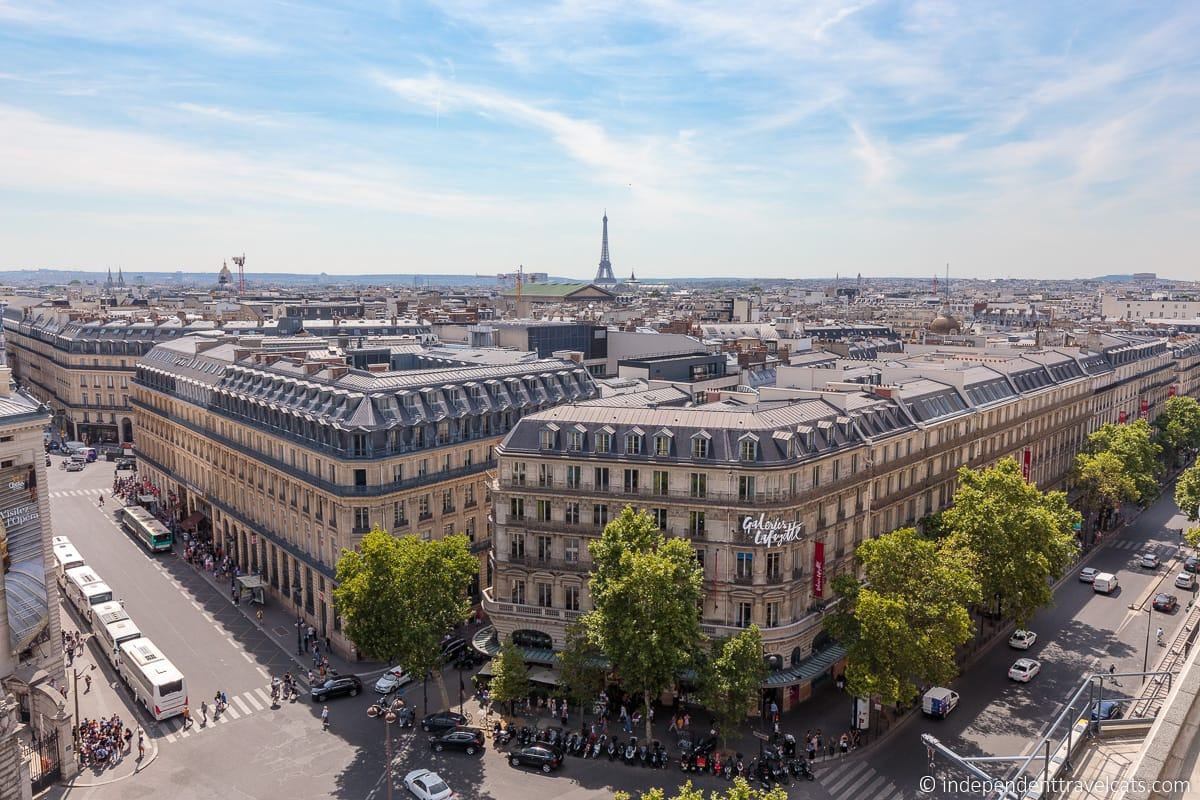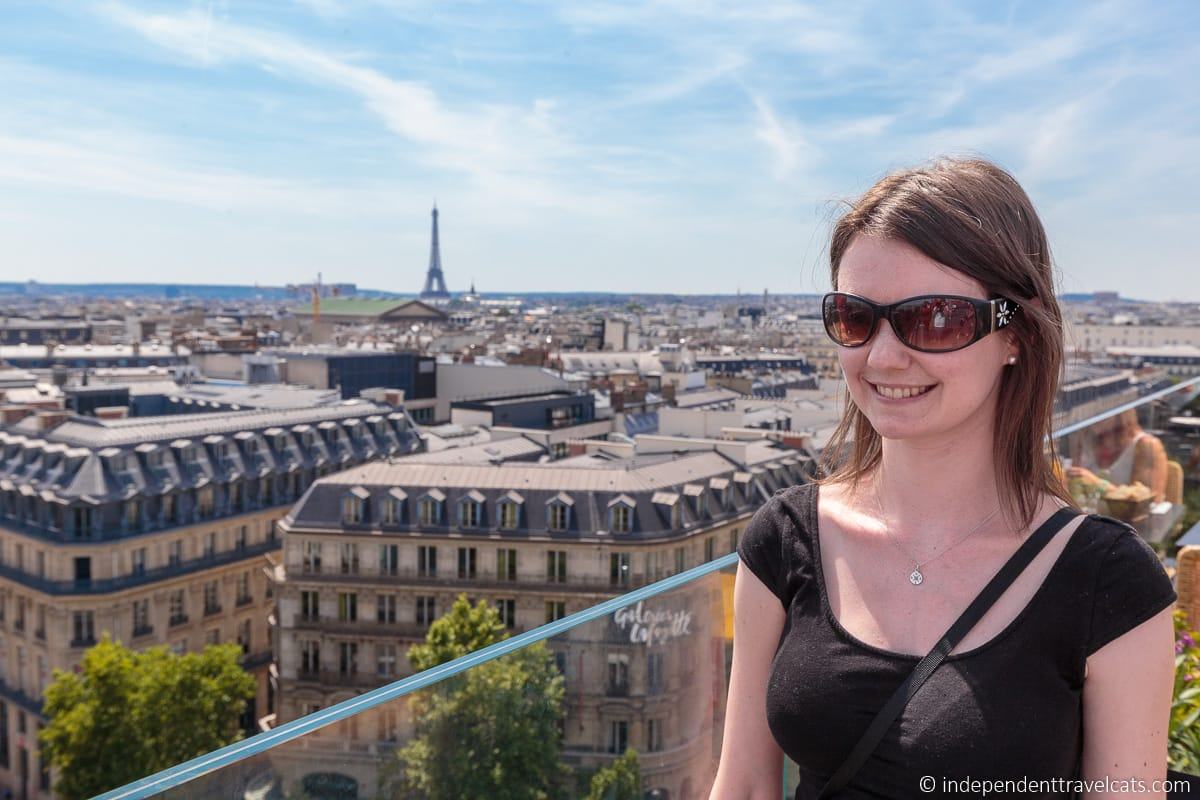 Buy Souvenirs
Even if you are not looking for anything for yourself, it can be a good place to get a nice gift or souvenir for friends and family. You can find a bit of everything here from miniature Eiffel Tower keyrings to luxury handbags to a box of gourmet French tea.
If you are looking for classic types of souvenirs, you can head to the Souvenirs de Paris boutique located on the 6th floor of the main building. This store includes all types of things from mugs and keychains to candles and books. They also tend to have gifting stuff available on the main floor of the store during the holidays.
But you can find great gifting items in any section of the store. Popular gift items include perfumes, handbags, scarves, gourmet food items, kitchen utensils, home decor items, wine, jewelry, belts, and cosmetics. For example, we've bought scarves, bread knives, cider, and backpacks here as gifts over the years.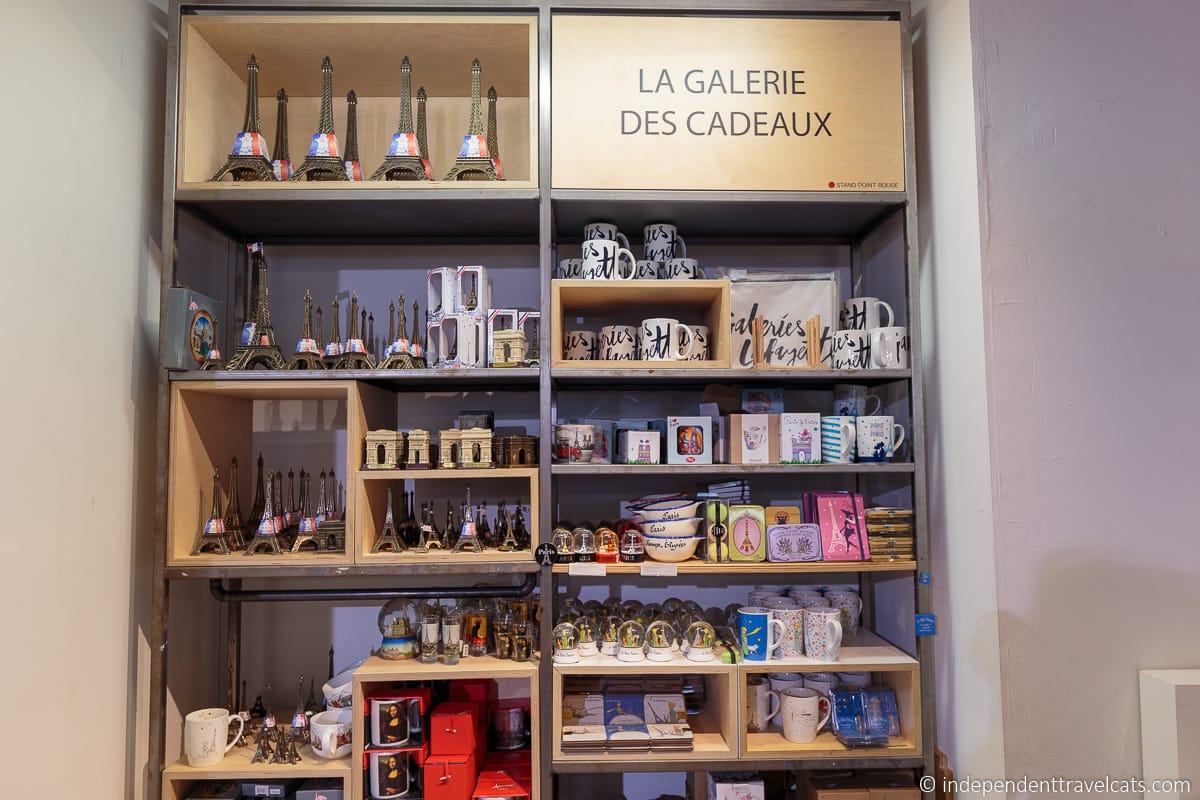 Learn How to Make Macarons (or Cook French Classics)
Galeries Lafayette Paris Haussmann regularly holds cooking, baking, and pastry classes and workshops. One of the most popular is their French macaron bakery workshop.
If you are looking for a fun and sweet experience at the department store, you might consider joining their macaron bakery class. This 1.5 hour class teaches you in a step-by-step manner how to make these delicious French confections.
We did the macaron class here a few years ago and had a lot of fun. The instructors show you how to do everything and the shells are made together as a class. But then everyone individually makes the fillings and assembles their own macarons. At the end, each person gets to take home four macarons and the recipes.
Instructions during the macaron classes are generally given in both English and French. But our class was just in English as everyone understood English in our class.
Just note, like in most macron classes in Paris, you don't do everything on your own as the instructor helps make the shells with piping help from the whole group. So the class is at the level of most home cooks who just want to learn and have fun rather than someone who is already an expert baker.
The class is also great for older kids and suitable for those age 12 and older. But there is also a macron making family class offered for those with kids of any age.
Of course, if you would rather just eat macarons without having to make them, you can buy macarons (and other sweet treats) from Pierre Hermé. The macarons are sold in both the Main Store and in the Home & Gourmet Store at Galeries Lafayette.
The store also regularly holds cooking classes and pastry classes in the Lafayette Maison & Gourmet Store on various classic French dishes. Note that most of these are offered in both French and English, but some are French only.
If you are interested in any of these cooking classes or workshops, you will need to book them in advance to guarantee a spot.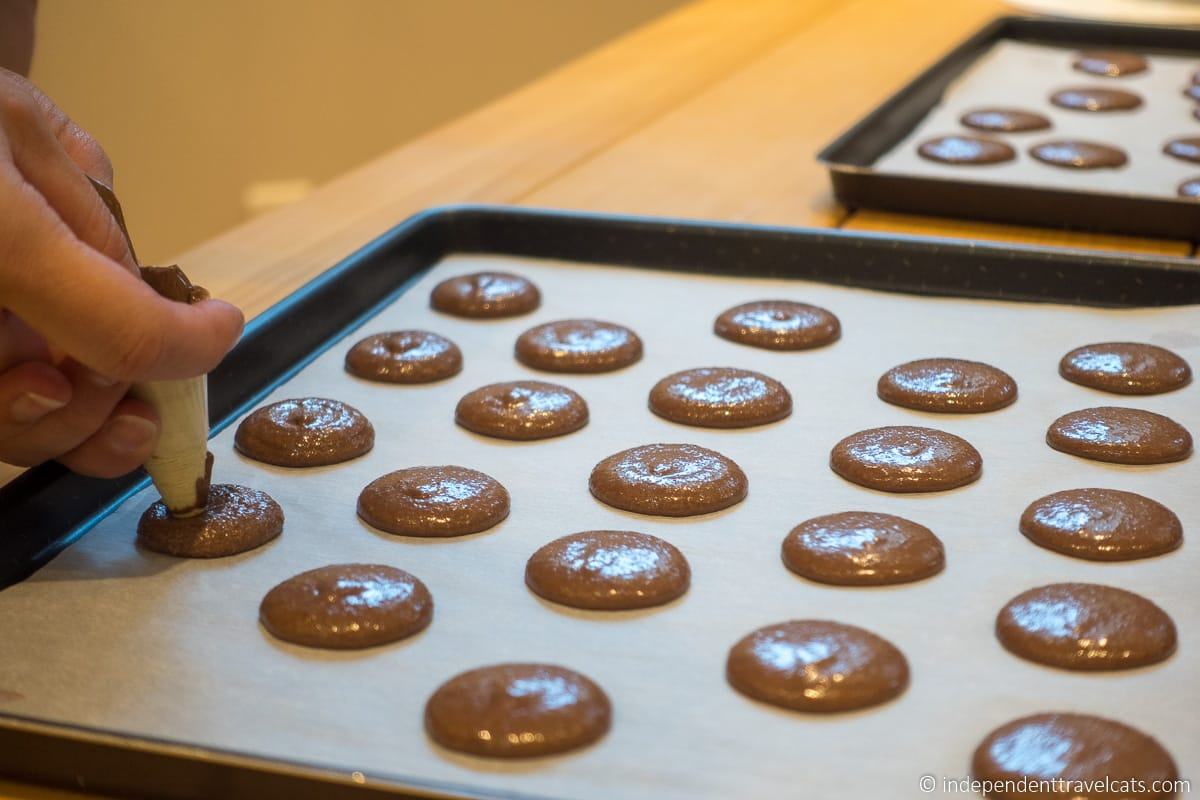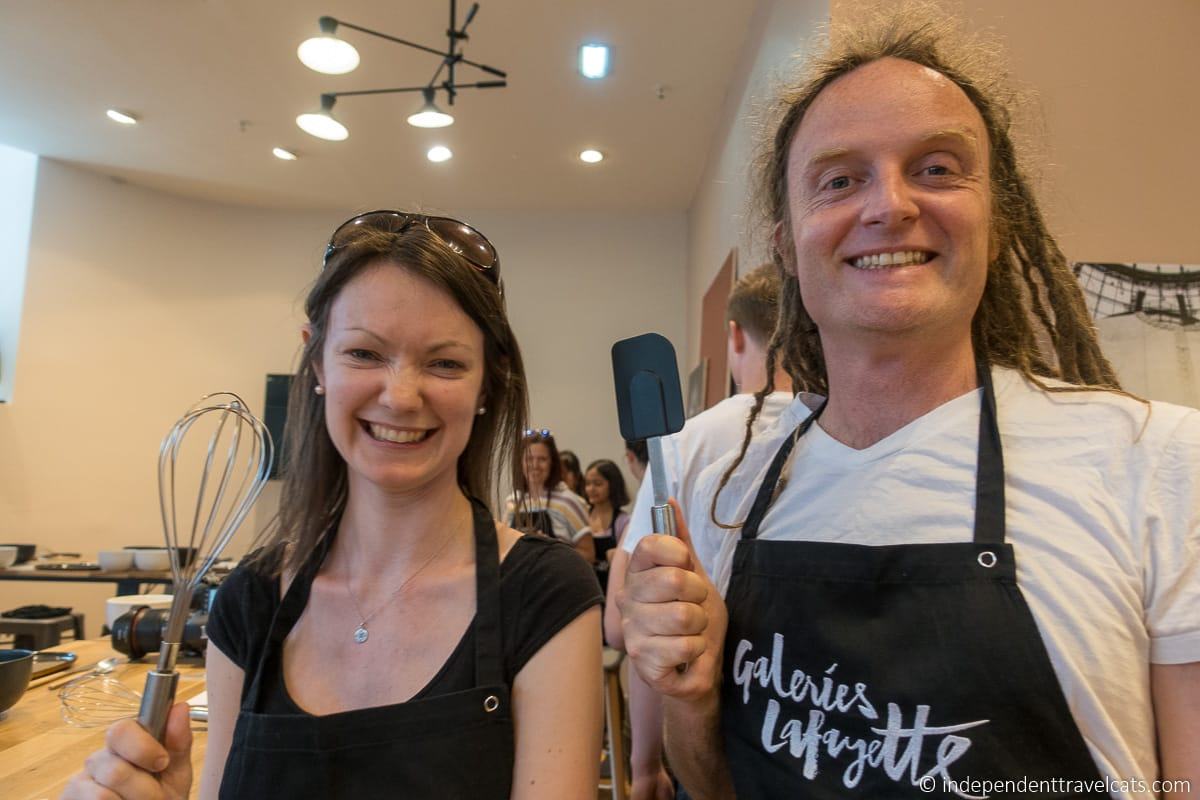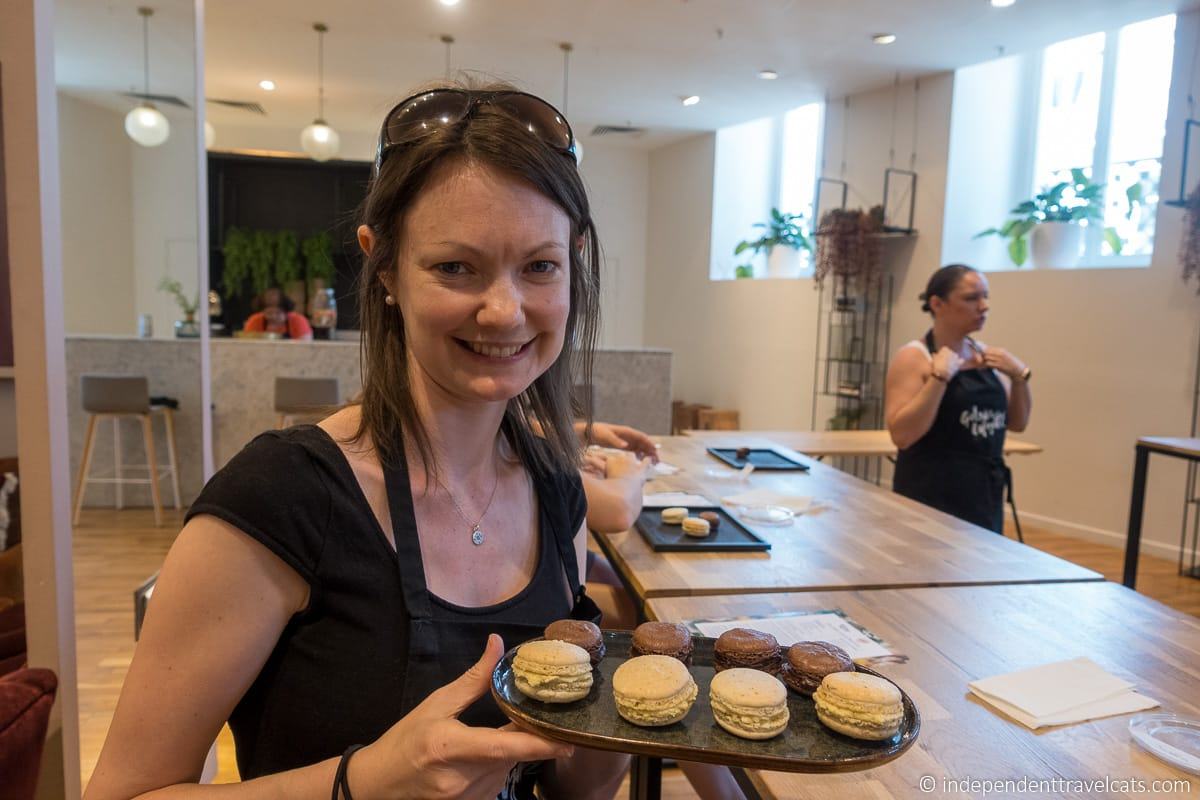 Take a Guided Historical Tour
If you are interested in the history and architecture of Galeries Lafayette, then you might consider taking one of the guided heritage tours offered by the store.
This history of Galeries Lafayette dates back to 1893 when cousins Théophile Bader and Alphonse Kahn opened a small haberdashery shop on the corner of rue La Fayette and rue de la Chaussée d'Antin in Paris.
The guided heritage tours include information about the history of the store, its founders, the architecture, and how the store has evolved over the years. The store has changed a lot from the beginning in terms of the buildings, the merchandise, and its business model. It has gone through many turbulent times such as the World Wars. During World War 2, all of the Jewish staff, including the owners, were forced to resign under the Vichy government.
Architecture is a big focus in the tours as Galeries Lafayette on Boulevard Haussmann is the most famous example of an Art Nouveau department store in Paris. As you tour the store, you'll learn of the main architects, including Georges Chedanne and his apprentice Ferdinand Chanut, and others who helped create the major Art Nouveau elements such as designer Louis Majorelle (staircase) and glassmaker Jacques Gruber (the beautiful glass cupola).
These guided tours last about 1.5 hours and begin before the store opens to the public. They start outside the store and then head inside to explore the interior. The tour includes both public areas of the store as well as behind-the-scenes areas that are not usually accessible to the public.
Tours are available in both French and English. They are usually given on Saturday and Sunday mornings only. To join the tour, you must book in advance to reserve a spot.
Note that if you have a Paris Pass (or plan to purchase one), the Galeries Lafayette Heritage Tour is currently included as part of your pass. But you do still need to book tickets for the tour in advance. Once you have purchased the pass, you can read how to reserve your free tickets here.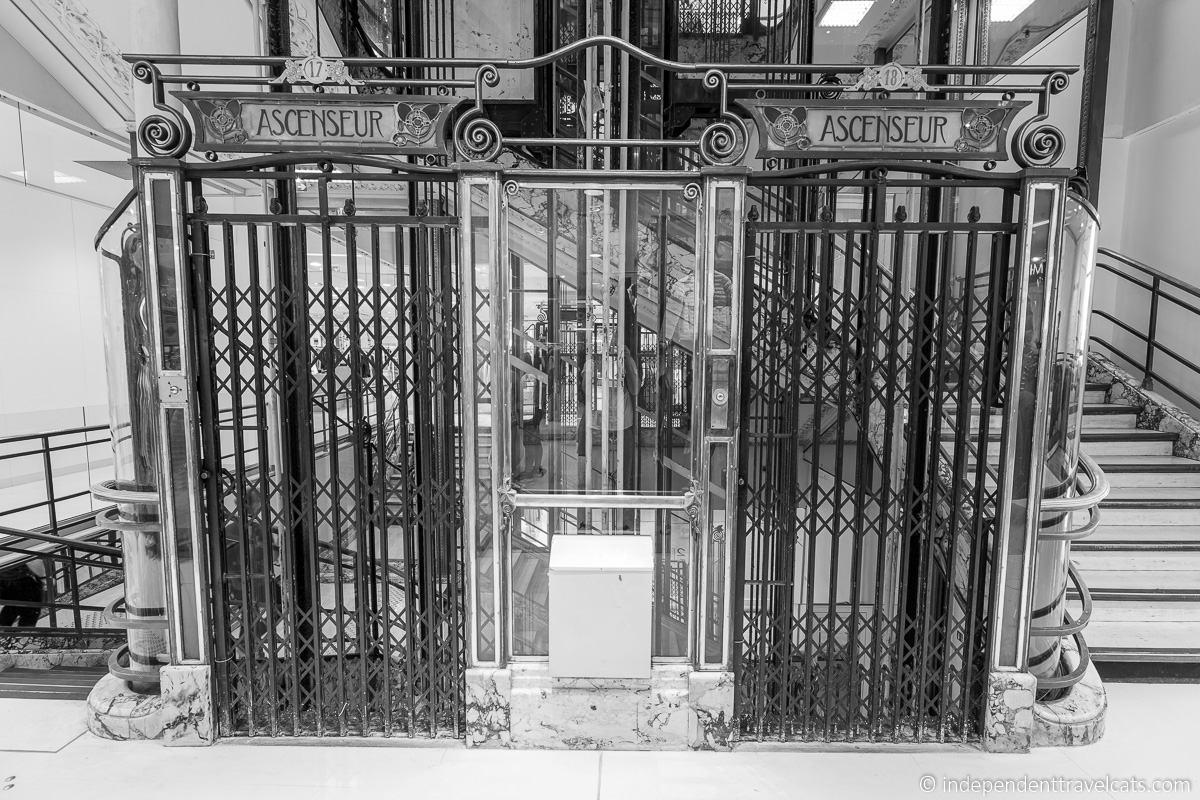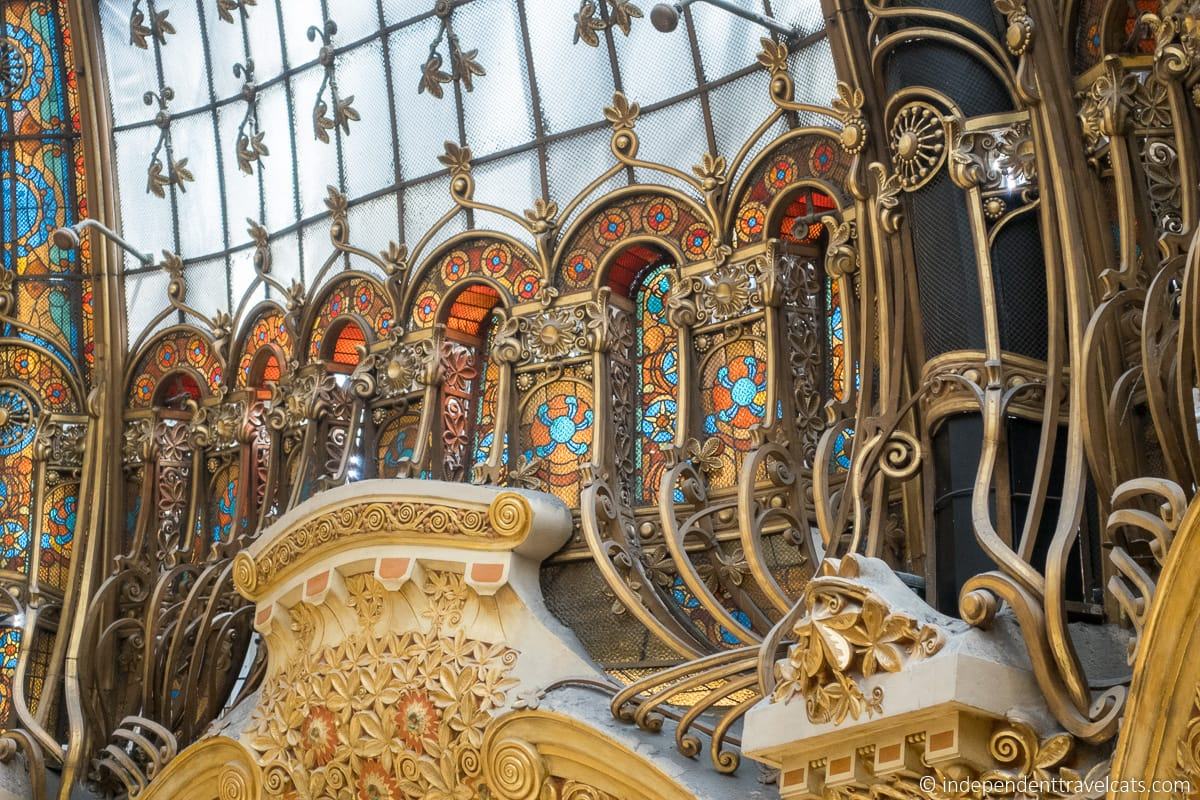 Enjoy the Art & Decor
The Galeries Lafayette is a great place to wander around to just enjoy the art and decor here. Even from the outside, you can enjoy the shop window displays and inside there is often art exhibited in the store. Not to mention the beautiful Art Nouveau and Art Deco architecture and decor that can be enjoyed throughout the main store.
The holidays are definitely the best time to come to enjoy the store's decorations. At this time of year the shop windows generally have the most over-the-top displays and the Christmas tree is out. Each year, since 1976, a Christmas tree has been suspended upside from the dome. The theme of the decorations changes each year.
In 2001, Galeries Lafayette opened Galerie des Galeries, a free-entry contemporary art gallery in the main store dedicated to exhibiting the relationships between art, fashion, and design. The store often has free-entry art shows or art exhibits displayed in the store. Last time we were there, there was a sculpture display.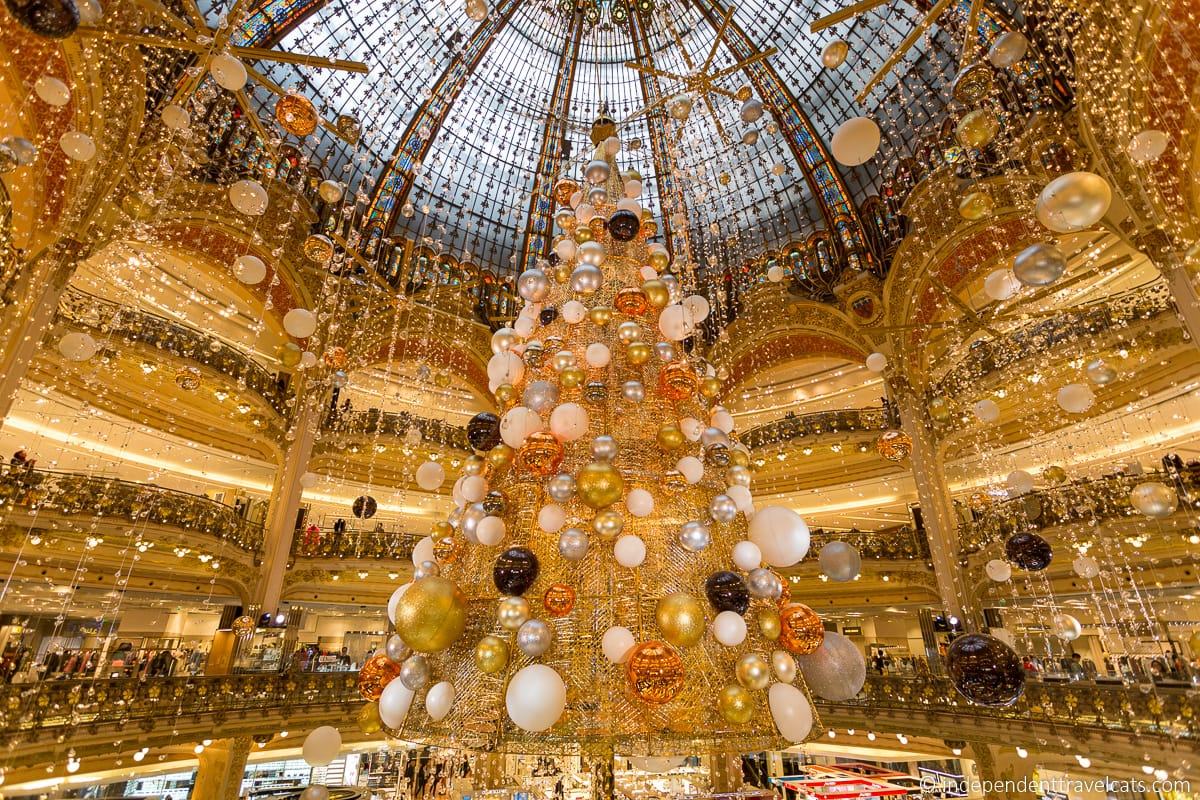 Put Together a Gourmet French Picnic
Galeries Lafayette can be a great place to pick up food items for a lovely Parisian picnic. Head to the Home & Gourmet Store to pick up everything you would need for a luxury picnic.
For instance, you might grab a baguette, French cheeses, smoked salmon or local sausage, olives, fruit, and a prepared salad. For dessert, you might choose chocolate truffles or macarons. To wash it down, you have thousands of labels of wine to choose from.
If you are looking for a nearby spot to enjoy a picnic, we'd recommend the Tuileries Garden (Jardin des Tuilleries) which is about a 15 minute walk away from Galeries Lafayette. You can enjoy picnics here on the lawns (in most areas of the park) or find a nice bench to sit on. Or you might head further to Jardin du Champ de Mars (about a 25 minute Metro ride) if you prefer your picnic with a view of the Eiffel Tower!
Note that not all Paris parks and gardens allow picnicking or walking on the grass so just avoid areas that have signs that say do not walk on the grass or phrases like Pelouse Interdite.
You can also pick up groceries at Galeries Lafayette for cooking a lovely meal at home if your lodging has kitchen facilities. This isn't the place to shop for low prices, but you can certainly find a lot of gourmet brands and local and regional specialties here. The ground floor has a market that includes meats, fish, poultry, cheeses, fruit and vegetables, spices, condiments, bread, and baked goods. You can also find a wide selection of wines, coffees, and teas.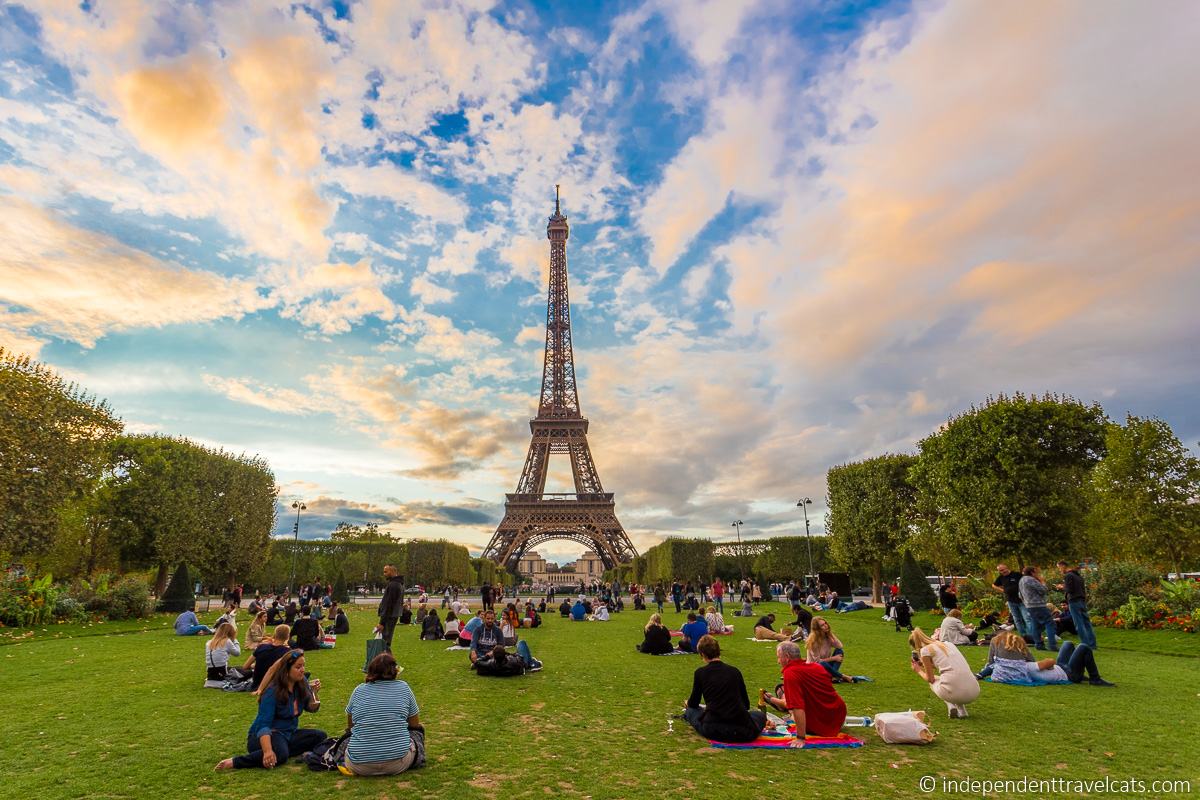 And that is our guide to Galeries Lafayette and the many things you can do at Galeries Lafayette Paris Haussmann. We hope that if you are planning to visit the Galeries Lafayette department store that this guide has been helpful to you. If you have any questions about your trip to Paris, just ask us and we are happy to try to help.
Want to remember this article, PIN it on Pinterest to read it again later: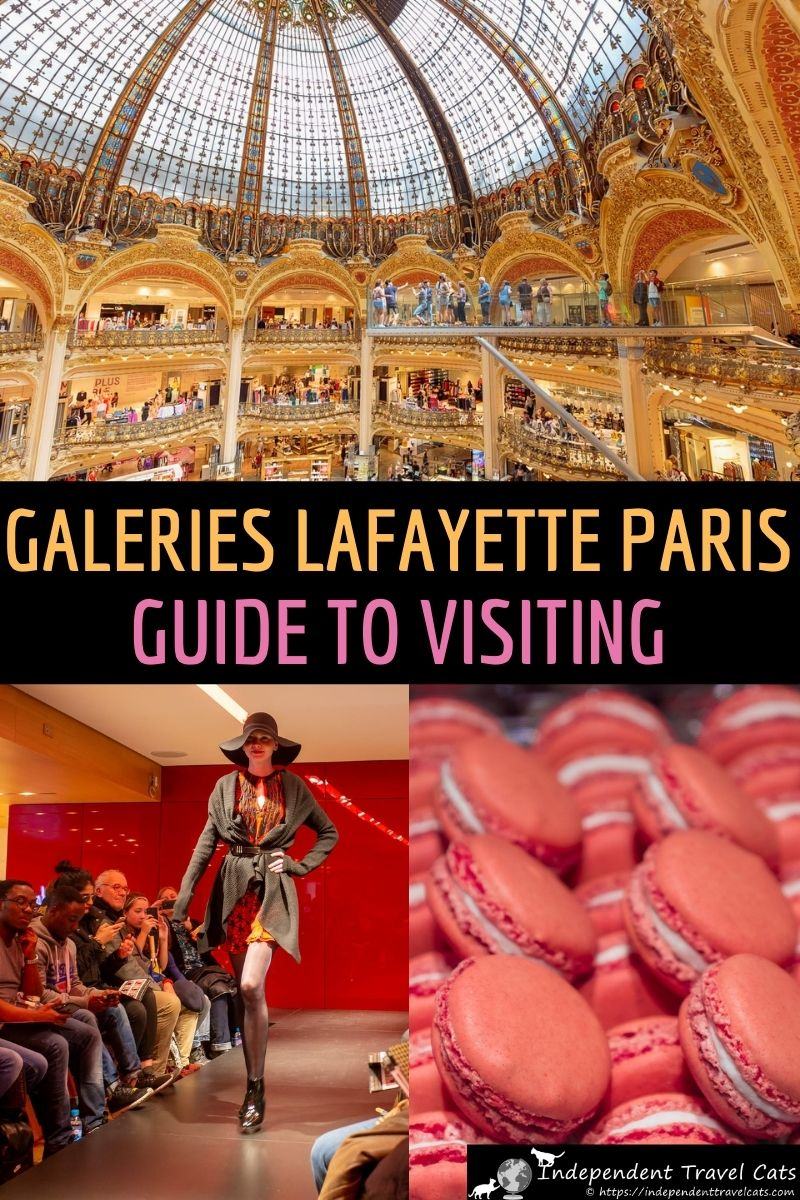 Are you planning a visit to Galeries Lafayette Paris Haussmann? Which of these activities would you like to do? If you have visited Galeries Lafayette, we'd love to hear your personal experiences and tips.
If you are planning a trip to Paris feel free to ask us any questions about any aspect of your trip below and as always we'll do our best to answer your questions!