After two visits and spending several weeks in Finland in winter, Laurence and I decided to write a guide to things to do in Finland during winter. Most people tend to avoid Northern Europe during the winter and head to sunnier and warmer destinations, but there are so many reasons to travel to Finland in winter.
Yes, it is cold and there's snow and the daylight hours get shorter, but there are also fewer tourists, surreal winter landscapes, and unique winter activities to be discovered throughout the country. You can go ice fishing, try dog sledding, take a traditional Finnish sauna, learn how to kicksled, drink cloudberry wine, sleep in an ice hotel, or go hunting for those mesmerizing Northern Lights.
We'll share our tips for visiting Finland in winter as well as share our top 23 winter activities in Finland to help you put together your own trip to this magical winter wonderland.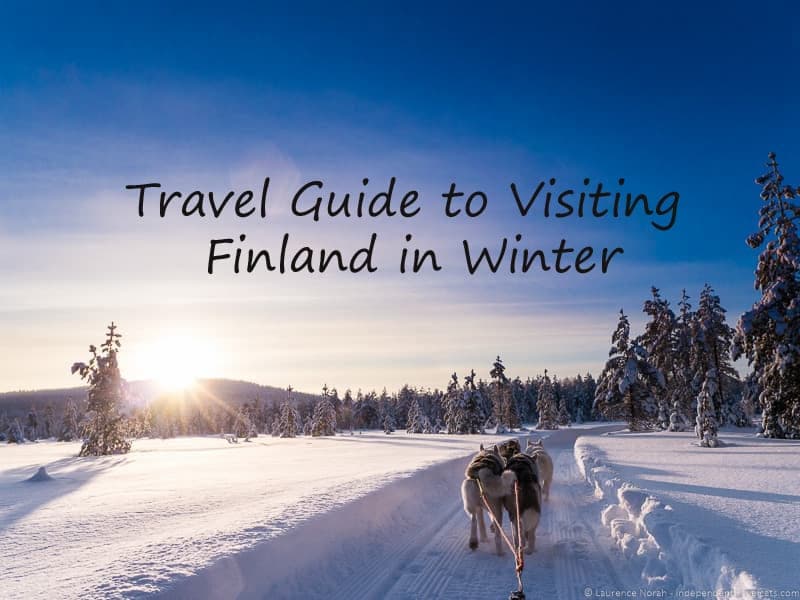 Tips for Planning your Trip to Finland in Winter
If you have never lived or traveled to a place with winter snow and below freezing temperatures or driven on snowy roads, Finland can be a bit of a shock and some visitors come unprepared.
Finland was the first place that Laurence truly experienced freezing temperatures, winter driving, and lots of snow. It was a bit of a shock to him, but luckily we both did a bit of research and came prepared (well mostly anyway).
We'll share our tips on planning, packing, driving, and even protecting your camera in preparation for your trip to Finland in winter.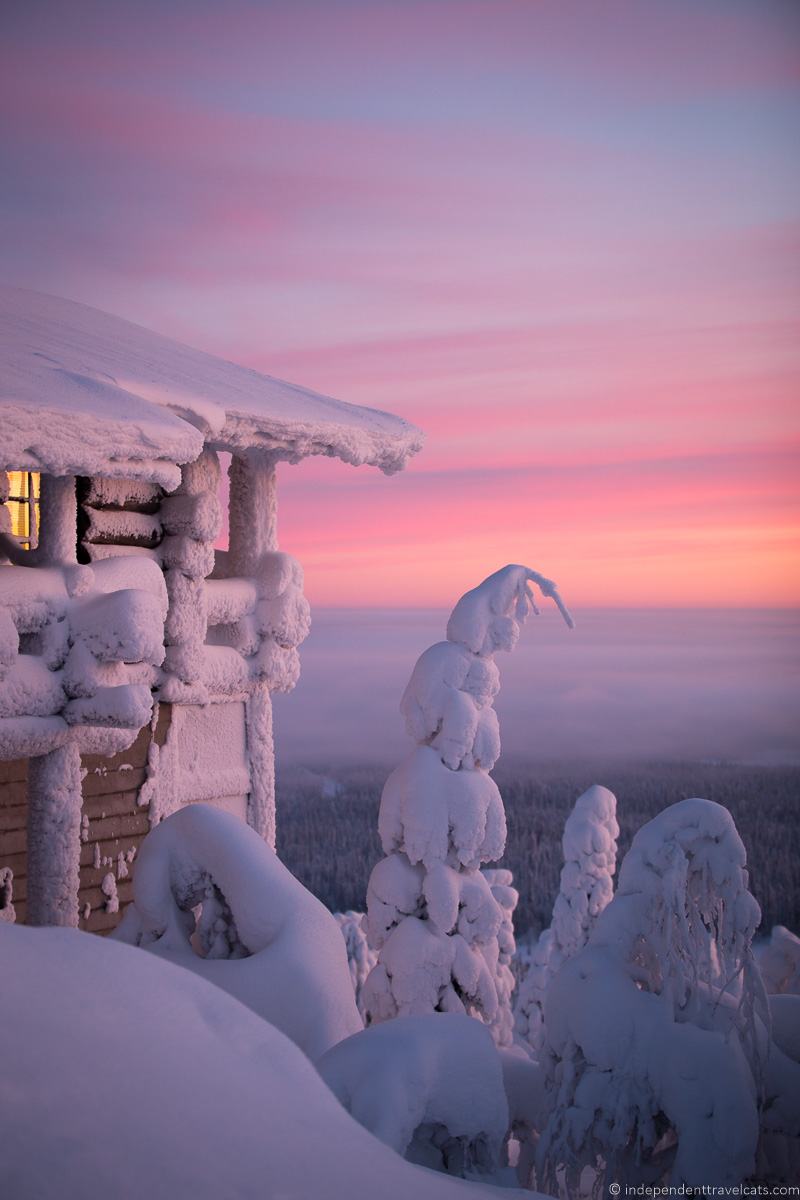 When is the Best Time to Visit Finland in Winter?
If you have a choice of when to visit, the best time will depend on the sort of activities you are most interested in doing and which regions you want to visit. So if you want to ski or go dog sledding for instance, you'll need to visit at times when you are pretty guaranteed to find snow, such as in January and February in northern Finland.
A visit around Christmas can be magical if you want to visit Santa Claus in Rovaniemi, do holiday shopping, or enjoy the holiday spirit in the capital city of Helsinki. However, the holiday season can also be the most expensive time to visit Finland since it is the most popular.
When choosing your dates, you might want to take into account the temperatures and length of daylight hours as well. We've visited in January and February where the amount of daylight hours, particularly in northern Finland, were quite short. However, if you come towards the end of winter, say March or early April, you can still enjoy the winter atmosphere with much longer daylight hours.
Where Should I go in Finland during the Winter?
This again really depends on what you want to see and do. You can roughly break Finland into four large regions: Lapland (all of northern Finland), Helsinki region (capital and south), Coast & Archipelago (western coast and islands), and Lakeland (southeastern Finland).
For a trip that is one to two weeks in length, you'll probably want to try to concentrate on one or two regions, whereas those planning a longer trip can leave room for more exploration.
Finnish Lapland in the north is probably most tourists' dream of a Finland winter wonderland with snow-covered trees, the chance to partake in all sorts of winter cold-weather activities (dog sledding, ice fishing, skiing, snowmobiling, etc.), and the opportunity to meet Santa Claus. Lapland is also the region where you have the best chance to see the Northern Lights.
Helsinki is always a popular place to visit despite the season and is the largest city in Finland with a number of cultural opportunities and great transportation links. Most international flights come into Helsinki so you'll likely begin and end your trip to Finland here. You can see our guide to things to do in Helsinki to help plan your time there.
The Coast and Archipelago and Lakeside regions undergo major changes from summer to winter. Many of the lakes and coastal waters become frozen and kayaking and swimming spots become popular places for ice fishing, kick sledging, and ice skating arenas. Summer cottages are popular along the coast and in winter can be rented out for lots of fun winter activities and many come with private saunas.
If it is your first visit to Finland and you have a week or less, we recommend spending a couple days exploring the attractions in Helsinki and then heading up to Lapland for snow winter activities. Lapland is a winter wonderland between December and March normally, but depends on the weather.
For outdoor winter activities, we can particularly recommend the northern town of Rovaniemi. It probably offers the widest variety of winter activities, from husky sledding to snowmobiling to ice fishing to snowshoeing and many more. Click here to see an idea of all the activities and tours available in Rovaniemi.
How to Get Around Finland?
Finland has a good countrywide transportation system. You can travel around Finland by bus, train, plane, car, or via a guided tour.
The main international airport in Finland is in Helsinki, and this airport is likely where you will arrive and depart the country. There are also many smaller airports within Finland that makes it easy to visit some regions by plane, regional airport locations include Rovaniemi, Oulu, Turku, Tampere, Kemi, and Ivalo.
Within Helsinki, it is easy to get around without a car by using public transportation, sightseeing buses, and/or taxis. From Helsinki, you can also take a bus or train to many of the major towns and cities throughout the country.
The best way to travel between Helsinki and Lapland is to fly, take an express train, or take an overnight train as the distance is large and it is a long bus ride or drive unless you have stops you want to make along the way.
For train travel, the country's train service is run by VR, and you can check out timetables and rates here. Overnight trains must be reserved in advance.
Public buses are cheap, efficient, and cover most of the country. Recommended for shorter journeys for everyone, and these are also the cheapest way to get around Finland for those on a tight budget. You can see routes and prices here.
Tips for Driving in Finland in Winter?
It is fairly easy to rent a car in Finland and Finland has a good road network, but make sure you understand the winter road regulations and know how to use everything in your car before you leave the rental lot, especially if you are not experienced in driving in winter conditions.
For instance, you might find a large thick electrical cable in your glove box or trunk which is used to plug your car into outdoor electrical sockets to power the engine-block electric heater which makes cars easier to start and reduces fuel consumption.
During the winter months, all vehicles must have winter tires, preferably studded, and these should be in place when you rent the car but it doesn't hurt to double check. Unlike in some countries where roads are salted, cindered, or gritted, the roads in Finland are generally maintained by snowplows.
Other regulations of note are that vehicles must legally have their headlights on at all times, winter or summer, and there is a reduced general speed limit throughout Finland in winter to 80 km/h.
We found that the roads were quite well-maintained and while we had to slow down in certain places, we never had any major issues even when driving on snow-covered roads. But road conditions can get bad in winter, especially off the major roads, so be sure to check weather and road conditions each day if you decide to drive.
Winter Finland Tours?
Many people travel to Finland during winter as part of a guided tour. There are both guided tour options as well as trip options that are not guided but include all your transfers, lodging, and several activities. Most focus on visiting Finnish Lapland and many also include some time in Helsinki.
If you are considering a tour here are some options:
This 6 day trip includes some time to explore Helsinki and 3 full days in Rovaniemi. This is not a guided tour but includes all your transport and accommodation as well as included activities.
This five day tour includes Helsinki and Rovaniemi as well as a number of activities and attractions
You can see more ideas for tours in Finland on Viator here and on GetYourGuide here.
Lodging in Finland in Winter?
There are lots of lodging options in Finland, and these range from budget hostels and apartments to pricey luxury hotel options. We were always able to find good value lodging options in any larger town or city.
We booked most of our accommodation in Finland using Booking.com, which has a good range of options. We have also used apartment rental sites like Vrbo. These often have many good value options from private rooms to forest cottages.
Some unique experiences for places to stay in Finland in the winter are snow hotels and ice hotels, which are constructed each winter and last for about 4 months before they began to melt in the Spring. The majority of these are located in Lapland.
A couple of examples of snow hotels are the SnowHotel in Kemi and the Arctic Snow Hotel in Rovaniemi. You can also stay in a traditional snow igloo such as this.
Although not specific to winter, glass igloo hotels are very popular in Finland during the winter months. These are glass-enclosed igloos that allow you to stare up into the sky for a comfortable aurora viewing opportunity from the privacy of your own bed. A few examples of these are Snowman World Glass Resort in Rovaniemi, Kakslauttanen Arctic Resort in Saariselkä, and Arctic Fox Igloos in Rauna.
These speciality lodging options can be expensive, but can be worth it for a unique experience during part of your trip to Finland. We loved our stay at the Kakslauttanen Arctic Resort in Saariselkä, and you can see our full review of Kakslauttanen here.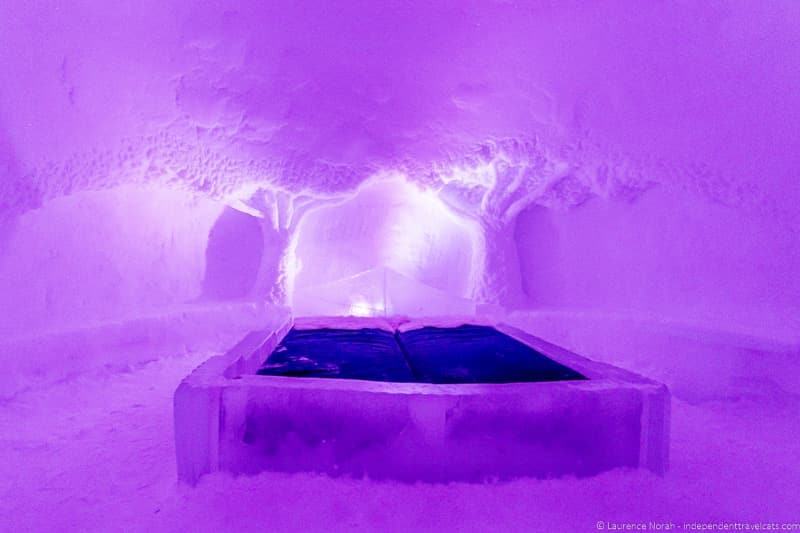 How to Pack for Finland in the Winter?
A good way to ensure you enjoy your winter holiday in Finland is to come prepared by packing and dressing properly. It is cold, especially if you plan to visit northern Finland where temperatures can easily drop to -25 degrees Fahrenheit (-32 degrees Celsius), and you need to bring proper winter clothing to be able to enjoy outdoor activities.
Most activity tours and ski resorts provide or rent out things like gloves, hats, ski boots, goggles, ski gear, and ski suits, but you'll still need to come prepared with your own winter clothing or buy it once you are in Finland. Prices for clothing and gear are fairly expensive in Finland, and options are often limited outside of Helsinki, so it is probably best to buy and pack the main things you'll need before you come.
Luckily, we have written a full Finland packing list for winter that includes information about all the clothing and gear you'll need plus contains a printable packing checklist you can use. But just let us know if you need any more information or recommendations as we are happy to try to help!
How to Protect Your Camera in the Winter?
Laurence and I typically travel with at least two cameras, a travel tripod, and other photography equipment so taking care to protect our equipment in the cold winter temperature was very important in Finland.
This was the first time Laurence ever had the camera begin to freeze to his nose! And our camera batteries died much quicker than usual in the freezing temperatures.
Whether you plan to bring a simple point-and-shoot camera, action camera, mirrorless camera, or a professional DSLR camera, you want to take a few steps to protect your camera and equipment. These might include bringing spare batteries to carry on your person, having a rain/snow cover for your camera, storing gear in a backpack or bag, and having an airtight plastic bag with you that fits your camera.
Take a look at our guide with winter photography tips about how to best protect your camera gear and capture winter scenery, such as how to adjust your exposure for snow scenes. You can also check out our tips for photographing the Northern Lights.
Need More Help Planning your Trip to Finland?
Finland's official tourism board, Visit Finland, has an excellent website and is a great resource for finding articles about visiting Finland in winter, exploring attractions, and planning an itinerary.
If you are visiting Lapland, you might want to check out Lapland's website for travelers. For figuring out train, plane, and bus connections within Finland, you can check out the Finnish Transport Agency website.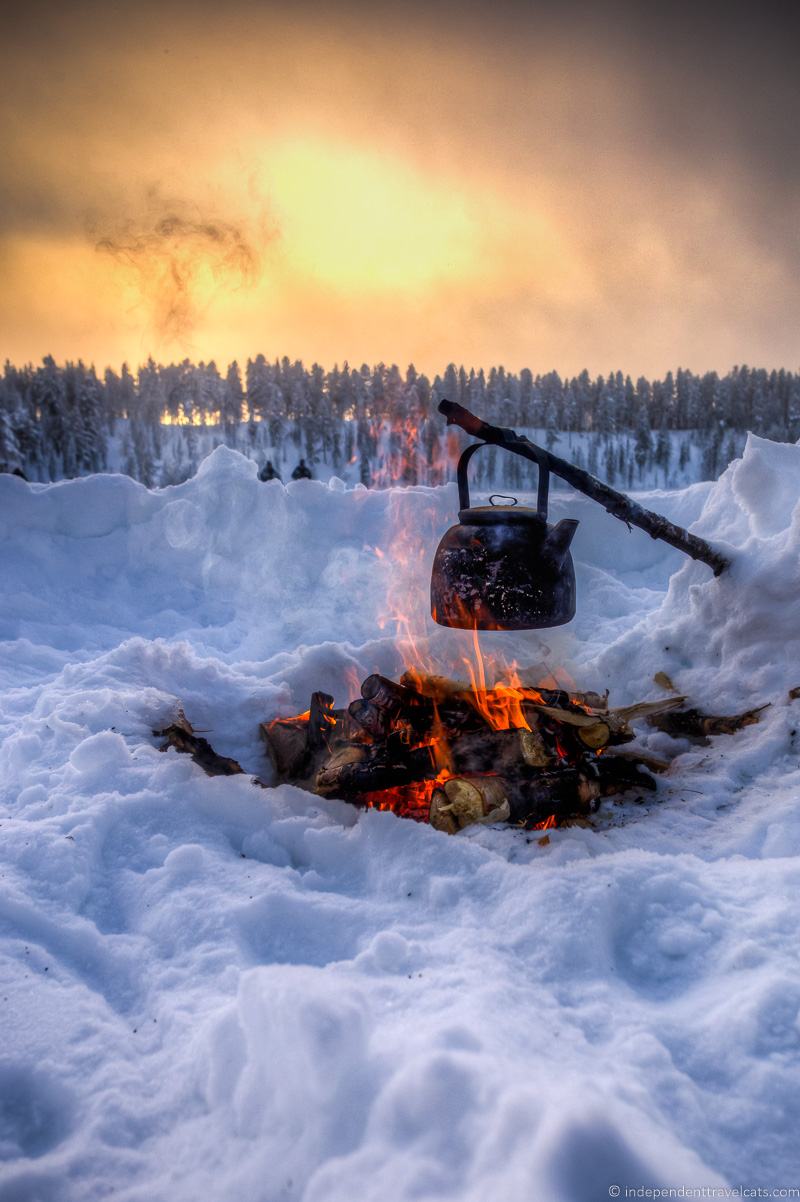 Visiting Finland in Winter: Top 23 Winter Activities
As in any country, there are numerous things to do, foods to try, and attractions to visit in Finland. But traveling to a place like Finland, you'll find that the winter versus summer activities can be vastly different.
Laurence visited Finland for the first time during the summer and you can read about his summer outdoors adventures in Finland here and here. During our first visit during winter, he said it was almost like visiting another country as the weather, scenery, and available activities change a lot!
We've tried to sift through everything and find those activities that we think are either unique to winter or are very well-suited for a winter visit. We hope these suggestions will serve as a great guide to helping you plan and piece together your own Finland winter trip itinerary.
So here are our favorite things to do while visiting Finland in winter, listed in no particular order:
1. Skiing or Snowboarding
Finland enjoys a long snow season with snow beginning around November and lasting until May in northern Finland, making it a perfect place for downhill skiing, cross-country skiing, and snowboarding. The main ski season is between December and March.
It is not as well known as other countries for skiing and doesn't have any giant mountains, but there are plenty of opportunities in Lapland and it is not nearly as busy as ski resorts in countries better known for skiing. The main ski season is between December and March.
Lapland has four major ski resorts: Levi, Ylläs, Pyhä-Luosto and Ruka with slopes from about 1,640 to 2,300 feet (500 to 700 meters) above sea level with lengths up to 9,800 feet (3 kilometers).
There are actually over 70 ski resorts in Finland, but most of these are fairly small in size with limited amenities. So tourists are recommended to stick to the bigger ones that offer more slopes and services. While neither of us are big skiers, we've been to two of Finland's ski resorts: Iso-Syöte and Levi.
Iso-Syöte is Finland's most southernmost fell and an area that receives a lot of snow. Iso Syöte is a great spot for both beginner and intermediate level skiers, and a good location for those not wanting to travel too far north. If you go here, we recommend staying at Hotel Iso-Syöte, which also offers lots of other winter activities. You read a full review by Laurence of our experience at Iso-Syöte.
We've also visited Levi, which is the largest alpine ski resort in Finland and located much further north well above the Arctic Circle. The resort has slopes suited for beginner to advanced skiers, and offers a ski school for those who want to take lessons. The resort also offers a range of other winter activities. Good hotels for skiers here include Levi Panorama and Break Sokos Hotel.
The country also has a lot of cross-country skiing opportunities. You can rent your own gear and find a good track, or you can join a tour like this one.
If you are planning on doing a ski or snowboarding trip to Finland, you may want to check out our guide to what to pack for a ski trip for packing advice and a suggested packing list.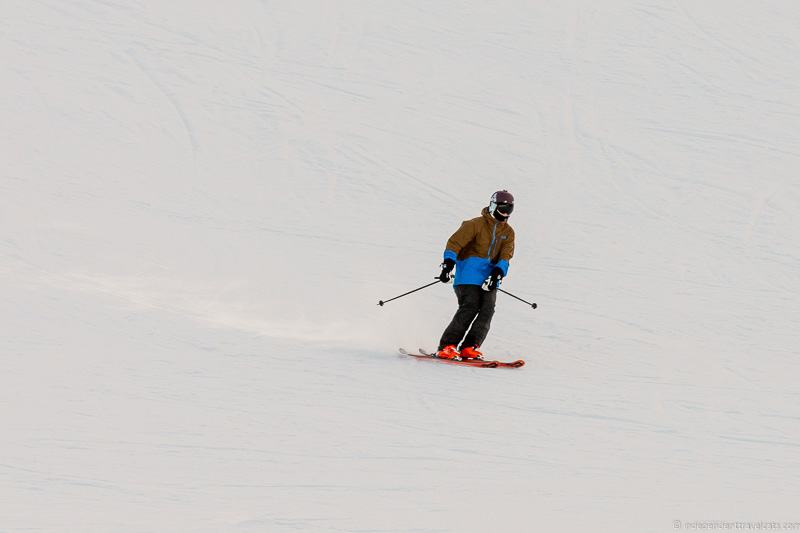 2. Snowmobiling
Riding on a snowmobile is a great way to experience the outdoors in Finland and they can be ridden by one or two people at a time. This was by far one of Laurence's favorite activities in Finland as it was not only a fast and efficient way to get from one place to another, but it also allows you to go fast and take in gorgeous scenery along the way.
It's a lot of fun and isn't too hard to learn the basics, but do be careful as you can get it stuck in a snowdrift and the machines can tip so do pay careful attention to safety instructions and go only as fast as you (and your partner) feel comfortable. On our first trip, Laurence ran us into a snowdrift and our guide had to help dig us out, but luckily no damage was caused!
It can be really cold going on the snowmobiles and most companies will outfit you in extra winter gear on top of your own clothing and coat. Laurence really loves the machines with self-warming handle bars which are common in Finland.
Be sure to note snowmobile restrictions and rules before booking. Most require driver to have a valid driver's license and may have additional requirements.
Children under 15 years of age usually cannot drive snowmobiles, and there are also restrictions for younger children being passengers. We recommend that those with children, look for snowmobile activities specially designed for families such as this tour.
We did most of our snowmobile riding at Hotel Iso-Syöte and near Rovaniemi. You'll find tons of snowmobile tours offered in Rovaniemi (see a list here), but you can rent snowmobiles or take snowmobile tours in any area of Finland where there is a lot of snow. There are even tours you can do from Helsinki.
Here are some snowmobiling tours to consider, depending on where you plan to travel in Finland: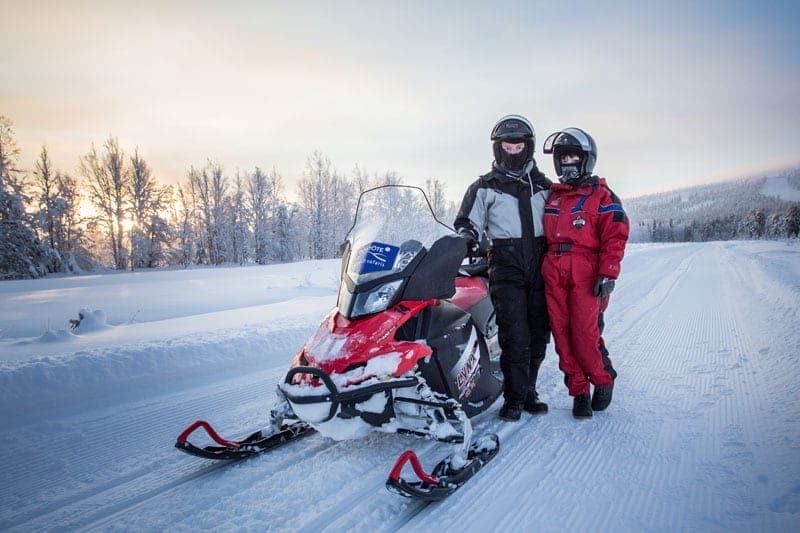 3. Kicksledding
Kicksledding, or kicksledging, is a unique mode of transportation that is primarily done in Norway, Finland, and Sweden and was invented in this region.
Kicksledding is pretty straight forward. You'll need a kicksled and a large surface covered in either ice or hard-packed snow, after which you stand at the back of the sled on the runners, and kick to provide forward motion.
We gave kick sledging a go in Rauma, and it had unfortunately just snowed, which made it more difficult as kicksledding works best on unsalted ice or hard packed snow. Loose snow tends to be a bit sticky and makes the process a lot harder on your legs. But we still had a lot of fun even if it was quite a workout!
After the hard work of kicksledding, we relaxed on a small island and helped our host build a fire. Then we enjoyed sausages, pulla (Finnish sweet roll), beer, and coffee which made for a nice break after the cold workout. A perfect ending.
If you are looking for a tour, these tours (departures from either Rovaniemi or Kemi) combine several winter activities in one, including kick sledding, ice fishing, and snowshoeing.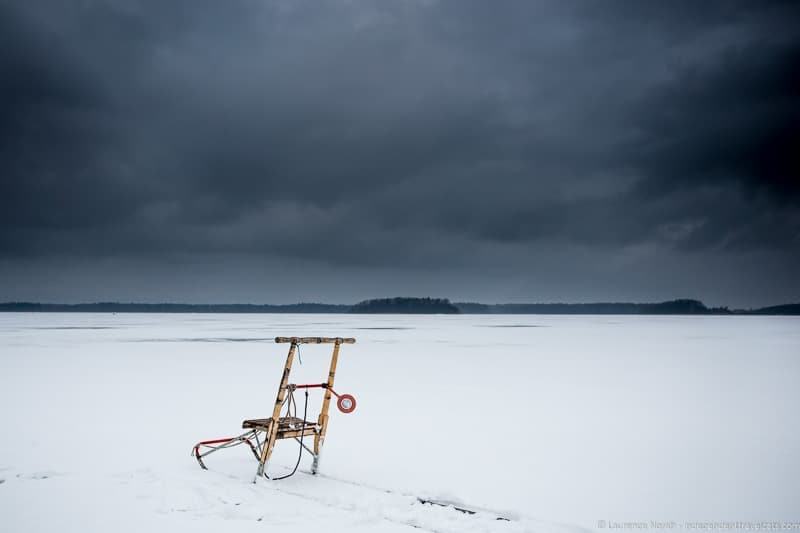 4. Dog Sledding
Ever dreamed of dog sledding after watching the Iditarod or the movie Balto? Finland is a perfect place to make that dream a reality.
Dog sledding does require a minimum amount of effort, but mostly we found that the dogs seemed to know what they were doing in terms of direction and so on. The main thing to do is to hold on and learn how to operate the brake to stop the sled, because the huskies like to run and they often won't stop unless you make them!
We did a shorter husky sledding experience at Hotel Iso-Syöte. Laurence has also done a 2 day husky safari in Rovaniemi with Bear Hill Husky Safaris, which was a very hands-on experience that included an overnight cabin stay and feeding and cleaning up after the dogs.
You'll find husky dog sledding companies throughout Lapland and we recommend carefully reading reviews beforehand to avoid booking companies that show any signs of mistreating their dogs.
Here are some tours to consider: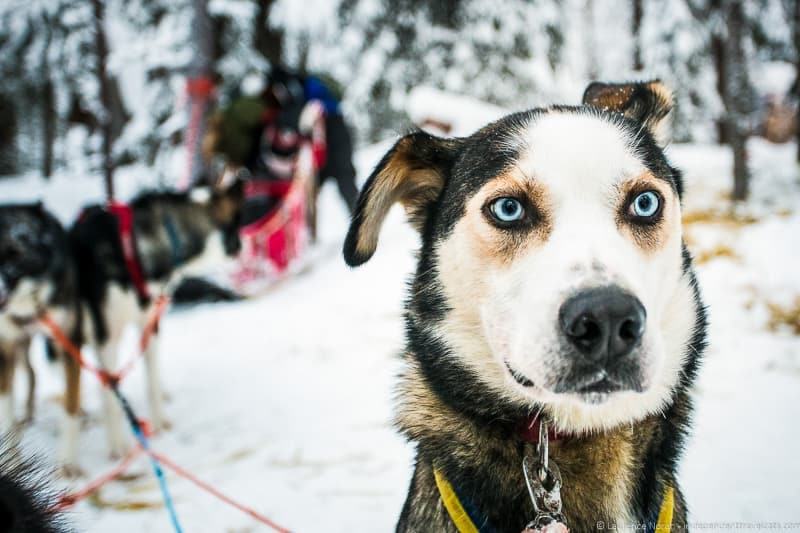 5. Enjoy the Finnish Sauna Experience
Someone told us that the only Finnish word commonly used in the English language is "sauna" and we don't pronounce it correctly (it's "sowna" not "sawna"). Saunas are an integral part of Finnish culture and historically were the place where many major life events would take place from birth to death.
Today sauna houses are still popular places for Finns to meet friends, visit with family, meditate, and even hold business meetings. Traditionally, most people visited public saunas, but now many Finns have their own private saunas in their homes or summer cottages.
There are three major types of saunas: smoke sauna (savusauna), wood-heated sauna, and electric sauna. The smoke sauna is the most traditional type of sauna, the wood-heated sauna are the most common in the countryside, and the electric saunas are the least traditional but most abundant in the cities and apartment complexes.
It would really be a shame to visit Finland without experiencing a traditional sauna, and it is an experience that is fairly easy to arrange no matter what part of Finland you are visiting.
Saunas are usually done in the nude and they are normally sex segregated or done as a family. When done in a mixed sex scenario with non-family members, people generally wear a swimsuit or towel. Finns generally go to saunas in the nude, but if you feel uncomfortable being naked, you can wear a swimsuit or towel.
Birch branches (a native tree) are often brushed or hit against the skin during a sauna. This is believed to be good for the skin and circulation. You can read this informative article for more about the basics of Finnish sauna etiquette.
For the full winter sauna experience, you should consider doing a sauna next to a lake so you can cool off with a plunge into the icy water. It's invigorating as Laurence found out, but not for the faint of heart! Having roasted sausages and cold beer is a very typical Finnish after-sauna experience.
As a visitor, there are a few ways you can enjoy a Finnish sauna. You can visit a public sauna (there are several in Helsinki), you can get invited by someone to their family sauna, you can stay at a hotel with a sauna (a large number of hotels in Finland have saunas), or you can join a tour that includes a visit to a sauna.
If you are looking for a traditional public sauna in Helsinki, the Kotiharjun Sauna has been around since 1928.
We had our first sauna experience together at a lovely cottage owned by a local family on the shore of a lake near Rauma. This was a perfect place for winter sauna and since it was located next to a frozen lake, Laurence of course had to do the icy plunge! A Finnish cottage is a great place for discovering the Finnish outdoors at any time of the year.
If you want to experience a traditional sauna experience with a tour, there are a couple of tours offered from both Rovaniemi and Helsinki that include the chance to learn about and experience a typical Finnish sauna.
For example, this tour from Rovaniemi includes a typical Finnish sauna, ice swimming, a Lappish dinner, and chance to see the Northern Lights. This tour from Helsinki gives you the option to try out a traditional Finnish smoke sauna and you'll also have a chance to do an icy plunge in winter.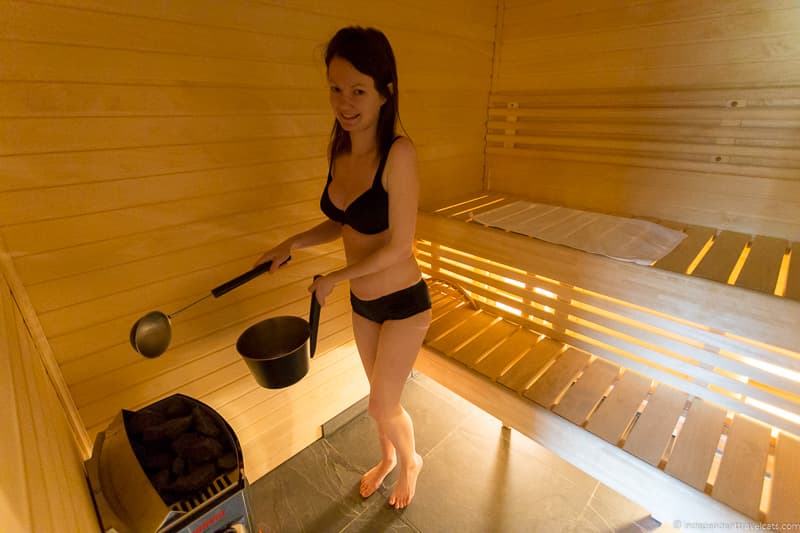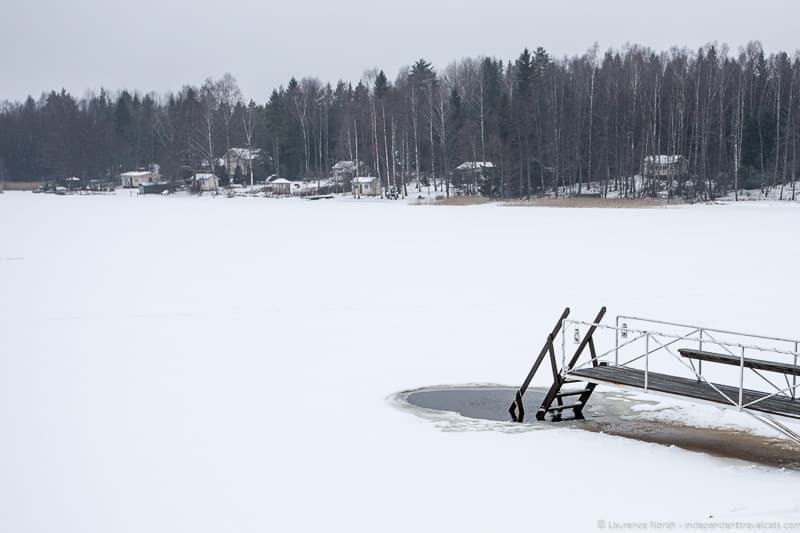 6. Sail on an Ice Breaker Boat
For a unique experience, consider a ride on an ice breaker boat. From the town of Kemi in the north of Finland you have the chance to sail on the Icebreaker Sampo.
Formerly owned by the Finnish government, today the Icebreaker Sampo is used to give visitors an idea of what an operational ice breaker is capable of doing. There is also the option of taking a swim and floating in the sea while wearing a full survival dry suit!
This is a unique and fun activity to try in the area. You learn about the history of the boat, get to see it in action as it smashes through the ice, and then get to swim (or just lay back and float) in the freezing water! We did the shorter trip (3 hours), but the longer trip also includes a 3 course buffet meal as well.
Be sure to book your icebreaker tickets in advance. Tickets also include free entry into the SnowCastle (January to April) in Kemi, which is a castle that is made of snow and ice that is built each winter. There is also the new SnowCastle365 which is a year-round snow and ice themed attraction.
If staying in Kemi, two unique places to stay nearby are the Snow Hotel and the Seaside Glass Villas, both which are part of the large Snow Castle Resort.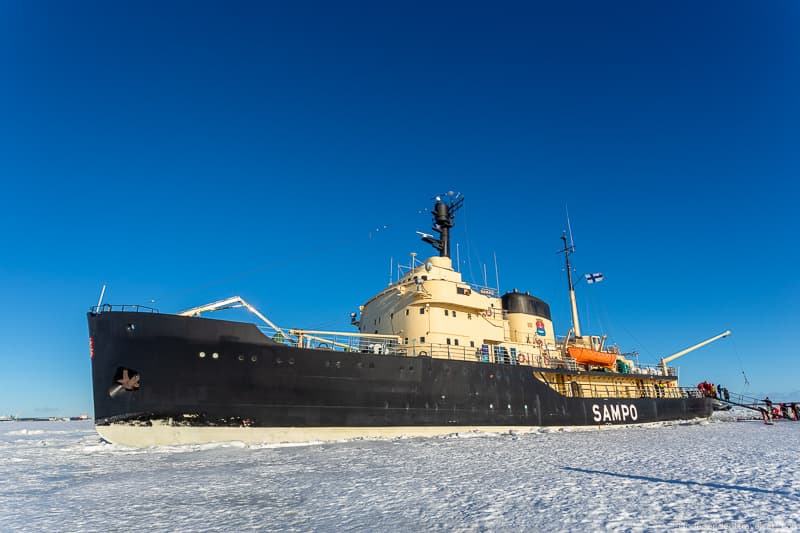 7. Ice Fishing
If swimming in a frozen lake doesn't appeal to you, how about fishing in one? Ice fishing is considered a public access right in Finland, which means that you don't need a license to go ice fishing.
The top of the lake may be frozen, but if you can drill down through the ice you'll find water and fish. Perch, the national fish of Finland, and pike are two of the common types of fish in the lakes.
Although we recommend doing it as a tour unless you have prior experience, you could do it on your own if you rent or have access to the fishing equipment. You'll need an ice drill, fishing pole, bait, and very warm clothing.
You'll also need some patience as ice fishing is a fairly solitary quiet activity well-suited for deep thought and meditation, and people seriously intent on catching fish usually stick it out for several hours. Read this fishing article for more information and tips on ice fishing in Finland.
We did a tour, like this one, that included snowmobiling out to a lake, ice fishing, and then having lunch at a campfire. There are several tours from Rovaniemi that include ice fishing and most include other experiences like snowmobiling, snowshoeing, and meals.
We, somewhat unexpectedly, had a lot of fun ice fishing. We weren't that good at it and didn't catch any fish, but enjoyed the snowmobiling through the forest and time on the frozen lake. The post ice-fishing campfire with coffee and sausages were also a real highlight of the experience!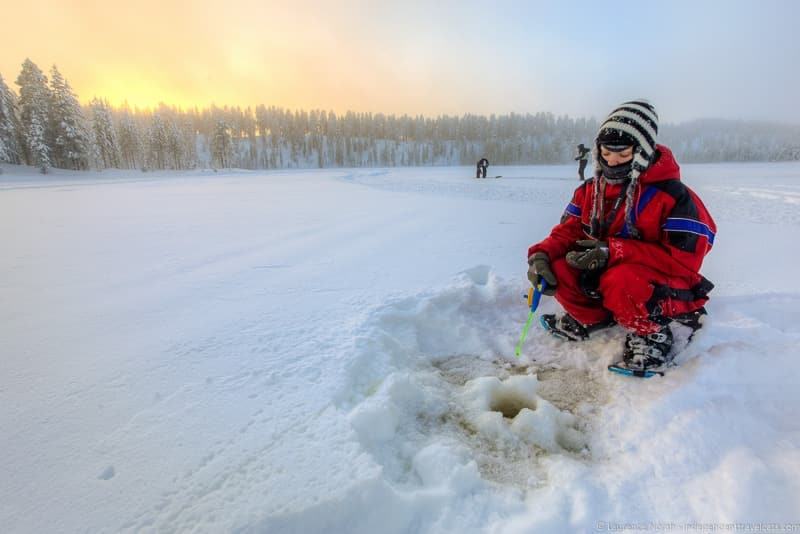 8. Snowshoeing
If skiing or snowboarding is a little fast paced for you, or you just want to try something a bit different, then maybe you should give snowshoeing a go. This involves strapping oversized "shoes" onto your feet and then wandering the snowy landscape.
The wide snowshoe allows you to walk over snow without sinking very far in as the shoe helps distribute your weight more evenly over a wider surface. These are recommended for winter hiking as they cause less damage and erosion on trails than walking in regular boots.
Walking comfortably in them can be a little tricky to master at first, as suddenly you find yourself with what feel like clown shoes on, but we both got used to it fairly quickly. It's a different way to get around, and it allows you to see landscapes and locations that you might not have otherwise accessed without the shoes.
We wore snowshoes several times in Finland, during tours that also included snowmobiling, ice fishing, or Northern Lights hunting. It seemed easy, but is much more tiring than we imagined!
You can experience snowshoeing in a number of regions in Finland, and you just need a thick layer of snow. You can rent snowshoes in many Finnish towns and resorts during the winter, or you can take a guided tour.
Here are some snow shoeing tour options: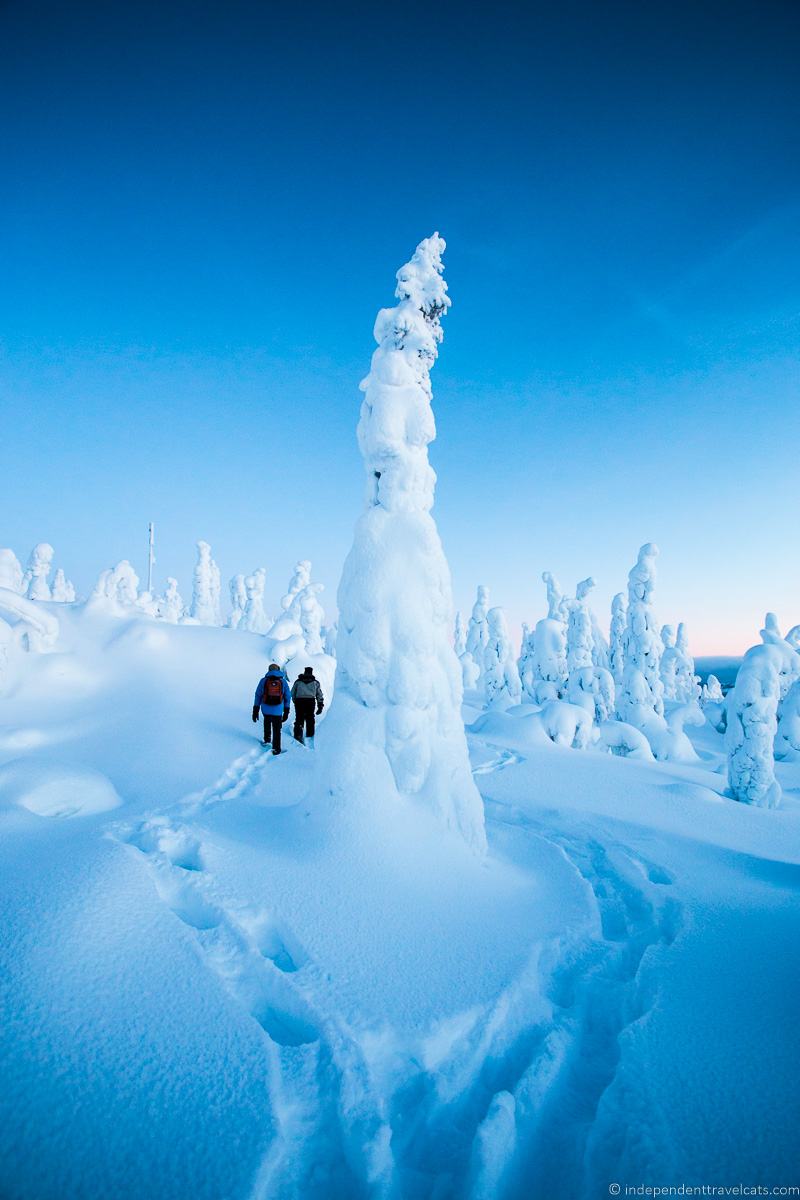 9. Sleep in an Ice Hotel, Snow Hotel, or Igloo
One experience on many people's lists to do in Finland is to stay in a snow hotel, ice hotel, or igloo. A number of places in Finland provide the opportunity to stay in a snow hotel or igloo.
There are also seasonal ice hotels and restaurants where everything from the beds to the walls are made of snow and ice! This also means that each year the hotels are a bit different than the year before.
Ice hotels in Finland normally open each year in December and close at the end of March or beginning of April.
Arctic Snow Hotel – This snow hotel is located in Sinettä outside Rovaniemi and offers individually decorated rooms made of ice and snow. On-site facilities include a snow sauna, an ice bar, and 3 lakeside restaurants.
SnowHotel – This ice hotel is part of the larger Snow Castle complex in Kemi and offers uniquely decorated and sculpted ice rooms. There is also a heated lounge area for guests to relax in before going to sleep. There is also the Snow Castle, a restaurant, a snow chapel, exhibition, and other amenities on site. We've stayed here.
SnowVillage Hotel – This snow hotel is located in the town of Kittilä near Levi. Each year, the SnowVillage decorates itself based on a different theme, and for the 2018-2019 season it was based on the Game of Thrones TV series. There are also 2 restaurants and 2 bars on site.
There are also the traditionally-constructed igloo's, made out of snow, that you can spend the night in. These are often made by regular people in Lapland, or are offered as part of a much larger winter resort as an extra experience for a one-night stay.
We've stayed at the Lucky Ranch, a horse ranch where a handful of snow igloos are built each year in Pyhätunturi within the Pyhä-Luosto National Park. This was a great experience with breakfast included and a heated extra room with beds set up in case guests get too cold overnight in the igloos.
Just note although these sound awesome, the temperatures here are kept just below freezing to keep the snow and ice from melting. To be able to stay warm and sleep, you'll want to wear a hat, thermals, and wrap up in the provided thick furs and heavy-duty sleeping bags.
Even with all the blankets, it can still be quite chilly for some guests. If you are sensitive to cold, we'd only recommend booking for one night at a time. Alternatively, most snow hotels allow you to visit and tour the rooms for a small fee.
If you'd rather build an igloo than sleep in one, you can also build your own igloo! A great unique experience for families.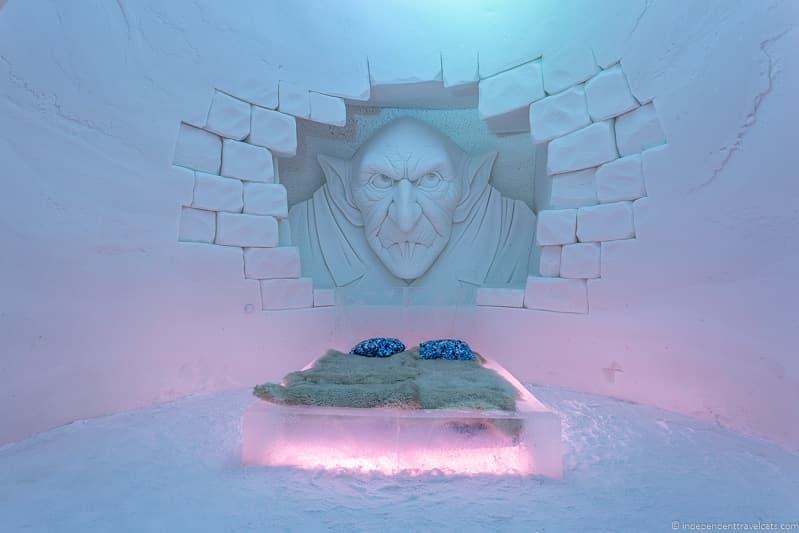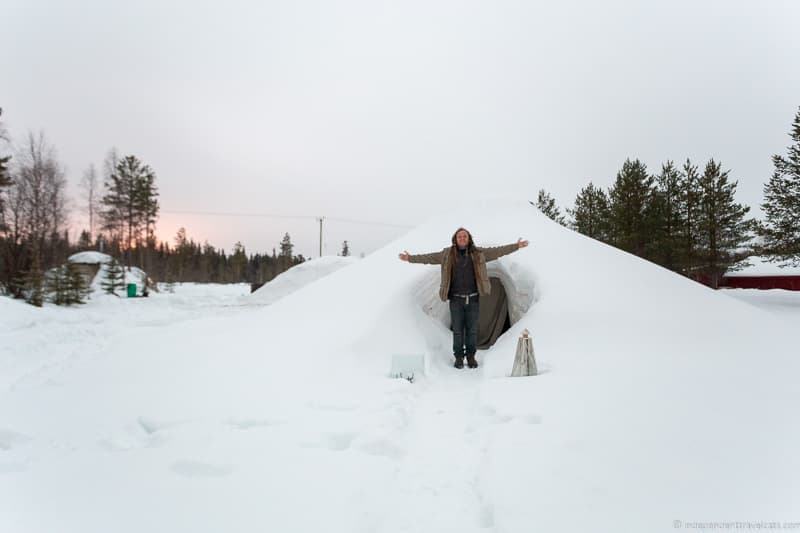 10. Visit Santa Claus
You may have thought that Santa Claus lives at the North Pole. Or in Indiana. Well, according to the Finns, you'd be wrong.
Santa Claus actually lives in the Finnish town of Rovaniemi, just inside the Arctic Circle, where he spends the year chatting with visitors, posing with them, and of course, replying to all the mail from children (and the young at heart).
In fact there is a whole Christmas village in Rovaniemi, the Santa Claus Village. This is the official home of the Santa Claus post office, which receives over half a million letters a year from people all over the world. Visitors can write and mail their very own letter to Santa from here.
It's a fun place to visit, and it is actually free to visit and see Santa, although if you want a photo of yourself with Santa you do have to pay a small fee. There are also restaurants and shops here.
For those with kids, you may also want to visit the nearby SantaPark. It is an amusement complex built within a cave that includes ice sculptures, games, exhibitions, elf school, gingerbread baking demonstrations, and a train.
There are family-oriented tours from Rovaniemi, like this one, that include visits to the Santa Village and Santa Park as well as reindeer sleigh rides, snowmobiling, and lunch.
If you are not visiting Rovaniemi, you can still find Santa Claus in many other locations in Finland during the holiday season.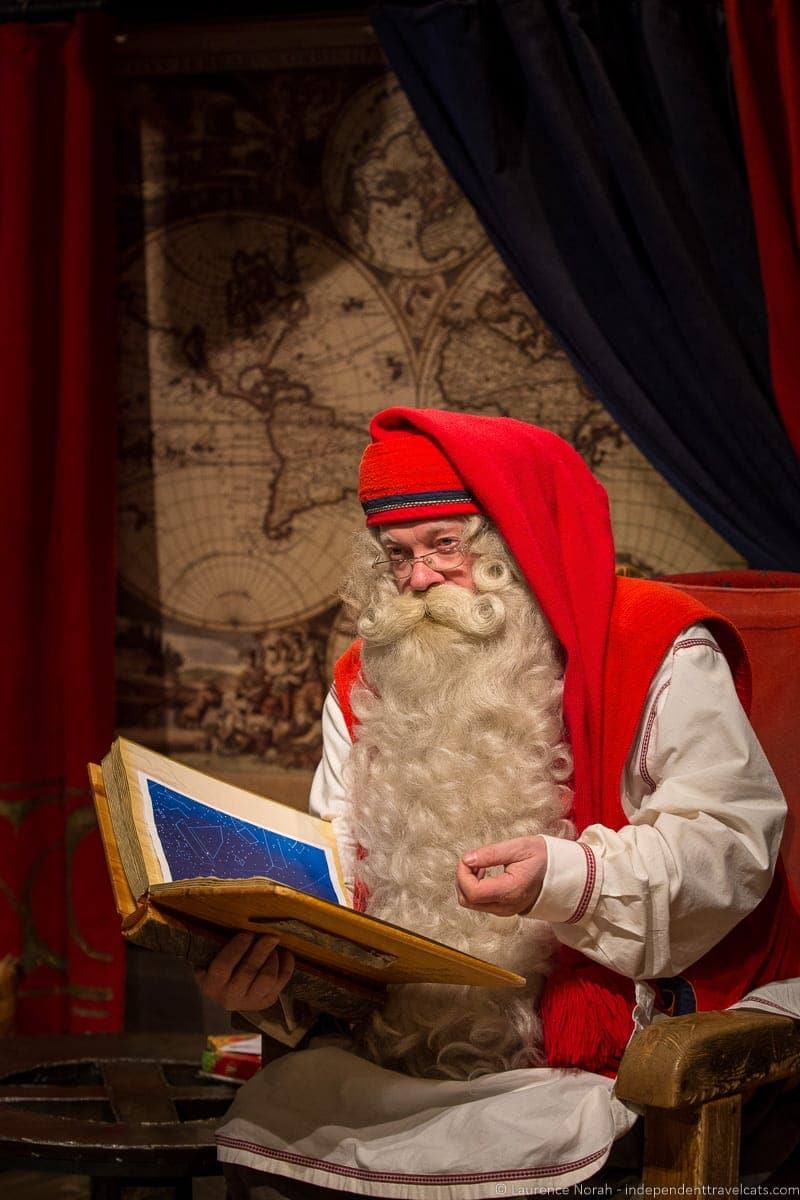 11. Meet the Reindeer
Although wild reindeer used to be found across most of Finland, today there are only a small number of wild reindeer left in Finland. These are the Finnish forest reindeer, which can be found living in herds in Kainuu in central Finland and the Suomenselkä area in western Finland. They are rarely seen.
However, there is a large number of semi-wild and domesticated reindeer in Finland that are mainly kept for food and tourism. Some are fenced and some are free roaming, but almost all are owned by someone. We actually had two reindeer wander out into the middle of the road while we were driving.
If you want to see reindeer, there are lots of opportunities and you might visit a reindeer farm, wildlife park, or do a reindeer safari with reindeer pulling a traditional sled. There are a few opportunities to see reindeer from Helsinki, such as in Nuuksio Reindeer Park, and many opportunities to see reindeer in Lapland.
You can see a list of reindeer tours and activities here.
Reindeer is a traditional meat in Finland, especially the northern part of the country and you'll find it on quite a few menus if you are interested in trying it. It is commonly served with mashed potato and lingonberry sauce.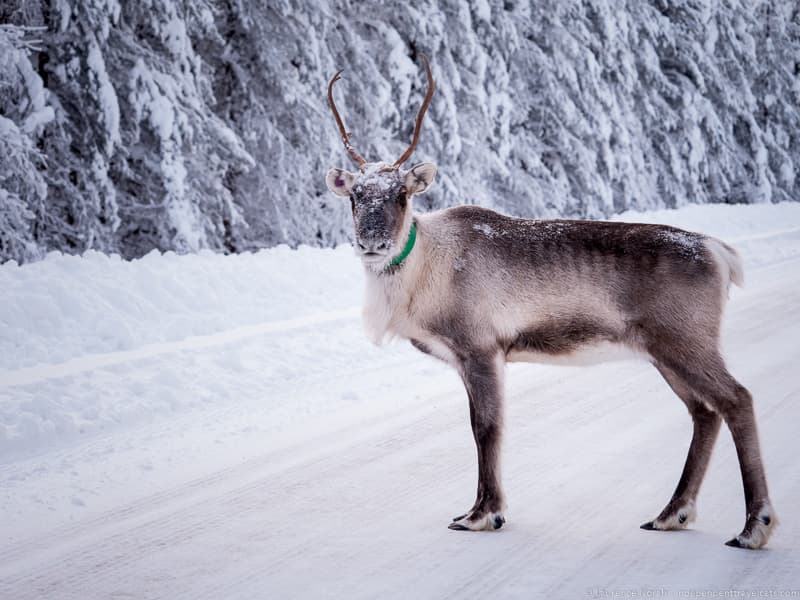 12. Try Hearty Finnish Foods (and Drinks)
Finnish cuisine was not something either of us knew a lot about before visiting Finland, but we were pleasantly surprised, both by the quality, and the use of fresh, local ingredients.
Staples of Finnish cuisine include meats such as pork and beef (often in sausage form), mushrooms, berries (blueberries, raspberries, lingonberries, cloudberries, sea buckthorns, bilberries, etc.), potatoes, rye bread, porridge, and fish (salmon, zander, pike, perch, Baltic herring). A common treat eaten with coffee is pulla which is a sweet roll.
Meats such as reindeer, elk, and bear are also served. A popular lunch item at many Finnish restaurants is traditional sautéed reindeer with mashed potato and lingonberry sauce.
Lunch is often served cafeteria style at many local Finnish restaurants which often includes a main dish such as meatballs and mashed potatoes, cooked vegetables, bread, a dessert, coffee, and water.
We also really developed a taste for cloudberries, which are berries high in Vitamin C. These orange berries are a local delicacy and are used in all sorts of ways, even being eaten with heated leipäjuusto (a local cheese), cream, and sugar. Cloudberries also make for good wine and liquor, and you can find local alcohol made from these and many of the other local berries.
We've had many great meals in Finland. These include modern Finnish inspired meals in Helsinki, value-priced Finnish cafeteria-style food such as at Hanna Maria in Porvoo, meals in the ice restaurant at the SnowHotel in Kemi, tasty home-cooked meals and campfire meals we had on several winter activity tours, and the fabulous traditional Finnish dinner in Oulu we had at Sokeri-Jussi Kievari located in an atmospheric old timber storehouse in Pikisaari.
For those who enjoy food tours, you might consider this city food tour in Helsinki that includes tastings of several traditional Finnish foods and treats.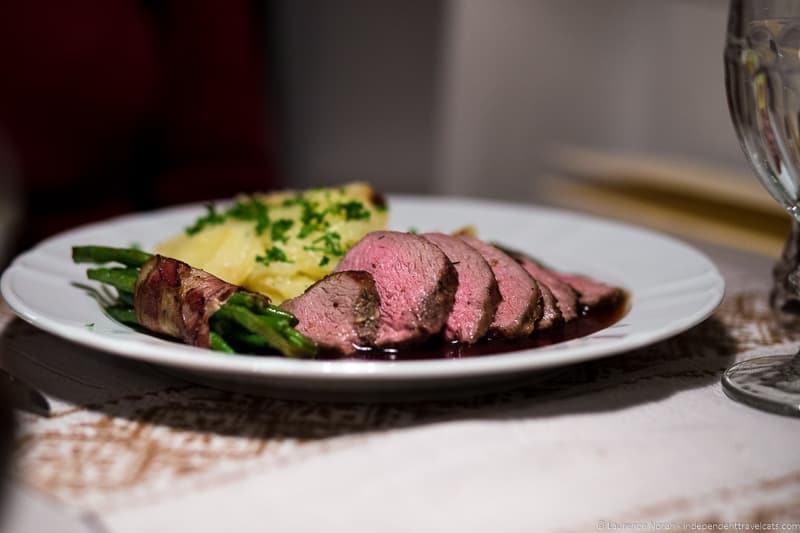 13. Celebrate Christmas in Helsinki
Helsinki has been nicknamed the "Christmas City" and it is no wonder that it is a popular city to visit during the month of December.
Highlights include shopping along Aleksanterinkatu street with its festively decorated shop windows, exploring the handicraft stalls and local food vendors in the open-air St. Thomas Christmas market, and listening to church recitals in the city's many beautiful churches.
A number of stores and markets sell special Christmas gifts, decorations, and Christmas tree ornaments. You can still purchase Christmas ornaments and decorations year round at the Kankurin Tupa flagship store.
One common and traditional Christmas decoration is that of the tomtenisse, which is a figure from Nordic mythology that is associated with Christmas and the winter solstice. The tomtenisse is usually depicted as a small older male figure with a long beard and conical red hat. A bit like a Christmas gnome or elf.
Another reason to visit is that the city is illuminated with lights and there is a decent chance for snow by Christmas giving the city that special Christmas winter glow. You'll also find local parades and celebrations going on throughout the month of December, such as the St. Lucia Day celebrations.
Traditional Finnish Christmas food and a glass of Glögi, a traditional Christmas drink made from warm spiced wine with a sprinkling of almonds and raisins, will help get you into that holiday spirit!
If you are not visiting Finland in December, and still want to find some Christmas spirit, the best place to visit is Rovaniemi, where you can visit Santa Claus and find Christmas related activities year-round.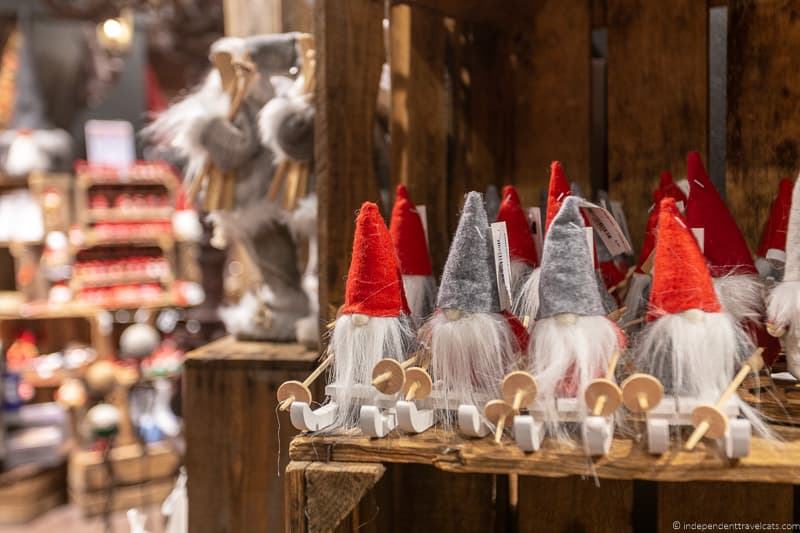 14. Take in a Local Hockey Match
A great way to get absorbed into the local culture in many places is to go to a local sporting match, and Finland is no exception. Whereas pesäpallo, a game similar to American baseball, is the national sport of Finland, the most popular sport is ice hockey.
Attending a local ice hockey game (or pesäpallo, harness racing, or Formula One racing event) is a great way to do something different and see locals doing their thing.
We had the chance to attend a local hockey game in Rauma with the local professional team Lukko. This particular game happened to be against the local rival team and it was a very engaged and energetic audience. Laurence spent a lot of time trying to figure out the rules (his first hockey game), and it was also a great place for sausage eating (typical hockey game food) and people watching.
You can read more about our visit to Rauma here, which also happens to be an UNESCO heritage city, and is a great town to explore.
But you can find ice hockey games and tournaments throughout Finland in the winter. The ice hockey season begins in September and runs until the beginning of April. Just check locally for your options.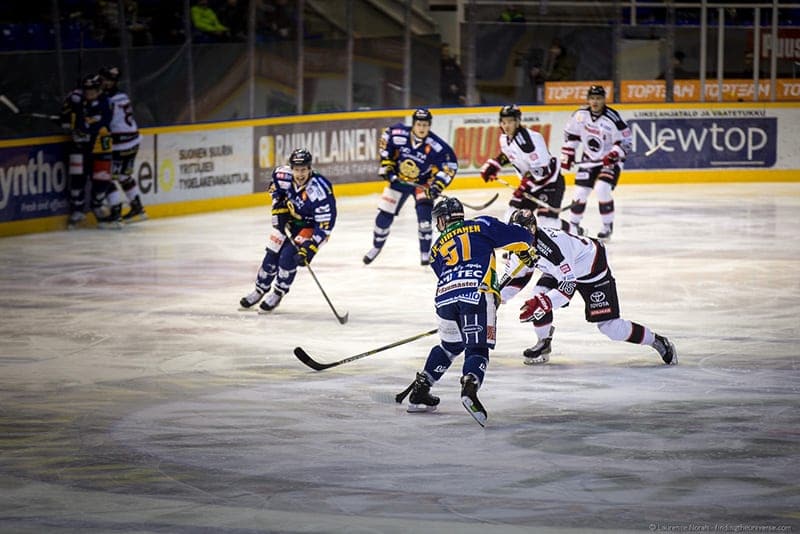 15. Spend Time Indoors Exploring Local Museums and Churches
Visiting museums, churches, and other indoor attractions is not unique to the winter, but sometimes you'll need a break from all the cold weather activities or you are liable to turn into an icicle!
Helsinki is the cultural heart of Finland, and here you'll find a large number of churches and museums in Helsinki. You'll likely find at least a couple of museums that will match your interests whether it is history, photography, art, design, science, or local Finnish history. See our guide for loads of suggestions for what to do in Helsinki.
Although attractions in Helsinki can be pricey, some museums are free or have free days each week or month so you can visit even if you are traveling on a tight budget.
If you are going to be spending more than 1 day in Helsinki, we recommend checking out the Helsinki Card which is a discount card that gives you free entry to a number of museums and attractions in Helsinki and the surrounding area. It also includes a sightseeing bus, ferry travel, and unlimited public transit within Helsinki.
But we also enjoyed the smaller speciality museums that you can find in just about any larger Finnish town. For instance we learned about maritime history at the Rauma Maritime Museum, local Arctic life at the Arktikum in Rovaniemi, lace making in Old Rauma, Sami life at the Sami Museum in Inari, and got to do hands-on science learning at the family-friendly Tietomaa in Oulu.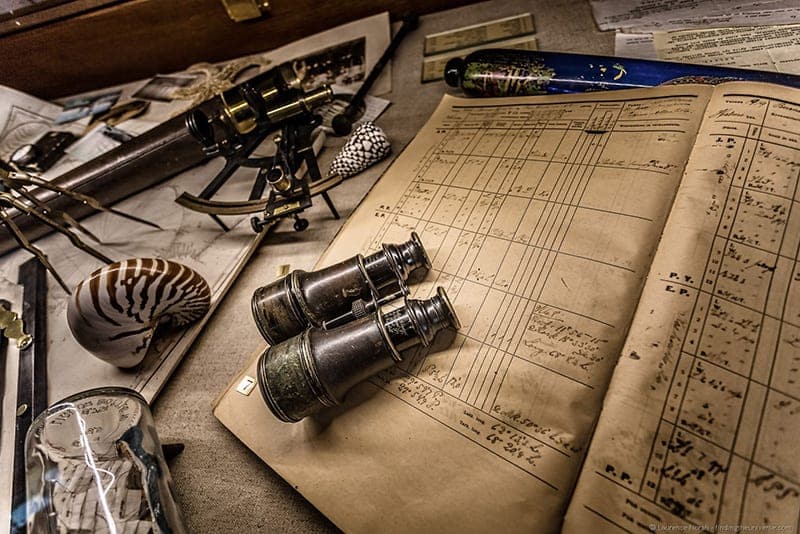 16. Chase the Northern Lights
One of the reasons many people come to Finland in winter is to see the Northern Lights, or Aurora Borealis. This gorgeous natural phenomenon is caused by solar activity, and results in an amazing display of light and color in the night sky.
Although the Northern Lights are sometimes viewable across Finland, the further north you go, the better your chances of seeing them. Ideally you want to be inside the Arctic Circle and away from any unnatural lights or pollution. Then, you need to have luck, patience, and of course, clear skies.
So unless it is a really strong display, you'll need to be outside of a town or city to see it clearly. If you have a car, you can drive or you can take a Northern Lights tour which are offered in towns throughout Lapland.
Or you can choose a lodging option outside of a town and there are many places designed with large glass windows or glass igloos that are ideal for viewing the Northern Lights.
We are pretty unlucky when it comes to seeing the Northern Lights, going weeks traveling with no Northern Lights sightings despite being in ideal viewing locations. But we haven't been totally unlucky!
Laurence first got to see the green glow of the Northern Lights while outside Rovaniemi one evening while snowmobiling with Lapland Safaris. This was a weaker display that was more of a green glow but still amazing. The second time was in Kemi and this was a very strong display with powerful waves of green and red throbbing across the sky for a few hours.
If you are looking for a Northern Lights tour in Finland, there are lots of them, here are some to consider:
Be sure to check out our tips on how to photograph the Northern Lights to get the best photos of this beautiful natural phenomenon.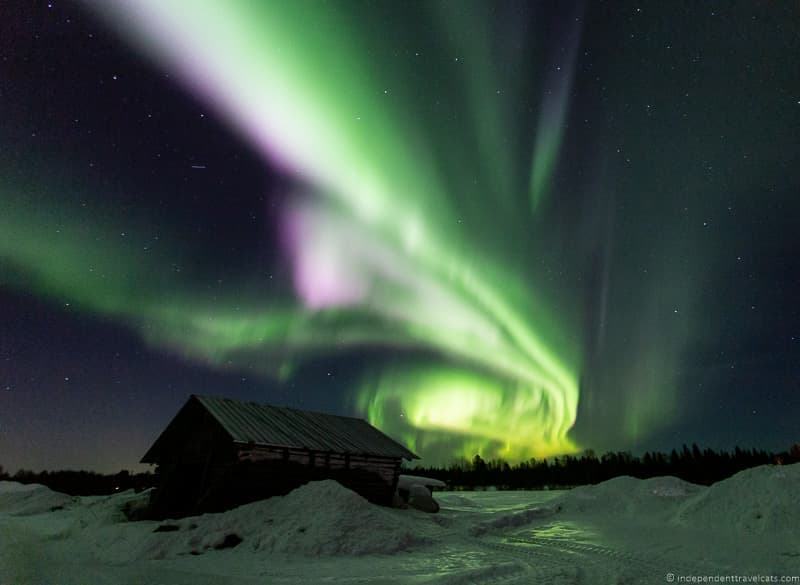 17. Go Ice Karting
Ice karting is a fun way to enjoy the winter as you race around the ice on a go-kart designed for the slippery ice circuits. You can race around trying to beat your own time or compete with others at the track.
For ice-karting sessions, there usually needs to be at least 2 people booked for each time slot. Check guidelines for children, but some places offer mini ice karts for younger children over age 5.
Ice karting is offered during the winter at Access Lapland in Rovaniemi, and Icekarting Levi in Levi.
If you are looking for several hours of fun winter activities, you might consider this family-friendly half day tour from Rovaniemi that includes ice karting, ice fishing, snowmobiling, and a campfire picnic.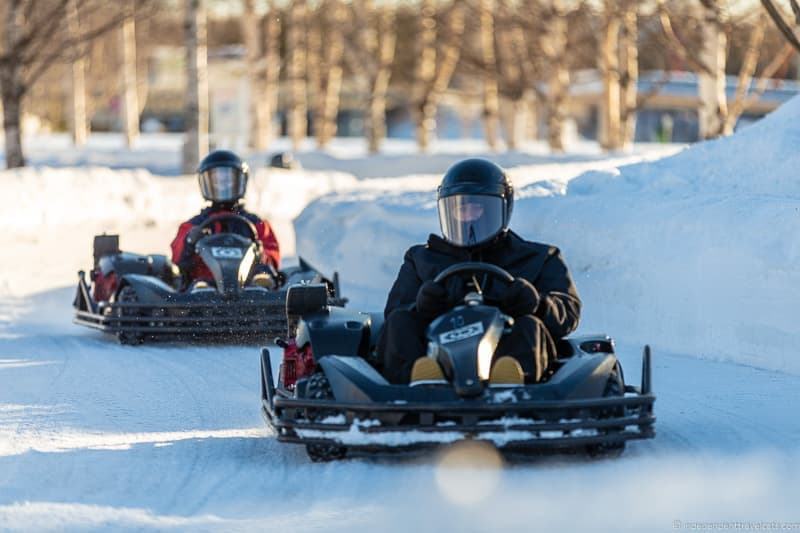 18. Mine for Amethyst
Looking for something unique to do in Finland? Consider digging for amethysts (a pretty purple gemstone) at the Lampivaara Amethyst Mine located within Pyhä-Luosto National Park. This is one of the only gemstone mines in the world that welcome visitors.
The tours from the visitor center include a "snow train" ride to the mine, then you learn about amethyst and the mining process, visit the mine, and have your own chance to find an amethyst gemstone. You get to keep anything you find that fits within your closed fist. You also get a glass of warm berry juice to give you a little warm up.
Chances are you'll be coming back with a tiny amethyst, like us, but it was a fun to learn about the history of mining, see how mining is done by hand here, and have a chance to find a gemstone of our own.
Tours are normally offered twice a day in winter, and are given in both English and Finnish. There is also a cafe that serves food and drinks and a gift shop here.
This attraction is open year round. In the winter, the road to the mine becomes blocked by snow and ice, so you can either walk to the mine from the parking area (35 – 45 minutes each way) or take the snow cat / snow train.
If you have your own transportation, you can buy tickets in person at the Visitor Center or you can book advance tickets directly online here. If you are wanting to come from Rovaniemi or elsewhere, you can check out tour possibilities here.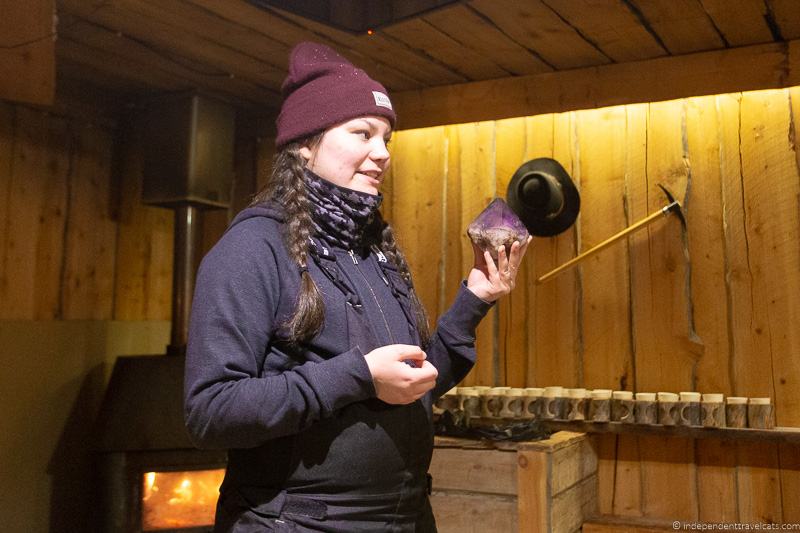 19. Eat in an Ice Restaurant
Looking for a unique winter venue to have a meal? Bundle up for a meal at an ice restaurant or have a drink in an ice bar.
There are a few seasonal ice restaurants that are built in Finland, and these normally operate between December and March. Most are operated as part of a large snow complex that also includes a snow hotel and winter activities.
This normally include the Ice Restaurant & Bar at Snowman World in Rovaniemi, the Ice Restaurant at the SnowHotel in Kemi, Ice Restaurant and Bar at Arctic Snow Hotel, Ice Bar & Restaurant at the Northern Lights Village, and the Ice Restaurant & Bar at the SnowVillage Hotel in Kittilä. But be sure to check ahead of time to make sure they are operating during your visit.
This is also a great alternative for those who don't want to sleep in an ice hotel. Instead of spending the night, you can just have lunch or dinner instead. Or it is a great added experience to a night in a snow hotel.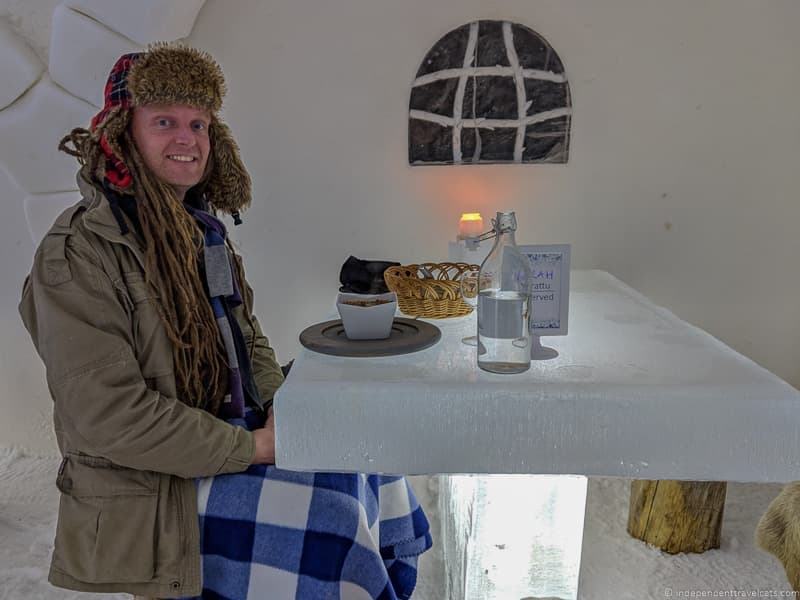 20. Go Ice Floating
It can be hard work trying to swim in icy water, so you may want to just lay back and float instead! Several adventure companies in Finland offer the chance to do just that.
You are taken to a frozen lake or body of water where a large area of ice has been broken. You wear your own warm clothing and then are outfitted in a full body high-quality rescue suit which keeps you completely dry.
It was a bit scary to jump into the freezing water, but the suit does keep you dry and the trapped air allows you to float above the water. You float along like the broken ice. A refreshing way to clear you body and mind.
If this sounds like something you want to try, you can see available ice floating tours here. Although most of the ice floating tours are located in the northern part of Finland, the activity can now be done even from Helsinki, and you can see that tour here (includes ride in a Hovercraft).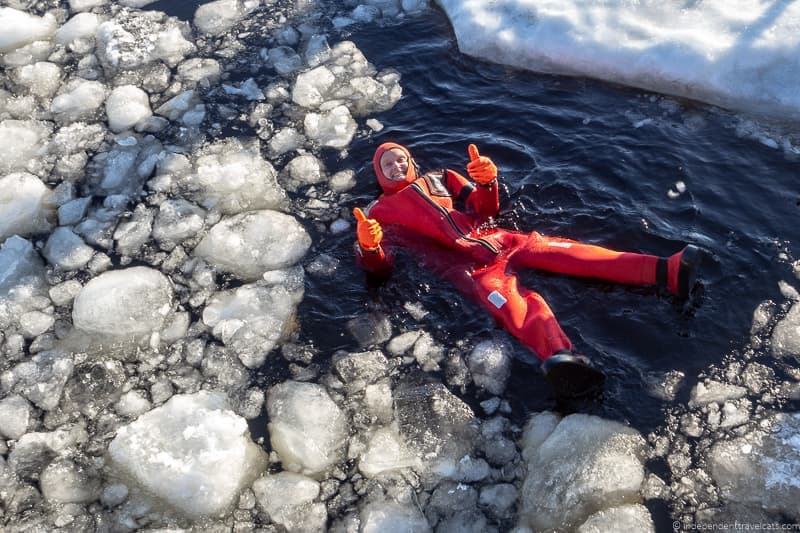 21. Cross the Arctic Circle
The Arctic Circle is the northern polar circle, and is the most northern circle of latitude. Above this line lies the Arctic region which consists of only about 4% of the earth's surface. A relatively small number of people live above the Arctic Circle.
The Arctic Circle only runs through 8 countries, one of them being Finland. The Arctic Circle actually runs just north of the town of Rovaniemi Finland.
One thing we learned in Iceland is that the Arctic Circle is not fixed and fluctuates slightly over time, so actual markers and signs are often not entirely accurate but they are close enough for most of us!
The line runs at approximately 66° N of the equator (currently 66°33′47.6), and you can look up the exact coordinates online (currently 66°34′N 23°51′E) for where it crosses Finland.
But the best place to "cross" the Arctic Circle is to head to Santa Claus Village as there are markers, signs, and a painted line you can cross. You can also get an official Arctic Circle crossing certificate here to commemorate the crossing. Not to mention you can meet Santa Claus here!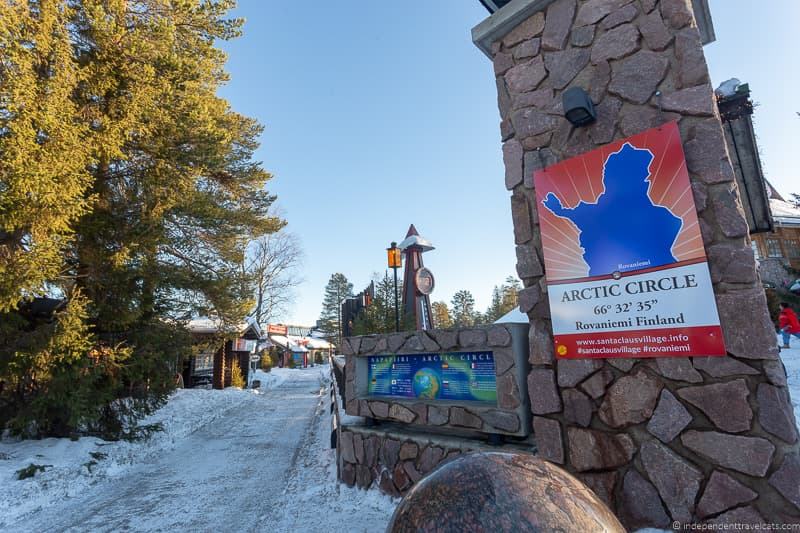 22. Learn about Sámi Culture
The Sámi, or Saami, are an indigenous people who lived across large parts of what is today Norway, Sweden, northern Finland, and the Murmansk Oblast of Russia. In Finland, the Sámi originally lived primarily within the region now known as Lapland.
The Sámi survived and sustained themselves in the harsh environment by fishing, fur trapping, hunting, sheep herding, and reindeer herding. The Sámi across the different regions developed their own languages and cultures.
Forced and voluntary cultural assimilation, discrimination, technological advances, economic marginalization, governmental policies, and other factors led to the lose of many traditional Sámi cultural practices and ways of life over the centuries.
Today, there are less than 10,000 people who identify as Sámi in Finland, but there is a great interest by many to protect the traditional culture. Three Sámi languages are still spoken in Finland.
The town most associated with the Sámi in Finland is Inari. Here you'll find the Finnish Sami Parliament, a cultural center, a language center, and the Sámi Museum Siida.
The best place to learn more about the Sámi is probably the Sámi Museum Siida, which is the national museum of the Finnish Sámi. Here you'll find a beautiful museum that talks about the Arctic and explains the history of the Sami and other Arctic peoples.
The museum contains a number of artifacts, art, documents, and temporary exhibitions. In the summer months, there is also an open air museum where former Sámi dwellings are open to the public and the Skolt Sámi Heritage House in Sevettijärvi.
The Northern Lapland Nature Centre is also located in the same building as the Sámi Museum Siida and it focuses on the natural environment. There is also a restaurant and gift shop located here.
SamiLand in Levi focuses on educating visitors on the history, culture and mythology of the Sámi people. There are also outdoor exhibitions and during the winter, there are reindeer kept here. The center is part of the UNESCO Observatory Cultural Village Program.
A third museum is the Arktikum in Rovaniemi, which is a science center and museum. It focuses on Lappish culture, nature, science, and history. The museum is not specifically focused on Sámi people but includes lots of information on the Sámi. Definitely a museum to consider visiting if you are going to Rovaniemi.
If you are looking for a tour activity from Rovaniemi, there is this small group tour that visits Inari and the Sámi Museum Siida.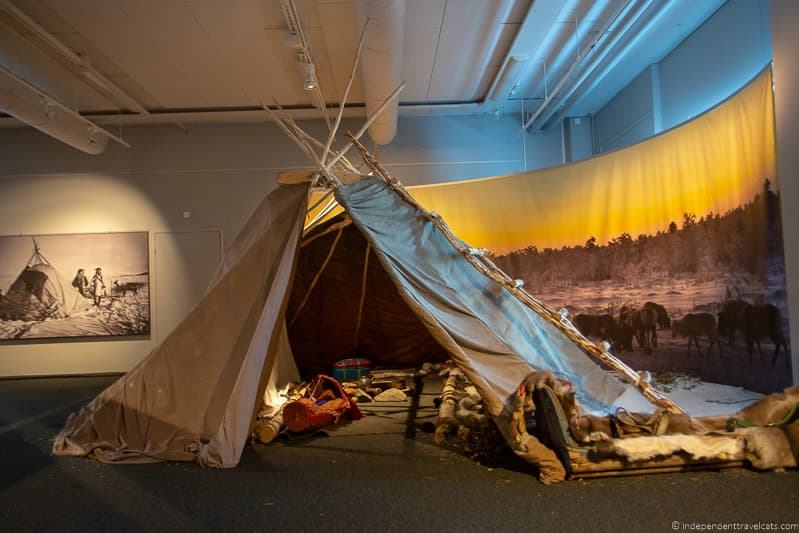 23. Stay in a Glass Igloo in Finland
If an ice hotel or igloo sounds a bit cold then you might like to try one of the glass igloos, which are optimized for viewing the Northern Lights. These offer full glass ceilings in an igloo style, whilst still being fully heated so they are warm and cosy!
Most are to be found in Lapland near or within the Arctic Circle, which offers the best chance of seeing the Northern Lights. They all vary a bit in construction and amenities.
The best known of these is Kakslauttanen Arctic Resort in Saariselkä which was one of the first, but there are now lots of opportunities to stay in glass igloos in Finnish Lapland.
Here is a list that includes the majority of the glass igloo hotels in Finland:
Most of the hotels that offer glass igloos also offer other types of accommodation as well. So many people spend a few days at the same place trying a couple different types of lodging.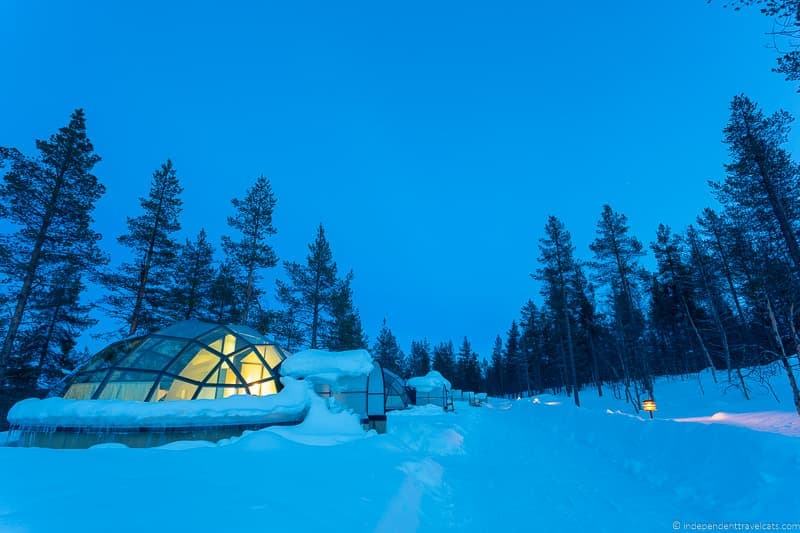 So that's our guide to visiting Finland in winter and a long list of all our favorite things to do in Finland during winter. Obviously, we did a lot and enjoyed a wide range of fun activities! If you don't mind the cold, it is a great winter time destination.
If you are planning a trip to Finland, you might want to PIN this post to Pinterest to be able to read it later: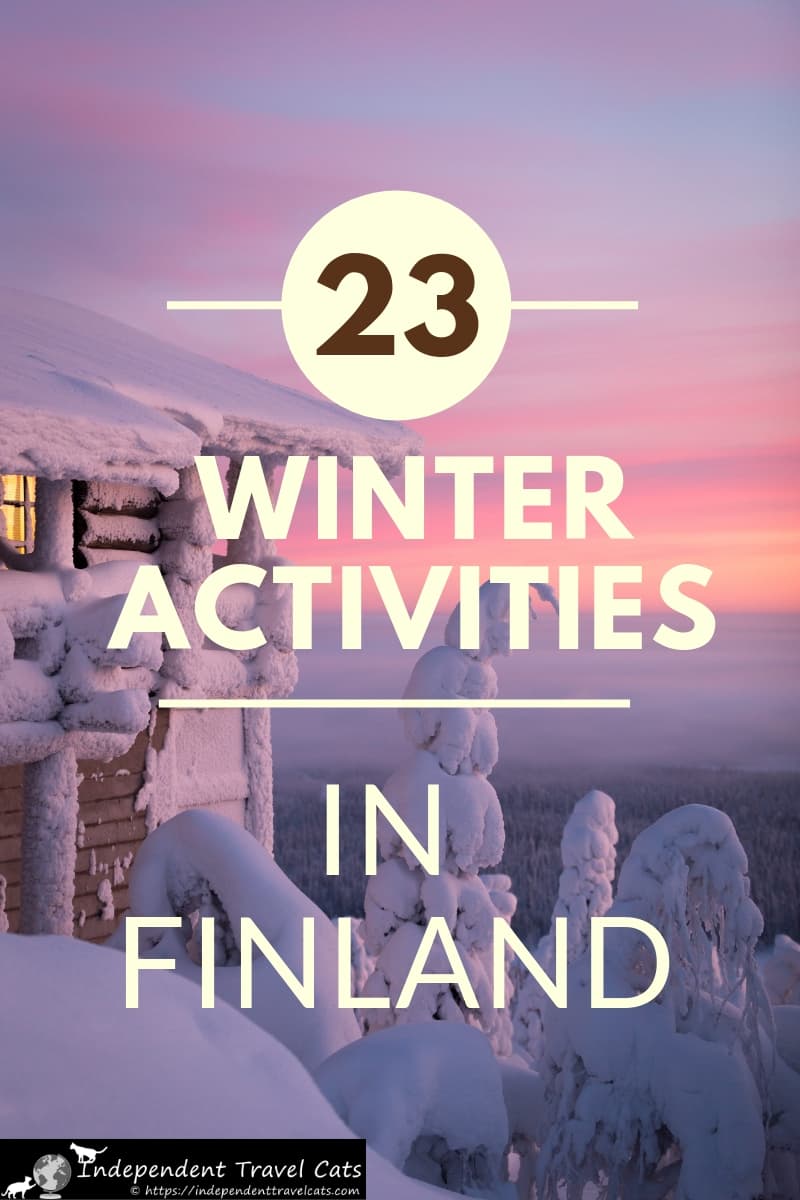 What do you think about planning a visit to Finland in winter? What activities would you enjoy the most? If you have visited Finland in winter, feel free to share about your own experiences and your own favorite winter activities.
If you have any questions about visiting Finland in winter or about visiting Finland in general, feel free to ask us in the Comments section below.
** Disclosure: During one of our visits to Finland, we were hosted by Visit Finland and various local Finnish tourism boards during our stay which provided most of our meals, accommodation, and activities during our stay. We have also visited Finland on our own and paid for all our own expenses. As always, this article contains only our own honest thoughts and opinions. You can read more in our Ethics Code about how we accept work.**