It can be very difficult to get French Laundry reservations. In fact, The French Laundry is often named in the list of top ten most difficult restaurant reservations to book in the world. This 3 Michelin-starred Thomas Keller restaurant in Yountville, California is one of the most exclusive in Napa Valley. However, this article will give you the facts on how to book a reservation at The French Laundry and tips on how to increase your odds of making a reservation based on our experience and from asking the staff at The French Laundry.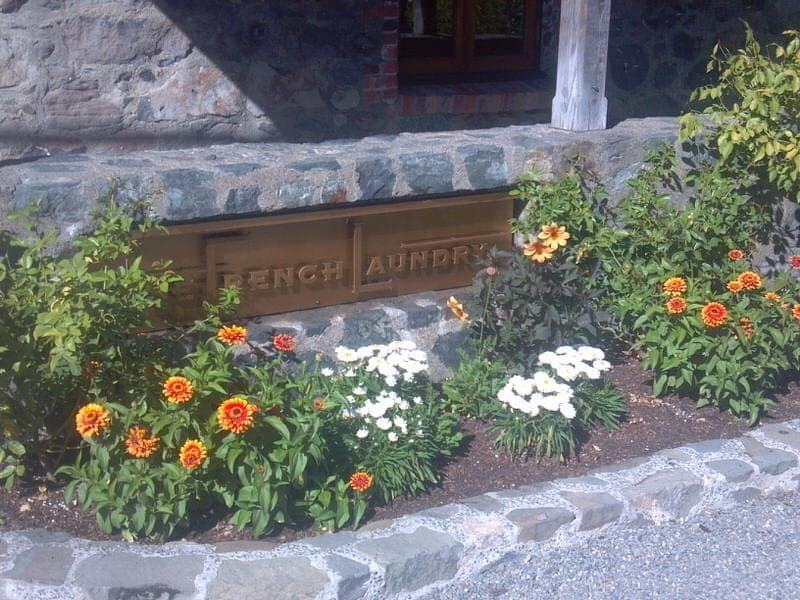 So normally, making a restaurant reservation involves simply calling the restaurant or making a quick online reservation request. Generally you can do this a week or less in advance and boom you have a table. Things are not so easy at The French Laundry. It takes precise planning to make your call for reservations on the right date at the right time. There's also winter and summer closure breaks, white truffle season, and summer tourists to take into consideration. But things are not hopeless, read on for our tips to help you make French Laundry reservations.
So we are not normal high-end restaurant patrons, but we just ate there last week as this was a surprise from Ethan for our fourth anniversary which you can read about here if you are interested. I used this as an opportunity to get tips from staff members on how best to make reservations for our blog readers. So these tips are based on both Ethan's experience in making our reservations and from actually talking to staff about tips on securing a reservation.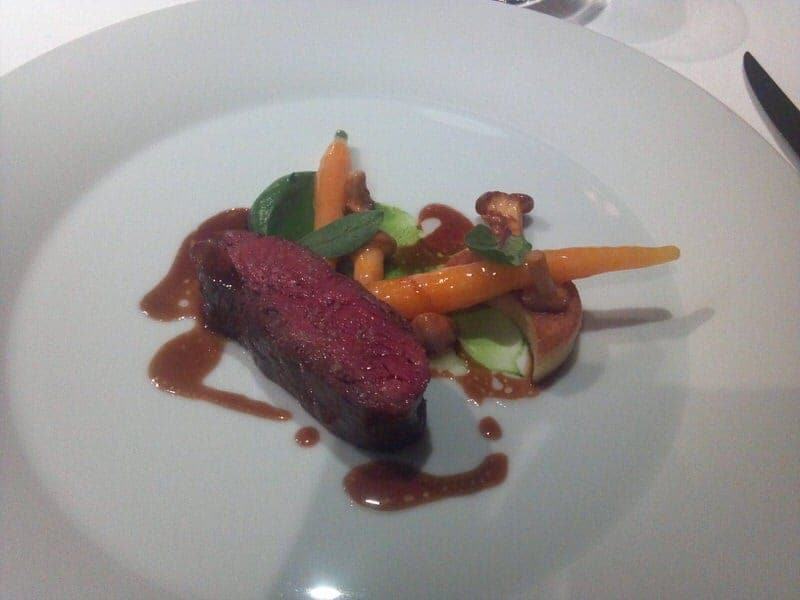 Some Basic Information about The French Laundry
-The French Laundry is a three-Michelin starred restaurant service French-inspired American food. Thomas Keller is head chef.
-Restaurant is located at: 6640 Washington St, Yountville, CA 94599.
-Their main phone number and reservation line is 707-944-2380. For private dining and group pricing and information you can also email them at tflprivate@frenchlaundry.com.
-They are open seven nights a week for dinner and also service lunch on Friday-Sunday. They typically close for 1-2 weeks each Winter and Summer. See the "More Tips" section at the end of the article for more information about closures and renovations.
-At each service, two nine-course tasting menus are offered (the "Tasting of Vegetables" vegetarian menu and the meat-inclusive Chef's Menu). Both currently priced at $310 per person. Service and nonalcoholic drinks are included in the price. You can see a recent copy of the menu and wine list are posted online
-There are 62 seats in the dining room. These seats are the ones that become available two months to the date.
-There is also one outdoor courtyard table that can accommodate 8-12 guests who wish to dine al fresco as well as a couple of newer private dining rooms. But this option is only available for groups. Similarly, large groups can reserve a private dining area or even the whole restaurant. These reservations can be made up to one year in advance by phone.

How to Make a Reservation
OK, so there are essentially three ways to get a reservation and you can try one or all three:
1) Use a concierge service
2) Call the reservation phone number
3) Book a table online
Use a Concierge Service
-If you are going to be making reservations at a hotel or inn in the Napa Valley, you can ask them if they can help you secure reservations. Many of the more upscale places are used to this request and will try to help you get reservations.  However, this of course works best if you let them know at least 2 months or more in advance.
-If you have access to a coincerge service through your credit card or bank (e.g., American Express, Visa Signature Concierge Service), I would call them and ask them to try to get you reservations. Ethan actually ended up using this strategy since we were in Germany on the date he needed to call. So he called a few months in advance and left his information and hoped for the best.
-Make sure the concierge service has your credit card and that you authorize them to give out your information as The French Laundry will need this information to hold the reservation.
-The great thing about the concierge services is they have a better chance than you of getting a reservation and you don't have to do anything further. However, the downside is that you have little control over the process and you are left waiting to see if they are successful or not. Overall, though, if this is an option for you, I would try this first.
Call for Reservations
–You can only begin making reservations for the main dining area seats 2 months to the date of when you would like to eat there. So if you would like to have dinner at The French Laundry on November 2, reservations will open up for that date on September 2. Figure out the date you need to call and mark it on the calendar.
-The phone lines open each day at 10am PST. Translate this time to your own time zone (e.g., 1:00pm in EST) and mark this on your calendar.
-You must start calling at (or a minute or two before) 10am PST two months before you want the reservation.
-Have your credit card information handy to guarantee the reservation. I believe they take Visa, Mastercard, and American Express.
-Be persistent and keep hitting redial when you get the inevitable busy signal. Try using a couple of phones if you can. Elicit help from others to all call until one of you gets through.
Book a Table Online via TockTix
-The French Laundry used to place a limited number of tables online that could be booked using OpenTable, but have recently switched to using TockTix. You can make an online reservation here.
-If you plan to try this route, I would sign up to TockTix ahead of time if you are not already a registered user as you will need to sign up to make a reservation. 
-Have your credit card information handy. You have to pre-pay for your reservations.
– Again, you need to book two months prior to the date you want the reservation. However, unlike the phone reservations, these tables may be online as early as midnight PST so plan accordingly. Keep checking back.
-The site is helpful as it shows in the sidebar of the website information about booking dates and when the next release will be (e.g., "Now booking through December 31, 2017").
If you Don't Succeed, Don't Give up All Hope
-Keep checking back periodically as people's plans change and tables will often come open.
-If you are in the Napa area, try calling the day before or the day of your visit as people sometimes have to cancel reservations last minute and you may be able to scoop a table.
-Put your name on the waiting list. If you are going to be there multiple days, you can check to see if they will put your name on the list for all of those dates. You can call the restaurant to be put on a waiting list or do it through the TockTix software.
-Have a concierge service call for you and try to get you a table. They may have better luck securing a table or being able to grab a cancelled table.
-Since there is a hefty $100/person cancellation fee, you might be able to secure last minute reservations online by doing a web search. Other people may post on a food website about having extra reservations they can't use and want to give you. While its unlikely you will be able make changes in party size, you should be able to change the name on the reservation. Similarly you could try posting in a food-related forum, such as this one, saying that you are looking for a reservation.
More Tips for Booking French Laundry Reservations
-Be prepared and do your planning. Those who plan in advance are much more likely to get reservations.
-Call or check their website for their upcoming closing or renovation dates. Generally, The French Laundry closes twice a year for 1-2 weeks in both Winter and Summer although it was closed more often in recent years for renovations. Figuring out these dates in advance, can save you a lot of time since it will be impossible to dine here during their closures. Similarly, you can also call and check to make sure the restaurant is not being booked for private party on your desired date.
-Be flexible with your dates. This will greatly increase your chance of getting a reservation.
-Be flexible about when you can dine. Most people want the coveted 7:30pm dinner seating, but you have better luck if you are also open to the 5:30pm and 9:15pm seating time as well. We ate at the early 5:30pm seating and the food was still wonderful, we just planned accordingly and didn't eat much for lunch.
-Lunch reservations are easier to get than dinner. The French Laundry serves dinner 7 nights a week when open, but also serves lunch on Fridays, Saturdays, and Sundays. The menu is still the same!
-Try for weekdays instead of weekends.
-Best time of year to try for French Laundry reservations according to staff at the restaurant are February through the beginning of May as this is a slow time for tourism in Napa Valley.
-Worse times of year for getting French Laundry reservations according to staff are during white truffle season (October and November), and during the summer months (mid May through end of August). The staff also noted that right before or after a closure (they normally close for one week or so in the Winter and Summer) is typically quite busy as well.
-As noted earlier, there is generally a $100 per person cancellation fee if you cancel less than 48 hours prior to your appointed time (be sure to check the cancellation guidelines before you commit). So cancel in advance if needed.
-If you do get stuck with having to cancel only a day or so in advance, first try calling The French Laundry to explain the situation and see if there is anything they can do to help. If this doesn't work, try posting online to see if you can find some other diners looking for reservations that can take your place or have your hotel help you by calling around to see if there are other visitors who have been trying to get reservations.
OK, so there you go! A comprehensive guide to how to make French Laundry reservations if you ever choose to do so. Have you ever booked reservations to The French Laundry?  If you have more tips, updated information, or advice for booking reservations, please let us know. Also, you can read the follow-up post and read about our dining experience (including loads of pics) here.