For our fourth anniversary, Ethan surprised me with reservations at The French Laundry during an overnight trip to the Napa Valley in California.
While Napa Valley is of course best known for its wonderful wines and winery visits are on most people's to-do lists, there are lots of things to do in Napa Valley besides wine tasting. Eating at the wonderful restaurants is definitely one of them and definitely great for those who can't or don't drink wine like my then boyfriend.
Eating at the highly-rated The French Laundry restaurant had been something that I had wanted to do. But given the cost of dining here, I had never really thought I'd get the chance to do so. But I was lucky enough to have the opportunity on our anniversary.
So how was it you ask? Here's our full The French Laundry review of our dining experience.
General Information/BookIng: For general information about the restaurant, prices, and menus click here. For tips and details on how to book a reservation at the French Laundry, check out our guide to getting French Laundry reservations.
Parking: We parked in one of the few spots directly behind the restaurant. There was also plenty of nearby street parking on and around Washington Street.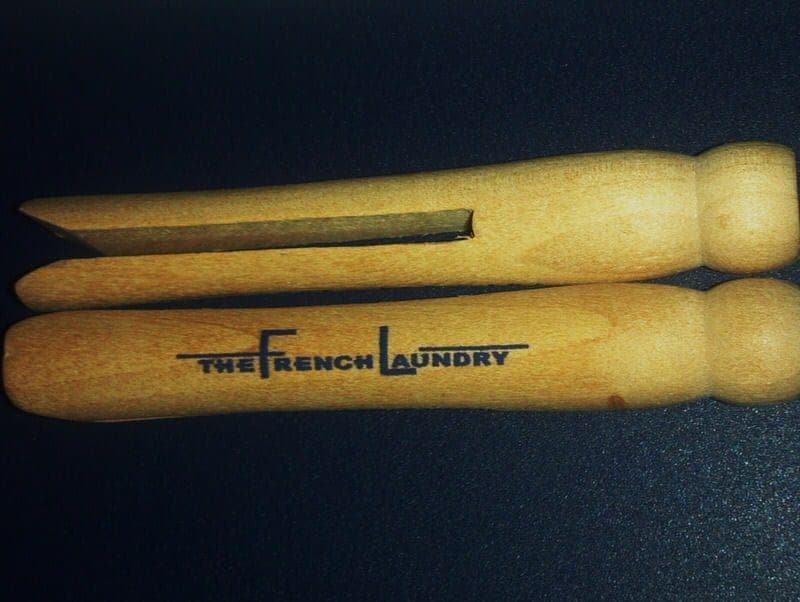 Dress: Guests are expected to dress nicely and jackets are required at lunch and dinner for men. Ethan wore a dress shirt, dress pants, tie, black jacket, and black dress shoes. Most men were similar dressed, although many men did not wear a tie (it's optional).
The women, however, were much more varied. I wore a wool sleeveless dress over a button-up shirt, black stockings, and black heels. Some female diners were similarly dressed, some were dressed like they were going to a movie premiere (i.e. evening gowns), and some looked like perhaps they were heading to the beach after dinner (i.e., what appeared to be brightly colored sun dresses!).
Basically, if you dress nicely, you'll fit in just fine. There is a noticeably more relaxed dress code in Napa compared to other places.
Service: We were warmly greeted by staff. There is a high staff to diner ratio, and there was always someone around to fill our glasses, clear away dishes, or answer a question. The service throughout the meal was superb as it should be for such a highly rated restaurant. Various staff members introduced themselves during the meal and were much more personable and forthcoming than we expected.
Most of our fine dining has been in Europe, and dining here was more relaxed than we'd experienced there. We had no complaints whatsoever about the service. We sat in one of three tables in a little area set off from the main dining room and it felt like being in a nice home. We ate at the earliest dining time and there was only one other couple in our little dining area, also celebrating an anniversary.
THE FOOD: The wine list is actually digital and was presented to us on a tablet which was cool! The actual food menus are presented as traditional paper menus (just ask if you would like a copy of the menu, we did and they gave us fresh copies as we were leaving in a folder). We both ordered the prix fixe Chef's Tasting menu, and declined the additional $100 supplement for the truffle "risotto" dish. We had a choice for desserts (I chose strawberry and Ethan chocolate).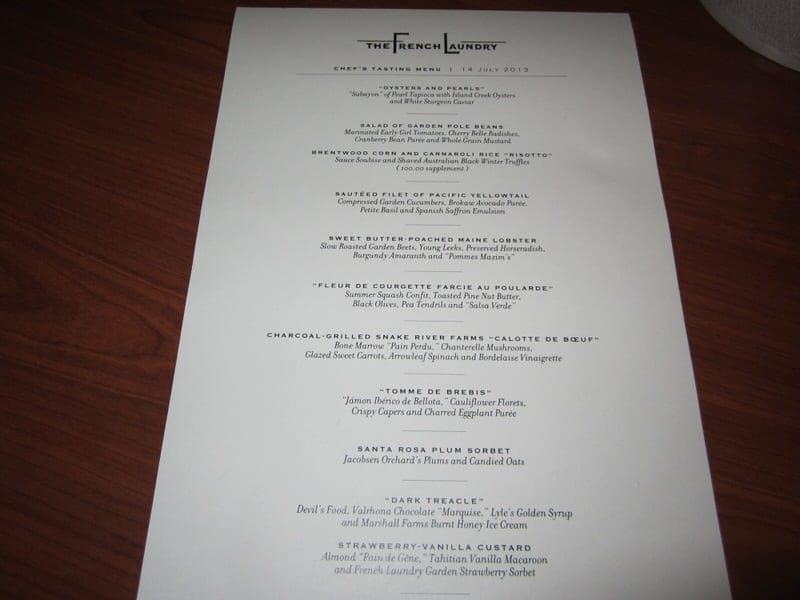 In addition to the menu items they present you with an amuse-bouche or two (tiny bite-sized hors d'oeuvre), breads, and at the end a very long succession of sweets (coffee and donuts, chocolate macadamia nuts, caramel candies, and chocolate truffles). To celebrate our anniversary, we were presented with a tiny chocolate orange cake. Finally, they send you home with a little gray tin of shortbread cookies. We were quite overwhelmed at the end with all the sweet treats!
Here are pictures of some of our dinner:
Favorite Dishes: The amuse bouche (the salmon tartare cornets are delicious), the "Oyster and Pearls" first course, the fish dishes (yellowtail and poached lobster), and the chocolate dessert (Ethan's). I would also have to give a shout out to the vanilla shortbread cookies as they were wonderful even a couple of days later when I ate them.
Worst dish: "Tomme de Brebis" dish which was very salty. I really didn't care for anything on the plate. I really like ham and generally love meat plates, so I was disappointed. Ethan even though this dish was too salty which is saying a lot as he has a high threshold for salt.
Drinks: I had a glass of Lassalle Rose champagne ($29/glass), water, and espresso during the meal. Ethan had an orange sparkling non-alcoholic drink and coffee. The non-alcoholic drinks are at no charge.
Bill: Obviously bills are high here and always in the triple digits. We suspect the bill of the couple beside us was probably in the quadruple digits given their wine selections and their statements of "money is no object" (how lucky for them!).
Even though cost was of importance to us, there are two positives aspects: 1) you know how much the bill is going to be (not including wine) before you come as the prices are provided on the website and 2) service is all inclusive. So we limited our wine intake and were happy when we were told that gratuity is already included and we could leave additional gratuity if we wished. We, of course, left additional gratuity, but it was much less than we had anticipated we'd need to leave.
After dinner thoughts and reflections: After we paid the hefty bill and tore ourselves away from the remaining sweets, we were quite stuffed and stopped to sit outside in the grassy area where they have some nice patio furniture set up. Here we sat and reflected on the meal together. We felt the service was excellent, the food very good and it was a nice experience overall.
However, we would probably never return to The French Laundry. This is for a few reasons, but mainly we felt the meal was too expensive. Also, although the food was very good, we both actually had expected a bit more given the price. Only a couple of the dishes really stood out to us afterwards and we both thought the one dish was way too salty.
We have had more memorable meals from less expensive restaurants. So while we were both glad to have had the experience, I don't think it will be one we'll repeat. However, this is just our opinion, as the diners at the table near us were asking the staff about how they could get reservations again soon. If you have the money, it's well worth the splurge, but if the prices are too high for you, you can find many less expensive restaurants in Napa that will still give you a very memorable experience.
Any thoughts on The French Laundry or any of the other Napa Valley restaurants? We'd love to hear them. We are also happy to share more specific information about our dinner experience, just ask. Also, if you are going to be visiting the Napa Valley soon, we recommend checking out our post on things to do in Napa Valley.