As tea lovers, Ethan and I were excited to visit the Thai Nguyen province with Footprint Travel's Tea & Bike Tour. Thai Nguyen province is the primary tea growing region of Vietnam and is famous not only for its green tea, but also for its beautiful Nui Coc Lake and mountain scenery. Located about 2 hours from Hanoi, this region is a popular local vacation destination for Vietnamese travelers who want to relax on and around Nui Coc Lake, but has yet to be widely promoted as a tourist destination for Westerners.
Vietnam's tea region is a great place to add to your Vietnam trip itinerary if you appreciate tea and/or want a break from crowded Hanoi. There is much to do in this scenic province, but we focused our visit specifically on the tea-related attractions. Our private day tour from Hanoi with Footprint Travel included stops at a local tea growing plantation, a bike ride around the Thai Nguyen province, lunch with a local tea growing family, a demonstration of the tea making process, a visit to a tea museum, and about a dozen cups of the local green tea!
Our Tea and Bike Day Trip with Footprint Travel to Thai Nguyen Province
Basic Information on Footprint Travel
Footprint Travel is a small tour company owned by local Vietnamese tour operators that has been in operation for 13 years. We had the pleasure of actually meeting Mr. Song Dang, one of the co-founders of Footprint Travel who is now the Managing Director, during an earlier morning Hanoi City Tour.
The company operates tours in Vietnam, Cambodia, and Laos with a targeted focus and expertise in Vietnam. Most tours are provided as private tours, although a few are group tours. Tours range in duration from a few hours to over 20 days and can be customized as needed in advance.
Footprint Travel is committed to responsible and sustainable travel by giving back, hiring members of the local communities, and choosing environmentally friendly vendors when possible.
Hanoi Office Location

: 30A/12A Ly Nam De Street, Hanoi, Vietnam
Phone Number

: +844 3933 2844
A Visit to a Local Tea Farm in Thai Nguyen Province
Our wonderful guide Trung met us at our hotel with the driver and Footprint Travel van around 7:30am and we left Hanoi to head to the Thai Nguyen region. It was great to see Trung again as he had been our guide on an interesting early morning tour of Hanoi earlier that same week. Along the way, Trung pointed out sites and told us more about the day's tour and the history of tea growing in Vietnam. Drinking tea in Vietnam, like many Asian countries, has a very long history and is deeply embedded within the Vietnamese culture. While coffee is now a popular drink (particularly among Vietnamese youth) and coffee shops are springing up all over Vietnam, most Vietnamese still drink tea on a daily basis and it remains the most common beverage drank inside homes.
We drove through Thai Nguyen and arrived at a tea farm in the Tan Cuong commune called Tien Yen (Tiến Yên). We were welcomed by the family owners Mr. Đại and Mrs. Vân who run the tea producing establishment and live adjacent to one of the tea fields. This family is one of the most successful tea making families in the Tan Cuong commune of the Thai Nguyen province. After meeting a few members of the family (Mr. Đại lives with his parents, wife, and children) we sat down at a table in the production building and had tea in the traditional Vietnamese manner. Trung operated as a translator for us as the family mostly spoke to us in Vietnamese. It was interesting to learn more about their family and the history of the tea farm. Mr. Đại explained to us that he is helping lead a group of growers in improving production methods and increasing the visibility of Thai Nguyen tea to the international community.
We then went outside to the tea field where a few women were picking tea leaves. We were shown how to tell when tea leaves and buds are ready to be picked and how to tell its quality grade. They allowed us to pick for a few minutes and then we came back inside for more cups of tea. We soon learned that any time you set down an empty cup of tea, it will immediately be filled up again. We also learned how to hold the little tea cups at certain heights compared to other drinkers and when you should cover the cup with your hand to show respect for the other tea drinkers present. Essentially, the younger members and those of less importance hold their tea cups lower and cover their mouth when drinking with elders and those of higher status.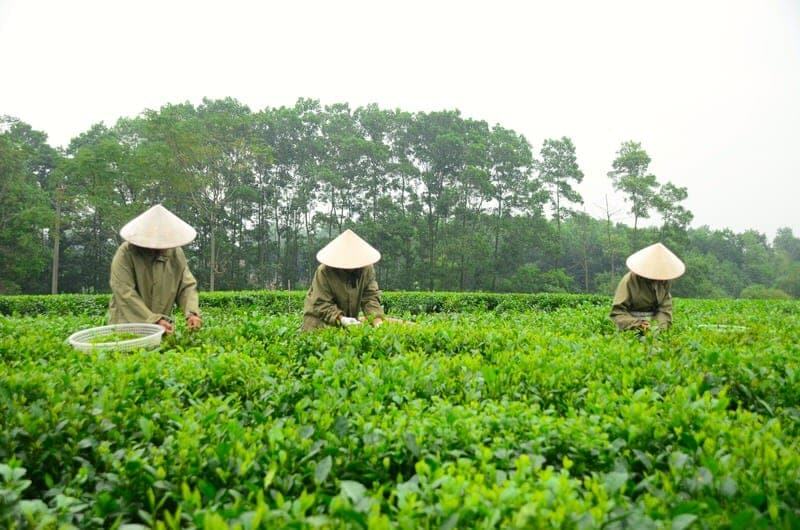 We then headed out for the bike tour (described later), and upon returning a large lunch feast was awaiting us in the kitchen area located apart from the house. The feast was prepared by Mr. Đại's wife and included mango salad, chicken, vegetables, seafood, rice, and a few other dishes. It was cooked for us as guests and would not be a typical everyday meal of the family, but one served during special occasions. We both politely took a sip of the strong rice wine but turned down actually drinking full cups as it was very strong and Ethan doesn't drink alcohol. Similar to the tea, as soon as we finished something more food was laid on our plate and we had to start refusing at some point as we were both going to burst from eating so much. Trung explained that this was a sign of respect to keep offering guests more food as a host.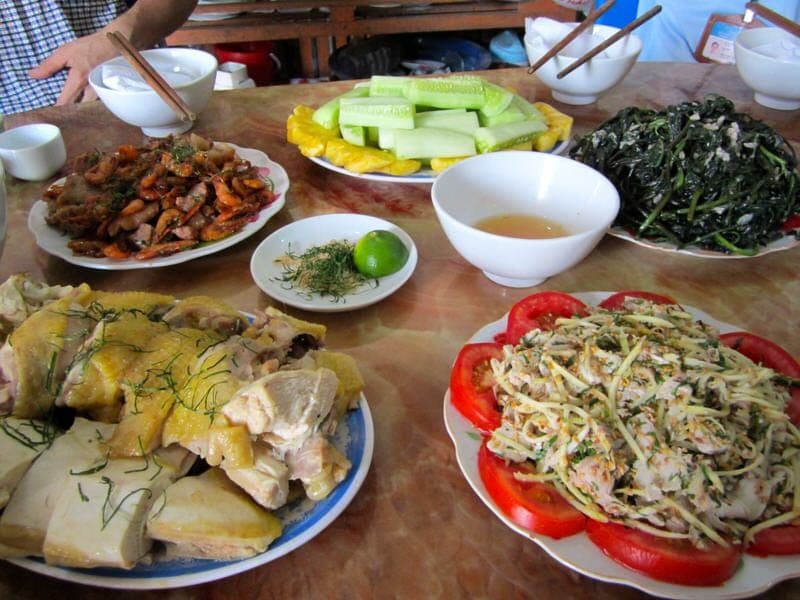 After lunch, we moved back into the production building and had a few more cups of tea and some sesame treats. We then learned about the steps to making and processing tea and were able to actually witness and take part in most of them. We learned about the many levels of tea drying, shaping, heating, blending, and packaging. While Vietnamese green tea is the most common type of tea drank by Vietnamese, it is relatively unknown outside of mainland Asia although efforts are being made to raise awareness of this type of tea. While several regions within Vietnam produce tea, the tea from the Thai Nguyen province (specifically from Tan Cuong commune) is the most well-known and is regarded as having the finest quality. Outside of mainland Asia, tea is also currently exported to Algeria, France, Iran, Iraq, Japan, Pakistan, and Taiwan. Before we left, we were given a large package of the Tien Yen green tea from the family to take home as a gift and souvenir of our visit.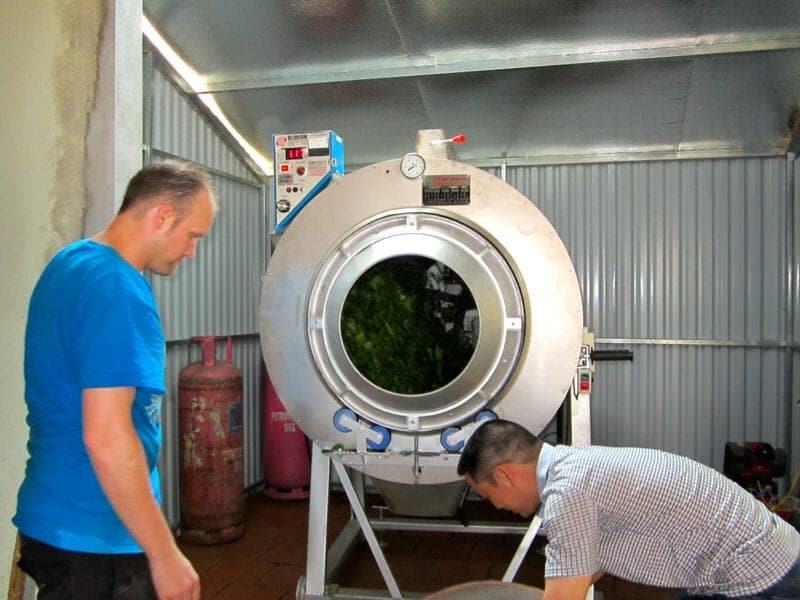 Biking Tour of Thai Nguyen Province
After meeting the family and doing a bit of tea picking, we headed out for the biking part of the tour. The biking route winds along the tea growing region passing numerous tea farms, traditional villages, and a section of Nui Coc Lake.
The biking route is easy to intermediate in difficulty so doable for most people. But I realized before we started that there was little chance of me being able to bike the full route as I almost never bike at home. Trung and Mr. Đại quickly improvised and I was offered the alternative options to either go by bike with the driver available to pick me up at any point or go by motorbike behind Mr. Đại. Not wanting to repeat the failed biking experience on Cat Ba Island earlier this week and not wanting to make extra work for the driver, I decided to hop on the back of the motorbike with Mr. Đại. This ended up being very nice for me as I was able to take photos and better concentrate on the views, although Ethan really enjoyed being able to bike the full route.
Some of the highlights was seeing the tea fields, stopping to buy a drink from an elderly local couple who were clearly very fascinated to see Western foreigners, visiting a giant local church, and taking in the scenery around the mountains and lakes. Ethan got a good workout and he was very hungry for lunch when we returned about 2 hours later.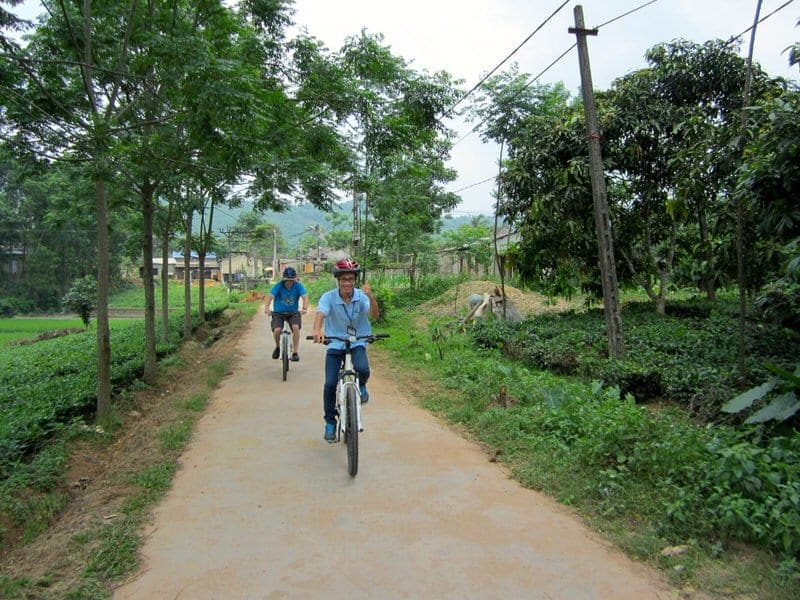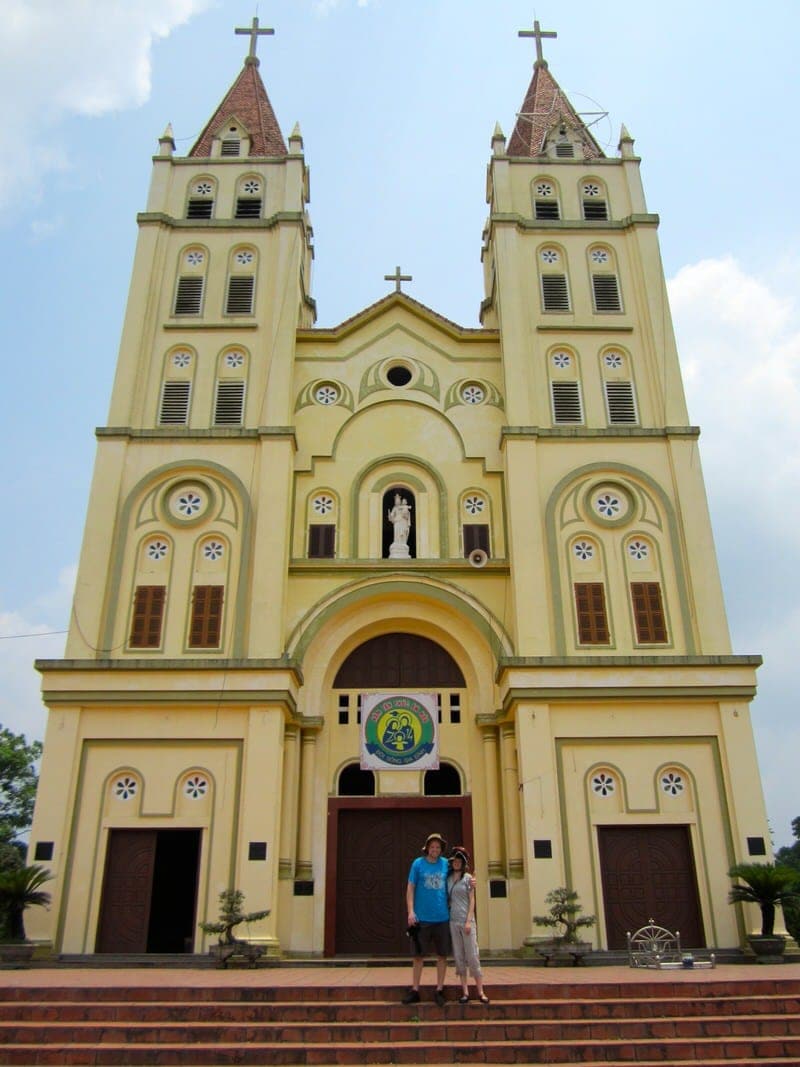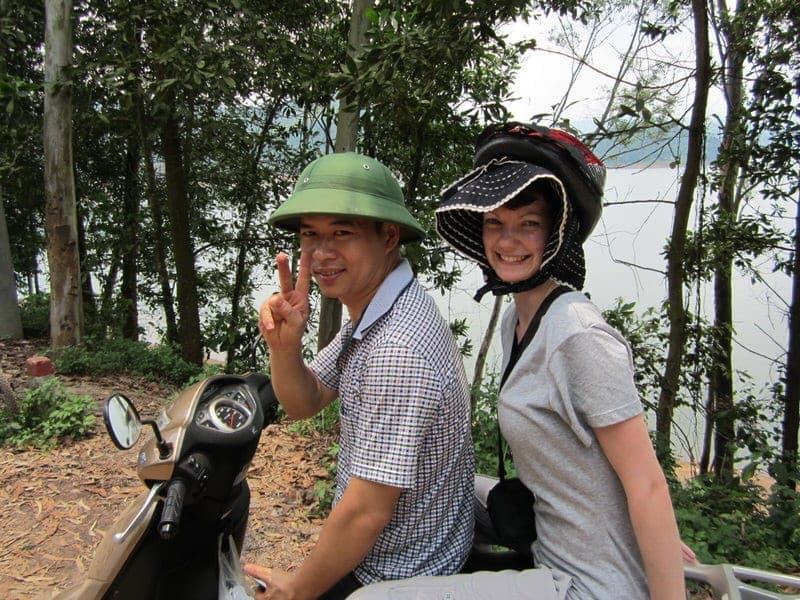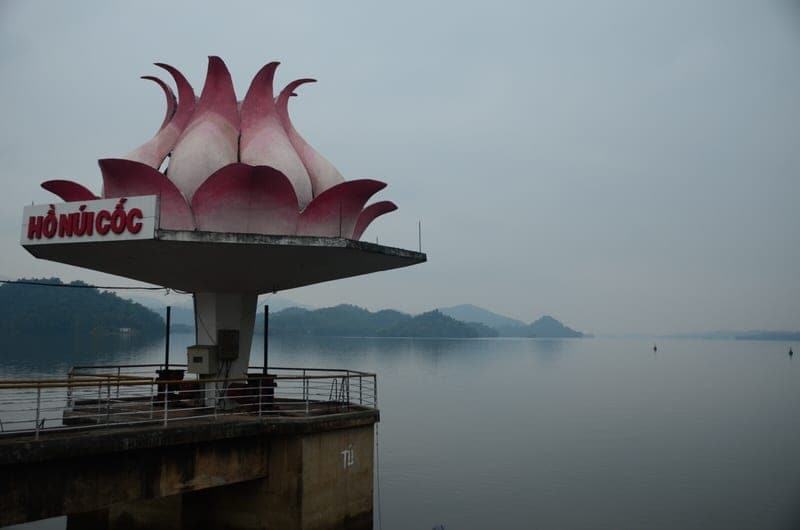 Visit to the Thai Nguyen Tea Cultural Space
After we said goodbye to our hosts, we headed to the Thai Nguyen Tea Cultural Space. The Tea Cultural Space is a tea museum located near Thai Nguyen city. This large museum and cultural space is dedicated to Vietnamese tea and was opened in 2011 after the first annual International Tea Festival was held in the region.
Earlier in the day, during the bike tour we had seen the area where the annual International Tea Festival takes place each November. The museum complex is divided into three main sections: the welcome area, the display space, and the space for tea culture and products. The museum illustrates the history of tea in Thai Nguyen as well as the tea making stages consisting of planting, collecting and processing. The museum section currently displays over 500 objects, mostly tea pots.
In the separate tea cultural space, you can sit and have tea in the traditional Vietnamese manner. You can also see people picking tea leaves in the fields behind the museum and visit the very large outdoor mosaic teapot fountain. This teapot provides for a great photo opportunity and is the largest ceramic teapot in Vietnam.
This relatively new museum is still expanding and adding display items and does not currently charge an admission fee to visitors as one of its primary goals is to better educate people about Vietnamese tea. It was a quick but interesting 30 minute visit and the museum staff were very friendly. You can also purchase teas from the region here at the Tea Cultural Space.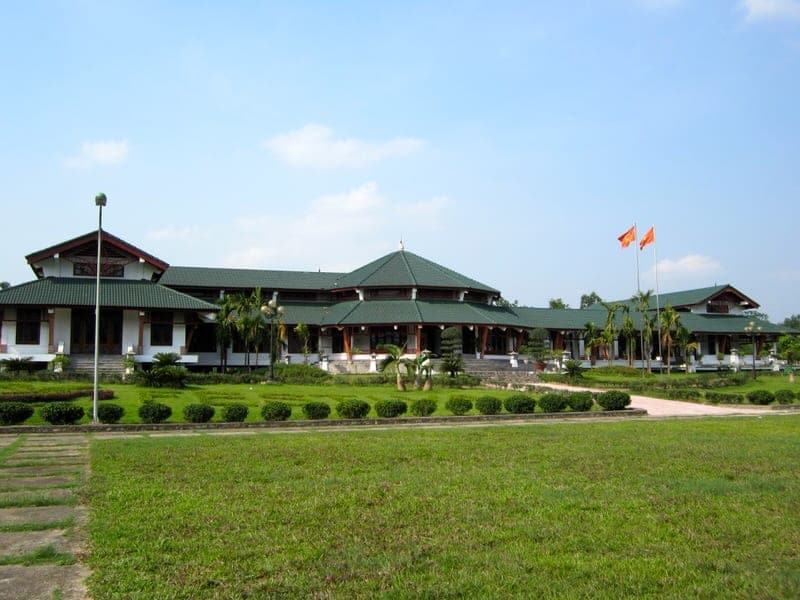 Overall Impression of Tea and Bike Tour
We really enjoyed our day trip to Thai Nguyen and would highly recommend the Tea & Bike Tour from Footprint Travel for those who enjoy tea and are looking for a unique cultural experience outside of Hanoi. Highlights for us included meeting the tea growing family, seeing the countryside, and learning more about the tea process. We also thoroughly enjoyed our time with our guide Trung who is not only very friendly but super competent and full of information. We'd love to return to the region to take part in the International Tea Festival and to spend some time at pretty Nui Coc Lake.
Would you be interested in doing the Tea & Bike tour if you were in Hanoi? Have you visited Thai Nguyen or another tea growing region in Asia? If you have comments or questions about our tour, please let us know!
**Disclaimer: We were provided a complimentary tour to write this review; however, this article contains only our own honest thoughts and opinions. We did not receive any financial compensation for the writing of this post, do not work for Footprint Travel, and receive no commission for any sales of these tours.**