Halong Bay is considered one of the most beautiful natural landscapes in Vietnam, and a Halong Bay cruise is a must-do on many travelers' lists. Imagine an emerald bay peppered with about 2,000 tiny vegetation-topped islands which feature numerous caves, lagoons, coves, and coral reefs.
This breathtaking UNESCO heritage site has recently received the honor of being named one of the New Seven Natural Wonders of the world and is not surprisingly one of the most popular attractions in Vietnam.
Most visitors need little convincing to visit, but the array of cruise options can be daunting as hundreds of boats ply across the waters of Halong Bay each day. Cruises range widely in price and companies offer a variety of cruise lengths, itineraries, amenities, and activities. We'll share our tips on how to choose a Halong Bay cruise, answer common questions about Halong Bay cruises, and review our own recent Halong Bay cruise with The Au Co.
A Few Facts about Halong Bay
Halong Bay is located east of Vietnam's capital city Hanoi. It takes about 3.5 to 4 hours by car to get from Halong Bay from Hanoi or the Noi Boi airport (outside Hanoi). If you are using a transfer service, you'll likely stop for a 15 to 30 minute break along the way. The closer but smaller Cat Bi International Airport is located about 1.5 hours drive from the main Halong Bay docks.
Note that there are several different ports in and around Halong Bay where cruise ships may dock. While most cruises leave from the Bai Chay port or the Tuan Chau port, some also leave from the Hon Gai or Cai Lan ports around Halong. Some also leave from Haiphong (a city 26 miles / 43 km southwest). In our case, our cruise left from the dock on Tuan Chau island. Knowing this information is only necessary if you are arranging your own transportation.

Legend has it that Halong Bay was created by a great dragon from the mountains and the name Halong translates to "where the dragon descends into the sea". Scientists, however, suggest that the landscape was formed through tectonics and water erosion. Halong Bay is considered a notable example of a karst landscape formed by the dissolution of limestone in the area that occurred over millions of years.

As tourism continues to increase in Halong Bay, so have the regulations to try to ensure safety and prevent overcrowding and destruction of the bay. After some disastrous incidents, such as the sinking of one tourist boat in 2011, a number of regulations were enacted in regards to Halong Bay cruise boats that has hopefully led to increased safety. Stricter regulations also mean less flexibility for cruise operators as to where they can go and where they can anchor. Cruise boats can only anchor in certain areas and must anchor near other boats at night for safety reasons. Boats must also have white paint on them, supposedly so they could easily be seen but this doesn't work very well in foggy conditions.
Choosing a Halong Bay Cruise Company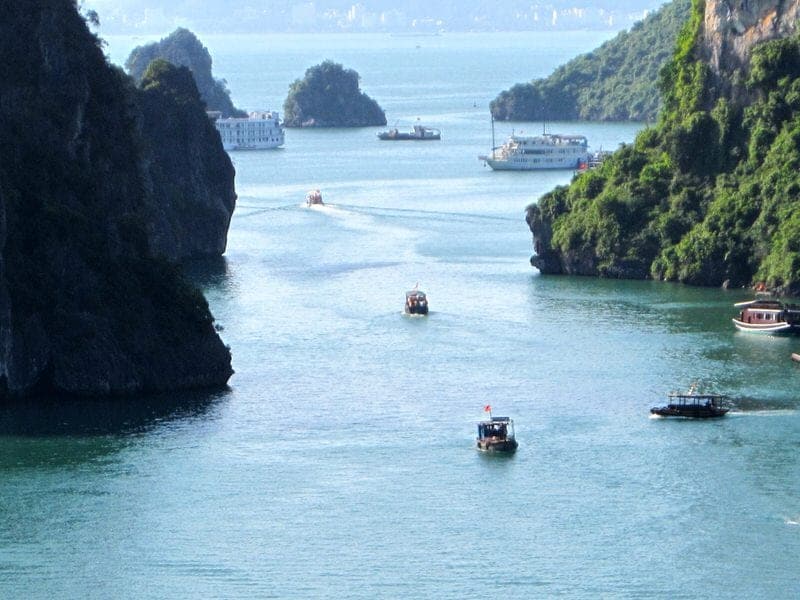 How much should I budget for a cruise?
If you want to splurge on one activity during your time in Vietnam, I would recommend that you consider doing it on a Halong Bay cruise. Most cruise packages include transfers to and from Hanoi and you can get really cheap cruises beginning at a rock-bottom jaw-dropping $30 per person to do an afternoon cruise around the bay and going upwards to $400 per person/day for a luxury overnight cruise.
You do not need to book with a luxury operator to have a nice cruise, but if you book at the budget level it is hard to know what to expect in terms of service, food, safety, and accommodations. The budget tours are often booked through travel agents who place people with different tour operators and boats in order to adequately fill up as many spaces as possible, so you really may not have a good idea of what things will be like until you get aboard.
Our recommendation would be to try to budget for a mid-range operator with good online and/or word-of-mouth reviews and you should be able to get a good day cruise starting at about $70/person or an overnight cruise starting at around $120 to $150 per person. If you shop around and check promotions, you may find even better rates as most cruise companies are anxious to fill their boats and offer good last-minute deals.
Don't fret if this sounds like more than you can spend, just find a cruse with good reviews, book at a price you can afford, and then go knowing you'll still be seeing the same beautiful bay without any of the bells and whistles.
On the other hand, if you are looking for excellent food and service, check out the luxury cruises and expect to spend a little more. The activities and sites are often the same between the mid-range and luxury operators, but the food, service, and staff-to-passenger ratio often improves.
Do I have to book an organized tour in advance to take a cruise?
No, but it is the most convenient way. You can also make your own way to Bai Chay (a.k.a. Halong City) by bus and then arrange a cab or bus to the Bai Chay harbor and book a boat to tour Halong Bay or take you to Cat Ba Island.
You can stop at the Halong Bay Tourist Information Centre at Bai Chay dock for information and then negotiate a price with companies at the dock. You'll likely wind up as a daytrippper on another cruise for a budget price, but you will likely have to pay extra for any onboard services such as meals, drinks, activities, etc.
If you are not interested in any of the extras, this can be a great budget idea, but if you do want some of the extras you may end up paying more for them than if you joined a budget cruise. Note that although you may get a good price, you will have little control over the cruise and its amenities. I would check with recent backpacker-friendly websites or guidebooks on the best way to do this.
If you are only interested in going to Cat Ba island, you can just book a regular ferry. Ferries leave on a regular schedule which varies by the season. You can then stay at Cat Ba island for as long as you wish. You can get ferries from Halong City or via Haiphong.
Are there private boat tours at Halong Bay?
Yes, private boat charters are also possible for those with money who are not interested in cruising with a fixed cruise tour itinerary or a group of strangers. While expensive, this can actually be a reasonable option for those traveling as a family or larger group and you may be able to customize an itinerary.
Note that the company will likely still have to get an itinerary approved in advance so not a good last-minute option if you want a customized trip. Many of the larger mid-range and luxury tour operators offer private tour options.
How much time should I spend at Halong Bay?
You'll want to spend at least a few hours on the boat cruising the bay if you are just going for the day. Anything less than 3 hours and you won't really have much time to enjoy the boat and the scenery.
Also you'll want to factor in the amount of time it will take you to get to the port where your boat will leave. So for instance if your boat leaves from Halong Bai Chay port, it will be 4 hours of traveling each way if you are coming from Hanoi. If your boat is leaving from Haiphong, it is 2 hours each way. So it may feel a bit disappointing to spend more time in the shuttle van or bus than on a boat.
If it is within your budget, I would strongly recommend choosing an overnight cruise as things become much quieter and less crowded in the evenings and it is nice to have more time to move around the boat and engage in more activities. We also greatly enjoyed being able to witness both sunset and sunrise from the boat.
Let's put it this way, those who just do a day trip often wish they had spent at least one night and those who spend one night, often wish they could have spent two, etc. You're unlikely to regret spending an extra day or night here, so I would choose the tour that best fits your budget and schedule.
Note that it is often a good value to do a 3 day/2 night trip compared to a 2 day/1 night trip as even though it costs a bit more, the cost per day is often less. Also pay attention to the amount of time spent on the cruise as a 2 day/1 night cruise itinerary may only account for 24 hours or less of time!
Best times of the year to cruise Halong Bay?
Tours operate all year long, but the best months are generally considered between October and May, with October, November, March, and April considered ideal. The summer months can be hot and rainy and winter months can be cold with strong winds. It is also good to avoid busy major holidays such as Tet.
During any visit, it is best to check the weather forecast before scheduling and ask about the company's weather cancellation policy (will cost be refunded? will you be rescheduled for the next available tour?) before booking a tour.
I've heard that there is a lot of pollution and trash in Halong Bay, is this true?
We personally did not witness much trash in the bay during our recent visit in April. However, we have heard that trash and pollution is a serious issue in the area, stemming from the tourism industry as well as the fishing industry and inhabitants of the floating villages.
Do your part to protect this beautiful area by refraining from throwing anything into the water, disposing of rubbish appropriately on the boat and while visiting caves and islands, and supporting cruise companies that promote sustainable and responsible tourism in the bay. Responsible and eco-friendly tourism is still a growing concept in Vietnam but it is increasing.
Some Halong Bay cruises mention Cat Ba Island, Gulf of Tonkin, Bai Tui Long Bay, and/or Lan Ha Bay. Are these places worth visiting as well?
The Gulf of Tonkin is the full area stretching from China to Vietnam and includes three bays: Halong Bay, Bai Tu Long Bay, and Lan Ha Bay. Cat Ba Island is the largest island in the bay and is well-recognized for its biodiversity and about half of the island is protected as a national park. Many Halong Bay tours stop here for trekking, biking, birdwatching, kayaking, and other adventure activities and some cruises stay overnight here at one of the island's hotels.
Bai Tu Long Bay is located east of Halong Bay and includes numerous islands and a national park and is often referred to as a less-visited Halong Bay. Lan Ha Bay to the south of Halong Bay is even less visited than Bai Tu Long Bay and also offers great natural beauty as well as more beaches than the other bays.
Most of the budget tours and day cruises stay within Halong Bay as it requires more time and fuel to venture further, but many of the mid-range and luxury cruises offer the chance to explore further afield. Don't expect to be the only boat in any of the bays, (at night boats must stay within eyesight of other boats for safety), but it is nice to get away a bit from the crowds.
We visited all three bays and all are quite beautiful. The biggest advantage is that you're more likely to have the opportunity to find less crowded beaches and coves for swimming, snorkeling, and kayaking if you venture outside Halong Bay.
What things should I take into consideration?
This is a matter of preference of course, but the factors that were most important to us were length of the cruise, itinerary, cost, activities included/available, number of passengers, quality of food, commitment to responsible travel, safety record, and quality of overnight accommodations.
At a minimum, find out specifically what all is covered in the cruise price (meals, activities, gear, cave tours, park fees), and if there are any additional costs that you will need to pay (e.g., optional activities, drinks, cave entrance fees. kayak rentals).
If you are staying overnight as part of your cruise, you might also want to ask about whether the boat also accepts daytrippers which might indicate the boat may be crowded during the day. During overnight cruises, you'll either sleep overnight on the boat or the company will arrange accommodations elsewhere such as at a hotel on Cat Ba Island.
Almost all cruises stop to tour at least one cave and one fishing village, and some make stops at beaches, pearl farms, Cat Ba Island, and other attractions.
For those wanting to party or meet up with backpackers or singles, choose budget and midrange cruises as most of the cruisers on the luxury cruises are traveling as couples or families and tend to be older.
If you or anyone in your group has any physical mobility issues, I would make sure that you talk about potential issues before booking.
What Halong Bay Cruise companies should I consider?
There are dozens of cruise companies that own boats in Halong Bay and hundreds of travel agencies that will gladly sell you tickets to cruise Halong Bay. Personally we have only used The Au Co (owned by the same company as Bhaya Cruises), but the list below reflects companies and agencies we considered as well as companies that have received good reviews from reputable sources and fellow travelers.
This is by no means an exhaustive list as new companies seem to be popping up all the time and we definitely recommend checking out recent reviews before booking. Most of the below fall in the mid-range to luxury range in terms of price as budget cruises often come with mixed reviews. We have also included day tours of Halong Bay for those looking for a shorter tour.
1 Day Halong Bay Boat Tours
2 Day Halong Bay Boat Cruises
3 Day Halong Bay Boat Cruises
There are of course many more options to choose from, you can see a list of Halong bay tours of various durations and comfort levels on GetYourGuide here and Viator here.
**If you have recommendations (or complaints) of cruise lines or travel agencies based on your own personal experiences booking a Halong Bay cruise, leave us a note in the comments.
Transfers from Halong Bay
Many cruises include a shuttle or car transfer to and from Halong Bay as part of the price. However, this is not always the case, especially for those wanting to do day tours. So definitely something you will want to check when making your cruise booking.
If you need to book a transfer, here are some options for transfers to consider.
Hanoi to Halong Bay Transfers
Hai Phong Airport to Halong Bay Transfers
Where to Stay Overnight near Halong Bay
If you want to spend the night near Halong Bay, there are a lot of options within the nearby city of Ha Long. Options include hostels, guesthouses, apartments, and hotels. You can then easily take a short taxi ride or transfer to the port for your boat tour departure.
If you plan to overnight near Hai Phong, you can see lodging options here.
Most pre-booked cruises include round-trip transport from Hanoi (or Hai Phong) and there are thousands of accommodation options in Hanoi. We stayed at the Metropole Legend in Hanoi before and after our cruise and can highly recommend it if you are looking for a nice historic hotel.
Our Cruise of Halong Bay with The Au Co
After doing some research on Halong Bay cruises, this cruise by The Au Co stood out to us for three main reasons: 1) the 3 day/2 night cruise itinerary included all three of the main bays of the Gulf of Tonkin and a visit to Cat Ba Island, 2) the luxurious nature of the food, service, and accommodations, and 3) the company's stated commitment to sustainable and responsible tourism.
Launched in 2012, this sister company to Bhaya Cruises offers 3 day/2 night cruises on two vessels, each accommodating a maximum of 66 passengers. We contacted The Au Co to see if they were interested in having us review one of their cruises and they happily agreed.
Day 1 of our Halong Bay Cruise with The Au Co
We were picked up from our hotel in Hanoi, the Sofitel Legend Metropole Hanoi, around 8:00am. The drive took about 3.5 hours with a brief 15-minute restroom/shopping stop along the way at the Hong Ngoc center which is a traditional arts factory and warehouse that employs local disabled people.
Once we reached the Tuan Chau port where all the Bhaya and The Au Co cruises depart, we were checked-in, given bracelets, and led into a building where we were offered water and soft drinks while we waited to board. We waited about 15 minutes and then were welcomed by staff onto the boat.
The boarding ceremony included flags, traditional drums, and a yummy fruity pineapple welcome drink. We found our room where our luggage had already been delivered and were very delighted to be staying in one of the Long Quan suites, which was very lovely.
We soon had to head back upstairs for a quick safety briefing followed by lunch. We sat with an older couple who also happened to be from California and enjoyed their company and the five-course meal. All the meals on board follow a five elements (wood, earth, water, fire, metal) theme.
During lunch, the cruise director Maria introduced herself and some of the cruise staff members and then went over the day's itinerary. It was odd to discover from our tablemates that they had actually signed up for a 2 day/1 night cruise with Bhaya Cruises but had been upgraded to this cruise so that there could be more passengers for more social interaction. Approximately 20 of the passengers (there were about 32 of us) were actually only on board for 1 evening.
The first stop on our cruise was a guided tour of Sung Sot (Surprise) Cave on Bo Hon island. We all got onto one of the two smaller boats and then arrived on the island and got into line to visit the cave. As with all the activities on the itinerary, our entrance ticket was included in the price of our cruise.
Sung Sot is one of the most popular large caves in Halong Bay so expect to have to wait in line for a bit and for it to be quite crowded. There were about 100 stone steps to enter the grotto so likely not accessible for those with physical mobility issues. One of the cruise staff served as our guide and was quite good at providing information although it was often difficult to hear if we weren't close to him because of the size and acoustics of the cave.
The cave was really spectacular with its large size, formation by water dissolving the limestone, and the many interestingly shaped stalactites and stalagmites. While we spent about 30 minutes inside the cave, you really need to sort of file through at a slow moving pace as tour group after tour group moves through the cave one after another. Inside the cave, there is a clearly laid out path for visitors and there is both some natural light as well as strategically placed colored artificial lights.
We heard some of the visitors being disappointed as it was so crowded and some voiced concerns about the environmental impact of allowing such large numbers of people into the cave. A beautiful but highly touristed cave.
After getting back on board The Au Co boat, we changed into swimwear and then had the option to either kayak or be taken by one of the smaller boats to visit the nearby Soi Sim beach. Ethan and I opted to kayak and we enjoyed a short kayak ride to the beach and were very excited once we spotted several monkeys playing in the trees near the beach.
The monkeys did not pose well for my photos but we spent quite a bit of time trying to coordinate the picture taking while trying to keep the kayak from crashing into the rocks and trees. Ethan swam and played football with other guests while I hung around the beach and watched the monkeys. We spent about an hour on the beach before kayaking back to the boat to get ready for a spring roll cooking demonstration (including a fun contest among guests), happy hour (buy one, get one free drinks) and then dinner.
I was distracted throughout the outdoor cooking demonstration as it was sunset and it was also a full moon outside so it was hard to focus on the demonstration with such beautiful scenery. Dinner was good and there was also a short dancing performance during dinner by staff. A few passengers' anniversaries and birthdays were recognized with presented desserts from the chef.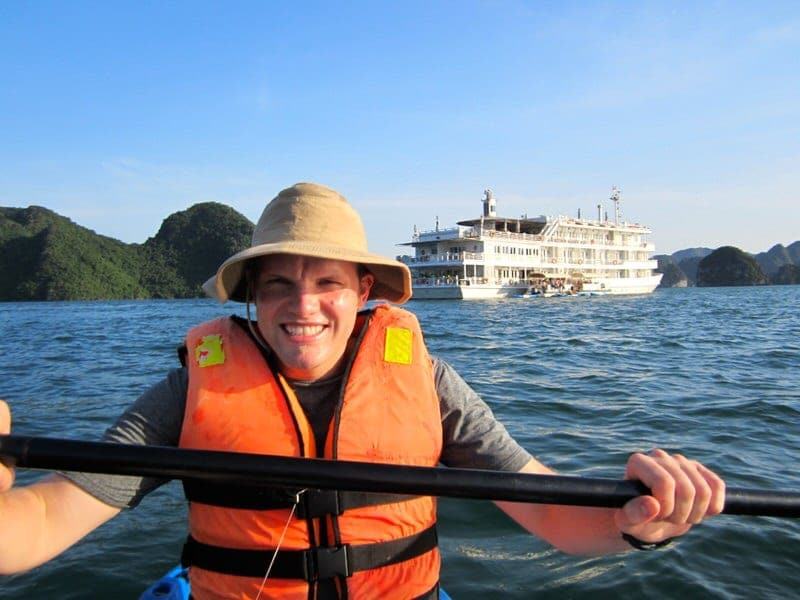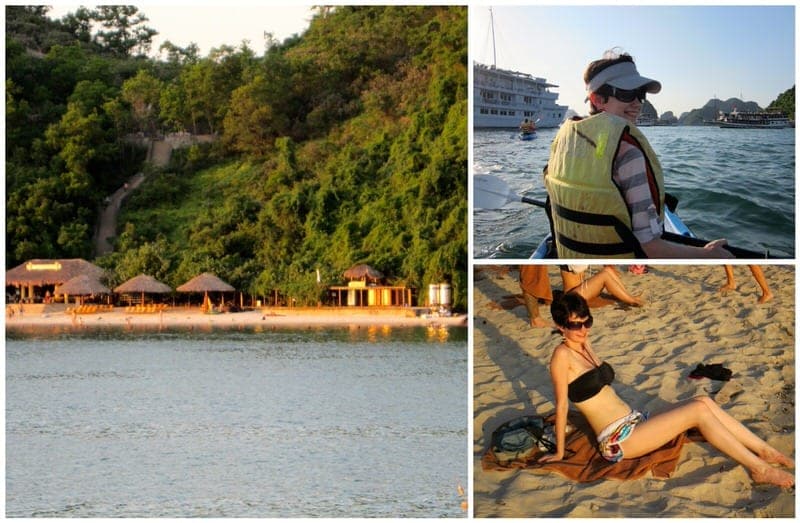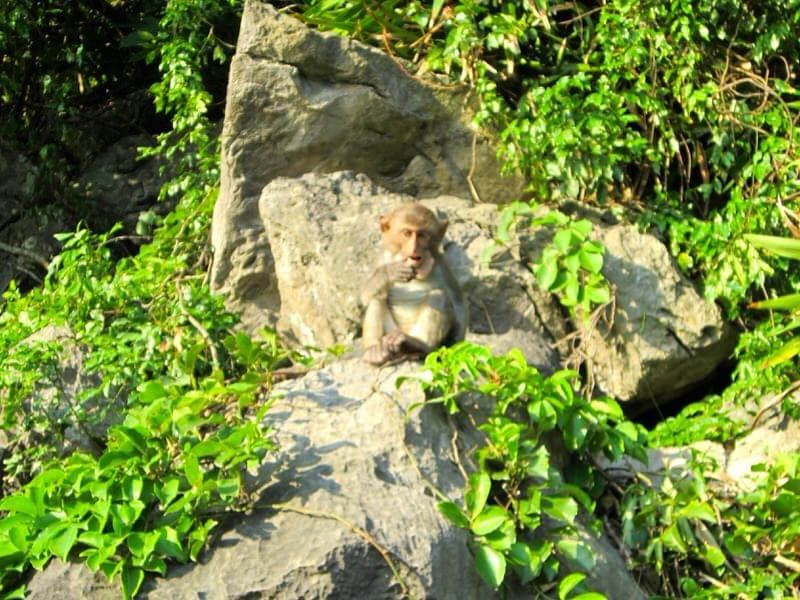 After dinner, things really got quiet as some guests mingled around the Lan Ha bar, others headed to their rooms or the private hot tub (all guests got a free 30 minutes), and others tried their hand at squid fishing. For the squid fishing, lights are shined into the water and you use a pole to try to catch them. We did not catch any squid the first night and decided that we wanted to relax with a movie in our room before going to sleep.
We had read in the Information binder in our room that DVD players and a "large selection of DVDs" were available to borrow on the boat. So we headed to the desk and requested a DVD player and DVDs. At first, there was confusion but then the DVD players were located; however, only a handful of music CDS and two DVDs (one being a children's movie, one being episodes of the Golden Girls) were offered to us so we returned to our room without a movie.
I got to take a bath (yes, the suite cabins have a bathtub!) and Ethan took a shower and then we quickly fell asleep. We did not notice the generator or any engine noises and slept very well.
Day 2 of our Halong Bay Cruise with The Au Co
We decided to sleep in and not join the 6:30am tai chi class on the sundeck like most of the other guests, but we did make it upstairs to the 7:00 breakfast buffet. The breakfast buffets both mornings consisted of fruits, yogurt, hot rice and noodle dishes, meats, breads, etc. Then we all got on the smaller boats again to visit the Vung Vieng fishing village. Vung Vieng consists of over 50 residences and over 200 people who make their living through fishing and tourism.
There are currently four such residential fishing villages in Halong Bay and many of the people living here are descendants of the members of the fishing communities who have inhabited the area for hundreds and even thousands of years. Today, the villages receive aid from the government as well as additional money from tourism in addition to their fishing incomes to help support and educate their families.
Once out of the boats, we arrived at a larger floating structure and were split into groups of four people. Each group then got into a traditional row boat and we got to take a relaxing ride paddling around the Vung Vieng fishing village, getting close to the limestone islands, and seeing the everyday lives of the village's residents.
After about an hour in the row boats, we returned back to our ship and those passenger's who were only onboard for the 2 day/1 night tour had to pack and leave as another boat came to pick them up to take them back to the dock. More than half the passengers left and it was kind of sad to see them go as you could tell that most were quite envious that the rest of us got to stay aboard for another day of activities.
After the other guests were gone, the rest of us met the cruise director, Maria, to learn more about The Au Co company and then took a brief tour of the Captain's Bridge and the Engine Room. We got to see how the boat is steered and operated, meet the captain, and even go down into the hot engine room. Next came another five-course lunch and then we headed to our cabins to get changed for our visit to Cat Ba Island.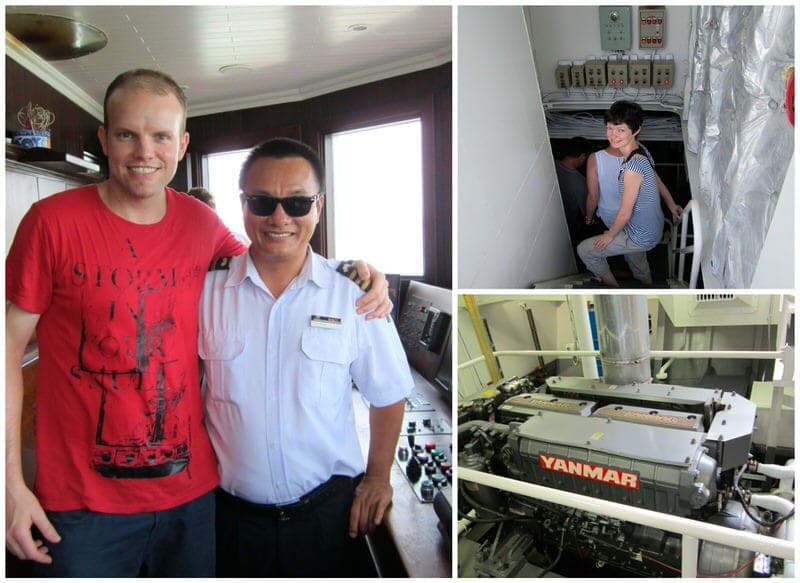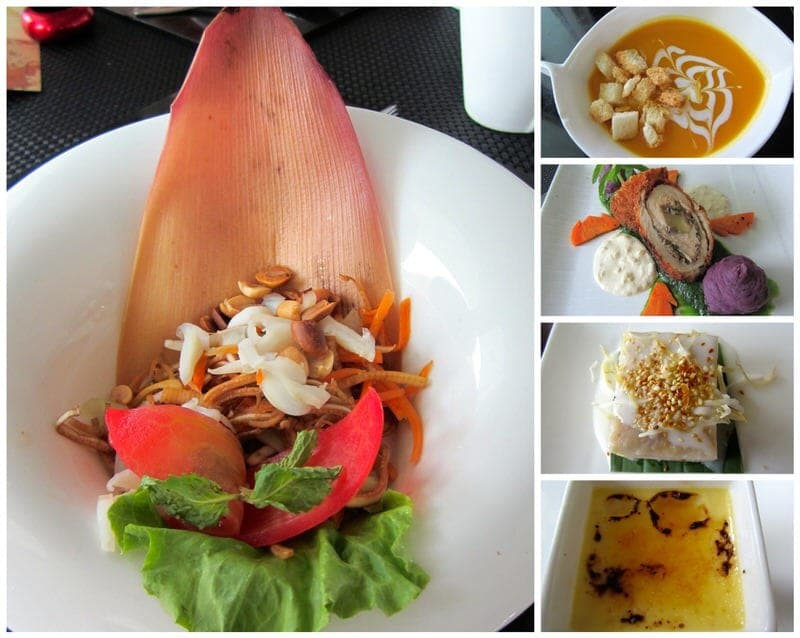 We were now cruising through Lan Ha Bay as we approached Cat Ba Island. Ethan had been expecting us to arrive in a busy little tourist town on Cat Ba Island, such as Cat Ba City, but instead Viet Hai village is a small village that has been isolated from the main parts of the island. While increasingly visited by tourists, our group was the only tourists on the island during our visit.
We arrived onshore at a little dock where a small shop provided us with bicycles. We had the option to ride a bike, walk, or get on the back of a local motorbike for an extra $5. Ethan and I both opted for biking and it was a scenic bike ride to The Au Co organic farm. The Au Co has developed an organic farm in Viet Hai Village to help support the local people and to supply fresh vegetables and fruit to be used on the cruises.
The trouble was that I am not an avid biker and my helmet was not the best fit. So after reaching the organic farm, I decided I wanted to do a motorbike and even though this was inconvenient, The Au Co staff quickly arranged for a motorbike to meet us and take me the rest of the way.
Later at the next stop another woman would request the same thing as although the bike ride is not strenuous, it might be difficult for those who are not used to biking. At the end of the biking route is a little shaded picnic area where we were given a few minutes to rest and then the choice to either visit the local town school and other public buildings or go on a trek into the jungle and visit a cave.
We all opted for the cave trek and followed the cruise director Maria into the jungle. The relatively short trek was scenic and not very difficult, but not appropriate for those who have physical mobility issues. The staff were very good at leading, pointing out places to avoid, and providing helping hands when needed along the trek. We didn't see the endangered Cat Ba langur (rarely sighted), but we did see goats, horses, bats, spiders, water buffalo, and birds along the way.
Once we all made it back by bike or motorbike to the pier, we got back on the boat and had the option to relax in our cabins or spend time kayaking and swimming in Viet Hai Lagoon. Ethan and I did some more kayaking and then Ethan did some swimming while I took a bath and read in the cabin until dinner.
Since it was our last dinner, the staff prepared a barbeque buffet dinner outdoors. There were three tables full of fruits, salads, grilled seafood, meat, and vegetables, and desserts. It was nice being able to eat outdoors. There were also lots of elaborately carved fruit decorations placed around the tables.
After dinner, the Happy Hour was extended and there was also squid fishing again on the main deck. Ethan and I tried this again and Ethan finally caught himself a little squid. I was not so lucky but happy at least one of us was successful. One of the staff members helped him take it off the hook and return it to the sea.
Then we decided to book our 30-minutes of free Jacuzzi time and had the outdoor Jacuzzi to ourselves for half an hour which felt nice in the cool air after a long day. Spa services were also available for a fee but we did not take advantage of any of these during our cruise. We were tired from a very active day and slept well again in the suite.

Day 3 of our Halong Bay Cruise with The Au Co
We decided to try to get up and join the tai chi session this morning. We were only a few minutes late to the 7:00am session and it was nice to take in the beautiful views from the sundeck as we cruised back through Halong Bay and the port. During tai chi, Ethan was chosen by the instructor to help demonstrate many of the moves and so he got to be a very active participant.
After the tai chi session, we headed down to the breakfast buffet and then back to our rooms to pack our bags. We also spent some time on our cabin's private balcony just taking in the scenery. We placed our bags outside our rooms and headed up to the Lan Ha bar to join the traditional Vietnamese tea ceremony demonstration.
At the tea ceremony, the staff taught us about the proper way to brew and serve tea and they prepared four different types of tea and we got to sample each of them. It was nice but I wish it had been a bit longer. After the tea ceremony, it was time to say goodbye to the rest of the guests, pay our bill, and gather our belongings.
We arrived back at the Tuan Chau Pier and disembarked around 10:30. Before we disembarked, we were given the number of our arranged transfer shuttle van back to Hanoi. Our van was already there but we went inside the waiting area for a few minutes until the rest of the passengers arrived. The ride back to Hanoi was a repeat of the ride to Halong Bay except we had a little longer stopover at the Hong Ngoc center.
Overall Thoughts on our Halong Bay Cruise with The Au Co
First of all, we do agree that Halong Bay is certainly a must-see place to visit if you are going to be spending any length of time in northern Vietnam and a cruise is an ideal way to see it. We also would recommend a trip of a similar length to ours with The Au Co as a day trip or one night trip will likely leave you wishing you had spent more time in the area. Being able to have time to see Bai Tu Long Bay, Lan Han Bay, and stop at Cat Ba Island made for a very nice tour and we got the opportunity to see more of the area than those cruises that only stay in Halong Bay.
We had a very good overall experience with The Au Co; however, things were not perfect and I think that even minor things stand out when you are taking a 5-star cruise. A couple of our disappointments came from inconsistencies in what we read in the materials in our cabin about the company and what we experienced. The first was our experience of not being able to watch a movie as there were DVD players but not DVDs available, and the second was being surprised by the buffet-style breakfasts after reading in The Au Co materials that the company's commitment to sustainable and responsible tourism meant avoiding buffets.
We were also surprised (and a bit concerned) that there was no provided way to contact a staff member after 10:00pm when the desk was no longer staffed. We were later told that one staff member is always awake and somewhere on the boat (often at the bar area), but we felt for safety reasons that there should always be a phone number passengers can call to reach a staff member for any pressing needs or emergencies.
Finally, we also heard several passengers complain about an aspect of the "Buy One Get One Free" happy hours at the bar as you had to buy two of the exact same drink to get the deal, even if the drinks were all the same price. We hope that this deal is changed so that any two drinks can be purchased for this deal.
Now, all the somewhat nitpicky things above were well outweighed by all the positive experiences we had on the cruise. The check-in process was efficient and well-organized. Our cabin was lovely, clean, and fairly spacious considering we were on a boat. Since we were in one of the Long Quan suites, we also had a very nice private balcony (all The Au Co cabins have a balcony) and a bathtub which I enjoyed. The meals, especially the 5-course meals, were very good and we enjoyed being well fed during the entire cruise.
We enjoyed the variety and number of activities offered during the trip and we never felt overwhelmed or bored, and everything seemed fairly well planned. Two of the activity highlights for us were probably the time spent kayaking and the trip to Cat Ba Island. During our cruise, there were more staff members aboard than passengers so an excellent staff-to-passenger ratio! Staff members were friendly, attentive, and very helpful.
They were very willing to made adjustments to food and drinks at mealtimes based on passengers' requests, accommodated people's physical limitations and fears during activities, were very watchful during the Cat Ba Island hike to make sure people did not stumble or fall, and generally tried to anticipate guests' needs and problems. One great example was after I decided I did not want to bike any further on Cat Ba Island, the cruise director quickly sought out a local motorbike rider for me. This was done without complaint or displayed annoyance by the staff even though it caused a few minute delay and someone would need to return the bike. This happened again with another passenger later on the same bike ride and again it was handled without complaint.
We also really liked that The Au Co is focused on responsible tourism, such as developing an organic farm in Viet Hai village and supporting cleanup and recycling efforts in Halong Bay. The Au Co also appears to be very focused on safety, using modern cruise equipment and keeping three times the required number of life jackets onboard. Overall, we had a wonderful Halong Bay cruise with The Au Co and would fully recommend it to someone else.
You should most definitely add Halong Bay to your bucket list, and if you want to see Halong Bay in style, I would strongly consider taking a cruise with The Au Co. We know from hearing from other travelers' Halong Bay cruise experiences, that a cruise with The Au Co is well and above many of the other cruises being offered. While more expensive, a luxury Halong Bay cruise is a worthwhile splurge if you have the opportunity.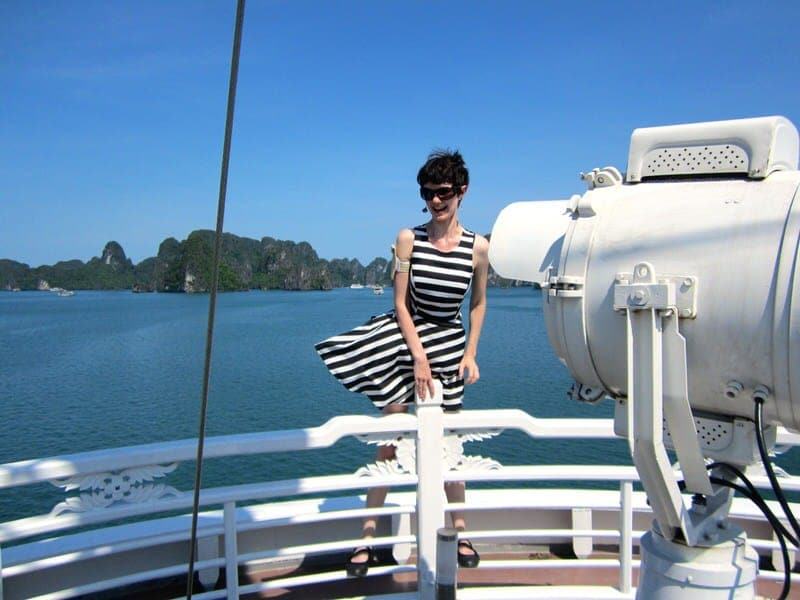 Have you been to Halong Bay? Any questions about our experience or recommendations based on your own Halong Bay cruise? As always, we love hearing from you!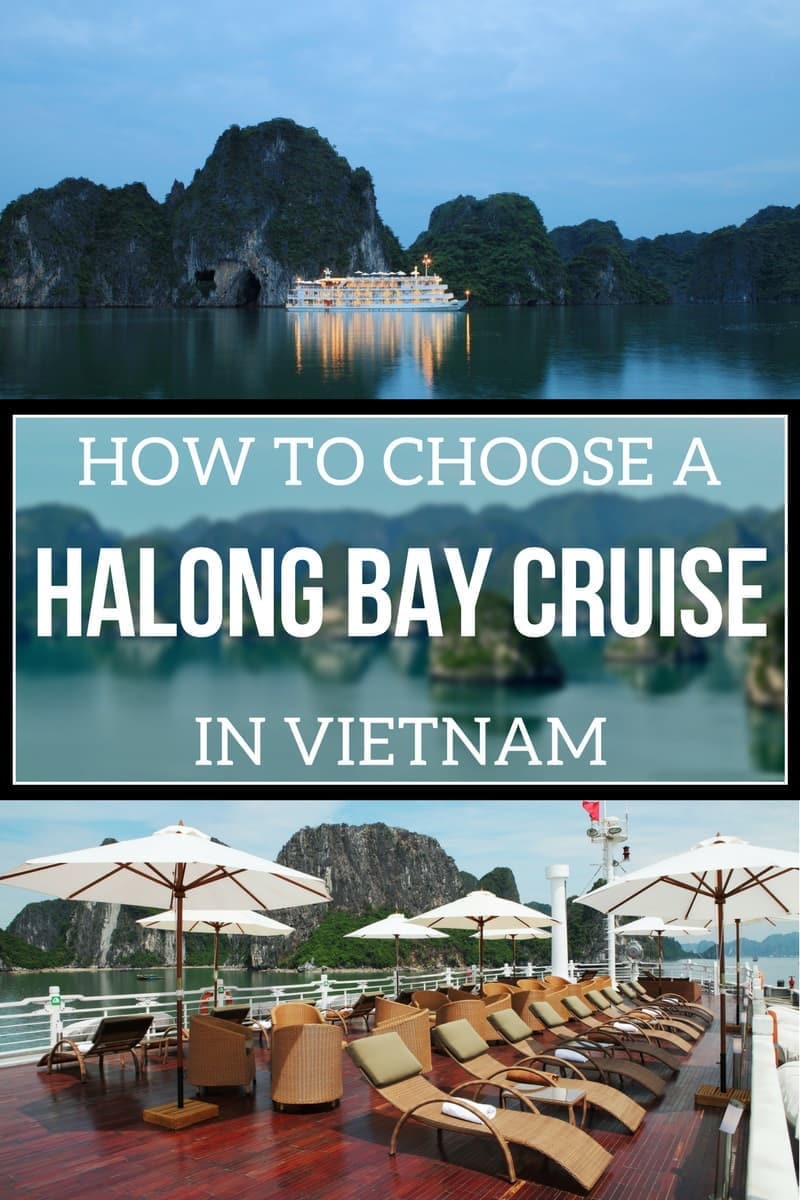 **Disclaimer: We received a discounted cruise and a complimentary upgrade and transfer in order to review the The Au Co cruise and its services; however, this article contains only our own honest thoughts and opinions.**