One morning while in Hanoi Vietnam, we got up before 4:00am to go on an early morning city tour. Crazy, right?! Now, we are not early morning people by any means, but we trusted our guide and reluctantly got ourselves out of our comfortable beds to explore Hanoi at 4:00am.
We are so glad we did as there are things that you only have the opportunity to experience early in the morning in Hanoi and few tourists venture out at these hours. We explored chaotic early morning markets, witnessed the changing of the honor guards ceremony, joined the local early risers for tai chi at Hoan Kiem Lake, searched for a magic turtle, and had breakfast with the locals in the Old Quarter. All that before 8:00am!
Interested? We'll give you a list of places in Hanoi Vietnam you might want to visit on a morning venture of your own and share our own early morning adventures with our local guide from Footprint Travel.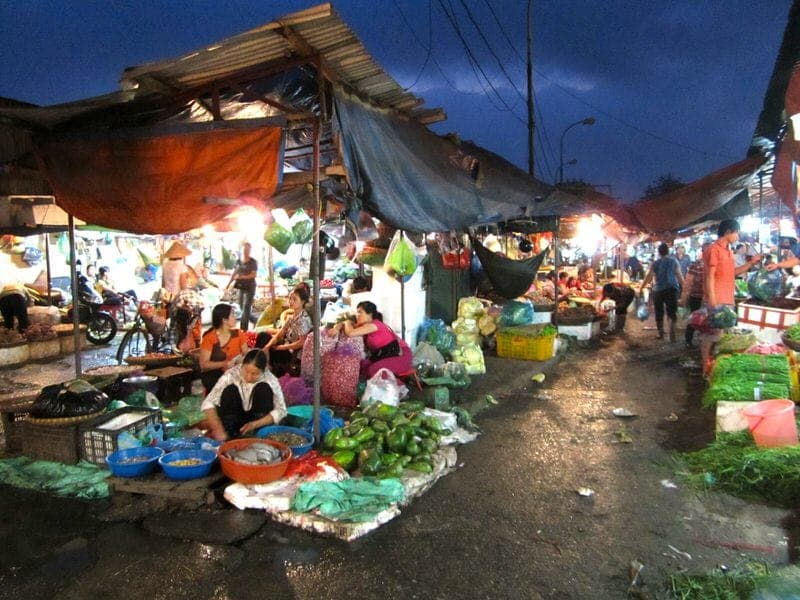 Things to Do in Hanoi Vietnam in the Morning
One weekday morning we got up at 3:30am to get ready for a tour of the early morning sites in Hanoi Vietnam. Ethan was quite skeptical of my decision to choose a tour that literally had us getting up before dawn. I have to say it was quite difficult to tear ourselves away from our lovely hotel room at the historic Sofitel Legend Metropole Hanoi at such a crazy hour, but we are now so glad that we did.
There is so much life going on in Hanoi in the early morning hours. Few visitors get to experience these places that are alive and bustling during the wee hours of the day and then fade out of existence as the sun begins to rise.
Below you'll find a list of things we did one morning in Hanoi. You can pick and choose to create your own morning adventure or you can replicate this exact schedule by booking the same Good Morning Hanoi tour with Footprint Travel.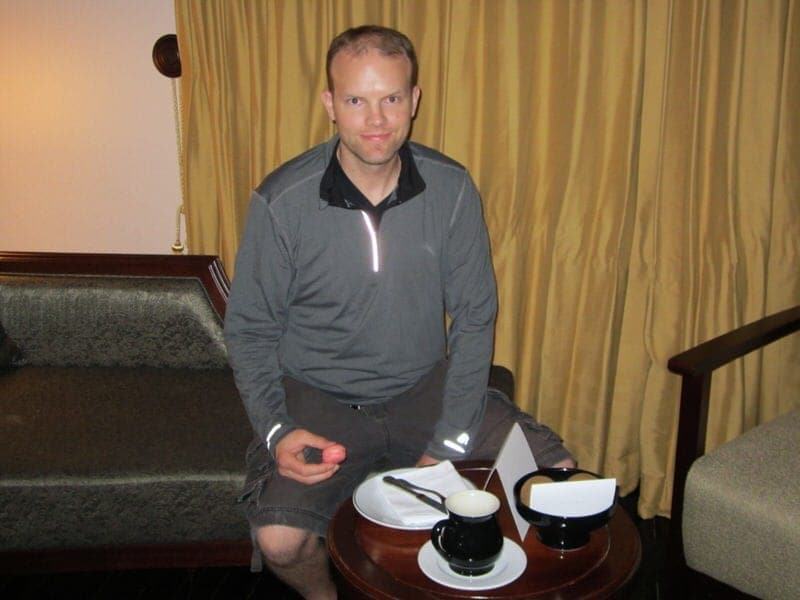 Long Bien Market
Our first stop of the morning was to the Long Bien market, a fruit and vegetable wholesale market. Located next to the historic Long Bien Bridge than spans the Red River, this is one of the largest and busiest fruit markets in Vietnam. Produce pours into this market daily from all over Vietnam and even from China and many buyers from local restaurants and markets arrive in the morning to stock up on fresh fruit and vegetables for the day.
In addition to fruits and vegetables, you can also find meats, fish, spices, flowers, and other food goods, but the main reason to visit is for the fruit and vegetables. The market begins around 1:00am and really comes alive around 3:00am. If you arrive after 6:00am you'll likely only find those cleaning away the litter of the day as all the vendors head off to eat breakfast and tally the morning's earnings.
If you are thinking you've already visited some local markets in Vietnam, chances are you haven't been to one quite like this. There are vendors as far as the eye can see with stalls heaving with fresh produce, buyers and sellers crowded around stalls and trucks, and motorbikes loaded with fruit weaving down aisles.
The paths can be hard to navigate as those on foot have to be careful for the constant traffic of motorbikes, carts, and trucks picking up and delivering goods. We were really lucky to have a guide who not only helped point out the many unfamiliar produce items, but he also made us feel comfortable in this chaotic market.
While it might be sensory overload for some, it really does awaken your senses and gives you a glimpse into the early rising Vietnamese who buy and sell at this market. If you visit, wear practical shoes and be prepared for a little mud or grim as you walk through.
Chances are you'll be one of only a handful of visitors so be respectful; don't take photos directly of vendors unless you have their permission and don't block stalls unless you are planning to buy something. It is important to remember that the vendors depend on the money they earn each day to support themselves and their families and they will not be pleased if they think you may be impeding their business.
Many vendors will understand little or no English, but generally with some pointing and hand gestures you'll be able to figure out the prices and make a transaction.
Quang Ba Flower Market
A trip to the Quang Ba Flower Market in the Tay Ho district of Hanoi will provide a colorful feast for your eyes. The catch again is that most of the action here happens before 6am, with the market at its strongest between 2:00am and sunrise. This is the largest flower market in Hanoi, and fresh flowers are shipped here each day from all over Vietnam and as far away as Da Lat.
In the earlier hours of the market, most of the business is to commercial wholesale buyers and later in the day there are more individual sales to local people who are buying the flowers for celebrations, memorials, and offerings.
The Quang Ba Flower Market is particularly busy around holidays, particularly Tet (Vietnamese New Year), which is also when additional seasonal flower markets spring up in Hanoi. During our visit, it was a full moon and Buddhist holiday known as Vesak or Phật Đản, so many locals were buying flowers to leave in Buddhist temples and on their home alters as offerings.
We had a very pleasant stroll through the flower market and while busy, it was not nearly as chaotic as the Long Bien Market and it was so beautiful! You'll see tables filled with colorful packets of just about every type of flower you can imagine from daisies and roses to orchids and sunflowers.
Most flowers are sold separately by type, but you can also have bouquets of different flowers made at some booths and buy flower decorations and pre-made bouquets. Flowers here are very well priced.
A photographers dream, although be sure to be respectful about any photos and do not block vendors' tables.
Changing of the Guard Ceremony at Ho Chi Minh Mausoleum
Next stop was to the Ho Chi Minh Mausoleum, located in the center of Ba Dinh Square, which houses the body of Vietnamese leader Ho Chi Minh. Ho Chi Minh was Chairman of the Communist Party of Vietnam from 1951 until his death in 1969 and was integral in the establishment of the Democratic Republic of Vietnam.
Ho Chi Minh is a greatly respected, and even worshiped, figure for many Vietnamese and while his Communist politics may not sit well with many Westerners, it is wise to be respectful when talking about him and during visits to his former home, palace, museum, or mausoleum which are all located within the large Ho Chi Minh Mausoleum Complex area.
Despite his wishes for a cremation, Ho's body was embalmed and is on display to visitors in the giant granite mausoleum that is modeled after Lenin's Tomb in Moscow. Many Vietnamese make a pilgrimage here to pay their respects to the man many refer to as "Uncle Ho".
On this trip though we were not here to visit the mausoleum or the museum, but to witness the changing of the white-clad Honor Guards in front of the mausoleum. Given that all the major sites had not yet opened, there were just a handful of locals strolling around Ba Dinh Square.
Nearby many were doing tai chi, dancing, and playing badminton which surprised us that so many people were active this early in the morning. During the ceremony, those closer to the guards stood still and took off hats in respect to the guards but otherwise people went about their business. It was a short ceremony but interesting to watch, and we had almost the entire area in front of the mausoleum to ourselves as the long queue to see Ho Chi Minh's body had not yet begin to form.
I think we were here at 6:00am but you can witness the ceremony throughout the day as it happens hourly; however, later in the day the area becomes much more crowded.
Tai Chi and Turtle Hunting at Hoan Kiem Lake
Hoan Kiem Lake, Lake of the Restored Sword, is located in the historic center of Hanoi and is one of the major scenic spots in the city, much visited by both tourists and locals. A visit here is a good idea at any time of the day, but in the morning you're likely to catch the locals out and about exercising, jogging, dancing, and doing their morning tai chi. The majority of those participating in the morning tai chi groups were women, but this didn't stop Ethan from briefly joining in on the fun.
Next, we walked around the lake, learning about the history of the lake, the Thap Rua (Turtle Tower in the middle of the lake), and the Ngoc Son Temple (Temple of the Jade Mountain). Historically, this lake was once the site of large temple complexes, such as Bao An Pagoda, which contained monasteries, temples, pagodas, meeting rooms, and dwellings.
Sadly, like so many historic buildings in Vietnam, the French tore down Bao An Pagoda in order to build French administrative buildings and today only one tower which served as an entrance gate to the pagoda remains opposite the post office.
During our walk around Hoan Kiem Lake, we kept peering into the water, hoping to catch a glimpse at Hanoi's most famous resident Cu Rua. Cu Rua is a giant turtle weighing over 400 pounds that lives in the lake and may be the only turtle of its kind still in the lake and one of only a handful of its kind in existence.
However, it is not the rarity of Cu Rua that makes her so popular as this turtle is believed by some to be Kim Qui, the Golden Turtle god, or to be a descendent of Kim Qui. According to Vietnamese legend, Emperor Le Thai To (Le Loi) was boating on the lake when the Golden Turtle God (Kim Qui) surfaced to reclaim the magic sword that Le Loi used to successfully defeat Chinese invaders during the Ming dynasty. The turtle reclaimed the sword from Le Loi to give it back to his master the Dragon King (Long Vuong).
In 2011, they captured Cu Rua for some medical tests and treatment and you can see a bunch of photos and videos online as this was very popular news in Vietnam at the time. We sadly did not get to see the famous turtle as she rarely came to the surface. Sadly, we have since read that she is believed to have died in January 2016. It is believed that there are no more such turtles in the lake although locals occasionally report spottings.
But if you really want to get an idea of what Cu Rua looked like, you can see a preserved giant turtle of the same species at Ngoc Son temple. To get there, cross a small pretty bright red wooden bridge (The Huc Bridge or "Rising Sun Bridge") that leads to the entrance of the small but popular temple (fee to enter).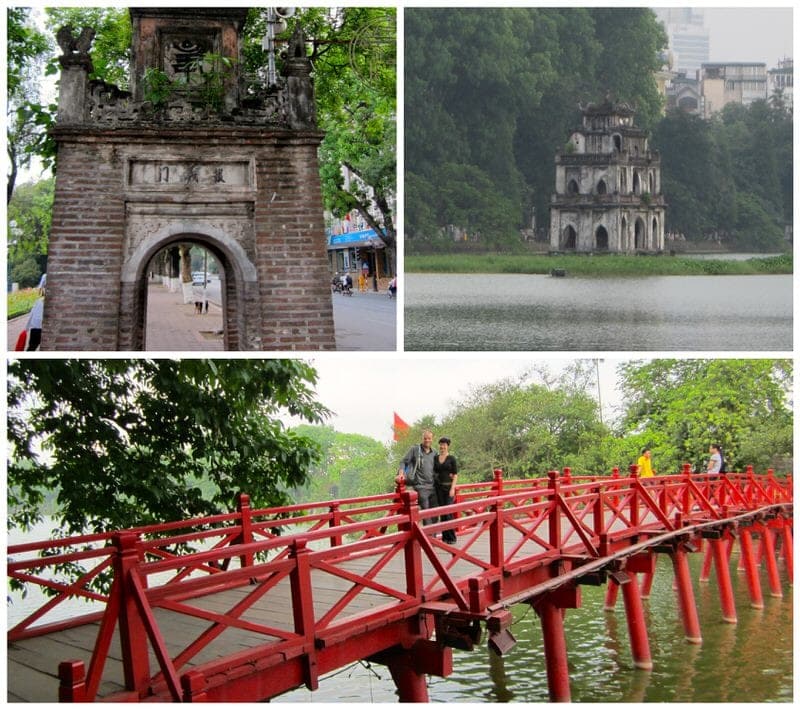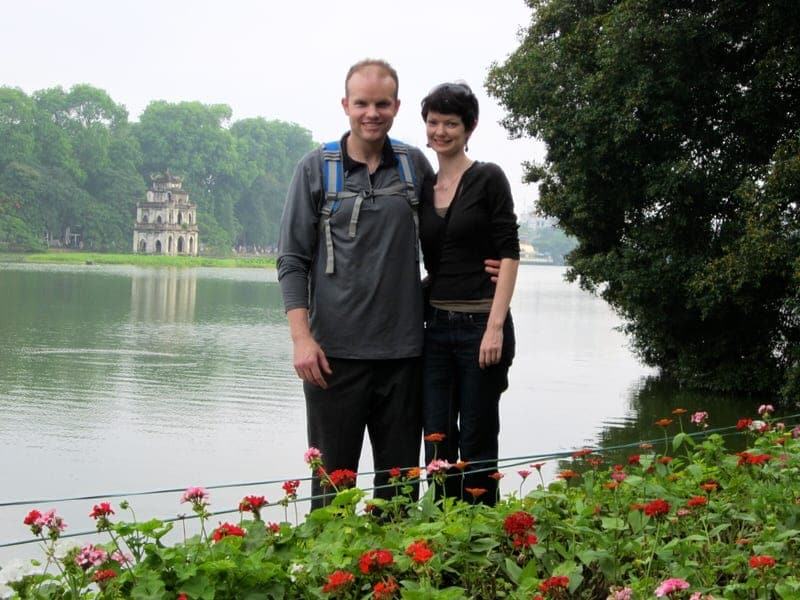 Breakfast and Vietnamese Coffee with the Locals in the Old Quarter
During the last part of the tour, we walked from Hoan Kiem Lake to the Old Quarter that borders one side of the lake. Almost all visitors to Hanoi make at least one visit to the Old Quarter as it is the historical heart of the capital city.
This labyrinth of narrow streets are filled with history, bustling people, exotic scents, buzzing motorbikes, shopping tourists, and a tangled web of electrical wires. This is a fascinating place to take a walk, get lost, and soak in the sights, smells, and sounds of a bustling Asian capital that is partly modern and partly historic.
In medieval times, 36 different guilds were set up here and each guild took a street and many of the street names still reflect those guilds, such as Hang Ga (chicken), Hang Gai (silk), Hang Bong (cotton), Lo Su (coffins), and Hang Mam (pickled fish).
After learning a bit of history from our guide Trung, we were led to a tiny little place just off the street serving pho bo, the classic Vietnamese beef noodle soup. Trung told us that this was his parents', who live in the Old Quarter, favorite place for pho in the morning. We joined a couple other locals in the small area on a bench and slurped up some tasty pho bo.
After this we headed not far up the street to have a cup of Vietnamese coffee with Mr. Son Dang who is one of the co-founders of Footprint Travel and now the Managing Director. Once a guide himself, it was very inspiring to learn how Mr. Dang and his colleagues built up Footprint Travel over the past 13 years, how they are able to give back to local communities through their tours, and how they are committed to responsible travel.
The pho bo and relaxing conversation over a cup of coffee was a good way to end our morning's adventures before returning back to our hotel. We still had the whole day left ahead of us!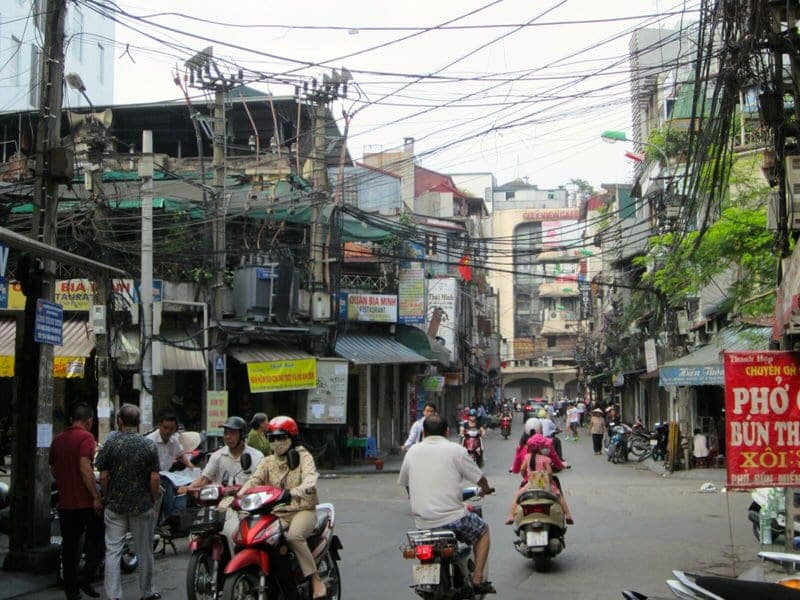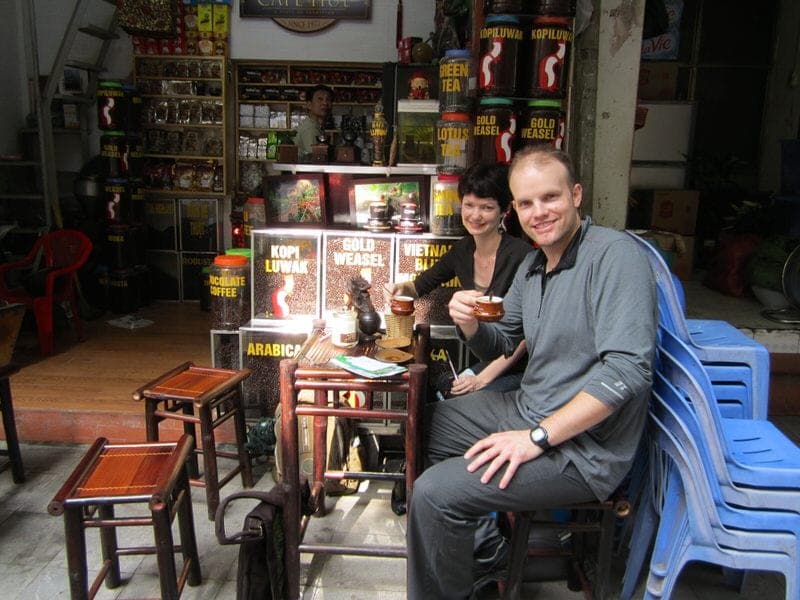 How to Plan Your Own Morning Visit in Hanoi Vietnam
You may have now decided what you want to see and do during your own early morning excursion in Hanoi, but now you have to figure out how to get from place to place. First, figure out how far the site(s) are from where you are staying. For most places you'll need to take a taxi, bus, or motorbike, especially if you want to go to more than one place.
If you are only interested in doing one or two, it should be easy enough to arrange a taxi to take you and your hotel may be able to help you make the arrangements. These places are all well-known to the locals in Hanoi so drivers should have no trouble finding them.
Now, if you are wanting to see a few of these sites and make a morning of it, I would suggest hiring a guide or arranging a private tour. In the end, it will probably cost you about the same as renting a taxi or taxis for the morning and you'll get a lot more out of the visits if you have a knowledgeable guide.
We specifically booked with locally-owned Footprint Travel and took their Good Morning Hanoi tour which we both wholeheartedly recommend. The tour price is $28/person and includes transportation, a private guide, and breakfast. Not only does it allow you to take in all of the above mentioned places in Hanoi, but it also saves you the headache of handling the logistics of timing and arranging transportation.
Visiting with a guide really helped us feel more comfortable at the chaotic Long Bien Market, and we learned so much history and background from our local guide Trung who grew up in the Old Quarter of Hanoi. Trung as a guide as not only is he knowledgeable and professional, but he is also a warm and friendly person. We later did another tour with him to Vietnam's tea region.
Of course there are also other tour options in Hanoi such as this street food walking tour and this walking tour of the old quarter!
If you are game for getting up super early one morning while in Hanoi (great if perhaps you have jet lag or an early morning flight), I would consider making a full morning of it and trying to combine at least a few of these early morning sites.
Would you be willing to get out of bed early for any of these activities if you were visiting Hanoi? Do you have other early morning tips or morning places you recommend in Hanoi Vietnam based on your own travels, or any questions about the places we went? As always, we'd love to hear from you!
**Disclaimer: We were provided a complimentary tour to write this review; however, this article contains only our own honest thoughts and opinions. We did not receive any financial compensation for the writing of this post, do not work for Footprint Travel, and receive no commission for any sales of these tours.**