The Borghese Gallery is the perfect place for art lovers to admire art in a beautiful space without big crowds in Rome. While the Vatican Museums are filled with treasures and are a must-visit site in the Eternal City, it is also one of the largest and most crowded museums on the planet! But luckily Rome is full of art, some contained inside museums, some tucked away in churches, and some weathering in its piazzas.
The Galleria Borghese, or Borghese Gallery, features one of the world's greatest private art collections assembled by Cardinal Scipione Borghese in the 17th century. The art is beautifully situated in his former Roman garden villa. The collection is particularly rich in ancient Roman, Renaissance, and Baroque art, with major works by Bernini, Titian, Caravaggio, Raphael, Correggio, Rubens, and Canova.
A great thing about the Borghese Gallery is that it has a timed reservation system that keeps the crowds to a minimum; however, it also means that reservations are needed and tickets are limited.
To make the most of our limited time inside this art museum, we did a tour with the tour company Walks of Italy which provided us a reserved ticket and a guided tour to help ensure we hit all the highlights in our 2 hours inside the gallery.
Personally, this is my favorite museum in Rome and I love visiting here. We'll share all you need to know to visit the Borghese Gallery in Rome and share our experience touring this great art museum!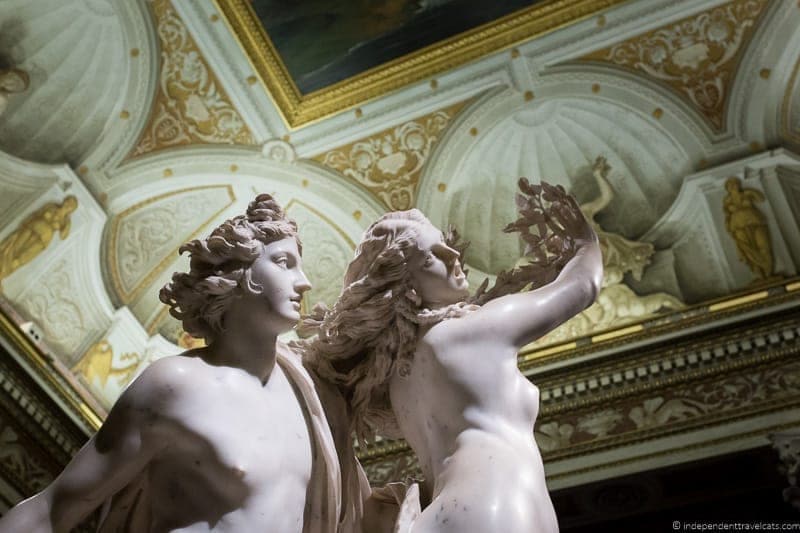 Planning a Visit to the Borghese Gallery in Rome
The Borghese Gallery is an art museum in Rome that is open to the public; however, reservations are needed to enter the museum.
Location of the Borghese Gallery?
The Borghese Gallery is located at Piazzale del Museo Borghese 5, 00197 Rome. The Borghese Gallery is located within the Borghese Gardens on Pincian Hill.
Getting to the Borghese Gallery?
You can get here via walking, taxi, Uber, or taking public transit.
The closest public transit stop to the museum is the Pinciana/Museo Borghese bus stop. But the S. Paolo del Brasile bus stop is also a good option.
The closest metro stop is the Spagna stop; however, this option does require a bit of uphill walking and the signage is not great in directing you towards the museum (so come prepared with a map, directions, or GPS).
For bus tables, directions, and public transport maps throughout the city visit Rome's official public transportation website.
Cost of Tickets?
The cost of regular adult tickets (as of August 2022) are €15 plus a €2 online booking fee, for a total of €17 per ticket.
There is sometimes an additional charge if there is a temporary exhibition at the museum (usually an additional 5 euros).
If you would like a guided tour from a museum staff member (in English or Italian), the cost is €25 per person which includes your ticket, booking fee, and guided tour.
Museum audio guides are available to rent at the museum for a €5.00.
Entry is free for children under age 18, but it still costs 2 euros to book their ticket online in advance. Discounts are available for EU teachers and EU young adults (18 to 26 years of age). Bring documentation (e.g., passport, teaching accreditation) of status for any discount.
The museum offers free entry on certain days of the year, this is currently on the first Sunday of each month. Be sure to book well in advance if you want to visit on a free day.
Note that even if a ticket is free (e.g, for children or a free day), one must still make a reservation by phone or online and pay the €2 booking fee.
How to Make Reservations and Book Tickets?
All visitors must have advanced ticket reservations. During less busy times of the year, you may be able to buy tickets on the same day in person at the museum ticket office, but time slots are often sold out in advance so it is very wise to book ahead as soon as you know which day you plan to visit.
You must book both a date and time. You can just book a regular ticket or you can book an entrance with a guided tour (in English or Italian).
You can book tickets via phone at +39 06 32810 or online using the TicketOne Cultural Systems website.
All visitors must arrive at the museum 30 minutes in advance of their ticket time, or they may be denied entry.
Can I use a Roma Pass or OMNIA PASS to Visit the Borghese Gallery?
Yes, the Borghese Gallery accepts the Roma Pass and OMNIA Vatican & Roma Pass. Pass holders can get free (if one of the primary attraction choices) or reduced entry with the passes. However, to visit, pass holders still need to make a reservation.
The museum tickets will need to be booked by phone at +39 06 32810 or by sending an email to romapass@tosc.it. Phone reservations are confirmed immediately whereas email reservations can take up to 48 hours. Pass holders need to arrive 30 minutes in advance to pick up reserved tickets.
The inclusion and reservation process for pass holders is subject to change so if you are planning to purchase one of these passes, either the Roma Pass or OMNIA Vatican & Roma Pass, I would definitely check before purchasing.
What if there are no Reservations Available During my Dates in Rome?
If you do not book in advance, you are likely to find that tickets are sold out for a particular day. Don't despair though, you have a few options though to still visit the museum.
First, you can try finding a ticket available on a third-party website. You will pay a premium for the ticket, but it will still get you into the museum. Just be sure to buy from a reputable company, and make sure the ticket allows you to book a specific date and time slot. For example, GetYourGuide sells these timed tickets and Tiqets offers these timed tickets for the Borghese Gallery.
Second, you can book a guided tour of the museum that includes your timed ticket. This is what we did and we can highly recommend visiting the museum as part of a tour as since you only have 2 hours, it helps you get the most of your visit. We did this highly rated tour with Walks of Italy, but there are many choices and you can see more tour options here.
Finally, as a last resort, you can try just heading to the Borghese Gallery office in the morning and ask at the ticket desk if there are any available tickets. If people have canceled or do not show up on time, then the museum can sell you tickets for their spots. This may or may not work, and you may have to wait around for a few hours to get a spot so best to make reservations if possible.
Self-Guided or Guided Tours of the Borghese Gallery?
The Borghese Gallery can be explored at your own pace on your own, guided by museum staff guide (in Italian or English), or booked with an outside credentialed tour guide.
If this is your first visit and you want to do it on your own, it is very helpful to rent an audioguide (5 euros at the museum) or bring along a guidebook. There is minimal information on display about the gallery and the specific artworks on display, so this will help you get more out of your visit.
As noted, we chose to visit the museum for the first time with a guided tour with Walks of Italy, a tour company with a focus on small group tours and friendly English-speaking tour guides. We've had great experiences taking many of their tours around the world, including a fantastic after-hours tour of St. Mark's Basilica in Venice and several other great tours in Rome.
Guided Tours of the Borghese Gallery
You have a number of options for guided tours of the Borghese Gallery and all the tours we list below will also arrange for your timed entry ticket. Just be sure to book in advance as most companies cannot take last minute reservations as they need time to arrange tickets and tours with the museum in advance.
Here are some good tour options:
There are daily museum staff-led 2 hour tours that cover the main collection. Most of these are in Italian but they typically offer English language tours twice a day. You need to book these on the official museum ticketing website when you book your tickets.
This 2.5 hour tour with Walks of Italy begins with a 30-minute orientation and history in the gardens and then 2 hours exploring the art museum. All tours are in English with an art historian.This is the tour we did and we can highly recommend it.
This 2 hour tour gives you a full tour of the museum, and this extended 3 hours tour includes the 2 hours museum tour plus 1 hour guided tour of the Villa Borghese gardens. The 3 hour tour is a good pick if you also wanted to see more of the gardens with a guide.
We can also recommend this 2.5 hour tour with Context Travel, the tour can be done as a small group tour or as a private tour. Context also offers a private family-oriented version of this museum tour which may be perfect for those traveling with kids. All tours are led by art experts. Note: All our readers get 10% any regular Context Travel tour price if you book using our links.
For those wanting hotel pick ups, you have this 3 hour private tour option with transport. Note that if you want hotel pick up, you need to book at least 24 hours in advance.
How Much Time Do I have in the Borghese Gallery?
The Borghese Gallery allows visitors to spend up to 2 hours in the gallery per reservation. This is the same whether you tour on your own or with a guided tour.
The museum limits the number of people touring the museum at any time to enhance the visitor experience and to protect the art. You will have an entry time (arrive 30 minutes before this time to collect your tickets) and you will be required to exit the gallery 2 hours after your booked entry time.
So it is best to enter exactly on time and get the most of your 2 hours. The gallery is very manageable and 2 hours gives you enough time to see all the highlights at a relatively relaxed pace. You can spend extra time in the cafe or gift shop after your tour time ends.
If you want to spend more than 2 hours inside the Borghese Gallery, you will have to exit the gallery and then you can later re-enter with another reservation at another time.
Borghese Gallery Storage Room Art Tours?
In addition to the main museum collection, visitors have the opportunity to tour part of the "art storage area" or "the deposits" to see pieces of art that are part of the Borghese collection but are not within the main public gallery.
The tours take place on the third floor of the museum and the space is set up as a picture gallery. So if you were imagining a storage room, this is much nicer! It contains over 250 paintings, primarily by Italian artists. You can read more about the space and art here.
These tours are designed for those with a strong appreciation of art and can be a great addition or good second visit for those who have already viewed the main collection. These tours are 1 hour long and guided by a museum staff member. These are normally available every afternoon, except Mondays, at 3:00pm and 4:00pm.
**Important Note: As of last check, these tours have been suspended. So do check in advance if this is a tour you wish to do.**
Food & Other Facilities at Borghese Gallery?
The Borghese Gallery contains a small cafe in the basement reception area which offers pastries, snacks, coffee, tea, and other refreshments.
There is also a small bookstore and gift shop, coat room/storage lockers, and toilets. Note that you will need to show your ticket to be allowed access to the toilets as it is for use by museum visitors only.
If you have a larger bag, such as a backpack or large purse, you will likely be asked to check it before touring the museum in the cloak room. You will also be asked to check things like strollers, umbrellas, tripods, and selfie sticks.
Items that are Prohibited at the Borghese Gallery?
The staff at the Borghese Gallery are serious about protecting the art from damage from careless visitors and ask visitors to not bring or to check any large items. This includes the mandatory storage of large purses, backpacks, shopping bags, luggage, pushchairs and strollers, umbrellas, tripods, and selfie sticks.
If photography is prohibited (such as for a temporary exhibition) then cameras must also be stored or checked.
Other items that are forbidden inside the gallery include weapons of any kind, animals (except trained guide dogs), food, and drinks (including bottled water).
If you are unsure if an item is acceptable, I would ask when you arrive as otherwise you may be sent out of the museum to the storage facility if a staff members deems any item unacceptable which can cost you part of your 2 hours.
We recommend that you avoid bringing any large items or bags to the museum if you can avoid it. The line to leave stuff and pick up stuff at the cloakroom can be long and the wait can eat into your museum time. If you know you have to check items, I would be sure to come early to leave time to do this.
The cloak room is free to use at the Borghese Gallery for museum visitors and is located in the basement reception area of the museum. Be sure to retain your claim ticket to be able to retrieve your items smoothly following your visit.
Accessibility at the Borghese Gallery?
Those with wheelchairs or mobility scooters should plan their visit in advance. A special entrance is available for wheelchair users to access the basement area and to pick up tickets.
The main parts of the museum are split over 3 floors and while the floor surfaces and most of the doorways are fine for disabled visitors, the elevators at the museum are narrow and small to allow for larger wheelchairs.
Wheelchairs can be borrowed at the museum and are on a first-come, first-serve basis. Please ask as soon as you arrive if you wish to borrow one. There are wheelchairs available on each floor.
Note that the regular museum guided tours and most of the third party tours are not able to accommodate those in wheelchairs. So please be sure to check if you want to book one of these.
Free guided tours are possible for disabled guests and need to be booked in advance. Special visits for blind visitors are also sometimes possible. These tours are designed to help disabled users better navigate the museum and get the most of their visit, and you can read more about them here.
We recommend that anyone visiting with any kind of disability or accessibility concern should take a look at the museum's accessibility page. They provide contact information if you have questions or would like to schedule a free tour.
Photography at the Borghese Gallery?
Personal photography without flash is generally allowed at the Borghese Gallery. Note that during temporary exhibitions, the museum may limit or prohibit photography in the museum.
Photography with flash is not allowed. Tripods, monopods, and self-sticks are prohibited in the museum. If you bring these, you will need to leave them in a cloakroom locker before you enter the museum.
Visiting the Borghese Gardens?
Villa Borghese sits within one of the most popular parks in Rome, the Villa Borghese Gardens. The park covers 80 hectares and sits atop the Pincian Hill. It is free to visit and is open to the public each day from dawn to dusk.
The gardens were originally an old vineyard and were developed into gardens at the beginning of the 17th century by Cardinal Scipione Borghese. The gardens were completely redesigned in the 19th century in a more naturalistic English style. They were opened as a public park in 1903.
The gardens are a wonderful place to stroll with lots to see. as well as other points of interest like the water clock, various monuments, and a replica of the Globe Theater. We highly recommend exploring the gardens before or after your visit to Villa Borghese.
Adjacent to the gardens you'll also find other museums and exhibits in villas, including the National Gallery of Modern and Contemporary Art (Galleria Nazionale d'Arte Moderna), the National Etruscan Museum of Villa Giulia (Museo Nazionale Etrusco di Villa Giulia), and the Villa Medici. Also adjacent to the gardens is Rome's Zoo (Bioparco di Roma).
Lodging Options Near the Borghese Gallery?
The Borghese Gallery is located within walking distance of the Piazza di Spanga, this can be a great part of central Rome to base yourself for a visit. It is where you'll find the Spanish Steps and is near one of Rome's most famous shopping streets Via Condotti.
Staying in this area also puts you within walking distance of Piazza de Popolo, the Trevi Fountain, the Pantheon, the zoo, and a number of the city's museums. There are also loads of restaurants, cafes, and gelato spots.
We normally use Booking.com to book our lodging in Europe, as it offers hotels, apartments, B&Bs, hostels, and more. If you are looking for a place near the Borghese Gallery and Piazza Spagna, you can check out these lodging options here.
Here are a few accommodation options, across a number of budgets, located in the area:
If you are looking for a room or apartment Rome, we also recommend checking out local listings on Plum Guide and Airbnb. There are also a lot of other apartment booking websites out there.
Note that if visiting Rome in the warmer months (June to September), we strongly recommend choosing accommodation that has air-conditioning. Rome in summer can be uncomfortably hot without it.
Additional Questions about visiting the Borghese Gallery?
More information can be found by visiting the official Borghese Gallery website or by calling the information and ticket phone number at +39 06 32810.
Our Tour Experience of the Borghese Gallery with Walks of Italy
As already noted, we visited the Borghese Gallery on a guided tour with Walks of Italy. We specifically booked the 2.5 hour Villa Borghese Tour with Tickets, which includes a timed entry reservation and ticket.
The guided tour is 2.5 hours long in total, but the first 30 minutes are outside the Villa Borghese and then a 2-hour guided tour inside the art museum as this is the amount of time allotted for all ticket holders.
Meeting & History of the Borghese Gallery
Our tour started just outside the Villa Borghese and we had a group of about 12 people (maximum size is 15 for this tour), mostly other American and British travelers but also a Singapore business traveler.
We were met by our enthusiastic and very knowledgeable tour guide Guido who introduced himself and also collected our tickets for us and helped those who needed to store a bag or use the toilet. Before entering the museum, he gave us some background on the Borghese family, the Villa Borghese, and the Galleria Borghese's history as an art museum.
TIP: Arrive early or save time after the tour to explore the beautiful Borghese Gardens and take in the views from the Pincian Hill. Another nearby manageable museum for literature lovers, located right next to the Spanish Steps is the Keats-Shelley House.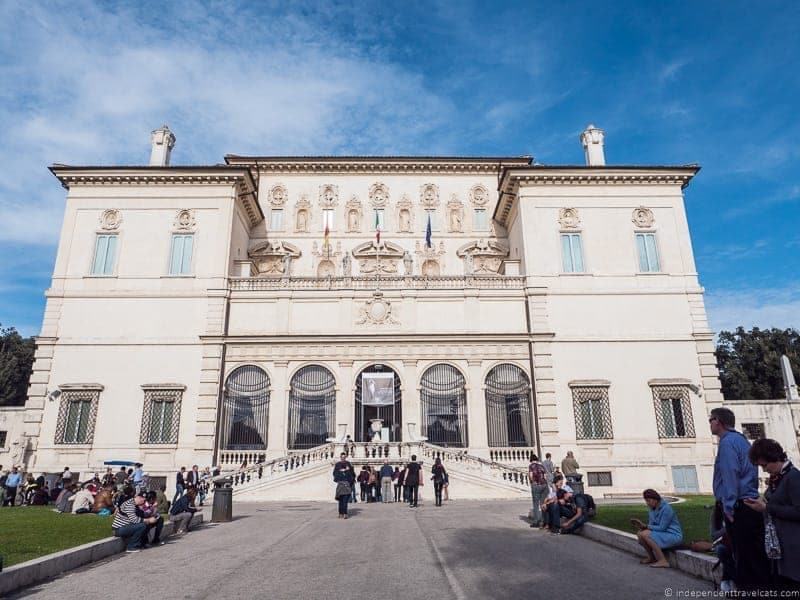 The Borghese family is a noble and prominent Italian family from Siena who moved to Rome in the 16th century. Rome was good to the family and they continued to rise in prominence and gain wealth. The family had close ties to the Roman Catholic Church and papacy, with one Borghese becoming a pope (Pope Paul V) and others becoming cardinals, papal lawyers, and high-ranking church officials.
Others Borghese include the sister of Napoleon Bonaparte, naval commanders, a cosmetics entrepreneur, and even a TV personality as one member of the Borghese family (Prince Lorenzo Borghese) was featured on Season 9 of The Bachelor. The Borghese also hold the noble hereditary title Prince of Sulmona, which is still passed down to the present-day heir.
However, the Borghese of most interest to our visit is Scipione Borghese, who was a cardinal and an avid art collector. It was Cardinal Scipione Borghese who would have the Villa Borghese built by architect Flaminio Ponzio and fill it with his ever-expanding art collection.
Cardinal Borghese was a particularly great admirer of both Gian Lorenzo Bernini and Caravaggio, and works by both artists remain important parts of the current collection. We learned from our guide Guido that while most pieces were gifts, purchases, or commissions, some of the pieces of art were acquired in less than honorable ways.
The Borghese family would run into financial difficulties in the 19th century. In 1807, Prince Camillo Borghese sold hundreds of statues, busts, bas-reliefs, columns, vases, and other pieces to the French State under Napoleon Bonaparte and the pieces remain in Paris today as the Borghese Collection in the Louvre.
Fellow members of the Borghese family would continue to add to the collection and expand the gallery over the years, although it is the pieces by Cardinal Borghese that still make up the bulk of the collection.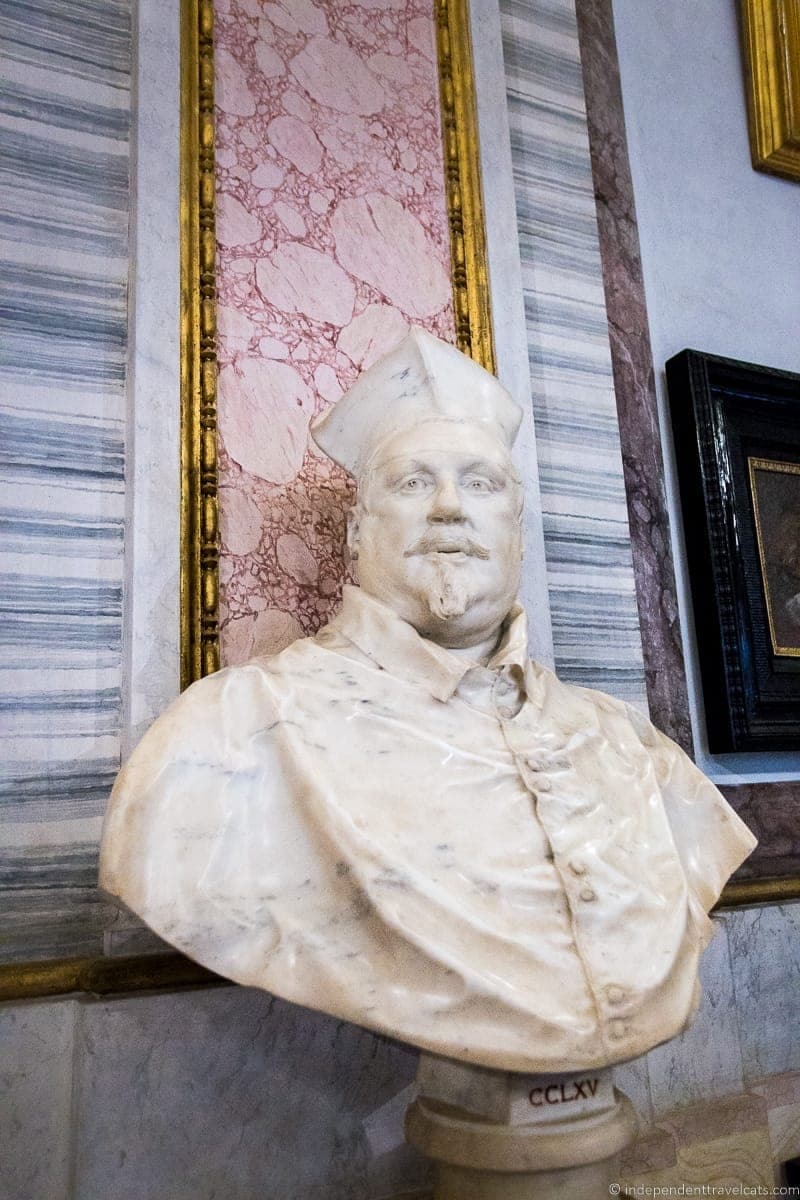 The Borghese Gallery is very interesting in history as one of the early notable public art museums, as the first art museums begin to appear in the mid to late 17th century. Obviously, the Villa Borghese started as a private villa and was used by Cardinal Borghese to hold his lavish garden parties and display his large art collection. At this point, only those invited by the Borghese family were likely to ever see the art inside the villa.
Seeing the lavish gardens and art inside the Borghese Galley soon became a must-see on the travel itineraries of the wealthy British travelers on their Grand Tour of Europe. Our visit to the Borghese Gallery was a perfect fit for our modern-day Grand Tour themed trip.
An early Grand Tour visitor was John Evelyn who visited in November 17, 1644 and wrote a long entry in his now much-read diary about his time in Europe. He described the place as a "elysium of delight" and visited the Villa Borghese before the Vatican or St. Peter's Basilica. Here is a much-shortened version (yes this is the short version!) of his entry about this visit (note some of the described pieces are now in the Louvre):
I walked to Villa Borghese, a house and ample garden on Mons Pincius, yet somewhat without the city walls, circumscribed by another wall full of small turrets and banqueting-houses; which makes it appear at a distance like a little town. Within it is an elysium of delight, having in the centre of it a noble palace; but the entrance of the garden presents us with a very glorious fabric, or rather door-case, adorned with divers excellent marble statues….

In the first hall within, are the twelve Roman Emperors, of excellent marble; between them stand porphyry columns, and other precious stones of vast height and magnitude, with urns of oriental alabaster. Tables of pietra-commessa: and here is that renowned Diana which Pompey worshiped, of eastern marble: the most incomparable Seneca of touch, bleeding in an huge vase of porphyry, resembling the drops of his blood; the so famous Gladiator, and the Hermaphrodite upon a quilt of stone. The new piece of Daphne, and David, of Cavaliero Bernini, is observable for the pure whiteness of the stone, and the art of the statuary plainly stupendous. There is a multitude of rare pictures of infinite value, by the best masters; huge tables of porphyry, and two exquisitely wrought vases of the same….

The perspective is also considerable, composed by the position of looking-glasses, which render a strange multiplication of things resembling divers most richly furnished rooms. Here stands a rare clock of German work; in a word, nothing but what is magnificent is to be seen in this Paradise.
French writer Charles de Brosses who visited Italy from 1739-1740 wrote a number of letters during his travels. He would note the great number of British at the Borghese Gallery and although he found the Villa Borghese to be quite nice, he criticized the palace being used as an art gallery rather than a home among other criticisms:
All these great compartments which are so vast and so superb are only there for foreigners: The masters of the house cannot live in them, since they contain neither washrooms, comfort, nor adequate furniture; and there is hardly any of the latter even in the upper story apartments which are inhabited.
In 1779, British Grand Tourist Lord George Augustus Herbert would complain that all the "fine things" in the Villa Borghese were laid out with no taste and thought that the art could be displayed in a much better way and that Prince Borghese should hire someone to help him. It appears that the Borghese family must have agreed. In the late 1770's the Borghese family had the villa renovated and reorganized and reinstalled the collection over a 20 year period in an effort to make it more attractive for display.
Thereafter it would function as a semi-public museum. It is often referred to as being opened as a public museum in the late 18th century, but in fact it remained a semi-public private collection open to those members of the public deemed suitable by the Borghese or their caretakers of the collection.
But the Borghese Gallery did become more accessible to the public and the renovation and reorganization made it one of the most admired and frequently visited art collections in Rome at the time among foreign travelers, especially the British on their Grand Tour. In 1902, the museum would be sold as well as the gardens and parks to the Italian government. In 1903, it would open as the current Galleria Borghese, or Borghese Gallery with substantial restoration work taking place over the years.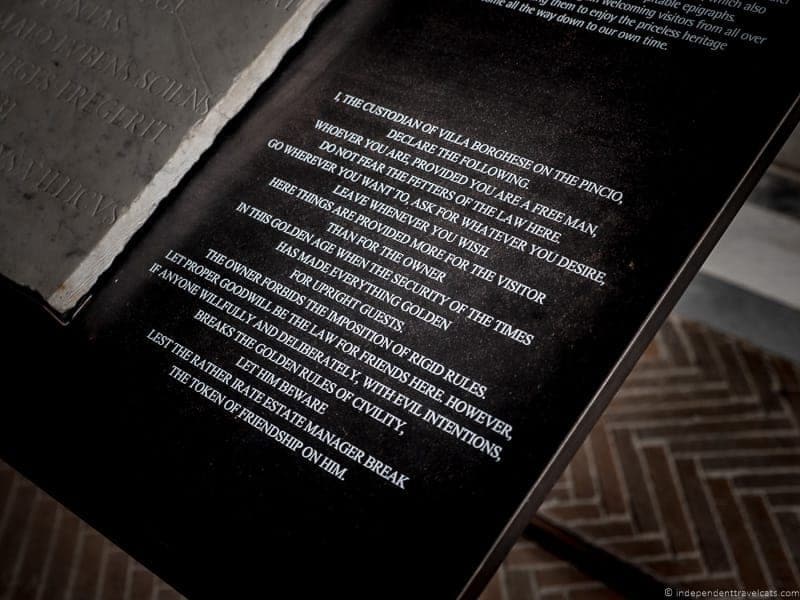 Highlights from our Tour of the Borghese Gallery
The exterior of the 17th century building is quite lovely but we were more than ready after 30 minutes to get inside and explore the interior and the art collection! Groups of over 6 people are required to wear a headset in the museum so Guido handed these out as we made our way inside although honestly we could hear most of the time without it given the size of the rooms and lack of crowds.
The interior of the house is a piece of art in itself with its marble floors, columns, bas-reliefs, frescos, decorated ceilings, etc. so do take a bit of time to admire the building itself which is a such a great setting for the art.
During our visit, there was a "fashion as sculpture" temporary exhibit displayed throughout the museum with clothing by designer Azzedine Alaïa. I enjoyed the beautiful dresses, but some visitors including our guide found them to just be in the way of the art and somewhat frivolous. Opens up the "what is art?" conversation, but we were not here to see clothes, we were here to see the Borghese collection!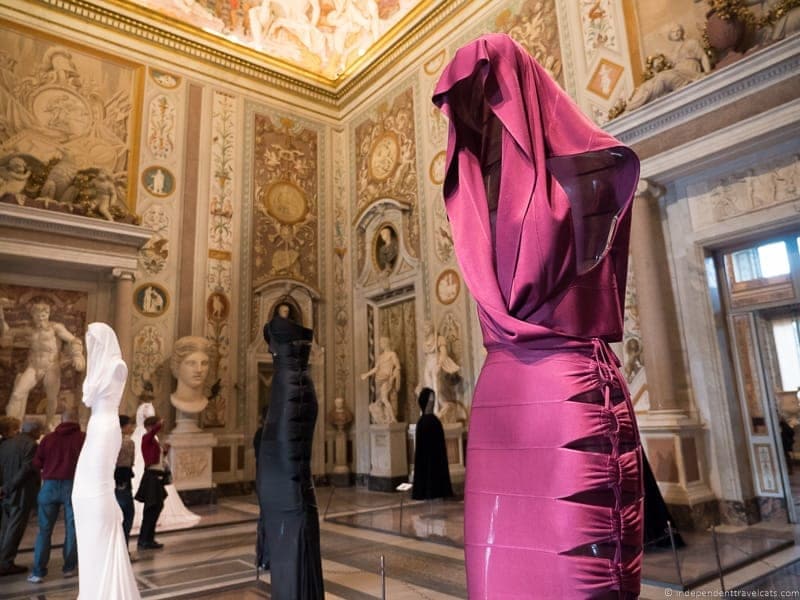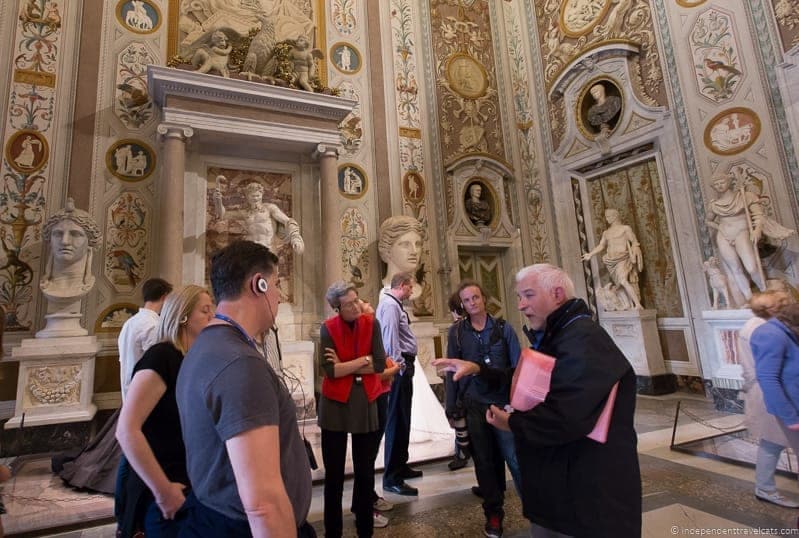 Guido expertly guided our group around the museum, telling us about the pieces and sharing interesting stores about the artwork and the Borghese owners. He particularly had interesting tidbits to share about one of the Raphael paintings, the statue of Pauline Bonaparte by Canova, the two busts of the Cardinal himself, and the dark antics of the Cardinals' favorite Baroque bad-boy Caravaggio.
Each room held such wonderful pieces from ancient Greek and Roman busts to the works of masters such as Bernini, Titian, Caravaggio, Raphael, Correggio, Rubens, and Canova. There are also works by Cellini, Canaletto (a Grand Tourist favorite), Lorenzo Lotto, Paolo Veronese, and many other lesser-known artists.
The Bernini statues here became some of my favorite statues I've ever seen. It was also wonderful how close-up you can get to the art and the rooms are rarely crowded given the limited number of people allowed in the galleries at any time. Get up close to the statues, particularly Bernini's The Rape of Proserpina, the detail is exquisite and Bernini really makes the marble seem like flesh!
Rather than describe each of the 20 rooms filled with art, I'll just share some photos of some of my favorite pieces. You'll be able to see in the photos how the setting and positioning of some of the artwork, especially the Bernini sculptures are wonderfully situated in their respective places in the museum. This is only a small number of some of the amazing pieces in this gallery.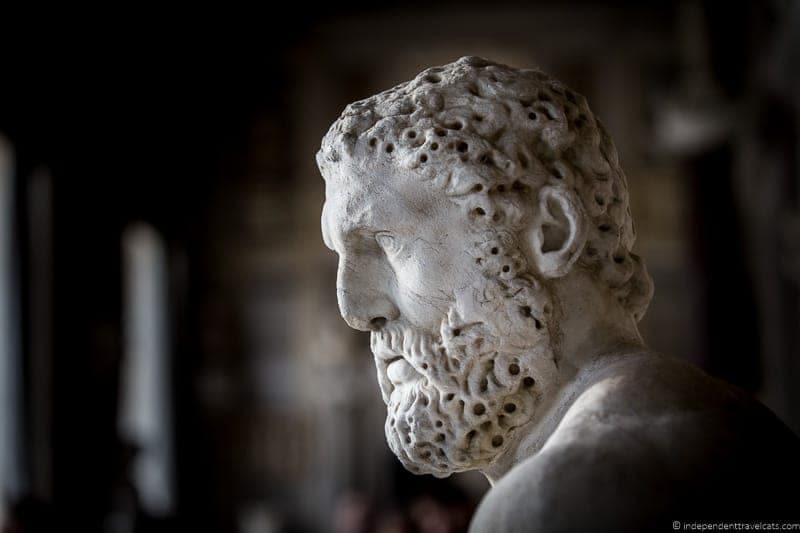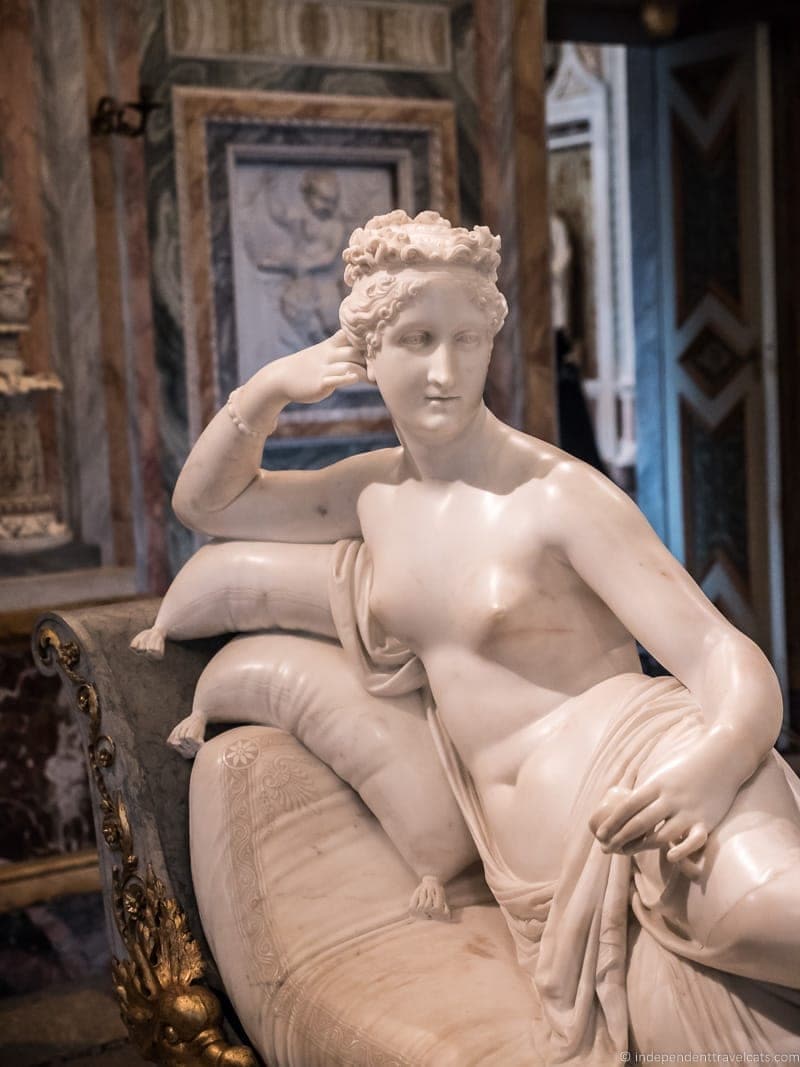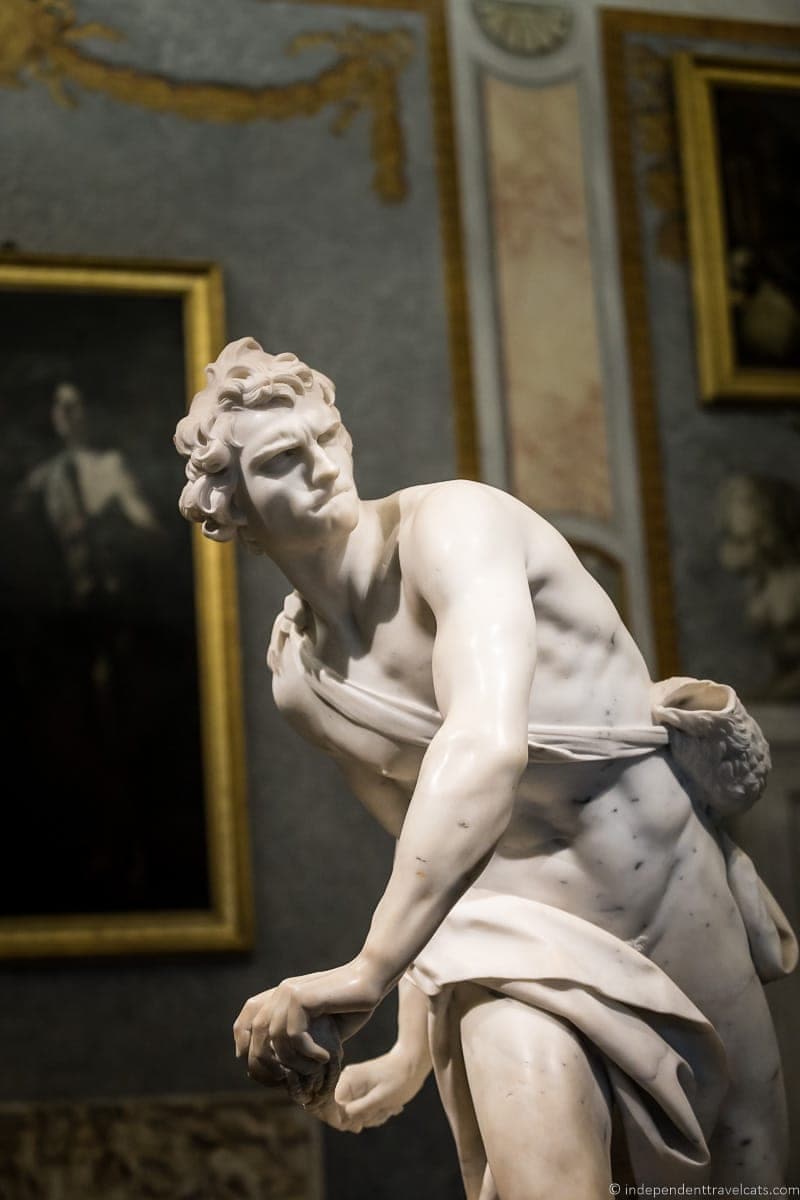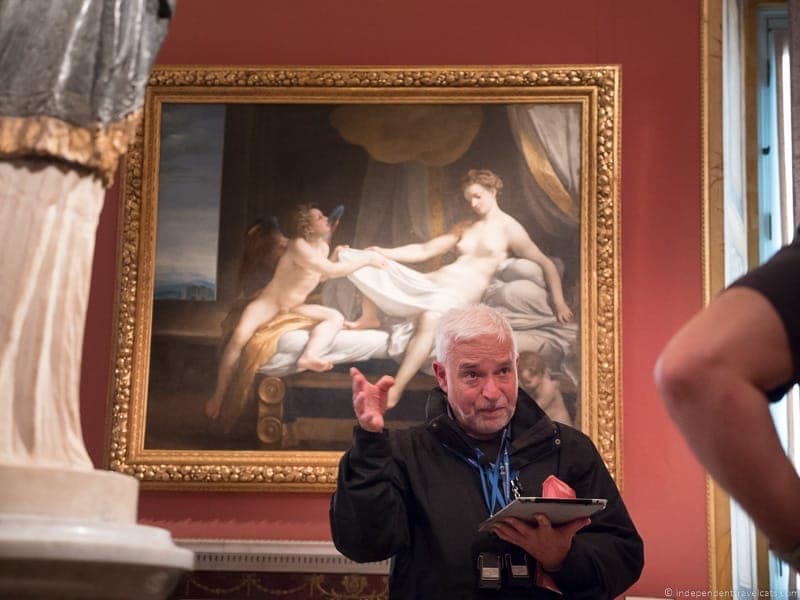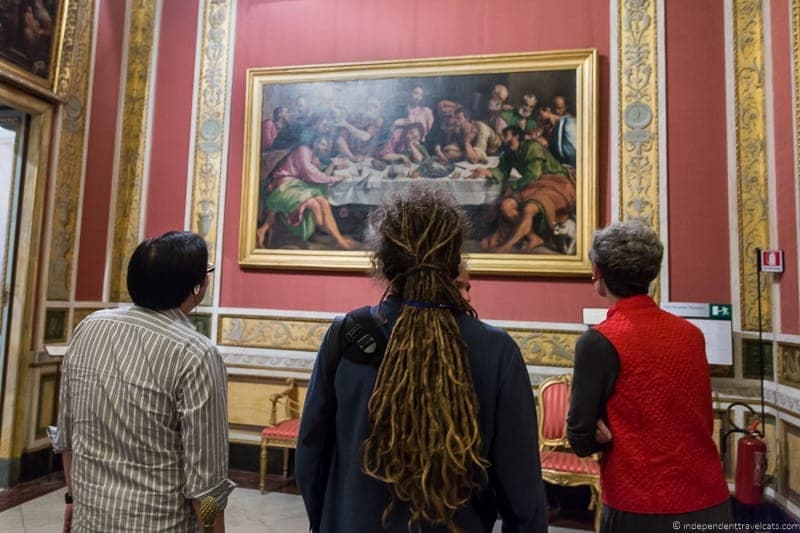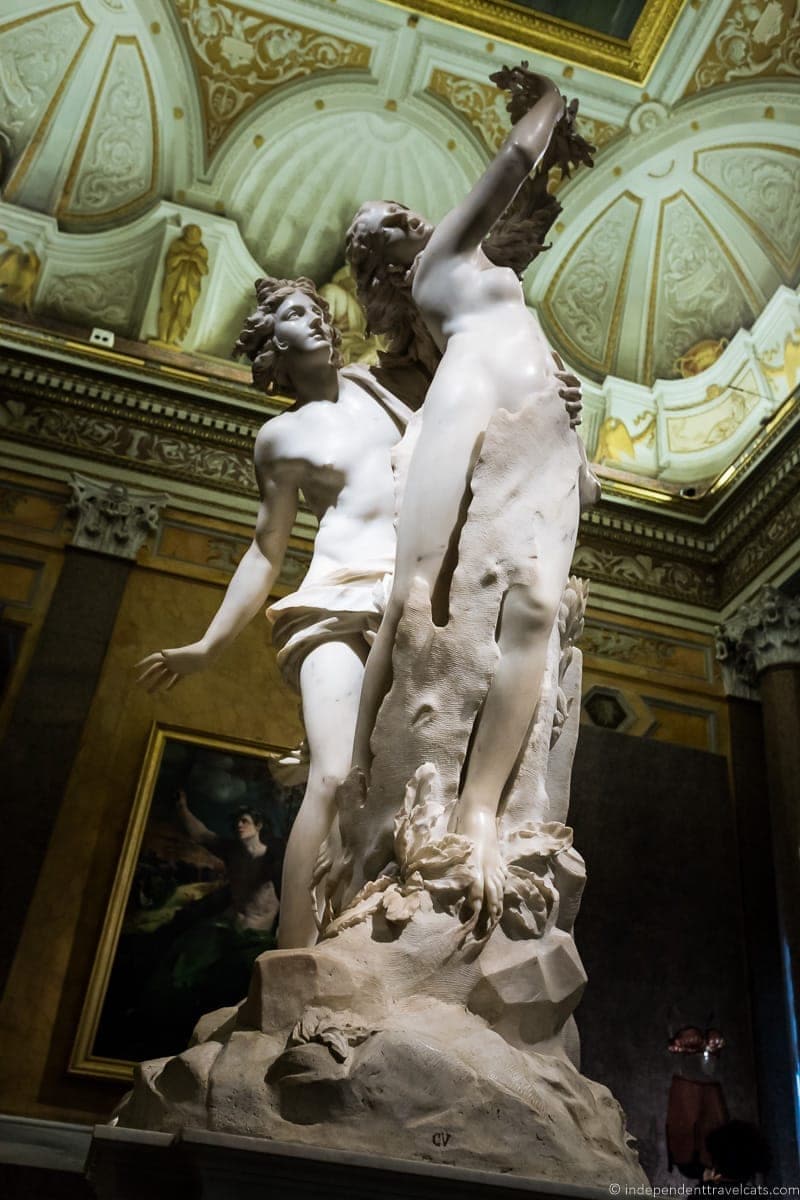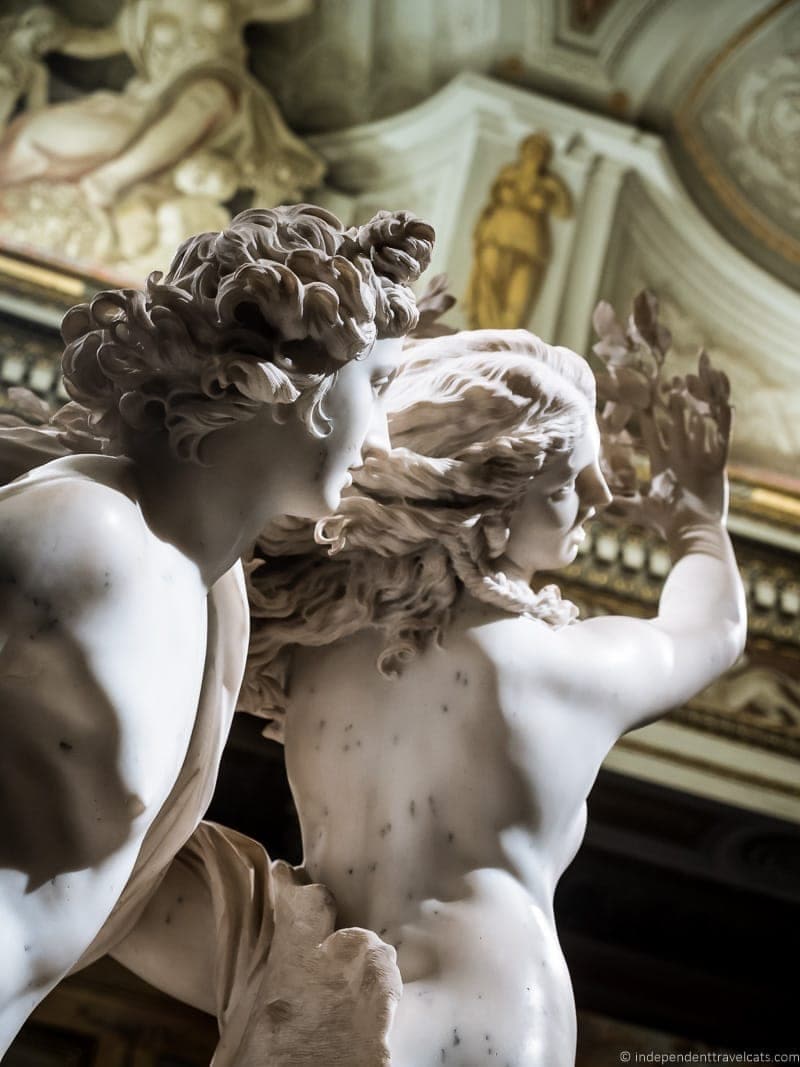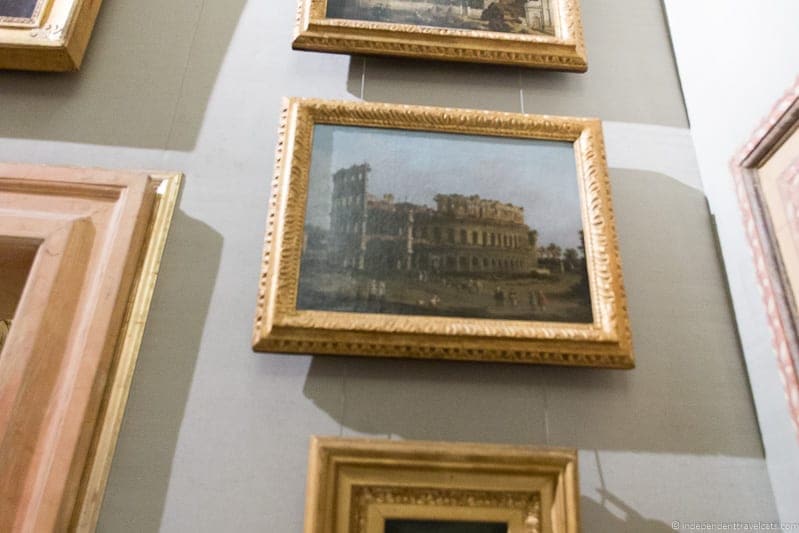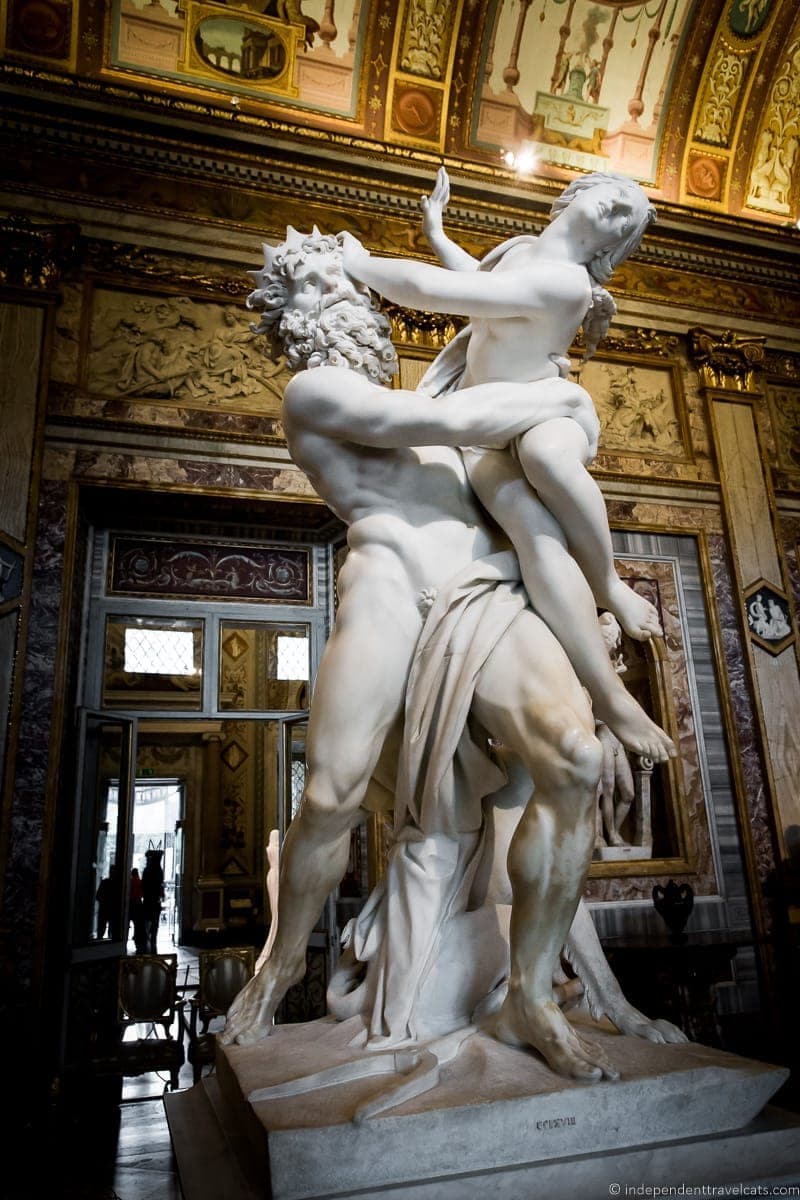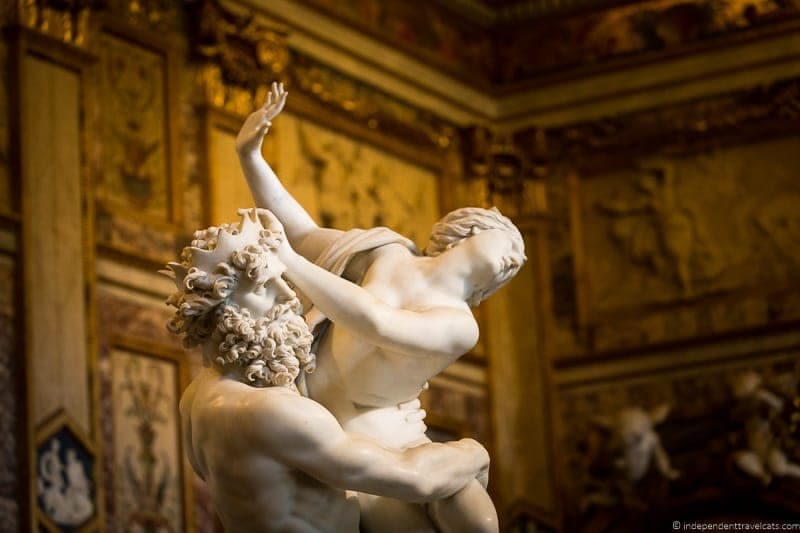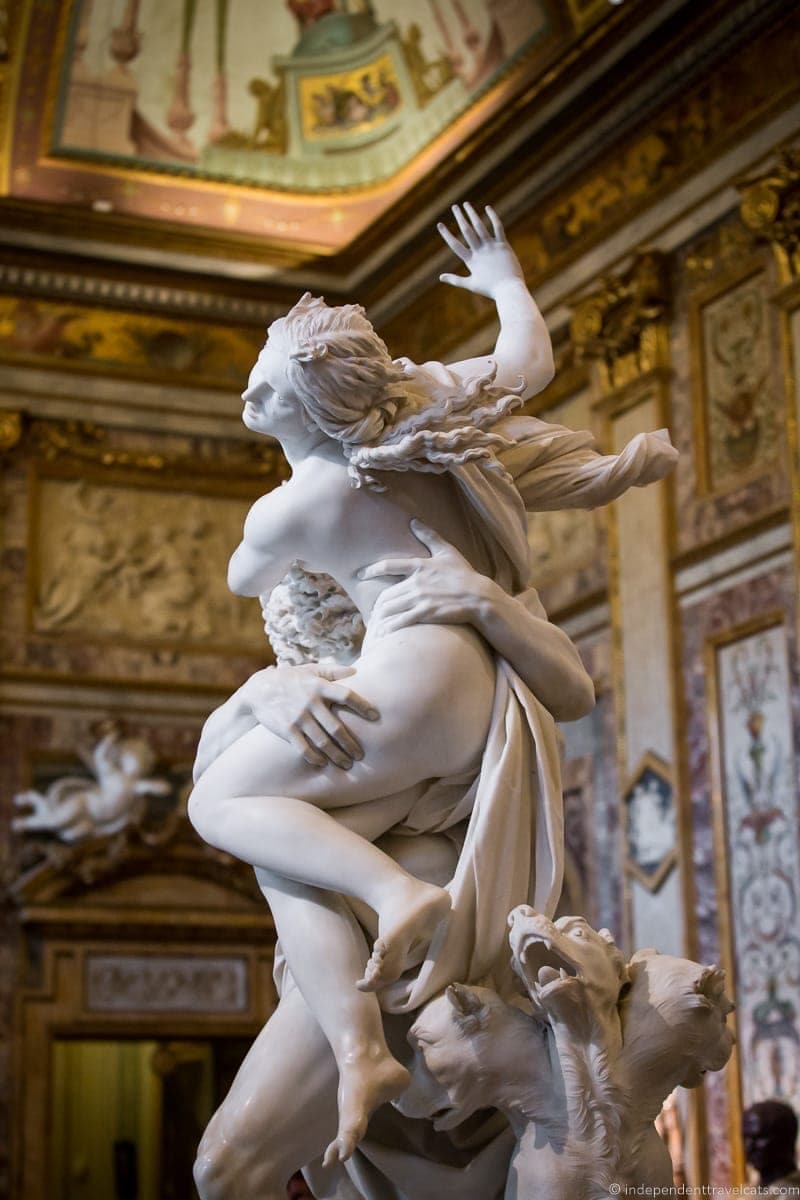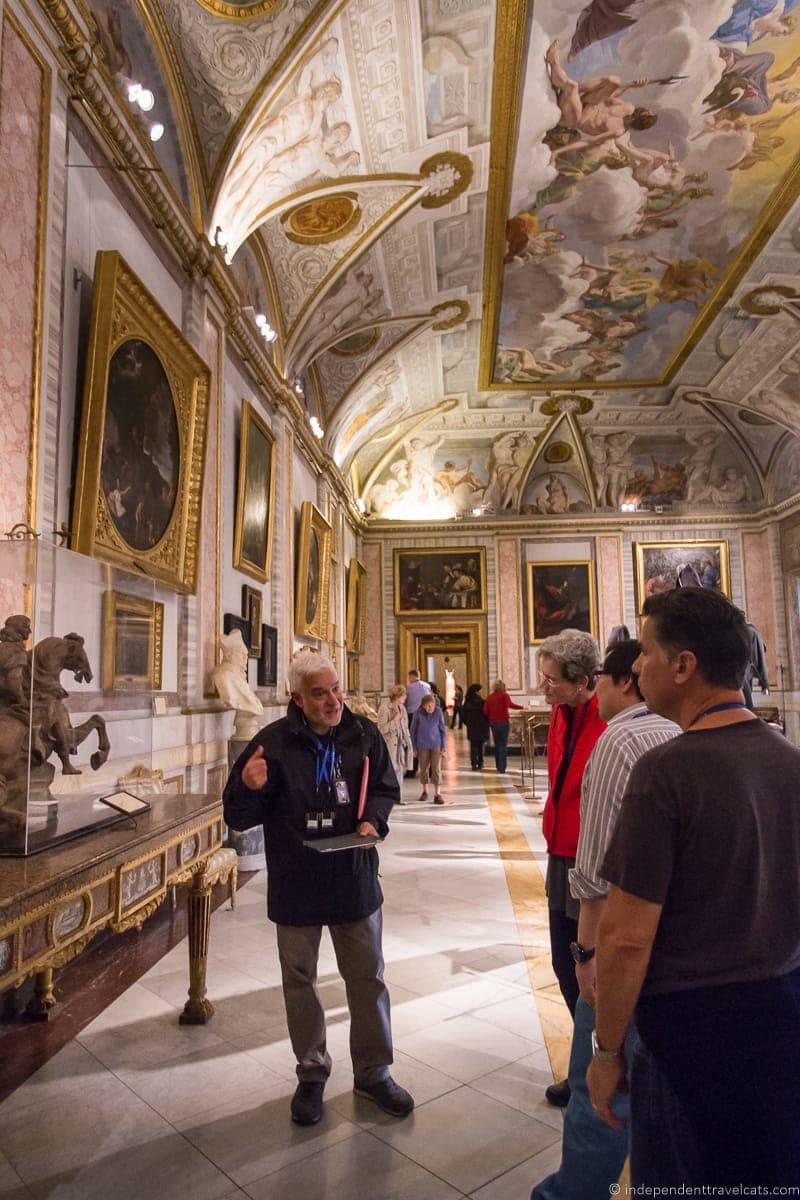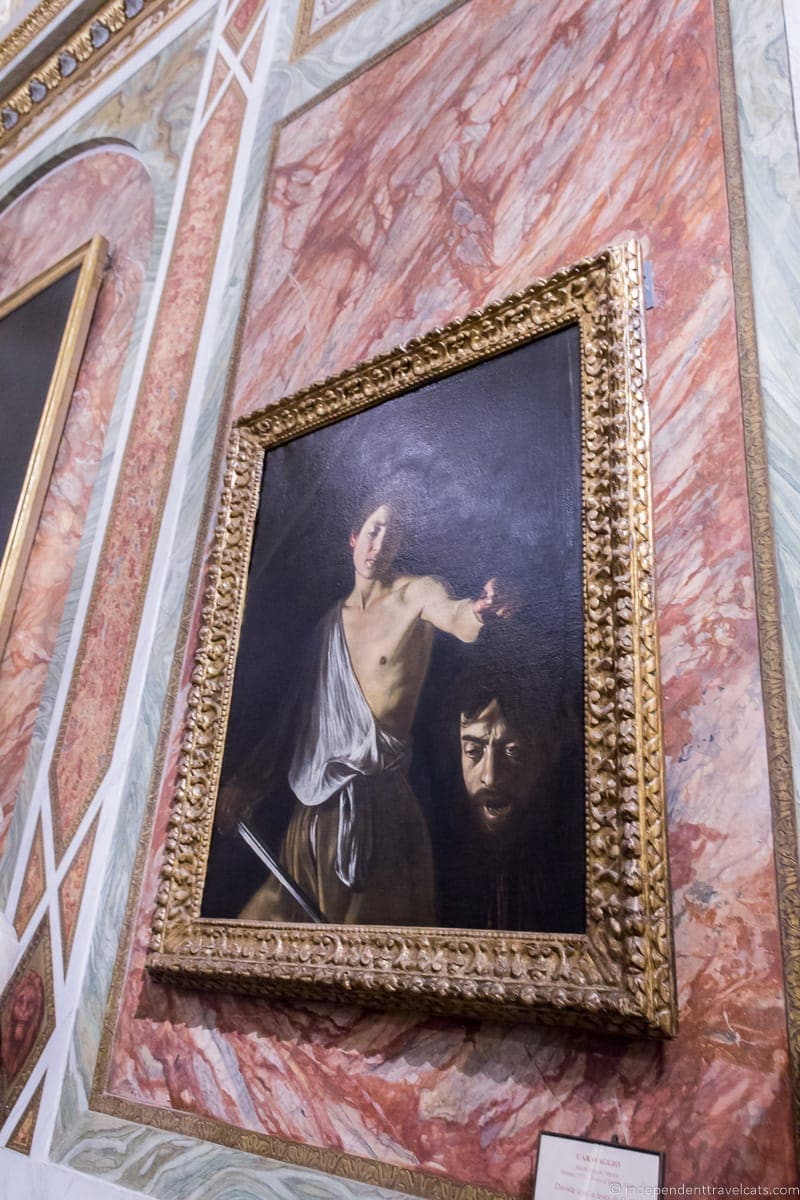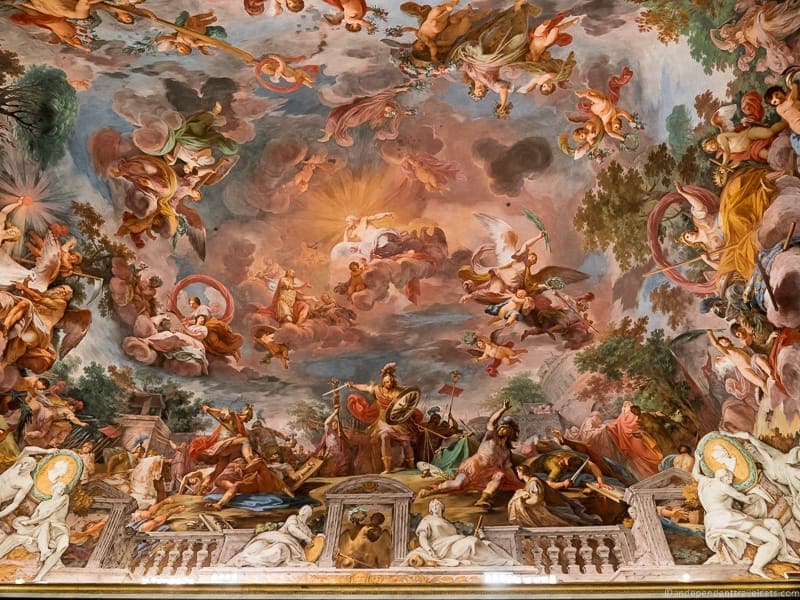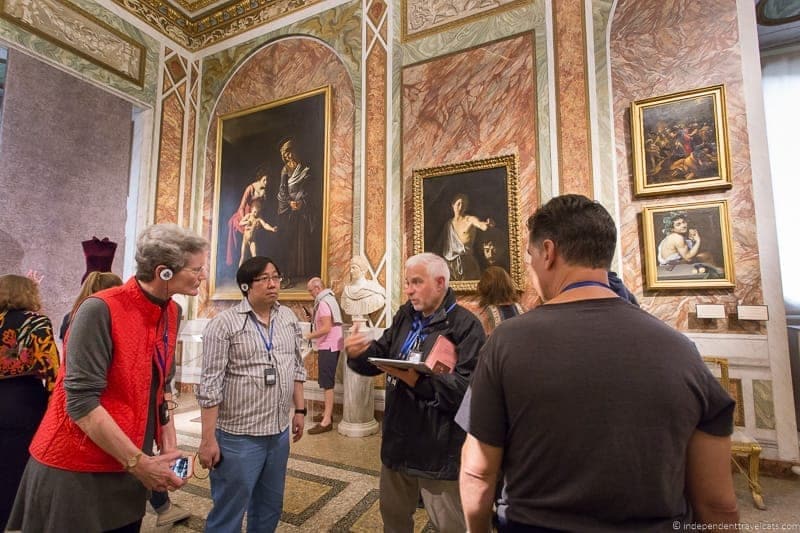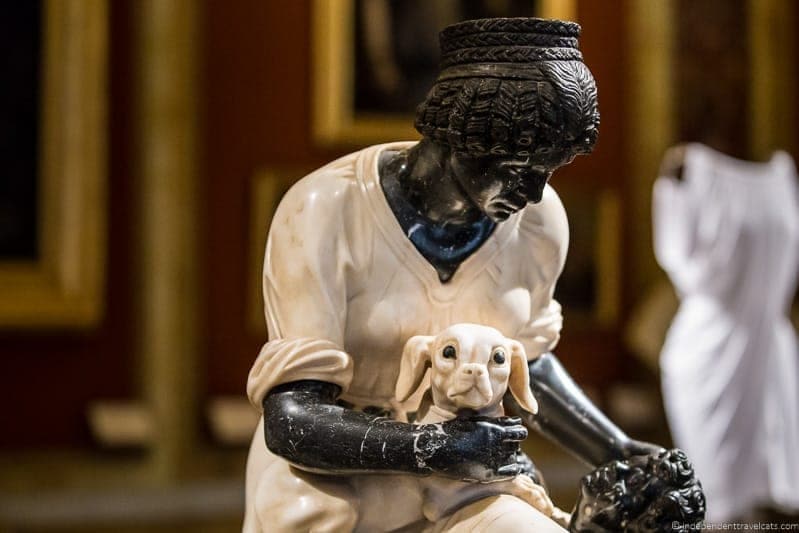 Overall Thoughts on Our Tour of the Borghese Gallery
The Borghese Gallery is a world-class art museum housed in the beautiful former 17th century garden villa of Cardinal Borghese. Although the art collection includes many major works, it is of a very manageable size, and in the 2 hours we still had time to go through all the rooms and hear stories behind many of the important pieces.
The ticketing and reservations system may be a bit annoying, but once you are inside you'll likely greatly appreciate being able to move around the gallery without huge crowds.
Our Walks of Italy guide, Guido, was very knowledgeable, giving us a lot of information but doing it in a very interesting and engaging way. He often stopped to illustrate something he was saying on his trusty IPad which helped us visualize some of the things he was telling us. It also helped having a guide to help manage the booking and ticketing process and to keep us moving at a good pace to have enough time to see the entire collection.
I think that anyone with an interest in art would enjoy experiencing the art at the Borghese Gallery, and an audioguide or guide can really help make it feel more alive. The Bernini statues in particular are very stunning and justified making a visit to the museum for us, but I think you'll likely find a number of pieces to appreciate depending on your tastes from the ancient busts to the colorful Rubens to the darker depictions of Caravaggio.
Just be sure to book in advance and leave some time before or after to explore the gardens!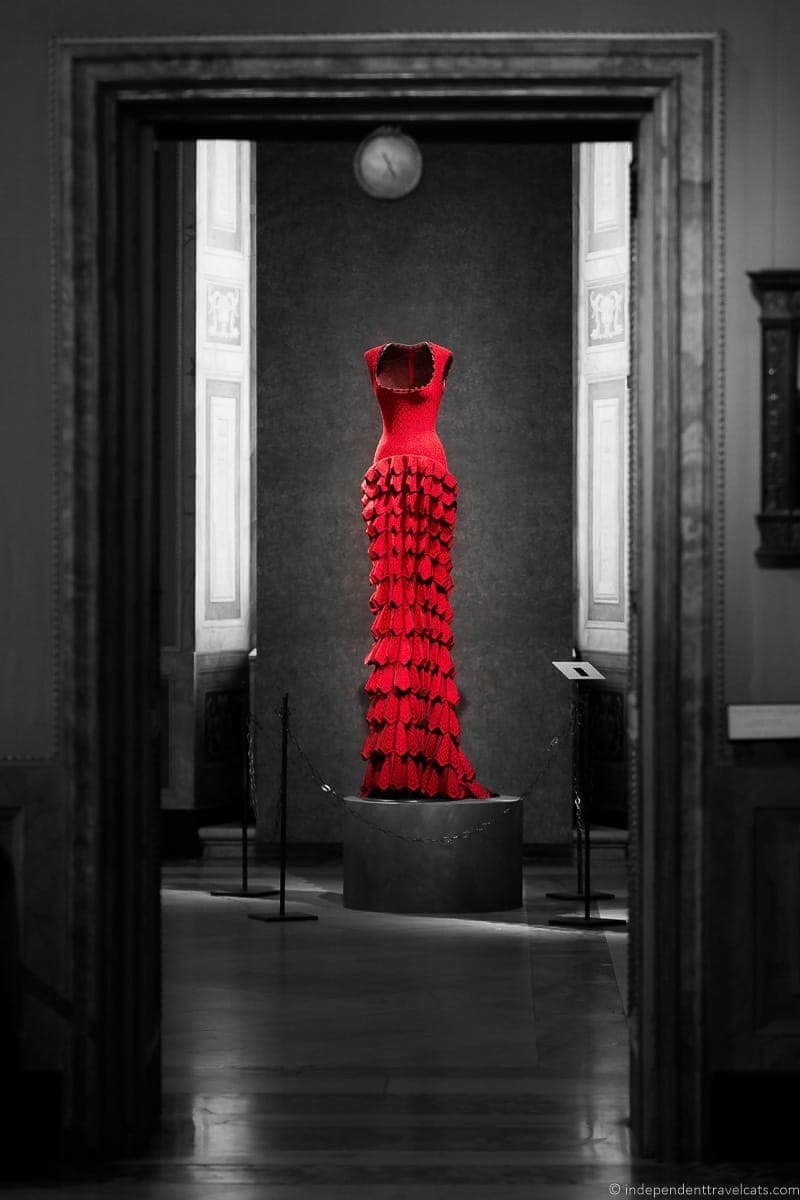 Tips for Visiting the Villa Borghese Gallery
Here are some reminders and tips to make the most of your visit to the Villa Borghese Gallery:
Book your ticket reservations in advance! Remember, that you need to make reservations even if you qualify for a free ticket, are visiting on a free entry day, or have a pass. If you qualify for a free ticket, you will just be charged the booking fee.
If you want to take a guided tour, these also need to be booked in advance. We did this tour and can highly recommend it.
Remember that visits during temporary exhibitions may increase the general ticket prices. Photography rules are also subject to change during temporary exhibitions.
If you are traveling in a wheelchair or have any accessibility concerns, be sure to check ahead with the museum. You can find out more information here.
Be sure to plan to arrive early. All visitors are requested to arrive 30 minutes before their entrance time to check in and collect your tickets. If you arrive after your scheduled entrance time, your tickets may be resold and you may be denied entry.
The museum has a strict policy about what you can take into the museum. It is best to leave prohibited items at your hotel if you can, but if you need to check anything (e.g., food, drinks, strollers, larger purses, bags, etc.), be sure to leave extra time before your entrance time to check your items so that it does not use up part of your 2 hour visit.
We recommend that you check your items in the lockers, use the bathroom, have a drink of water, have a snack, etc. BEFORE you enter the gallery. Once in the gallery, you'll want to make the most of your 2 hours. The staff are strict about the exit times and you won't be able to stay longer if you come late or need to leave the gallery for any reason.
The museum does a good job at controlling the number of visitors in the museum at any one time so that it doesn't get too crowded in the gallery. However, it can still feel a bit crowded, especially at the beginning of each time slot as everyone enters at the same time. One idea if you want a quieter experience is to head upstairs to visit the first floor rooms first and then come back and visit the ground floors last.
Keep track of your time, especially if visiting without a guide or audioguide. You don't need to rush but you want to make sure you have time to see everything within your 2 hour visit. There are 20 main rooms in the museum across 2 floors so pace yourself accordingly.
We recommend taking time to explore the Villa Borghese Gardens before or after your visit. Some of the other attractions in the area, within a 25 minute walking distance, include the Spanish Steps, Villa Medici, Keats-Shelley House, National Gallery of Modern and Contemporary Art, the National Etruscan Museum of Villa Giulia, Rome's Zoo, Piazza de Popolo, National Roman Museum (includes Baths of Diocletian), Piazza Barberini (Bernini fountain here), and the famous Trevi Fountain.
Looking or a nearby coffee shop or gelato stop near the Borghese Gallery? You can check out our coffee in Rome and gelato in Rome guides to find some of our favorite spots. The 18th-century coffee house Antico Caffè Greco is a must visit for anyone who loves historical coffeehouses.
If you're looking for a physical (or Kindle) guidebook, we recommend the latest version of Rick Steves Rome guidebook, which has lots of practical information to help you make the most of your time in the Eternal City. For a walking map, you might check out this laminated one.
Do you think you'd enjoy a visit to the Borghese Gallery in Rome? Have you visited this art gallery before? If so, we'd love to hear about your experience.

If you are planning a trip and have any questions about visiting the Borghese Gallery or anything related to visiting Rome, just ask us in the Comments section below. We love hearing from you!
Planning to visit the Borghese Gallery, PIN this post on Pinterest to read later: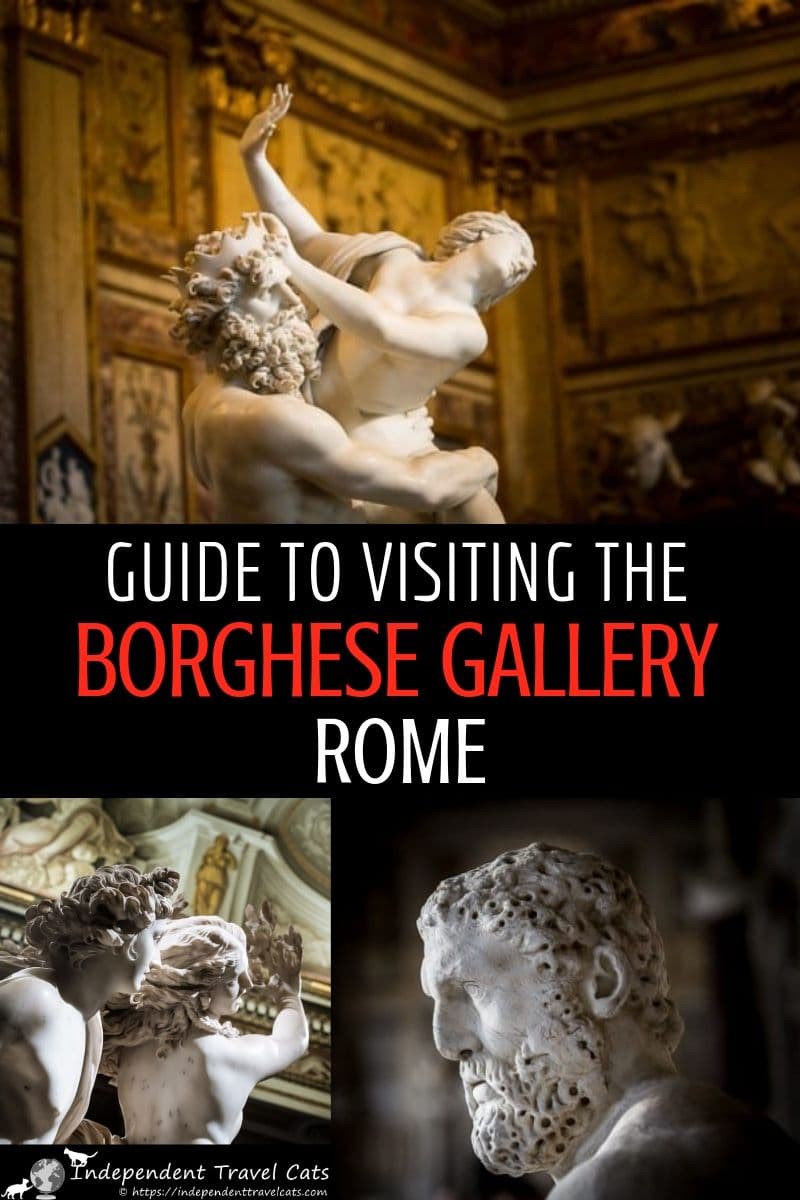 **Disclosure: We were provided complimentary tours by Walks of Italy in order to write a review and provide feedback; however, this article contains only our own honest thoughts and opinions. We specifically chose to take and review the Borghese Gallery tour.**