During our modern-day Grand Tour in Rome this past October, we had the opportunity to learn more about the English Romantic poets and their history within the Eternal City on a tour with Context Travel.
From the 16th century until the mid 19th century, many wealthy young English men would travel to Italy on a Grand Tour in order to finish off their education and gain a better understanding of art, culture, and history. However, many used it as an excuse to gamble, drink, party, and visit prostitutes.
Three of the most famous English Romantic poets: George Gordon Byron (Lord Byron), Percy Bysshe Shelley, and John Keats, would all visit Italy and the city of Rome would serve as a backdrop for significant personal events in the poets' lives and as an inspiration for their poetry. The guided tour includes a visit to the last residence of John Keats, a wander through a cemetery that serves as the final resting place for both John Keats and Percy Bysshe Shelley, and great views of Rome from Pincian Hill.
The tour is led by passionate Hilary who helps you better understand and imagine the Grand Tour era and the lives of the English Romantic poets by sharing facts, anecdotes, and even reciting some poetry. This is a great tour to get you a bit off the beaten path and learn about a part of Rome's history that is often left out. We'll share our experience on our Context Travel tour and take you along on our Grand Tour in Rome.
Basic Info on the Tour with Context Travel
Context Travel is a tour company that started in 2003 and it offers both private tours and small group tours in over 30 cities worldwide across 5 continents. The company specializes in very small group tours (and private tours) and providing in-depth knowledge and hands-on experiences with guides who are scholars and experts in their fields of expertise.
Tours focus on a number of topics, such as art, history, ecology, cuisine, literature, wine, history, and architecture. They also provide general orientation tours in most cities and some day excursions.
To read our full run-down on Context Travel, what differentiates them from other tour companies, and what types of travelers are their best customers, read our prior post about our first Context Travel tour in Venice. Context Travel offers a wide selection of tours in Italy, including over 60 tours in Rome.
Guide?
Most Context Travel tours have several different docents that may potentially lead the tours. The Timeless Inspiration: Romantic Poets and the Grand Tour tour is different as it was developed by guide Hilary Bockham and she is the one usually leading the tour.
Hilary studied Art and Literature and begun her career in England as an art teacher. Over the years, she would also try her hand at fashion and costume design, art exhibition services, and even stand-up comedy! She has a great passion for English poetry, especially the Romantic poets and that fueled her desire to propose and develop this tour.
Time Duration?
The tour is 3 hours long. Most of it is on foot, but you do take a cab to get between two points on the tour to save time.
Cost of the Tour?
The current pricing (August 2019) is $475 for a private tour of up to 6 persons ($50 for each extra person). When we had taken the tour, we took it as a small group tour for €90 per person but they are currently only offering it as a private tour.
NOTE: Many Context Travel tour prices do not include all the entrance fees or transport costs, especially if there is a choice of venues, optional visits, or needed use of a taxi or public transit. In these cases, the costs will be explicitly mentioned in your tour confirmation email. In this tour, the cost does include the entrance fee to visit the Keats-Shelley House but it does not include cab fare (7 to 10 euros per cab shared among riders) for the cab ride needed to get between destinations. You are also encouraged to make a voluntary donation to the cemetery (suggestion is 3 euros).
**All Independent Travel Cats readers receive a 10% discount on any Context Travel tour when you book using our link: 10% OFF Context Travel tours. Please let us know if you have any difficulty receiving your discount upon checkout.**
How do I make a tour reservation or contact Context Travel?
The easiest way to book this tour or any Context tour is online through the Context Travel website. You can also email Context Travel at info@contexttravel.com or call them at their toll-free U.S. phone number +1 800 691-6036 or regular phone number +1 215 392-0303 during normal business hours.
If you have booked a tour and need to contact them outside of business hours, check your email confirmation for their 24-hour emergency phone number. You can also find Context Travel on Twitter @contexttravel and on Facebook.
Our Grand Tour in Rome
This is a review of the Context Travel Timeless Inspiration: Romantic Poets and the Grand Tour. As noted, Laurence and I took multiple walking tours with Context Travel while in Italy, five in fact! We are proud to be part of Context Travel's Deep Traveler network and to serve as ambassadors for this company.
One of the reasons that spurred us to want to work with them as a partner was their in-depth and focused tours like this one. This tour was a perfect fit for our Grand Tour inspired trip project!
Meeting up & Introduction
The meeting place is at the entrance to the Non-Catholic Cemetery, located in the Testaccio district. You will meet your docent in front of the cemetery. Laurence and I walked here and arrived about an hour early, so we explored a bit of the Testaccio area on our own.
TIP: Arrive a bit early for the tour to explore the area. The Testaccio district is not a heavily touristed area of Rome, so it feels much more work-a-day but has plenty of things to offer if you have a bit of time before the tour begins.
Within a minute or two walk from the cemetery, you have the Porta San Paolo (Saint Paul's Gate) which is a well-preserved castle-like southern gate in the Aurelian Wall. Located within the gate house is the Museo della Via Ostiense, which is a small museum with free entry dedicated to the topography of the area between Rome and Ostia, containing dioramas, information, models, memorial stones, and frescos related to the Ostria Way (ancient road linking Rome and the important ancient sea port of Ostia Antica) and the Aurelian Wall and its gates.
Also nearby is the remarkable Pyramid of Cestius, which was incorporated into the Aurelian Wall when it was built. Laurence and I were quite surprised to see a giant Egyptian-style pyramid in Rome! This pyramid was built as the tomb for Roman politician Gaius Cestius way back in the first century. It has recently been restored and the inside is opened to a very limited number of public tours via CoopCulture that can be scheduled in advance.
For fellow cat lovers, there is a cat rescue colony called I Gatti della Piramide located just next to the pyramid and you can visit, donate, and volunteer here to help stranded domesticated kitties. We also wondered around the area a bit further and found a nearby café for some hot drinks to escape the rainy drizzle outside.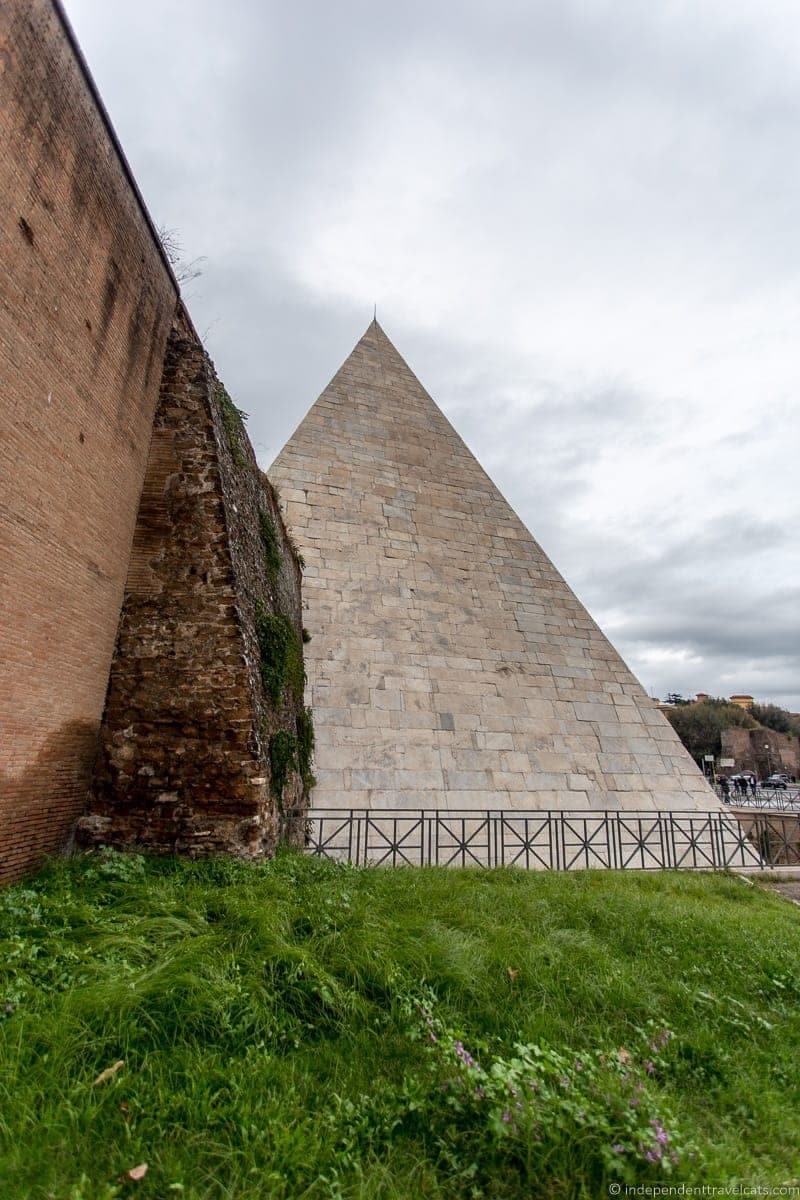 When we returned from the café and went back to the cemetery, our guide Hilary Bockham was already there along with the two other tour participants. Hilary introduced herself and then we each introduced ourselves.
The other two women were a very charming American mother-daughter pair who were living abroad in England. The daughter was in high school and very interested in studying English literature and had developed a fascination with the Romantic poets and Henry James. A little embarrassingly, she was probably the most knowledgeable of our group on the English poets having just studied so much related to the content of this tour!
Hilary told us how she had a passion for the Romantic poets and felt that their time in Rome was important but was a story rarely told to visitors so she had proposed this tour as a way to tell these stories and guide visitors to some of the main sights related to their lives in Rome.
Given that it was still raining, we took shelter and Hilary used this as an opportunity to give us a brief introduction to the Grand Tour and the Romantic poets. The Grand Tour was travel undertaken by young male British aristocrats (although not exclusively) with the goal of gaining a better understanding of art, culture, foreign language, and antiquities. It was essentially a way of gaining further education after university or the original "gap year".
The tradition of the Grand Tour began in the 16th century and reached its height of popularity by the late 1700's, lasting until the mid-19th century when the Napoleonic Wars and the advent of rail travel would put an end to the Grand Tour tradition. The tour could last from several months to several years and generally included travel through France and Italy with Rome being considered a mandatory, and often the most important, stop. As noted by English writer Samuel Johnson in James Boswell's famous biography The Life of Samuel Johnson: "A man who has not been in Italy is always conscious of an inferiority, from his not having seen what it is expected a man should see."
The young men were bankrolled by their families and often accompanied by a tutor, or bearleader, who was expected to help navigate the complexities of international travel, provide educational experiences, and to ensure that their son was kept away from vices. Despite such precautions, many of these young men spent much time gambling, drinking, being idle, and visiting prostitutes rather than learning French, studying portraits, and sketching ancient Roman ruins.
Romanticism was an artistic and intellectual movement that lasted from approximately the late 18th century to the mid 19th century and emphasized emotions, individualism, medievalism, nature, and personality rather than rationalism, order, and urbanism. This period would coincide with the final years of the Grand Tour.
Three of the most well-known English Romantic poets: George Gordon Byron (Lord Byron), Percy Bysshe Shelley, and John Keats, would all visit Italy and the city of Rome would serve as a backdrop for significant personal events in the poets' lives and as an inspiration for their poetry. The poets and their poetry would influence later writers and visitors to Rome, such as Henry James.
With this introduction we started our tour of the cemetery and luckily the rain was starting to stop.
The Non-Catholic Cemetery of Rome
We started our tour with Hilary in the Cimitero Acattolico of Rome, or the Non-Catholic Cemetery of Rome. The active cemetery is also widely referred to as the Protestant Cemetery or English Cemetery; however, people of numerous faiths and nationalities are buried at the cemetery.
The cemetery dates back to at least 1716 when members of the exiled Stuart Court of England were allowed by Pope Clement XI to be buried here since they were Protestants and could not be buried in any of the Catholic cemeteries. While the Grand Tour for many Grand Tourists was a period of independence from one's family and duties, it was not without its dangers and many young men would contract diseases, suffer accidents, and even die along the route.
The reason for our visit was that it is the final resting place of both John Keats and Percy Shelley (Lord Byron would also die abroad but in Greece).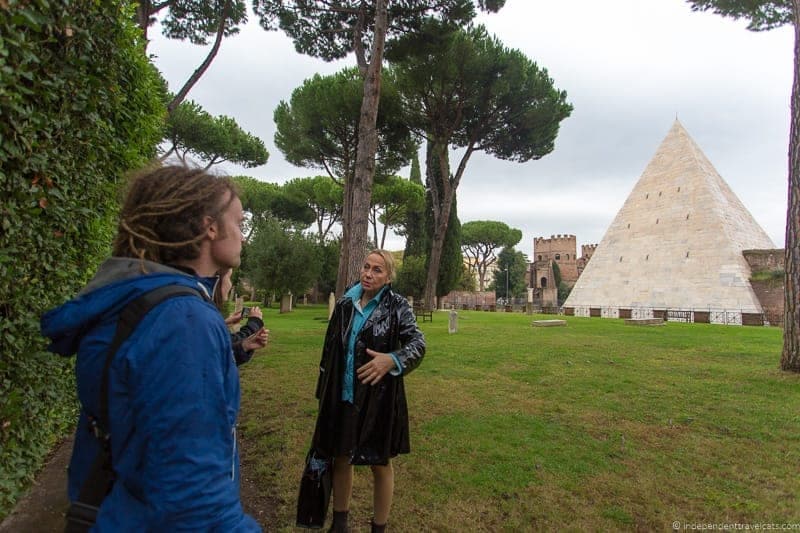 Unlike Byron and Shelley, Keats was not born into a family with a hereditary title or the ability to afford the best schools. As a middle class Englishmen, he would not have the luxury of traveling on a Grand Tour style trip but instead would travel to Italy as a last-ditch effort to help ease his symptoms of tuberculosis. He would leave England for Italy with his friend English writer Joseph Severn in September 1820. The pair would rent a villa in Rome and Keats would die of tuberculosis on February 23, 1821 at the age of only 25.
Keats' burial site is beautiful with the marble gravestone surrounded by greenery and flowers such as violets and daisies as Keats would have wished. The gravestone is interesting in that it doesn't include Keats name or birth date. Hillary explained that one of Keats' last requests was that he wanted a tombstone without a name or date and only the words "Here lies One Whose Name was writ in Water".
Severn and another friend Charles Armitage Brown did include this phrase as requested, but for some reason chose to add their own introduction: "This Grave contains all that was Mortal of a Young English Poet Who on his Death Bed, in the Bitterness of his Heart at the Malicious Power of his Enemies Desired these Words to be engraven on his Tomb Stone: Here lies One Whose Name was writ in Water. 24 February 1821." The commentary on the bitterness and his enemies was related to a scathing review that Keats' poem Endymion received in a 1817 review article by John Wilson Croker, which some of Keats' friends believed (likely erroneously) helped hasten his death.
For some reason the date of death on the tombstone is incorrect by one day. It is widely believed that Keats would not have appreciated the addendum to what he wanted written on his gravestone as many believe that he had gotten over the critical reviews. Nonetheless, his dedicated friend and caretaker John Severn was buried next to Keats over 50 years later in 1879. Severn's infant son Arthur in buried under a small tombstone in between the two men.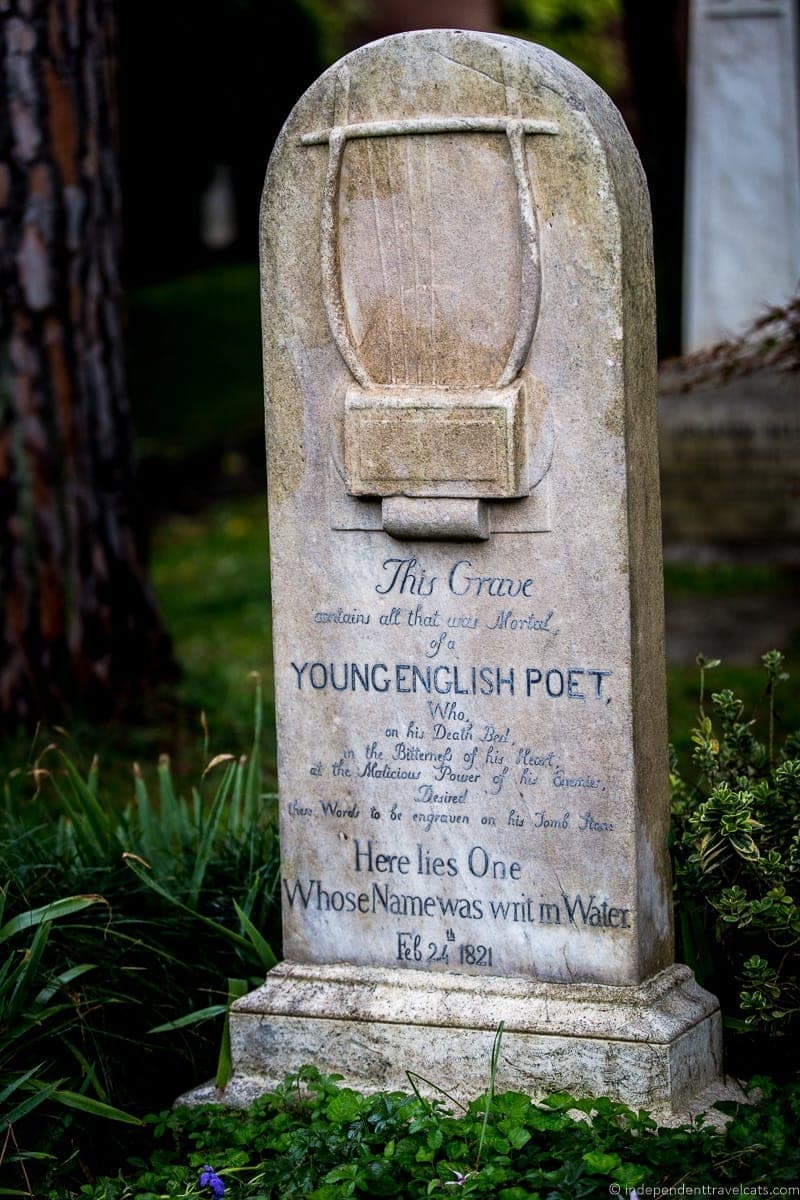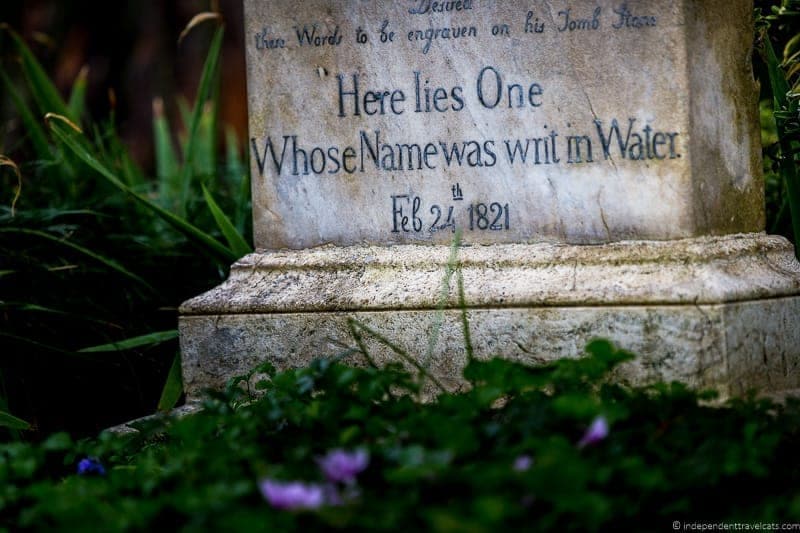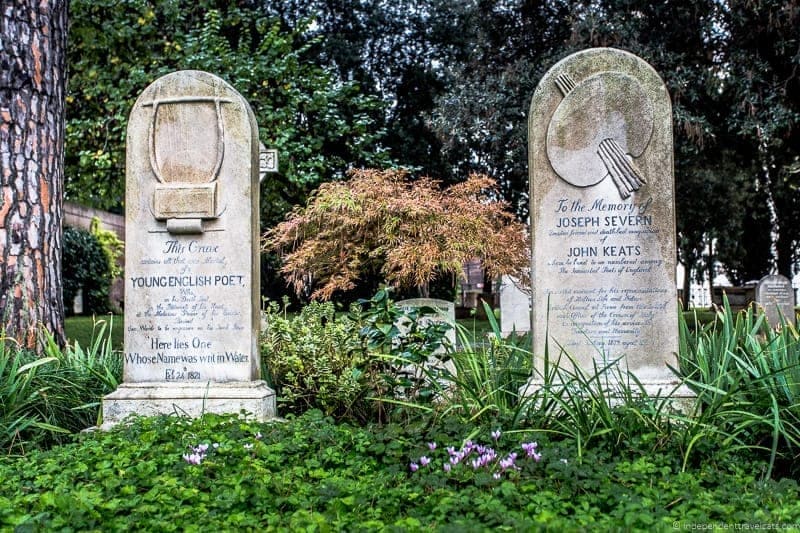 Percy Bysshe Shelley, on the other hand, traveled to Europe a few times. He met Byron for the first time in Geneva, Switzerland in 1814 and again in 1816. In fact, Percy's first trip to Switzerland was when he ran away with 16-year-old Mary Wollstonecraft Godwin, leaving behind his pregnant wife and Mary's angry family.
Percy and his second wife Mary Shelley would head to Italy in 1818 without plans to return to England, not so much as a Grand Tour but as a sort of self-exile. One of their first missions was to take Mary's sister's daughter to Lord Byron who was living in Venice at the time. Byron had an affair with Mary's sister Claire that resulted in the birth of the child, and although he wanted nothing to do with Claire he decided to provide support for his daughter.
Byron had gone on a Grand Tour from 1809 to 1811 but left England again for the last time in 1816 as a form of self-exile to escape scandals involving debt and stories of incest in England. This is a good introduction to the crazy sort of lives led by both Shelley and Byron which included ample amounts of partying, drinking, drugs, sexual scandals, neglected wives and children, revolutionary political writing, and traveling.
Despite their dubious reputations and their self-imposed exiles from their home country, each would become well-respected for their poetry and Byron is often referred to as one of the first modern celebrities.
Shelley would learn about John Keats' death and compose the poem "Adonais" as an elegy in 1821. While most of the poem has a pretty depressing and hopeless aspect to it as one might expect with many lines like "weep for Adonais—he is dead!" the stanzas about Rome are more hopeful. Below is a short section of the poem that includes mention of the Non-Catholic Cemetery in Rome and the Pyramid of Cestius:
Go thou to Rome,—at once the Paradise,
The grave, the city, and the wilderness;
And where its wrecks like shattered mountains rise,
And flowering weeds, and fragrant copses dress
The bones of Desolation's nakedness,
Pass, till the Spirit of the spot shall lead
Thy footsteps to a slope of green access
Where, like an infant's smile, over the dead
A light of laughing flowers along the grass is spread.

And gray walls moulder round, on which dull Time
Feeds, like slow fire upon a hoary brand;
And one keen pyramid with wedge sublime,
Pavilioning the dust of him who planned
This refuge for his memory, doth stand
Like flame transformed to marble; and beneath,
A field is spread, on which a newer band
Have pitched in Heaven's smile their camp of death,
Welcoming him we lose with scarce extinguished breath.
As fate would have it, Shelley would follow Keats to the grave less than two years later at age 29. Hilary told us how Shelley drowned in Italy aboard his sailing boat, the Don Juan, named after Byron's narrative poem, further linking together the lives of these three Romantic poets. On Shelley's body, a volume of John Keats' poetry was found in his breast pocket.
Like Keats, Shelly was buried in the Non-Catholic Cemetery in Rome. His gravestone includes the Latin inscription, Cor Cordium (meaning "Heart of Hearts"), his birth and death dates in Roman numerals, and, in reference to his tragic death at sea, lines from Shakespeare's The Tempest: "Nothing of him that doth fade, But doth suffer a sea-change Into something rich and strange."
Similar to the situation with Severn and Keats, Shelley's friend English writer Edward John Trelawny would be buried next to Shelley in 1881.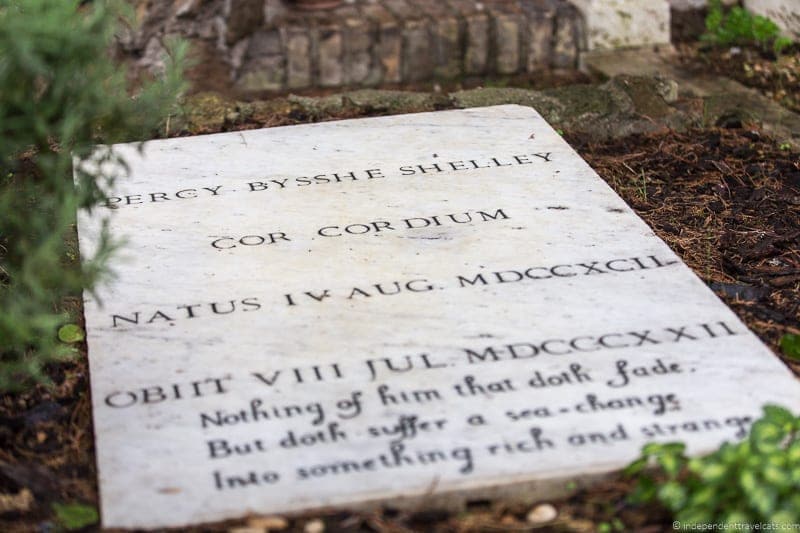 It is interesting to note that Keats, Shelley, and later Lord Byron (who would die in Greece at age 36) were all Protestant, young English Romantic poets of somewhat dubious reputations (especially Byron and Shelley) who would die young and abroad. The lives and deaths of these poets would influence great literary figures such as Oscar Wilde (who wrote a poem about Keats grave) and Henry James who would bury his ill-fated American heiress character Daisy Miller in this same cemetery after she contracted malaria in Rome on her own Grand Tour.
Hilary also led us around and showed us a few other significant graves in the cemetery. Other famous people buried here include writer Carlo Emilio Gadda, American Beat poet Gregory Corso, Italian Marxist theoretician Antonio Gramsci, and Johann Wolfgang von Goethe's son Julius August Walter Freiherr von Goethe.
However, some of the most beautiful and intricate gravestones belong to less well known people. The design of the tombstone for Devereux Plantagenet Cockburn, a young British man who died at age 21, shows him basking in the Italian sun with his dog and a book. The gravestone of Emelyn Story is notable for its haunting beauty, designed by the deceased husband William Wetmore Story, a notable American sculptor. If you enjoy exploring cemeteries, the Angel of Grief statue may be familiar as it has been copied numerous times around the world.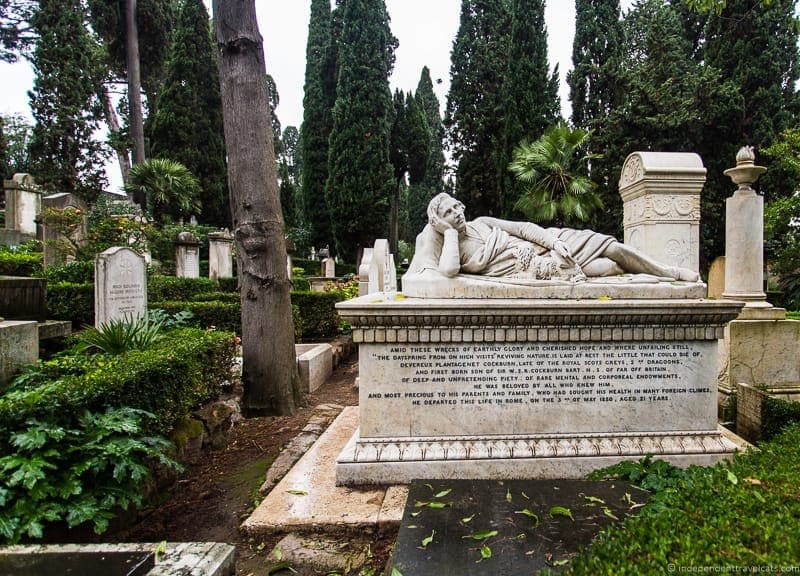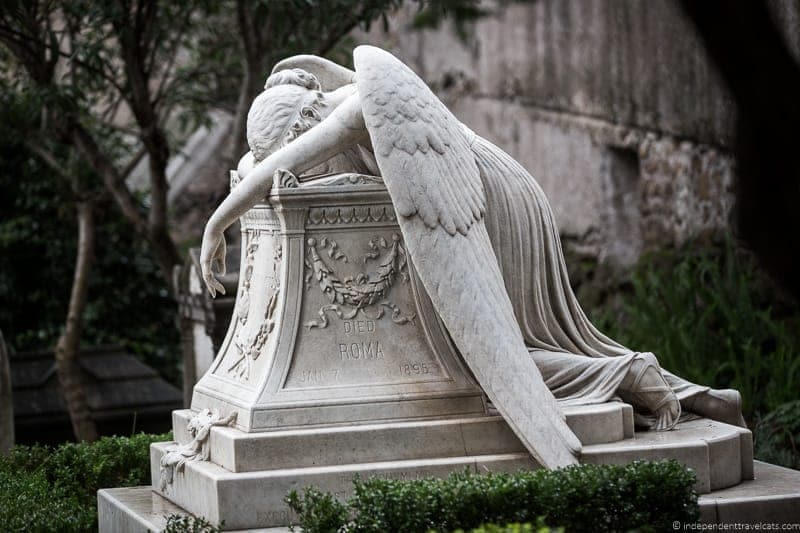 After our explorations of the cemetery, which included a few stops for poetry readings next to the graves we set off in two taxis to our next destination in another area of Rome: Pincian Hill.
Pincian Hill & Piazza del Popolo
The Pincio, or Pincian Hill, is a hill that lay just outside the original boundaries of ancient Rome. Many wealthy families would build villas and gardens here, including the Borghese family. If you haven't been here before, we'd highly recommend returning to the Pincian Hill after the tour to stroll through the Villa Borghese gardens and to visit the Galleria Borghese which has some wonderful art, including several notable sculptures by Bernini and paintings by Caravaggio. Built as an art museum, the Villa Borghese was a must-see of a Grand Tourist's itinerary while in Rome.
We walked to a great viewing area where you can look down over Piazza del Popolo, which over the centuries has been the site of all sort of events, including public executions. Now it is a popular shopping area and busy pedestrian zone.
In the center of the grand square, you'll see the Obelisco Flaminio, which is one of many ancient Egyptian obelisks in Rome. The gate in the square, the Porta del Popolo was the start to the important Via Flamina route in Italy and almost all Grand Tourists arriving from the north would have passed through this grand entryway into the city for the first time. This entry would have been most Grand Tourists first views of Rome. Byron was one of Rome's many admirers and he writes quite positively about the city and includes numerous mentions of the city in his famous poem Childe Harold's Pilgrimage including:
Rome—Rome imperial, bows her to the storm,
In the same dust and blackness, and we pass
The skeleton of her Titanic form,
Wrecks of another world, whose ashes still are warm.
as well as:
Oh Rome! my country! city of the soul!
The orphans of the heart must turn to thee,
Lone mother of dead empires! and control
In their shut breasts their petty misery.
Our stop at Pincian Hill was a fairly brief stop, but we had enough time for Hilary to share that this spot served as one of the pivotal locations in Henry James's novel Daisy Miller. If you have read the book or watched the film, it is where the feisty American heiress refuses to listen to advice that she is ruining her social reputation by being seen walking with an Italian man at such an hour.
We also stopped to admire the view and take some photos, as the spot affords some great views over Piazza del Popolo and you can see all the way to St. Peter's Basilica. When Keats first arrived in Rome, he would sometimes walk up to this hill to take in this same view. From here you can walk down to the Piazza del Popolo or with a fairly short walk, you'll find yourself walking down the Spanish Steps to reach our next destination within Piazza di Spagna.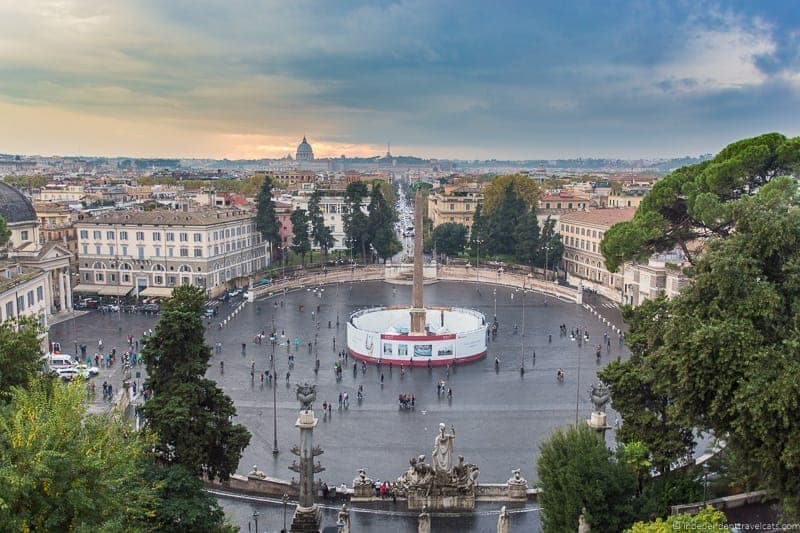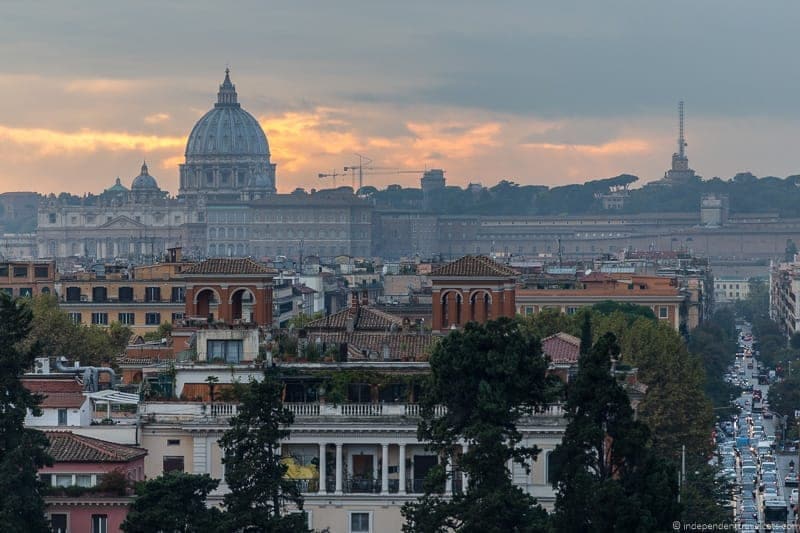 Keats-Shelley House
The Spanish Steps lead down to the Piazza di Spagna which has been a popular meeting place for English visitors for centuries, and it was here that a number of hotels, cafes, and inns would spring up that would serve many of the British Grand Tourists.
Byron would stay at Piazza di Spagna in 1817, and later John Keats and John Severn would move into a villa at Piazza di Spagna 26, a building on the square and right next to the Spanish Steps in 1820. The building has since been converted and opened as a museum dedicated to the life and works of the second-generation Romantic poets with a particular focus on the live and works of John Keats.
Most visitors to Rome find themselves on the Spanish Steps and by doing so walk right past the Keats-Shelley House, but very few find themselves inside or even know that they passed right by this great little museum. This was our final stop on the tour.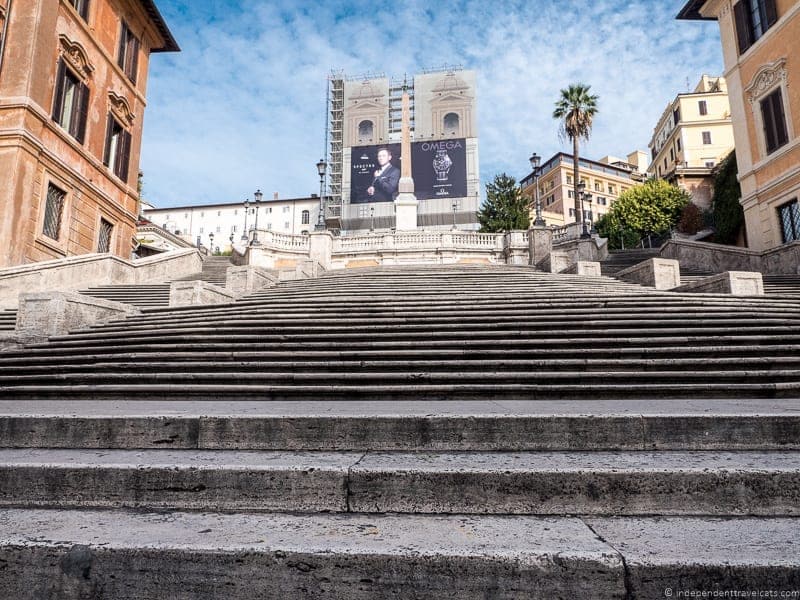 Hilary ushered us into the museum and gave us a guided tour of the exhibition rooms. During the tour, she shared interesting tidbits about the poets' lives such as the writing of Mary Shelley's Frankenstein, which was sparked by a friendly competition suggested by Byron. In 1818 while the Shelleys were staying with Byron in Geneva, Byron would encourage everyone to write their own ghost story one rainy day, and from this competition Shelley would begin writing her famous Gothic horror novel!
The story of the writing competition in Geneva is depicted (in a fictionalized way based on true events) in the film Haunted Summer and the strange film Gothic. The story of Mary Shelley and Frankenstein (including the stay in Switzerland) is better depicted in the 2018 film Mary Shelly.
We walked through a series of interconnecting exhibition rooms that contained interesting artifacts associated with the Romantic poets, including busts, handwritten letters and manuscripts, jewelry, portraits, and first edition books. Some of the most memorable included the life and death masks of John Keats, a Venetian mask worn by Byron at Carnival, locks of hair from both Keats and Shelley, a handwritten poem about Keats written by Oscar Wilde, and a portrait of Keats' fiancée Fanny Brawne.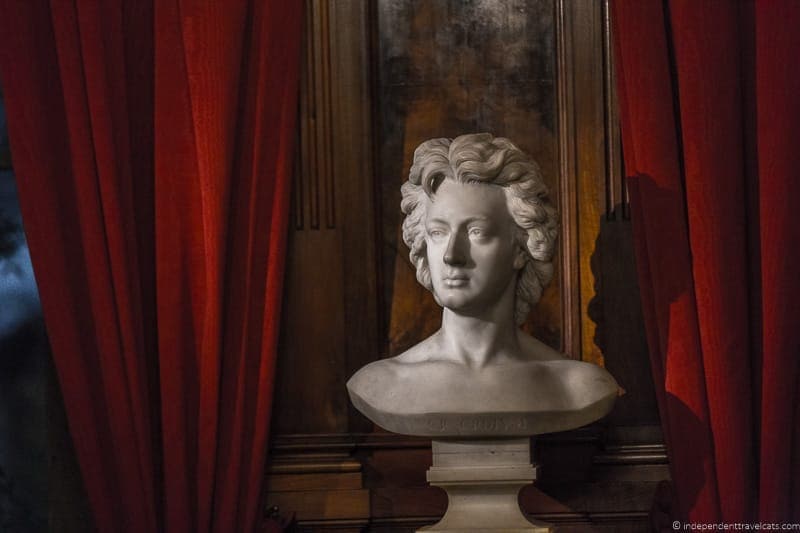 Hilary spoke a bit about the doomed love affair between Keats and Fanny Brawne. Keats fell in love with Fanny Brawne and the two were unofficially engaged; however, soon after it became clear to him that he had tuberculosis. In late 1820, when it was decided that he would travel to Rome to avoid the cold English winter, he was hopeful but knew there was a good chance that he would never see his beloved Fanny again.
Throughout their time together (they were neighbors), he wrote a number of love letters to Fanny which have become quite famous, especially since the release of the film Bright Star which focuses on the final years of Keats' life and the tragic love story. Below are some excerpts from letters written by Keats over the course of their relationship which change in tone as he learns he has tuberculosis in February 1820 and arrives in Italy in October 1820, never to see or write to Fanny directly again:
My sweet Fanny, will your heart never change? My love, will it? I have no limit now to my love – You note came in just here – I cannot be happier away from you – 'T is richer than an Argosy of Pearles. Do not threat me even in jest. I have been astonished that Men could die Martyrs for religion – I have shudder'd at it – I shudder no more – I could be martyr'd for my Religion – Love is my religion – I could die for that – I could die for you. My Creed is Love and you are its only tenet – You have ravish'd me away by a Power I cannot resist: and yet I could resist till I saw you; and even since I have seen you I have endeavoured often "to reason against the reasons of my Love." I can do that no more – the pain would be too great – My Love is selfish – I cannot breathe without you. (excerpt from letter from Keats to Fanny Brawne, October, 1819)

On the night I was taken ill when so violent a rush of blood came to my Lungs that I felt nearly suffocated – I assure you I felt it possible I might not survive and at that moment though[ t] of nothing but you (excerpt from a letter from Keats to Fanny Brawne, February 1820)

Give my Love to Fanny and tell her, if I were well there is enough in this Port of Naples to fill a quire of Paper…I do not feel in the world…I dare not fix my Mind upon Fanny, I have not dared think of her. The only comfort I have had that way has been in thinking for hours together of having the knife she gave me put in the silver-case-the hair in a locket – and the Pocket Book in a gold net – Show her this. I dare say no more – Yet if you must not believe I am so ill as this Letter may look, for if ever there was a person born without the faculty of hoping I am he. (excerpt from a letter from Keats to Frances Brawne, Fanny's mother, October, 1820)
One of the most interesting rooms in the museum is Keats's bedroom which has been preserved as a shrine to his artistic talent as well as his tragic death. It was in this room that Hilary read to us a bit of Keats' poetry while we looked around the room and enjoyed the view out of the window. The room contains a bed and some other furniture that would have been in the room in 1821 when he died, although the furniture is not original having been burned after his death.
When Keats first arrived in Rome, he was able to take walks and go out sometimes in Rome, but he soon became too ill to leave the house and spent the majority of his time lying in the bed. One can imagine how often he must have stared out at the Spanish Steps and Bernini's boat-shaped Barcaccia fountain, hopefully getting some pleasure out of this wonderful view.
If you like this view and want to feel a bit more like a Grand Tourist or a Romantic poet, you might consider renting the apartment on the third story of this building from the Landmark Trust.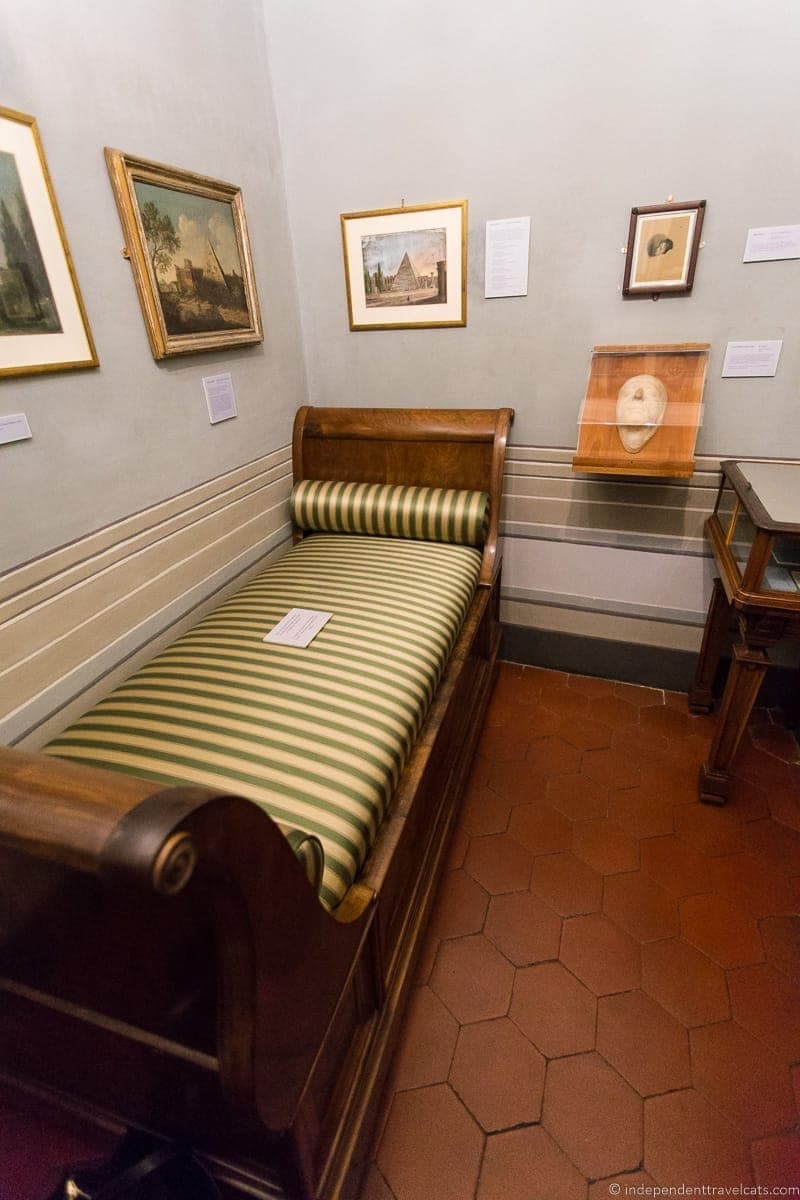 After exploring the museum we made our way down to the small cinema room. In addition to the exhibition rooms, there are two spacious terraces boasting stunning views, an extensive library of Romantic literature, a book and gift shop, and a small cinema room where visitors can watch an exclusive introductory film about the Romantic poets.
Normally, the last part of the tour takes place on one of the terraces, but given the poor weather Hilary opted to take us to the cinema room for the final part of the tour. Here as we sat to watch the short film, Hilary surprised us with both a bottle of prosecco and a visit from the museum curator, Giuseppe Albano, who talked to us a bit about the history of the museum and its current projects. We then had a prosecco toast, which was a perfect way to end our tour!
Overall Thoughts on our Grand Tour in Rome
We both really enjoy this Context Travel tour even though we were not that knowledgeable about the English Romantic poets or their time in Rome before the tour. It was a perfect fit for our modern-day Grand Tour in Rome and took us to places in Rome we probably would not have visited had it not been for this tour.
This tour is designed for those who already have a background on the English poets, but Hilary provides enough background for those with an appreciation but little knowledge to fully understand and enjoy the walk. It was interesting to reflect on the lives of the three young English poets and how tragic it was that their lives were so short; the story of Keats is particularly tragic. Hilary really makes the tour stops come alive with interesting facts, commentary, and poetry. The cemetery was actually quite beautiful and the museum is recommended for anyone interested in British culture abroad.
One thing to note is that the tour is much more focused on the Romantic poets and writers rather than on the Grand Tour itself. Laurence and I both thought the tour could be a bit longer; however, at 3 hours the wish for it to be longer is a compliment to how interesting Hilary made this tour. The tour contained visits to two of the primary locations in Rome associated with the Romantic poets, great views of Rome, plenty of Romantic poetry, and even a prosecco toast!
This walking tour was a perfect way to end our Grand Tour in Rome.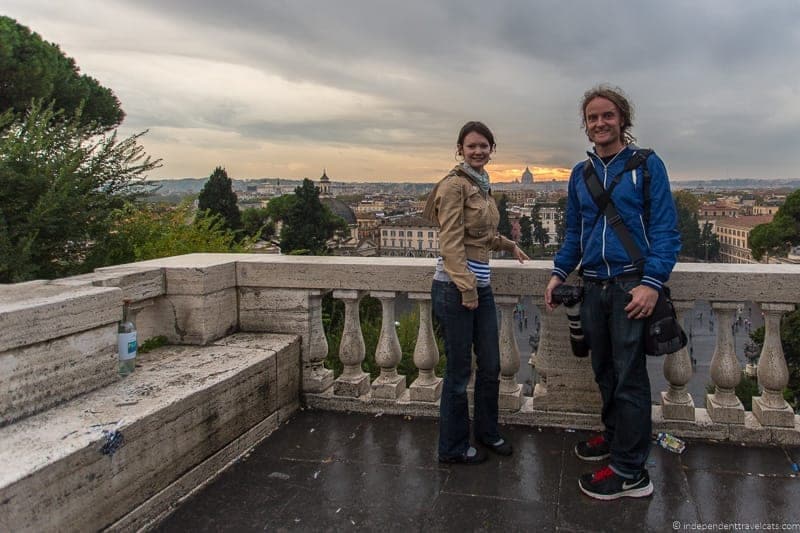 Do you think you'd enjoy this Context Travel tour revolving around the Romantic Poets and the Grand Tour in Rome? Have you taken a tour with Context Travel?
As always, feel free to comment and we're happy to answer any questions about our tour. Also for those interested in booking any walking tour with Context Travel, don't forget to use the discount link to receive a 10% discount!
**Disclosure: We were provided complimentary tours by Context Travel in order to write a review and provide feedback; however, this article contains only our own honest thoughts and opinions. We specifically chose to take and review the Timeless Inspiration: Romantic Poets and the Grand Tour tour.**