The main reason we chose to stay at Buffalo Luxury Camp is because it offers guests the opportunity to do both night game drives and game walks. Buffalo Luxury Camp is located in the northern Serengeti on its own privately owned hillside just a few miles outside of the boundaries of Serengeti National Park. Because of the lodge's location outside of the park and its position on private land, the camp is able to offer a range of experiences not possible within the national park, including off-road game drives, night game drives, and nature and safari walks. Buffalo Luxury Camp is a permanent luxury tented camp consisting of 15 suite tents with constant hot and cold water, electricity, hair dryers, robes, and even bath tubs! We appreciated the luxury of our suite tent and the beautiful three-level main lodge building; however, what stood out to us most were the unique experiences of the off-road game drives and safari walks. The best part is that a sundowner and bush dinner, a night game drive, and a safari walk are all included in the price of lodging! Planning a visit to the remote northern part of the Serengeti? We'll share details of our stay at Buffalo Luxury Camp and our first bush dinner, night game drive, and safari walk.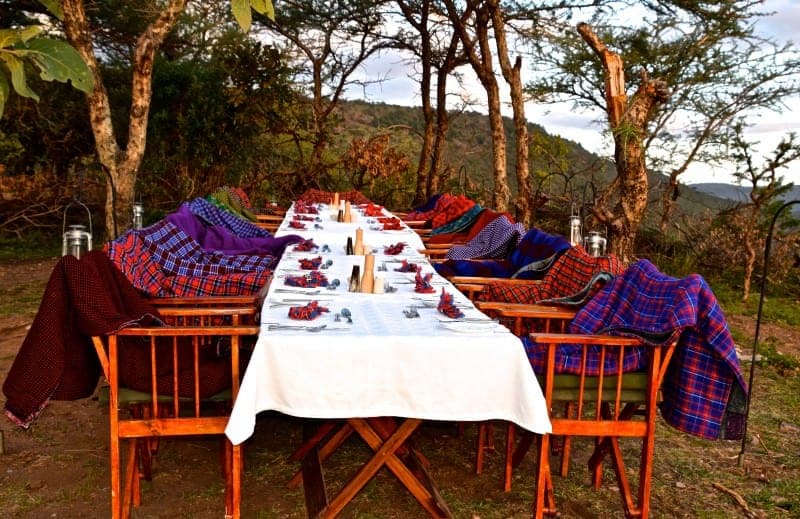 The Basic Information
Location: Buffalo Luxury Camp is located in the northern Serengeti just outside of Serengeti National Park in the Loliondo area. It is about a 2 hour drive from the camp to the Sand and Mara Rivers.
Getting here: The lodge is located approximately 5 kilometers (3 miles) outside of Klein's Gate. Th closest Serengeti airports (in order) are the Kleins airstrip, the Lobo airstrip, and the Kogatende airstrip. Your driver will have directions or the camp can provide detailed driving directions upon booking if you are driving yourself. Buffalo Luxury Camp also offers transfer services for guests flying into and/or out of Lobo airstrip.
Phone number: +255 27 255 3885 -or- +255 732 971 771
Email: reservations@intimate-places.com
Website: http://www.intimate-places.com/portfolio-item/buffalo-luxury-camp/
Room cost: Rates for drive-in guests range from $525 to $725 USD per person per night. For those who fly-in and require transfers to the camp, rates range from $685 to $885 per person/night, and include vehicle hire, driver guide costs, and fuel costs. Single supplements require an additional 50% of the regular per person rate. All lodging rates include full board (three meals), all beverages (excluding French Champagnes and premium Brandies), one guided game or nature walk, one night game drive, one sundowner with bush dinner, concession fees, VAT, and airstrip transfers (for fly-in guests). If sharing a tent with adults, children age 0 to 2 years of age are free, children 2 to 12 are charged 50% of the adult rate, and children 13 to 15 years of age are charged 75% of the adult rate. Children age 3 to 15 occupying their own tent will be charged 75% of the adult rate.
Our Arrival at Buffalo Luxury Camp
After a day of some great game viewing in the Central Serengeti, we headed to Buffalo Luxury Camp. We were already within the Serengeti National Park, so we had to exit and check-out of the park at Klein's Gate. Then it was only about a 5 minute drive from the gate to the lodge which sits upon a private hillside above land that is being used by the Maasai people. We arrived at the same time as another couple and the four of us were greeted and then led into the main lodge building which is a large three-level building that includes a lounge area, dining area, and bar. We were seated and then offered our choice of juice, water, or champagne! Two staff members then went over the check-in process, safety procedures, and explained the camp guidelines. We also learned about the time of the bush dinner that night and were asked about when we'd like to do the game walks and night safari drives since we were staying for two nights. Before leaving the main building, we ordered coffee to be delivered to our room and then we were led to our tent.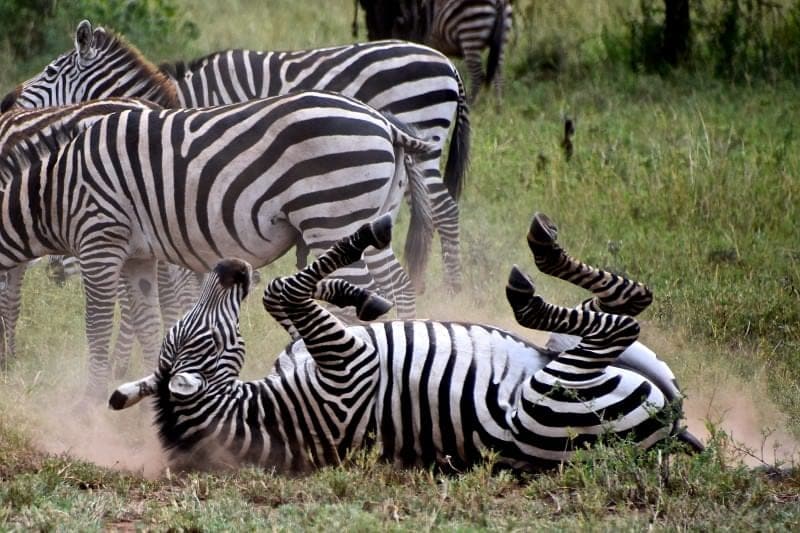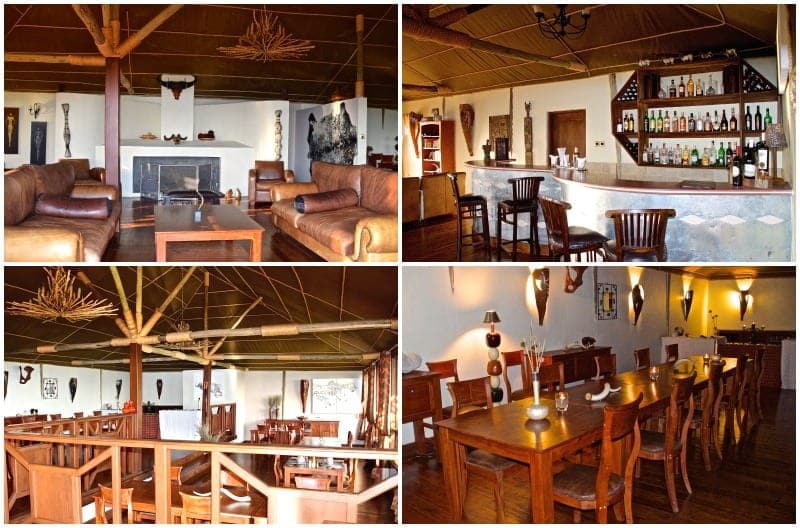 Our "Tent" at Buffalo Luxury Camp
Buffalo Luxury Camp is a tented luxury camp, but unlike the other tented camps we'd stayed in on this trip (Ang'ata Ngorongoro Camp and Asanja Africa) this one is a permanent camp, which means that the flooring, walls, etc. have a much more solid construction. The camp offers 15 Suite Tents and we were in Suite Tent Number 6. Although much of the walls are indeed made of tent fabric, most of the bathroom walls are solid and there is even a real door on the front of the tent. The tents are very spacious and the Suite Tents are split-level with the Lounge area located on the lower level and the bedroom and en-suite bathroom on the upper level. The lounge area was furnished with a leather armchair, leather settee (which can be converted into a bed), coffee table, and a writing desk and chair. The raised bedroom area included a king sized brushed aluminum-frame bed, night tables, lamps, wardrobe, and luggage racks. The bathroom was huge and included a regular shower, a separate bath tub, a Western style flush toilet, hair dryer, laundry basket, double sinks, and robes. I loved the bath tub although I did feel a bit bad after so many days of strict water conservation, but Buffalo has its own water source so both hot and cold water are constantly available from the taps. The decor throughout the tents is in a Maasai theme and include authentic Maasai elements as well as quality furniture.
There are lots of little extras here like a basket with a yoga mat and fitness gear, umbrellas, information on the local flora, fauna, and people, quality toiletries, cookies and hot water bottles at turndown, and even some small gifts from the boutique upon departure. In front of the tent was a large veranda area with seating that looks over the hill into a forested area and you can see the Serengeti plains in the distance. This was a great place to sit and have coffee before breakfast. Electricity is provided by a generator and inverter system so you can charge appliances in your tent. While the tented material and venting near the roofs of the guest tents allow you to hear a bit of the wildlife outside, we felt like we were in a hotel suite with wooden floors, a sofa, comfortable bed, curtains, robes, and even a bathtub! We did hear some animals rustling around in the trees near our tent and there are a number of animals who regularly come near or into the camp including zebra, giraffe, gazelle, impala, baboons, and hares. In fact, during our stay we heard that there was a herd of zebra that slept in the middle of the camp's lawn overnight.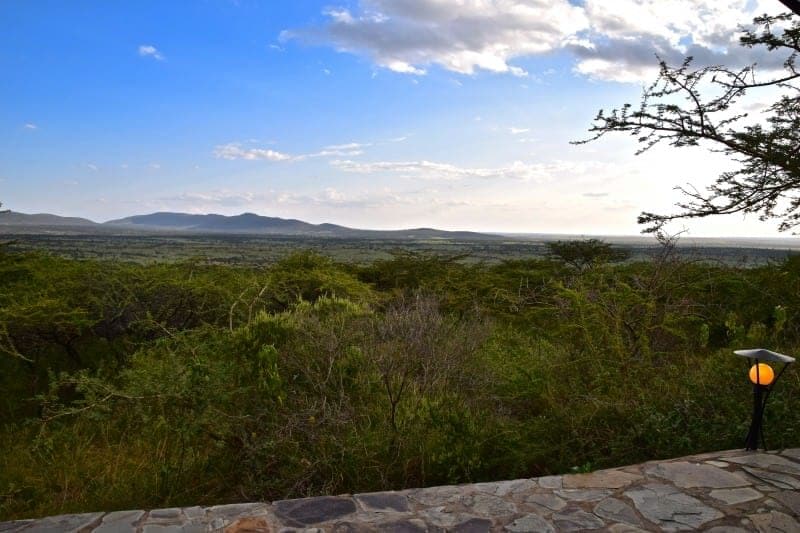 Drinks and Dining at Buffalo Luxury Camp
All lodging rates include full board (three meals), all beverages (excluding French Champagnes and premium Brandies), and one sundowner with bush dinner. We took advantage of the free drinks by ordering plenty of coffee, tea, and I ordered wine with dinner, but this would be an especially great value for someone who drinks more bar drinks than we do. The bar includes a good selection of wines and spirits, and drinks can be ordered during meals, in the bar, or delivered to guests' tents. Breakfast is served buffet style in the main dining area each morning and includes fruit, cereal, yogurt, bread, pastries, breakfast meats, and made-to-order egg and pancake dishes. Lunches can be served hot in the dining room or taken as lunch boxes if you are going on game drives which is what we did. The lunch boxes were really good and one of our favorites out of the many good lunch boxes we ate while on safari. One example of the staff's attention to detail is that Ethan had joked to the staff about wanting the leftover chocolate cake from the prior night's bush dinner for his lunch box, and sure enough the next day we all had a small piece of chocolate cake in our boxes! Regular dinners are generally served buffet style in the main dining area but since we happened to be the only guests on our second day at the camp, we received a three-course plated dinner that was specifically crafted and supervised by Neil Tereszczak, the camp manager, and included some of his Italian favorites with a bit of African flair. This felt very special to have a fairly romantic dinner with just the two of us on our final day of safari. Normally, we sat with our safari guide Muridy or other guests at meals so it was nice that this dinner just happened to coincide with our last safari night.
Our last dinner at Buffalo was special, but our favorite dining experience was definitely the sundowner and bush dinner which happened on our first night at the camp. There were about 12 other guests present during our first night at Buffalo and we all gathered at the main lodge about 30 minutes before sunset and then staff members joined us to lead us to the bush dinner. It is just a short walk from the main camp area and sits alongside the side of the hill with a great view of the setting sun. A long table was set up here along with a campfire and buffet table. Sundowner drinks and appetizers were circulated and several members of the camp staff joined the guests to chat and share stories before dinner. The camp manager, Neil Tereszczak, is quite a character and has some very colorful stories about his many years of living in Africa (ask him about the Uganda Rambo situation if you want to hear an incredible story). It was interesting that we ended up sitting across from an American couple who lived about 5 minutes from us in California; it's a small world after all! Guests' drivers and guides were also invited to the bush dinner and our Amani Afrika guide Muridy and the other guides also joined us for dinner. The food was good but it was the overall experience of the sunset, campfire, good company, and outdoor setting that we'll always remember.
Night Game Drive at Buffalo Luxury Camp
As noted earlier, Buffalo Luxury Camp lodging rates include one night game drive per guest. These are experiences that are typically not allowed inside the national parks in Tanzania and are a great unique experience if you haven't done one. Since the land owned by the camp is located just outside the Serengeti National Park, there is an abundant amount of wildlife in the area. A night game drive allows you the unique opportunity to spot a number of nocturnal animals, such as civets, bush babies, nightjars, and aardvarks, and possibly even predators on the hunt. We actually were lucky to do two night drives at Buffalo. Our first night, the guests who were going on the night drive were divided into two groups with half of us going in one open-sided safari vehicle and half in the other. The vehicles are equipped with a special "spotter" seat at the front as well as a spotlight and each vehicle can hold about 9 guests. The spot light used actually shines a green or red filtered light as shining a powerful white light on nocturnal animals is very disruptive and can temporarily cause blindness and increase their chances of being attacked. Red lights are the least problematic for the animals. It was colder than expected and we both wore coats and used the provided Maasai blankets which helped keep us warm and protected us from the thorny acacia trees when we went off-roading.
Tim, our excellent guide, provided factoids and information when we spotted animals, but during the drive you are also encouraged to stay fairly quiet so as to not scare away the animals and to be able to hear them. You learn to pay attention to anything shiny and once your eyes adjust you start seeing a number of little eyes shining back at you in the darkness! Over the course of the two nights, we saw bat-eared fox, chameleons, skinks, bush babies, impala, topi, wildebeest, giraffes, dik diks, gazelle, impala, zebra, scrub hare, jackals, mongoose, and hyena. While we were lucky to spot a lot of different animals, there is simply something thrilling about being able to drive around at night and hear all the night sounds of the wildlife. Tim told us about some very exciting nighttime game drives he'd been on recently involving a group of hunting lions! We didn't see anything quite that thrilling, but we were content to just watch the delightful big-eyed bouncing bush babies!
Nature and Game Walks at Buffalo Luxury Camp
Being able to get outside and explore part of the Serengeti on your own two feet is another complimentary activity available to all guests at Buffalo Luxury Camp. While perhaps not as full of thrills as the drives, walking safaris are a great chance to get up close to the plants, trees, and smaller animals and learn a lot more about them. The staff is quite flexible with the timing of the walk and we even got to choose where we went as the walks can be more strenuous with a bit of hiking to access some good views and more remote terrain or very easy walks around the camp that are perfect for those with kids and those wanting a more relaxed experience. We set out for our morning hike with a guide, a Maasai tracker, and an armed Ranger for safety reasons. During our 2-hour nature and game walk with Tim, who was also our night game drive guide and is an encyclopedia of African wildlife knowledge, we learned a lot about local plants, animal dung, Dung beetles and the animals we spotted during the walk (giraffe, zebra, gazelle, wildebeest, baboons). We even got to see a demonstration of how the Maasai traditionally make fires. We highly recommend taking the time to fit in a walk as they are family-friendly and very educational with a good guide. It's much easier to appreciate the local plants, insects, smaller animals, and birds up-close on foot compared to from a distance in the safari vehicle.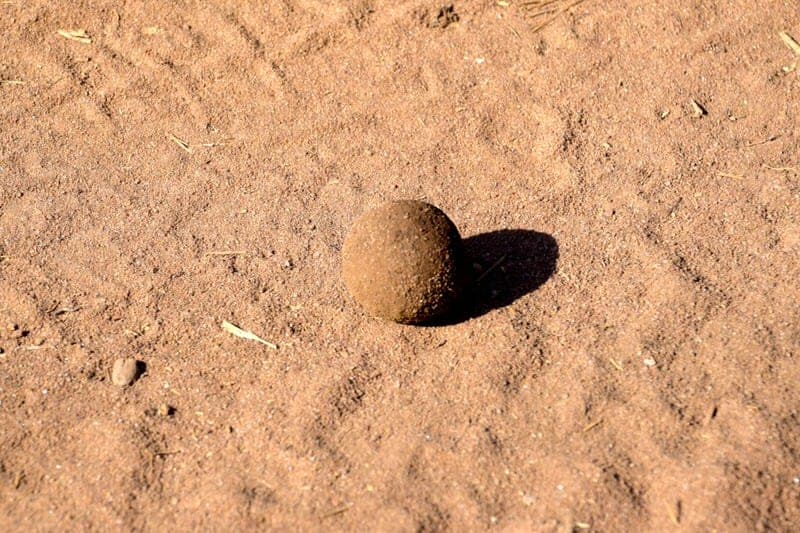 Other Amenities & Service at Buffalo Luxury Camp
We experienced excellent service throughout our 2-night stay at Buffalo Luxury Camp and all the staff we interacted with were professional, friendly, and attentive. There were a number of times where the staff went the extra step to make our stay more enjoyable such as including the chocolate cake in our picnic lunches, creating a special menu on our second night when we were the only guests, and allowing us to go on two night game drives since there was extra room in the vehicle on our first night. The activities at Buffalo were some of the highlights of our trip. The amenities were also great with complimentary wireless internet and laundry service. Wi-Fi Internet service is available in the main lodge building (terrace, bar, lounge, dining area) although we were lucky because we were able to still pick up a fairly strong signal in our tent as it was close to the main building. Request a tent next to the main building if you want to try to pick up a wireless signal. A laptop is also available for use for those traveling without a computer. There is also a boutique that contains some beautiful items available for purchase that are sold on behalf of fifteen Maasai women from a number of different communities surrounding the nearby village of Ololosokwan.
In addition to the included sundowner, bush dinner, night game drive, and daytime nature walks, there are also several other extra services that can be arranged for a fee. These include private game drives, hot air balloon rides, additional guided walks, additional night drives, local Maasai village visits, and additional meals. Off-road game drives are permitted in areas outside the national park.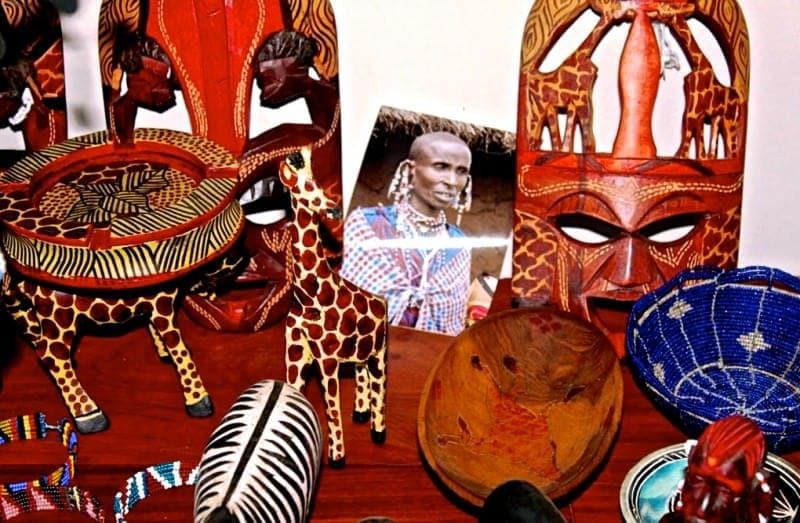 Overall Thoughts on Buffalo Luxury Camp
We had a wonderful 2-night stay at Buffalo Luxury Camp and we were very impressed with the excellent service throughout our stay. Our tent was very luxurious and barely felt like a tent at all and it was very nice to have access to a hair dryer and be able to soak in bathtub again. This is a great place for those looking for a luxury camp in the northern Serengeti but may not be the place for those who are looking for a more authentic camping experience. While Buffalo does place high value on conservation and the environment, the camp does have permanent structures and there are few restrictions on guests' water (hot or cold) and electricity usage. The highlights of our stay here were the included bush dinner, night game drives, and nature walk. The activities were all well-organized, informative, and fun. The bush dinner was a great way to meet the other guests and staff and we learned so much from our guide Tim during the night drives and nature walk. The camp's location in the more remote northern Serengeti area allows visitors to get away from the more crowded southern and central Serengeti region, and allows guests the potential chance to see the Migration and river crossings from about July to October (camp is located about a 2-hour drive from the Sand and Mara Rivers – although note that it is a full day trip get to and from the river).
We would highly recommend Buffalo Luxury Camp to those seeking a luxury camp in the northern Serengeti that offers a range of unique experiences. While several other camps located outside the Serengeti do offer similar activities, the fact that the sundowner, bush dinner, night game drive, and nature walks are included in the lodging rates is pretty amazing! In order to best appreciate the camp and take advantage of all these activities, we would recommend staying at least 2 nights here.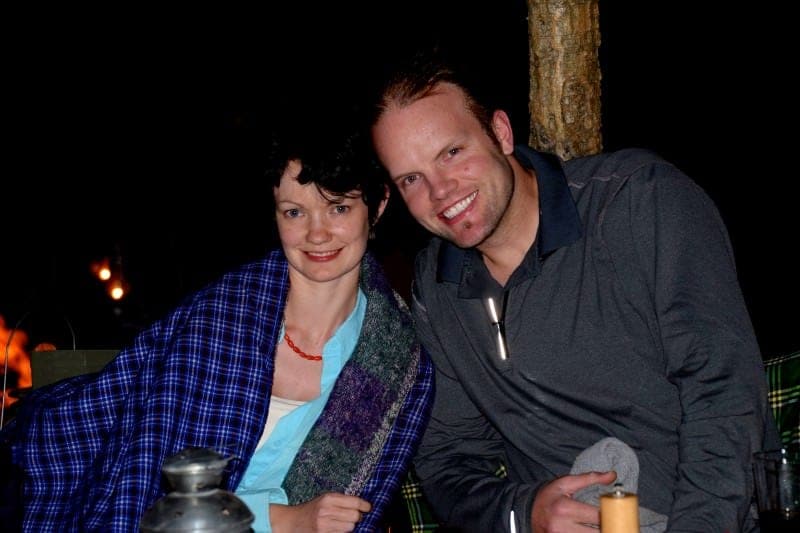 Have questions for us about our stay at Buffalo Luxury Camp or our visit to the Serengeti? As always we welcome any comments or questions! Also, if you are thinking about going to the Serengeti, check out our guide to visiting the Serengeti.
**Disclosure: We received a complimentary stay in order to review Buffalo Luxury Camp and its services; however, this article contains only our own honest thoughts and opinions. We did not receive any financial compensation for the writing of this post, do not work for Buffalo Luxury Camp, and receive no commission for any hotel bookings.**