The Serengeti is one of the most famous national parks in Africa and offers some of the best wildlife viewing in the world; however, there are a number of things to do in the Serengeti other than game drives. The Serengeti fits well into most people's dream of an African safari with its abundant wildlife, vast golden plains dotted with thorny umbrella acacia trees, kopjes, and sausage trees, and its crocodile and hippo-filled rivers.
The Serengeti has earned the titles of one of the "Seven Natural Wonders of Africa" and one of the "Ten Natural Travel Wonders of the World" for being the site of the largest terrestrial mammal migration in the world (about 2 million animals!). However, even without the Great Migration, the park sports the densest lion population in the world and is home to all members of the Big Five and almost 500 bird species.
When planning your time to this amazing place, you'll want to take into account its large size and the timing of your visit to ensure the best viewing experience. In addition to the traditional daytime game drives, you might consider seeking out an alternative view of this beautiful ecosystem on walking safaris, night drives, and even from atop of a horse, hot air balloon, or plane! Including education and cultural activities such as visiting a local Maasai village or learning about the important paleoanthropological findings at Oldupai Gorge can also enhance a visit to this region.
We loved our time in the Serengeti and below we'll share our guide to visiting this amazing area. First we'll share some practical information and then we'll cover our list of the top ten things to do in the Serengeti.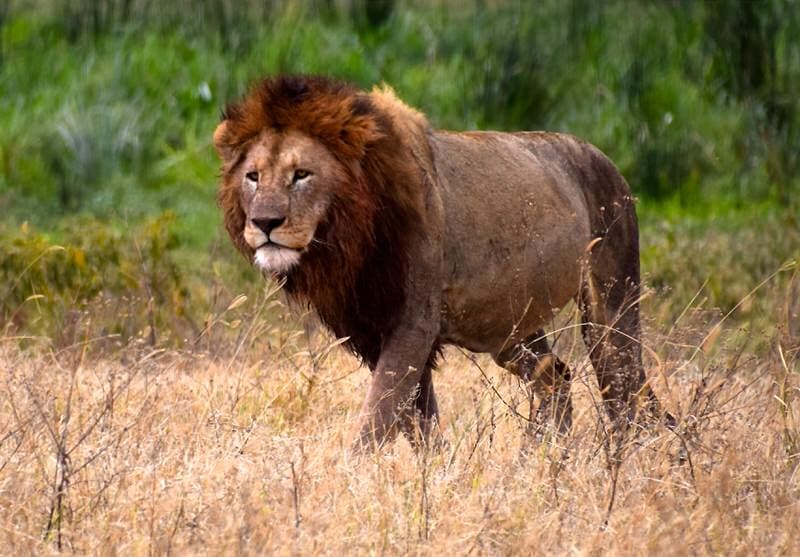 Basic Information about the Serengeti National Park
What is the Serengeti?
The Serengeti name derives from the Maasai phrase "siringet" which translates to "endless plains". The Serengeti National Park is located in northern Tanzania and is truly vast, covering an area of about 5,700 square miles (14,763 sq km).
For travelers' purposes, Serengeti is typically used to refer specifically to the protected national park. But the greater Serengeti ecosystem is much larger, roughly 18,600 sq miles (30,000 sq km) and includes several other game reserves and parks, notably the Ngorongoro Conservation Area and Kenya's Masai Mara National Park. The great Serengeti area is roughly defined by the wildebeest migration route.
Entrance fees to visit Serengeti National Park?
The current (as of November 2018) Serengeti National Park fees are USD $60/person for visitors over age 16, USD $20/child (ages 5 to 16), and free for children under 5 years of age. These fees are good for a 24-hour period, so a 48-hour stay for an adult would be $120.
When is the best time to visit?
The Serengeti is one of the areas in Tanzania that offers good game viewing all year round, although you might want to avoid the heavy rains in April and May. However, depending on your sightseeing priorities (wildebeest calving, wildebeest river crossing, best time to see predators, birding, etc.), you'll want to plan your visit accordingly.
While all seasons can be a great time to visit, it is perhaps more important to figure out what parts of the Serengeti you'll want to explore during your visit which will largely depend on your sightseeing priorities and the timing and length of your visit. We worked closely with our safari company, Amani Afrika, to determine our route and lodging based on the time of year and what we wanted to see.
Here is a very rough guide to the Serengeti's four sections (just note that each of these sections is still very large) and what you can expect to see:
The Southern plains area of the Serengeti is easy to access and offers a great place to see the herds from about December to March and the calving season in February is particularly rewarding, but wildlife is generally much more scarce during the dry season.
The Central Serengeti and Seronera area is the most visited as wildlife viewing is good here year-round and it has the most lodging options, but it is also the most crowded section of the park.
The Western Serengeti area or Western Corridor offers decent wildlife viewing all year round with the migration reaching the Grumeti River around May or June and the river is also a great place to view crocodiles and hippos.
The Northern Serengeti area (Kogatende, Lobo, Loliondo) is the least visited and most remote section of the Serengeti but also offers some of the top luxury camps and lodges in the country. Possibility to see Mara River crossings here around July and August and several camps in the north offer walking safaris and off-road experiences.
Where can I stay?
There is a wide range of accommodation available in the Serengeti National Park, from public campsites to luxury lodges. There are a number of public campsites, special campsites, tented camps, and lodges in the Serengeti. While some camps are permanent and open year-round, others are mobile and some are seasonal. The largest number and greatest variety of lodging exists in the Central Serengeti region around Seronera.
Whether you want to camp on the cheap, sleep in a remote luxury tented camp, or stay in a large lodge with all the familiar Western amenities, you should be able to find something in the Serengeti suiting any lifestyle or budget. You should book accommodations well in advance, especially in peak season.
If you are planning to stay in public campsites, you don't normally need to reserve in advance. Costs normally range from about $30/adult to $50/adult.
If you are planning to stay in tented camps or lodges, you'll want to book in advance. Here is a list of properties in the Serengeti National Park to get you started. We personally stayed at Asanja Africa, and Taasa Lodge (formerly Buffalo Luxury Camp).
We preferred tented camps, but if you are looking for something more like a luxury hotel you might consider the Four Seasons Safari Lodge.
Need more information?
Check out the official website for more information about the park here.
Top Ten Things to Do in the Serengeti
The primary draw to the Serengeti is the Great Migration and the great wildlife viewing opportunities, but there are other things you might want to consider adding to your itinerary. Also there are alternative ways to see wildlife other than from the back of a Land Cruiser. Below is our list of the top ten things to do in the Serengeti, in no particular order.
1. Spend Time on Game Drives
Obviously, one of the highlights of most visits to the Serengeti is the wildlife drives and the Serengeti is particularly renown for its migrating wildebeest, its dense lion population, and its good birding opportunities.
What might not be as obvious to many potential visitors is that given the large size of the Serengeti, you can't explore all the areas in a few days and you shouldn't try. The distances are long and the roads can be rough so expect plenty of "African massage" along the way.
Not all areas of the Serengeti are created equal and you should think about what you are most interested in seeing here and plan accordingly based on your sightseeing priorities and the timing and length of your visit (a good safari company should be able to give great recommendations here). See the "Best time to Visit" section earlier in the article.
Serengeti is the stuff that African safari fantasies are made of and was hands down our favorite park during this visit. I can't list all the animals and birds we saw in the Serengeti, but the list includes an amazing number of predators, including several cheetah, a leopard, hyena, jackals, and a ton of lions.
We saw all the "Big Five" here except the elusive and rare black rhino. "Oh, it's just another lioness" and "I don't want to see any more hippos" were actual phrases we dared to utter on our last day here after seeing so many of these amazing animals! Our Amani Afrika guide, Muridy, was great at spotting animals for us and we learned so much from him about the animals, trees, birds, and ecosystem.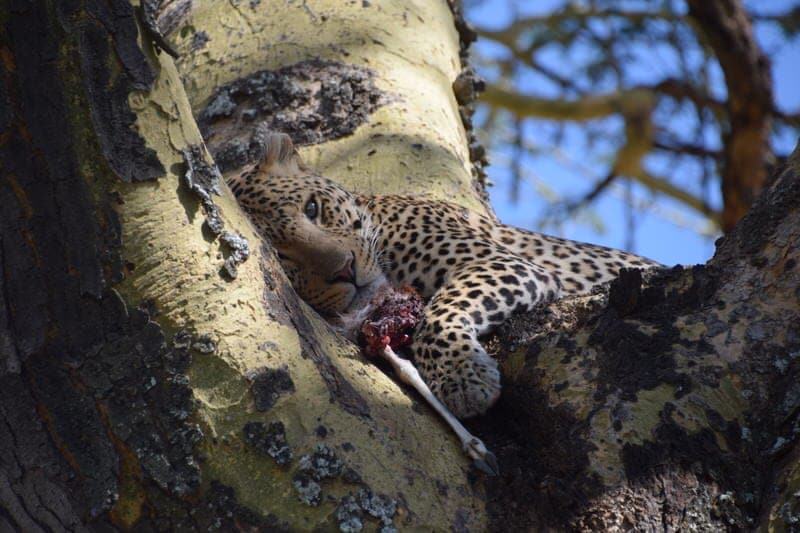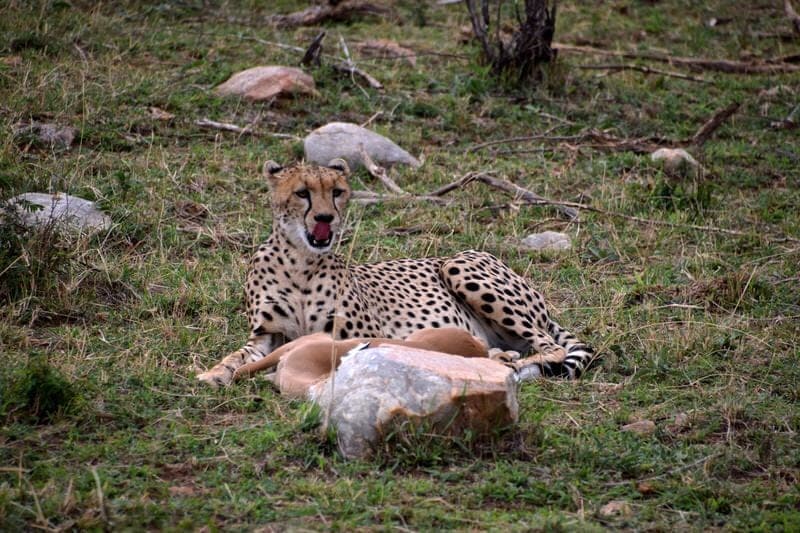 2. Stop at the Serengeti Visitor Center
The Serengeti Visitor Centre is worth a stop for its self-guided walking path that provides informative signs and exhibits about the history of the Serengeti, its ecosystem, and its wildlife. You are likely to even spot some wildlife along the path, including rock hyraxes (we probably saw close to a hundred of these little critters!), birds, and brightly colored agama lizards. A great place to stretch your feet and let children expend a little energy.
This is also an excellent place to stop for a lunch break as the center has an outdoor picnic area, restrooms, a snack and coffee shop, and a gift shop. This was our favorite visitors center among those we stopped at in Tanzanian game parks.
The center is located in the Seronera area and is typically open daily from 8:00am to 5:00pm (8:00-17:00).
3. Visit a Maasai Village
The Serengeti ecosystem has long been home to the Maasai, a semi-nomadic people who live in southern Kenya and northern Tanzania along the Great Rift Valley. They are the most well-known local tribe in East Africa to visitors due to their residence near and within many of the popular game parks, their continued engagement in their traditional ways of life, and their distinctive traditional clothing.
Some Maasai villages, also called Maasai bomas, welcome visitors to visit and learn about their customs, traditions, and lifestyle. Most visits last an hour or less and include a brief dancing ceremony, a visit to a traditional boma made of sticks, mud, and cow manure, a visit to the village school, and the opportunity to purchase handicrafts produced by members of the village. Along the way, an elder will explain some of the customs related to raising and herding livestock, marriage, construction of the homes, education of the children, and traditional dress.
Ethan and I had mixed feelings about the village we visited that was located between the Ngorongoro Crater and the entry to the Serengeti National Park. I do think that all visitors should learn about the Maasai and their culture, but the touristy village visit felt "icky" to us. We felt like there was way too much emphasis on making money and selling stuff and we got the strong impression that residents spend the whole afternoon waiting for each tourist group so they could perform out-of-context ceremonial dances.
The worse part was that the adorable school children at the school were clearly reciting a script (alphabet and numbers in English) while we visited and it did not appear that they were actually being educated as there were no books, few supplies, and the chalkboard contained only the recited alphabet and numbers. How could they possibly learn anything if they have to perform for tourists all day?
While not all villages are the same, we heard that many other visitors to other villages had similar experiences and we hope that these visits change to offer a more enriching cultural experience for visitors (that doesn't feel so choreographed and commercial) without disrupting the daily life of the villagers, particularly the school-aged children.
Most Maasai villages charge an entry fee and then many also suggest a donation for the village school or "hospital" as well as a strong sell of their handicrafts.
4. Experience a Night Game Drive
A night game drive allows you the unique opportunity to spot a number of nocturnal animals, such as civets, bush babies, nightjars, and aardvarks, and possibly even predators on the hunt. Seeing new animals is definitely a highlight of these evening game drives, but these drives also give you the unique chance to see your surroundings from a very different perspective.
While night game drives are not allowed in most parks in Tanzania and I don't think anyone has permission to take guests on night game drives within the Serengeti National Park, certain lodges and camps have permission to do night drives on land located just outside the Serengeti. There are no fences around the park so there is still great wildlife viewing along the borders of the Serengeti.
So if you are interested in a night drive in this area, look for lodges and camps located just outside the national park and let your safari operator know you are interested in this experience. For instance, some camps and lodges within the Ikoma Wildlife Area, such as Ikoma Safari Camp, have permission to do night game drives. Klein's Camp sits on private wildlife concession land leased from the Maasai and has permission to do night drives as does TAASA Lodge which sits on privately owned land located just outside Klein's Gate.
We had the opportunity to do two night game drives at Buffalo Luxury Camp (now TAASA Lodge) and were able to see bat-eared fox, chameleons, skinks, bush babies, impala, topi, wildebeest, giraffes, dik diks, gazelle, impala, zebra, scrub hare, jackals, mongoose, and hyena. While we were lucky to spot a lot of different animals, there is simply something thrilling about being able to drive around at night and hear all the night sounds of the wildlife.
Tim, our wonderful guide, told us about some very exciting nighttime game drives he'd been on recently involving a group of hunting lions! We didn't see anything quite that thrilling, but we were content to just watch the delightful big-eyed bouncing bush babies!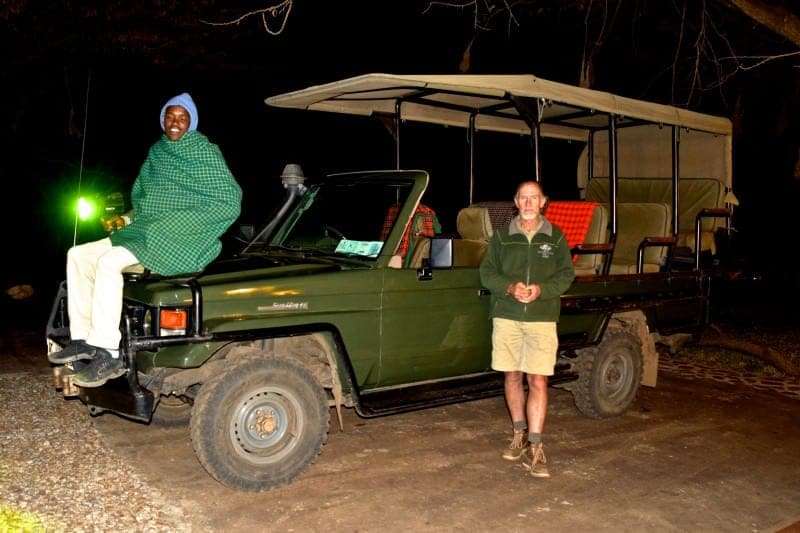 5. Visit the Moru Kopjes
Kopjes are interesting weathered gigantic rock formations that rise out of the central Serengeti plains like little mountains. Islands in a sea of grass. Trees, vines, and bushes sprout out of many of the formations and you can see them scattered around the Serengeti Visitors Center. These rock formations provide shade, small water pools, and a great vantage point for many animals, including lions, leopards, and cheetahs.
The Moru Kopjes are the most frequently visited kopjes and some kopjes contain African rock paintings done by Maasai cattle herders and at least one of the rocks, nicknamed the "Gong Rock", is believed to be an ancient musical instrument.
While we didn't see any kopjes that were quite as spectacular as The Lion King's Pride Rock and there were no baboon presentations of newborn lion cubs going on during our visit, the kopjes are a good place to spot big cats and smaller mammals such as hyraxes so point your binoculars here when on game drives. The Moru Kopjes area is also the one of the best places to spot a black rhino in the Serengeti National Park.
6. Witness the Great Migration
The Serengeti is the setting for one of the world's great natural spectacles: the Great Migration of herds of over a million wildebeest as well as hundreds of thousands of other hoofed animals, including zebras, eland, and gazelle. Who has not seen at least one of the amazing videos or photos of hundreds of thousands of these animals crossing the Mara River in a line and hundreds being dramatically pulled down by crocodiles!?
Now this event could also be termed the Great Misconception as people seem to think the migration consists of just a single event (river crossing) or happens over a short time frame, but in fact it is a cyclical event that essentially never ends.
Here's a rough sketch of the cycle:
January-March: the wildebeest are concentrated in the northern Ngorongoro Conservation Area and southern Serengeti area grazing and calving (February is prime calving month typically)
April and May see the herds beginning to head in a northwest direction in search of green grass and May is generally the beginning of the mating season or "the rut" for the animals, June often finds the herds beginning to concentrate on the western side of the crocodile-infested Grumeti River (river crossings)
July and August the herds continue to move in a northeast direction towards the Mara River and the Kenyan border (time of dramatic Mara River crossings)
September-December the herds graze in the Maasai Mara in Kenya and then begin to slowly migrate in a southwestern direction back into Tanzania to begin the process again!
The actual movement and timing of the migration depends heavily on the rainfall and weather so do let your safari operator know if you are interested in seeing the Migration so they can best maximize your chances to see the herds. The herds can be quite unpredictable, especially regarding the river crossings, so if this is high on your list make sure you plan an adequate amount of time in the area to maximize your chances of seeing it.
We were only able to see a small number of animals cross during our time alongside the Mara River, but the prior day tens of thousands of animals had crossed. Next time! But seeing the large wildebeest herds congregate and then move in single-file columns is very impressive even without seeing any significant crossings.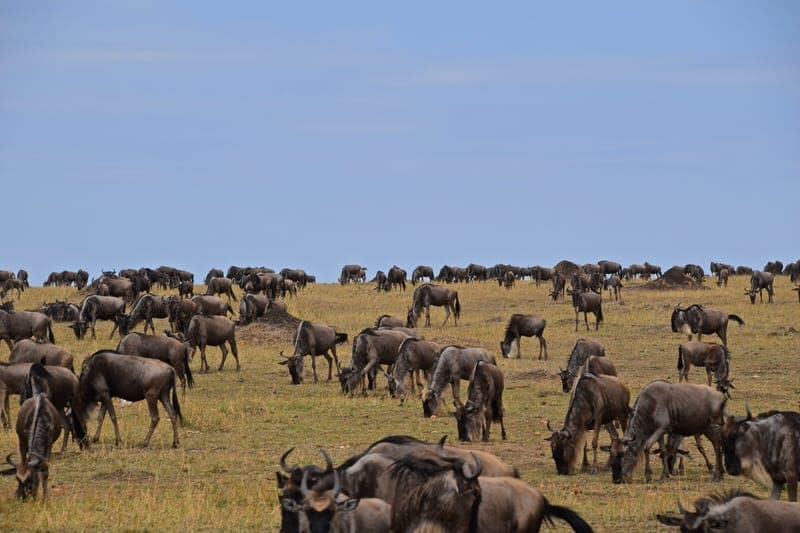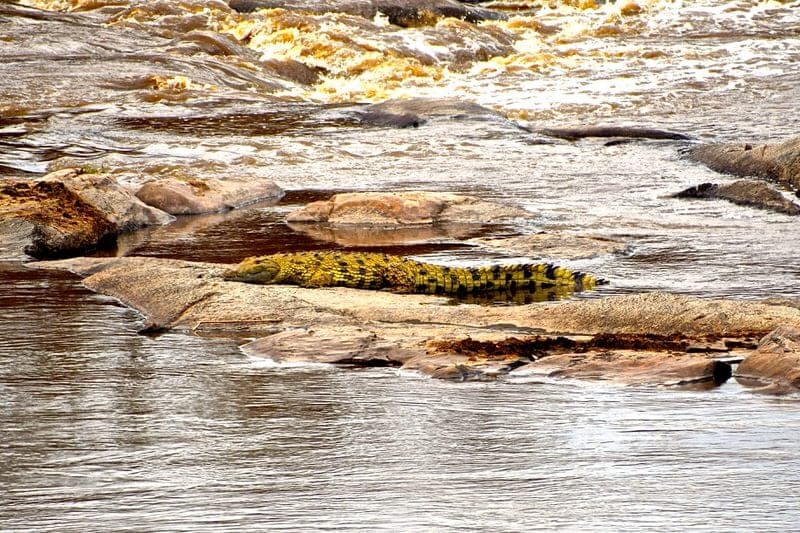 7. Step Back in Time at Oldupai Gorge
Lying only a few miles south of Serengeti National Park, the Oldupai Gorge (also called Olduvai Gorge) makes a convenient stop for those traveling between the Ngorongoro Crater and the Serengeti. The actual gorge is a steep-sided ravine that is about 30 miles long. The site is famous because it is here where the Leakey's discovered human fossils and tools dating back to over 2 million years ago.
Fossils remains of over 60 hominids (human ancestors) have been found in this area, making it one of the most important paleoanthropological sites in the world. The discoveries here have been instrumental in furthering the understanding of human evolution. The small Oldupai Museum (small entrance fee) was founded by Mary Leakey and contains information and artifacts related to the Leakey family, the fossil discoveries, the gorge, and the Laetoli footprints.
Nearby is also the Laetoli archaeological site, which is famous for its 27m-long trail of hominid footprints that are believed to be 3.6 million years old! While this small museum might not be a must-see for some, it is a good way to add in a bit of non-wildlife education.
Many visitors spend about 30 minutes in the museum and break for lunch here. We had planned to stop here but regretfully ran out of time and needed to keep going in order to make it to our lodge on time that day. One of the many reasons we want to return to this area, although we did get to check out the Natural History Museum in Arusha which has a section dedicated to human evolution and the fossil discoveries at Oldupai Gorge.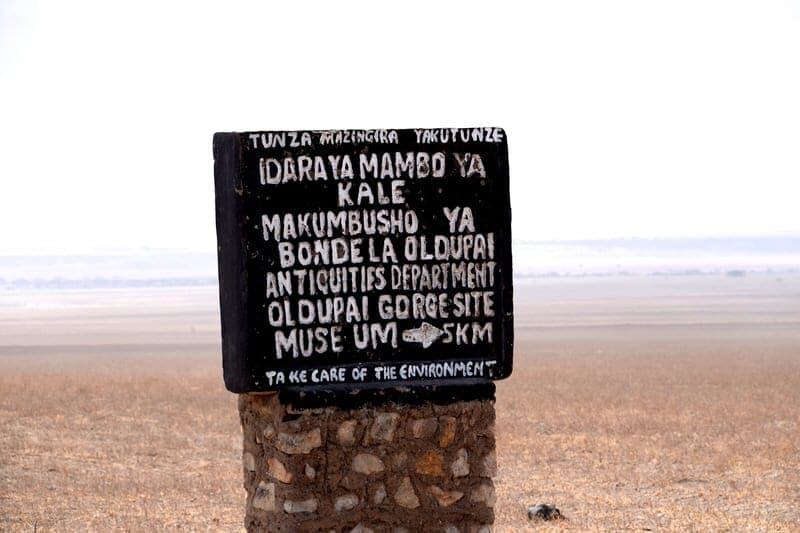 8. Get an Aerial View of the Serengeti
Want a bird's eye view of the Serengeti? Perhaps the ultimate way to see this magnificent space is to spend an hour or so floating in a hot air balloon over the plains at dawn. Witness the sunrise over the "endless plains" and then come down to treetop level to view the animals before they seek cover to escape the heat of the day. After you touch down again, you'll be treated to a glass of champagne and a full English-style breakfast with your fellow ballon riders.
Sounds wonderful but this lofty experience comes with the price tag of $499 per person from the well-known Serengeti Ballon Safaris. If you are looking for an aerial view for a cheaper price, consider booking one of the small shared regional plane flights to or from one of the seven Serengeti airstrips. Several airlines have daily flights within the Serengeti (as well as to Manyara, Nairobi, Arusha, Dar-es-Salaam, Zanzibar, etc.), including Air Excel, Coastal Aviation, Regional Air, and Safari Plus. Private charter flights are also possible through these companies if you want to set the itinerary but expect to pay a lot for this privilege.
We specifically traveled in a small 13-passenger plane from Kogatende airstrip (e.g., a field in northern Serengeti near the Mara River) to Arusha via Coastal Aviation. The plane flew relatively low for the first 30 minutes or so as we made two other stops, but then for the last hour to Arusha the plane flew too high for good views.
The views are not nearly as good as you'd get from a balloon (except briefly when landing and taking off) but for $275/person the flight provided us an aerial view, gave us the experience of flying in our smallest plane yet, and saved us a lot of time and the long bumpy ride by jeep back to Arusha.
9. Stay at a Camp or Lodge that Allows you to Hear the Wildlife at Night
Sleeping in a camp set off by itself where one can lay back and hear the chirping of the crickets, the cry of the African Fish Eagle, the rustling of the giant elephant, the "laughing" of the hyena, the yelping of the jackal, and the roar of the lions can be a magical part of the safari experience. The great part is that you can have this experience sleeping on the ground in a basic tent at a $50/night campsite or while sleeping under a down comforter in a $1,000/per night luxury tent as its the location that is most important here, not the tent.
Our stay at Asanja Africa, a small luxury tented camp in central Serengeti, gave us the best feeling of sleeping in the African bush during our trip. We heard birds, jackals, hyena, and lions during the night from the safety and comfort of our tent. Just note that while the animals may seem very close (and they may be!), you can hear a loud lion's roar from miles away. However, this experience is definitely not for everyone and we heard people complain about hearing the wind and being very upset when a lizard entered their tent at some places we stayed.
Another experience you may want to consider when choosing lodging is a bush dinner as these can be a fun way to watch the sunset and enjoy a meal under the stars near a roaring camp fire. We enjoyed a great group bush dinner at Buffalo Luxury Camp.
No matter your preferences, you should communicate with your tour operator about the kind of lodging you are looking for so that they can help you have the best experience as everyone's vision of the ideal African safari is different.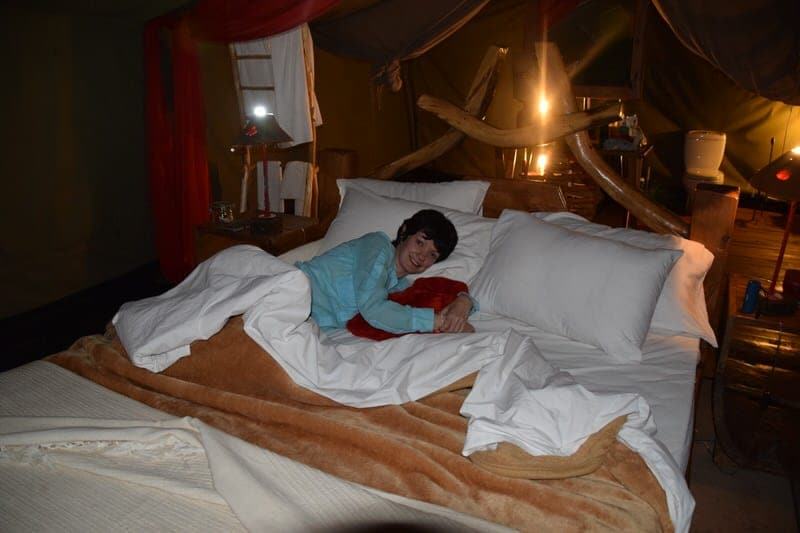 10. View Wildlife and Nature on Foot (or even on horseback!)
An interesting way to explore the Serengeti ecosystem is to do it on your own two feet. While perhaps not as exciting as drives, walking safaris are a great chance to get up close to the plants, trees, and smaller animals and learn a lot more about them. Similar to night drives, walking safaris are possible on the borders of the Serengeti National Park in designated areas.
Several camps and lodges in the north allow for daytime nature and game walks, such as Ikoma Safari Camp, Klein's Camp, and TAASA Lodge. Also check out Alex Walker's Serian camps for guided walks.
For those really interested in walking safaris in the Serengeti area, check out Wayo Africa which offers multi-day walking safari tours. For those wanting to explore the area in the manner of the cowboys, the Serengeti Singita Grumeti lodges (there are several) offer unique equestrian safari opportunities that take you on guided horseback tours!
We did a nature walk with Tim at Buffalo Luxury Camp, who is an encyclopedia of African wildlife knowledge, and we learned a ton about local plants, Dung beetles, the animals (giraffe, zebra, gazelle, wildebeest, baboons) we spotted during the walk, and we even got to see a demonstration of how the Maasai traditionally make fires.
We highly recommend taking the time to fit in a walk as they are family-friendly and very educational with a good guide. It's much easier to appreciate the local plants, insects, smaller animals, and birds up-close on foot compared to from a distance in the safari vehicle.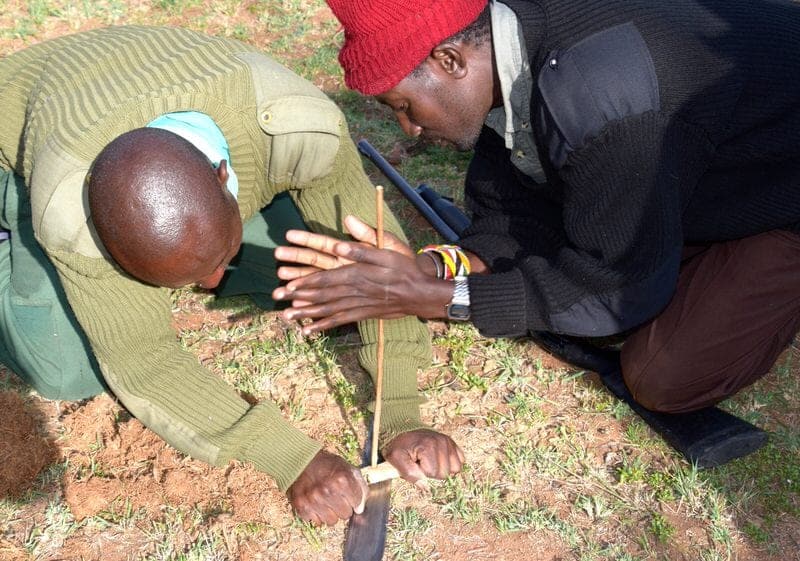 Have you been to the Serengeti? Do you have anything to add to this list of the top things to do in the Serengeti? If you have any questions about our visit, please let us know and we're happy to answer!