The first tented camp we ever stayed in was Angata Ngorongoro Camp, a camp situated on the rim of the Ngorongoro Crater in Tanzania. If you go on safari in Tanzania, your itinerary will almost inevitably include the Ngorongoro Crater. Descending into the crater is a bit like entering the mythical Garden of Eden as it is teeming with wildlife and probably offers the best opportunity to see a black rhino in Tanzania. Angata Ngorongoro Camp sits on the northern rim of the crater near the Lemala Gate. The small camp has 8 eco-friendly luxury tents with en-suite bathrooms, outdoor seating areas, hot showers, and even warm robes. At night, you can view the sunset from the outdoor seating area of your tent and then walk with one of the security guards to the Lounge for drinks or the Mess Tent for dinner. The camp's great location allows for a quick morning descent into the crater and we were lucky enough to be one of the first vehicles to enter the crater! Planning a visit to Tanzania? We'll share details and photos of our first tented camp experience at Angata Ngorongoro Camp.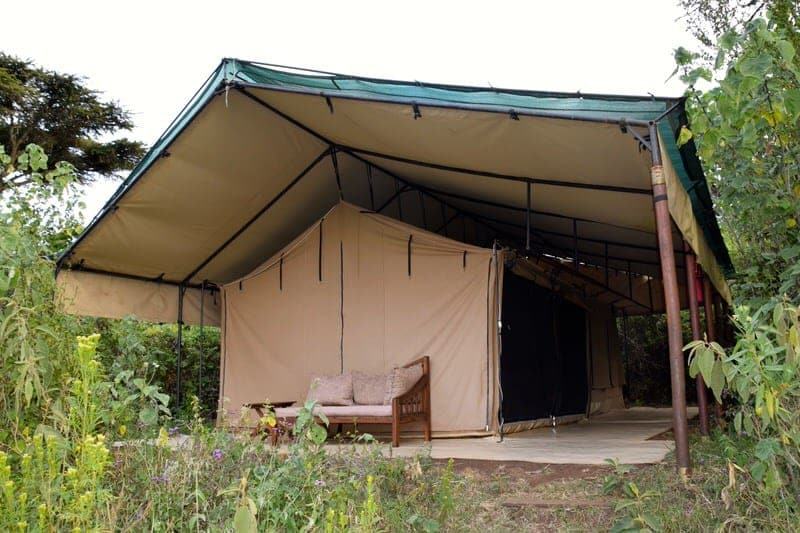 The Basic Information
Correct Name: The camp's name is Ang'ata Ngorongoro Camp. We spell it without the apostrophe in this post because it is the way people search for it online. There are actually three tented Ang'ata Camps, owned by the same company, one at Ngorongoro and two in the Serengeti area.
Location: The camp is located inside the Ngorongoro Conservation Area right near the northern Ngorongoro Crater rim along the Lemala descent Road. Currently, the camp is specifically located at the Acacia 2 Special Campsite.
Getting here: The lodge is located just off the Lemala descent Road just past the Lemala Gate. Your driver will have directions or the camp can provide detailed driving directions upon booking if you are driving yourself.
Phone number: +255 689 888 111
Email: reservations@angatacamps.com
Website: www.angatacamps.com
Room cost: Rates for a single room are currently $546 per night and rates for a double room are $732 per night at Ngorongoro Camp (rates slightly less at the other Angata Camp locations). Triple rooms also available. All lodging rates include full board (three meals), camping fees, and complimentary coffee, tea, and water. Children under age 3 sleeping with their parents stay for free, children 3 to 12 sharing with 2 adults are charged 50% of the regular rate, and those children sharing their own tent are charged 80% of the regular rate.
Heading to the Serengeti?: Ang'ata Camps also operates two other tented camp properties in Tanzania. Ang'ata Migration Camp is a mobile tent that follows the path of the wildebeest migration and sits in Ndutu on the southern tip of the Serengeti from December-March and in the northern Serengeti from July-October. Ang'ata Serengeti is located in the central Serengeti in the Seronera area year-round.
Our Arrival at Angata Ngorongoro Camp
We had a leisurely morning at Karatu Simba Lodge, having breakfast and then an early lunch, then doing a couple of hours of hiking around the Ngorongoro Highlands Forest area before heading towards the camp. Along the way, we had to stop at the gate to the Ngorongoro Conservation Area and while waiting for our Amani Afrika guide Muridy to arrange our entry, our Land Cruiser attracted a troop of baboons and subsequently a mob of camera-toting tourists. One of the baboons decided it would be fun to eat part of our spare tire cover and when I tried to shoo him away he chased me around the parking area! Luckily we survived the baboons and made it safely to the camp by around 4:00pm. Several employees arrived to help us out of the Land Cruiser, provide us with juice, carry our luggage, and escort us to the Lounge area to sit down to complete the check in process. The Lounge Area is attached to the Mess Tent and includes a sitting area, drink area, and a place to plug-in and charge your electronics. The Camp Manager, Elikunda Mmari, went over the rules for the camp, safety procedures, and meal times before two other staff members walked us to our tent. The entire camp is tucked inside a pretty forested area covered with acacia trees and there are lovely views as you walk the short distance from the Lounge and Mess Tent area to the sleeping tents. Although I should note that you cannot see the Crater from the camp although you can arrange walks to the Crater rim.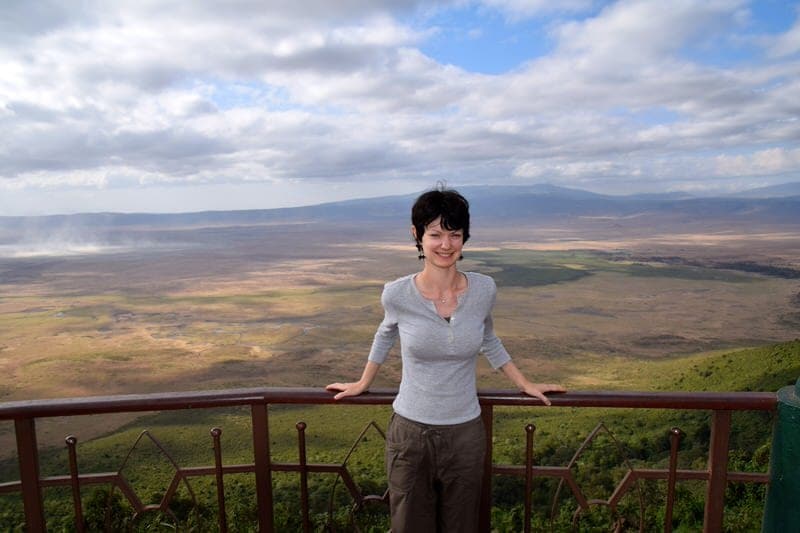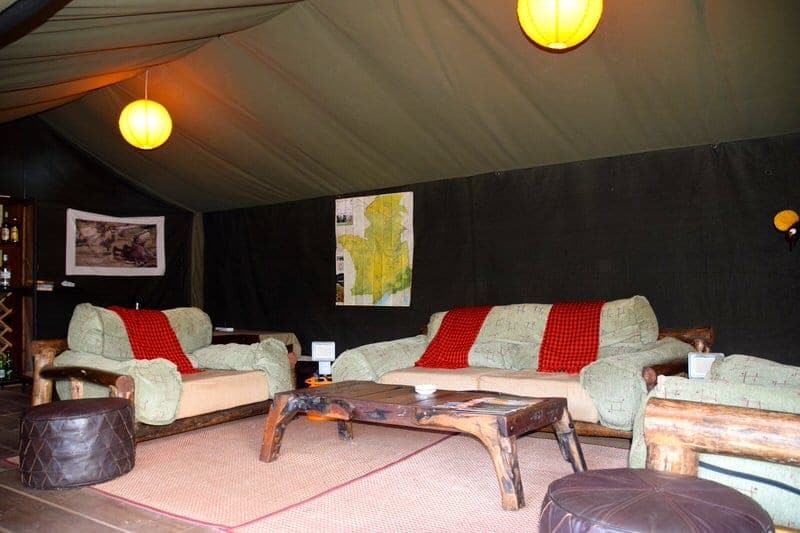 Tents at the Angata Ngorongoro Camp
The Angata Ngorongoro Camp currently offers 8 luxury tents and all are furnished in a similar simple manner. Tents can be configured with one or two beds and for up to three people. We were specifically in the "Iraqw" tent which we felt was fitting given we had just spent the prior day visiting an Iraqw family in their home. The tents are eco-friendly and are designed to leave as little as a footprint as possible and to be mobile if necessary so the tents sit upon large wooden pallets. The bedroom consists of a large four-poster wooden bed, two small nightstands with lamps, a trunk full of blankets, and a wardrobe rack to hang clothes and store luggage. A small connecting door opening leads to the bathroom which is about the same size as the sleeping area with three separated areas, one with a sink and mirror, one with a shower, and one with a flush toilet. There is running cold water all day but you can request hot water for showers and you'll be asked at check-in to designate a time you'd like the water to be brought to your tent. The water is placed into a raised bucket outside your tent that then allows for you to have good water pressure during the shower. We asked for the regular full allotment of hot water for two people which was brought at the schedule time and we were able to take two quick 5 minute hot showers with a little hot water still leftover. A flashlight and whistle are provided to be used if there is any problems or if you would like to request a guard to walk you to the Lounge or Mess tent. The tent is simply furnished but contains all the necessities plus a couple of extras such as the robes. There is of course no heat in the tents and the area can get quite cool at night, but you are provided plenty of blankets and wonderful hot water bottles are tucked under your covers each night after dinner to keep you warm at night. We were able to hear the guests in the tent next to us although they went to bed at the same time as us so this was not an issue, but I would recommend ear plugs in case you have noisy night owls for neighbors as most sounds carry through the tents. You'll also likely be able to hear birds and animals at night in the camp.
Each tent is individually solar-powered, and the only real problem we had during our stay was that there was not enough solar power for us to make regular use of the lights. This was likely due to the cloudy weather during our stay. While getting ready for dinner, we started hearing a loud beeping sound coming from the bathroom and figured out this was where the inverter boxes lies. The only way to make it stop was to turn off all the lights and we told a guard and then another staff member at the tent. Later the Camp Manager came over at dinner to tell us the problem was fixed. After we returned from dinner, the beeping started again within 30 seconds of turning on the lights and we were then told there was no way to fix it as there simply had not been enough sun that day. A couple of minutes later the lights turned off and we had no electricity for the rest of our stay. Clearly, this type of situation comes along with staying in a tented camp that relies solely on solar energy, but we do wish the situation had been fully explained to us the first time rather than being led to believe it was going to be fixed.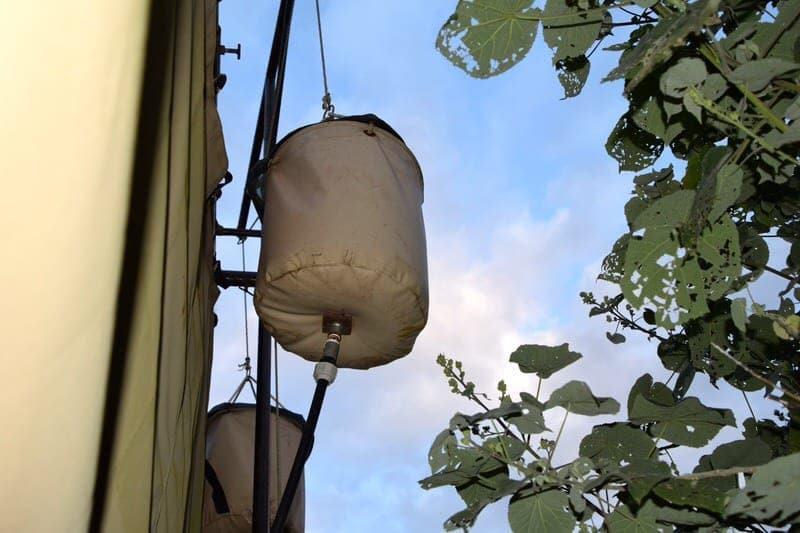 Drinks and Dining at the Angata Ngorongoro Camp
The lodging rates include all three meals as well as complimentary tea, coffee, hot chocolate, and water. All meals are served in the Mess Tent and meal times are flexible depending on guest needs. Our three-course dinner was set but plated and consisted of a yummy vegetable soup, a meat, rice, and mixed vegetable main dish, and creme caramel and fruit for dessert. For breakfast, a few items were set up on a buffet such as fruit, cereal, and bread and then you get your choice of made-to-order egg or pancake dishes, meats, and side dishes. Local Tanzanian coffee, tea, and juice were also served. Lunches can be served hot in the Mess Tent or can be packed into lunch boxes to eat during a game drive. We took ours as lunch boxes and the lunch was good and filling. The food was quite good and we liked that it was not buffet and that breakfast was made to order. Tea, coffee, and water are served for free during meals but you can also purchase wine, beer, soft drinks, and other alcoholic drinks to accompany your meal if you wish. In the Lounge, you'll find a station with free self-serve coffee, tea, and hot chocolate that is available all day. There is also an alcohol cabinet here and you can order drinks to have in the lounge as well. It gets quite chilly at night in this area, so the camp provides Maasai blankets in the tents, Mess Tent, and Lounge for guests use.
Service at Angata Ngorongoro Camp
The staff were friendly, attentive, and helpful. We did have a difficult time explaining the beeping noise to one of the security guards who spoke limited English, but we never had any communication difficulties with the Lounge or Dining Staff. The check-in process, meals, and hot water for showers all went smoothly and happened at the arranged times. We also enjoyed that we were able to charge our electronic devices and get free drinks at the camp's Lounge.
There are a number of extra services one can take advantage of at Angata Ngorongoro Camp for a fee. These include game packages, nature walks, visits to a Maasai Boma or the Empakaai crater, bush lunches, picnics, and even the opportunity for a traditional Maasai wedding ceremony. For safety, all hikes and walks are done in the company of an armed ranger. If you are interested in any of these activities, it is best to arrange them in advance of your visit. We were only here for one evening so we did not have the opportunity to do any of these activities, but we heard good things about the sunset walks and hikes around the crater rim. The sunrises and sunsets are quite nice around this area.
Overall Thoughts on Angata Ngorongoro Camp
Overall, we had a good experience at Angata Ngorongoro Camp and would stay here again. Despite the unfortunate solar lighting and beeping issue, we felt that this was a good first tented camp experience. The camp staff were friendly, the tent was spacious and fairly comfortable, the food was good, and the location is quite spectacular.
The location is not only picturesque among the acacia trees, but allows one quick access to the Crater. We left the camp right at 6:00am and headed to the gate to check in and due to the camp's location we were one of the first vehicles to descend via Lemala Road. Believe it or not, the rates here are not high compared to most other lodges inside the Ngorongoro Crater area as camps and lodges have to pay quite a hefty fee to operate in this protected area driving room prices to quite exorbitant rates (you can save money by staying in a public or special campsite with basic camping facilities within the Conservation Area or by staying in Karatu or elsewhere but you'll have a much longer drive).
This camp should also appeal to those who care about the environment as the tents run off of solar power and there is an emphasis on water conservation and limited disturbance of the natural environment. However, inconveniences such as dim lighting, lack of electrical plugs in tents, limited hot water, beeping inverter boxes, and unexpected power outages may not sit well with all travelers accustomed to more luxury. While this is certainly much more luxurious than regular camping, it was the most basic tented camp we stayed in during our time in Tanzania. There's something here—perhaps the decor and subtle balance between basic necessities and luxury—that made me think about Ernest Hemingway and his camping and safari experiences in East Africa. Of all the tented camps, we felt like this one provided the most authentic and natural African tented camp experience. I think Hemingway would have approved. If you are planning to stay in the Ngorongoro Crater area, we recommend that you check out this camp and their sister properties if heading to the Serengeti.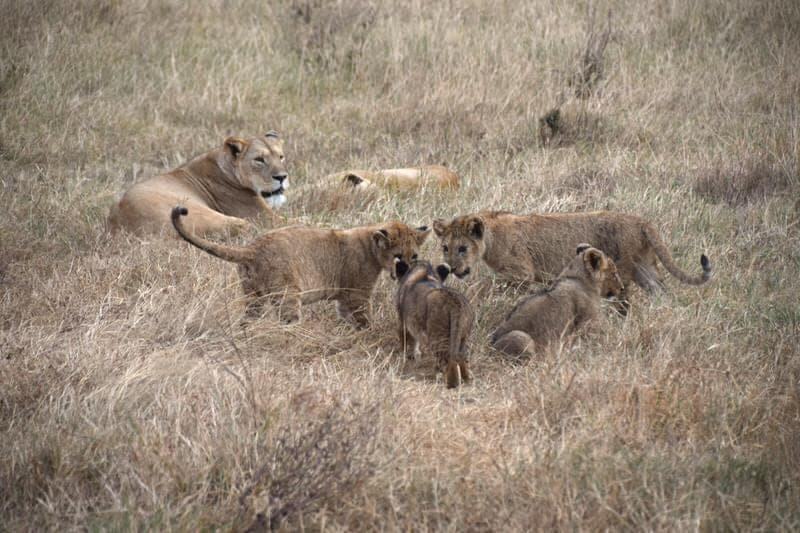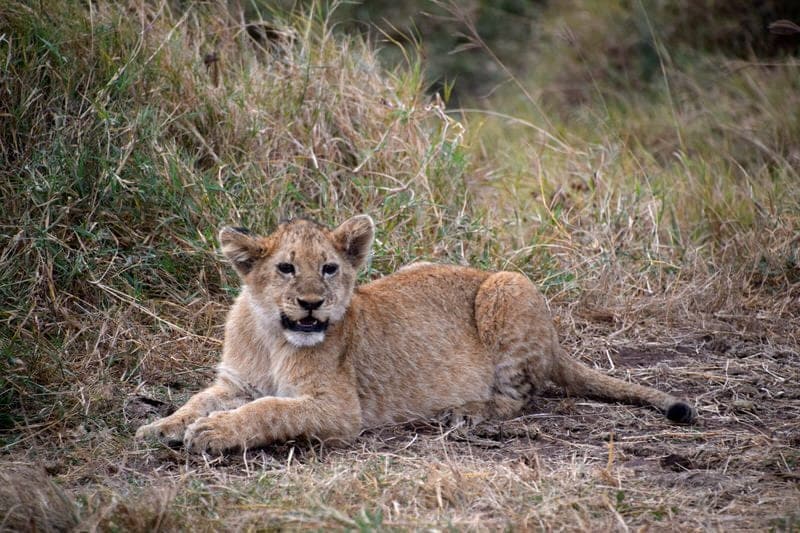 Have you ever stayed in a tented camp in Africa? Have questions for us about our stay at Angata Ngorongoro Camp or our visit to the Ngorongoro Crater? As always we welcome any comments or questions!
**Disclosure: We received a complimentary stay in order to review the Ang'ata Ngorongoro Camp and its services; however, this article contains only our own honest thoughts and opinions. We did not receive any financial compensation for the writing of this post, do not work for Ang'ata Camps, and receive no commission for any hotel bookings.**