Asanja Africa provided the perfect balance of wilderness and luxury for us while staying in the Serengeti. The Serengeti, one of the world's most amazing wildlife areas, is the perfect place to enjoy a stay in a small tented camp. Located in the southern central area of Serengeti National Park in Tanzania, Asanja Africa is a tented camp that offers seven well-appointed luxury tents with en-suite bathrooms and private verandas. Each of the seven tents are individually decorated based on a different Maasai ceremony so that each one has a unique theme and style. Because of the camp's small size and location you can have an authentic wilderness experience while still enjoying a comfortable bed, warm shower, great food, and personalized service. Ethan and I enjoyed the scenic views of the Serengeti plains and Moru kopjes during the day and listened to the sounds of hyenas and lions in the evening! Planning a visit to the Serengeti? We'll share details and photos of our stay at Asanja Africa so you can decide if it would fit well into your own itinerary!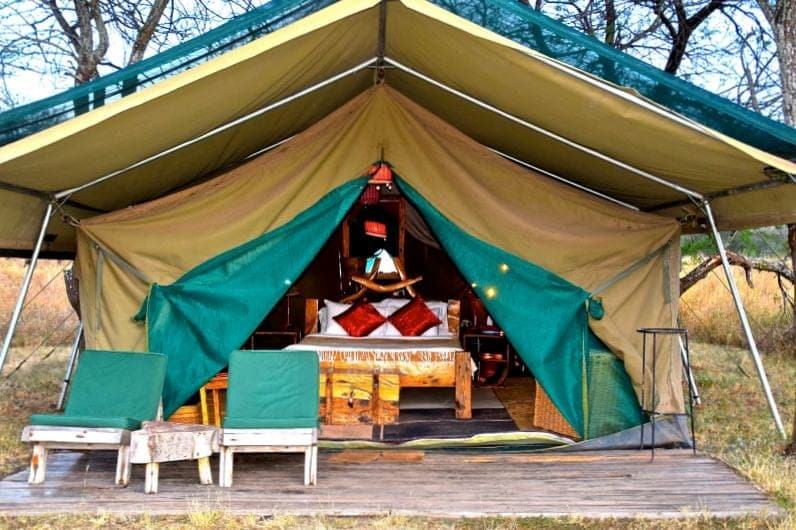 The Basic Information
Location: The camp is located in the southern central area of Serengeti National Park in the Moru Kopjes area. It is located about 28 miles (45 km) from the Seronera airstrip.
Getting here: The camp is currently located at the Moru 1 special campsite. Your driver will have directions or the camp can provide detailed driving directions upon booking if you are driving yourself.
Phone number: +44 20 3287 1071 -or- +255 788 221 440
Email: booking@AsanjaAfrica.com
Website: www.asanjaafrica.com
Room cost: Rates currently range from $199/night/person to $349/night/person depending on the season. Each of the seven tents can hold up to 3 persons. All lodging rates include full board (three meals), camping fees, and complimentary coffee, tea, and water. Children age 6 to 12 sharing with adults are charged 50% of the regular rate. Children under age 6 are not allowed at the camp unless the camp is booked exclusively in advance. Best rates are guaranteed if booked online. Check out the Asanja Africa Facebook page as they periodically offer discounted rates on their page.
Heading to Dar es Salaam?: Asanja also operates SobaiAsanja in the city center of Dar-es-Salaam. The new hotel property is scheduled to open in January 2015.
Our Arrival at Asanja Africa Tented Camp
The morning of our stay we had gotten up super early at our previous camp, Ang'ata Ngorongoro, to descend into the amazing Ngorongoro Crater. After six hours exploring the crater (spotting five lion cubs and seven adult lions!), we stopped at a Maasai Village and then headed into Serengeti National Park to check into Asanja Africa before sunset. I think if we had the chance to do it over, we would add another day here to be able to allow for the Maasai Village visit, a visit to the Olduvai Gorge, and a more leisurely drive through the Moru kopjes to Asanja Africa. You can read our guide to things to do in the Serengeti area to find out more about what we did and get some tips on planning your own trip to the Serengeti. We arrived at the camp around 6:00pm which was later than we had planned but the camp manager, Jeremiah Massau, and several of the camp employees were waiting to greet us on arrival. We were handed juice, a towel, and led to an outdoor reception area to sign in. Two Maasai employees then led us to our tent to leave our luggage and show us how things worked inside the tent. We then freshened up and met the camp manager Jeremiah in the Lounge and Bar area where we sat and enjoyed freshly baked cookies and fresh coffee while he told us about the camp. We were very happy to learn we could have coffee or tea at the lounge or brought to our tent whenever we wished. Freshly baked cookies and coffee had us off to a very good start!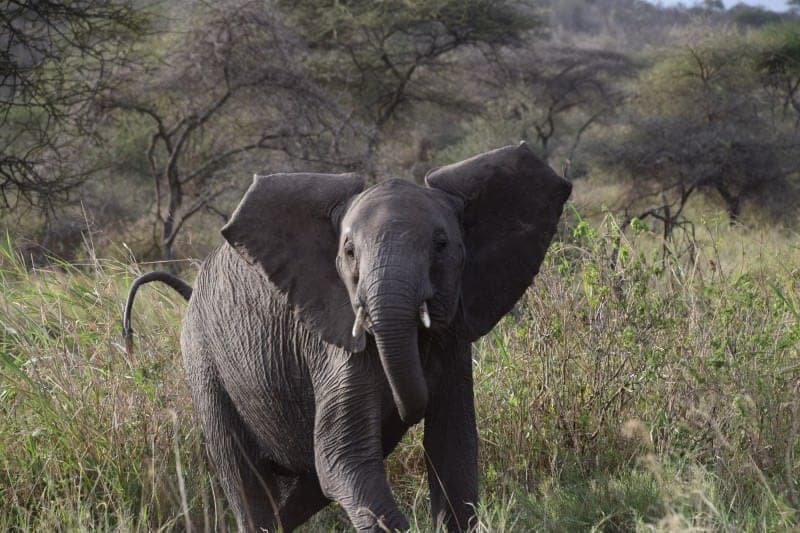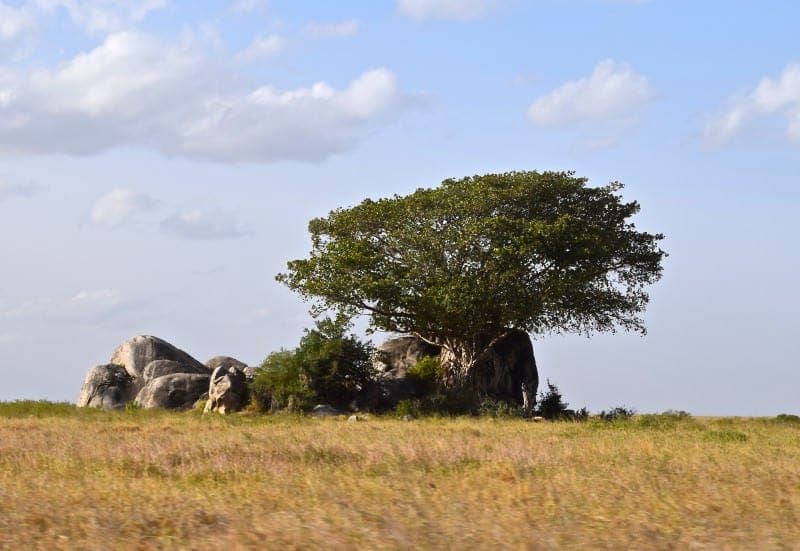 Tents at Asanja Africa
Asanja Africa currently offers 7 luxury tents and each can be configured with twin or double beds to hold up to 3 people. All of the seven tents are the same structurally but each is decorated in a unique style representing a different traditional Maasai ceremony. We were specifically in the Enkiama Tent named after the Maasai marriage ceremony. We learned that the marriage ceremony is one of the longest and most important ceremonies in the Maasai culture. Our tent was very romantic as it was decorated with a lot of red and contained a number of beautiful beaded decorations known as Imasaa. I'd definitely recommend this tent for honeymooners! The tents are all quite spacious and include a wooden bed with mosquito nets, writing table, armchair, wooden trunk that can be locked and used as a safe, night stands, and shelves. The en-suite bathroom at the back of the tent includes a Western-style flush toilet, sink with toiletries, and a safari shower. There is running cold water all day, but the shower is filled with hot water at a requested time from the outside of the tent by an attendant; the shower provided good water pressure and the water was at a good temperature. In front of each tent is a little veranda area where you can sit and take in the view of the vast Serengeti plains. The veranda is a great place to sip an evening drink or a morning coffee. The things that made this tented camp really stand out are the extra touches such as the thick plush flooring in the bedroom area, the quality of the furniture, the beautiful decorative touches, and all the useful items (trunk safe, umbrellas, flashlights, robes, power strip, toiletries). There is of course no heat in the tents, but you are provided plenty of blankets and in the evening we were very happy to find fabric-covered hot water bottles in the bed. Like many of the Tanzanian camps, Asanja Africa is eco-friendly and places importance on water conservation. While the tent does not actually move, none of the structures are permanent and great care is made to ensure that the camp leaves as little as a footprint on the environment as possible. The camp is powered by a generator and in the evenings an inverter is operational, so you are able to charge electronic devices in your own tent. The most exciting part of our stay was being able to hear the birds and animals throughout the night. We heard birds, jackals, hyena, and even lions from the safety and comfort of our tent. Just note that while the animals may seem very close (and they may be!), you can hear a loud lion's roar from miles away. After dark, you'll be escorted by a guard to and from your tent for safety reasons.
Drinks and Dining at Asanja Africa
The food and drinks at Asanja really stood out from our time on safari. The lodging rates include all three meals (house wine included with meals) as well as complimentary tea, coffee, and water during your stay. All meals are served in the Mess Tent and meal times are flexible depending on guest needs. Our three-course dinner was set but plated and consisted of a yummy pumpkin soup, a lamb, rice, and mixed vegetable main dish, and dessert. For breakfast, we were each served a fruit plate followed by your choice of made-to-order egg or pancake dishes, meat, and toast. Cereals were available on a table and coffee, milk, tea, and juice were also served. Lunches can be served hot in the Mess Tent or can be packed into lunch boxes to eat during a game drive. We took ours as lunch boxes and the lunch was good and filling. In addition to the three meals, you are also able to order complimentary coffee or tea and it can be served at the campfire, in your tent, or in the Lounge area. We fully took advantage of this and it is nice to wake up to some hot coffee on the veranda along with beautiful sunrise views! Asanja also impressed us with extras such as homemade cookies after arrival and some tasty cheese and toast appetizers before dinner. Attached to the Mess tent is the Lounge area that includes a safari bar that serves a variety of local and imported drinks.
Service & Amenities at Asanja Africa Tented Camp
The staff at Asanja Africa were friendly, attentive and helpful. The camp manager, Jeremiah Massau, was knowledgable and easygoing and seemed very invested in making sure that guests enjoyed their stay. During our stay we were introduced to many of the other staff members, including the chef and many of the attendants. The nightly campfires were a great place to meet the staff and other guests. In the evening we spent time by the fire with one of the Maasai attendants who told us about what it was like to grow up in Tarangire; he was excited to go home the next day on the local bus to visit his family. Later we sat around the campfire with a friendly British family and they invited us to join them in a good bottle of white wine. We loved that the camp manager and some of the staff came and joined us around the campfire to chat about our days and see if we needed anything. Everything went very smoothly from check-in to check-out and we really did feel that we received personalized attention throughout our short stay. Also while we were only there for one evening, Asanja Africa offers free laundry for all guests staying more than one night. Free laundry is wonderful given how dirty your clothes get during safari and many lodges charge you per article of clothing for laundry which can really add up.
Books and games, including the addictive East African game bao, are available for all guests to take advantage of in the Lounge. There are also a number of extra services one can take advantage of at Asanja Afrika for a fee. These include game drives, bird watching, balloon safaris, visits to a Maasai village, bush breakfasts and dinners, and sundowners. If you are interested in any of these activities, it is best to arrange them in advance of your visit.
Overall Thoughts on Asanja Africa
Overall, we would rate our stay at Asanja Africa as excellent and would fully recommend this camp for those looking for lodging in the Central Serengeti area. We would love to return here and spend a few days as one night was not nearly enough time to fully enjoy the amenities of the camp or take in the beauty of the Moru Kopjes area. Not having more time was a regret at almost every place we stayed during our safari so I fully encourage those planning an itinerary to spend more time in each place if you can as it really helps you feel more settled and appreciate an area rather than going from lodge to lodge every day or two. Asanja Africa was probably the perfect mix for us of luxury and wilderness. We loved that the camp was set off by itself and is quite exclusive with only 7 tents so that the staff are really able to provide detailed and personalized service. The little extra details such as the local art and beaded decorations and the coffee service and freshly baked cookies really made our stay special. I also really loved being able to enjoy such a comfortable tent while still being able to hear the roaring of lions at night. While perhaps not everyone's cup of tea, this was an ideal Serengeti experience for us!
Have you ever stayed in a tented camp in Africa? Have questions for us about our stay at Asanja Africa or our visit to the Serengeti? As always we welcome any comments or questions!
**Disclosure: We received a complimentary stay in order to review the Asanja Africa camp and its services; however, this article contains only our own honest thoughts and opinions. We did not receive any financial compensation for the writing of this post, do not work for Asanja Africa, and receive no commission for any hotel bookings.**