Do you know who Thomas Cook was and what contribution he made to the history of travel? Perhaps you have heard the name, seen it on the travel agencies that still carry his name, or maybe you've even taken a Thomas Cook tour. But my guess is that, like me, you don't know too much about the man or how he fits into the history of travel.
Thomas Cook was a passionate man who was born into a world where most working class people worked long 6-day weeks and never traveled more than 20 miles from their home towns. Thomas would begin work at age 10, laboring in a vegetable garden for 1 penny per day; but with a lot of determination and hard work, this working class man would eventually build one of the largest travel companies in the world.
This post is dedicated to the memory of Thomas Cook and his role in history and will give you a good overview of Thomas the man, Thomas the travel pioneer, and a glimpse of what it was like to travel in the Victorian age.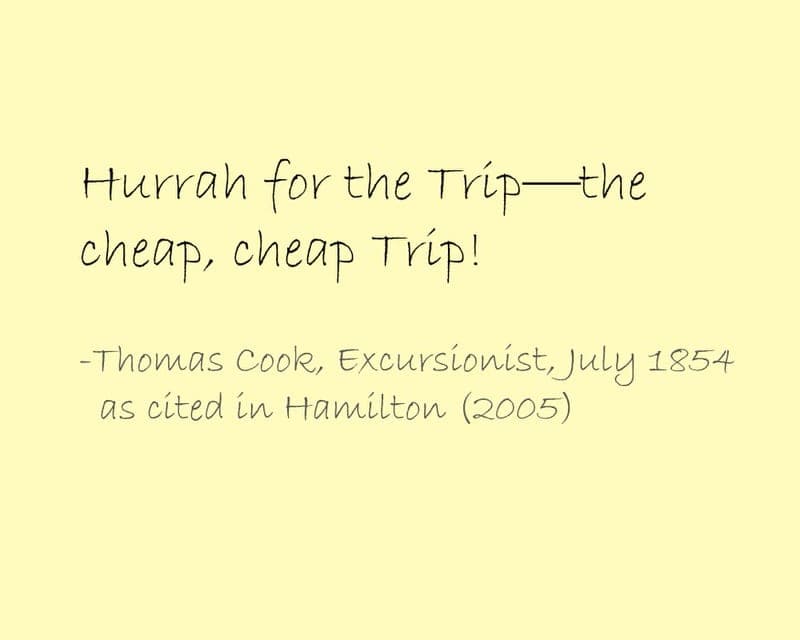 Who was Thomas Cook?
Thomas Cook was born in 1808 in the small town of Melbourne, England but would be best known for his time living in Leicester. He would finish his schooling at age 10 to begin working, often for only a penny a day, to help support his family.
Throughout his life, Thomas Cook would work as a Baptist preacher, carpenter, furniture maker, printer, publisher, political advocate, and travel organizer. As a Baptist preacher, he would walk thousands of miles and earned so little that he often worked in the dark to conserve candles and oil.
After seeing the effects of drunkenness at an early age, Cook believed that alcohol abuse was one of the major roots of the many social problems in the Victoria era and would spend much of his time and talents supporting the Temperance movement in England for the rest of his life. In fact, Cook's beginnings as a travel organizer would come about because of his temperance beliefs.
In 1841, he would arrange for a special train to take over 500 people from Leicester to Loughborough to attend a temperance meeting. For 1 shilling, passengers got round trip train travel, band entertainment, afternoon tea, and food. Not a bad deal!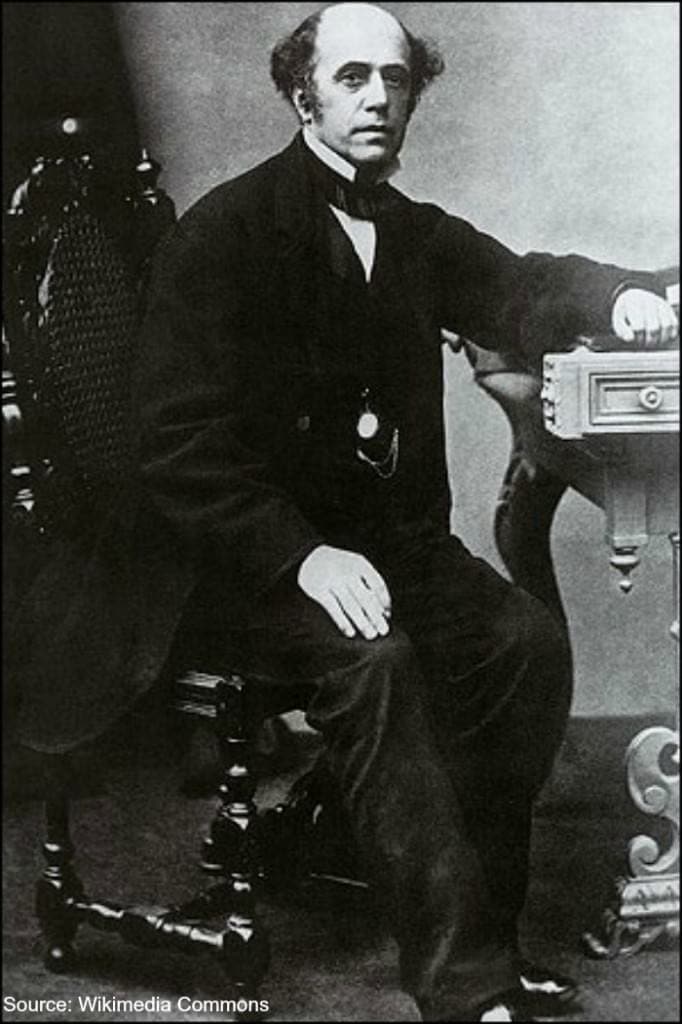 T
he Birth of Thomas Cook & Son
Then in 1845, he would organize his first railway excursion for profit, and the following year he would begin offering trips outside England to Scotland, a country that captivated Cook and would remain one of his favorite destinations. For many of his early passengers, this was their first time aboard a train and the furthest distance they'd ever traveled from their home.
His trips kept getting bigger and in 1851, Thomas got the chance to organize railway travel and travel accommodations for people from the provinces to travel to London to attend the Great Exhibition orchestrated by Prince Albert. Thomas would transport over 150,000 people to London during the 6 months of the exhibition. This was one of the largest events in England and one of the largest movements of people within Britain!
Up until this point in time, most people in the provinces would be unlikely to travel to a town 20 miles away, let alone to the city of London. It must have been quite a shock for many people, who likely had never attended an event bigger than a county agricultural fair, to witness the Great Exhibition, where many of the greatest industrial inventions of the time were on display, in the bustling capital city of London.
His early tours would be marketed towards the working class, but later his company would go on to escort more middle class passengers and even organize travel for royalty, the military, and other important figures given his increasing reputation for being able to efficiently organize travel.
Interestingly, a large percentage of Cook's travelers would be single or unescorted women who likely would not have been able to travel on their own (remember these are the days of Gone with the Wind), but being part of an escorted tour provided them with both protection and independence.
Cook would rapidly expand operations, escorting tours throughout Europe, North America, and even led the first commercial tour around the world. But perhaps no destination was more sacred to Thomas than his tours to Egypt and the Middle East. Here Thomas could witness firsthand the Biblical lands he had read and preached about all his life, and spending time in the Holy Land was truly a realization of many of his dreams as a young man.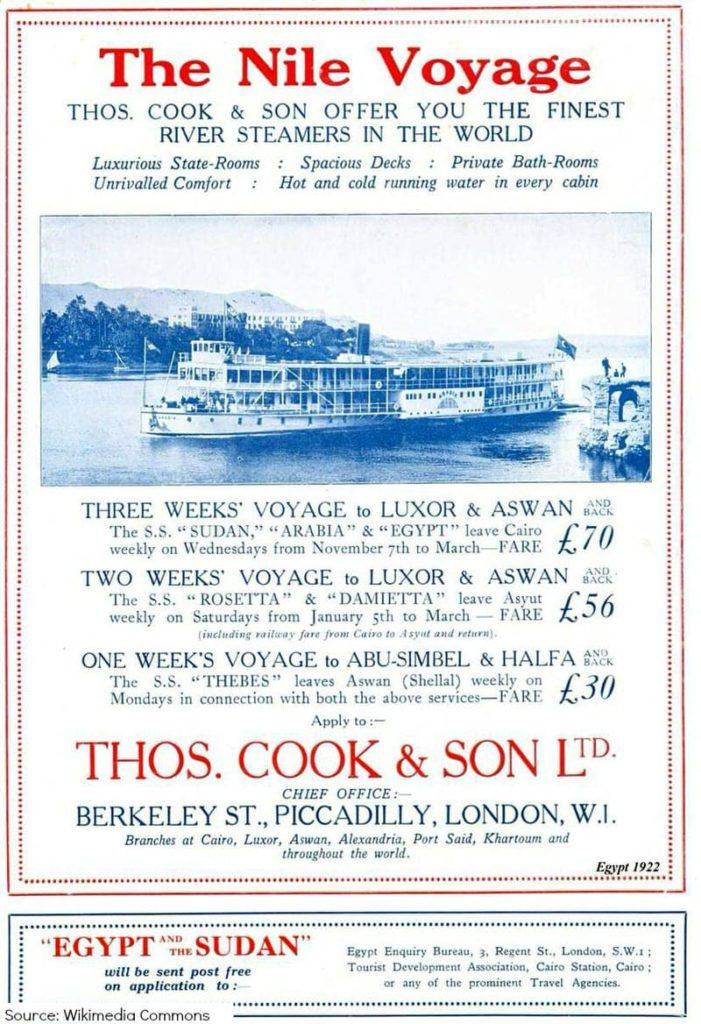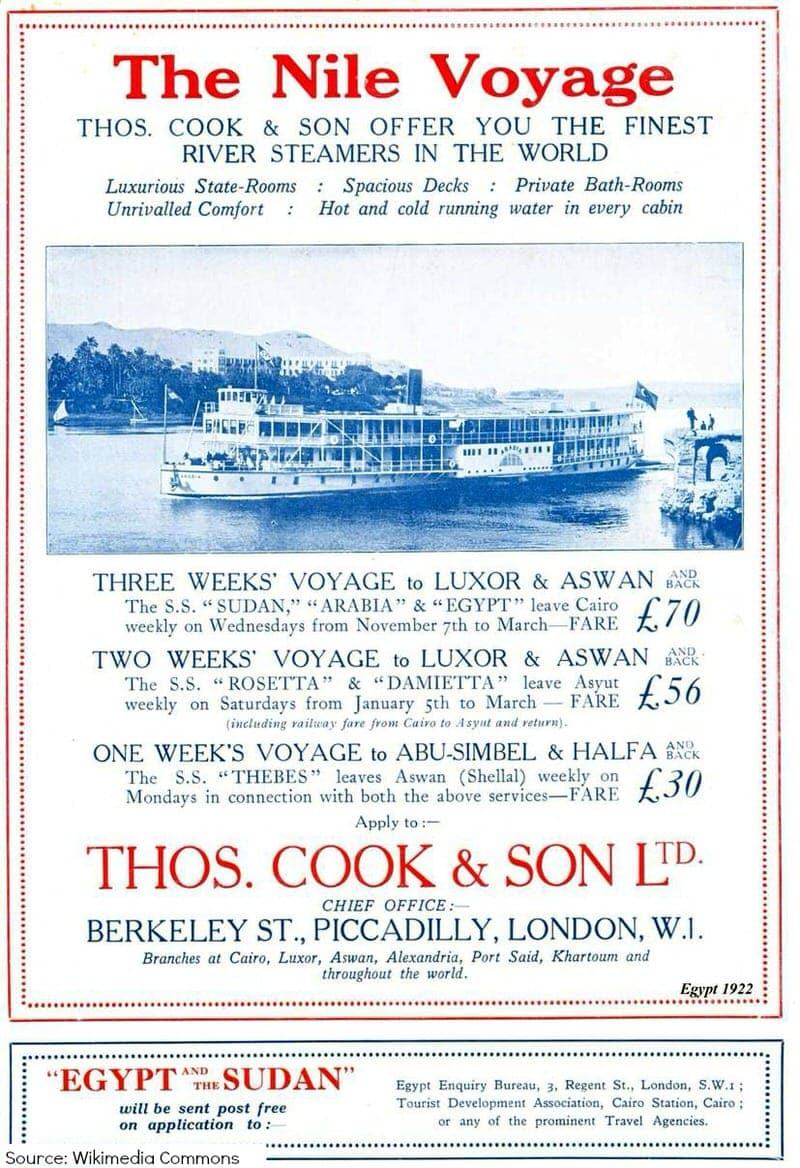 A Man with Many Personal Obstacles and Struggles
Although Thomas Cook & Son would thrive and go on to become one of the largest travel agencies in the world, things did not work out as well for Cook in his personal life. Thomas' father died when he was very young as did his stepfather, and young Thomas was left to be raised by his widowed mother.
As an adult, he would suffer the tragic sudden death of his only daughter Annie—a young woman on the cusp of marriage—who shared a close relationship with her parents. Thomas' wife would suffer a long period of ill health following her daughter's death, eventually dying and leaving Thomas alone with his own failing health that left him almost blind.
In his later years, he had a very strained relationship with his only son and business partner John Mason Cook. Thomas felt that he was being pushed aside in his own company and eventually John Mason Cook would take over all operations from his father. The father and son never truly reconciled and spent very little time together towards the end of his life.
While Thomas' poor health and eyesight made it increasingly difficult, he continued to be active in travel and temperance activities until near the end of his life. His son would continue to expand the travel business.
What was it like to Travel During the Victorian Era?
Thomas lived during the reign of Queen Victoria—the Victorian era—and while romantic imaginings of spending time aboard the famous Oriental Express, sailing on luxury White Star Line steamships, and staying in grand palatial hotels may have been partially true of the wealthiest of travelers, these are far from the accommodations you could expect as a working class or middle class traveler.
Before widespread railway transport, the stagecoach reigned as the quickest way to get around and only the wealthy could afford such conveniences. So poorer people often walked, hitched rides on the back of wagons and carts, or, if lucky, rode a horse or donkey. In the early days of railway travel, third class train accommodations were open wagons, some without seats, where passengers would have to worry about the wind, sun, dust, locomotive smoke, and glowing hot embers.
During Cook's travels—particularly his early trips—you would need to worry about germs and disease as very little was understood about germs at the time and the lack of widespread refrigeration and hot water heightened the chances of disease. Restaurants, flush toilets, and even running water were not staples in Great Britain, let alone the rest of the world. Communication was slow and done primarily by postal mail, sometimes taking weeks to confirm reservations or transmit a message back home.
However, things were not all bad. During Thomas's life so much would change that would make travel faster, cheaper, and more comfortable than ever before. Improvements in the postal service, use of the steam engine, opening of the Suez canal, and the great expansion of the railways would make it possible for Thomas Cook to accomplish things that would not have been possible a generation before him.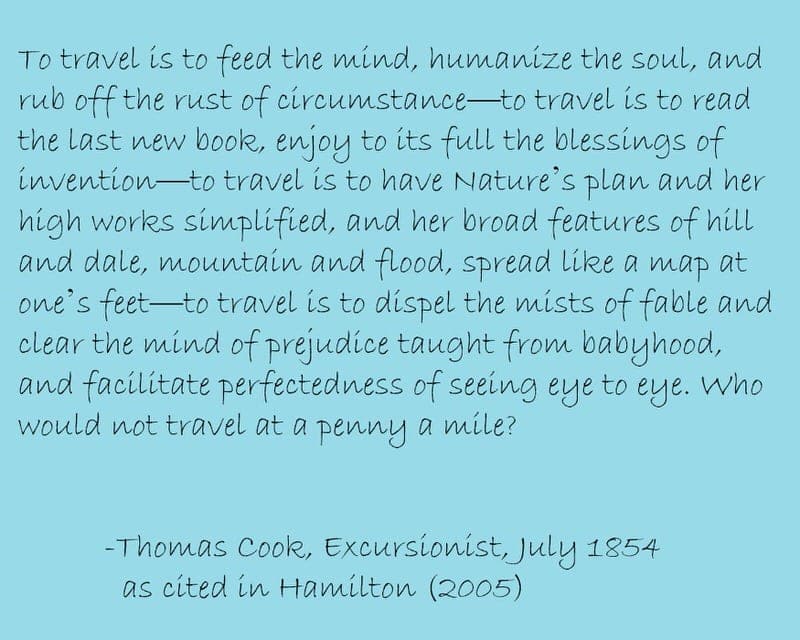 Thomas Cook's tours, with their discounted organized group rates, made it possible for a lot of working and middle class people to travel for the first time. Cook believed that travel could help educate and enlighten people who, like him, often did not have a proper school education, eliminate prejudices and bigotry, and be a healthy leisure alternative to visiting pubs, gambling halls, and whorehouses.
However, these new travel opportunities for the lower classes was not something that was widely appreciated by many of those in the upper classes of society. Until the nineteenth century, popular tourist destinations were almost exclusively the playground of the wealthy who could afford the time away and expensive cost of travel. The upper classes did not want to mix with the lower classes when traveling.
As Thomas Cook and others began to offer affordable excursion tours to popular destinations such as English country homes (e.g., Chatsworth House), the Rhine River valley, the French Riviera, Egyptian pyramids, and the Swiss Alps, wealthy travelers complained about what they saw as a bunch of uncouth, uneducated common people invading their exclusive travel paradises.
They criticized Thomas Cook and the excursion travelers, and this criticism likely wounded Thomas, who although he strongly believed in the right for all people to be able to travel, he also strived to be accepted by the upper echelons of society. Despite his success, he never was accepted by the upper classes as he was not of gentle birth, but was a working man and a Baptist in a country still largely controlled by wealthy Anglicans.
However, despite all the criticism, the demand for discounted organized travel would only continue to increase. The number of travelers from London who crossed the Channel to continental Europe rose from 165,000 in 1850 to 951,000 by 1899. Travel agencies and organized travel were here to stay.
Why Thomas Cook was a Travel Pioneer
Thomas Cook was a travel pioneer who built one of the largest travel businesses in the world, a business that started very humbly as a way to transport travelers to nearby temperance meetings. Thomas was able to "organize travel as it was never organized before" and with the help of the railways and the steam engine, he was able to do it on a scale that would have never before been possible.
Although not the first to come up with most of the ideas, Thomas would make things like travel vouchers, traveler's cheques, and printed guidebooks common and widespread. Cook would use his talents as a printer to print travel advertisements, bulletins, magazines, guidebooks, and train timetables. In fact, Thomas Cook Continental Timetables would be published from 1873 to 2013 (last edition was published in August 2013) and were for many decades considered the bible for European train travelers.
His religious fervor would make him seek out exotic locations such as the Middle East and his determination would lead to Thomas Cook & Son opening offices around the world. Perhaps his greatest legacy is that he helped make it possible for a new group of people to engage in leisure travel. Cook understood well the drudgery of hard work and trying to support oneself on a meager income, and his tours provided working and lower middle class people the opportunity to explore a world they could have only have read about otherwise.
The Thomas Cook & Son name continued to exist as a travel company, offering travel tours until 2019. The company traded for 178 years. But it had not been a family-run business by the Cook family since the 1920's when Thomas Cook's grandsons, Frank and Ernest, sold the company to the Belgian Compagnie Internationale des Wagons-Lits et des Grands Express Européens, operators of most of Europe's luxury sleeping cars, including the Orient Express.
In the 1940's it would become state-owned by the British Transport Holding Company. It would continue to change hands over the years. In 2001, it would become owned solely by C&N Touristic AG, one of Germany's largest travel groups, who renamed the company, Thomas Cook AG.
Thomas Cook became one of the world's largest travel agencies and the oldest in the UK. Its famous slogan developed by advertising expert Michael Hennessy: "Don't just book it….Thomas Cook it" became well-known around the world.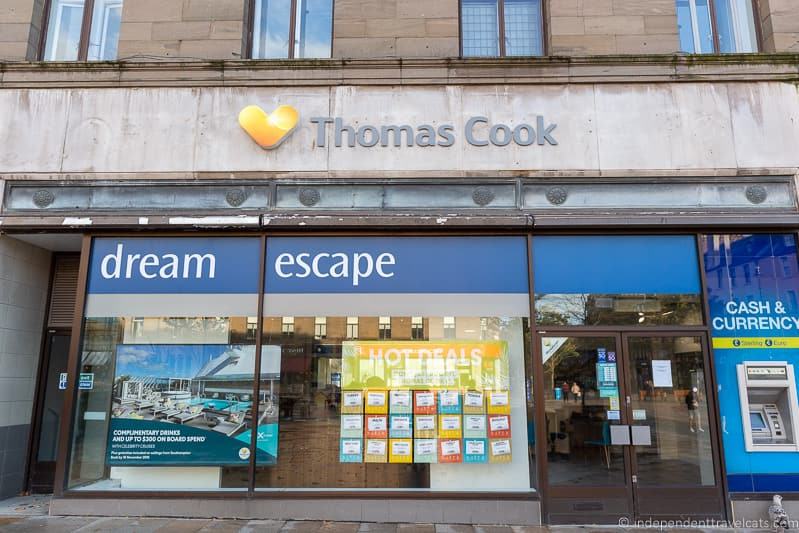 The Bankruptcy and Closure of the Thomas Cook Travel Agency in 2019
Sadly, the travel agency and airline that carried the Thomas Cook named declared bankruptcy in September 2019, leaving about 150,000 British travelers "stranded" all over the world (as well as a number of other nationalities). Perhaps the most devastating effect has been the immediate loss of thousands of jobs for people in the UK and abroad.
The travel agency, however, was properly insured and protected and most of those who booked a trip can apply for a refund, and those left "stranded" on trips were repatriated by the UK. It was the largest repatriation effort since World War 2.
In October 2019, it was announced that all the Thomas Cook travel agency offices in UK will be taken over by Hays Travel and rebranded under their name. Most of the reopened offices are being staffed by former Thomas Cook employees. Hays Travel is now the largest independent travel agency in the UK, and you can read more about them here.
In 2020, the COVID-19 pandemic wreaked havoc on all sectors of the global travel industry and Hays Travel was forced to close its travel offices in the UK for a large part of the year. Many of the former UK Thomas Cook offices have now been permanently shuttered and many of the employees who had been rehired were sadly made redundant. You can read more about that here.
Although the future of the Thomas Cook name in travel may be uncertain, I would be very surprised if the name does not continue to be associated in some way with a travel agency.
In fact, although all the UK based companies have stopped trading, some Thomas Cook owned resorted, like Cook's Club are still operating. Some of its subsidiaries in some other countries are still trading as normal but are also in danger of closure.
What I Learned from Reading about Thomas Cook
Thomas Cook was a quite extraordinary self-made man. He had so many occupations and business ventures and so many setback and failures, even declaring bankruptcy at one point, but he was so persistent and never gave up. He was a passionate man who fought for his Baptist faith, beliefs in equality for all people, and for temperance.
In addition to being impressed by the determination and innovativeness of Thomas Cook himself, I was also quite intrigued in the ways that travel has changed and the ways it has not. We have come a long way since Thomas Cook escorted his first tour as we can travel so much lighter, faster, and more conveniently than would have seemed possible to Victorian age travelers who would accept unheated train cars, month-long ocean crossings, and hotels without hot water.
Cook, a teetotaler until his death, would likely be shocked by the tourism industry's promotion of sun, sea and sex and the partying and drinking associated with many travel destinations. Indeed, many of these locations are the most popular destinations for British travelers on package holidays.
However, some things have not changed very much. Criticisms of organized travel remain with the notion that independent travel is better and people love to make the subjective "traveler" versus "tourist" distinction. There are also still locations that remain primarily the playgrounds of the wealthy although never like during the Victorian age. Travel remains class segregated as those who can afford to do so can fly in first class seats, dine in the finest restaurants aboard ships, and sleep in the best cabins with little need to spend much time with other class passengers.
One of the things that I found perhaps the most interesting was the destinations promoted by Thomas Cook still remain, with few exceptions, major tourist destinations today. The country house of Chatsworth House is one of the most notable country houses in England today and people are still flocking to the Scottish highlands, Paris, Rhine River Valley, Swiss Alps, Egypt, the ancient city of Petra, Australia, and most of the other destinations promoted by Thomas Cook in the 1800's.
While things have changed in some ways beyond recognition, many of the world's wonders and great destinations continue to awe visitors as they must have awed those first pioneer tourists led by Thomas Cook.
Want to Learn More about Thomas Cook and Victorian Age Travel?
Resources about Thomas Cook (I used these in writing this article):
-Hamilton, Jill. (2005). Thomas Cook: The Holiday Maker. The History Press.
-Piers Brendon. (1991). Thomas Cook – 150 Years of Popular Tourism. Martin Secker & Warburg Ltd.
-Withey, Lynne. (1997). Grand Tours and Cook's Tours – A History of Leisure Travel, 1750 to 1915. William Morrow & Co. [This book focuses on a broader view of the history of travel including a lot of attention to Thomas Cook tours and their impact on tourism]
-A great Wikipedia link to some of Thomas Cook's Traveler Handbooks: http://en.wikipedia.org/wiki/Cook%27s_Travellers_Handbooks
Another book related to Thomas Cook on my to-read list:
-Swinglehurst, Edmund. (1974). The Romantic Journey – The Story of Thomas Cook and Victorian Travel. Pica Editions.
So what do you think about Thomas Cook and the Victorian Age of Travel? If you are interested in another article on travel during the Victorian age, check out our post on two American women who race around the world in less than 80 days.