The Secret Sweater cardigan may be the perfect travel accessory for women looking for a way to layer their clothing without the bulk. It is a lightweight but durable sweater that works well as a hidden middle layer of warmth or as a fashionable outer layer.
While not created exclusively with travel in mind, the Secret Sweater cardigan can help keep you warm on your travels, whether it involves exploring ancient ruins, perusing air-conditioned museums, or sipping coffee at outdoor cafés.
I was excited to try out the Secret Sweater cardigan over the past several weeks and I share my experiences below. I have found the Secret Sweater cardigan to have a number of uses and it has become a valuable addition to my wardrobe.
NOTE: Since this article was written Secret Sweater has closed and it appears the last Secret Sweater products were sold in 2018.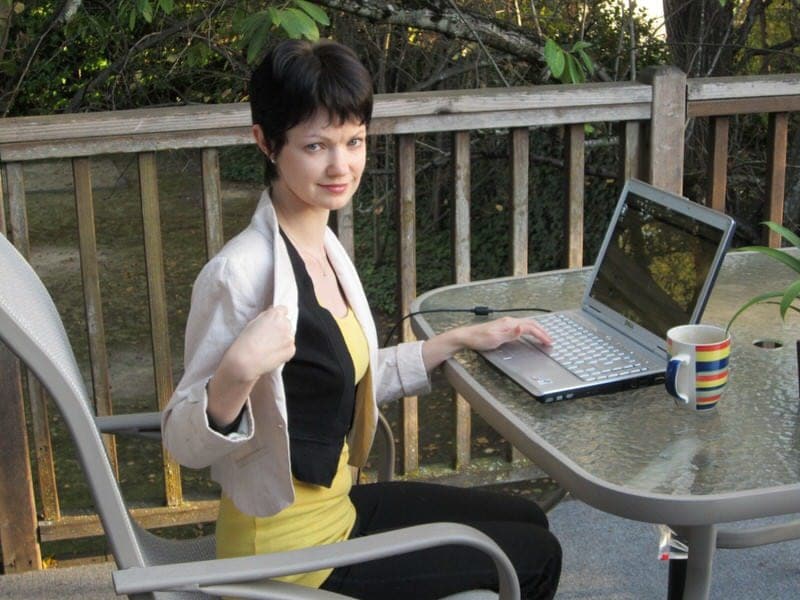 Basic Information on the Secret Sweater Cardigan
Website / Facebook / Twitter
The Secret Sweater cardigan was created and designed by Katherine Noyes Arnemann who lives in San Franciscio, CA. Given the notorious microclimates of San Francisco, I am not surprised this sweater was designed there!
It is currently available in four colors (black, ivory, grey, and raspberry) and sizes XS- XL. It is made in the United States of 50% cotton and 50% modal blended interlock knit (quite soft to the touch) and is machine-washable. The sweater comes in a matching reusable travel pouch (see picture above) and it is very easy to roll up the sweater and put it back in the pouch.
It regularly sells for $39.95, but check for special sales or promotions. It is currently only sold on Amazon here and you can also check out verified customer reviews there.
The most unique factor about the cardigan is that is does not completely cover the chest and does not fasten or close in any way. It is meant to just lay against the chest so that it can stay hidden under jackets or blazers. It also has 3/4 length sleeves which allows it to stay hidden better and to be worn under 3/4 sleeve jackets and blazers. This also allows it to be more lightweight than a regular cardigan or sweater.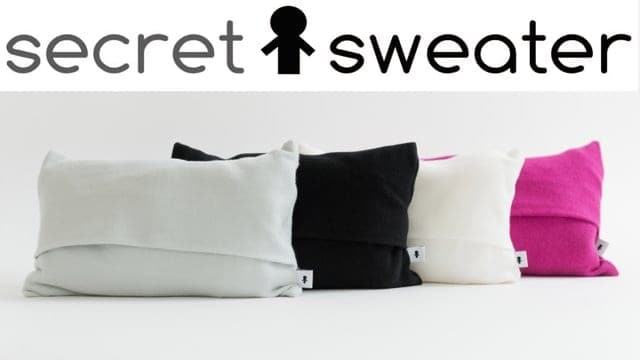 My Review of the Secret Sweater Cardigan
Secret Sweater Cardigan as a Travel Accessory for Women
So the reason I was so excited about the Secret Sweater cardigan was that I thought it would make a great travel accessory. As almost all travelers know, layering is very important to being comfortable while traveling—whether it is while you are out exploring a city, hiking, or taking a flight.
A problem I have with layering and trying to be prepared for weather changes is that I end up dragging around a jacket or sweatshirt, which are often bulky and don't fit in my travel purse or backpack. So during the day I often end up wearing a jacket in the morning and then carrying it around the rest of the day.
The Secret Sweater cardigan is great because it is so lightweight and squeezes into even my smallest purse. It also does not appear to wrinkle much and comes with its own reusable travel pouch (which it fits very nicely back into), and this cover helps keep it from getting stained by any of the random stuff (e.g., chocolates in the middle of the summer) I sometimes throw into my purse while traveling.
I have taken the Secret Sweater cardigan on small trips and it works great as an added layer of warmth. It also looks stylish while on its own or under a jacket. It will definitely be in my suitcase for our upcoming Asia trip.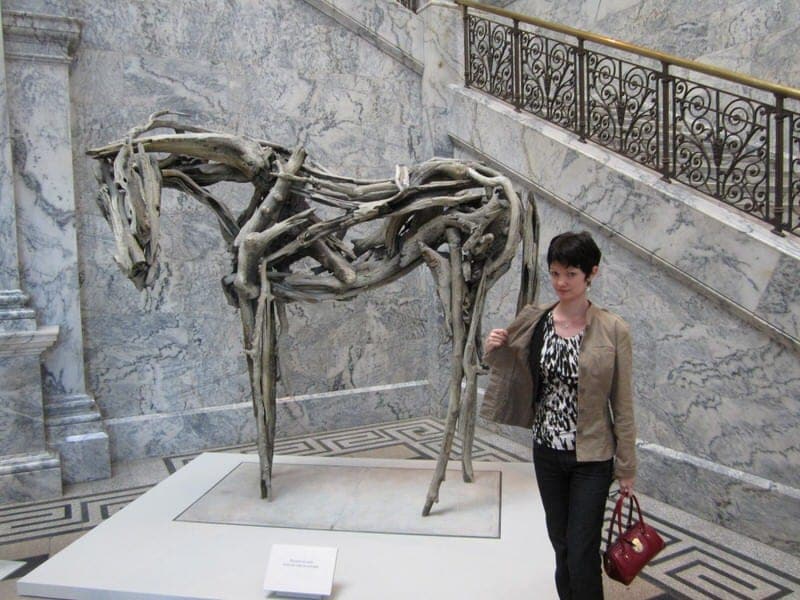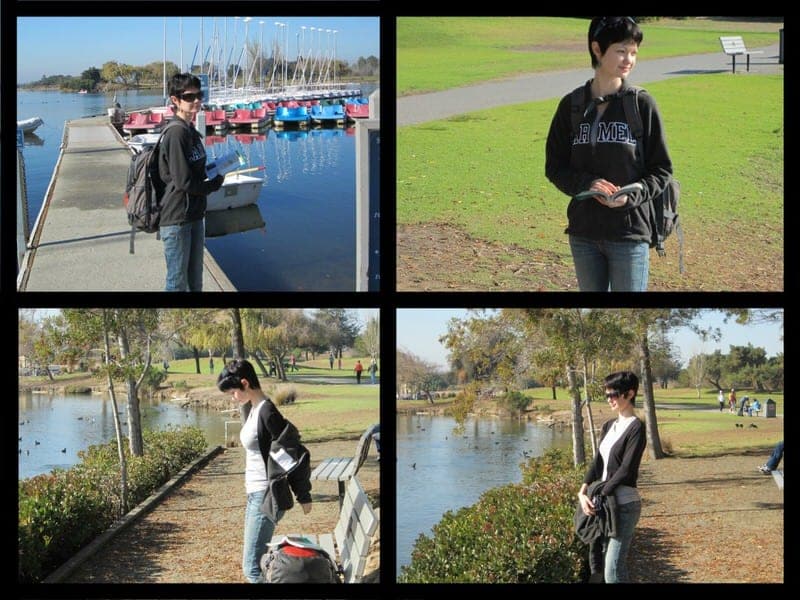 Working and Blogging in the Secret Sweater Cardigan
At first, I just envisioned having the Secret Sweater cardigan as a great new travel accessory. However, I've discovered it is also great for work. The temperature at my work office is ridiculously uncomfortable sometimes and I have a habit of putting on fleeces at work which keep me warm, but don't look very fashionable or professional.
I started using the Secret Sweater cardigan at work which adds warmth while still looking professional as an outer layer or hidden nicely under slim fitting jackets. I was surprised at how my coworkers could not see the Secret Sweater cardigan even under unbuttoned tailored jackets.
I also love throwing my Secret Sweater cardigan on while working on my travel blog. Since my favorite spot to write is actually outside on the patio, the temperature of my workplace is constantly changing. The cardigan serves as this great unbulky layer over my tank top or fitted tee. Then I keep a jacket around to throw on top as needed.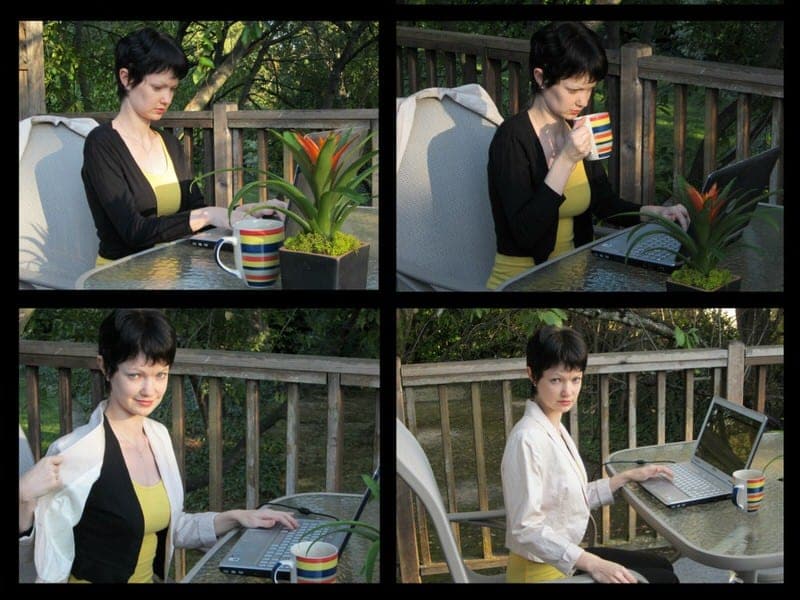 The Secret Sweater May Help Prolong the Life of your Other Clothes
So one of the reasons I hate wearing some of my work jackets and blazers is that they are dry clean only and I hate getting them cleaned (don't ask me why I keep buying more of them!).
However, the Secret Sweater cardigan helps me wear my jackets more times before having to clean them. I typically want to wear a sleeveless shirt or camisole underneath the jacket, but then have to wash the jackets after a wear or two because of perspiration and deodorant stains.
However, now I can wear the Secret Sweater cardigan as a hidden middle layer which protects them against perspiration, allowing me to just throw the machine-washable sweater in the washer and get a few more wears out of my professional jackets.
It is also great for those times when you are traveling and don't have access to a washing machine, and need to do laundry while traveling. I have hand washed the Secret Sweater cardigan in the sink and line dried it once, and it held up well. Wearing and washing the cardigan may help you get more wear out of both your work and travel clothes.
Any Complaints about the Cardigan?
The only thing I can think of is that mine fits me a bit loosely in the arms (I have very thin arms so this is a common issue for me); however, this has not prevented it from fitting well under form-fitting jackets. Otherwise, no complaints at all!
Overall Impression
Overall, I really think the Secret Sweater cardigan is a great travel accessory for women. I find it to be well-made of good quality material and to be very versatile. I wanted to try the Secret Sweater cardigan as a travel accessory, thinking I would only wear it while traveling; however, I have found a number of other uses for it as well and now wear it regularly. In fact, I just wore it this morning under a jacket to meet a friend for brunch and it helped keep me warm while sitting at an outdoor table.
What do you think about the Secret Sweater cardigan? Is it a travel accessory on your wish list?
**Disclaimer: I was given one free cardigan to wear and review; however, this article contains only my own honest thoughts and opinions. I did not receive any financial compensation for the writing of this post.**