Looking for a unique travel accessory? I was really excited when I first heard about the indeegear luggage belt sleeves on Twitter, and am pleased to now have the opportunity to review these unique travel accessories. The sleeves provide an innovative and creative way to not only make your luggage stand out, but they can also serve as fun collectible souvenirs of your travels. The travel sleeves remind me of a fabulous mix between charm bracelets and those old-fashioned travel labels that are evocative of luxurious steam ship and train travel from the Golden Age of Travel. Adding these individually designed embroidered sleeves to your suitcase, camera case, laptop bag, or backpack is a great way to make a statement and express your individuality. Keep reading for our full review of indeegear luggage belt sleeves, an exclusive reader-only discount code, and even the chance to win a travel sleeve yourself!
indeegear Website / Facebook / Twitter / Pinterest
Basic Information on indeegear Travel Accessories
indeegear is a small company based in our current home state of California. They manufacture collectible travel luggage belt sleeves that are designed to fit over a luggage belt or any other type of belt or strap.
The Woman Behind indeegear
The idea for the indeegear travel sleeves came to Valerie Freer while she was traveling in 2010 with her family. She wanted a way to help better distinguish her luggage and an accessory that would make a statement and could be individualized. Two years later, she took a leap of faith and launched the indeegear travel product line. We are lucky to have had the opportunity to meet Valerie in person at the Bay Area Travel & Adventure Show. In addition to being a lovely person, it was very clear to us how passionate and dedicated she is about the quality and craftsmanship of the indeegear products.
Luggage Belt Sleeves
The front of each handcrafted luggage belt sleeve is embroidered while the back is made of a high quality stretch material to allow it to be slipped onto a luggage belt or any other strap that is 2 inches or less in width. Each of the sleeves are a little over 2 inches in width and are each manufactured in the United States. The majority of the sleeves were designed by local California artists (Selena Zontos and Rachel Nigh) and feature a unique artistic design. The ever-expanding collection includes travel sleeves representing specific countries (e.g., Argentina, Italy), states (e.g., California, Texas), hobbies (e.g., photography, fishing, travel, buying shoes), national parks (e.g., Yosemite National park), sports (e.g., surfing, golfing), and inspirational themes (e.g., peace, belief, inspire). Each sleeve is sold individually for $14.00.
Interested in a custom sleeve for a specific destination, picture, sports team, or business logo? Just send indeegear a message for pricing (email: contactindee@indeegear.com)!
Luggage Belts & Other Travel Accessories
In addition to the luggage belt sleeves, indeegear also sells their own high quality luggage belts ($18.00) and luggage tags ($10.00), as well as TSA-approved travel locks. The indeegear luggage belt is uniquely designed with an "air lock buckle",that can accommodate a TSA-approved lock.
Travel Accessories for Charitable Causes
indeegear is a big supporter of charitable causes. Currently, if you purchase their Paws sleeve ($14.00) or the Paws sleeve + luggage belt package ($32.00), part of the purchase will be donated to The SPCA for Monterey County that will benefit a number of animals in need of adoption and treatment. If you purchase their Inspiration sleeve or the Inspiration sleeve + luggage belt package, part of the purchase will be donated to Vision for the Poor which helps low-income families in several countries receive needed eye care. In fact, Vision for the Poor is the same charity Ethan and I are supporting with our summer charity climb of Mount Kilimanjaro.
To find out more information on indeegear, their products, and the artists who design the sleeves, visit the indeegear website.
Our Review of indeegear Travel Sleeves
Valerie at indeegear generously provided us with 5 luggage belt sleeves (Yosemite National Park, France, Germany, Paws, and the pink beach flip-flops) and the indeegear luggage belt. Everything arrived well-packaged and the sleeves came in their own cute individual black organza bags that are perfect to reuse for jewelry.
The sleeves fit quite snugly on the 2-inch luggage belt so you will need to use a bit of force, but don't worry they are very well made and the backsides are stretchy. If you are using a different belt or strap that is less than 2 inches, they'll probably slip on quite easily.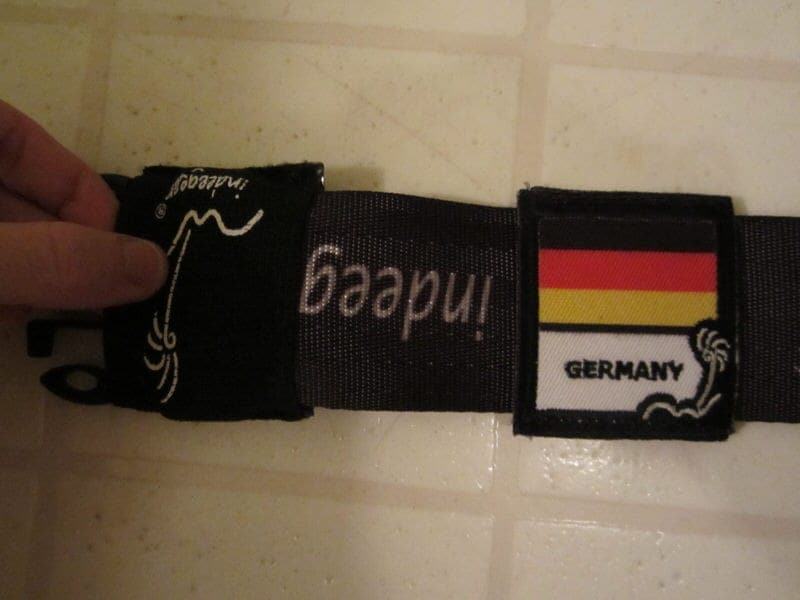 We really love our indeegear travel sleeves and luggage belt. Below are our top four reasons you might think about getting some for yourself!
indeegear Helps Make Your Luggage Stand Out
If you happen to have luggage of a common color (e.g., black, blue, gray), it can be hard to distinguish as it is coming around the luggage carousel or when you have to find it among a pile of other bags. We have always added swatches of bright yellow electrical tape to our bags to be able to better identify them (classy, right?), but indeegear provides a much more unique and sophisticated way to identify our bags. This can not only help save time and prevent confusion at baggage claim, but it also helps reduce the chances someone else might accidentally confuse your bag with their own bag and take off with your luggage!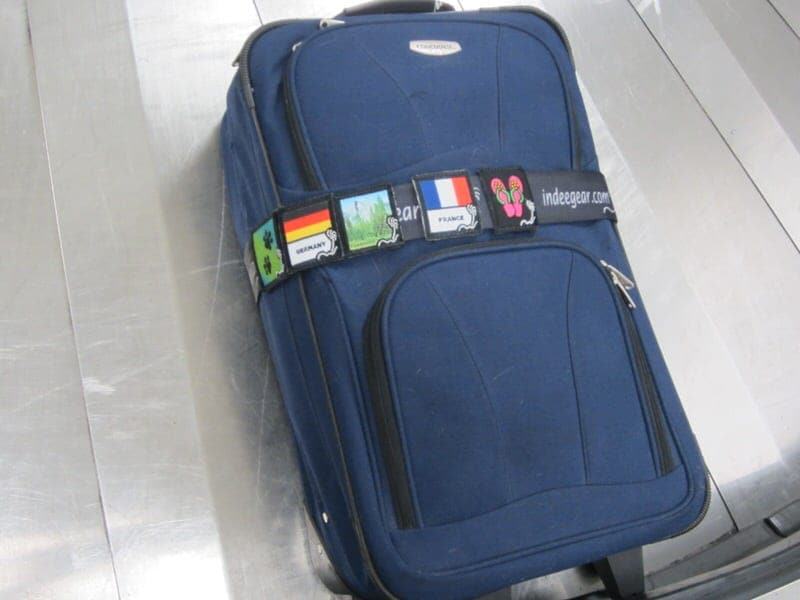 indeegear Travel Sleeves are Versatile
While primarily marketed for luggage belts, these awesome sleeves will slide onto any strap or belt that is 2 inches or less in diameter. So think luggage belts, camera bags, backpacks, laptop cases, messenger bags, etc. Heck, you could even put them on your belt and wear them around your waist if you were so inclined!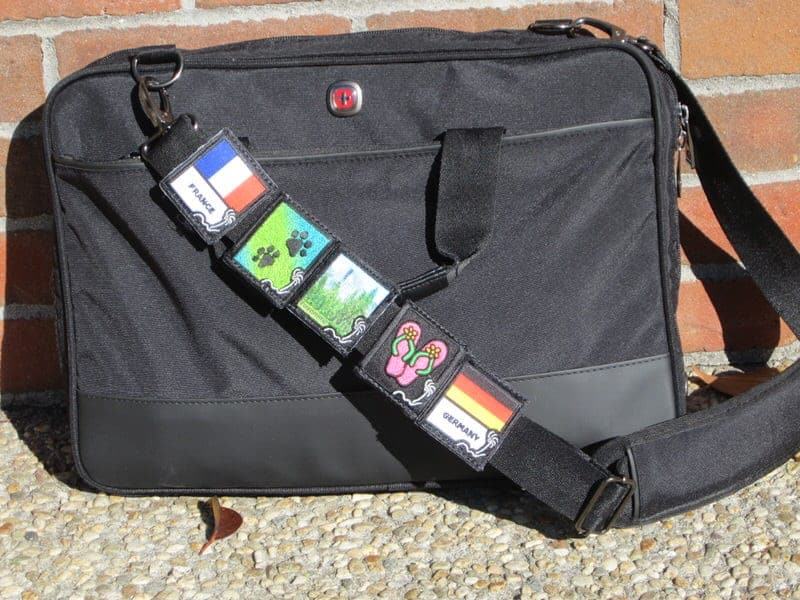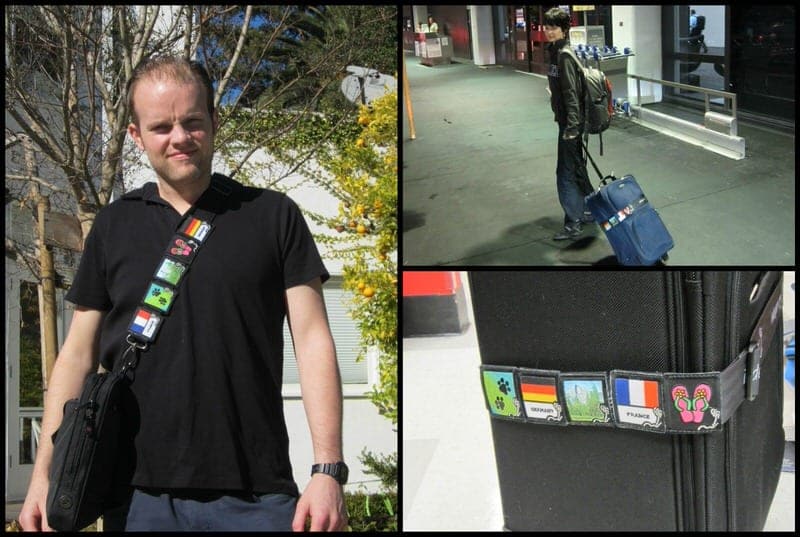 They are fun to collect and make for great travel souvenirs
If you've been reading this blog for a while, you probably know that I love to write about the history of travel, and the thing that first drew me to the travel sleeves is that they remind me of the old travel stamps people used to get on their steamer trunks and luggage. While travel labels and stamps are a thing of the past, we think these might be the modern-day equivalent. Ethan and I don't buy a lot of souvenirs as we live in a tiny apartment and never seem to have any extra room in our luggage for many souvenirs, but we love to have some memories of all our trips, which is why indeegear is so great. They fit around our luggage without taking up any additional space and allow us to keep adding sleeves to the collection as our travels expand. The indeegear travel system also allows you to choose the sleeves that best represent you and your travels so you can make a statement and express your individuality. It is a great way to show other people where you've been and your special interests. On the two trips we've taken with the indeegear sleeves, several people commented on them as they are so unique. We just hope indeegear can keep up with all our travels in making new sleeves! You can check out the sleeve collections here.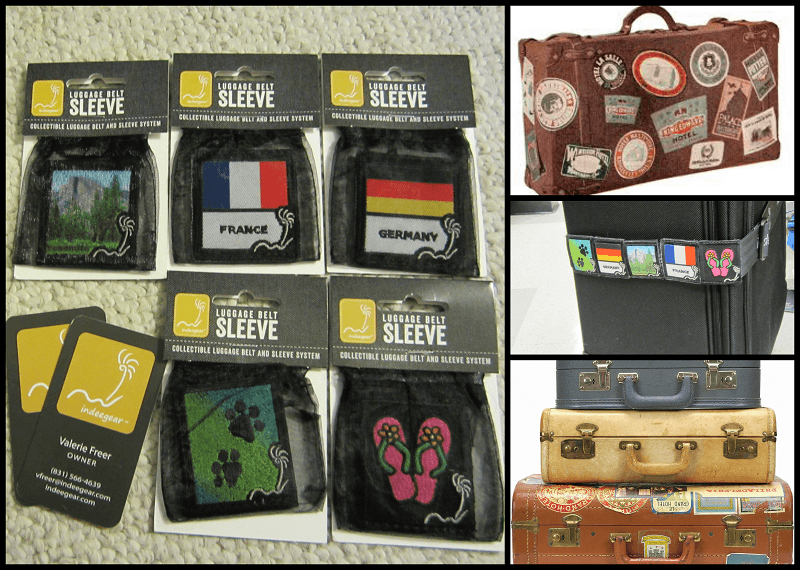 indeegear is a Responsible & Charitable Business
Finally, we love that indeegear manufactures their products within the country, supports charitable causes, and makes a point to be as environmentally friendly in their manufacturing and packaging as they can. We love that indeegear is donating some of their profits to organizations that benefit animals and in-need children! These are near and dear to our hearts as our cat Dash came from a local shelter and we are doing a charity climb for Vision for the Poor this summer. You can read more about the charitable causes that indeegear supports here.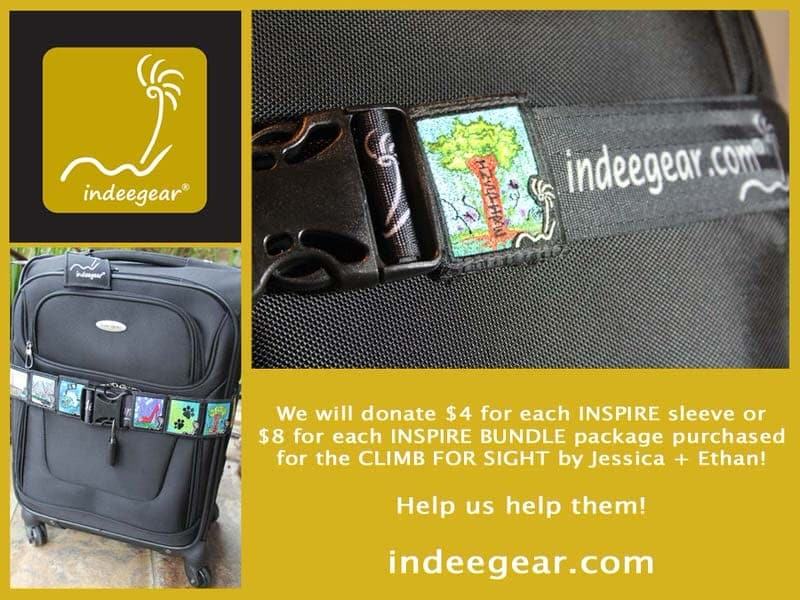 The Giveaway: Free indeegear sleeve!
**GIVEAWAY is now closed! Congratulations to our winner Darby!!**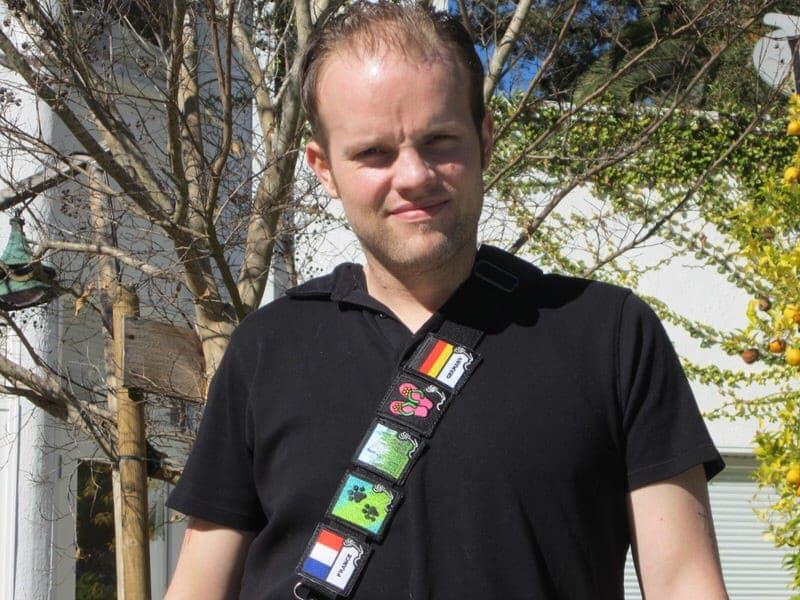 What do you think about the indeegear luggage belt sleeves? Is it a travel accessory on your wish list? Don't forget to stop by and check out the indeegear website!
**Disclaimer: I was given free indeegear travel products to try and review; however, this article contains only my own honest thoughts and opinions. I did not receive any financial compensation for the writing of this post, do not work for indeegear, and receive no commission for any sales of this product.**