We love to find places that offer good views of a new city and the rooftop bars in Ho Chi Minh City provided not only an excellent opportunity to get a good orientation to the city, but also the chance to savor some delicious cocktails. Ho Chi Minh City, often still referred to as Saigon, is a booming city on the rise—quite literally! You'll see the shorter historical French colonial buildings next to giant sleek glass-and-steel skyscrapers throughout the downtown area making for an interesting city landscape. We discovered that there are essentially two places to look for good rooftop bars in the city: hotels (old and new) and business towers. You have a wide array of choices from historical colonial-era hotels to up-and-coming glitzy nightspots, depending on whether you feel like contemplating the war-era days of Graham Greene or hanging with hipsters in a modern lounge. You can also have your choice of views from sweeping big city views to broad riverfront views to intimate street-level views, and the views change dramatically from day to night. We only had a few days in the city so we couldn't sample all the rooftop bars in Ho Chi Minh City (sad I know), but we did get around to several and we'll also list all the others we considered! Without further ado here is our list of 10 rooftop bars in Ho Chi Minh City offering both drinks and great views of the city. The majority are clustered near each other in District 1 (although check the address listed) and they are listed in alphabetical order by the name of the hotel or tower they occupy.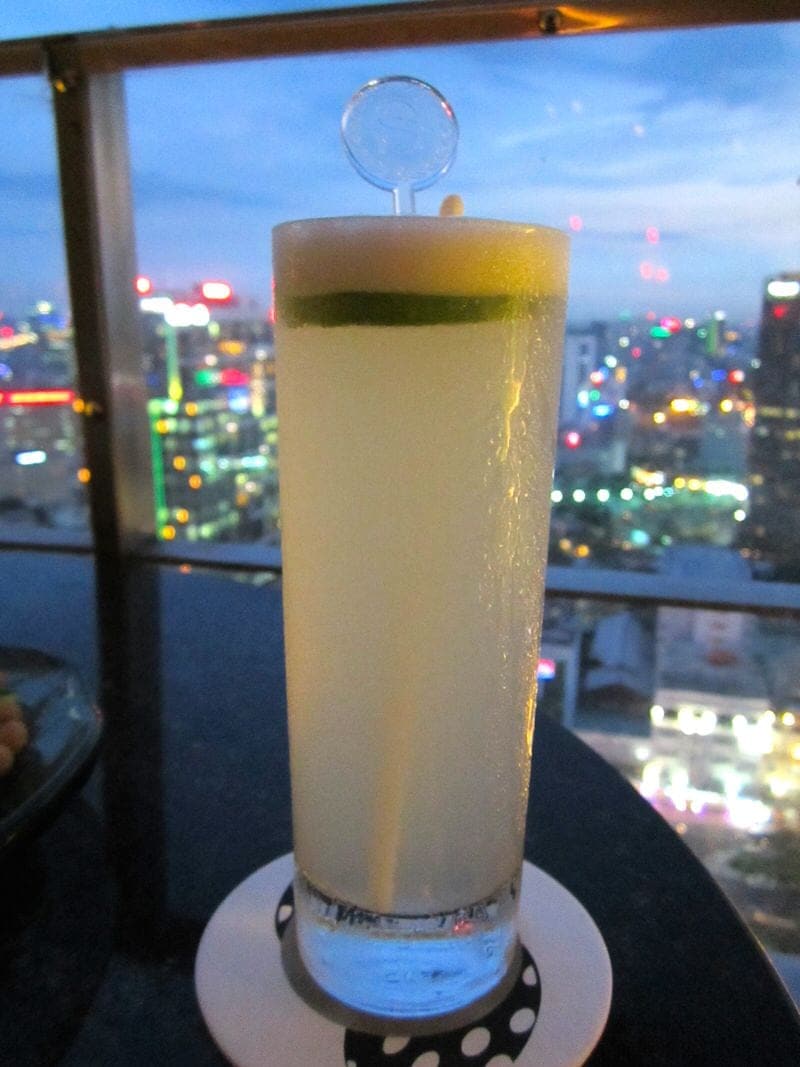 The Best Rooftop Bars in Ho Chi Minh City
Here are 10 of the best rooftop bars in Ho Chi MInh City, list in no particular order:
1. A & B Tower – Chill Sky Bar
Address: 76 Le Lai Street, District 1, Ho Chi Minh City
Phone: (84 8) 3827 2372
Website: www.chillsaigon.com
The Chill Sky Bar offers views from the 27th floor of the A & B Tower in a hip and contemporary setting. A bit away from many of the other rooftop bars in District 1 of Ho Chi Minh City, the popular Chill Skybar offers sweeping views of the financial district and the chaotic Ben Thanh traffic circle. The bar does have a "smart casual" dress code so make sure you wear closed toed shoes (shorts may also be prohibited but seems they may be easing on that rule after multiple complaints from shorts-wearing visitors).
2. Bitexco Financial Tower – Heli Bar
Address: 2 Hai Trieu Street, District 1, Ho Chi Minh City (entrance to Skydeck located at 36 Ho Tung Mau Street)
Phone: (84 8) 6291 8752
Website: www.bitexcofinancialtower.com
If you want to feel like you are on top of the world, head to the Bitexco Financial Tower which is one of the tallest buildings in Ho Chi Minh City. This modern skyscraper was built by Ecuadorian architect Carlos Zapata and was designed to resemble a lotus bud (you be the judge). If you are looking for intimate views or colonial-era cachet, you won't find any of that here, but if you are looking for spectacular 360 degree sweeping views of the city in a contemporary setting, you can't get much better than those at the 52nd floor Heli Bar which is named for the large helipad that juts out of the building. In addition to the Heli Bar, you can also dine at the 51st floor EON 51 or head to the Saigon Skydeck on the 49th floor. The Saigon Skydeck requires an entrance fee but may be a good way to get top-of-the-world views for families and those who are not interested in a drink or meal.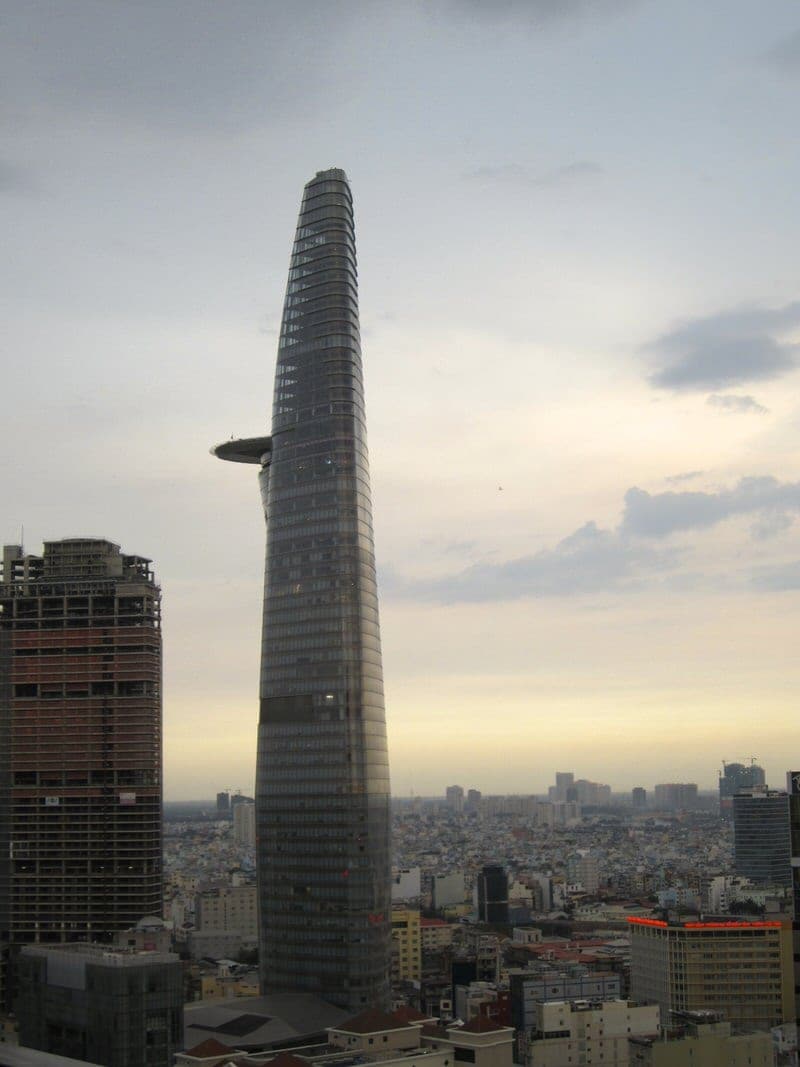 3. Broma
Address: 41 Nguyen Hue Street, District 1, Ho Chi Minh City
Phone: (84 8) 3823 6838
Website: facebook.com/bromabar
Officially named Broma: Not a Bar, don't worry this place still serves up drinks. The hip but casual little bar occupies the fourth floor of an old French colonial building and its open lounge offers some good views of the city streets and the Bitexco Financial Tower. Broma offers cocktails, over 30 varieties of beer, food, and regularly hosts live entertainment and themed music dance parties.
4. Caravelle Saigon – Saigon Saigon Bar
Address: 19-23 Lam Son Square, District 1, Ho Chi Minh City
Phone: (84 8) 3823 4999
Website: www.caravellehotel.com
Opening in 1959, the grand sweeping views offered by the 10th floor rooftop Saigon Saigon Bar, the tallest at the time it was built, soon became not only a fashionable place for drinks, but would become a safe lookout point for foreign correspondents in wartime Vietnam. While wholly renovated and no longer the tallest building in town, the Saigon Saigon Bar still evokes a bit of the historic flair of Old Saigon and offers great views of the city, including the Notre Dame Cathedral (the one in HCMC, not Paris!). We were actually drawn to the Caravelle Saigon hotel not for its famous rooftop bar, but for its recently revamped afternoon tea menu at the ground floor lobby lounge named Café de l'Opera which offers good intimate views of the Opera House and Lam Son Square.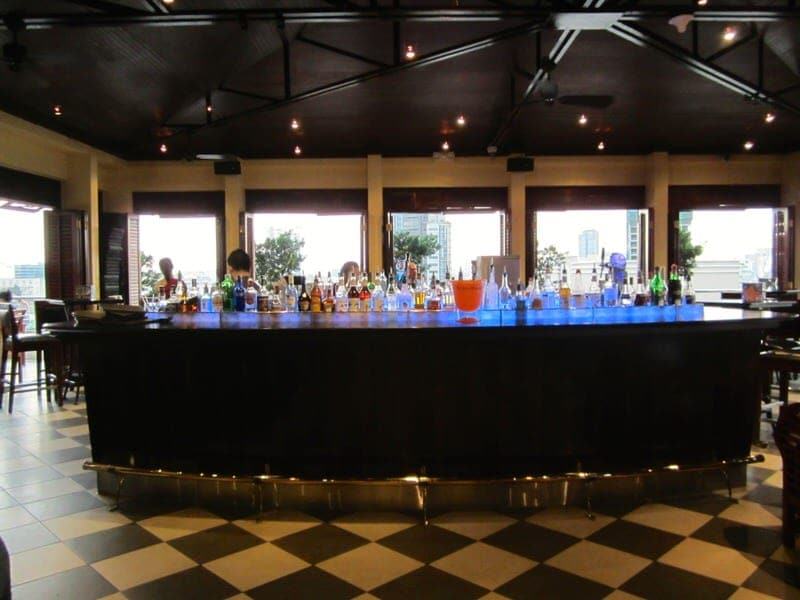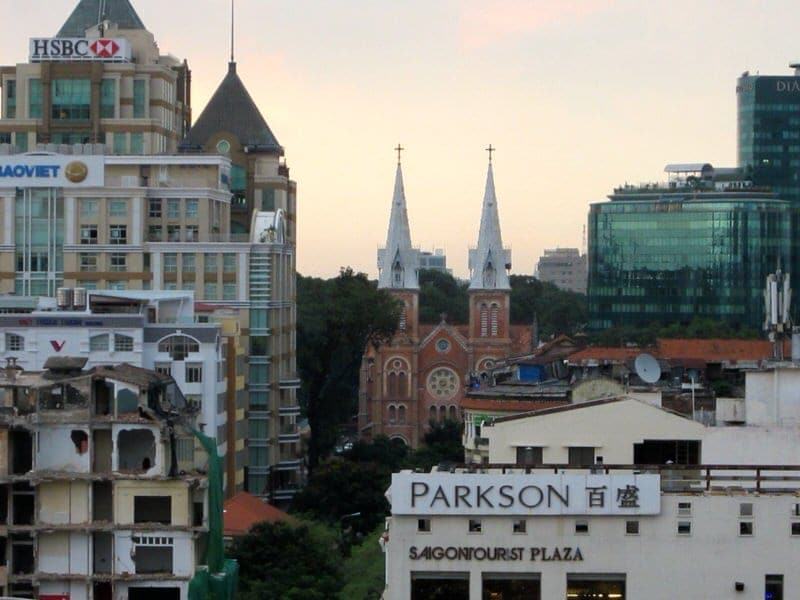 5. Centec Tower – Shri Restaurant & Lounge
Address: 72-74 Nguyen Thi Minh Khai Street, District 1, Ho Chi Minh City
Phone: (84 8) 3827 9631
Website: www.shri.vn
The modern Shri Bar sits atop of the Centec Tower on the border between District 1 and District 3 of Ho Chi Minh City. While you can also eat at the stylish restaurant, Shri offers a separate open-air terrace seating area for non-diners and offers great 23rd floor views of the Reunification Park area.
6. Grand Hotel – Grand Café
Address: 8 Dong Khoi Street, District 1, Ho Chi Minh City
Phone: (84 8) 3915 5555
Website: www.grandhotel.vn
This 20th floor rooftop bar is a great place for coffee during the afternoon and drinks in the evening which also come with live piano performances. Built in 1930, the Grand Hotel is one of the oldest of the historic hotels in Ho Chi Minh City and like many of the historic hotels in town, the Grand Hotel added a new wing and it is here you'll find the 20th floor hotel bar. The views here include the downtown and the river, which is unique as most of the hotels do not offer river views (see Hotel Majestic).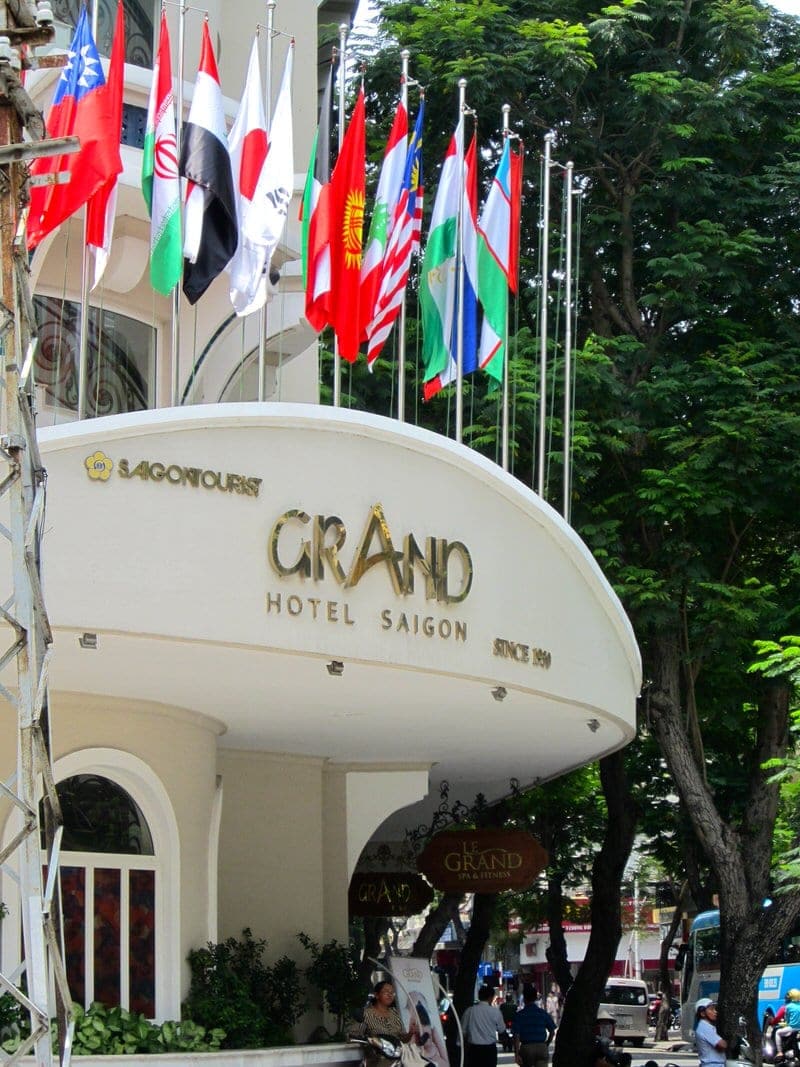 7. Hotel Majestic – Breeze Sky Bar and M Bar
Address: 1 Dong Khoi Street, District 1, Ho Chi Minh City
Phone: (84 8) 3829 5517
Website: www.majesticsaigon.com.vn
The Hotel Majestic sits alongside the riverfront and was one of the first buildings visitors would have seen when arriving by ship to old Saigon. Opened in 1925, this is another of the old colonial era hotels in the city and it offers two bars with great Saigon River views: the 5th floor Breeze Sky Bar and the 8th floor M Bar. The Breeze Sky Bar offers food and drinks all day while the M Bar offers late afternoon and evening drinks, snacks, and live entertainment. While these bars are very low to the ground compared to those in the more modern hotels, they offer some of the best views of the river and riverfront. We had drinks at the Breeze Sky Bar during the afternoon and while the river views are not exactly beautiful (more industrial) we enjoyed watching the slow river traffic and soaking up a bit of that colonial-era atmosphere.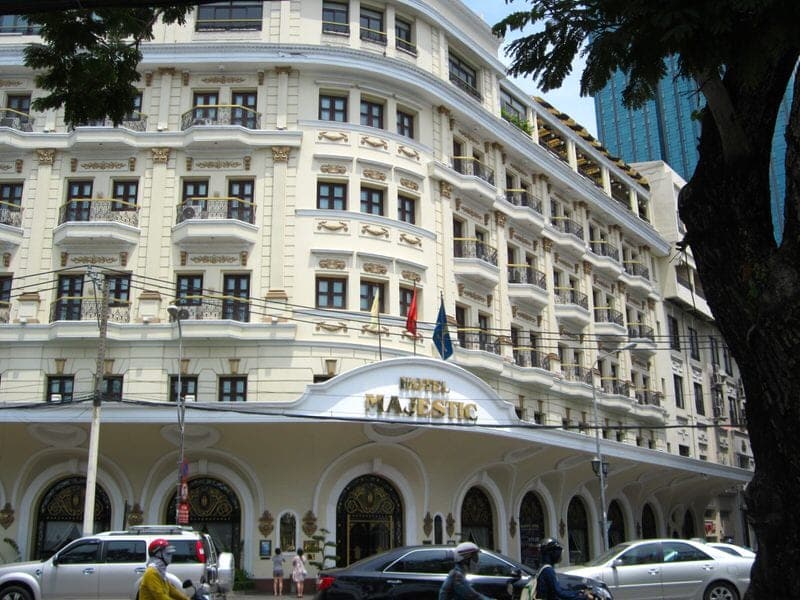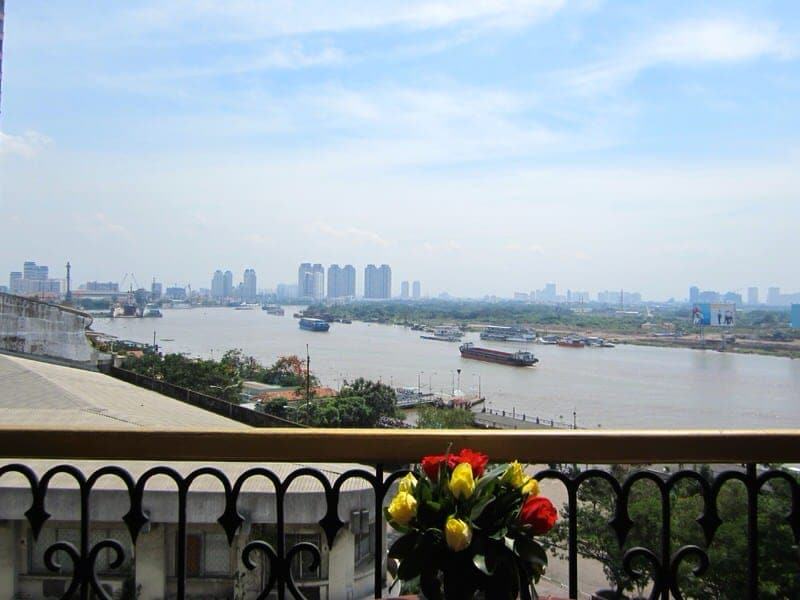 8. Rex Hotel – Rooftop Garden Bar
Address: 141 Nguyen Hue Street, District 1, Ho Chi Minh City
Phone: (84 8) 3829 2185
Website: www.rexhotelvietnam.com
The Rex Hotel has strong associations with the Vietnam-American War. The first hotel guests were actually U.S. Army soldiers and the rooftop bar would serve as a popular hangout for military personnel and war correspondents. Nightly war-related briefings, known as the "Five o' clock Follies", were held at 5pm at the Rex Hotel and the hotel was used as the location for the press conference announcing the reunification of Vietnam in 1976. The Rooftop Garden Bar is a large rooftop terrace occupying the 5th floor of the hotel and offers some great close-up views of the street life in the area. The Rex has a bit of a Las Vegas feel to me, but the bar is open 24 hours a day, making it a great choice for those wanting to visit at any time of the day or night.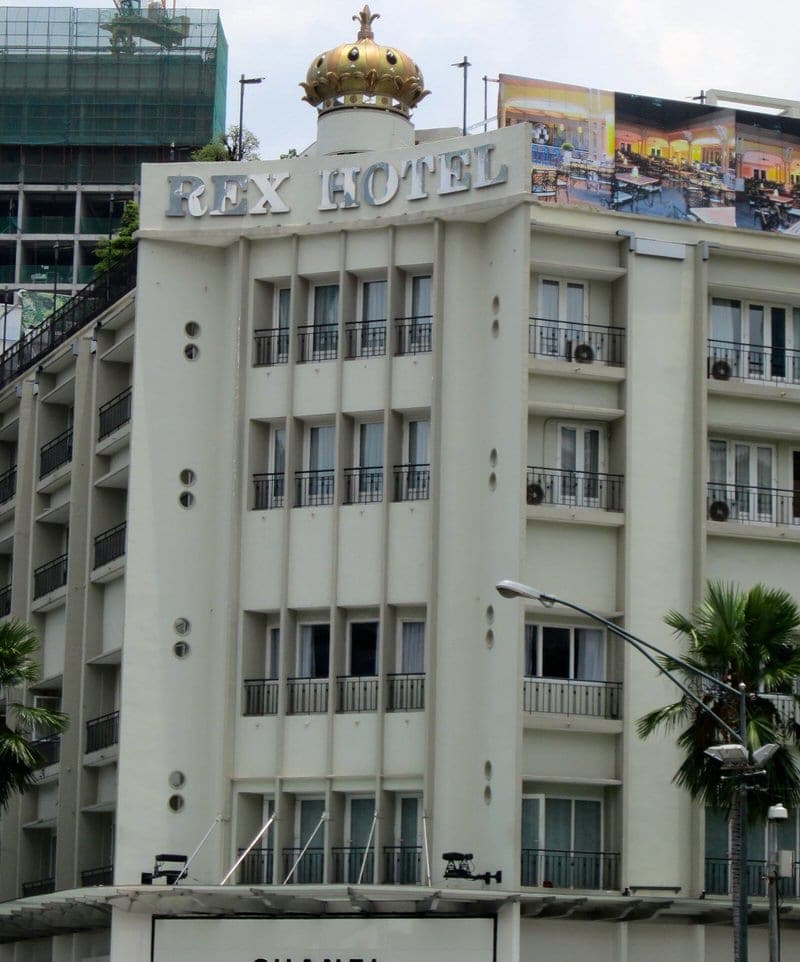 9. Sheraton Saigon Hotel & Towers – Level 23 Wine Bar
Address: 88 Dong Khoi Street, District 1, Ho Chi Minh City
Phone: (84 8) 3827 2828
Website: www.sheratonsaigon.com
The Sheraton's Level 23 Wine Bar offers a sleek setting, an extensive drink menu, and big sweeping 180 degree views of downtown Ho Chi Minh City. One of the highest bars in the city, this 23rd floor view offers a look at both the short old colonial buildings and the sleek tall modern skyscrapers such as the giant Bitexco Financial Tower. We really enjoyed the evening views from here as you could see all the buildings lit up at night.

10. Windsor Plaza Hotel – Top of the Town Bar
Address: 18 An Duong Vuong Street, District 5, Ho Chi Minh City
Phone: (84 8) 3833 6688
Website: www.windsorplazahotel.com
If you want to check out some good views from outside District 1, you can check out the Top of the Town Bar at the Windsor Plaza Hotel. Located in District 5, this 25th floor bar offers 360 degree views of the District 5 area.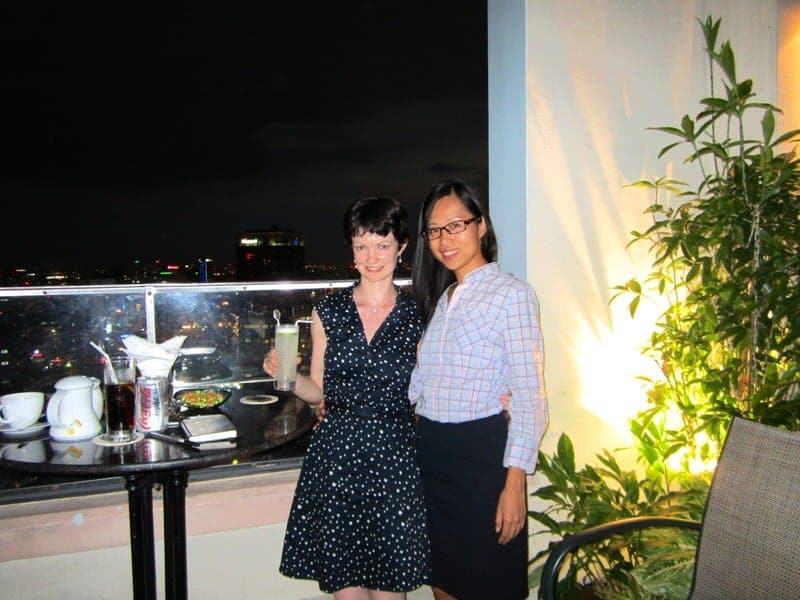 If you are heading to Vietnam, don't pass up the chance to catch some great and unique views of the city from up high at one of the many rooftop bars in Ho Chi Minh City. Have you been? Have any recommendations for rooftop bars in Ho Chi Minh City we missed or personal reviews of the ones we mentioned? As always, we'd love to hear from you!