Do you like to travel with books? Ever thought that if you packed every book you wanted to take along, your books would need their own suitcase? Welcome, you are not alone my fellow bibliophiles. I love traveling with books and this article provides tips on how to travel with books (yes, actual physical books!) while still packing light.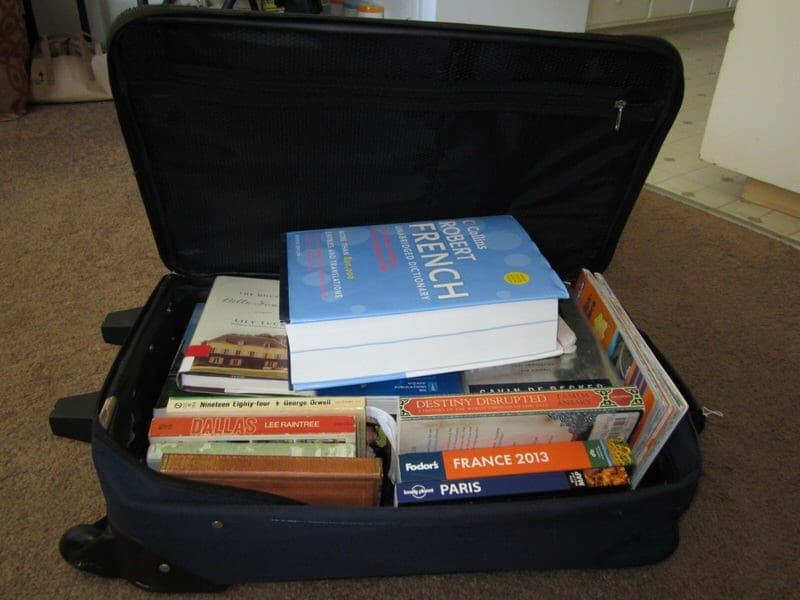 In the 1700's, young men and women embarking on a Grand Tour throughout Europe may have traveled with a trunk full of books to aid in their search for enlightenment and culture. Times have changed and traveling light is key to reducing hassles while traveling. Not to mention avoiding pricey airline baggage fees. Books are deadweight in your bag, they aren't collapsible, foldable, and don't serve a million purposes.
So what do you do? Friends have suggested Kindles, Nooks, and other e-book readers. I could read books on my IPad, laptop, or the tiny screen of my smartphone. Maybe I could just go a few weeks without reading a book?
But none of these options appeal to me. I have tried downloading and reading books on the devices I already own and don't enjoy the experience, and I refuse to buy another electronic device to tote around just to read books. I can go about a week without reading a book, but more that is difficult for me. I love to read a good book on long train and plane rides, while taking a relaxing bath, and each evening before going to sleep.
But if you are like me, you love the feel of a good book in your hands and you simply can't imagine reading all your books on an electronic device. I like being able to manipulate the book and feel the weight of it in my hands. I like that it doesn't need to be charged and is always ready to be read. It doesn't have electronic errors and sunlight doesn't make it impossible to read. If I drop it, it won't break. If it gets damp from a bath or the beach, it dries out. A book, not matter how enjoyable, is unlikely to be a targeted by a thief, and if stolen, I can easily afford a new one. Seeing the cover of a memorable book can cause perfect strangers to strike up a conversation with you that would have been unlikely if they only saw the back of an e-book reader.
Ok, so enough of my ode to books. Yes, books are great but they still take up too much space. So if you happen to share my love of traveling with actual books, what can you do if you don't want to lug around a suitcase of books? Below are some tips that we have used ourselves or saw others doing during our travels that can help improve your experience of traveling with books.
Tips on Choosing and Packing Books Before You Leave
Purchase secondhand books to take along on your trip at your local library, book store, or thrift store. We especially like to buy secondhand books that are set in the locations we are going to visit or written by authors from the countries we are going to be visiting. Hemingway's A Moveable Feast is twice as good if read in Paris (trust me!).
Take only one or two books, just enough to get you through the first long leg of travel and the first few days. You can then discover new books during your travels.
Reduce bulk and weight by choosing paperback over hardback books.
If you are traveling with other people, choose books you can swap with your travel partners.
Buy city or regional guidebooks instead of full country guides if you only plan to visit a single city or region. For instance if you are only visiting London while in England, you don't need a guidebook to the whole country.
Take apart guidebooks and only take the sections you need for your trip. If you have a guidebook to Vietnam and are only visiting the Red River Delta area, just take the relevant sections.
Sign up for BookCrossing, which is a free website that connects you to a community of fellow book lovers. After joining, you can print out labels and put them in your books. Then after you finish reading the book on your trip, you can leave it and hopefully future readers will find the note and register the book on the site. This way you may be able to track your book as it continues traveling after you are already back home.
If you pack and write in paper travel journals like we do, look for slim compact ones. Oddly, this is one of the items we spend the most time selecting before our trip as it's something we use every day of the trip and hope to keep it forever.
Tips for Exchanging, Donating, and Borrowing Books During your Travels
Once you are finished reading the books you brought along, donate or leave them at the places you stay along the way. Small inns, hostels, and bed and breakfasts normally have a shared bookcase for guest use. Leave your book and borrow a new one.
Keep an eye out for advertisements for book exchanges and swaps at local hostels, coffee shops, book stores, churches, and libraries.
Visit local bookstores, outdoor book vendors, and thrift stores to buy new books and donate the ones you've already read.
Many tourist sites, such as castles, churches, and museums, sell wonderful English books in their gift shops. Buy a book about the place you are visiting so the book can double as a souvenir or gift.
Swap books directly with other people. This is a great way to get to know your fellow travelers. It's an especially great avenue in countries where it may be difficult to find books in English.
Staying in one place for a while? Check out the local library. Very few travelers ever think about using the library, but some libraries will grant non-residents a card for temporary check-out privileges for free or a minimal cost. Even if you can't get borrowing privileges, the library provides a great peaceful place to read and get online. It's also a great place to meet locals, and librarians can be great sources of local information.
Some cities have wonderful English libraries, like the American Library in Paris, which can provide a great place to access not only American newspapers and magazines, but also those travel guides and maps you decided to leave at home to save space. Libraries are great places to plan the next leg of your trip.
We have found that searching for places to leave our books and finding new ones can lead to unexpected discoveries of both books and people. It can expose you to new and unexpected books. For instance, I had always wanted to read The Remains of the Day and finally did so when I discovered it on a shelf in Switzerland. In Provence, I read a book written by a local writer I had never heard of before, and Ethan read The Notebook because it was the only book available. He bashfully confessed to enjoying the book but would have never read it otherwise. The search for new books can lead to passionate conversations with strangers (the Frenchman who gave me his opinion on Hemingway), and lead you to venture into places you may have otherwise overlooked (libraries, church basements, and funky secondhand shops). Give it a try!
We hope that these tips are useful to those traveling with books. Have other tips we missed? Wanna share some of your favorite spots for finding new books while traveling? We'd love to hear from you!