As I have been travel blogging for several months now, I have begun to realize how important my blogging space is to me—by which I literally mean my physical blogging space. This past week, I have been trying to write posts from a hospital as Ethan has been recovering from surgery this past week (he was born with a congenital heart problem), While I thought that having hours and hours to sit around each day would allow me to still blog, I haven't written a single post this past week. In addition to the obvious stress of the situation, the hospital is not a place I can work with bustling healthcare professionals, loud beeping sounds, blinking lights, and constant interruptions. I recently wrote a guest post on Kate's Diary of an Essex Girl blog about physical blogging space after a recent move, and this last week trying to work in a hospital only made me think more about how important a good blogging space can be.
Travel blogging—or any type of blogging for that matter—can be easy sometimes with the words just pouring out and other times it can be quite frustrating and difficult to get a post completed. At least this is how it goes for me. Sometimes when I sit down to my laptop to write a post, I can't decide what to write about or I just find it too hard to actually type out what I am thinking in some sort of logical, readable manner. I have set a very general blogging schedule for myself of three posts per week with no specific days of the week set; however, even with this schedule I sometimes get behind and don't complete three posts within a given week. While there are a number of reasons (i.e., excuses I tell myself), one of the things that I have found which makes this process easier for me is having a good physical blogging space. An area where I feel comfortable and can sit down without a lot of interruption and get my thoughts typed out.
While you can of course write good stuff anywhere (in fact, many travel bloggers write as they travel) I think that having a good blogging space makes it a heck of a lot easier. We recently just moved and I have not been able to manage to keep up with my three posts a week and part of this is due to not really having a good space to work during the moving process. However, while at my old apartment I had a desk, I always found the area to be too dark and I always felt sort of cooped up at my desk. I would sometimes have to force myself to actually sit there and work while feeling like I would rather be doing something else. One of the things I realized is that I really enjoy having some outdoor space and so when we moved we chose a space that was smaller and older, but came with a large patio. This patio space has become my new office space and place where I can do my travel blogging—well, in good weather anyway. I also still have a small desk inside next to a window for those days when it is cold or rainy outside.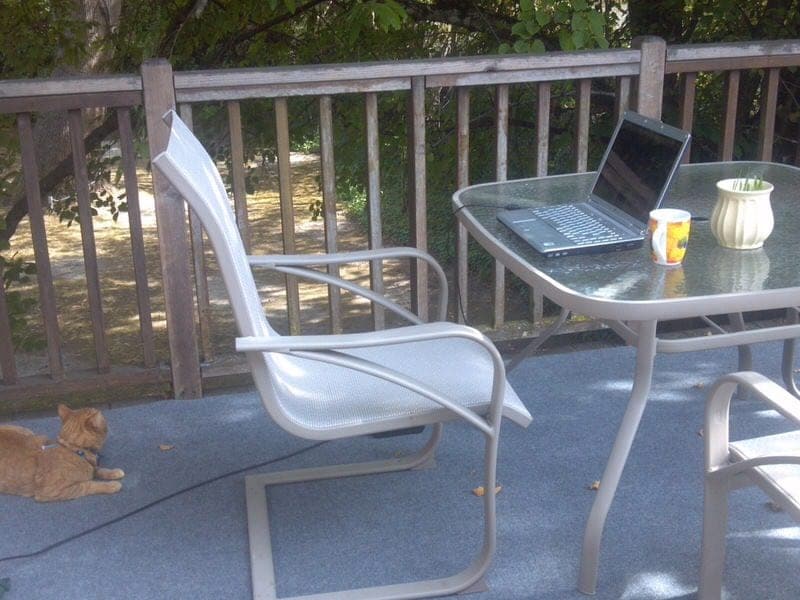 What Do you Want in a Physical Blogging Space?
This led me to think about and make a list of some of the ideal things I would like to have in a blogging space (in no particular order) and to what degree I've been able to incorporate them into my new blogging space:
• Space – CHECK – The patio table allows plenty of room for my two most important things: my laptop and cup of coffee or tea! So far the patio table and chair is working out as an adequate office space although I am a bit concerned that a patio chair may not be the best for my back in the long-term.
• Relaxed Atmosphere – DOUBLE CHECK – I often walk outside with slippers or with bare feet, sometimes straight out of bed (well, after a brief detour at my coffee maker) without even stopping to brush my hair. Perhaps I am a bit too relaxed, haha, but I love being able to come to a place I want to actually be rather than feeling like it is just a space to do work.
• Steady Internet Connection – CHECK (tentatively) – Unfortunately, one of the downsides to working on the patio is that we are having Internet connectivity problems. When we first moved in, we had poor connectivity throughout the apartment, which was quite frustrating. But now after having the Internet Service company come out and do some physical wiring, our problems seem to be resolved. Fingers crossed.
• Quiet – CHECK – I have a really hard time focusing and writing when I hear people talking or the TV in the background and prefer to work in silence or with music playing in the background. Most of the time it is super quiet outside here, although there are days when I have to listen to annoying construction sounds and noisy neighbors, but generally I think there will be more quiet days than not. I also just leave my cell phone inside if I don't want to be disturbed.
• Plants – CHECK – We have a pot of cat grass and a planter full of herbs on the patio, not to mention we are surrounded by trees!
• Pets – CHECK – One of our cats Dodger loves being outside on the patio and Dash, our other cat, is slowly getting over his fears that come along with having always been a pampered indoor kitty.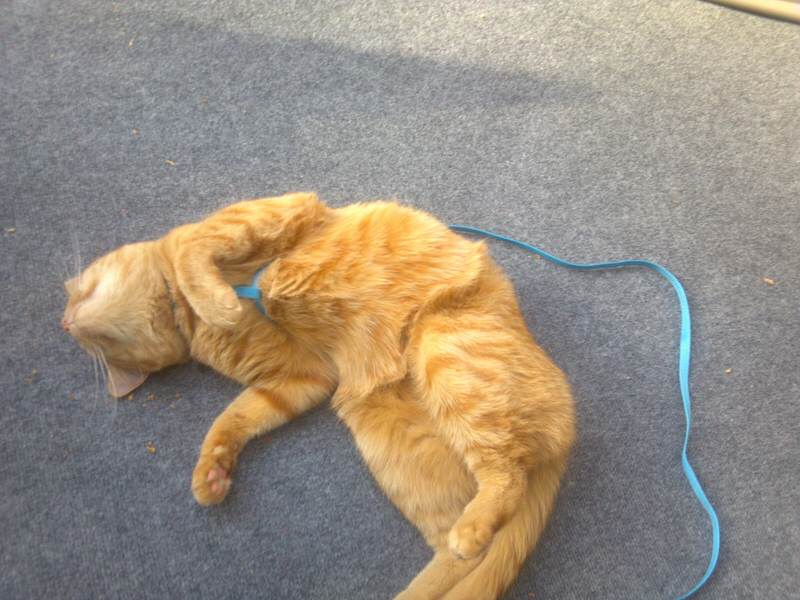 • Fresh Air – DOUBLE CHECK – I never realized how much I missed being outside and not having any outdoor space in our old apartment. But so far I am loving working outside, at least some of the time.
• Light – CHECK (during daylight hours anyway) – Nothing better than natural sunshine, although I am still trying to figure out the lighting situation for when it is dark outside. I really hated how dark it was in our last apartment, even next to the window, and I am so grateful for the opportunity to work in natural light!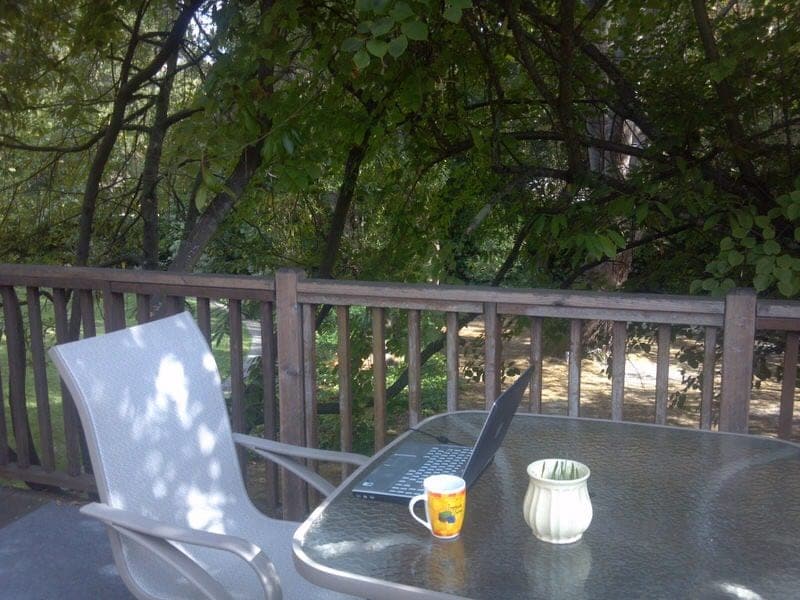 A Good Travel Blogging Space Isn't Going to Make Everything Perfect…But it Sure Helps!
One of my grad school advisors once told me that all I needed to write my Master's thesis was a typewriter and a cat perched on my desk. I think he was trying to say that you need to find a space that you enjoy and I think that perhaps I have finally found that as I've never truly liked most of the places I've had to work during my life (including my current office space at my job). A happier blogging space won't solve my problems with sticking to my travel blogging schedule, but I do hope it will help me feel more motivated to work and stay on track. There are, of course, a lot of downsides to working outside, such as having your papers be snatched away by the wind, having to drag things back and forth from inside the apartment, putting up with the flies that land on your coffee cup, having to brush the dirt out of your keyboard, etc. While for many people, falling leaves, insects, squirrels, and the sounds of the great outdoors may not sound like an ideal work environment, I am loving it here so far, dirt and all.
Do you think your physical blogging space matters? What is your blogging space like and what would be your ideal blogging space?