So you're on your way to your first travel blogging conference! It's a big step in your travel blogging journey, and you can learn a lot from attending a travel blogging conference.
Together we've attended over a dozen travel blogging conferences. Laurence's first one was in Spain in 2012 and mine (Jess's) was in Italy in 2014 (where the two of us first met!). Since then we have attended over a dozen travel conferences as both attendees and as speakers.
Based on all our conference experiences, we wanted to share some tips and advice for attending your first travel blogging conference (or any blogging conference really). Hopefully these will address any questions, concerns or worries you may have and help you make the most of your first travel blogger conference.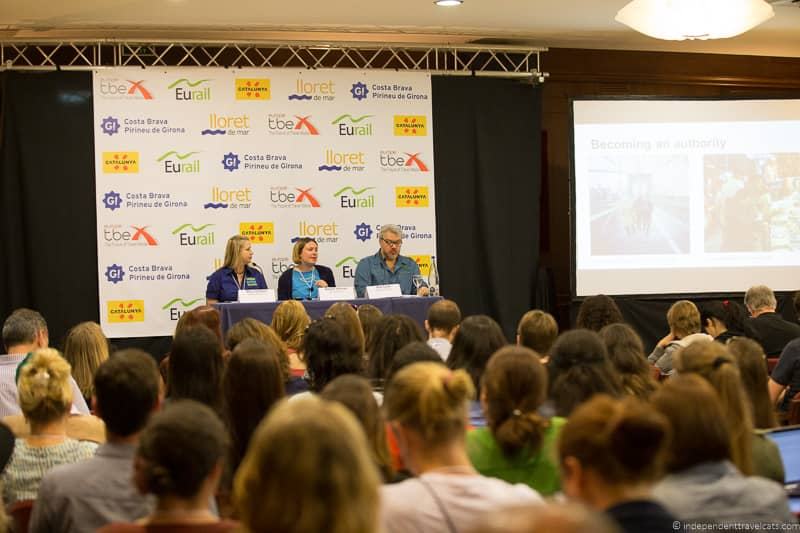 17 Tips for Attending your First Travel Blogger Conference
Our tips for attending a travel blogging conference do, of course, apply to other types of conferences and professional events as well.
1. Research the Travel Blogging Conference
This may seem obvious but you should read as much as you can about the conference in advance so you know what to expect, and whether this is going to be the right conference for you.
If the conference has taken place before, you might want to reach out to former attendees and ask what they thought of it to learn if it will be a good investment of your time and money. If it's a new conference, do some research into the conference organizers and their background, to check that it is legit. Do bear in mind that any new conference is likely to have some glitches despite the best efforts of the organizers.
There are a number of travel blogging conferences out there but not all are geared to the newbie blogger so you'll want to make sure there is content geared to where you are in your blogging journey.
The longest running (since 2009) and largest is TBEX (Travel Blog Exchange) which holds 2 to 4 annual conferences each year. TravelCon is a new one run by popular blogger Nomadic Matt that will have its first conference in 2018. But there are several others out there and we've been to a number of them. If you have questions about a particular conference feel free to ask us in the Comments section below.
Once you've decided to attend, you should figure out if there are any important deadlines. Many conferences offer a reduced conference fee for early registration for example. Others may offer discounted hotel reservations if you book early.
A number of conferences we've attended also have special meet-and-greet sessions, speed networking sessions, special workshops, and/or blogger tours, all of which usually have to be signed up for well in advance. You definitely need to learn when these will be available to sign up for so you don't miss anything you really want to do.
If the conference has an email mailing list or Facebook group, you should join these so you don't miss any relevant news.
It's also important to understand the structure of the conference. For example, will the programming all take place in one building or will it take place in multiple locations? What is the focus or theme of the conference? What kinds of people are attending? Will there be organized tours or press trip opportunities before or after the conference?
Treat this as an investment in your blog and your business. Being fully prepared and going in with your eyes open will make your time at the conference easier, and make sure you don't miss anything you really want to see. It's your time and money that you are investing, so it's important to make sure you get a great return on that investment.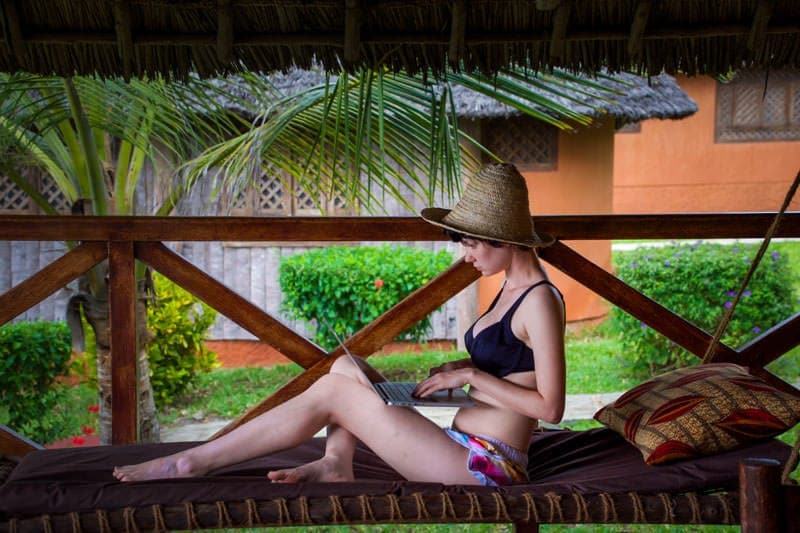 2. Define Your Goals
When you've decided to attend your first conference, it's important to decide what your goals for attending are going to be. Is it to learn technical aspects related to blogging? Is it to develop business opportunities? Is it to learn a specific skill? Is it to meet specific attendees?
Whatever your goals, it's good to have a defined set of outcomes you'd like from the conference. If you have a lot of goals, as we often do, try to focus on those that are most important as it's not going to be possible to do absolutely everything.
If your goals include meeting other bloggers or brand representatives, it is often a good idea to reach out ahead of the conference to try to schedule a time to meet. Once you are at the conference it will likely prove more challenging, so arranging a mutually convenient time ahead of the event itself will be more fruitful.
3. Organize Your Conference Schedule
Before the conference, you should save or print off the conference schedule and figure out what parts of the agenda you plan to attend as there are typically multiple events going on at any one time at larger conferences.
You might want to create your own spreadsheet in Excel or another program to make a personalized schedule that just includes the things you want to attend. Be sure to also include social events, organized meals, press trips, and any additional meetings you have set up that may not be on the main schedule.
Obviously attending the full conference will allow you to see, learn, and do more than if you only attend for part of the conference. So you may want to double check the conference dates and if there are any pre- or post-events before making your travel arrangements.
Try to be realistic when setting up your schedule as back-to-back meetings may not be a good idea at larger conferences as the distance across convention centers can be very large and some events may be in separate buildings.
If there is loads of great content and you can't get to it all, you could see if the conference is offering any kind of session recording, so you can catch up on it later. Alternatively, find a "conference buddy" who you can split sessions with and compare notes with later.
It should go without saying that it is very important to show up to all scheduled meetings on time and if you tend to be someone who shows up late, try to arrive early. Nothing makes a bad first impression like arriving late or missing an appointment with an industry contact!
4. Be Prepared
Before you leave for the conference make sure you have all the things you'll need throughout the conference. Find a professional looking bag, backpack, or organizer that you feel comfortable carrying around all day that you can store all your daily essentials in.
I personally often carry a tote bag similar to this one, and Laurence has a bag like this one (although I normally end up carrying everything in mine!). We also both own these zippered personal organizers and sometimes just take these to meetings as they hold our business cards, media kits, and notepaper for taking notes.
Each person's needs for a conference will vary, but some things to consider for your day bag may be:
Conference Schedule and list of any appointments
Water
Snacks
Breathmints
Cosmetics/hygiene products (e.g., chapstick, compact, comb, tissues, etc.)
Pens/pencils & Notebook
Jacket or Cardigan (I often wear this travel sweater and Laurence normally wears a black sports jacket at conferences)
Laptop or tablet if you prefer to take notes this way
Travel power strip (good when outlets are limited & we always travel with one – I have used this one since 2011)
Power plug adapters to be able to plug in your devices (if traveling to a country with different electrical plugs)
Phone & Battery pack or charger for your phone
Business cards
Copies of your media kit
You'll also want to think about where you will be storing all the handouts, business cards, and brochures you'll be collecting from people throughout the day!
5. Don't Sweat the networking
One common piece of feedback we hear from attendees is that they don't really like networking.
We hear you.
First, it's important to know that you are not alone! A great many people don't like networking, so don't beat yourself up about it. It's definitely something that gets easier with practice, but it doesn't come naturally to everyone, and it's not the end of the world.
Nearly every conference will have a series of mechanisms in place to make it easier to meet people, be that speed networking, break out sessions or small group meetups for like-minded people.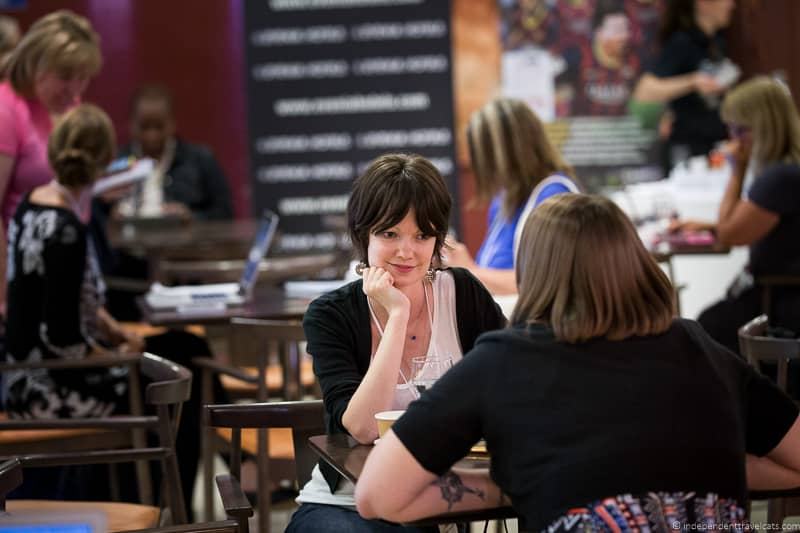 Many conferences also have a "welcome" session for new attendees. This is a great opportunity to meet other people who might be new to this type of conference, who will probably be feeling the same way as you.
Another option is explore pre-conference tools for meeting other attendees virtually. For example the conference is likely to have a Facebook group for attendees. You could also follow those talking about the conference on Twitter or other social media platforms. Chances are you probably already virtually know some of the other attendees from the online blogging world.
if you don't know anyone attending, we'd suggest it might be a good idea to reach out to a few people at the same stage of blogging as yourself and introduce yourself. If they are also in your particular niche (e..g, solo female, airline points, budget travel) even better. This will at least give you some familiar names to aim for at the conference itself.
One other thing you might notice if this is your first conference is that it may seem like many people do seem to know each other already. This might seem like you are somehow being left out, but don't fret about it.
Conferences like this, especially in a relatively small community like travel blogging, are often a great way for people who have been around for a while to meet up and catch up, and naturally they'll be taking full advantage of that opportunity. This doesn't mean they're not interested in chatting with you though! So don't feel intimidated to introduce yourself to someone you see as a "big blogger", they don't bite and most will be happy to chat with you.
6. Don't Expect to Meet Everyone and do Everything
A common mistake prior to attending a first conference is the idea that you will be able to meet everyone you want to as well as attend all the sessions, break out groups, and events.
The reality is that in a conference environment, where there may be anywhere from 200 to 1,000 people in attendance, as well as possibly hundreds of scheduled events, it's just not always going to be possible to meet everyone and do everything.
In addition, even if you did manage to meet everyone, many of those meetings are likely going to be fleeting and superficial.
We think it's better to focus on meeting just a few people, but spending a bit more time with each one and really developing a more in-depth relationship. We'd also suggest focusing on those sessions that you really think you will learn from rather than trying to see everything and getting overwhelmed.
One other thing that can be disconcerting at a conference is when someone you meet in real life is entirely different to their online persona. This is pretty common in the blogging space and can be a bit jarring. But its good to remember we're all human and sometimes we present differently online verses in person.
7. Dress for Success
If you are planning to meet with travel industry professionals, you'll want to dress in a professional manner. This doesn't mean you have to wear a suit, but you should dress in manner that makes you look like someone who can be taken seriously and will actually deliver on your promises.
Of course, it is important to be yourself while striking a nice balance between dressing up and being comfortable. Comfortable shoes are a must as you'll likely be on your feet a lot during the day and as a travel blogger, you never know when you'll be off on some city walking tour or hike. Unless you wear high heels regularly, try to avoid them at conferences and your tired feet will thank you!
Remember that most folks in the marketing world are not full-time hard-core travelers and will come nicely dressed to the conference and will expect you to have at least put some effort into your physical presentation.
That said, there are generally no dress codes at blogging conferences. We've seen some people come looking like they rolled out of the bed of a hostel, people dressed in pretty revealing outfits, and at least one person who seemed ready to head off onto an African safari.
We'd recommend that you avoid standing out because of the way you are dressed (e.g., "safari man" or "girl in miniskirt"), and go for something that is both comfortable and professional looking.
Business casual is a very appropriate look for these conferences. Laurence and I often wear T-shirts with our blog branding under a jacket or cardigan with a nice looking pair of pants (black, navy or khaki usually). Obviously if you are starting out you probably don't have a branded t-shirt, so any nice looking shirt or blouse will do!
Of course, once you are well known in the travel blogging space, the less appearance matters. Gary Arndt gave an opening keynote talk at TBEX Europe in jeans and sandals and hey with 10 years of blogging you can definitely do that! But as a new blogger, you're making a first impression so try to put your best foot forward.
8. Know Your Travel Blog
It is really important that you know your travel blog. By this, we mean you should know at least the following, which are questions you are likely to be asked:
How many people read your blog (or view your videos, etc.)?
Where are your readers based?
What is your audience demographic (age, gender, income, etc)
What social media following do you have?
What is your blog's niche?
What separates you from the crowd?
How much experience do you have in working with brands?
The first four are easy enough and you can easily find the numbers and information available in Google Analytics. The numbers that most brands will be interested in will be your unique visitors per month, and your page views per month. They'll also want to know the top 3 or top 5 countries where your readers are from, and their approximate demographic information.
In terms of your blog niche, it's important to know what your focus is, and to easily be able to qualify that with example content. For example, if your main focus is budget or backpacker travel, then you should be able to easily point towards some great content you've created in that area, and also to explain why it is you are passionate about this niche.
Standing out from the crowd is definitely always a challenge in a conference environment, but try to identify what makes your blog unique to you, and why a brand might want to work with you over someone else. It might be your unique story telling style, your particular niche, a particular skill or personal background, or the style of your videos or photos. It might just be that you have a compelling story. Whatever it is, figure it out in advance.
Finally, if you are thinking about pitching to brands, it's important that they see you as someone trustworthy and experienced that they want to work with. If you have already worked with brands, that is a great head start, as you can point to successful collaborations you have had in the past. If not, don't worry. Maybe you have some great comments from readers you have helped with their travel planning, or previous work experience that you can point to.
Once you have all of the above, you'll want to be able to condense it down into a concise description of yourself, your blog, and what sets it apart from other travel blogs that can be said in approximately 1 minute. Also known as an "elevator pitch".
If you are nervous about talking to professionals about your blog, practice giving an "elevator pitch" about your blog to a friend until you feel more confident. This is also a good time to click through your blog and make sure your home page, contact information, About Me section, etc. are up to date and that your blog is looking its best.
9. Know Your Conference Audience
Once you can recite your social media statistics, explain your blog's niche, and have a good 1-minute elevator pitch about your own blog down, you need to focus on getting to know your conference audience.
Head to the conference website and begin researching who else will be there (bloggers, speakers, exhibitors) and make a list of the people who you would like to meet and why. Learn a little about the person, destination, or tourism board before the conference and come prepared with what you'd like to ask them or how you think you might be able to collaborate with them. You need to think about what you can realistically offer a business partner and how you can help best promote their product, service, or destination.
In many cases if it is not already part of the itinerary (e.g., "speed dating" or meet-and-greet sessions), it can be a good idea to try to set up meetings with those you are most interested in meeting before the conference so that you are sure to get a chance to talk with them.
Remember that people are very busy during conferences, so be respectful of people's time and only ask for short meetings (10-15 minutes) and just know that they may need to take place while grabbing coffee or walking to a meeting. This is why having a very concise description of yourself, your blog, and the purpose of the meeting is so vital!
10. Promote Yourself as a Travel Blogger
Along with the prior tips about knowing yourself and your audience, you need to be a good salesperson. Think of yourself as a one-person marketing-sales-cheerleader team for your blog as you will need to promote your blog and yourself throughout the conference. If you just sit around and don't take the initiative to go up and talk to people, you'll likely find yourself missing out on a lot of potential relationships and collaborations.
If this is your first conference, you might want to start with just initiating conversations with other bloggers to build your confidence in order to approach the marketing directors, PR agents, and travel industry experts. Most people feel anxiety about approaching strangers (it's totally normal!), but once you get over the first awkward few seconds to introduce yourself, you'll begin to feel a lot better. Just know what you plan to say before you cross the room and you'll be fine.
During conversations, remember you are there to sell your blog and promote it, so remember to be confident and point out the strengths and unique aspects and don't let yourself get pulled down into saying things like "well I don't have a lot of followers yet" or "my blog isn't as big as his". It may be true that you don't have a big social media following yet and you want to be completely honest about your statistics, but you want to try to focus the conversation on the highlights and what you can offer rather than the areas of weakness.
If you get a sense that the person is not interested, start ending the conversation, hand them your business card, and thank them for their time. Move onto the next person and don't dwell on conversations that don't go as well as you planned as you'll likely be surprised by how well most conversations do go.
11. Be Professional at all Times
It's important to remember you are at a conference, and you are representing your blog and brand at all times. It is likely that people you want to work with are eating in the same restaurants and drinking at the same bars as you before, during, and after the conference. So being professional throughout the conference is important as you never know when you will run into people.
This doesn't mean you can't be relaxed and have a bit of fun, but you might want to save your serious partying for after the conference ends. Blogging is still a fairly new profession and there are many people who don't take bloggers very seriously, so try to be a good ambassador for the good of bloggers everywhere.
It is also important to play well with other bloggers.The professional travel blogging world is fairly small, and the chances of running into the same people again are high. You also never know when a brand representative will ask another blogger for a recommendation for other bloggers to hire (it happens all the time), so maintaining positive relationships is definitely something to strive for.
12. Make (or Update) your Travel Blogger Media Kit
We think a media kit is really important for quickly getting across the message of what your blog is about, who you are, and why someone might want to work with. These don't have to be lengthy affairs or overly complex designs – just one or two A4 pages will suffice.
If you do not have a media kit, we would suggest spending a little bit of time learning about them and looking at some examples so that you can create one of your own.
These are often created by bloggers using tools like Canva (what we use), Photoshop, Publisher, PicMonkey, or some other image service, which are then converted into an Adobe Acrobat PDF file. You can check out a good introduction post to creating media kits (and lots of examples) from Blog Maven.
Briefly, media kits should include an introduction section that briefly describes yourself and your blog, your website statistics, readership demographics, social media follower numbers and links, your contact information, services you offer, and any examples or testimonials from past partnerships/sponsorships (if you have them). Most are 1 or 2 pages long (ours is 2 pages or 1 2-sided page).
The media kit should be visually appealing and reflect you and your blog so do put some time into it as it might be the primary factor that a potential partner uses in deciding whether to work with you or not. Although it should reflect you and your style, make sure it is easy to read, professional looking, and includes all the relevant information.
For those of you who already have a media kit, make sure you look it over carefully and make any updates to your graphics, website statistics, contact information, etc. as needed.
Bring along plenty of paper copies to the conference and also have a digital copy ready to be emailed or viewed online. Be sure to print anything you need at home as hotel printing and copying services can be very expensive.
13. Invest in a Good Set of Business Cards
At conferences, business cards are very much alive and well, and they are still the primary way to get your contact information into the hands of other professionals.
It is a wise idea to invest in a set of business cards for your blog and keep these handy at all times during the conference. At minimum your business card should list your blog name and web address, your name, and your contact information.
Other things you might want to include (you'll have to pick and choose with limited space): blog logo, a photo of you, your primary social media links, and any other vital information. The cards should be a good representation of you and your blog so you should try to choose a design that matches your blog or custom design your own.
Here is our both sides of our latest card (note we now just use 1 card for both of our blogs):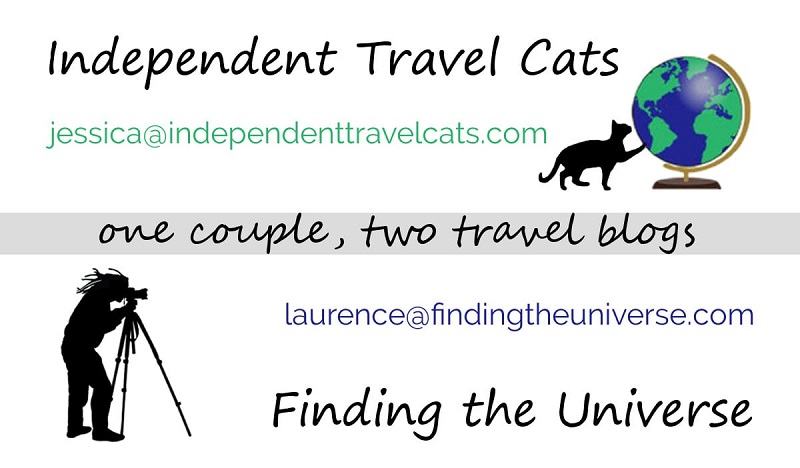 Other things you might want to include (you'll have to pick and choose with limited space): blog logo, a photo of you, your primary social media links, and any other vital information. The cards should be a good representation of you and your blog so you should try to choose a design that matches your blog or custom design your own.
We recommend sticking to standard business card size (rather than squares or larger postcard ones) as cards are easiest to store together when the same shape and size. Although they can be stylish and "different", many people receiving the odd-shaped business cards find them annoying.
Depending on where you will be and who will be at the conference, you might want to get some bilingual cards printed. For example if you are Italian but going to an English language conference, it might make sense to have English cards (and media kits) printed.
I would not invest a ton of money into business cards, especially if you are new to blogging. The average person who takes your business card will take it back to the office, input the most relevant info into a Spreadsheet or Email contact list, and throw it away.
There are a number of online companies that sell customizable business cards and VistaPrint and GotPrint are great for cheap and fast cards. Other more premium services include Minted and Moo. We've used all of these at some point, and it just depends what you are looking for and where you are based (most don't ship worldwide).
14. Take Good Notes
Travel blogger conferences are often filled with talks, presentations, and workshops as well as plenty of time devoted to meeting travel professionals and socializing with other bloggers.
Chances are you are going to be meeting a lot of new people and be exposed to a lot of new information and ideas. You might think at the time that the social media tips, cool SEO tricks, and name of that French blogger you just met are pieces of information that you are going to remember without any difficulty. But if you are like most people, after a few days of constant information overload, you are bound to begin forgetting things. So it is good to remember to take down notes.
We recommend taking notes during the presentations about things you want to remember and who said them. When you meet someone at a conference, jot down something to help you remember them on the back of their business card or on your notebook.
When you get home from the conference you are likely going to have a lot of papers, handouts and business cards, but having short notes on them will help you remember and organize them effectively.
15. Follow up After the Conference
Conferences are a whirlwind of events and activity and you'll likely be exhausted. Often there are post-conference meet-ups with other bloggers and blog tours to head to as soon as things are over at the exhibition hall.
However, you'll want to take some time when you have a break to go back through your notes and send out thank you emails, follow-up on business ideas, and get in touch with new blogger friends.
Remind busy industry folks of the potential projects you discussed. Connect with new blogger friends on social media and start following their blogs as they'll likely return the gesture which can help you stay in touch.
If you think that the other person take the initiative, you'll find out that most people are as overwhelmed with information as you. So they are hoping you'll take the initiative to further the business partnership or cultivate the connection!
16. Don't Stress
If you are new to travel blogging (maybe you haven't even launched your blog yet!), it's possible that you've read all the above and are getting a bit stressed.
Don't. Remember that everyone has started somewhere, and it may be that you just don't have all the answers to the above questions yet. Don't worry.
Our advice in this situation would be to treat the conference as a giant learning experience, which you can use to help shape your direction. Go to sessions that you think will be of most benefit to you and that are aimed at your current blogging experience level. Chat with bloggers in the same stage of blogging as you as well as those who have been doing this for a while. Practice your networking skills. Attend the sessions which focus on helping you improve your craft (video, writing, and photography). Enjoy yourself.
Don't worry about what other people are doing, the meetings they may be having, or the successes they might be reporting—it is easy to start feeling like you are missing out or not doing as well as everyone else. Remember that everyone is at a different point in their travel blogging career, and the important person to satisfy at this conference is you.
Just remember that travel blogging is a marathon, not a sprint. Just attending your first conference is a major step in that journey, and we're sure that you are going to take home some great lessons, experiences, new contacts, and ideas for your own blog.
17. Don't Forget to Celebrate!
Don't forget to take a breath after the conference, relax, and be grateful for all the good things about the conference. Take stock of all the new information you've learned, business contacts you've made, new places you've seen, and new potential friends you've made!
These are the reasons we go to conferences so don't forget to appreciate them before running off to the next press trip or travel blogger conference!
You might also want to read our guide to becoming a professional travel blogger, which has information on everything from creating great content to how to make an income as a blogger.
If you're planning to attend a travel blogging conference, don't forget to pin this article on Pinterest to read later: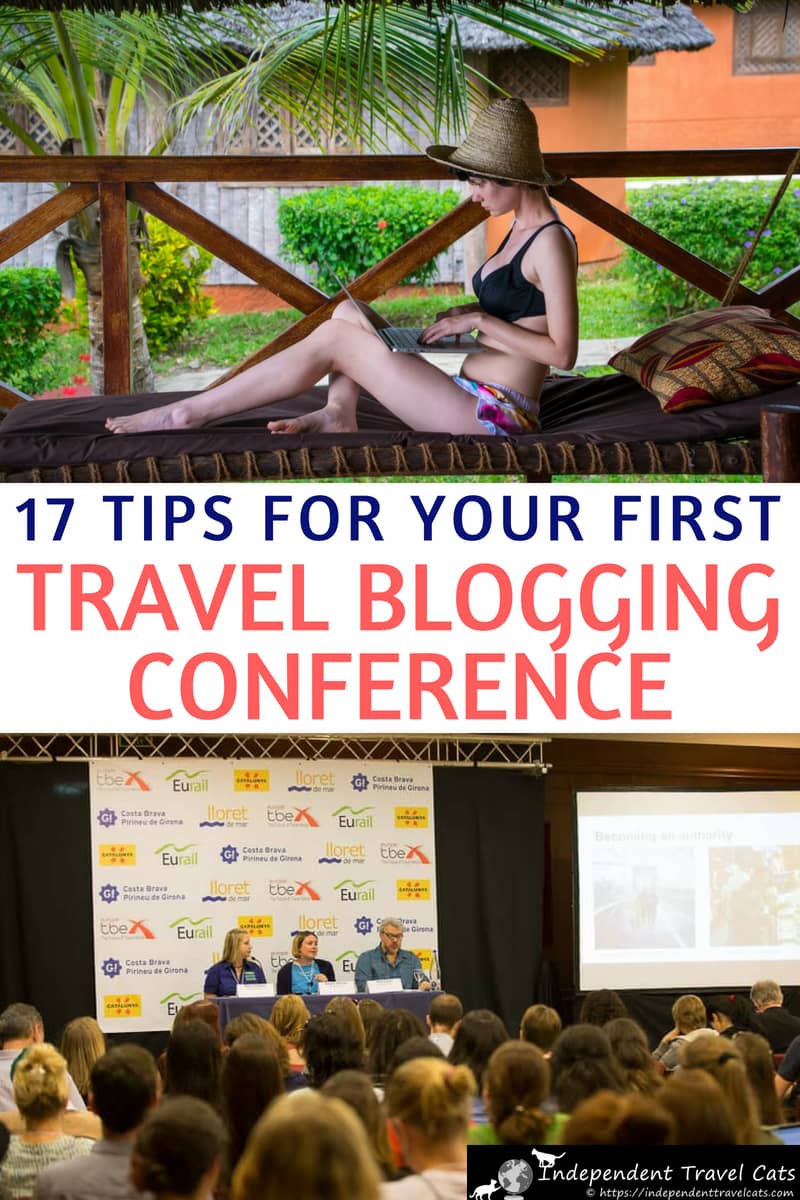 Have you attended a travel blogging conference? Have questions about attending your first travel blogger conference or want to share some tips or advice with us from your own experiences? As always, we love to hear from you!