One of our first thoughts when we heard that Ethan may have to get a pacemaker was "what are the restrictions related to traveling with a pacemaker?".
As some of you probably know, Ethan was born with a congenital heart condition and recently had his fourth open heart surgery. While this last surgery was successful overall, a complication of the surgery led to Ethan having a prolonged stay of 3 weeks in the hospital and the insertion of an internal pacemaker. A pacemaker is essentially an implanted medical device that uses electrical impulses to regulate the beating of the heart to treat disorders that cause the heart's rhythm to be too slow, fast, or irregular.
Interestingly a search of the Internet turned up only a handful of articles related to traveling with a pacemaker and we wanted to share what information we discovered based on our research and discussion with medical professionals about this issue. While we specifically will focus on issues related to traveling with a pacemaker, much of this information may also be helpful for those wanting to travel with other heart-related implantable devices such as cardiac resynchronization therapy (CRT) devices, implantable cardioverter defibrillators (ICDs), and insertable cardiac monitors.
We'll share tips and advice related to travel with a pacemaker and also Ethan's own personal experience and thoughts on flying and traveling with his new pacemaker.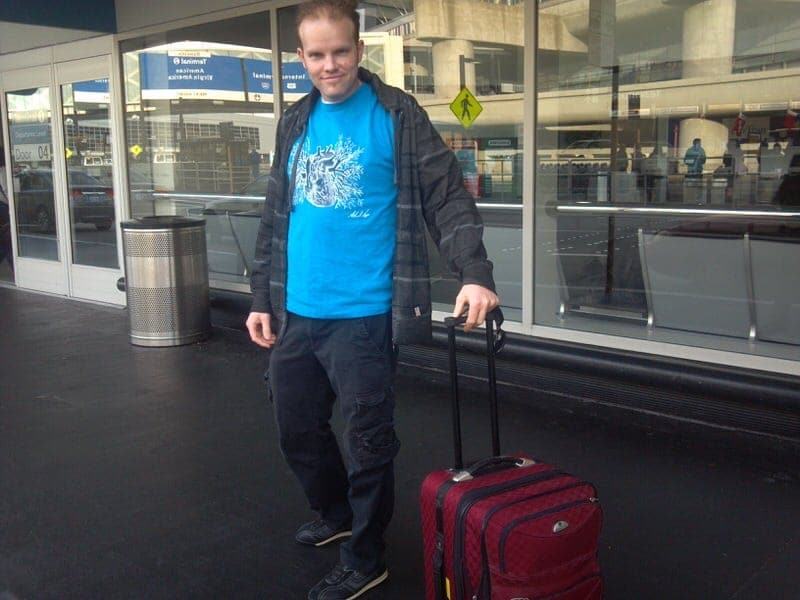 Traveling with a Pacemaker
One of the great things we discovered about pacemakers is that the technology for these devices has come a long way since their initial invention. They are smaller, last longer, and cause fewer disruptions in one's daily life than ever before. Generally, traveling with a pacemaker is safe and there are few, if any, travel-related restrictions.
The two primary concerns are generally related to either electromagnetic compatibility (electrical devices that could interfere with the functioning of the device) and activities that could potentially cause rough physical contact at your pacemaker site and damage the device. Most potential travel problems with a pacemaker can be avoided by being prepared before your trip.
**Disclaimer: Neither of us are physicians or experts in cardiac devices and these are not medical recommendations. This advice and all thoughts in this article are simply tips we discovered in our own research on travel and pacemakers. Please consult a trained health care professional for any concerns you may have about traveling with your cardiac device.**
Set Up an Appointment with your Doctor Prior to Your Trip
It is generally recommended that you set up an appointment with your doctor before you leave for a trip to have your device tested, talk about any specific care or activity recommendations, find out what to do if you do happen to experience any discomfort or symptoms, and find out how to access emergency services while at your travel destination.
If you plan to engage in any recreational activities that you might be particularly concerned about (e.g., SCUBA diving, ziplining, bungee jumping, shooting a gun), you should ask your doctor specifically about these activities to make sure they are safe. Some of these activities may not be recommended for someone with a pacemaker and/or cardiac issues.
If you will be traveling with others, you should also share any relevant information with them in case of an emergency so they know what to do.
While you may have few, if any, travel restrictions related directly to your pacemaker, there may be concerns related to your underlying heart condition, medications, or other medical conditions. If you have any concerns, ask your doctor.
Register and Gather Information about Your Pacemaker
After you get your pacemaker, you or your health care professional likely completed either a paper or online registration for your pacemaker. If you have not yet registered your device with the medical device company, do this now and make sure you get an ID card for your pacemaker.
If the manufacturer does not offer an official ID card or you don't have time to get one before your trip, you can download this Pacemaker ID card template from the American Heart Association and fill in your information.
If traveling internationally, you might also want to get an international travel ID card, such as this one from Medtronic.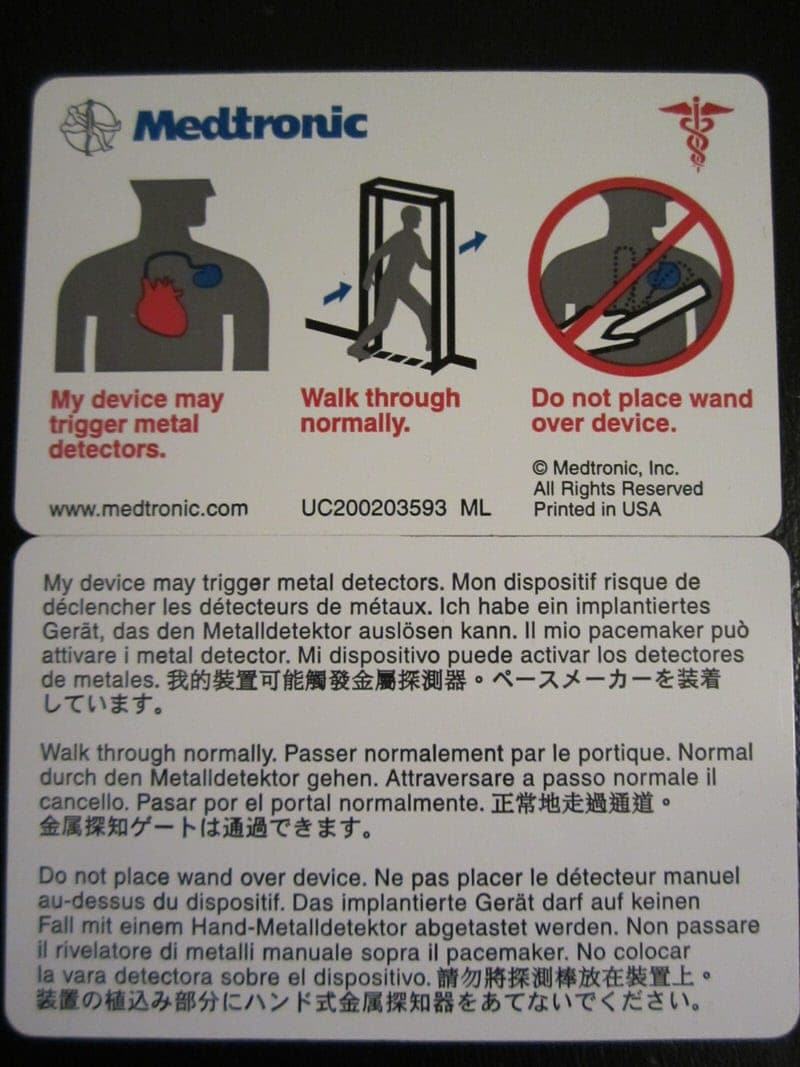 Make sure you know the pacemaker manufacturing company, device type, model and serial number, and emergency contact information of your doctor who is familiar with your pacemaker. Most of this information should be on your patient identification card along with your home contact information, but if not, find it out and keep it with your ID card.
Also, if any of the above information changes, such as you get your pacemaker replaced, you change your doctor, or your contact information changes, please be sure to get an updated ID card.
Review the Activity and Device Restrictions Related to Your Pacemaker
After your pacemaker was inserted, you likely received information from your doctor about any restricted activities and a list of devices that have electromagnetic fields that you should avoid close contact with as they may interfere with the working of your pacemaker.
You should review this information prior to traveling as while these things may not be concerns in your current daily routine, people often engage in activities and interact with devices while traveling outside of those they normally encounter.
Some common things that may interfere with pacemakers are electromagnetic devices like anti-theft metal detectors and airport security screening systems and activities like SCUBA diving.
Here are two useful lists about potential restrictions and recommendations: a list from Medtronic of items and activities that might interfere with a pacemaker and these guidelines from the American Heart Association.
However, given that all models and devices may have slightly different restrictions, you should also consult information from the patient manual for your specific device or request this information from your doctor or the device manufacturer.
Pack all Relevant Information about your Pacemaker
Make sure you travel with your pacemaker ID card and have an emergency contact phone number to call if you have questions or issues about your device (make sure it has a number that will work internationally if traveling abroad).
Get a list of local medical facilities at your travel destination that support your device. You may be able to find this online as we did (Medtronic lists clinics in over 120 countries that support their devices) or you might need to talk to your health care professional or device manufacturer. You can find locations that support Medtronic devices worldwide here.
If you are concerned that airport security personnel or medical personnel at your travel destination may not speak English, you should consider getting an international pacemaker travel card (such as this one from Medtronic) or bring along a document in the local language that gives information about your condition and implanted device. Generally, this will not be necessary as most people will understand from the medical symbols on your card, but it is always good to be prepared especially for those going on extended trips.
It is a good idea to have back-up copies of all your pacemaker information and medical contact numbers. You might consider stowing back-up copies in your luggage, giving a copy to a travel partner, leaving a copy at home with a family member or friend, and/or sending a digital copy to your e-mail.
If you have a medical bracelet or necklace, you'll want to make sure you are wearing it during your trip.
What You Need to Know about Airport Security Screening Procedures and Other Security Screening While Traveling
Airport security screening procedures and similar security screening you might encounter at other places when traveling (e.g., embassies, museums, government buildings, etc.) are unlikely to affect the functioning of your pacemaker.
However, do check for any signs near the screening about pacemakers or implanted heart devices such as the one below which we recently saw in a Paris museum and if you see it, be sure to follow the instructions. Normally if you see a sign like the one above, you'll just need to tell the security person and they will do a physical screening and let you bypass the screener.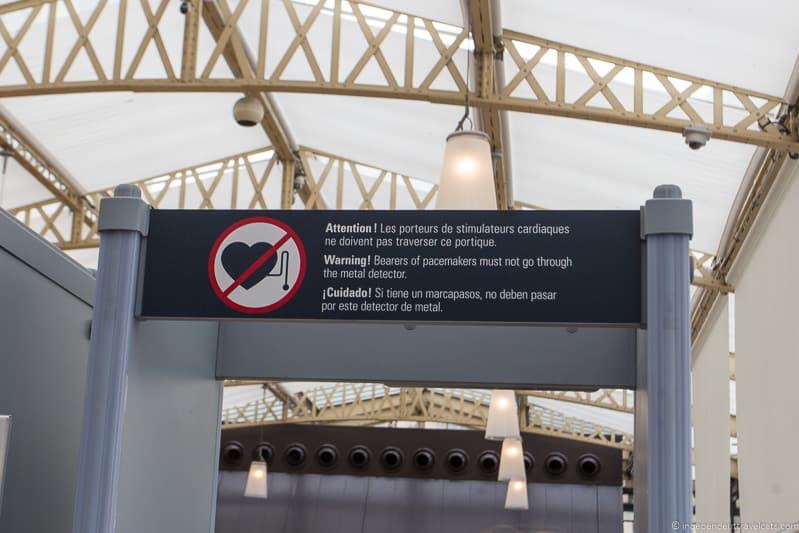 However must scanners are safe for pacemakers. Before walking through an airport security gate, you can let security personnel know you have a heart device, and show your identification card. Then, walk through the archway at a normal pace and move away from the system if you feel any dizziness or rapid heartbeats.
Similarly, if you are at an airport that uses the newer security systems where you step onto a platform and stand in a certain position, just follow the procedure and step away from the security apparatus as soon as you are screened.
Airport security systems are metal detectors, so the alarm may sound when it detects the metal case of your heart device. Don't worry, just show your pacemaker ID card. If airport security uses an electronic wand to clear passengers, ask the security attendant to avoid placing or waving the wand back and forth over your implanted heart device. We did not come across any warnings about pacemakers and actually flying in an airplane.
Note that is you feel uncomfortable going through a security screening device, you can always ask to be patted down manually by staff rather than go through the screener. Once it is your turn, you should show them your pacemaker card and ask for a manual screening.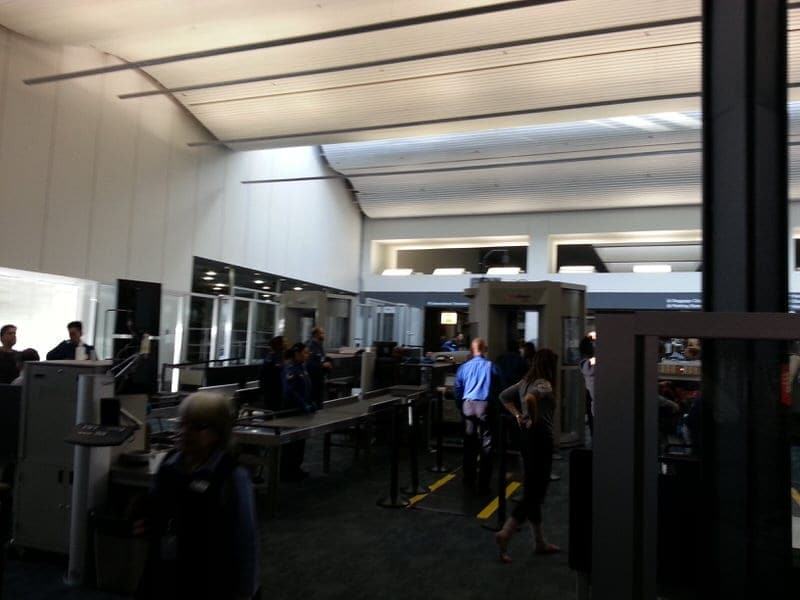 Ask Before Engaging in any Activity you are Unsure about While Traveling
If there is something you are planning to engage in during your travels that you are unsure about, consult a health care professional, or if that is not possible, ask the staff at that particular place. Before you go diving or ziplining, ask to make sure the activity is safe for someone with an implanted cardiac device.
Also, if you are planning to visit a science museum, physics laboratory, technology center, or some other place that might contain devices with particularly strong electromagnetic fields, you should ask at the site to find out if there are any exhibits you should avoid or activities you should not participate in that might interfere with your device.
Inform All Health Care Professionals About Your Pacemaker if you Need Medical Treatment While Traveling
If you need medical treatment, even a simple dental treatment, while traveling please make sure you inform the treating health care professionals that you have an implanted pacemaker and show them your pacemaker ID card. Certain medical procedures (e.g., therapeutic ultrasounds, electrosurgery, computerized axial tomography [CAT or CT] scans, and magnetic resonance imaging [MRIs]) may be unsafe or precautions may need to be taken in order to not cause potential damage to your pacemaker.
Each device may have different precautions and it is good to discuss these with your doctor before you travel so you are informed, but competent health professionals in any country should be aware of these precautions. You just need to make sure that they are fully informed about your device and any medical conditions.
Ethan's Own Thoughts on His First Time Traveling with a Pacemaker
As Jess noted, I was born with a congenital heart condition and have undergone multiple heart operations. During my most recent operation, I had a complication that resulted in me needing a pacemaker.
I really was hoping I would not get a pacemaker as I was afraid of the restrictions, but I didn't end up having a choice. I was initially concerned about everything from having my cell phone too close to my chest, operating the microwave, and even wearing my seatbelt too tight.
I was particularly concerned about how this was going to affect traveling with Jess. We both love to travel so much and have a big trip planned in a few months to Asia. I was thinking at one point that we might need to cancel the trip as I had no idea if I would be able to get safely through airport security, let alone what would happen if my pacemaker had issues in the middle of Cambodia!
I imagine that concerns about traveling (and lots of other activities) are normal for most people getting a pacemaker for the first time. I'll share what I've done so far and how my first travel experience went with my new pacemaker.
At the hospital, my Medtronic pacemaker was registered by my doctor and I later received my pacemaker ID card in the mail. We also called Medtronic Patient Registration Services (1-800-551-5544) and requested a couple of copies of their pacemaker travel cards designed for international travel.
I also read through my patient handbook, talked to my doctor about travel restrictions, and did some online research of my own. While all of this helped some, I was still nervous when I took my first flight after my surgery.
I traveled alone to visit my family in Albuquerque, NM about two months after my surgery. When I got to the airport in San Francisco, I got up to security and told the TSA agent I had a pacemaker. I was informed that the scanner machines are safe to go through with a pacemaker.
Even though I was still a bit doubtful and a little worried, this being my first time traveling with the pacemaker, I walked through and was able to get through security with no problems! I didn't feel any strange sensations or have any complications.
Coming back home, I went through the Albuquerque airport security. Here they actually had some people going through a different type of metal detector, and I was one of those people. So needless to say I thought for sure that I was going to have problems here.
Again I informed the agent that I had a pacemaker but he, not so kindly, directed me to walk through and again I had no issues. The machine did not go off and everything went smoothly. I think that being so young, security people may or may not believe that I actually have a pacemaker.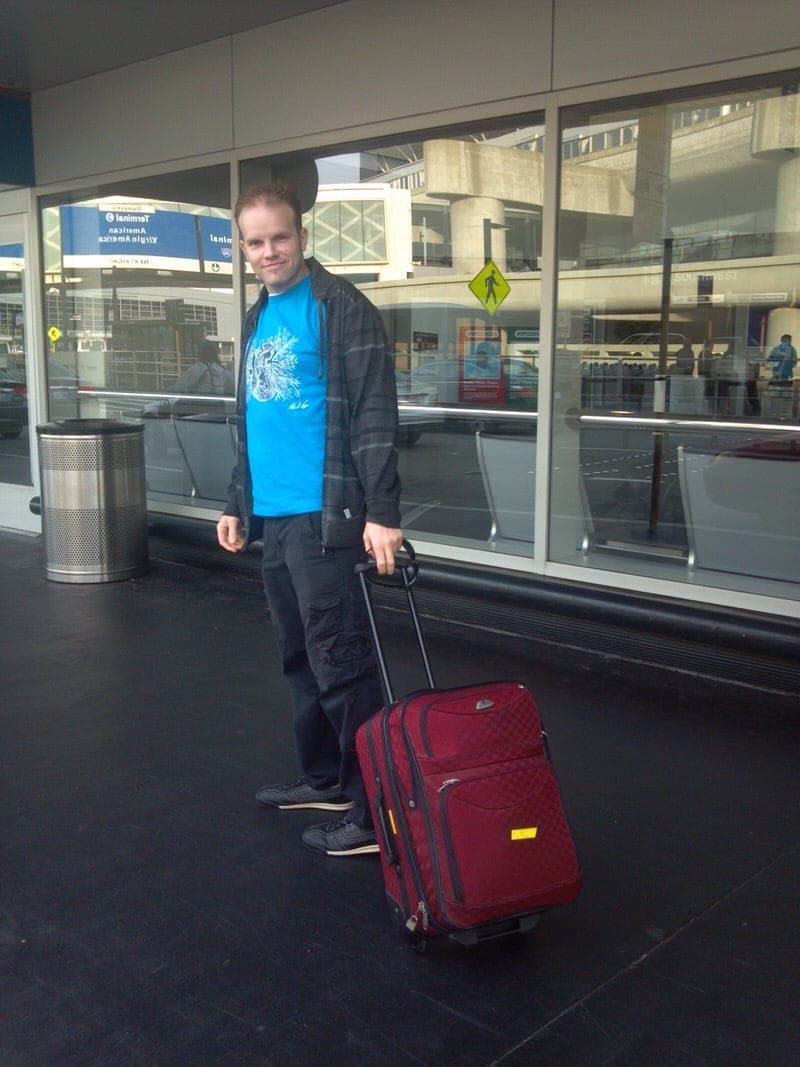 The uneventful trip to Albuquerque and back definitely made me feel safer about traveling as the airport security detectors were the thing I was most worried about. However, another one of the fears I have while traveling overseas is the language barriers and not having good access to medical care if something went wrong. In the U.S. I don't worry about this very much, but I do have to say that I am concerned about this for international travel.
In preparation for our upcoming trip to South Korea, Cambodia, and Vietnam, Jess has already looked up the lists of clinics that support my Medtronic pacemaker and there is only one clinic in the entire country of Cambodia. This was a bit concerning.
While it is unlikely that I will need medical services while there, it will likely remain a small worry in the back of my head during our trip. I do plan, however, to get a medical ID bracelet or necklace to feel a bit safer. But I no longer have any thoughts of wanting to cancel our trip. I look forward to a life full of future travels and I can't let my worries keep me at home.
As I was telling my doctor recently, I am still working on trusting my pacemaker. I am slowly trusting it more and more and worrying less that it is just going to stop working. I try to remind myself that millions of people have pacemakers and many people travel with pacemakers with no troubles every day. I think it is normal to worry, and this worry can be used to make sure we are prepared to travel rather than keep us from enjoying our lives.
If you have questions about traveling with a pacemaker or want to share your own experiences, we'd love to hear from you. Just leave us a comment below!
**Disclaimer: Neither of us are physicians or experts in cardiac devices and these are not medical recommendations. This advice and all thoughts in this article are simply tips we discovered in our own research on travel and pacemakers. Please consult a trained health care professional for any concerns you may have about traveling with your cardiac device.**