Beilstein Germany is a tiny town sitting along the peaceful Moselle River (a.k.a. Mosel River in English). Beginning in France, the Moselle River enters Germany near Trier and meanders to Koblenz where it flows into the mighty Rhine River. While not nearly as popular as the Rhine Valley, the Moselle River Valley is a delightful place to visit as both sides of the river are dotted with castles, vineyards, and cute little villages.
We sadly only had two days to explore this area, and we chose to stay in Beilstein, known as the "Sleeping Beauty of the Moselle" because of its historic inaccessibility and beautiful setting. We'll tell you about our explorations in Beilstein, share some tips on getting there, and give you some pros and cons of staying there versus the picturesque and popular Moselle town of Cochem. We'll also provide a list of accommodation options in both Beilstein and Cochem.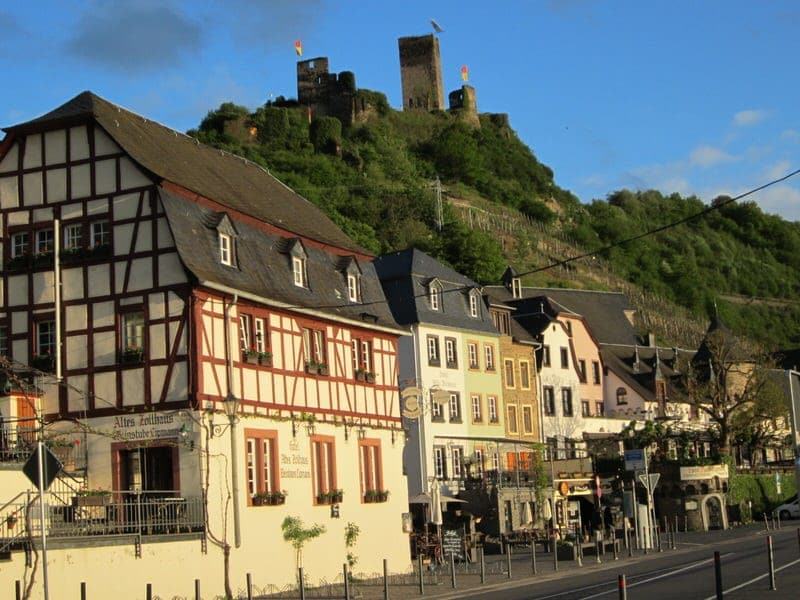 Basic Information on Beilstein Germany
Beilstein is located along the Moselle River about 15 minutes driving distance from Cochem, 40 minutes from Burg Eltz, 40 minutes from Frankfurt Airport, 1 hour from Koblenz, and 1 hour and 15 minutes from Trier.
Getting there?
The best and most convenient way to get to Beilstein is by car, but it is also possible via local bus or Moselle river cruise (seasonal). You can also take a taxi. For bikers, it is possible to get here by bike but it is a long bike ride from most of the other Moselle towns so check distances and maps before setting out.
Car: There is both free and paid parking along the river. Please note there are several places named Beilstein in Germany so make sure you have the correct one along the Moselle River (postal code is 56814). The town is tiny and does not show up on all printed maps.
Bus: You can take a local bus from many of the nearby towns and get to Beilstein, such as Cochem, Koblenz, or Trier. You can check the bus schedule for times and stops.
River boat: River boats come and go along the Moselle from the dock at Beilstein, but these are seasonal so check the Kolb Brothers boat schedule. Note that boats move at a very leisurely pace on the Moselle because of all the locks in the river they must navigate.
Where Can I Find More Information about Visiting Beilstein Germany?
There is no official tourist information office in Beilstein that we are aware of, but there is a town website in German which lists some of the local guesthouses and inns, eateries, and local wineries under the Tourist Information section.
If staying in town I would recommend asking your innkeeper for some information and any local events. We found several pamphlets during our stay at Haus Lipmann. As far as guidebooks, we found Rick Steves Germany guidebook to be the most thorough resource on Beilstein which had a couple pages worth of information compared to most other guidebooks we checked which often only offered a paragraph or two.
Our Time in Beilstein Germany
After picking up a rental car in Düsseldorf and stopping for a few hours at the very impressive Köln Cathedral, we headed to Beilstein Germany for our first night's stay in Germany. The drive was pleasant but we were super tired after a full day of flying and traveling and we were both happy to arrive in Beilstein.
We parked at a small gravel parking lot near the river, walked the short walk to our inn, and took our suitcases inside to our home for the night, Hotel Haus Lipmann. Built in 1714 and in the Lipmann's family ownership since 1795, Haus Lipmann is one of those great historic places that Ethan and I love. After depositing our suitcases in our small but charming room, we headed downstairs to have dinner at the inn.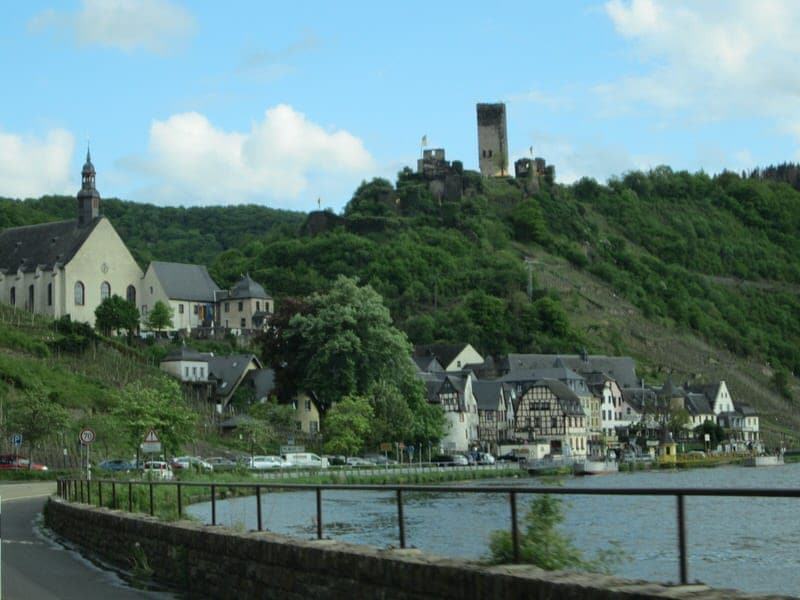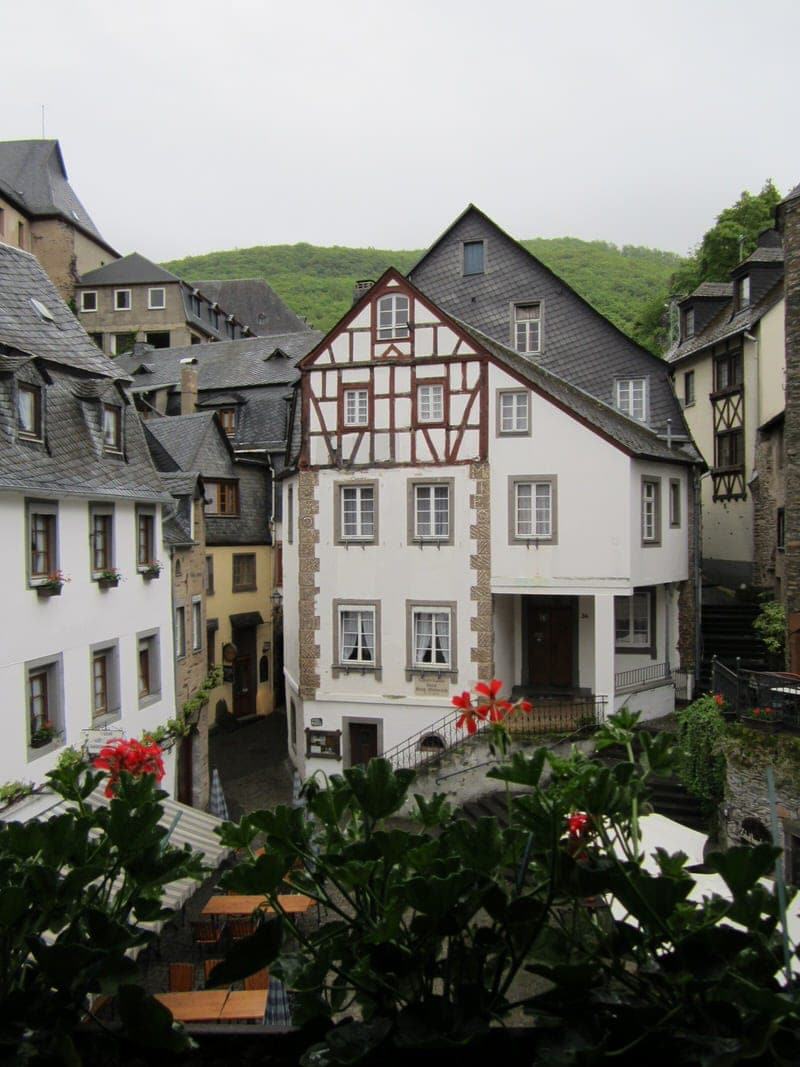 Since we knew we would be arriving in the evening, we had paid for the half-board option which includes dinner; however, you can certainly eat for less elsewhere in Beilstein if you are on a budget. For dinner, I had a bowl of the white asparagus soup (white asparagus was in season during our stay in Germany and France, heavenly!), shared the special of the evening which was venison steak and spätzle with Ethan, and tried a glass of the local white wine.
The meal was delicious and fairly priced and the service was very good. If you are in Beilstein during the evening, I would highly recommend dinner here even if not staying at the inn. If the weather is good you can sit outside with a river view or if not, the historic dining room is also a great place to dine.
Energized by the hearty German food, we set out on foot to explore a bit of the town before sunset. We walked along the pretty Moselle river and then decided to do the short, but fairly steep hike up to the ruined castle Burg Metternich. We walked up through the vineyards, which was perhaps not the easiest route.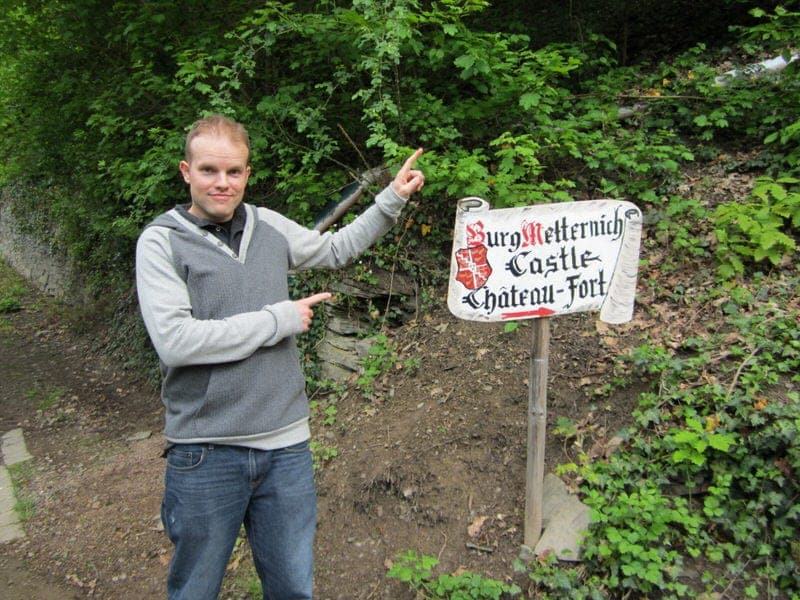 The castle was closed at this time in the evening (there is a small fee to enter), but the views on the walk up were great and honestly there is not too much to see inside as only one of the original towers is still standing today.
The castle is believed to date back to the 12th century and was destroyed by French troops in 1689 while under the ownership of the Metternich family. Following the destruction of their castle in Beilstein, the Lords of Metternich would later build what is now Haus Lipmann (our hotel) in 1714. Coming back to the inn, we followed a gravel path and then the road back down through town.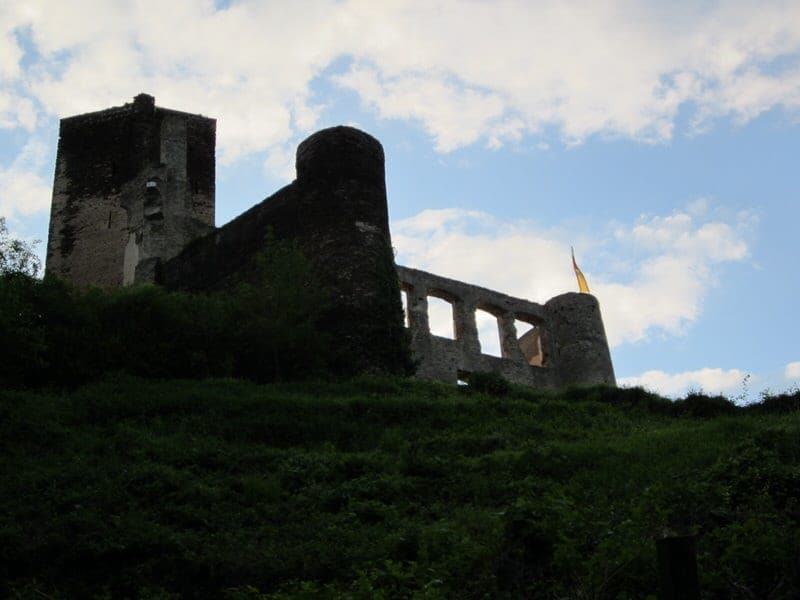 After reviewing some German phrases in our phrasebook (our German was woefully horrible throughout our trip), we went to sleep after a very full first day in Germany. Miraculously, we woke up early the next morning and headed down for breakfast at 8:00am.
The dinner the night before was great, and the breakfast buffet at Haus Lipmann was probably the best we had in Germany. First, it is served in the banquet room which was built in the 18th century and is full of antiques, feudal weapons, and other medieval decorations. The buffet contained tons of food choices, including cheeses, cold cut meats, eggs, yogurt, bacon, cereal, breads, etc.
They even offered wine and I had a mimosa along with my coffee for my first morning in Germany!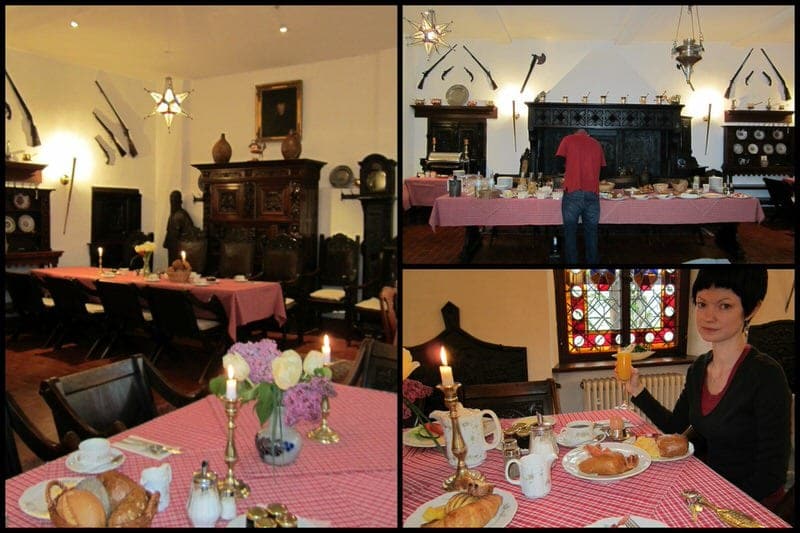 Fueled by our second fantastic German meal, we set out to do some more exploration of little Beilstein. The town is tiny but it is uphill with narrow lanes so it takes a bit of time to get around. We started with another short walk along the river and then proceeded to head uphill and meandered through the narrow lanes of hilly Beilstein.
The town is very well-preserved and an hour or so walk will allow you to see plenty of half-timbered houses from the 17th through 19th centuries, remnants of the town's stone fortifications, a former tithe house, a former chapel, a former synagogue, and a Jewish cemetery.
One of the larger buildings in town, other than the castle, is that of the former Carmelite monastery and the Saint Joseph's Catholic Parish Church (Pfarrkirche St. Joseph). The church contains a 12th century Black Madonna and is a pilgrimage site. There is a restaurant right in front of the church entrance which offers good views. We didn't eat here but we took in the free views from the terrace. The chapel was open and it was pretty inside with a painted ceiling and walls.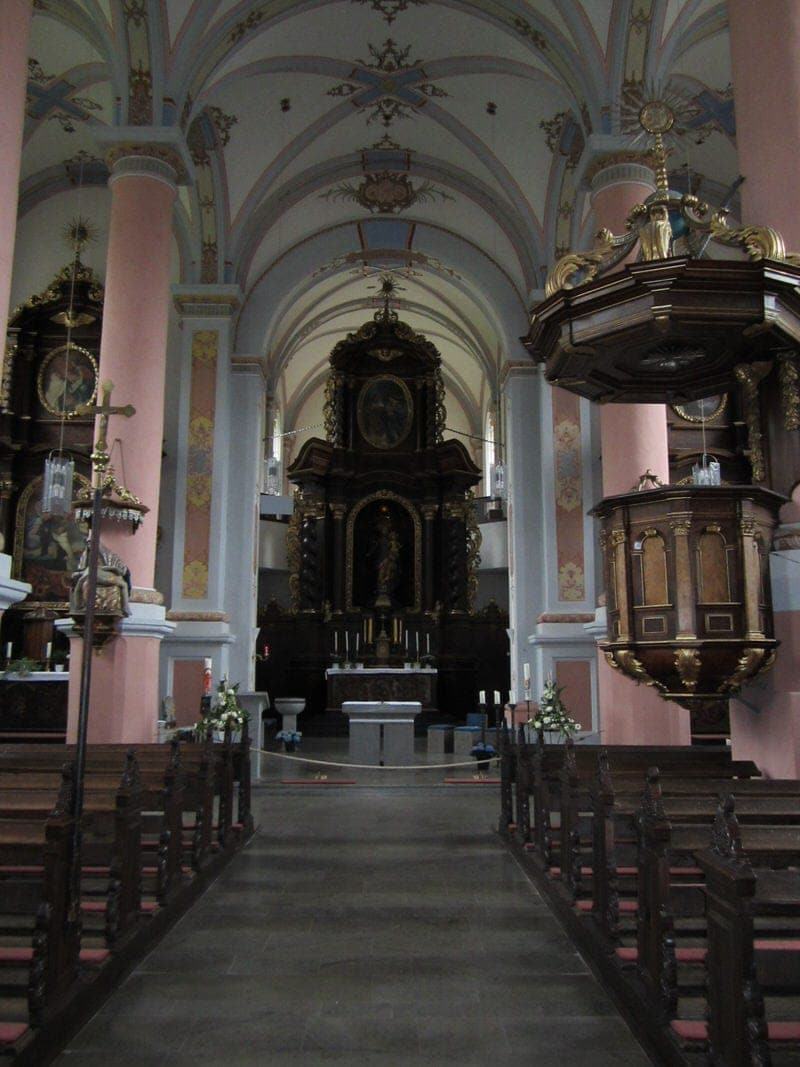 After our little walking tour, we headed back to the inn to check out and say goodbye to Beilstein. We wished we could have spent a little more time enjoying our stay at Hotel Haus Lipmann, but we were very excited to check out Burg Eltz that afternoon.
On route to Burg Eltz, however, we made a 45 minute or so stop in the town of Cochem. Compared even to pretty Beilstein, Cochem is a real knock-out with medieval streets, cute colored old homes, and a majestic (and elaborately restored) castle overlooking it all. Cochem's Imperial Castle, or Reichsburg Cochem, dates to the 12th century but was destroyed during the same war as Beilstein's castle; however, this one was purchased by a Berlin businessman and restored in the Gothic Revival style.
Cochem is a long and skinny town and there are plenty of great paths for riverside strolling here. There are many historical buildings, wine tasting rooms, shops, and other places to see and visit although we didn't have a lot of time to explore. You can even take a chairlift to a hilltop viewpoint (and restaurant). Would love to return with more time to explore Cochem.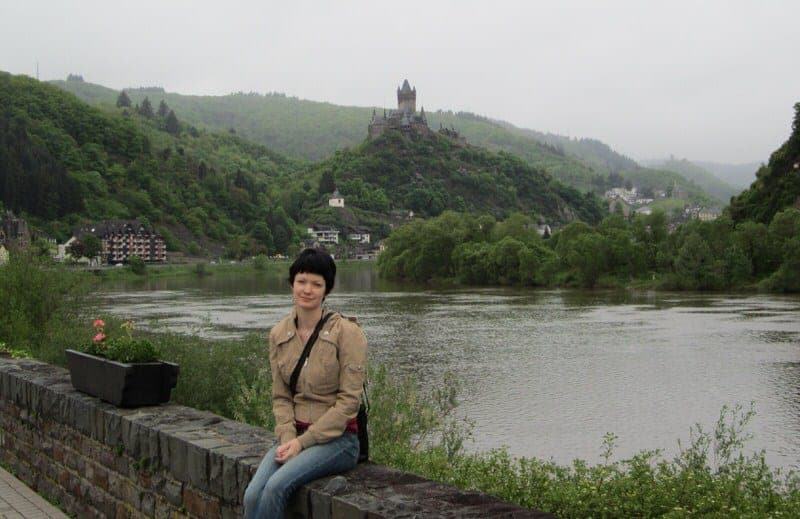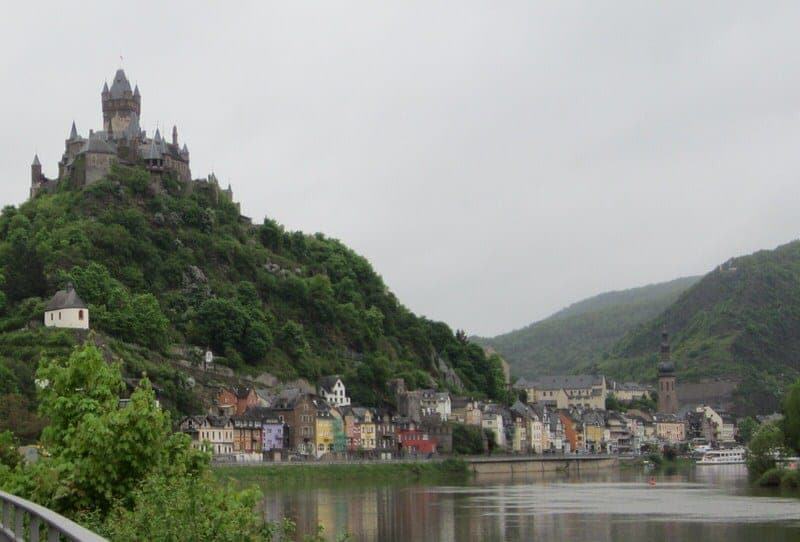 Where to Stay the Night in along the Moselle River
If you are interested in exploring the Moselle River area we definitely would recommend spending a night or two in this area. Along the Moselle you have a number options and you'll find lots of accommodation in the larger towns and cities like Trier and Koblenz. But we'd recommend choosing a smaller town like Beilstein or Cochem to spend the night to better enjoy this scenic area.
Cochem or Beilstein as a Place to Overnight?
Cochem and Beilstein are both very picturesque Moselle towns sitting alongside the river and are two popular contenders when thinking about a town to choose as a base to explore this area. Cochem is much larger than Beilstein (although still a small town), and is able to offer a lot more conveniences (tourist information office, grocery stores, banks), activities (sports center, castle tours, winery tours, chairlift), and has many more lodging and eating options than Beilstein.
If you are wanting to stay in a larger hotel or in a hostel, you'll want to stay in Cochem as it offers a much wider range of options than Beilstein which offers small hotels, guesthouses, and bed-and-breakfasts. You can check out the Beilstein tourist information website and the Cochem town website for more information on services and businesses in both towns.
Cochem is also closer to the Rhine River Valley and is much easier to reach by public transportation than Beilstein and Cochem has its own train station. Cochem is also a more popular tourist stop and is more likley to be crowded, but both towns can be overrun by visitors during the day. Both towns become quieter at night and can be dead during off-season. Note that many restaurants and inns close during parts of the winter season in the area.
We'd definitely consider a stay in Cochem in the future and would love to spend more time exploring this pretty town. If you have a car, I'd consider either, but if you are traveling without a car, I'd choose Cochem. But basically both towns are lovely and it is for you to decide which best fits your travel needs.
Given all the perks of Cochem, we were still very happy in our choice of staying in Beilstein. Beilstein makes a lovely place to stay for those who want to stay in a tiny little town and are not looking for any real activities and just want a peaceful break in their itinerary to watch the swans in the river, hike to the ruined castle, and sit and enjoy a cup of coffee or local white wine from a riverside terrace.
A day visit can be a great way to get some good views of this pretty little town, but if you want to experience Beilstein at its best we'd recommend an overnight as we found the early morning after breakfast and evenings after dinner to be ideal times to explore after the day trippers leave.
Where to Stay in Beilstein Germany
Where to Stay in Cochem Germany
This is only a partial list, for a fuller list of lodging options in Cochem, check out this list of hotels in Cochem for even more choices.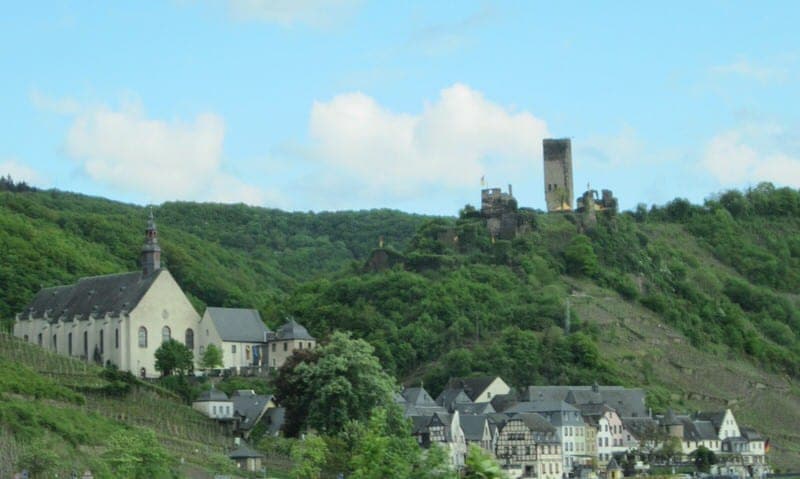 So that's our guide to visiting Beilstein Germany! Hopefully this will help you plan your own trip and give you some ideas of what you want to do in the area.
Planning a trip to the Moselle River Valley? PIN this article to Pinterest to read later: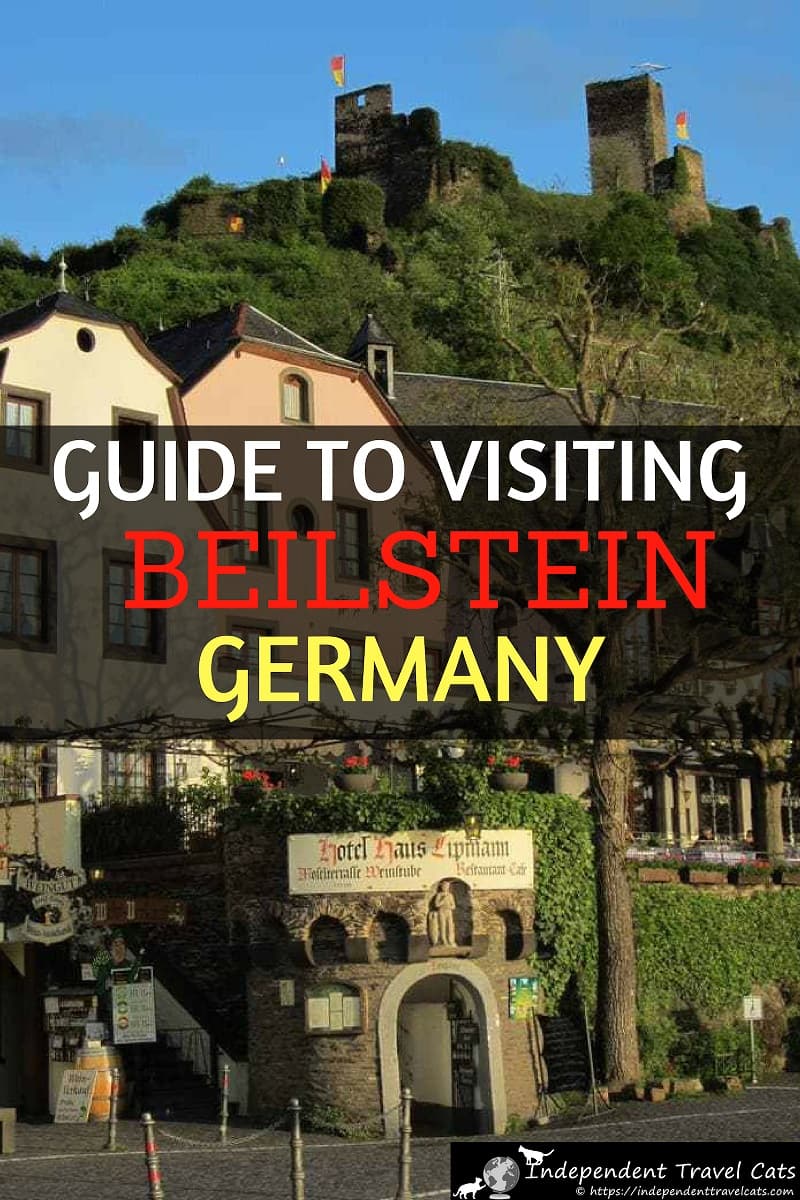 Have you visited Beilstein or any of the towns along the Moselle River? As always, feel free to ask us any questions about our trip and we love hearing your thoughts and opinions. Just leave any questions or thoughts in the Comments section below.