The Wilds is one of the largest conservation centers in North America, set on about 10,000 acres of land in Southeast Ohio. It is home to a number of rare and endangered animals from around the world, including cheetah, rhinos, camels, antelope, zebra, and giraffes, as well as a number of local native species. Visitors can not only do regular bus safaris to see the animals, but the Wilds also offers horseback safaris, fishing safaris, ziplining, a butterfly habitat, education programs, summer camps, and overnight lodging. This non-profit open-habitat safari park is a pretty amazing place given that this is reclaimed land which was strip mined for coal from the 1940's to the 1980's, which destroyed most of the natural wildlife and resources in this area. If you are in Ohio, this is definitely a place to consider adding to your itinerary. We'll give you all the information you need to plan a trip here and tell you about our own experience visiting the Wilds.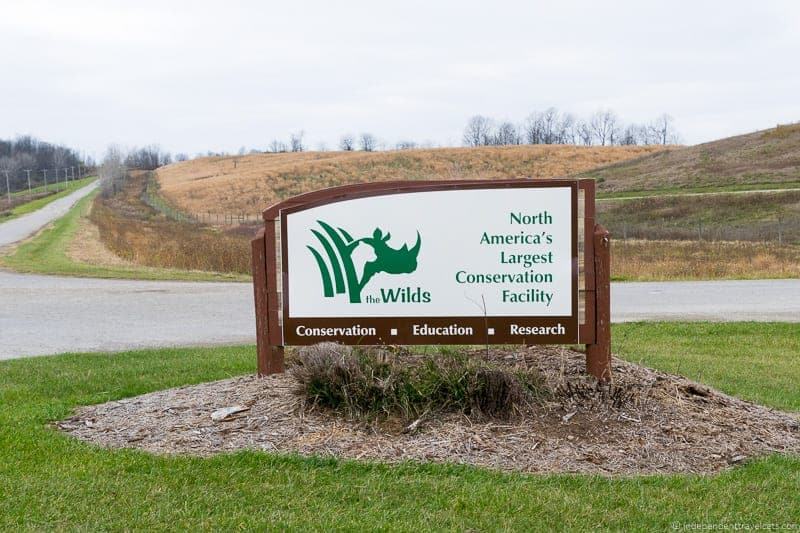 Basic Information in Planning a Trip to the Wilds
Address?
14000 International Road, Cumberland, Ohio 43732
Getting here?
The Wilds is located outside the small town of Cumberland, Ohio and the best way to get here is by car. I could not find any public transportation options but you could of course book a taxi or Uber if needed. It is approximately 75 miles (1.5 to 2 hour drive) from Columbus, OH, 20 miles (35 minute drive) from Zanesville, OH, and 140 miles (2.5 hours) from Cleveland, Ohio. You can find directions online provided by the Wilds depending on your location. Note that there is a $5.00 parking fee to enter the Wilds unless you are a member.
Best Time to Visit the Wilds? 
The best time to visit the Wilds for most activities is from May through September. The Wilds is typically open for its regular visitor season daily from 10am to 4pm May through September and then weekends only in October. Recently, the Wilds has also started the Winter at the Wilds Tour that allows for pre-registered guests to visit and tour the Wilds from November to March. While many of the regular tours are not available during the winter, the Winter at the Wilds tour is run twice a day.
What Activities are Offered at the Wilds?
The most popular activities not surprisingly are the safari tours, and most people take one of the group safari tours that are led by knowledgeable guides. You can either go in an enclosed temperature-controlled bus with large windows or an open-air bus with a canopy. If you interested in a more intimate experience, you can reserve a Wildside Tour and get a more exclusive safari experience with an Animal Management specialist amongst a smaller group (these are typically offered in an open-air pickup truck) and you get to see some of the daily happenings at the Wilds such as an animal medical procedure, help in feeding the animals, or an ongoing conservation project. All of these tours take you through all the open-range enclosures where you'll get to see many of the animals roaming in the fields as well as stops at Lake Trail and the Carnivore Center, and access to the Butterfly Habitat which you can explore at your leisure before or after the safari tours. On the weekends during the summer months, these tours are also offered at sunset and include a buffet dinner at the Overlook Café. Check out the Wilds website for current tours and tour prices, with tours currently starting at $20.00 per adult and $15.00 for children 12 and under for the enclosed bus tour or $30.00 per person for the open-air bus tour.
In addition to the main animal safari tours, there are a number of other visitor activities offered at the Wilds. These include fishing, horseback riding, and ziplining. The Wild Zipline Safari provides the opportunity to view parts of the large preserve and some of the wildlife from above across 10 different ziplines (a shorter version that includes only five ziplines is also available). For those who live nearby or have more time for a visit, the Wilds also offers educational programs, WildeCamps, and Family Camp weekends during the summer months. They can also accommodate a wide range of events from corporate retreats to weddings to birthday parties.
Eating at the Wilds?
Food and snacks are available for purchase at the Safari Snack Depot, Terrace Grill, and Overlook Café. Food available includes hamburgers, hot dogs, pizza, chicken, ice cream, snacks, soda, coffee, and beer and wine. Evening safari programs often include a buffet dinner at the Overlook Café.
Staying Overnight at the Wilds?
You have a couple options if you want to stay overnight at the Wilds, including staying in a luxury yurt or a large family-friendly cabin. The yurts are currently adults-only and are located within the park at Nomad Ridge and are built on large platforms with screen windows, bamboo floors, wooden doors, a private bathroom, and an observation deck for private wildlife viewing. If you are coming with a big group or family, you might also consider The Lodge which is a large 6-bedroom cabin complete with a fully-equipped kitchen, bathrooms, television, Internet, washer and dryer, gas fireplace, outdoor fire ring, games, books, canoes, and fishing and boating equipment. If you book a reservation in one of the yurts or The Lodge, you'll receive discount pricing on many of the tours and activities offered at the Wilds. We did not stay in any of these lodging options, but we did see them while we were there and both options looked quite nice.  If you are looking for nearby lodging outside the park, you can find a range of options in the nearby cities of Caldwell, Cambridge, Zanesville, and Marietta.
Need More Information to Plan Your Trip? 
The website for the Wilds is a very useful, but you can also call them at 740-638-5030 or check out their active Facebook page where you can see recent photos as well as potentially find a discount code or win a free visit. If you want to explore the area around the Wilds more fully you check out other things to do around Zanesville, Ohio and wider tourism information for the state of Ohio. 
Our Experience Visiting the Wilds 
I grew up near the Wilds and it is by far the largest tourist attraction in our local area, but for some reason or another I had never visited while I was growing up. During college, I knew several people who did research practicums and internships here during college given the amazing educational and research opportunities that are available here to local students. I guess it is one of those things where you look back and realize that you never visited many of the cool places in your own backyard after you have left. So on a return visit to Ohio to see my family in winter 2014, I made sure that I had time to include a visit to the Wilds. It was definitely time I finally made it here!
I made a reservation in advance for the Winter at the Wilds tour which is the only tour that is regularly given during the winter months. Ethan and I visited in November 2014 and it was a cold day and so we were bundled up in coats, hats, and gloves for our visit. We arrived at the parking lot (there is a $5.00 parking fee) and we were met within a couple of minutes by someone from the park management team and then our guide who was a member of the animal management team. The Winter at the Wilds tour is similar to the regular Wildside Tours given during the rest of the year. However, instead of an open-air vehicle, we were in an enclosed heated vehicle, but we were able to roll down the windows as needed to take photos so that was not a problem and we needed the heat! While you cannot get out of the car within the open animal enclosures, you'll get to walk around in other areas such as around the Carnivores Center and if you visit the barns during the winter.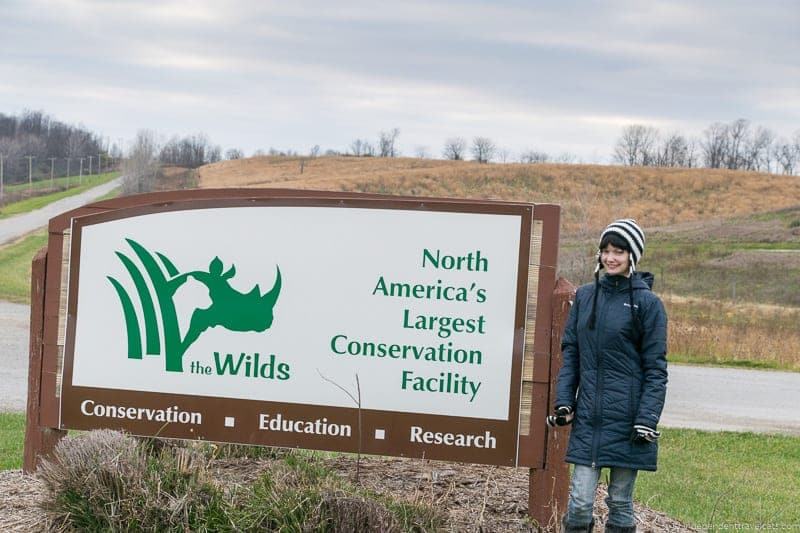 A Bit of Ecology at the Wilds
Our first stop was actually not to see wildlife but to see a restoration project being conducted by the Wilds Restoration Ecology department. Friendly Rachael and Kelsey who were hard at work in the wetlands area, talked to us about conservation within the wetlands and they showed us a neat water system they use to monitor and maintain water in the wetlands area. This is a good reminder that a visit to the Wilds does not just have to be about the animals, but there is almost 10,000 acres of land here and all kinds of ecosystems. Strip mining negatively impacted much of the land and streams in this area and it is amazing to see the revival that has come about because of the hard work by the folks at the Wilds. If you are interested in ecology, botany, water management, birding, insects, etc. let your guide know as there are many different types of environmental projects happening here at any given time!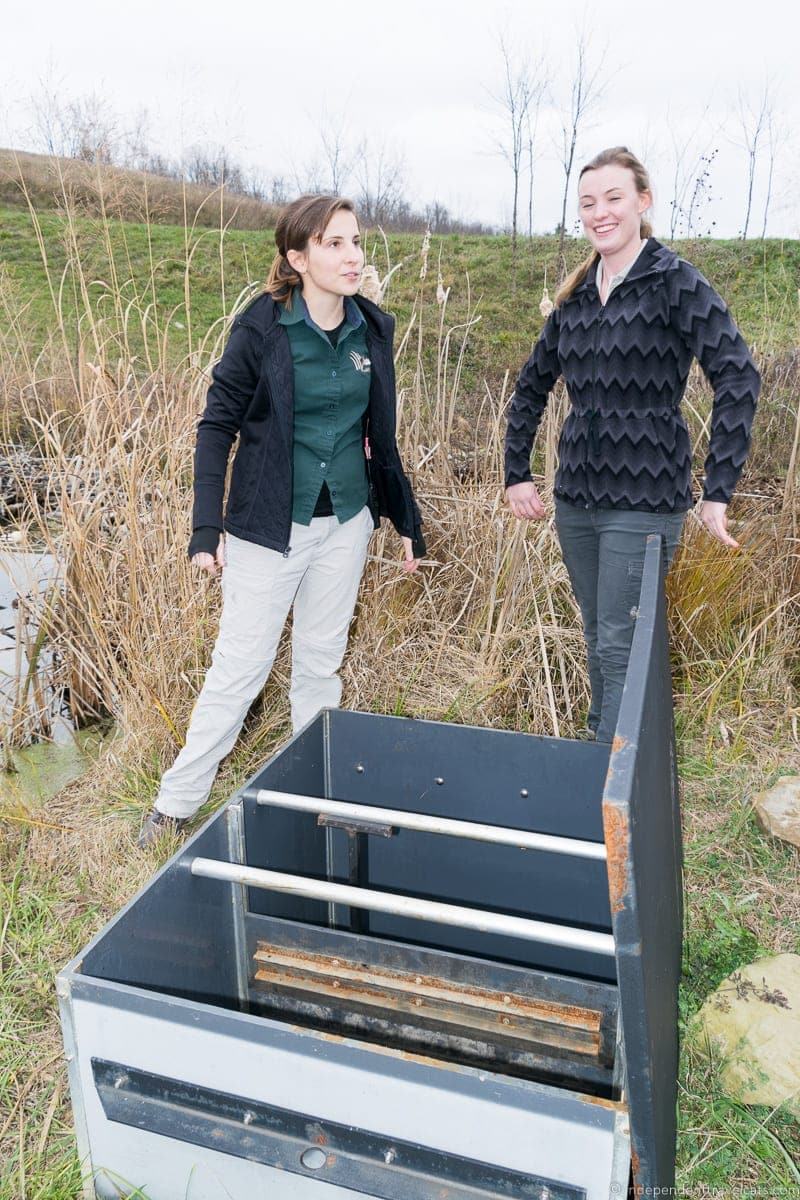 The Big Cats and Dogs
The next major stop on the tour was to the Wilds' Carnivore Center. Here you can get out of the car and walk around and see the animals from various viewing points. During our visit, there were painted dogs, dholes, and cheetahs. Be careful to stay back if you get near the  African painted dog enclosures as they are not friendly puppies! I have never seen a dhole before but I remember my friend in college talking about these while she worked at the Wilds. They are super cute canines that are native to Asia and look quite a bit like a fox. Breeding programs and research at the Wilds is geared towards helping the survival and conservation of these threatened and endangered species. The Wilds has been successful with its cheetah program as the first cheetah cubs were born here in 2010!
The Open Range Enclosures
The rest of our visit focused on driving through the open range enclosures, which contain the majority of the large animals at the Wilds. These include camels, bison, zebra, Southern white rhino, wild horses, ostrich, giraffes, and various types of deer and antelope. You are also likely to see some of the native species that roam around the Wilds such as local deer, birds, or coyote. If there are certain animals that you are very interested in seeing or want to learn more about, just tell your guide so they can better allocate your time as there is a lot of open space. As animal management specialists who work with the animals, they can help give you the best chance to see the animals you want to see and also give you more time with them if they can. During any tour, since the animals live in large open enclosures you're likely to see many of the species up close while others are likely to be hidden a bit in the trees or near the lake where you might not get an up close view. For instance, we only got distant views of the ostriches who preferred to hide themselves amongst some trees on the opposite end of the lake from us.
We got a good look at most of the animals and we were able to get within touching distance (no touching!) of several animals who largely ignored our vehicle. The Sichuan takin are interesting animals that I have never seen before and there were a lot of these critters along with a number of deer, horses, and antelopes. Some of the deer were losing their antlers or were in the process of doing so which occurs in the winter months. The type of camels at the Wilds are quite funny to watch as they are very curious and will get very close to the vehicle. When they walk, their two humps of fat flop around quite a bit on the older camels. 
A white rhino baby had just been born a day or so before our visit and so we were unfortunately not able to visit the barns as the animal management team did not want anyone disturbing the new rhino calf and there had not been a press release yet about the new baby. Although this sadly meant we could not visit the animals that were in the winter housing and barns that day (rhinos, zebra, giraffes), it is a remarkable event as the calf was the first fifth generation white rhino born outside of Africa and is a testament to the breeding and conservation program at the Wilds. Typically, visitors would have the opportunity to tour some of the winter facilities for the animals on a Winter at the Wilds tour to see animals that need to be kept inside on cold days such as the giraffes.
Overall Thoughts on the Wilds in Ohio
We had a great tour at the Wilds doing the Winter at the Wilds tour. We learned a lot, saw lots of animals, and received a warm welcome from our knowledgable guide and other staff. A great advantage to visiting in November was that we had the park to ourselves since there are relatively few visitors during the winter months. The only disappointment was that we were not able to see the giraffes or rhino, but we totally understood that the health of the newborn rhino calf took precedence over our visiting the animal barns! I can't comment on a visit during the regular months of the year, but you'll likely have an even better experience with more animals in the pastures, a wide range of potential tours, more open facilities (e.g., food, extra experiences), and warmer weather! We did not stay in the lodging, but we did visit it and The Lodge looks great if you have a large family or group, and the yurts look like a fun unique stay. I have only heard good reviews from people who have visited the Wilds that I know personally and the zipline tours for instance have glowing reviews on Tripadvisor. Overall, I would definitely recommend a trip to the Wilds if you find yourself in this part of Ohio. Not only is it a great place to view wildlife, but the organization is a top-notch research and conservation facility committed to a number of good causes. For me, this was a great chance to visit a cool place that I had missed growing up in this area!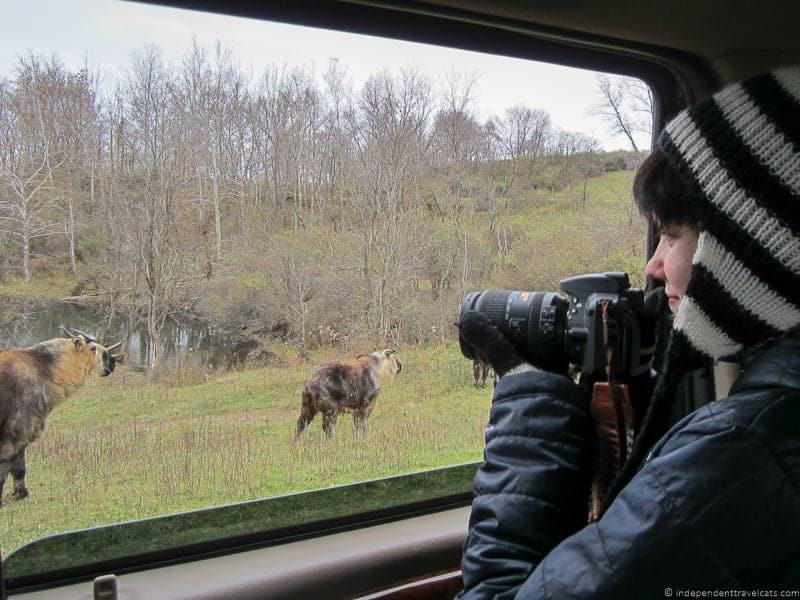 Are there places near where you have lived that you never took time to visit and then regretted it once you left? As always, feel free to ask us questions about our visit to the Wilds in Ohio or share your own experiences!
**Disclosure: We were offered a complimentary Winter at the Wilds safari tour in order to review the Wilds; however, this article contains only our own honest thoughts and opinions.**