The Ruth Bancroft Garden in Walnut Creek, California is a nationally recognized public dry garden that contains a variety of rare and extraordinary cacti, succulents, trees, and shrubs from around the world. The 2.5 acre garden is unusual in that it focuses almost entirely on water-conserving and drought-resistant plants and was the first garden in the United States to be preserved by The Garden Conservancy. As water conservation becomes increasingly more important (e.g., California is facing the worse drought in recorded history), this non-profit garden hopes to not only preserve its current collection but to serve as a model for similar gardens. Ethan and I were invited as local travel writers to do the Valentine's Day themed "Lover's Day Aloe Tour" at the garden. We were not really sure what to expect as a collection of "drought-resistant" plants doesn't really fit with our stereotypical image of a pretty flower garden. Read on to find out how our visit to The Ruth Bancroft Garden provided us not only with an introductory education and appreciation of aloes, agaves, aeoniums, yuccas, and echeverias, but allowed us to witness the beauty of these underappreciated plants.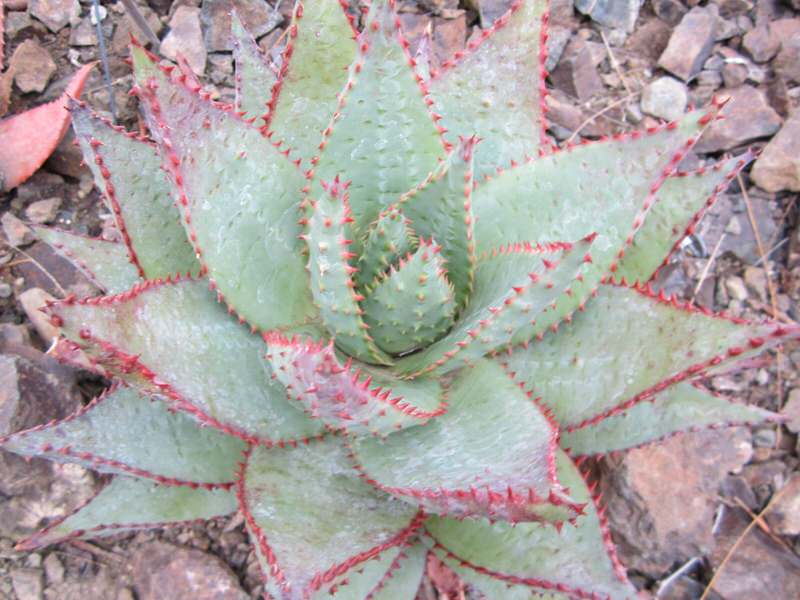 Basic Information on The Ruth Bancroft Garden
Location?
The Ruth Bancroft Garden is located at 1552 Bancroft Road, Walnut Creek, CA 94598.
Getting Here?
By Car: There is a parking lot near the garden office and parking is free. If the parking lot is full, you can also park on a nearby side street. If you are attending a special event, you will see signs or be directed to park in a specific area.
By Public Transit: You can take the BART to the Pleasant Hill station, which is located about 1.5 miles from the garden. From here, you can bike or take the County Connection Bus (weekdays only).
Hours?
March to October: Tuesday through Sunday 10:00am to 4:00pm
November to February: Wednesday through Sunday 10:00am to 4:00pm
*Closed on many holidays. Check garden website for latest schedule and hours.
Cost?
General admission is $10 per person for those over 12 years of age. Children under 12 and garden members may enter for free. Students and seniors are $7 with valid ID.
Tour Types?
When visiting the garden, you can take part in a docent-led tour (see website for times) or stop by any time during visiting hours to take a self-guided tour. If you opt for the self-guided tour, you'll be given a very helpful booklet that includes a description and map of the garden with fairly detailed information and photos of many of the highlights in the garden. Allow about 1.5 hours for either type of tour.
Special Events?
The Ruth Bancroft Garden regularly hosts a number of special events, typically on the weekends. These include evening music socials, sculpture and art displays, educational lectures, dinners, fruit tastings, and special seasonal tours. They also offer a series of educational lectures, workshops, and seminars throughout the year. The garden also runs a year-round nursery and sells a number of succulent plants, including many of the ones seen in the garden. Proceeds from the nursery plant sales as well as from their small gift shop are used to directly support the garden and its staff.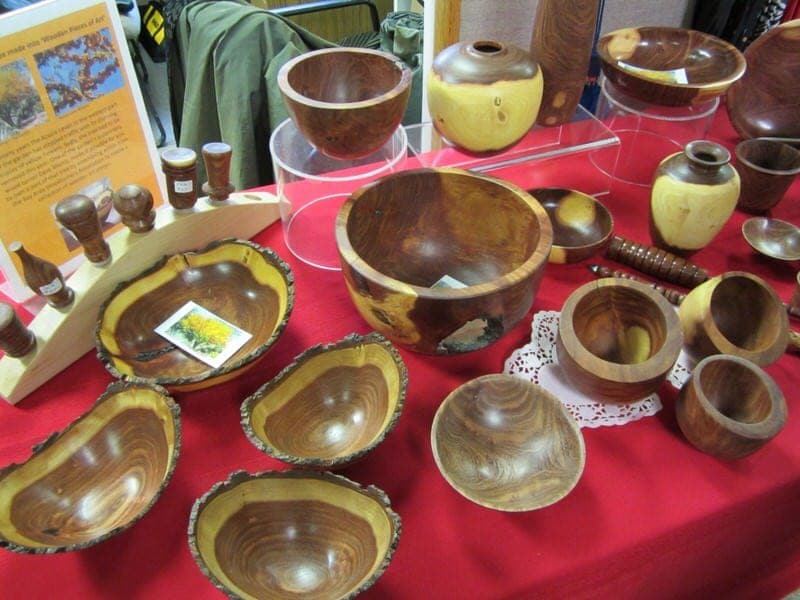 Want to host your wedding here? The Ruth Bancroft Garden has also recently begun taking reservations to host small weddings in this extraordinary garden setting.
Other Information?
Visit The Ruth Bancroft Garden's official website or call the garden at 925-944-9352 to get more information about planning your visit and to find out about upcoming events, lectures, and educational opportunities. On the website, you'll also find a lot of information on the history of the garden, photos and descriptions of many of the garden's highlights, and even a collection of Ruth Bancroft's recipes!
Our Experience Visiting The Ruth Bancroft Garden
I would love to say that the sun was shining and the birds were singing as we arrived at the garden entrance. Instead, it was raining, cold, and cloudy. Disappointed but prepared, we got out the jackets, umbrellas, and rainboots and made our way around the mudpuddles to the green gazebo structure, Named "Ruth's Folly", this wooden gazebo serves as the entrance to the garden.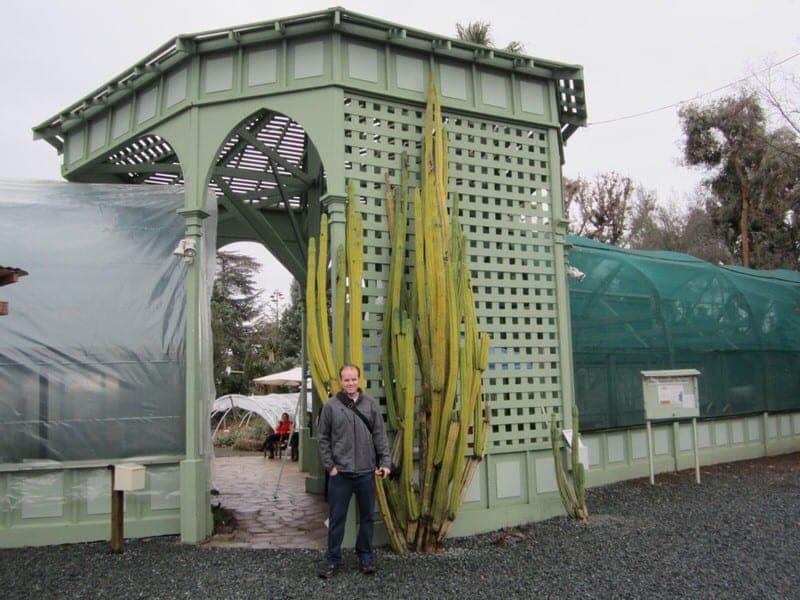 We joined a small group of fellow local travel writers for some hot drinks and aloe vera juice (best mixed with fruit juice in my opinion) as we awaited the arrival of our tour guide and the rest of our group. While waiting we learned more about the history of Ruth Bancroft and the garden. A lifelong gardener, Mrs. Bancroft would purchase her first succulent plant in the 1950's and would become fascinated with these interesting water-conserving plants. The current garden would begin to take shape in 1972 as Mrs. Bancroft and her team designed the garden and learned (often by trial and error) how to best care for these plants which were not always best suited for a northern Californian climate. While no longer involved in the day-to-day operations of the garden, Mrs. Bancroft, age 105, continues to take great interest in the garden. It is amazing to think that what once began as a small private garden blossomed into a large protected public garden with national recognition.
Once our group was assembled, we set off with umbrellas in hand to find out more about these crazy plants that can thrive with minimal irrigation. We were led by our docent Adrian who explained how succulent plants survive periods of drought by storing water in their their thickened steams, leaves, or roots. A nickname for succulents is "fat plants", haha! He also educated us on the major kinds of succulents that are grown in the garden (aloes, agaves, aeoniums, etc.) and pointed out an overwhelming array of these plants during our tour. Rather than try to summarize all the fascinating information we learned (we couldn't do it justice, so we'll leave you to take the tour yourself!), we thought we'd focus on sharing just a few of the hundreds of pictures we took while touring the garden.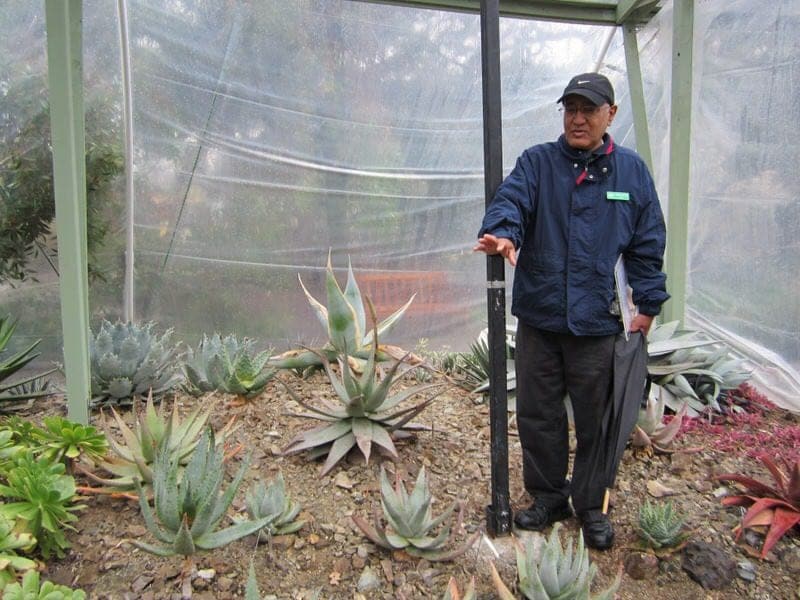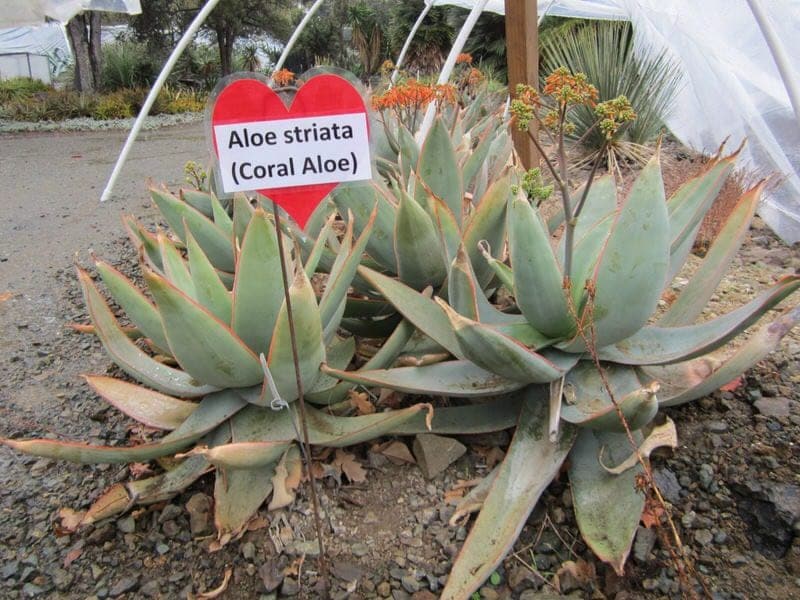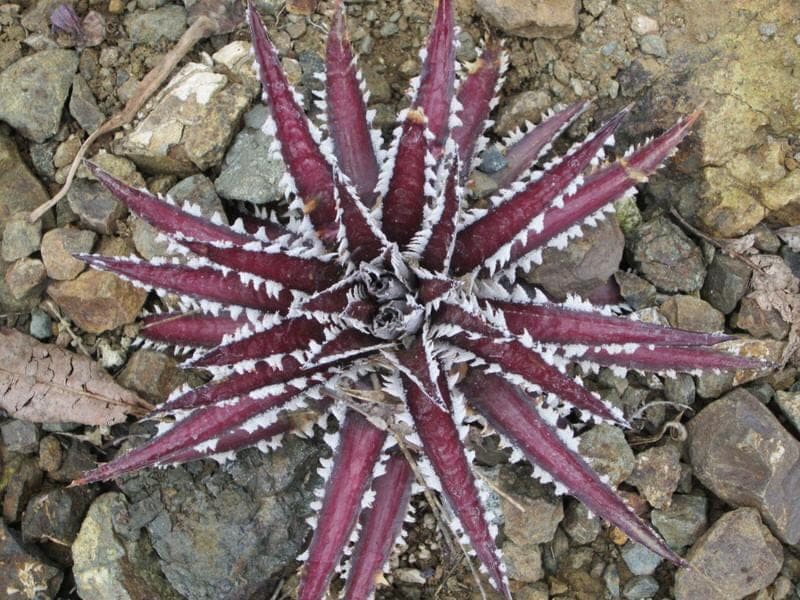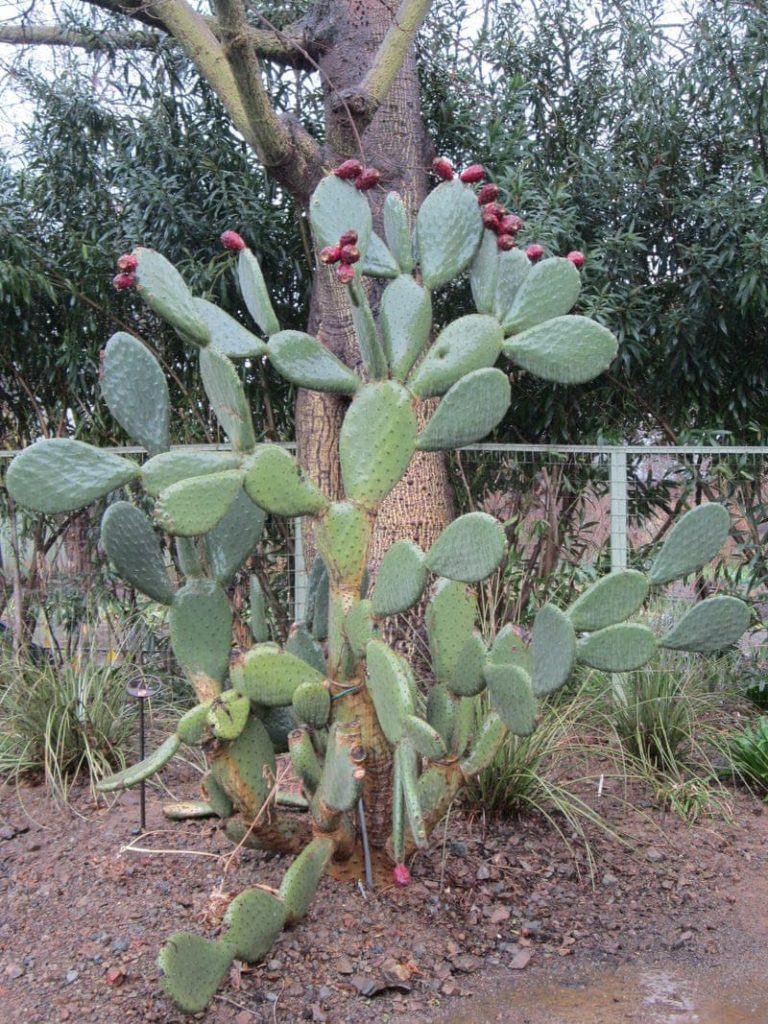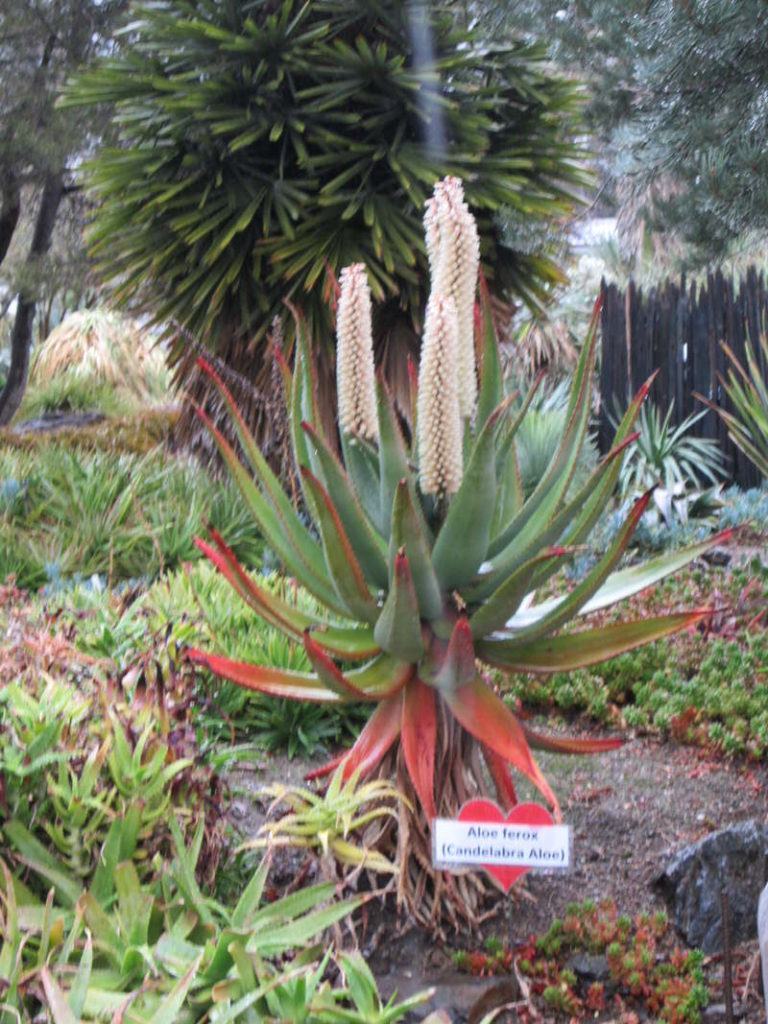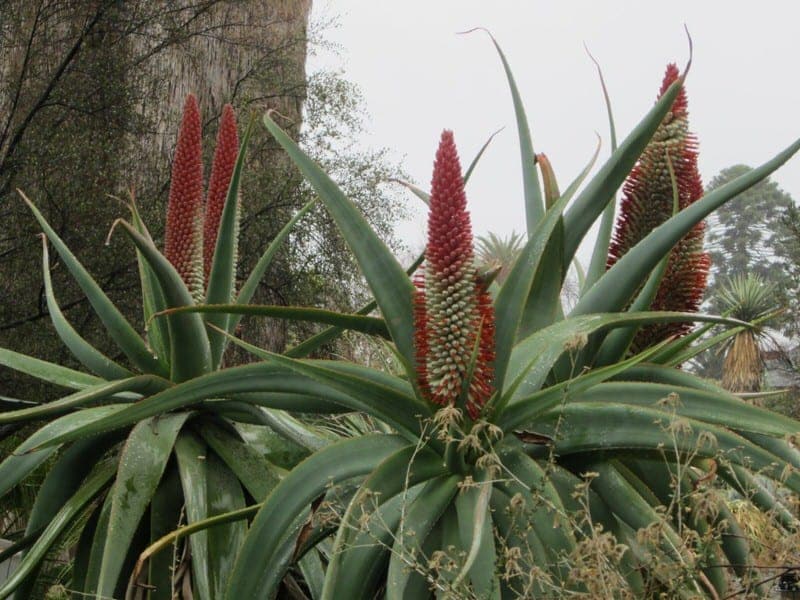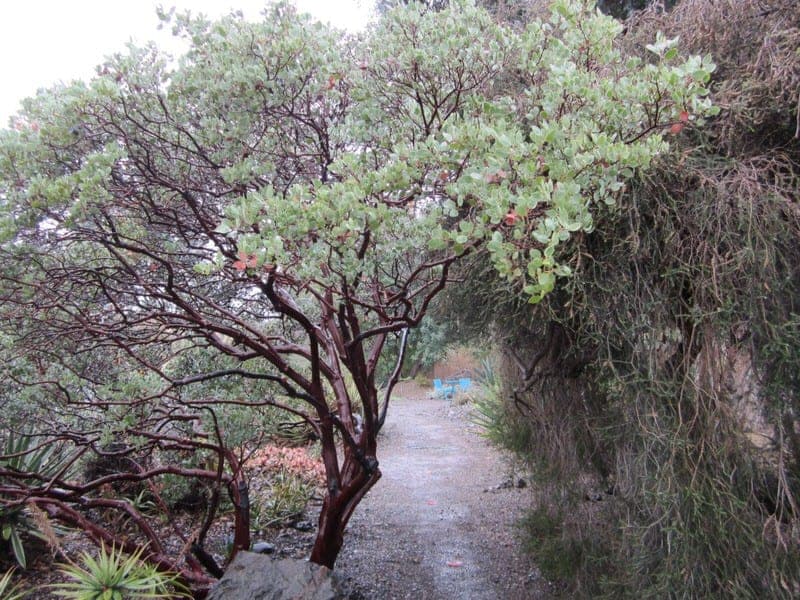 Now, there is one area of the garden we would like to highlight and that is the plants found in the so-called "Winter House". This recently completed structure is used to both protect plants that need protection from the cold and elements during the winters, but the structure also serves as a place to showcase some of the best plant specimens in the garden. Essentially, it is a little jewel box of colorful plants, from cute and tiny to big and spiky.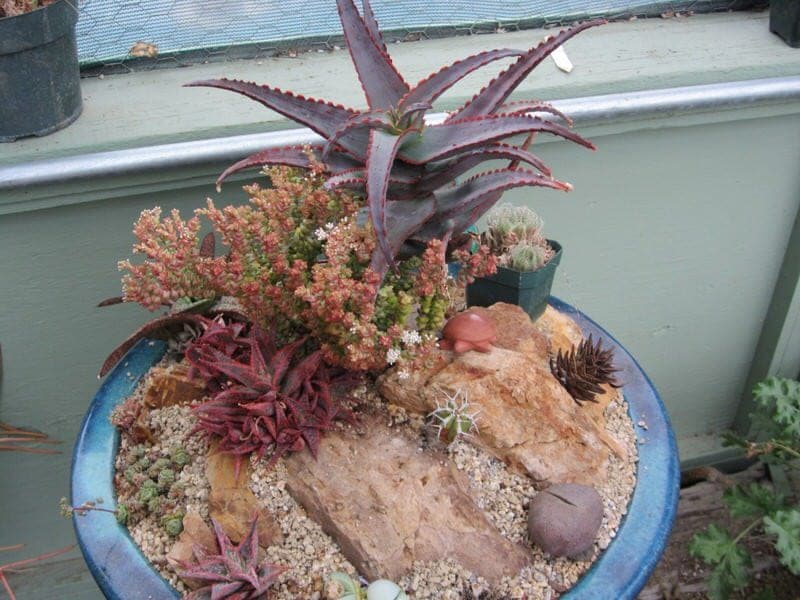 After our tour, we dried off and had lunch together. We were lucky that we got to talk not only to many of the friendly and knowledgeable garden staff, but we also got the special treat of meeting Brian Kemble, the garden curator. Mr. Kemble is a recognized expert in succulents, particularly aloes, and has been working at the garden since the 1980's. He leads a number of educational classes and workshops throughout the year at the garden.
Despite the rain, we spent a very pleasant couple of hours at the garden. Growing up in New Mexico, Ethan was no stranger to cacti, yucca, and other succulents, but neither of us knew much about them and had certainly never seen a garden full of them before. The tour of this garden made us think a lot not only about the plants but also about water conservation. However, perhaps the biggest lesson we learned was that there are so many hidden gems to be discovered in one's backyard. We had never heard of this garden before and now we can look forward to coming back as the seasons change to see the different plants in bloom.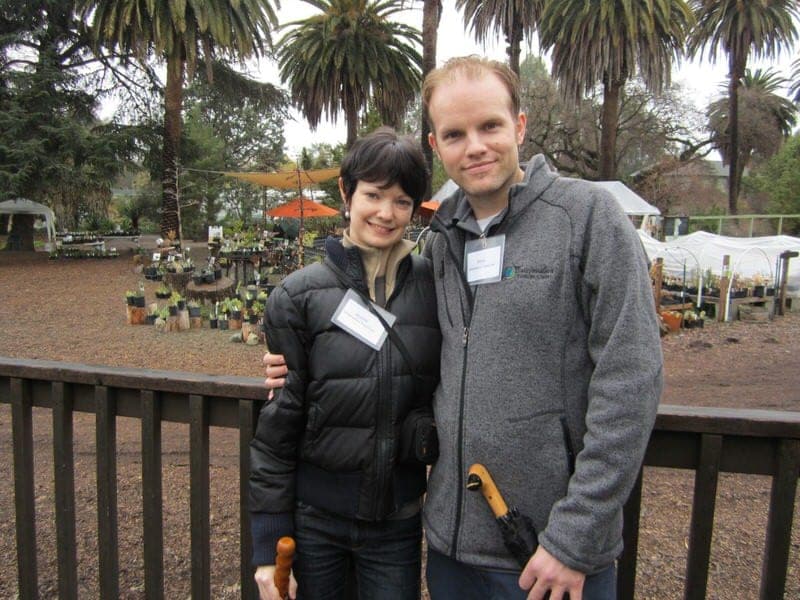 Have you discovered any hidden gems in your own town or city lately?
**Disclaimer: As travel writers, we were invited for a complimentary tour of the garden; however, this article contains only our own honest thoughts and opinions. We did not receive any compensation for the writing of this post, do not work for The Ruth Bancroft Garden, and receive no commission for clicks on any links in this post.**