Ladurée is a famous pâtisserie, or pasty shop, in Paris that is well-known for its yummy, rainbow-colored assortment of macarons. Many visitors flock to the main Ladurée store along the Champs-Elysées, but have you heard about the second most famous macaron stop in Paris: Pierre Hermé? Pierre Hermé actually worked at Paris competitors Fauchon and Ladurée before striking it out on his own and now has a number of locations named after himself. Whereas Ladurée is known for its Belle Époque store décor and more traditional offerings, Pierre Hermé is known for innovative and creative flavors combinations. For instance, one of the current seasonal macaron flavors at Pierre Hermé is olive oil with mandarin orange and cucumber water!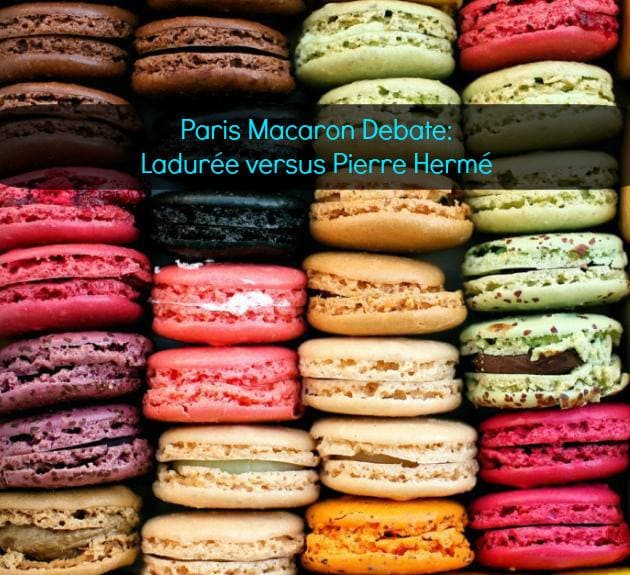 Now, if you've been reading my blog you'll know we already discussed our discovery of macarons at Ladurée during our 2012 Paris visit which you read about here. But on our subsequent visit this past Spring, after reading Amy Thomas' Paris, My Sweet: A Year in the City of Light (and Dark Chocolate) (a delightful, fluffy book about a New Yorker eating sweets in Paris), I decided that I not only needed to return to Ladurée but I also needed to visit Pierre Hermé and conduct a proper tasting to compare macarons from both pâtisseries. Ethan lovingly obliged my crazy macaron tasting notions and we jaunted around Paris collecting our colorful specimens. The Ladurée macarons were bought at the Champs-Elysées location and the Pierre Hermé macarons came from their rue Bonaparte store.
We bought half a dozen macarons at each store, but unfortunately there was not a ton of overlap in similar flavors. While most of Ladurée's macarons center around a single flavor (rose, lemon, vanilla), most of the macarons at Pierre Hermé are combinations of two or three main flavors (rose & jasmine, apricot & pistachio, chocolate au lait and passion fruit). Sadly, Ladurée was out of pistachio when we were there and Pierre Hermé was out of its popular olive oil and vanilla flavor which made our task even more difficult. We ended up with the following:
Ladurée: Rose, Salted Caramel, Chocolate (pure origin Ghana), Orange Blossom, Strawberry Mint, and Vanilla
Pierre Hermé: Rose, Salted Caramel, Chocolate (pure origin Venezuela), Apricot & Pistachio, Chocolate au Lait & Passion Fruit, and Crème Brûlée
Pricing: The mini macarons at both stores are almost identical in pricing (ask for a simple bag to go for the best price, otherwise you get a pretty box that costs extra) with the cost of the half-dozen macarons totaling 11.10€ at Ladurée and 11.70€ at Pierre Hermé.
We must be challenged because again this year some of the macarons got a bit squished during our metro rides. Perhaps it would be worth paying for a box (we just buy them in bags as it costs less) to help protect the macarons from us! Nonetheless, they still tasted great and let me present you with the Second Annual Independent Travel Cats Macaron Tasting!
The Macaron Smackdown: Ladurée versus Pierre Hermé
Each macaron was carefully cut in half and we each tasted them in the same order, both sipping some great French tea in between yummy bites. The researcher/scientist part of me really tried to give each store an even chance.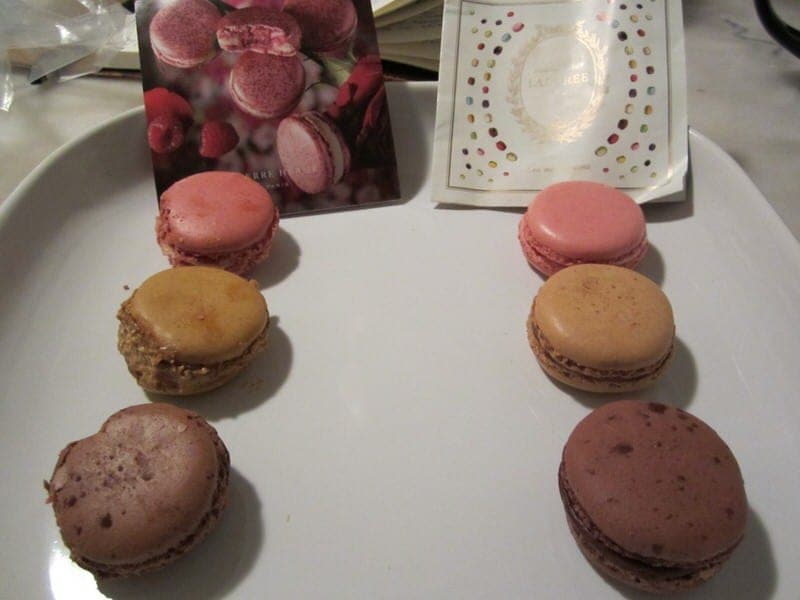 Chocolate Macaron Taste Off
Ethan – PH – stronger, richer chocolate flavor
Jessica – Ladurée – crispier, smoother outer shell texture, lighter creamier filling
Verdict: Tie!
Salted Caramel Macaron Taste Off
Ethan – PH – can taste the salt, creamier filling
Jessica – PH – creamier filling
Verdict: Pierre Hermé wins for a creamier filling
Rose Macaron Taste Off
Ethan – Ladurée – just a little more of a rose taste…maybe?
Jessica – Ladurée – slightly smoother filling
Verdict: Ladurée, but this was the hardest decision of the three as both were very similar in flavor and texture.
Jessica' s Rankings Ethan's Rankings
1. PH Salted Caramel 1. Ladurée Rose
2. Ladurée Rose 2. PH Salted Caramel
3. PH Rose 3. PH Rose
4. Ladurée Chocolate 4. PH Chocolate
5. Ladurée Salted Caramel 5. Ladurée Salted Caramel
6. PH Chocolate 6. Ladurée Chocolate
Overall Verdict of the Macaron Smackdown
Um, it pretty much ended up being a draw. But we still had another 6 macrons (3 from each store) so we saved these for the next day for Part 2 of the macaron tasting.
Paris Macaron Tasting Day Deux!
The following evening we sat down to the difficult task of tasting the leftover half-dozen macarons that weren't directly comparable to one another. We decided to cut each macaron in half and both taste all six of the remaining flavors and then ranked them.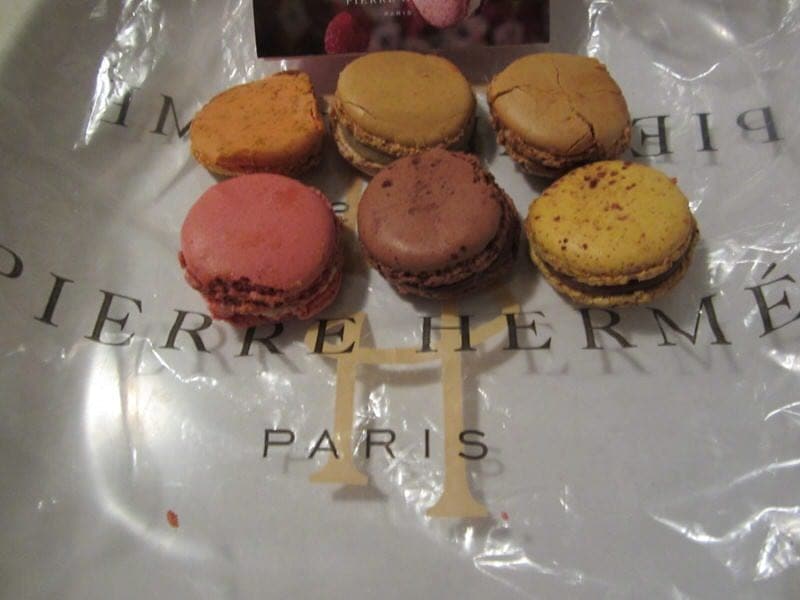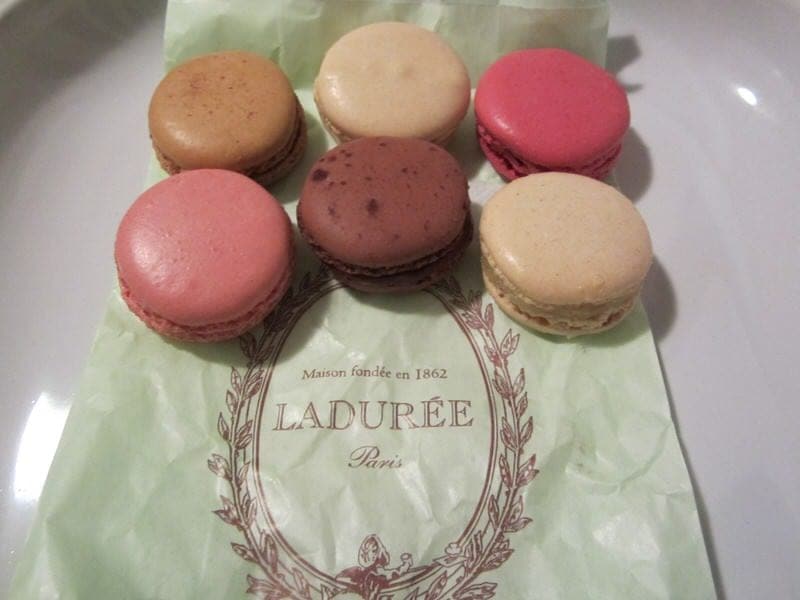 Ladurée Orange Blossom – light flowery taste, nice filling, but not very orange tasting overall
PH Crème Brûlée – vanilla, sweet flavor, creamy, good but not really any of that light burnt taste you might expect
Ladurée Strawberry Mint – liked strawberry macaron shell, but the filling is like a mint jelly and did not enjoy jelly texture
PH Chocolate au Lait & Passion Fruit – complex, sweet & sour, inside is a chocolate center (not creamy), interesting taste
PH Apricot & Pistachio – OK, but a bit too much going on with the flavor and texture combinations, odd color (orange and green)
Ladurée Vanilla – good texture, clean sweet vanilla taste, a bit too sweet perhaps
Jessica Rankings Ethan Rankings
1. PH Crème Brûlée 1. PH Crème Brûlée
2. Ladurée Orange Blossom 2. Ladurée Vanilla
3. PH Chocolate & Passion Fruit 3. Ladurée Orange Blossom
4. Ladurée Vanilla 4. PH Apricot & Pistachio
5. PH Apricot & Pistachio 5. Ladurée Strawberry Mint
6. Ladurée Strawberry Mint 6. PH Chocolate & Passion Fruit
The Verdict of the Great 2013 French Macaron Tasting….
Well, honestly, it was pretty much a tie across all our tastings. In the actual head-to-head challenge, it was a draw. In sampling a selection of three additional macarons from both stores, you can see that even though Ethan and I didn't always agree, we both favored macarons from both Ladurée and Pierre Hermé. So unfortunately we were not able to solve the long-raging debate about which pastry shop makes the best macarons and I think it all comes down to a personal preference. Some of our favorites from the 12 were PH Salted Caramel, Ladurée Rose, and PH Crème Brûlée. You can also check out our Ladurée favorites from last year. Overall, it was a draw and whereas Ladurée might win for consistency, texture and store décor, PH is clearly the winner if you are looking for some adventurous, innovative flavors. We suggest you try both and conduct your own "professional" macaron tasting—we had a blast doing this. While Pierre Hermé has not yet come to the U.S., there is a Ladurée location in New York, but we suggest that this activity is best done in Paris!
Have you tried Ladurée or Pierre Hermé macarons or other treats? Have a favorite? We'd love to hear your opinions and recommendations.