The African Tulip hotel is a centrally located boutique hotel in Arusha Tanzania and is currently ranked on Tripadvisor as the number one hotel in the city. Arusha is a very common stop on most travelers' itineraries in Tanzania as the city is a great jumping off spot to head to a variety of parks for those going on safari and is near both Mount Meru and Mount Kilimanjaro for climbers. In fact, we ended up staying in Arusha three different times during our trip. The first time was unplanned and we ended up at The African Tulip after having to delay the start of our climb of Mount Kilimanjaro after I started feeling ill and running a fever. The hotel was highly recommended by our safari company Amani Afrika and we found out that over 50 safari companies trust their guests to this hotel. This hotel ended up being a perfect place to recuperate and prepare for our Kilimanjaro climb and we'd later return as originally planned for two additional nights following a week-long safari trip. Not only did it offer all the expected amenities, but the staff were truly wonderful and really made our stay stand out. We highly recommend this hotel for those who are looking for a comfortable, safe, and relatively affordable stay in Arusha, and we'll share all the hotel information and our experience of staying at The African Tulip below.
The Basic Information
Location: The African Tulip hotel is fairly centrally located in the town of Arusha, just outside the city center. It is located about a 1 hour drive from Kilimanjaro International Airport and 20 minutes from the Arusha airport.
Address: 44-1 Serengeti Road Arusha, 00255, Tanzania
Phone number: +255 27 254 3004
Email: info@theafricantulip.com
Website: www.theafricantulip.com
Room cost: Rates for a single room start at USD $190 and regular double rooms at USD $230. One bedroom suites are USD $310 and 2-bedroom suites are $500. Triple rooms, extra beds, and honeymoon packages are also available. Children under 5 stay for free while children age 5 to 11 receive lodging rate discounts.
Heading to Karatu or Ngorongoro?: The owners of The African Tulip are in the process of building a new hotel in Karatu called The Retreat at Ngorongoro which will feature 27 spacious cottages. Alongside the building of the new hotel, they are also building a school to provide free basic education to local children. During our trip to Karatu, we stayed at the Karatu Simba Lodge which we also recommend.
Our Arrival at The African Tulip Hotel
Our day turned out much differently than we had planned or imagined. That morning we were in Kenya after having explored Amboseli National Park for a couple of days. The plan was to actually start our climb of Mount Kilimanjaro that morning using the Rongai route which is easy to access from Kenya. However, the day before our climb was supposed to begin I started feeling sick and feverish. It was later determined that I was most likely suffering from side effects related to getting the yellow fever vaccine (TIP: If you need the yellow fever vaccine, get the vaccine at least 3 weeks before you leave home so that if you have symptoms, which are not uncommon, you won't need to interrupt your trip). So it was decided that we needed to delay our climb for at least a day and our sweet safari company owners at Amani Afrika decided it would be nicer if we were physically closer to them in Arusha so they could check on me rather than staying in Amboseli until I felt better. So they choose The African Tulip and although somewhat of a last minute booking, the hotel had a free room so we headed there. It was a long drive from Amboseli to Arusha, with a border crossing and change of vehicles, so I was very happy when we arrived at The African Tulip as I was still running a fever that morning and having these weird muscle spasms. On arrival, we were warmly greeted by the receptionist staff and the general manager of the hotel, Anuj Sharma, and led to our room. We were very lucky as it turned out that they had a suite available and we were given that room. Someone helped us carry our large amount of luggage (we had all our Kili gear with us) and we were greeted when we entered our room by our names on the television screen and a plate of sugar cookies in the shape of tulips. It felt very good to relax in a comfortable room as we were both tired and I was still feeling a bit ill.
Rooms at The African Tulip
The African Tulip has 29 guest rooms, 7 of which are suites. The rooms are individually decorated with a safari theme, using warm tones and local art. African materials are used for the decorations and furniture when possible. All rooms are non-smoking, but guests can smoke on the balconies of the 5 rooms that come with them. The hotel rooms include all the basic amenities you'd expect from a boutique hotel, including comfortable beds, a desk, bath/shower, flush toilets, a wide screen television, air conditioning, a safe, a telephone, hairdryer, coffee and tea, kettle, personal toiletries (soaps, shampoo, etc.), and a high-speed Wi-Fi connection (for a fee). The suites are larger than the regular rooms and also include a mini-bar, a sitting area, and some also include balconies. As mentioned, you'll find a plate of sugar cookies on arrival which we happily ate as a nice late-night snack with tea. We stayed in one of the suites for the first night and then stayed in one of the regular deluxe rooms on our return for another two nights. The suite (#23) was very nice with a spacious bathroom and large outdoor balcony and we obviously were happy to have stayed in this room the night before our Kili climb. It gave us lots of space to move around and lay out all our gear. But that said the regular rooms are also quite comfortable and for the price, they are probably a better value. We did hear some noise from the staff one morning quite early, probably the kitchen staff preparing breakfast, so if you are a light sleeper you may want to request a quiet room on the top floor. The only complaint we had during our stay was that wireless Internet is not free at the hotel, although there are three free guest computers in the reception area business center.
Dining and Drinks at The African Tulip
There is one full-service restaurant, a lounge, and two bars located within the hotel. The elaborately decorated Baobab Restaurant offers Indian, Tanzanian, and Continental European food options that can be eaten at the restaurant or served poolside or in the garden area. The buffet breakfast is also served in the Baobab Restaurant and offers a wide array of meats, veggies, breads, pastries, and juices as well as a made-to-order egg station. The Serengeti Bar is located poolside and serves a range of drinks and snacks during the day. The Zanzibar Lounge is a comfty lounge area that includes bookshelves, lots of tables, and a bar where you can order alcoholic drinks as well as coffee, tea, tea cakes, and snacks. We had coffee twice in the Zanzibar Lounge and it was a great place to meet people or to just sit and relax. Breakfasts were good and filling and we also really enjoyed the restaurant food. We ate dinner at the Baobab Restaurant on one evening. The hotel manager recommended a number of local dishes after we said that we wanted to try Tanzanian food and he even conferred with the kitchen staff to help ensure we could try some of his recommended dishes. We had a wonderful smorgasbord of local freshly prepared dishes: kachumbari salad (onion, tomatoes, cucumber, green peppers and cabbage), chapati (a wheat bread similar to Indian chapati), kuka wa kupaka (chicken cooked with coconut sauce), pulao (a rice dish with carrots, green peas, onion, and garlic), and mchicha (amarath greens and sweet corn). The prices at the restaurant are reasonable and the meal noted above with two bottles of water was 34,000 Tanzanian shillings (USD $21.00 at the time of our stay). We'd definitely recommend ordering some of the local African dishes on the menu although we also heard from other diners that the Indian dishes are very authentic and tasty as well.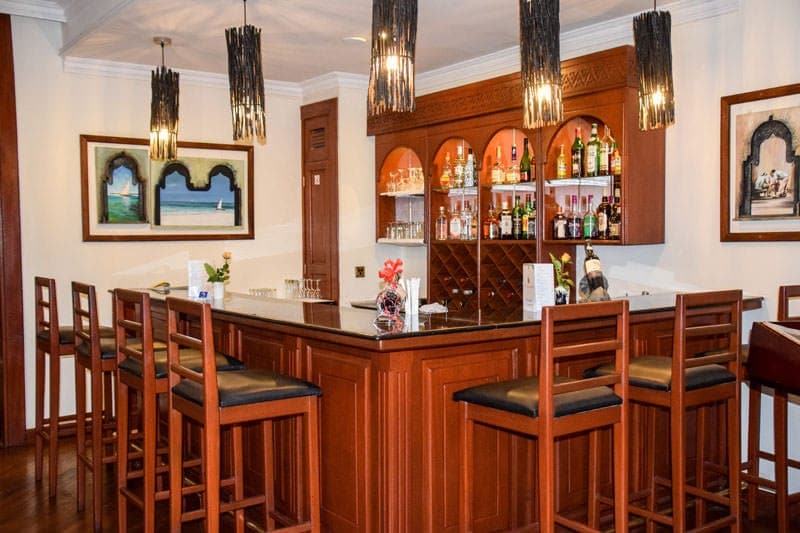 Amenities and Service at The African Tulip Hotel
The African Tulip opened in 2008 and offers a number of amenities, including a small business center, a 30 seat conference room, two fully stocked bars, wireless Internet (for a fee), an outdoor swimming pool, and a gift shop which includes some very pretty tanzanite stones and jewelry. The business center is located in a room right next to the reception area and contains three complimentary computers with Internet and a printer for guest use which helps balance out the fact that the hotel charges for WiFi access. We used the computers here a couple of times and they worked great. In the future, there are plans to expand the hotel and offer a second 45-person conference room and a spa/massage center. Too bad we didn't get a chance to experience the spa as a massage would have been very nice pre-climb or post-safari.
If you read reviews of this hotel you'll almost consistently see comments about the friendliness and helpfulness of the staff. We definitely experienced very good service during both of our stays including assistance with our luggage, smooth check in and check out procedures, having someone promptly replace a non-working kettle in our room, friendly staff in the Zanzibar Lounge, and knowledgeable dining staff in the Baobab Restaurant. We were also very impressed with the friendly general manager of the hotel, Anuj Sharma, who seems to go out of his way to greet guests and make sure things are running smoothly in the hotel. We asked Mr. Sharma why he felt the hotel consistently receives such rave reviews from travelers and he explained to us that given that many travelers are coming back or leaving for safari and climbs, the hotel prides itself in providing "a comfortable bed, a good breakfast, and a hot powerful shower". Since many safari goers and climbers' trips include experiences such as driving along bumpy dirt roads, sleeping in tents, using non-flushing toilets, and taking quick showers with limited hot water, these are indeed vitals ingredients for a hotel to provide in Arusha. He also noted that they try to hire and train local people and that 95% of the staff were Tanzanian; the owners of the hotel are Tanzanian nationals of Indian origin. We really liked the commitment to train and hire local people as many local people don't have the money to attend outside formal training programs.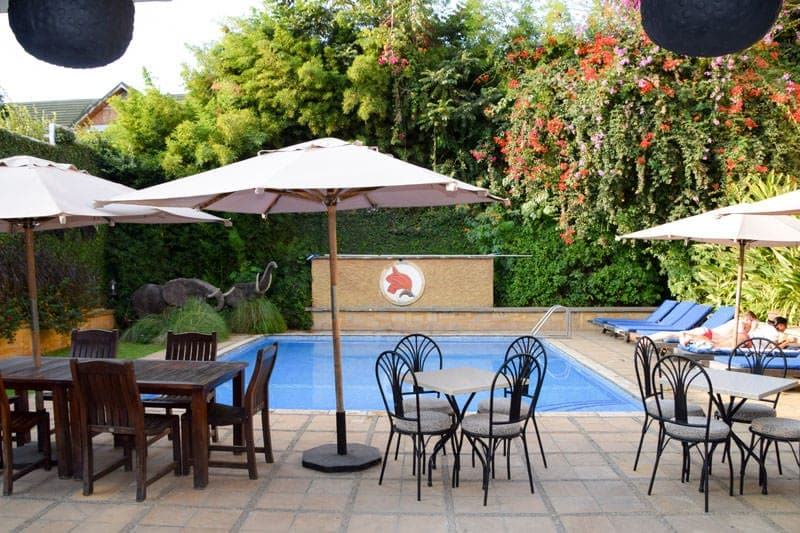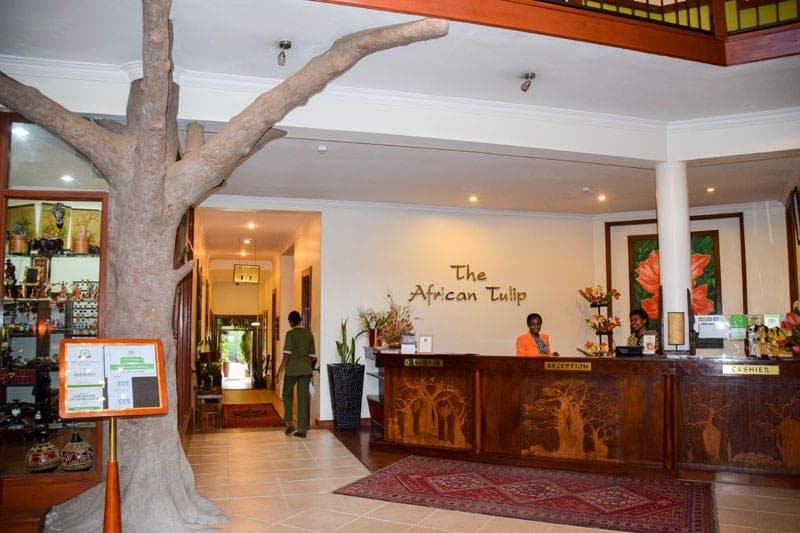 Overall Thoughts on The African Tulip hotel
We stayed at The African Tulip twice for a total of three nights and overall we experienced good lodging, food, service, and hospitality. It was not difficult to understand why the hotel is currently rated as #1 in Arusha by guests on Tripadvisor. The African Tulip provides all the amenities that Western travelers would expect and also really shines on its commitment to friendly customer service. The hotel is also in a good location, just outside the city center of Arusha, and is also very convenient for those heading to or from a safari or climbing adventures. It is well-trusted by over 50 safari companies and we heard no complaints by any guests during our stay. The only negative thing we have to say about our stay is that you have to pay for wireless Internet access at the hotel which is obviously a necessity for a travel blogger, although there are public computers with Internet for free guest use. Overall, we would definitely recommend checking out The African Tulip if you are looking for a comfortable, friendly, and safe place with a hospitable staff.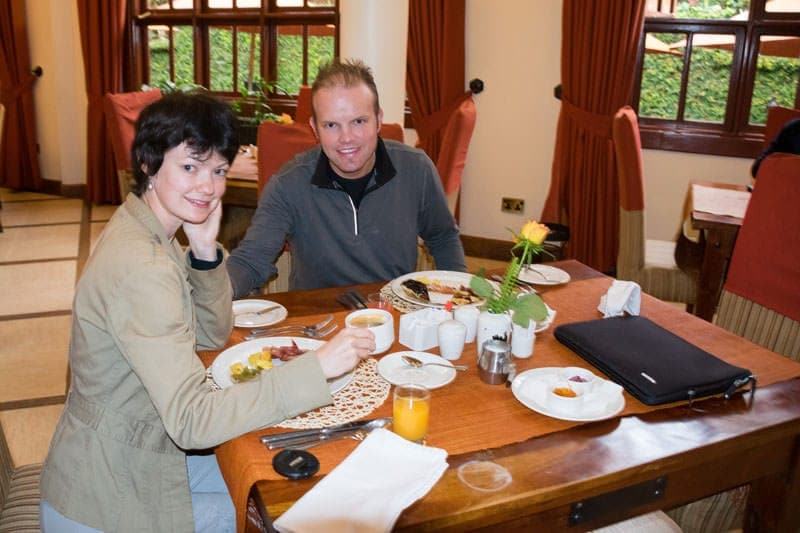 What are the top things you look for in a hotel before booking? Have questions for us about our stay at The African Tulip or things to do in Arusha? As always we welcome any comments or questions!
**Disclaimer: We received a discounted stay in order to review The African Tulip and its services; however, this article contains only our own honest thoughts and opinions.**