A cup of tea from Mariage Frères always reminds me of Paris, France. Interestingly, for most people tea does not come to mind when they think of Paris. People generally imagine Parisians at cafés chatting over coffee and wine (and maybe even absinthe à la Hemingway) rather than sitting down for afternoon tea. It's true, Paris isn't London or Beijing, but tea has been gaining popularity in the City of Lights over the last few decades and tea rooms and afternoon tea services have been popping up all over Paris. We'll take you on a quick tour of the oldest tea company in France, Mariage Frères (translated: Mariage Brothers), which was founded in 1854. We love their teas and we were excited to finally make it to one of their tea salons for a cup of tea and some pastries during our last visit to Paris.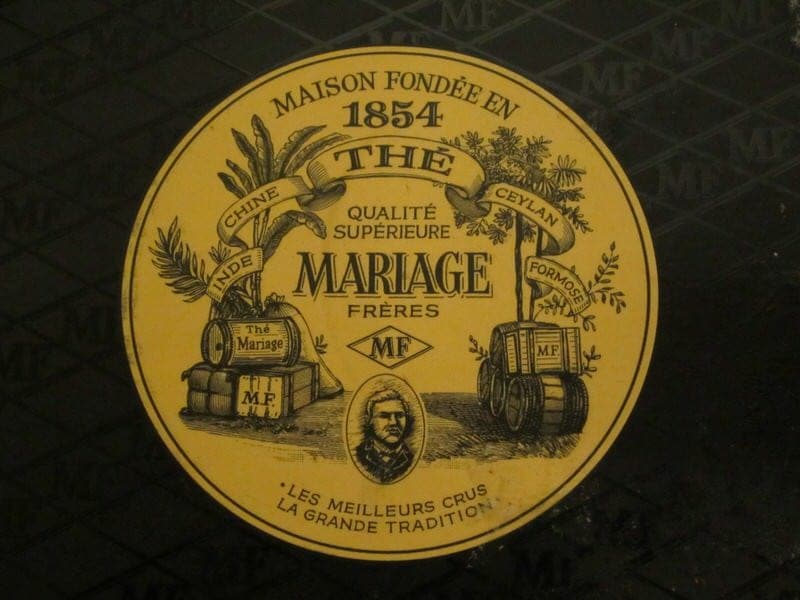 Some Basic Information about Mariage Frères
Where are the Mariage Frères tea salons located?
There are several tea salons and restaurants located in Paris:
99, rue de Rivoli, Paris 1er

30 rue du Bourg-Tibourg, Paris 4e (this is the one we visited)

13 rue des Grands-Augustins, Paris 6e

260 Faubourg Saint-Honoré, Paris 8e
The Paris tea salon locations are generally open from about 10:30am to 7:30pm (10:30-19:30), but check the hours of the specific tea location.
There are also a few Mariage Frères locations in Japan, London, and Germany.
Cost?
A cup of tea and a scone at a Mariage Frères tea salon will cost you about 10 euros. A full meal or a full afternoon tea will run you between 18 euros to 60 euros. Check their menus online on their website.
At their stores, a tin of loose tea (100 grams or 3.5 ounces) or a box of 30 tea bags will cost you around 12 to 15 euros.
Where Can I Buy Mariage Frères Teas in Paris?
In addition to the tea salon and restaurant locations above, you can also buy them at their stores (17 Place de la Madeleine) as well as several other places in Paris, including department stores (Galeries Lafayette, Bon Marché, and Printemps all carry the brand) and airports (Orly and Charles de Gaulle). For the best selection, go to one of the actual Mariage Frères tea stores, but you should be able to find many of the most popular teas at any of these locations.
Where Can I Buy Mariage Frères Teas outside Paris?
You can buy their teas at their Mariage Frères stores and vendors (locations in France, United Kingdom, Japan, and Germany), on the Mariage Frères website, through a select number of third-party gourmet food stores (e.g., Market Hall), and Amazon! Note that the international shipping costs to buy from the Mariage Frères website can be a bit steep, which is why we generally just treat ourselves while in Paris and slowly drink up our purchases once we get back home. Although now we are lucky to also be able to include it occasionally in our Amazon shopping basket!
Where Can I Find More Information on Mariage Frères?
Mariage Frères offers over 600 tea selections and sells a number of other tea-related products from teapots to tea candies to tea-scented candles. You can find out more about the company, products, store locations, and purchase products at the official Mariage Frères website.
Our Visit to Mariage Frères (the hidden tea museum and some of our favorite tea blends)
I first discovered Mariage Frères teas a few years ago and fell in love with their Marco Polo black tea blend, which is one of their most popular flavored black teas. Since first trying this tea, I had really wanted to pop into one of their tea salons and try some other blends. Well, on our last visit to Paris we got our chance. After a day of free museums in the Marais, we visited their 30 rue du Bourg-Tibourg store and tea salon location.
Some of the Mariage Frères locations have little museums, including the Marais location. When you enter the store, look for a narrow wooden staircase to your left past the counter. There were actually people and boxes in our way as the store was quite crowded, but I politely asked a nearby staff member if we could go upstairs to the visit the museum and he helped clear our path. Not surprisingly, we had this little tea museum to ourselves. The museum is certainly not a must-see and consists of only a couple of rooms, but as a tea lover, I still spent 10 to 15 minutes examining the various old tea pots, signs, and tea paraphernalia.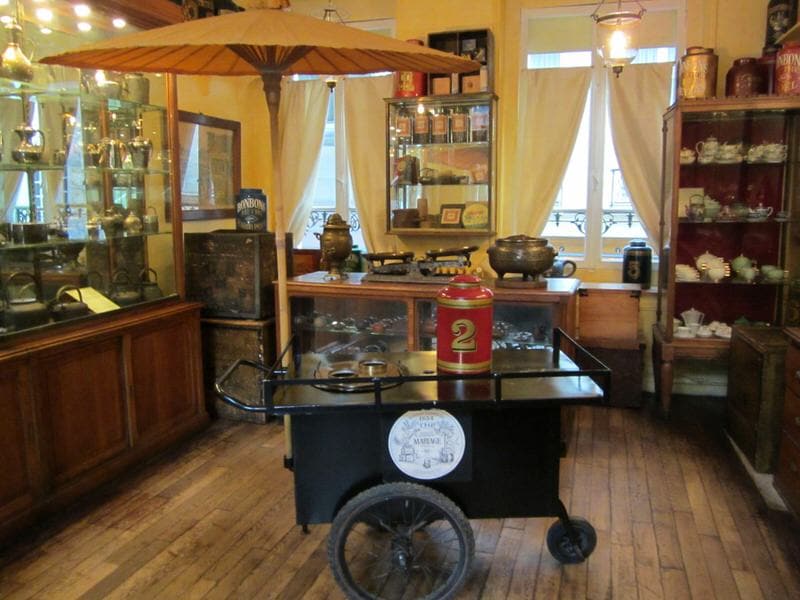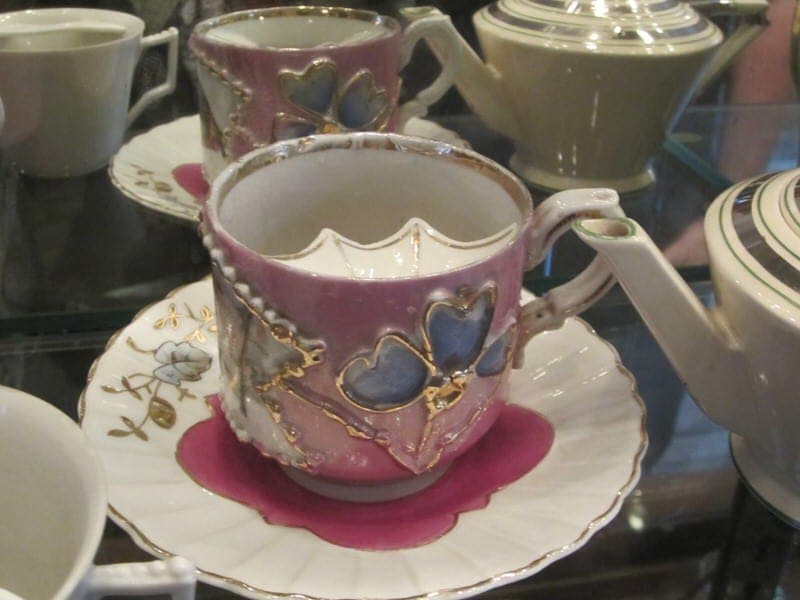 Next we came back downstairs and asked for a table. We had to wait a few minutes but then they led us upstairs to a table for two and gave us our menus. They also left us a copy of the book "The French Art of Tea" (sold at Mariage Frères) to peruse, which I enjoyed leafing through and learning more about tea in France. The tea menu is quite extensive (they do have over 600 teas) so we took a while to make our selections, but I finally chose the Fruits Noirs (Black China and Ceylon teas flavored with black currants, blackberries, and blueberries) and Ethan chose the Wedding Impérial (This glamorous blend is steeped in the passion that weds the malty power of golden Assam tea leaves to the sweetness of notes of chocolate and caramel). These are both black flavored teas and the teas come served in a teapot. In addition, we both ordered a scone and shared a piece of one of the cakes of the day.
The scones were good but sadly they did not have any Devonshire cream, which I think I enjoy more than the scones themselves. But I had to remind myself we are in France, not England and tried to enjoy the offered jellies instead. The cake was decadent and hit the spot. My tea was OK, but not as great as I had hoped (I am a fan of fruity black teas), but Ethan's tea was delicious and I was jealous. We both really loved it and now we can't decide if our favorite tea is Marco Polo or Wedding Imperial. Our total bill was 30 euros for the two cups of tea, two scones, and piece of shared cake. It was a nice afternoon break, but certainly a splurge for us since we still had a dinner to go to later.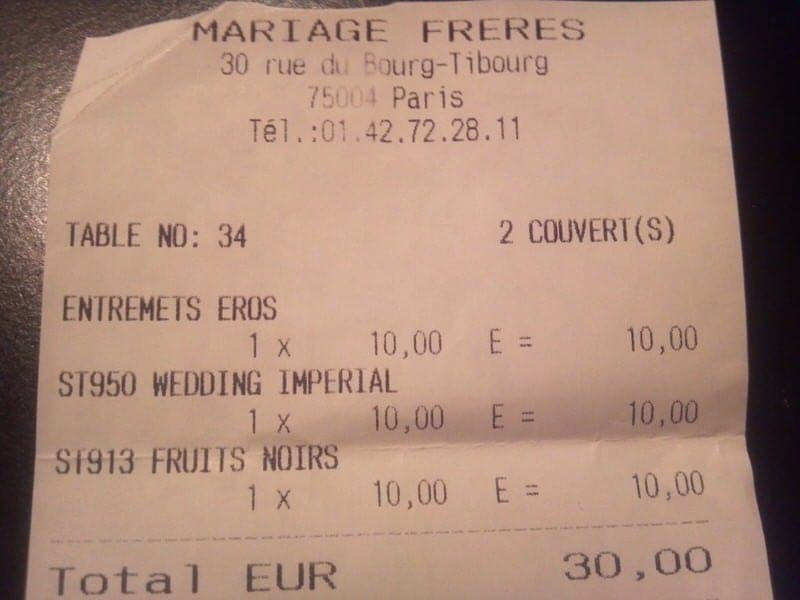 On our way out, I decided I wanted to splurge a bit more and buy some tea. Unfortunately, it was very crowded in the store so this ended up being a bit of a trying experience with throngs of people sniffing all the teas and crowding around the small store area. You have the option to have them weight out loose tea by the gram or buy prepackaged tins of loose tea or tea bags. I would guess that having them weigh and package the tea in the store is the best deal, but given we wanted to store it for a while, we chose a prepackaged tin of Wedding Impérial (13 euros) and a tin of Marco Polo (12 euros). The loose tea tins are sealed (good if you plan to not drink it soon or want to take it home for a gift) and the tea bags are of very good quality (French muslin cotton). We find that the tea bag boxes get smashed up a bit more in our luggage than the loose tea boxes, which might be a consideration if you are planning to bring back a box as a gift.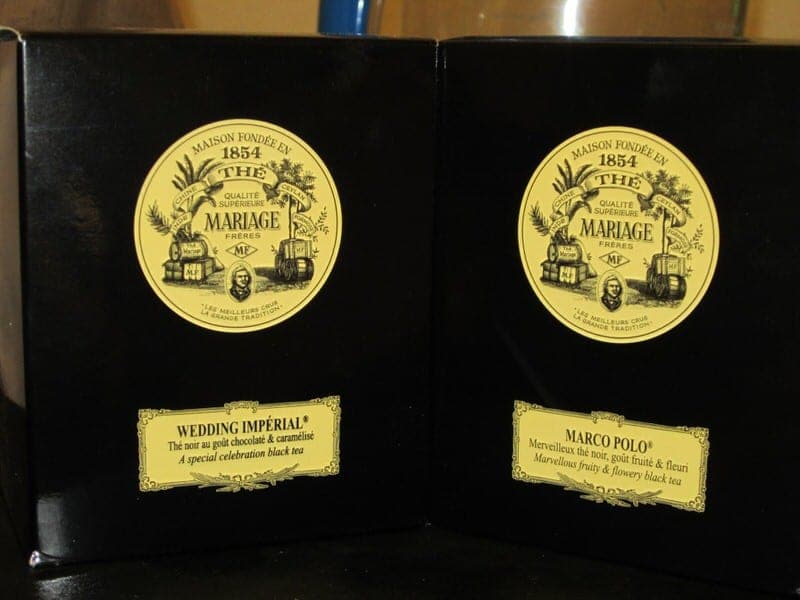 If you love tea, I would definitely recommend a stop at France's oldest tea company. While the tea salons can be a bit crowded, once you are seated at a table, you can sit back and enjoy a pleasant cup of tea. If you want to buy some of their teas and the store is crowded, try buying them at one of the department stores or at the airport (or from their website!) where you won't have to fight the lines. We are still slowly sipping away our stash of Marco Polo and Wedding Impérial, and we can't wait to try out some more teas on our next visit. Eros, Parsifal, Bal Masqué, Choco-Menthe, Myrtille, Paris Breakfast Blend, and some of their Darjeelings are all on the list—I think I may need to spend another month in Paris to try them all out!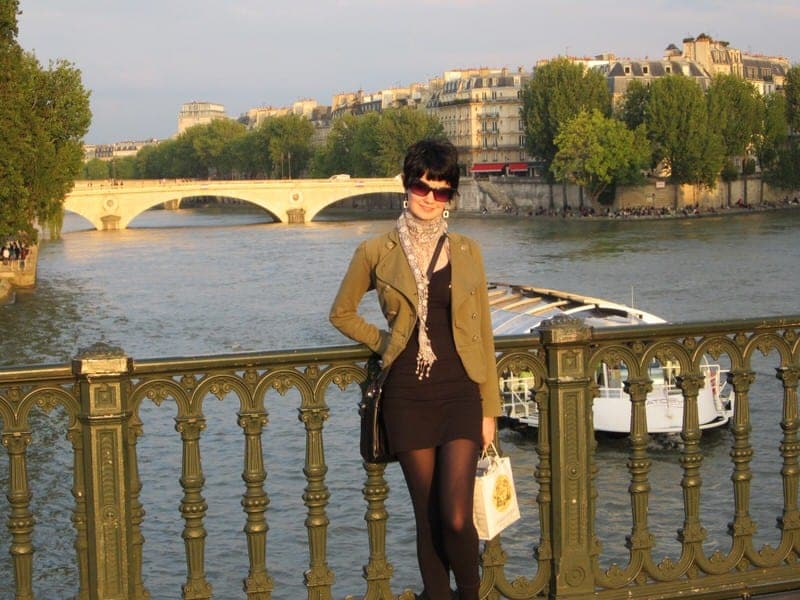 Have questions about visiting Mariage Frères ? Have you been to Mariage Frères? What is your favorite Mariage Frères tea? We'd love to hear from you!