If you are interested in buying some clothes in Paris, but don't have too much money to spend, Free P Star may be a great store to check out. Free'P'Star is a Parisian vintage store that currently has three locations in the Marais. While many vintage clothing shops in Paris have me saying "C'est trop cher", prices at Free'P'Star begin at just 1€! We happened upon the store on Rue de Rivoli while doing some exploring in the Marais this past Spring and thought we'd share our discovery for those of you searching for some cheap vintage fashion finds in Paris. Our stop here turned out to be a little shopping adventure.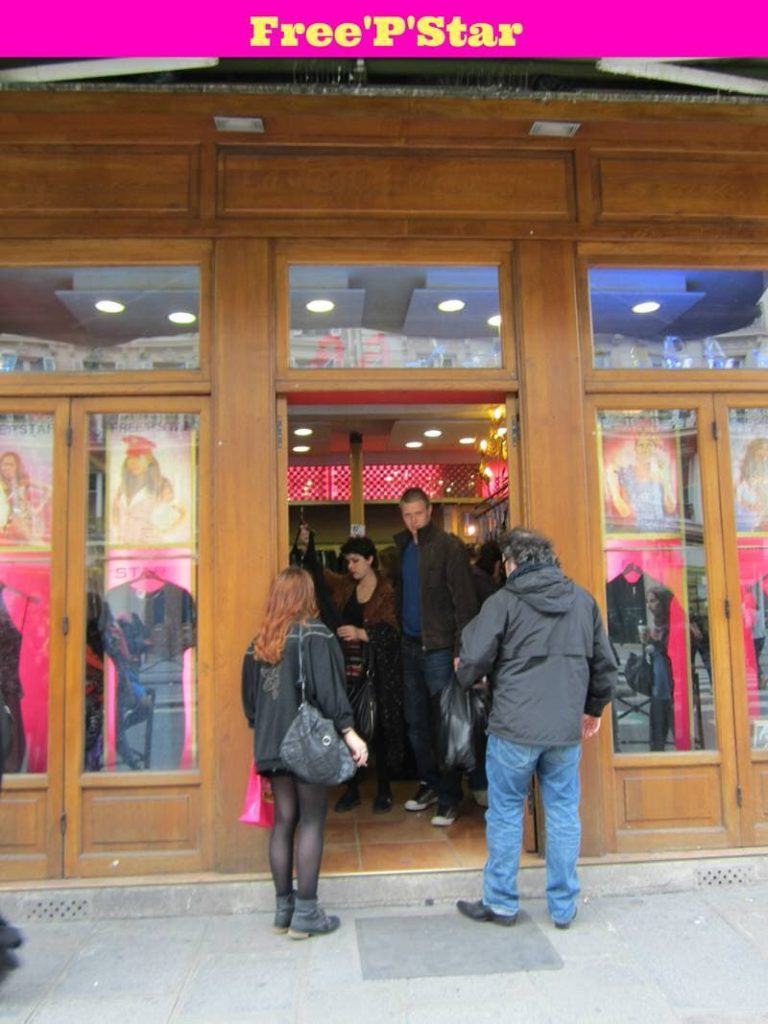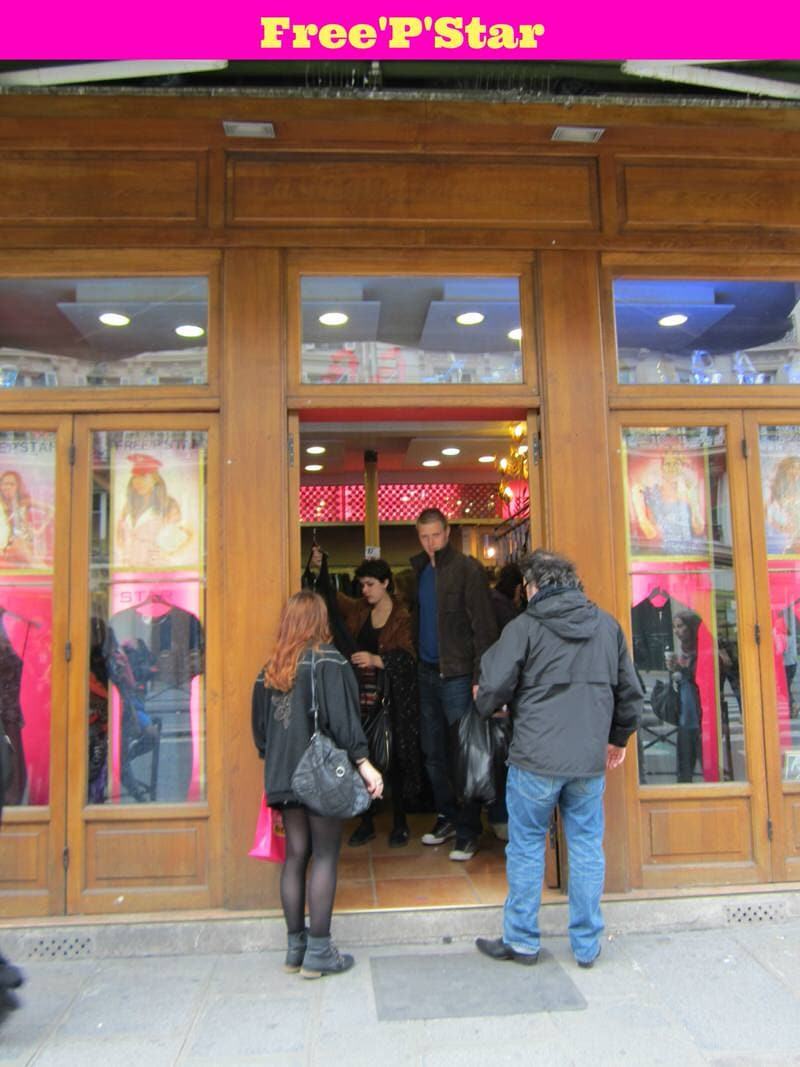 Basic Info on Free'P'Star
Store Locations: All three Paris store locations are in the Marais in the 4th arrondissement so you could actually hit all three in an afternoon if you are ambitious. Addresses: 1) 8 rue Sainte Croix de la Bretonnerie, 2) 20 Rue de Rivoli, and 3) 61 Rue de la Verrerie
How to get here: Check out Free'P'Star website for a good little map of the store locations and nearest metro locations.
Hours: Open daily, with more limited hours on Sundays. Check website for individual store hours and contact information.
Payment: Accepts credit cards but only for payments over 20€, so bring some cash with you.
Website: Official website (in French)
Our Experience at Free'P'Star
First off, I am OK with shoveling through racks and bins of used clothes for good bargains, but this is not everyone's cup of tea. There is undoubtedly a lot of outdated and worn-out clothing items here (e.g., old fur jackets, torn jeans) so be prepared to actually dig around, and don't expect to find a nice vintage Chanel jacket here for 20 euros. However, your search can reward you with some good finds if you're patient. Free'P'Star mainly carries women's clothing and accessories (some shoes as well), but they did have a few racks of men's clothing. We were only there for about 20 minutes, but I noticed some silk scarves, leggings, and hats for 1 euro, button-up tops for 1 euro, cute mini-skirts for 5 euros, retro summer dresses for 10 euros, Ralph Lauren sweaters for 20 euros, and lots of leather jackets starting at around 20 euros. I don't think I noticed anything over 50€. Keep your eyes peeled for employees putting out new merchandise as that is probably the best way to locate some gems in these busy little stores. The store location we were at had a basement where you can find even more bargains if you're brave enough to take the little spiral staircase downstairs into an even more cramped space. This is where you'll find the infamous 1 euro bins along with a few more racks of vintage clothing.
The green cotton jacket I took on the trip was getting worn and had a couple of bleach stains, so I decided to use my time at Free'P'Star trying to find a replacement jacket for 5€ or less (what a budget!). Ethan didn't find anything on the men's racks, so he joined me in the claustrophobic basement and aided in my cheap jacket search. Having Ethan with me helped give me some much-needed breathing room from all the other women grabbing stuff out of the bins and off the racks around me. Not surprisingly, people were much less likely to try to push Ethan out of the way than little me. Our search yielded three worthy jackets by digging around in the basement's 1€ bins and 5€ racks, but only one of them actually fit. So in the end, my big purchase was a 1€ green Etam military style jacket. It needed a good washing, but it made a great durable travel jacket and I still wear it all the time.
I was very pleased with my little purchase, but this cool little vintage store is not for the impatient or faint of heart. It's sort of an adventure as you get real close and personal with the other shoppers as the stores are small, slightly disorganized, crammed with clothing, and generally pretty busy. Be prepared for a bit of pushing, and you need to be a bit aggressive if you want to get around other shoppers and reach certain racks or bins. Also, there did not appear to be a dressing room at the store location on Rue Rivoli (although I didn't ask to confirm this), and people were trying on clothes in front of the store mirrors. So perhaps dressing so that you can try things on over your clothes (e.g., a dress if you want to try on pants, camisole if you want to try on shirts, easy to slip off shoes, etc.) may be useful if you really want to do some shopping. Despite all the chaos, I would definitely return again as the prices are practically unbeatable and there are some diamonds in the rough to be discovered here. I plan to take more time during my next visit to actually look around.
So if you are in the mood for a little adventure in cheap vintage clothing shopping during your next trip to the City of Lights, plan a stop to Free P Star. Have you been? Do you have other recommendations for inexpensive clothing in Paris? We'd love to hear them.
Also if you happen to know the origins or meaning of the strange store name, we'd love to know!