While in South Korea last week, we visited our first cat café in Seoul. Cat cafés first gained popularity in Japan (although according to Wikipedia the first was opened in Taiwan in 1998) and then spread across Asia. They are now starting to spring up in Europe and other places. These are essentially normal coffee or tea shops, with the exception that they contain a number of cats (typically 10 to 30) that patrons are allowed to pet and play with during their stay. So the price of your latte generally includes as much cat watching and loving as you wish, although in some cafés you have to pay by the hour. The intended purpose of these cafés is to let people who are not allowed to have cats or dogs in their apartments, dorms, or homes come spend some quality time with some furry critters while sipping some coffee. It is also great for cat-loving travelers who need a good kitty fix in Asia. We ventured out to find a cat café on our very first evening in Seoul and our search actually took some twists and turns, but it ultimately resulted in both coffee and some very adorable kitties! We'll share our experience as well as provide some information on how you can find a cat cafe in Seoul.
Visiting a Cat Café in Seoul
Many of the cat cafés in Seoul are located in the Hongdae area of Seoul near Hongik University (metro stop: Hongik University). Outside of Seoul, there are also cat cafés located in many of the larger cities throughout Korea (e.g., Busan, Ulsan).
There are a number of animal cafés in Seoul, mostly cat cafés, but here are the names and current information on a few of them. If you are interested in visiting a particular café, you might want to call ahead to double check the address (or have a tourist information office assistant or someone at your hotel do this for you) as the names and locations of these cafés appears to change quite frequently. Unfortunately, almost all websites for the pet cafés are in Korean only. Most are open from afternoon to evening.
Lily Cat Café (also a place for board game lovers)
Address: 53-11 Myeongdong 2(i)-ga, Jung-gu, Seoul, South Korea
Website: Could not locate a website.
Godabang Cat Café (also known as Cat Attic)
Address: 162-14 Donggyo-dong, Mapo-gu, Seoul (has other locations as well)
Website: http://www.godabang.com
y Cat Café (former location of Gio Cat Café)
Address: 12-6, Wausan-ro 21-gil, Mapo-gu, Seoul
Website: http://cafe.naver.com/ycatlove
Dog Cafés in Seoul
In case you need a doggie fix, there are a few cafés that cater to dog lovers although these are more uncommon than cat cafés. Note that we've heard these tend to be a bit noisier, dirtier (dogs peeing on floor), and more smelly than the cat cafés as dog owners will likely understand.
Bau House (very popular)
Address: 394-44 Seogyo-dong, Mapo-gu, Seoul (inside Je-il Building)
Website: http://bau.cyworld.com
Caffe Pawz
Address: 834-8 Yeoksam-dong, 134 Yeoksam-ro, Gangnam-gu, Seoul
Website: http://cafe.naver.com/cafepawz
Sunnyne Dog
Address: 16, Yanghwa-ro 18an-gil, Mapo-gu, Seoul
Website: http://blog.naver.com/sunnynedog
Our Experience Visiting a Cat Café in Seoul
What is the first thing most people do when they arrive in Seoul? Perhaps take in one of the many royal palaces, explore some traditional hanok houses, or try some spicy Korean food, right? All great first options, but being the cat-loving travelers that we are, we checked into our guesthouse and our first mission was to find a cat café in Seoul.
We had a name and address of a recommended cat café, so we hopped on the very efficient Seoul metro and headed to the Hongik University stop which was closest to the cat café address. We walked around this bustling university area for a bit before we were headed in the right direction. If lost in Korea, just ask someone or don't be surprised if someone asks you if you need help when looking at a map as we found the Korean people to be amazingly helpful to visitors. We were very excited to locate the sign for Tom's Cat Café. We were there! Now, one thing to note in Seoul is that the same building tends to house a number of businesses and you'll need to locate the stairs to go to those not on the ground floor. Our destination was on the third floor so we followed the signs upstairs to meet the kitties. However, here is what we found: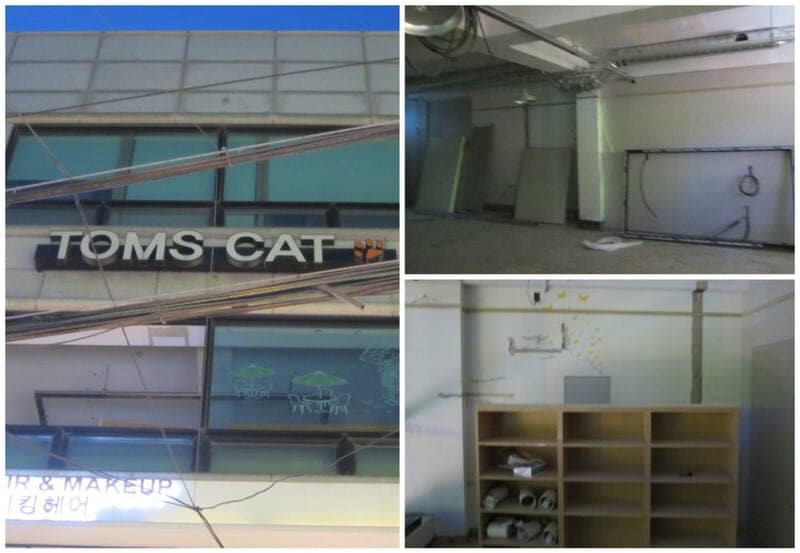 It appears that Tom's Cat Café has either moved (with no signs indicating a new address) or is out of business. A man with a business nearby said he thinks they went out of business. Disappointed, we weren't sure what to do. We happened to have the address to another cat café written down, Godabang Cat Café, and we were lucky because it was within walking distance. So we reversed our path to find Godabang Cat Café. However, along the way we spotted a sign for another cat café in Korean. We decided to try to figure out where it was and headed down an alley. Everything was in Korean, but the pictures of cats helped us figure out it was upstairs in a similar building to the one that Tom's Cat Café had formerly occupied. It turned out that we had stumbled upon the y Cat Café (in English) and was the former location of Gio Cat.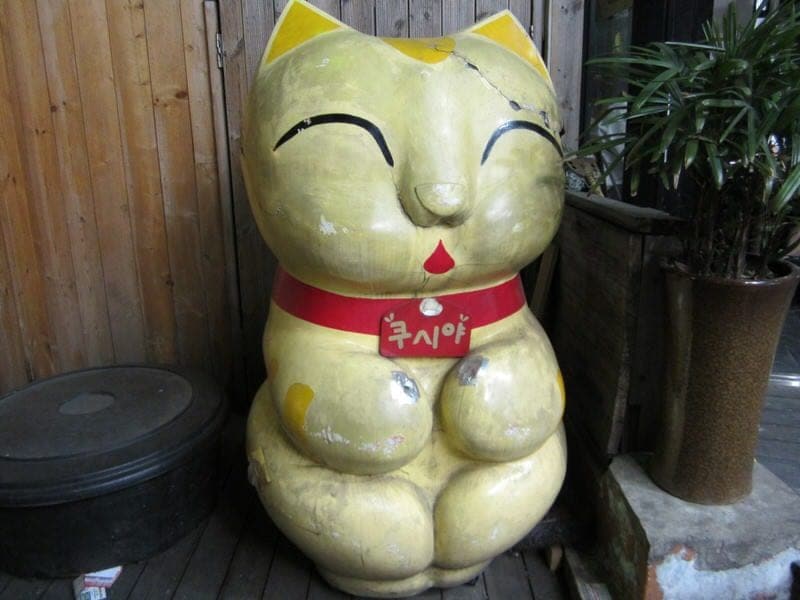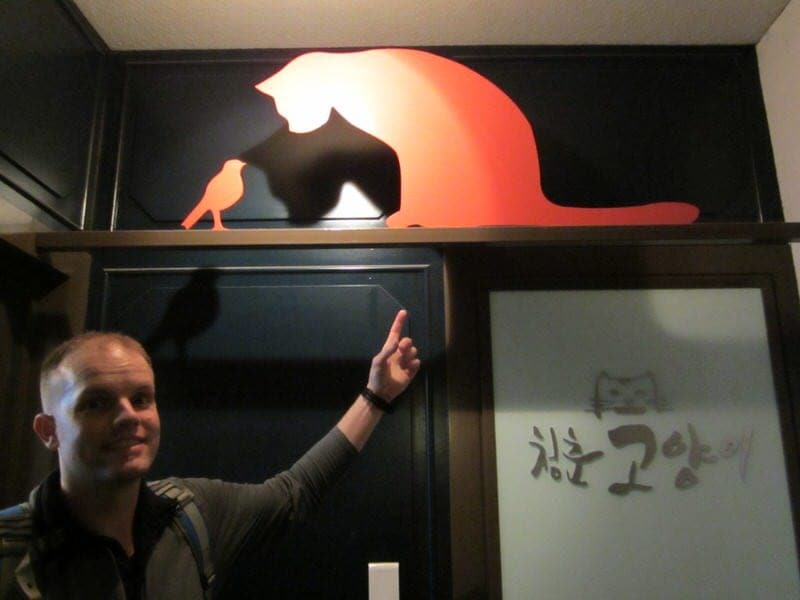 We were overjoyed to see actual people inside the door and just hoped there were cats inside somewhere. A young woman pointed to some signs and said a few things in English instructing us to take off our shoes. The entry procedures were similar to many other pet cafés: 1.) Take off shoes, put on provided slippers or sandals, 2) Place shoes, belongings, and anything you don't want covered in cat hair in a locker, and 3) Sanitize your hands.
Now we were able to enter and we saw kitties sleeping and running about everywhere! But before we could begin playing, the young woman pointed to a machine where we purchased a drink ticket each. It was 8,000 won per person and we could choose any coffee drink, tea, or juice on the menu and we could stay at the café and play with the kitties as long as we wanted. While $16.00 (approximate value in USD) is a lot for a couple of coffee drinks, it helps support taking care of all the cats and we both felt it was well worth the price.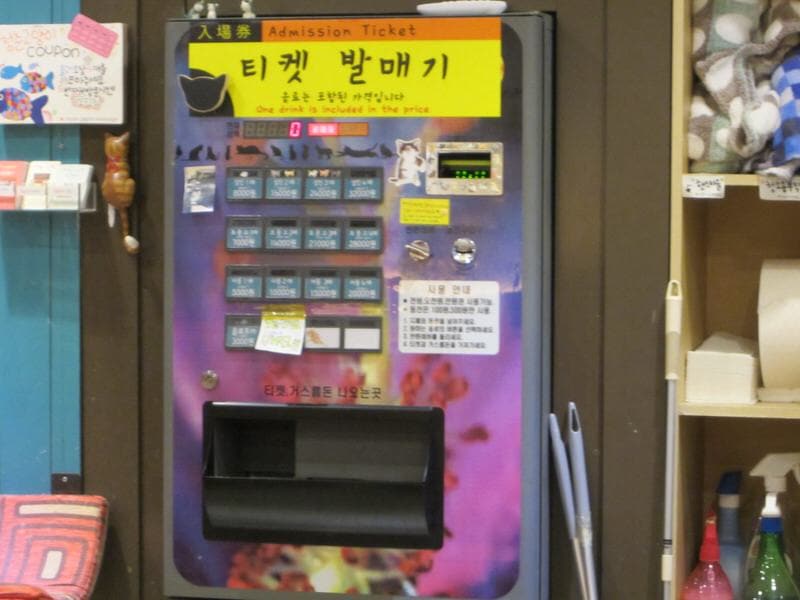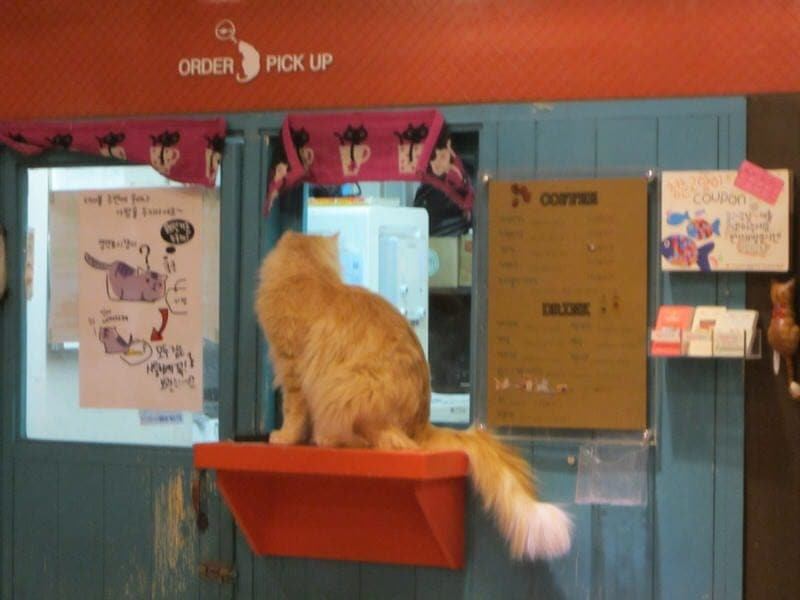 After ordering a caramel macchiato and a latte, we were given a table and then told we could play with the cats. There are rules posted about how to behave while there which are mostly common sense. These included not picking up the cats, not pulling their tails, leaving irritated or sleeping cats alone, not giving the cats people food, not using flash to take pictures of the cats, closely monitor younger children, etc. The other patrons were a group of college students, a young woman, a young couple, and two families with a young child. We were the only ones who did not speak Korean and the people who ran the cafe did not speak much English but this was not a problem and they were friendly. We were told that week nights are much better than weekends as far as crowds as during our stay there were not a lot of people at any one time.
Almost immediately this odd but cute kitty jumped up on my lap and curled up for a nap. This little kitty would remain on my lap sleeping most of the visit until I got up to walk around. I think he was a shaved Persian or Exotic kitty.
Ethan sat awaiting his kitty, but none came over to join him. He was jealous of my content little kitty, so he set out around the room to make friends. After a bit of time, it became fairly obvious which cats were most interested in being pet and getting attention. Eventually Ethan made some friends.
There were 23 cats roaming around the café. A couple were kittens but most were adult cats. They are able to jump up on shelves and up on walkways close to the ceiling to get away from people as they wished. Their litter boxes are in a separate room connected with a hole for the cats. Some cat toys are provided for anyone to use to play with the cats. There is also a giant wheel, essentially a giant hamster wheel in the room, and I didn't really think the cats would ever use this. But we got to witness one cat actually using it a couple of times that evening!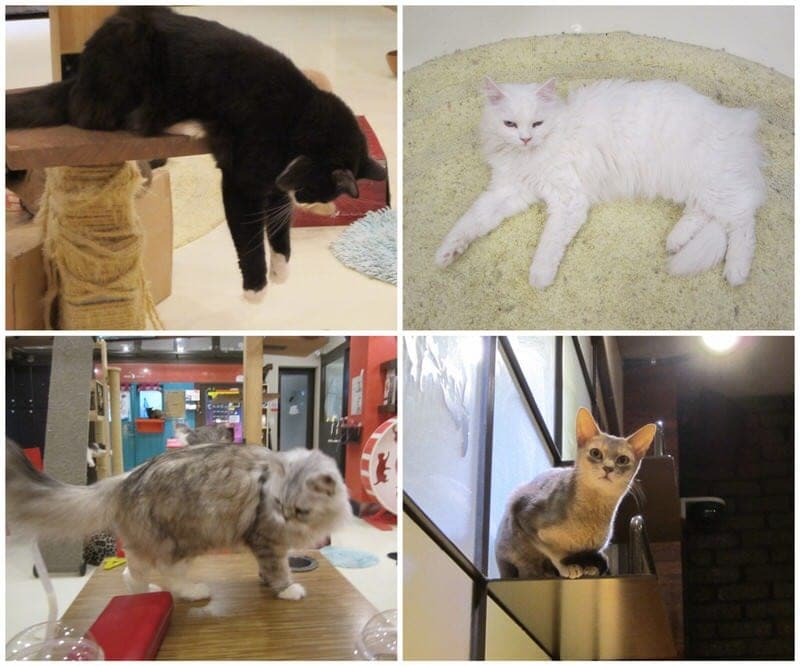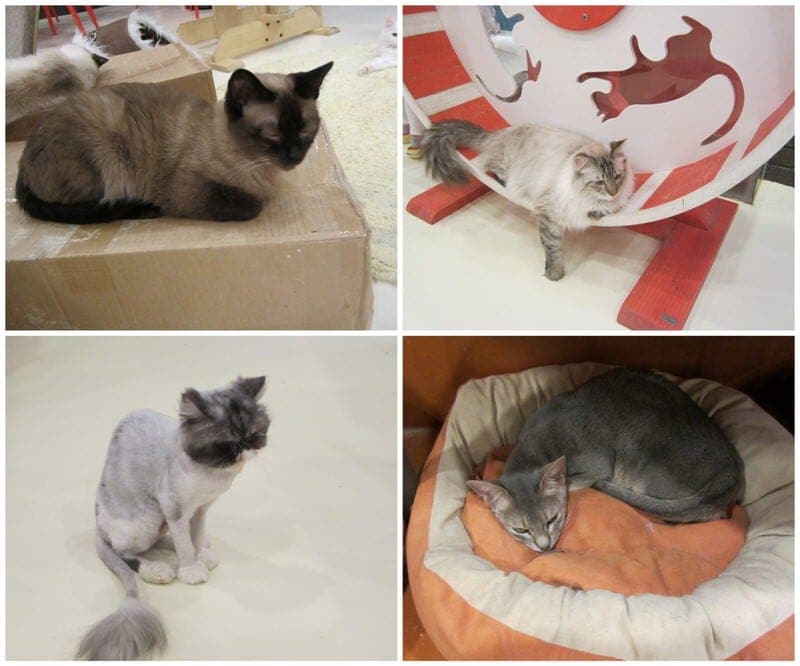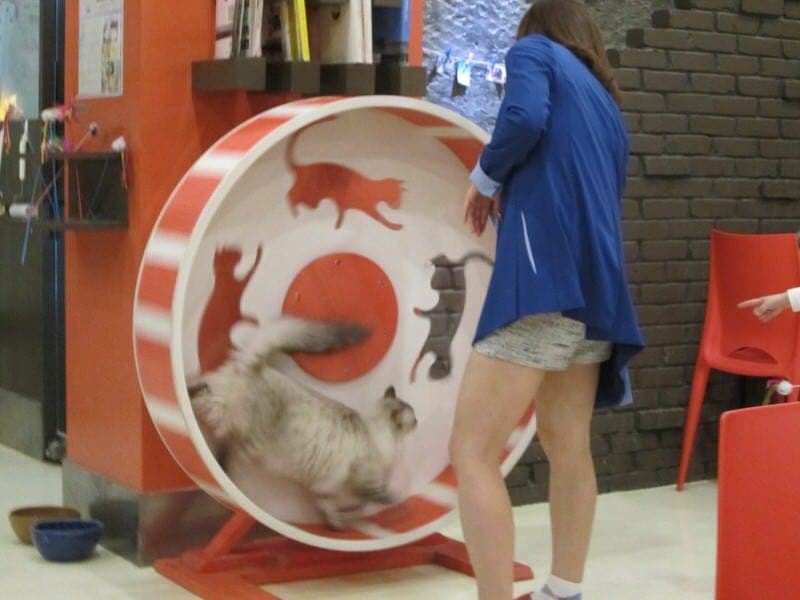 The café was very clean for having 23 cats and the young woman was regularly coming over to tidy up things and clean. The cats appeared to be healthy and well taken care of by the workers. A man, who may have been the owner, came at one point and the cats all gathered around him for some petting and treats. They cats also flocked to the young woman and seemed to enjoying being groomed and petted by her. While there was a faint odor near the room containing the litter boxes, I never really noticed it while sitting at the table.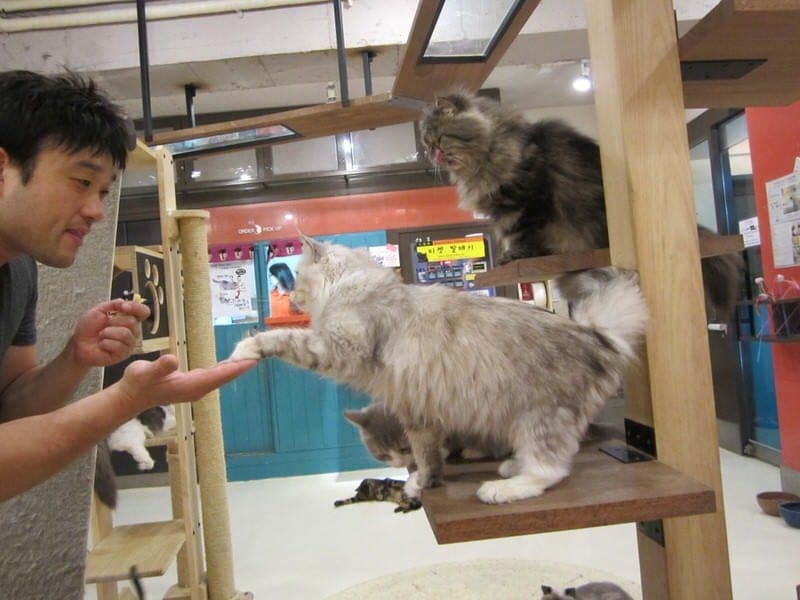 Overall, we spent about an hour and a half here and really enjoyed our visit. We'd definitely like to return to y Cat and explore other cat cafés in Seoul. We'd also love to visit some cat cafés in other parts of the world. In fact, San Francisco is supposed to get its first cat café this summer!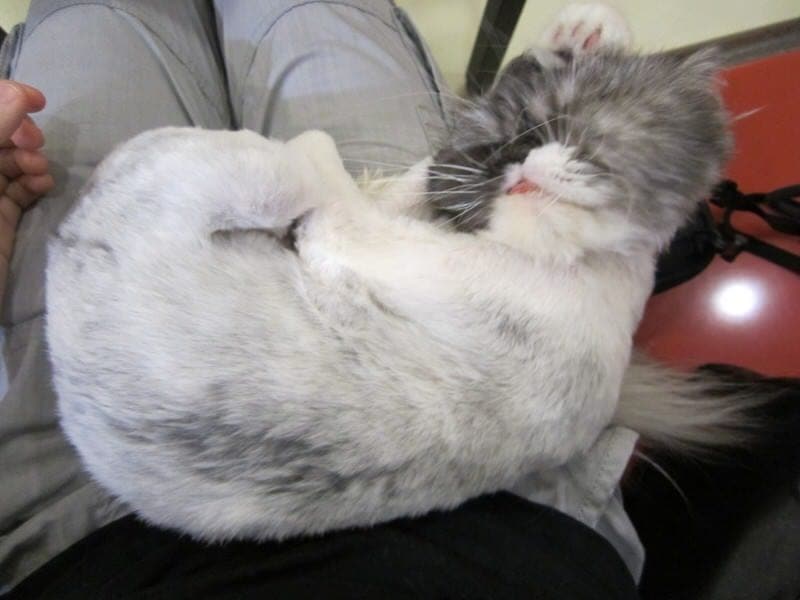 Have you been to a cat café in Seoul or a pet cafe elsewhere in the world? Would you want to visit a cat café or dog café?
**If you have any updated website or address information or reports of café closures, please let me know and happy to update this blog post.**