If you are looking for a luxury hotel in Phnom Penh Cambodia, you do not need to look further than Raffles Hotel Le Royal. Not only does Hotel Le Royal provide all the services and amenities you'd associate with a modern luxury hotel, but it is also a historical landmark, having welcomed royalty, writers, dignitaries, journalists, and discerning travelers since 1929. Between 1970 and 1975 many journalists working in Phnom Penh stayed here prior to being forced to evacuate by the Khmer Rouge, and part of the film The Killing Fields about real-life Cambodian photojournalist Dith Pran and American journalist Sydney Schanberg was set in the hotel. Built during French colonialism, the hotel is a mix of French, Khmer, and Art Deco styles with dramatic black and white tiles, a grand teak staircase, high ceilings, and claw foot bathtubs. Setting foot in this hotel is a bit like stepping back in time as the original look of the hotel has been maintained when possible. We were very pleased to not only have the opportunity to review a 2-night stay at Raffles Hotel Le Royal, but to have the privilege of staying in the beautiful Jacqueline Kennedy suite. We'll review our recent stay at the hotel, and we'll also give you some reasons you might want to visit even if you are not spending the night.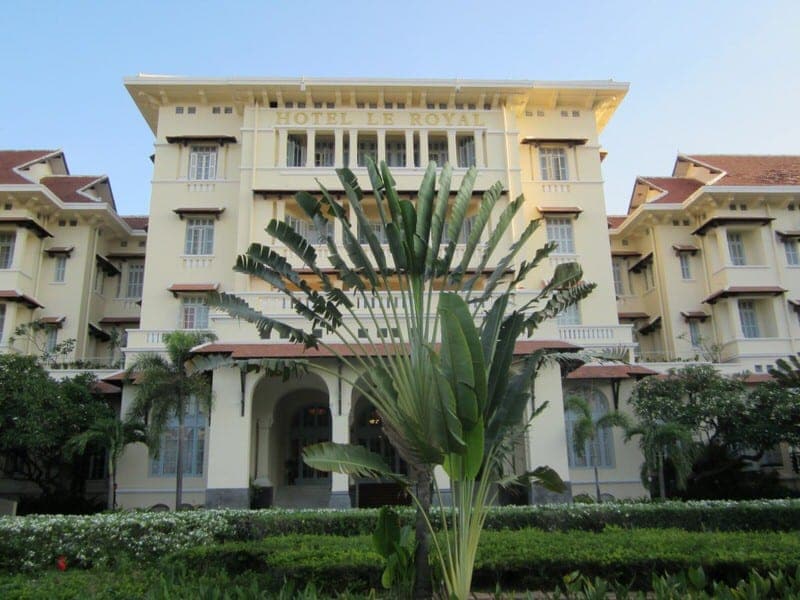 The Basics
Address: 92 Rukhak Vithei Daun Penh, Sangkat Wat Phnom, Phnom Penh, Cambodia
Getting here: The hotel is located about a 30-minute taxi drive from the Phnom Penh International Airport. If you arrive by bus, you'll likely only be a short tuk-tuk or taxi ride from the hotel (buses stop at various places in the city depending on the company).
Phone number: +855 23 981 888
Website: http://www.raffles.com/phnompenh
Room cost: Room pricing ranges widely and depend on the season, starting at about $180 per night for the State Rooms with prices going up to over $1,200 per night for the premier Le Royal Suite. The hotel frequently has promotions for reduced rate packages, particularly if you can stay for more than 2 nights. If you are also going to be in Siem Reap, you may be able to get a package that includes discounted rates for staying at both Le Royal and Raffles Grand Hotel d'Angkor in Cambodia.
Our Stay at Raffles Hotel Le Royal in Phnom Penh
Phnom Penh was our second and final stop during our week-long trip to Cambodia. After three hot and sweaty days spent exploring the great temples around Siem Reap followed by a long overnight bus ride to Phnom Penh, Ethan and I were both ready for some pampering and a nice place to rest our weary feet. On our arrival at Raffles Hotel Le Royal by remok moto (a.k.a. tuk-tuk), we were greeted on the red carpet of the outdoor front steps by friendly hotel staff that helped us with our luggage and had us sit in a comfortable couch in the lobby to begin the check-in process. The hotel was gracious enough to accommodate our very early arrival time (6:30am) and since the room we had initially booked (Landmark Room) was still occupied, we were upgraded to one of the Personality Suites in the hotel.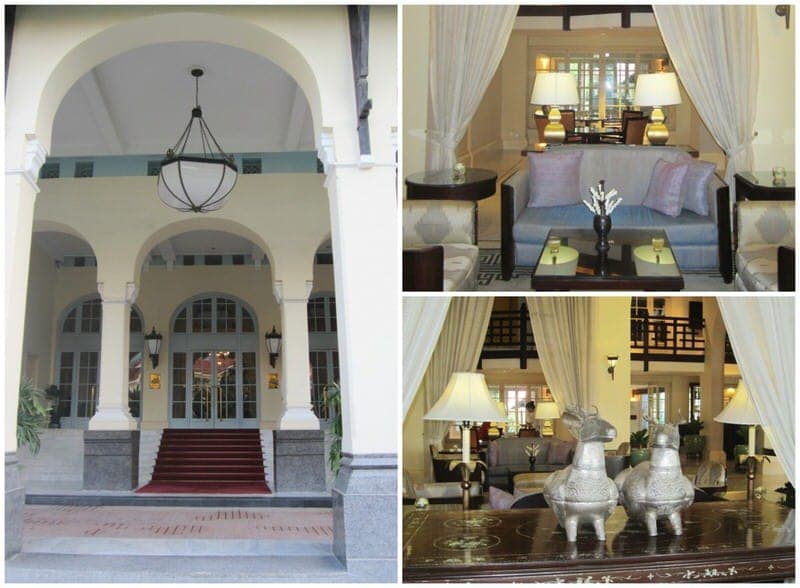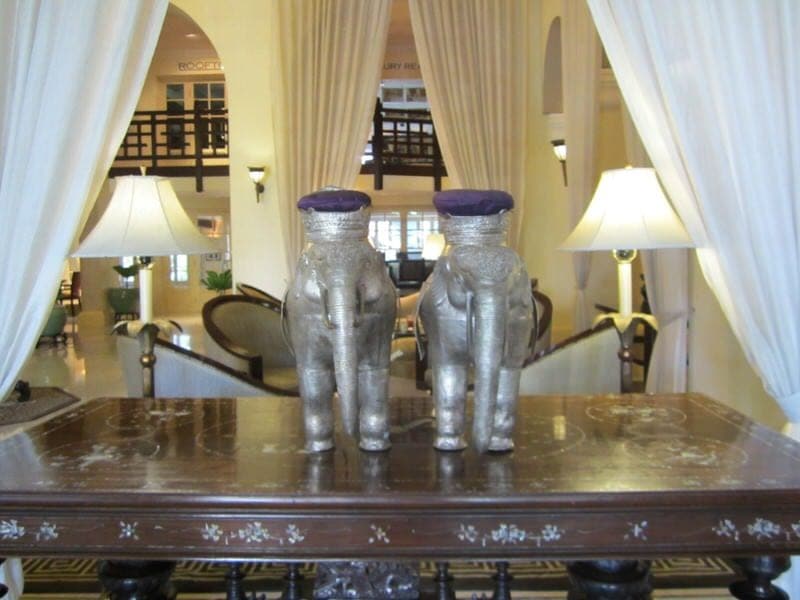 We were led up the beautiful old wooden staircase in the historical part of the hotel to our room (there are also elevators of course). Today, the hotel has 175 rooms and suites, with 55 of these rooms located in the original 1929 section of the hotel and the remaining rooms in the three newer courtyard wings added in 1997.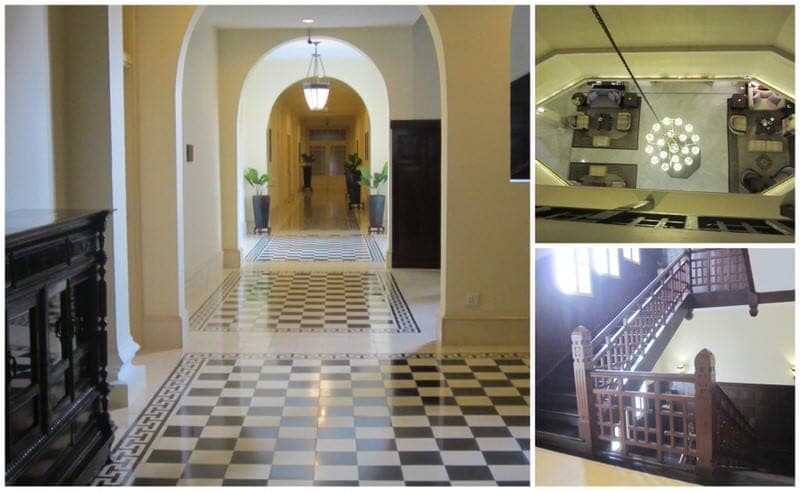 There are four "Personality Suites" that have been decorated to commemorate the stay of a past famous guest. These include French president Charles de Gaulle, former U.S. First Lady Jacqueline Kennedy Onassis, British writer Somerset Maugham, and French novelist and statesman André Malraux. We didn't realize which room we had until we got to the door and found ourselves in the Jacqueline Kennedy suite. The room is the one that is believed to have been the same one she stayed in during her 1967 visit and is decorated in the color scheme of the one-shoulder dress Jackie wore when she met Cambodian King Norodom Sihanouk. Around the room are several photographs from Jackie's visit to the hotel and to Cambodia. Other elements of the room, including the wooden floor, four-poster bed, writing desk, silk robes, ceiling fan, and claw foot bathtub, are elements found in most of the rooms of the historical hotel. As we later found out, this room is rarely unoccupied and is a favorite of many female guests and staff so we were lucky to have had the chance to stay there.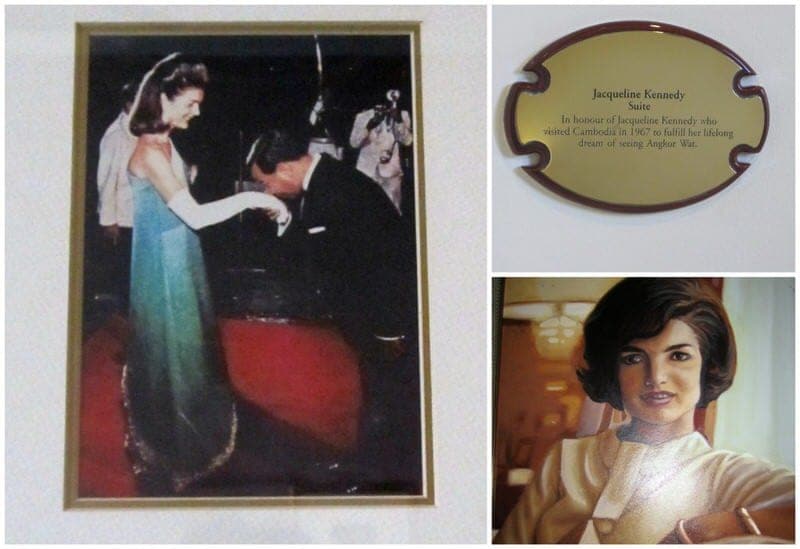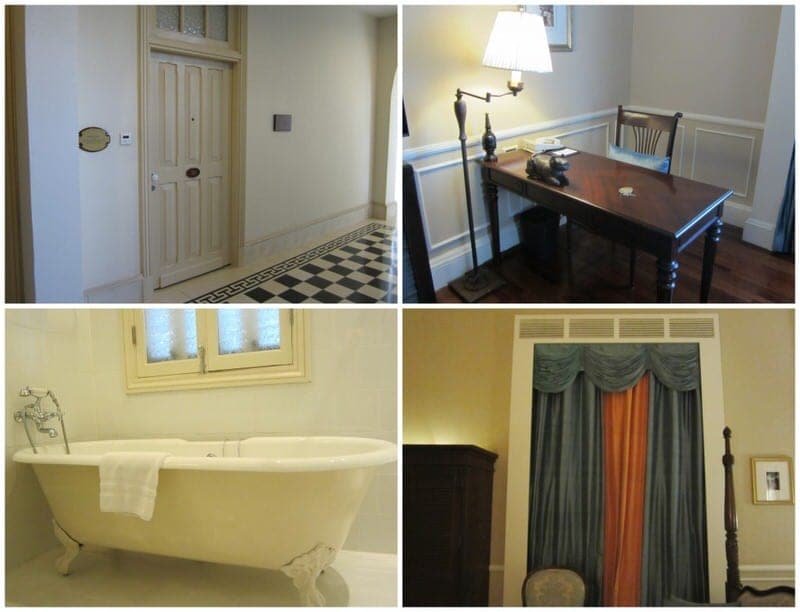 The rooms are not huge (by American standards) as this is a historical hotel, but we had plenty of room and we liked the layout of the suite. The things I loved most about the room were the wooden floors, big four-poster bed, large writing desk and the claw foot bathtub. I greatly enjoyed taking a bath each evening after a long day of sightseeing and I even used the flower petals from one of the cute towel animals left on our bed to put in my bath. Ethan and I also both enjoyed having the extra little seating area as we ordered coffee drinks each morning and would sit there and wake up while lounging in our robes and slippers. We also took a couple of hours one day to relax alongside the outdoor pools. The two pools are in the center of the hotel and serve as a calm oasis from the bustling city life happening outside the hotel.
From the staff dressed in Royal Khmer attire on the front steps who greeted us each time we entered the hotel to our room butler, we received wonderful service as you would expect from a five-star luxury hotel. Staff members were friendly and accommodating and sometimes went out of their way to help us. For instance, there was some issue with the wi-fi signal one evening and I needed to get online so the front staff worked with me to ensure I got Internet access that evening. Requested items (extra towels, toiletries, coffee, etc.) were brought quickly to our room and any questions we had were answered quickly. We used the efficient Concierge service for directions, restaurant recommendations, and to book our boat trip to Chau Doc.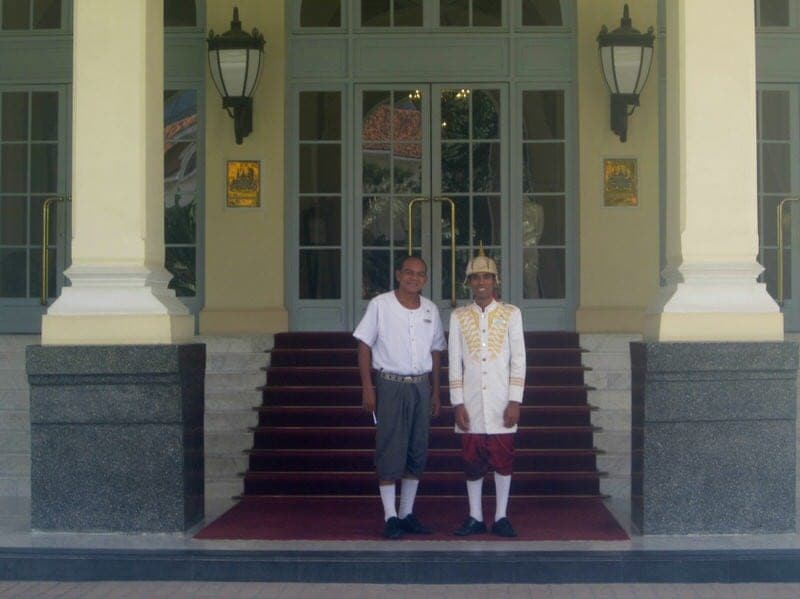 Any complaints? The main complaint was the weak wi-fi signal during our stay; however, when the staff wired my laptop, the connection was fine and I had no problems, but I couldn't obviously move my laptop from the desk. It also would have been nice to have a balcony (most of the other rooms in the hotel do have a balcony), but I am not sure given the heat that we would have been able to use it much anyway. These two minor issues which were greatly outweighed by the great room and service.
Dining and Drinks at Raffles Hotel Le Royal
The hotel has several distinct restaurants and bars that range from casual deli pick-up items to elegant fine dining. These include the Elephant Bar (drinks, food, afternoon tea), Writer's Bar (drinks, afternoon tea), Café Monivong (buffets and a la carte menus), Restaurant Le Royal (fine dining) and Le Phnom Deli (pastries, deli sandwiches, and salads for purchase). You can also order drinks and snacks on the Poolside Terrace while lounging in the pool area.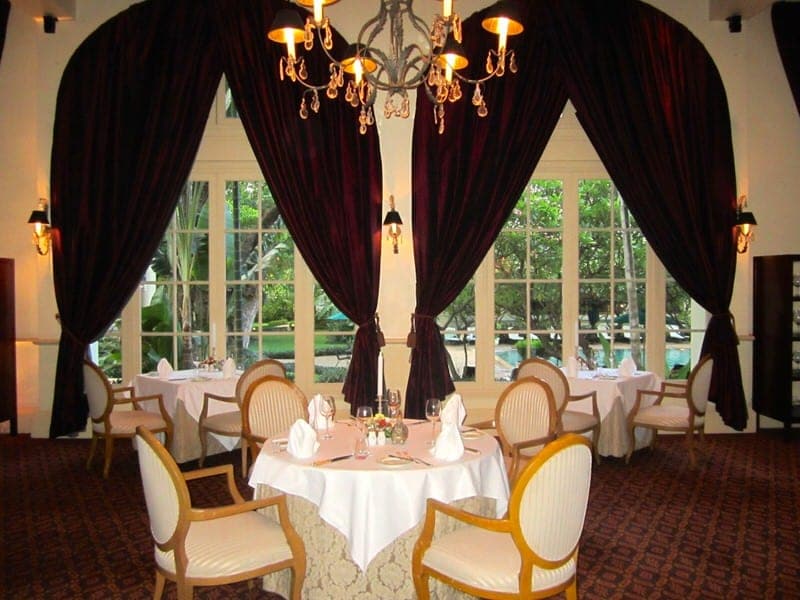 Evening Drinks at the Elephant Bar
On our first evening, we had drinks at the hotel's venerable Elephant Bar. A long-time favorite watering hole in Phnom Penh, the Elephant Bar is a classy colonial-style bar that is well-suited for pre-dinner cocktails, appetizers, or after dinner drinks with friends. The bar was renovated in 1997 and contains original paintings by a local artist and there are over 1,000 elephant images in the room (they are everywhere!). I ordered the Femme Fatale which is the signature drink at the Elephant Bar and was named to commemorate Jacqueline Kennedy's stay as it was the drink she drank during her stay. The Femme Fatale consists of champagne with crème de fraise sauvage and a dash of cognac. It felt right to order it given we were also staying in Jackie O's room. Ethan just ordered a soda water and we were given some snacks to nibble along with our drinks. There are daily happy hour specials, a short food menu, and afternoon tea can also be served here during the day. We sat inside because of the heat that day, but there is also some outdoor seating. We had a lovely time having drinks, observing other patrons, and chatting with Noemie Payumo, the hotel's Manager of Marketing Communications, who joined us for a drink to give us more information about the hotel.
Breakfast at Café Monivong
The breakfast buffet came with our room rate and we had breakfast at Café Monivong both mornings of our stay. Each morning on arrival, we were promptly greeted and shown to a table (choice of indoor or outdoor) and offered fresh coffee or tea. The buffet is sumptuous with so many items, both European and Asian favorites. In addition to a very wide selection of fruits, meats and cheeses, yogurts, breads, juices, etc., there were several made-to-order stations for eggs, noodle soups, and pancakes/waffles. I had a delicious omelette and Ethan enjoyed both pancakes and waffles during our stay.
Afternoon Tea at The Conservatory
Afternoon tea has been a tradition at Le Royal since it opened in 1929, and since we love afternoon tea, we had to try it here. You have the choice of having the afternoon tea in either the Elephant Bar or the Writer's Bar/Conservatory. Since we had already had cocktails in the Elephant Bar the prior evening, we decided to order the afternoon tea at the Writer's Bar and have it served in the attached small Conservatory which we really enjoyed. Raffles Hotel Le Royal was offering four afternoon tea set menus during our stay as well as some à la carte items. The four set high tea menus were Western, Angkorian, Chocolate, and Macaron with prices ranging from $14.50 to $20.50. We decided to choose the most unique choices which were the Khmer and the Macaron teas. Most of the teas served are from long-time French purveyor Debauve & Gallais and we both chose black teas. The food arrives on a silver three-tired tray and is nicely arranged. We both really liked the Angkorian High Tea featuring Cambodian food; the savory items in particular were delicious! I would definitely recommend this one to anyone who wants to try a non-traditional tea. We liked the colorful Macaron Tea menu items much less than the Angkorian Tea, as the combination of the sweet macarons with savory fillings like tuna and goose liver did not work well for us. We wished we would have had time to try the Western High Tea (looked great) and the Chocolate High Tea (Ethan really wanted this one), but these will have to wait until our next visit.
Overall Impression of Our Stay at Raffles Hotel Le Royal
The hotel offers a historical French colonial setting with modern amenities and great service. We loved staying in the Jacqueline Kennedy Personality Suite and experienced wonderful food and service. What we loved the most about this hotel is that it has its own personality and has embraced its history and remained faithful to its original look. Guests are able to stay among antiques, walk the same grand wooden staircase used by visitors for decades, and take a look at photographs and other artifacts detailing the hotel's past. It is amazing that this regal place was once taken over by the Khmer Rouge in the 1970's.
If you're like us, you'll need a break from the bustling markets, beeping motorbikes, scorching sun, and crazy traffic that make up Cambodia's colorful capital. Returning to Raffles Hotel Le Royal each evening was a great break from the city and also a welcome place to relax after visiting the grim but thought-provoking sites (i.e., Choeung Ek Killing Fields and Tuol Sleng Genocide Museum) that serve as reminders of Cambodia's bloody past. In addition to being an oasis of tranquility in the busy city, it was also in a good location and within walking distance or a quick tuk-tuk ride of many sites in Phnom Penh. We would highly recommend this hotel to those looking for a great luxury stay in Phnom Penh, and we'd love to return.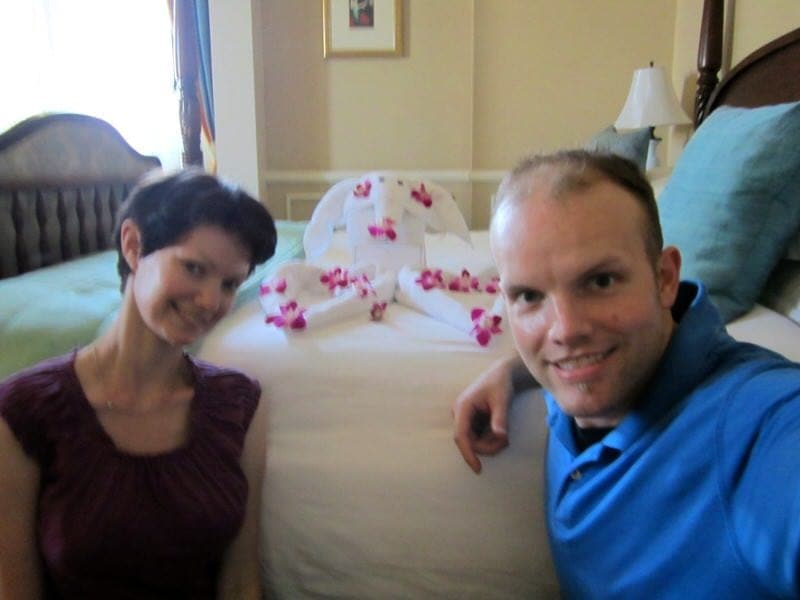 Want to Visit Raffles Hotel Le Royal Without Spending the Night?
Raffles Hotel Le Royal is not within everyone's travel budget, and we normally go for much less expensive digs ourselves. But even if you are not staying at the hotel, there are some more budget-friendly ways to come enjoy some of the colonial splendor of this historical hotel. While you can of course book reservations for a fine meal at Restaurant Le Royal, more budget-friendly options include having a happy hour drink and appetizers at the Elephant Bar, having afternoon tea in either the Elephant Bar or Writer's Bar (best to call ahead), or make a quick stop to pick up some great homemade pastries and sandwiches from the little Phnom Deli. Items at the Phnom Deli are half off from 6:00pm to 9:00pm each evening which is a great deal!
Would you stay at Raffles Hotel Le Royal during your next visit to Phnom Penh? Have questions for us about our stay? As always we welcome any comments or questions!
**Disclaimer: We received a discounted hotel stay and complimentary food in order to review the hotel and its services; however, this article contains only our own honest thoughts and opinions. We did not receive any financial compensation for the writing of this post, do not work for Raffles, and receive no commission for any hotel bookings.**