If you ever find yourself digging in your luggage or purse for your passport, credit cards, cell phone, or airline tickets, you may be in need of a few PortaPocket travel accessories. If you find yourself hiding money, credit cards, or tampons in your socks, bras, or shoes, you definitely need to check out PortaPocket!
These nifty accessories are designed to store all your small personal belongings and keep them safe while you travel, exercise, dance, or just wander around a shopping mall. PortaPocket accessories are unique from other travel safety products in that they consist of several interchangeable pockets and straps so that you can place almost anything on any part of your body. So if you are looking to strap your passport to your waist, smartphone to your bicep, or your lipstick to your thigh, yeah you can make that happen!
We were so excited to have the opportunity to review PortaPocket accessories as they've been highly publicized, being featured on both "The Today Show" and "The Tonight Show" with Jay Leno. Did they live up to all the hype when Ethan and I wore them while traveling, exercising, and going out on the town over the past 2 months? Keep reading to find out and to read our full review of PortaPocket.
Basic Information on PortaPocket Travel Accessories
The Story Behind the Product: The woman behind Undercover Solutions, LLC, which designs PortaPocket, is Kendra Kroll, the Principal and Founder. I enjoy supporting small businesses and I love Kendra's story of how she came up with the idea for PortaPocket: "I didn't expect to start a company just because I dropped my spare tampon on the gym floor and got mad, but that's really what happened. Talk about an accidental entrepreneur…that would be me!"
PortaPocket Website / Twitter / Facebook
What exactly is PortaPocket?: The PortaPocket system consists of various pockets and straps that can be combined in a number of ways for versatility. These can be worn on a number of places on the body, mainly the thigh, waist, arm, ankle, and calf. Pockets close with Velcro and attach using either Velcro with a belt loop system, depending on the size of the pocket. The pockets and straps are made of poly coated neoprenewater and are water and sweat resistant, but are not waterproof.
Pocket Sizes?: They come in a variety of sizes, including Small (2.75″ X 3.75″) which will hold credit cards, tickets, a key, lipstick, etc., Medium (2.875″ X 5″) which will hold small cameras, mp3 players, smaller phones, tampons, etc., Large (3.75″ X 5″) which will hold passports, phones, etc., Tall (2.875″ X 7.25″) which will hold pens, EpiPen injectors, sunglasses, etc.,and X-Large (4″ X 6.5″) which will hold larger items and larger smartphones.
The Small pocket attaches by Velcro, Medium pockets can be purchased with either a Velcro or belt loop mounting, and the larger PortaPocket pockets attach with a belt loop. The pockets with Velcro works best with lightweight items (lipstick, credit cards, money, small phone), while the belt and loop pockets work best for heavier items (cell phone, camera, coins).
Strap and Belt Sizes?: If you purchase a Small pocket or Medium sized pocket with a Velcro backing, you'll need to purchase a strap or belt. However, the Medium pockets with belt loop mountings, Large pockets, X-Large pockets, and Tall pockets work on both the PortaPocket belts and straps as well as a regular belt. The straps and belts come in the following sizes: 12″ mini strap, 18″ band, and 36″ waist/thigh belt. For the most versatility, I would look at the combination packages and see which might work best for you given the pocket(s) you want to purchase.
Colors and styles?: The pockets and straps come in both black and beige. There is also a *bling!* accessory line that include pockets with sparkles and jewels for those who want to be extra stylish.
Cost?: Cost is dependent on size and style (basic or *bling!*). It is currently $11.95 for a basic Tall pocket, $12.95 for a X-Large pocket, and $17.95 buys you both a Medium and Large pocket. The basic straps range from $9.95 to $12.95. You can save money by purchasing a combination package that includes pockets and straps. One of the best-selling PortaPocket kits is the PortaPocket Essentials+ Kit which includes a Small pocket, a Medium pocket, and a 18″ band for $24.95. The *bling!* line items are slightly higher in cost.
Where to purchase?: You can purchase the products online on the company website or via Amazon.
Want to know more?: Check out the latest products and find out more about PortaPocket by visiting the official PortaPocket website!
Our Review of PortaPocket
While you could use PortaPocket products for any number of activities, we have primarily used them for three things: travel, exercise, and going out. So we'll break up our review by how well we felt that the PortaPocket products worked for us in each of those areas. We specifically received three pockets (Small, Medium, and Large) and three straps (12″, 18″, and 36″ belt) so our review is based on the use of those items only.
PortaPocket for Travel: Keeping Items Safe & Secure
So the main reason I was really excited to try out the PortaPocket pockets is that I thought they would make for fabulous travel accessories. I wore a PortaPocket pocket on a trip to Washington D.C. and Ethan and I both wore all three of the pockets on a 3-day trip to San Francisco.
While it felt a bit weird when we first put them on, we both quickly forgot about them. Ethan said he could always feel the one around his waist, but I couldn't feel the PortaPocket straps around my ankle or arm once I forgot about them. They were quite comfortable even after full days of wearing them while flying, sitting on trains, navigating public transportation, sightseeing, and even riding on a Segway.
I carried hotel key cards, train pass cards, credit cards, chapstick, and my small digitial camera in the Small and Medium sized ones. Ethan carried his cell phone in the Large one. Ethan wore the Large pocket on the waist belt under his shirt and I wore the Small pocket on my ankle under my pants and the Medium pocket on my arm.
I alternated between wearing it over top of my shirt and hiding it under my jacket. The pockets and straps stayed in place well and never fell off during our travels.
The only "issue" we had is that Ethan's new phone (Galaxy4) was a little big for the Large pocket; however, because the material is quite stretchy, his phone never slipped or came out of the pocket and he was able to use it just fine but it did not close on top. PortaPocket recently introduced a X-Large pocket that would fit his phone perfectly. So do measure your devices before ordering to make sure you get the right pocket sizes.
Overall, we really found the pockets to be very useful for traveling in both keeping valuable items conveniently located and keeping them safe from potential pickpockets.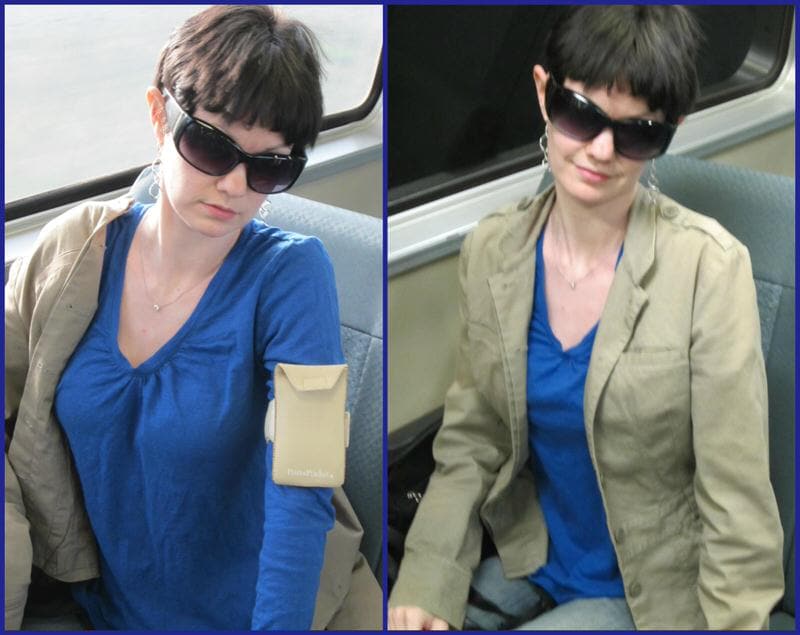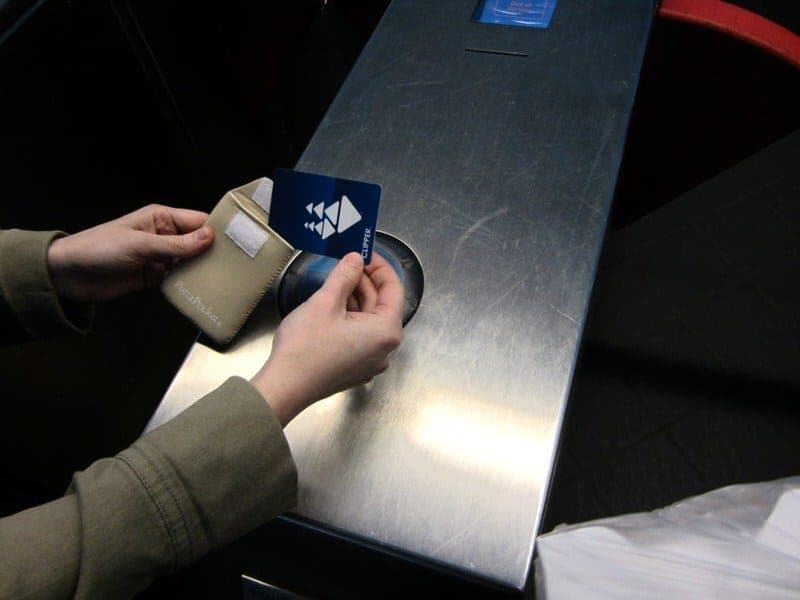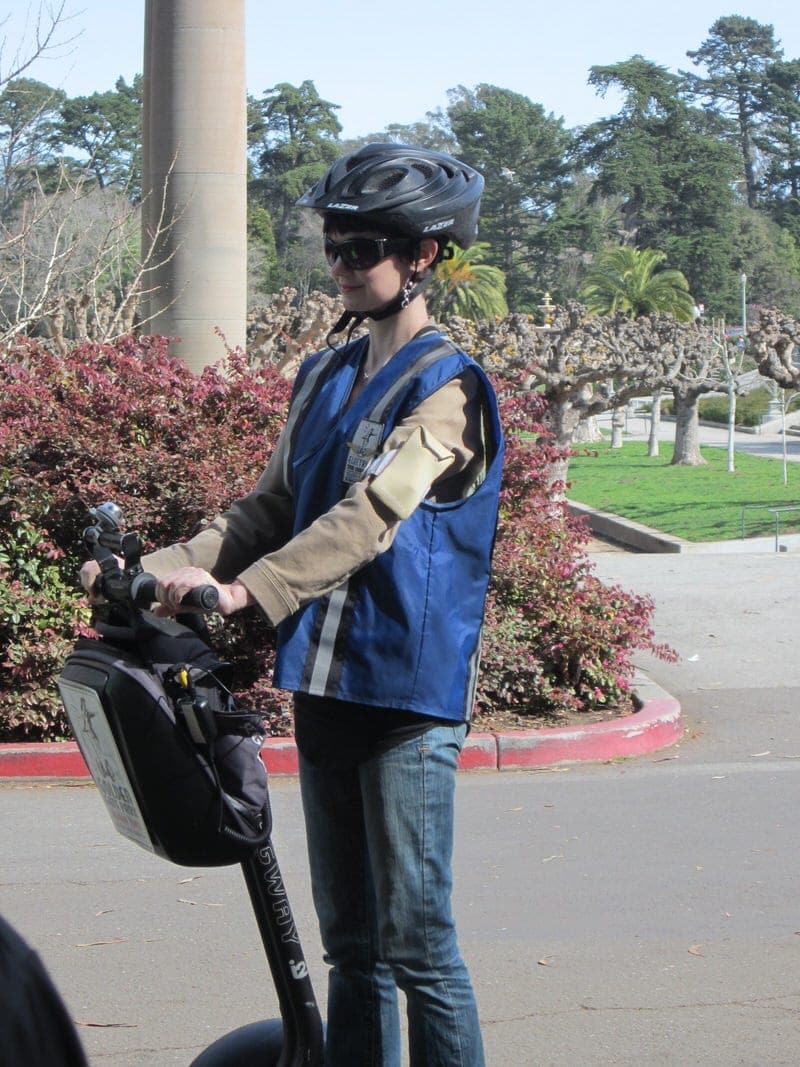 PortaPocket for Exercising: Sweat Resistant & Flexible
Ethan wore the Medium and Large pockets while exercising in a gym and running outside, and I wore the Small one once while doing yoga. We had no issues related to exercising with the pockets which are really lightweight and flexible so they move well with your body.
They are also sweat resistant which is good as Ethan often works up quite a sweat while running, but they have never came off during any of his exercising.
PortaPocket for Going Out: No Need for a Purse
I also wanted to try the PortaPocket pockets while going out as I don't enjoy carrying a purse or holding a clutch when going to a party or out to dinner, especially if I am wearing a dress. In fact, I really don't enjoy taking a purse anywhere and often depend on Ethan to have our money and credit cards when we go shopping together. So I loved the idea of being able to just wear a PortaPocket pocket instead.
I wore the Medium pocket with two dresses to test whether I could adequately hide something under the dress and if it would be comfortable. The only place that I could feasibly stick the pocket was on my thigh for both dresses. I had no problems at all when wearing the black-and-white striped dress and I barely noticed I was wearing the pocket.
However, when wearing the more formal black dress, l did have one instance where the strap slipped down my leg and I almost tripped. Now, the PortaPocket strap was still buckled and the pocket was still secured but it fell down to my ankles. The issue was that I hadn't strapped it tight enough so that was my fault.
So do be sure to walk around for a bit and make sure the strap is secure before going out. For both dresses, even the shorter one, I had no trouble hiding the pocket on my thigh. No need for a purse again! Celebrities should check out PortaPocket for the Oscars!
Overall Evaluation of PortaPocket
Now, will we keep using them? Yes! Now, to be perfectly honest, Ethan already has a Eagle Creek belt safety pocket thing that he will likely continue to use at least some of the time to keep our passports and cash in when we travel. However, I am definitely going to be using the PortaPocket pockets and straps for traveling as I had never before found something that worked for me. They will be strapped on as we head to Asia in April! Ethan has laid claim to the Large pocket for exercising. So an emphatic yes!
We love the idea and design of the PortaPocket products. They are well-made, affordable, simple, flexible, and lightweight. I love that I can mix-and-match the pockets and straps and that they are adjustable. I have very thin arms (a.k.a. "stick arms") and Ethan has quite muscular arms, and these worked equally well on us both so I imagine they would work well with almost any body size or type. We found these great for traveling, exercising, and going out. We give them a big thumbs up. The only things that could make them better is if they came with a waterproof insert pocket or a RFID blocking shield insert…ideas for the future?!
Have you tried any of the PortaPocket products? How do you store things for safety and convenience while traveling?
**Disclaimer: We were sent complimentary PortaPocket pockets and straps to wear and review; however, this article contains only our own honest thoughts and opinions. We did not receive any financial compensation for the writing of this post, do not work for Undercover Solutions, LLC, and receive no commission for any sales of this product.**