Ladurée is a famous pâtisserie, or pasty shop, in Paris. It has been around for over 150 years, and is most known for its delicious and colorful macarons. Ethan and I first discovered Ladurée macarons last year while in Paris.
We happened to walk by their flagship store and tea salon on the Champs-Elysées after a visit to the top of the Arc de Trimophe. We were in need of some nourishment after all those stairs, and the macarons looked way too good to pass up!
This would be our first taste of French macarons (very different from the coconut macaroons sold in the United States). One of the most difficult parts was selecting from the over dozen different flavors. We chose 6 flavored macarons—Rose, Red Fruits, Licorice, Caramel with Salted Butter, Pistachio, and Violet– and then brought them home for our own private tasting.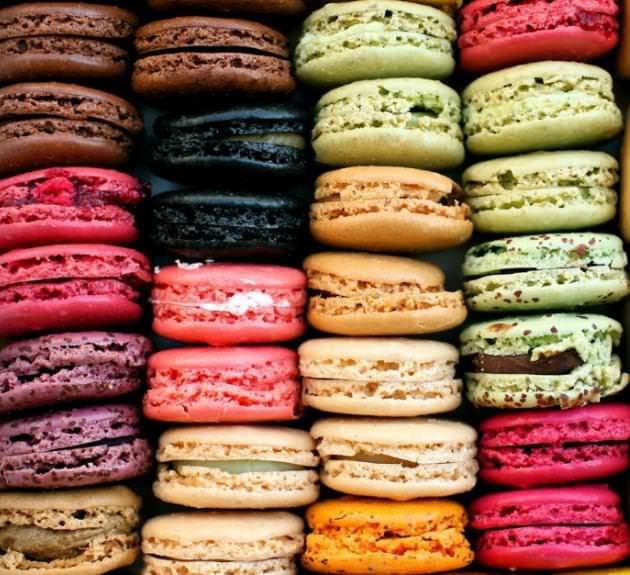 Unfortunately, our Ladurée macarons got a little squashed during the metro ride back to our apartment. However, rest assured, they were still very edible. We cut each macron in half and washed them down with cups of Mariage Frères tea.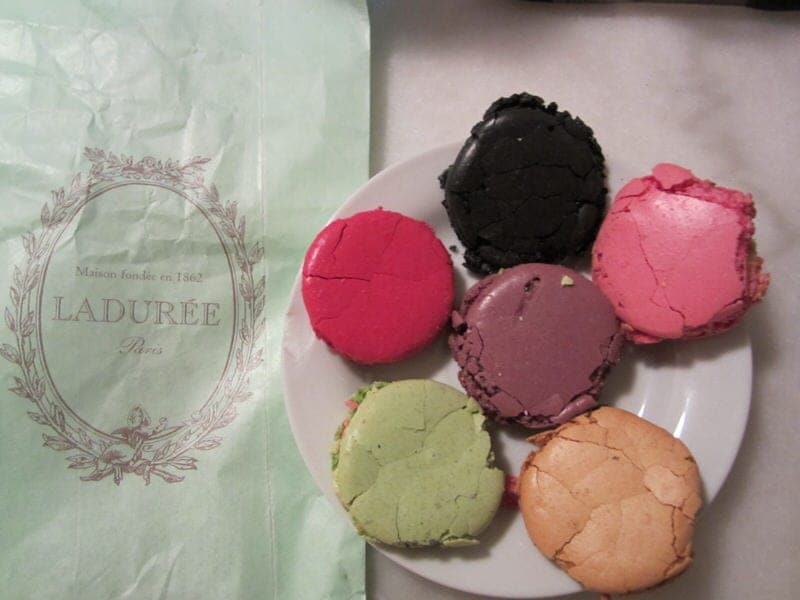 Jessica's Ladurée Macaron Rankings

:
Rose – Sweet, not very "soapy" (I often find rose-flavored things to taste like soap). Very interesting.

Red Fruit – Sweet and "jammy"

Licorice – Quite good. Surprised since I don't like licorice; however, it doesn't really taste that much like licorice.

Caramel with Salted Butter – Yummy, but had a hard time tasting the "salt"

Pistachio – Good

Violet – OK
Ethan's Ladurée Macaron Rankings:
Red Fruit

Violet

Caramel with Salted Butter

Rose

Pistachio

Licorice
Out of the six Ladurée macarons, there were none that we would never eat again, as they were all consistently quite good. The outer shells of the airy meringue sandwiches were smooth and crisp, and the inside fillings were a variety of fluffy creams, jams, and ganaches. The texture of the macarons was wonderful, and like nothing we have ever tasted before.
While I normally do not like licorice and Ethan is not a big fan of flower flavors, I really liked the licorice and Ethan really liked both the violet and rose macarons. We both wished that we had bought more than six to eat!!
You can also read our follow-up macaron post where we compare Ladurée versus Pierre Hermé macarons.
Our recommendation?
If you have an opportunity to visit Ladurée, taste an assortment of these wonderful treats and try a few flavors that you normally wouldn't try. We did, and we were pleasantly surprised!
**The following year we conducted a macaron smackdown comparing Ladurée and Pierre Hermé macarons in Paris which you can read about here.**
Where can you get your hands on Ladurée
macarons?
Their flagship and most popular location (and most busy, so avoid this one is you hate lines) is on the Champs-Elysées but they have several locations in Paris. Below is the list of tea salons, restuarants, and bars, but there are other shops and locations where you can just buy macarons including department stores and airports.
Address (1): 16-18 rue Royale, 75008 Paris (original location)
Address (2): 34 Rue Jacob, 75006 Paris
Address (3): 13 Rue Lincoln, 75008 Paris (Le Bar, quicker service, modern interior)
Address (4): 75 Avenue des Champs Elysées, 75008 Paris (flagship location, one of the busiest locations)
Address (5): 1st floor of Le Printemps De La Maison, 64 Boulevard Haussmann, 75009 Paris (tea salon in department store)
While based in Paris, there are many locations outside of France (e.g., Australia, Japan, Italy), including a store that opened in New York City in 2011. Find out more by visiting Ladurée's official website for more about their current macaron flavors and locations.
Have you tried Ladurée's macarons or other treats? What is your favorite macaron flavor? We'd love to hear your opinions and recommendations.