We wanted to share a one week Sri Lanka itinerary that we think is perfect for couples, which focuses on wildlife, romance, luxury, and tea. Specifically it includes staying at the top luxury resort in Sri Lanka, soaking up the beautiful scenery of Sri Lanka's hilly Tea Country, exploring ancient sites, admiring waterfalls, staying in a luxury tented camp, and searching for leopards on safari.
We were in Sri Lanka last summer speaking at a conference and afterwards we decided to head off on our own on a short trip around Sri Lanka. Laurence had already been to Sri Lanka twice so wasn't interested in many of the main tourist spots and I wanted a short luxury trip that focused on tea and leopards. We checked out a number of tour companies and found Jetwing Eco Holidays who helps plan and execute customized and tailor-made trips.
We'll share a one week Sri Lanka itinerary based on our trip that is perfect for couples who enjoy tea, romance, wildlife and want a bit of luxury. This would be a perfect trip for a couple on honeymoon!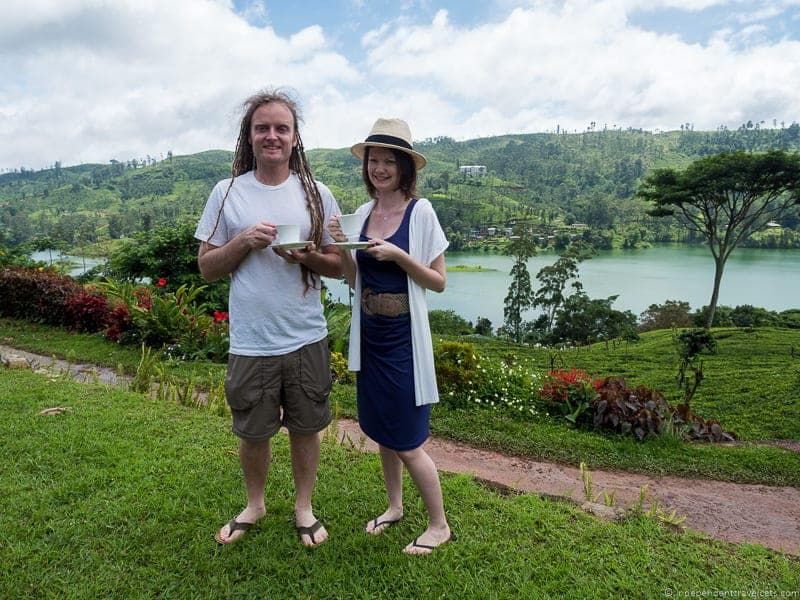 Planning our Sri Lanka Itinerary
As mentioned, we had been invited last summer to Colombo, Sri Lanka to attend a conference. Laurence was nominated for a travel blog award and was asked to speak at the Professional Travel Bloggers Association TBC Asia travel conference.
After that event, I wanted to explore a bit of the country but we didn't have a lot of time to spare or time to plan, so we decided to book a trip with a tour company as self-driving in Sri Lanka is not particularly ideal given the conditions of many of the roads outside the capital. We also wanted a relaxing trip and something geared to couples, with a focus on the country's tea country and wildlife.
Laurence has already spent a couple of weeks in the country on two prior trips, so he was reluctant to simply revisit all the same spots again. You can see his recommended 2-week Sri Lanka trip itinerary (perfect if you have time and want to hit the island's highlights) which also includes tips for traveling in Sri Lanka (best time of year, weather, visas, packing tips, top attractions).
I am not going to repeat most of those details, but here are a few practical tips about planning a trip to Sri Lanka as well as how we chose a tour company to work with during our trip to Sri Lanka.
When is the best time to visit Sri Lanka?
This is always a difficult question to answer about any place, and Sri Lanka is no different. I would recommend to first base it on your interests and itinerary, next on the weather, and finally on your budget to determine the best time for you.
Sightseeing priorities. First, think about where you most want to go and what you want to see. Pick a couple of priorities from the list and then you can base your itinerary around those. Do you want to see whales and dolphins, see elephants, go birdwatching, visit temples, relax on the beaches, take part in a festival, visit when there are few tourists? Check on the dates of festivals, opening dates for attractions and parks, best times to see wildlife, etc.
Be sure to note that the best time for something may differ based on the region of Sri Lanka you plan to visit as whales migrate around the island, weather differences affects the bird species you'll see, and beach seasons vary between the east to south coasts.
For instance, the Buddhist festival Kandy Esala Perahera (Festival of the Tooth) takes place in Kandy in July and August, the best time of year to see whales around Mirissa is November to April although peak season for other areas of the island are different, beach season in the south is from January to April but May to July in the east, birdwatching is good year round but winter migrants are around from November to April, and The Gathering of Elephants takes place from July to October.
Note that some of the parks may close for part of the year due to maintenance, drought, or other reasons.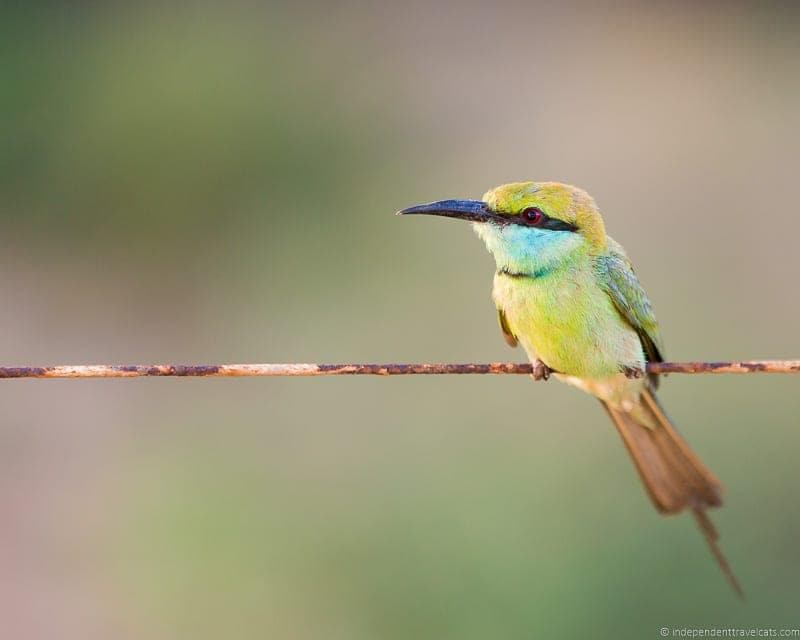 Weather. In terms of weather, it depends heavily on which parts of the island you want to visit. Despite being a relatively small island, Sri Lanka experiences markedly different weather across the island due to it having two separate monsoon seasons. Generally, April to June is the wettest time of the year in the west and hill country of Sri Lanka (including Kandy). On the east coast, the wettest time of year is generally in November and January. To further complicate matters, there is a inter-monsoonal period where there are often heavy rainfall and storms occurring throughout the island during October and November.
So speaking in very general terms about the weather, the best time to visit the west coast, south coast, and hill country is from December through March and the best time to visit the east coast is from April to September. Sadly the two do not overlap so you'll likely have to accept the possibility of some monsoon weather if you plan to travel to multiple areas of the island. However, the weather is unpredictable and despite the scary word monsoon, the weather tends not to be overly dramatic in Sri Lanka and storms tend to blow over quickly.
In terms of temperature, expect warm to hot weather no matter what time of year you visit. Expect daily temperatures of around 82 F (28 degrees Celsius) in the lower and coastal areas, decreasing as you go up in elevation to average around 68 F (20 C) in Kandy. Humidity is high throughout the island, ranging from 60% to 90%.
Cost. In terms of cost, the best time to visit is during the monsoon seasons on each part of the island. Sri Lanka is affordable if you seek out deals but it is more expensive than India and has a fast growing economy. If you want to travel on a small budget, the best advice is to go outside the best weather period discussed above.
Other ways to save money during any time of year is to stay in hostels and simple guest houses, use buses as main modes of transportation, and seek out simple local restaurants. Just note that tipping (generally about 10%) is customary and expected for guides, drivers, restaurant servers, bag carriers, temple staff, etc. and should be included in your budget.
How long should I spend in Sri Lanka?
This really just depends on how much time you have and what you want to see while in the country. You can easily explore the capital city and head off to a couple of major attractions and a national park in a short fast-paced 3 day trip. However, if you really want to explore the major highlights of the island you'll need at least 2 weeks. If you want to try to hit all the regions and spend a bit of time in each, I'd suggest a month.
Laurence has put together a good recommended 2-week Sri Lanka trip that you might want to use as a basis for planning your own trip and you can deduct or add days to it based on your time and interests. No matter how much time you have, just note that transportation from one area to another can often take longer than expected due to poor roads, weather, and traffic congestion.
Packing Tips for Sri Lanka?
In general, you'll want to be sure to pack for hot weather, cooler evenings in the hill country and Kandy, humidity, and rain. You'll probably also want to pack your swimwear for swimming pool and/or beach time and insect protection. You'll find mosquitoes and flies in Sri Lanka and if you head into the higher elevations you'll probably also encounter leeches.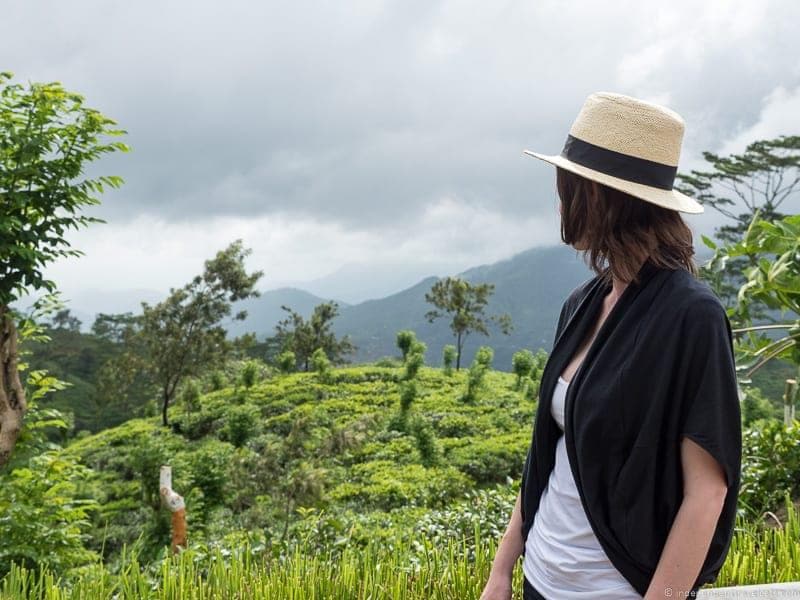 A special note on protecting against leeches in Sri Lanka
If you plan to head to an area of Sri Lanka that will likely have leeches (particularly the rainforest area in the southwest or the central Hill Country), I would bring along some leech protection. Leeches will be more prevalent following rainfall. You can also pick it up in Colombo but you'll be more limited in options so best to buy it before you leave home if you can.
I was under the belief prior to being in Sri Lanka that leeches only lived in the water, but we saw them coming towards us on lawns and perched on weeds while hiking. Terrestrial leeches, or land leeches, essentially sense movement and move towards it to find a host. I found it a bit terrifying to see them coming towards us on a lawn! Leeches can burrow through thin socks and pants and can even enter through the eyelets of shoes and boots.
The best way to prevent against leeches is to wear leech socks and also wear thicker pants so there is less chance for them to burrow through. Wearing light-colored clothing will also help you spot leeches easier so you can remove them from your clothing quickly. You can also apply a leech repellent wash, cream, or spray to your feet and legs as well as to shoes, socks, and pants.
Note that if bitten you should remove the leech using a fingernail or other flat, blunt object to break the seal of the oral sucker by gently pushing your fingernail against your skin, then flick the leech away. If you try just pulling them off or spraying or burning them, they may release the contents of their stomach into your wound which increases chance of infection. Bleeding is normal and to be expected. Wounds should be washed with soap and water and you can bandage the wound if bleeding continues. Leech bites can be scary although rarely dangerous, but do watch the wound for any infections.
Suggested Packing List for Sri Lanka
Hot and warm weather clothing as well as a light jacket or cardigan for cool evenings.

Comfortable walking or hiking shoes, and appropriate hiking socks. Water resistant shoes are best for hikes in the wetter areas of the country.

Rain gear such as a light waterproof jacket with hood or poncho, boots, and umbrella.

A scarf or shawl for women and clothing appropriate to wear to enter temples and other holy sites.

Swimwear and sun protection gear such as a hat, sunscreen, and sunglasses.

Insect repellent appropriate for mosquitos, flies, and leeches and leech socks. For insect repellents that also work with land leeches, a couple you might try are Mosi-Guard and Ultrathon Insect Repllent or you can try using a regular insect repellent and also apply Dettol which is a slightly poisonous antiseptic popular with the British (note that it can be poisonous to pets and animals).
Sri Lanka uses a 220V system (so leave home any 110V items unless you bring a voltage converter) with places using both three-pinned square (like in UK) and three-pinned round plugs (like in India) so you'll want to bring along a few plug travel adapters if your electronics have other plugs.

Other things you might not want to forget: camera, chargers and batteries, travel power strip/surge protector, journal, book or games, sandals, antiseptic gel or wipes, lip balm, basic first aid kit, safari hat, binoculars, and a travel flashlight or headlamp.
Why we chose to work with Jetwing Eco Holidays?
As we started researching our trip, we found three tour companies in Sri Lanka that we initially looked at as contenders. We were wanting a locally based company that could do the sort of private tour we wanted and had a good reputation. We found Jetwing Eco Holidays, a locally based tour operator specializing in eco-friendly holidays, which are particularly focused on the traveler who wants to focus on wildlife, ecology, and cultural attractions. We were impressed by the company's wildlife and conservation efforts which is something that is still not yet widespread in Sri Lanka.
We contacted Jetwing Eco Holidays about their itineraries as we liked a few of their pre-set tours, but needed to change the number of days and some of the activities and they told us they specialized in custom tours and they'd be happy to put together a 5-day itinerary based on our needs and preferences.
We ended up cobbling together elements from their Tea Trails in Sri Lanka itinerary and their Leopard Safari Package. We basically put together our perfect holiday as it incorporated two of my favorite things: tea and cats!
Laurence and I wanted to do very little planning other than choosing some of the places we wanted to visit and having a choice in hotels, and Jetwing handled the rest for us. They provided us with a day-to-day itinerary, checked on attraction opening hours, booked our accommodations, scheduled all our transportation from Colombo, and scheduled our jeep safari rides for our time at Yala National Park.
We had the same driver/guide throughout our trip from our hotel pickup in Colombo to our drop off at the airport which was nice. They also made it clear to us what expenses were covered and what we needed to cover during the trip such as some of the meals, gratuities, and attraction fees.
We enjoyed the mix between having a lot of say in our itinerary but having all the details handled for us by Jetwing Eco Holidays. We ended up creating a custom private Sri Lanka itinerary that was perfect for us.
Where to find out more information about Sri Lanka?
A good place to start is to check out the information and resources available from the Sri Lanka official tourism board. This should give you a good idea about travel practicalities, things to see, and places to stay. You can also check out Laurence's collection of Sri Lanka posts that include a sightseeing itinerary, practical information, and photo essays.
One Week Sri Lanka Itinerary for Couples
Our 1 week itinerary is designed for couples looking for relaxation, a bit of the exotic, great scenery, romance, and some wildlife. It also helps if you love tea and have a sense of adventure! This Sri Lanka Itinerary for couples was put together by us based on our own recent travel experience as a couple to Sri Lanka with Jetwing Eco Holidays; however, while we were limited to only 5 days as we had to return to start another travel project, neither of us felt it was enough time so we've lengthened it to spending a full 7 days in Sri Lanka (plus 2 travel days, one for traveling to Sri Lanka and one for traveling home).
The itinerary could easily be adjusted back to 5 days (see this post for a day-by-day post about our 5 day Sri Lanka trip) or significantly lengthened depending on your needs. We also make suggestions below for how this 1 week itinerary can be adjusted along the way so you can use it to create your own perfect Sri Lanka itinerary. Here we go!
Sri Lanka Itinerary Day 1: Explore either Colombo or Kandy
No matter where you are flying from, most likely you'll be arriving in Bandaranaike International Airport in Colombo, Sri Lanka's primary international airport. Depending on your interests, I would advise either spending your first full day relaxing from your travels and sightseeing in the capital city of Colombo or head onto Kandy to spend one day exploring some larger city highlights of Sri Lanka.
If you are working with a tour company, they can easily arrange for a driver to pick you up from your hotel and do a driving or walking tour of the city and visits to some of the major attractions. This will give you a chance to see a bit of one of Sri Lanka's cities, explore some cultural sites, and get acquainted with Sri Lanka's food and culture.
We spent a few days in Colombo because of our conference and it was good to have a taste of the city life in Sri Lanka before heading out into the rural parts of the country where we spent the rest of our trip. This is also a good time to pick up anything you might need for the rest of your trip as options are much more limited outside of Colombo and the larger cities.
Option 1: Explore Colombo
Relax at your hotel and enjoy the amenities, as many of the larger hotels and resorts in Colombo include swimming pools, hot tubs, spas, and multiple restaurants. You can also head out for some self-exploration on foot, by taxi, city bus, or by tuk tuk or hire a driver/guide for an easy day out.
You'll see many colonial buildings and temples in the capital city and may want to stop to visit the National Museum of Colombo (largest museum in Sri Lanka), see a temple such as Gangaramaya Temple, attend a theatre performance, walk along the shores of Beira Lake (location of the giant Lotus Tower), or explore the vibrant Old Quarter Pettah quarter which is well-known for the Pettah Market, a series of open air bazaars and markets, and the Colombo Old Town Hall & Museum.
Option 2: Explore Kandy
Another option is to head to Kandy which brings you to the Tea Country area. You can get to Kandy from Colombo by driving (~ 3 hours), hiring a driver guide, or by taking the scenic train from Colombo (~ 3 hours). Here you can relax at your hotel or go out exploring some of the many city's attractions. Popular attractions in or near Kandy include Sri Dalada Maligawa (a.k.a. Temple of the Sacred Tooth Relic), the Ceylon Tea Museum (recommended for tea lovers), the National Museum of Kandy (housed in former Royal Place), and Peradeniya Botanic Gardens.
Note than many of the attractions here (including the tea museum and botanical gardens) are located outside the city center and will require a taxi, bus, or driver to get to them.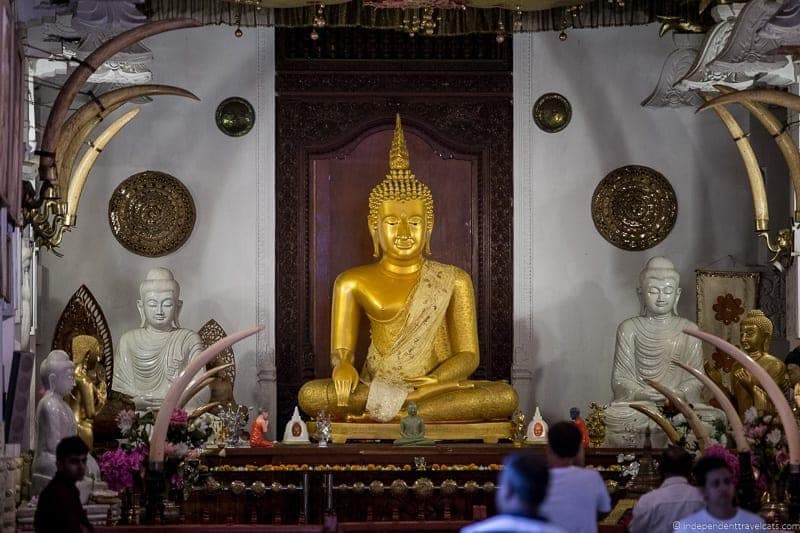 Where to Stay in Columbo or Kandy
We'd recommended overnight in either Colombo or Kandy. There are tons of choices in both of these cities ranging from simple local guesthouses to luxury hotels, and you can compare Colombo hotel prices or compare Kandy hotel prices.
Our Columbo luxury hotel recommendations include Cinnamon Grand, Cinnamon Red, Jetwing Columbo Seven, and Cinnamon Lakeside. Our Kandy luxury lodging recommendations are Santani Resort & Spa, The Grand Kandyan, and The Elephant Stables.
Sri Lanka Itinerary Day 2: Head into the Hill Country
Today you can make your way from either Colombo or Kandy to the luxurious oasis that is Ceylon Tea Trails. You can decide if you want to stop and take the scenic route and see some sights along the way (e.g., waterfalls, temples, elephant orphanage) or just get there as directly as possible.
How to Get to the Hill Country and Ceylon Tea Trails
You have a few options of how to get to Ceylon Tea Trails. You can be driven by a private driver or drive yourself (4-5 hours from Colombo, 2-3 hours from Kandy), take the scenic train to Hatton and then a shuttle from Tea Trails will pick you up (6-7 hours from Colombo, 2.5 hours from Kandy), or go by helicopter or plane (quickest but most expensive option).
If you choose the train, I'd recommend a first class reserved seat train ticket in an observation car for the best views (read this great Sri Lanka train info if you decide to travel via rail).
If you want to travel by helicopter or plane, Tea Trails can provide a list of companies that provide transfers to and from the hotel and rate sheets. Cinnamon Air operates flights that can land in Castlereagh Reservoir (just next to both Castlereagh and Summerville bungalows).
We chose to go from Colombo to Ceylon Tea Trails by car and we were met at our hotel lobby and driven by our competent driver Nawfer in a comfortable mini-van. The traffic in and around Colombo was a bit chaotic, but it became much lighter as we left the sprawling suburbs of the city. It took us almost 5 hours to reach Ceylon Tea Trails with a stop for lunch and a few very short photo stops along the way.
The scenery becomes much more scenic as you drive into the green hilly Tea Country and the last hour or two of our drive was very pleasant as we could see small waterfalls and tea fields out the window. There are several tourist attractions you could visit along the way, including waterfalls, parks, and temples, but you'll need to add some time for stops and taking less direct routes. If you are working with a tour company, I would go over your options with them and be clear about what you want to see along the way if you want to make stops so they can get an appropriate itinerary ready for the driver and give you a time estimate.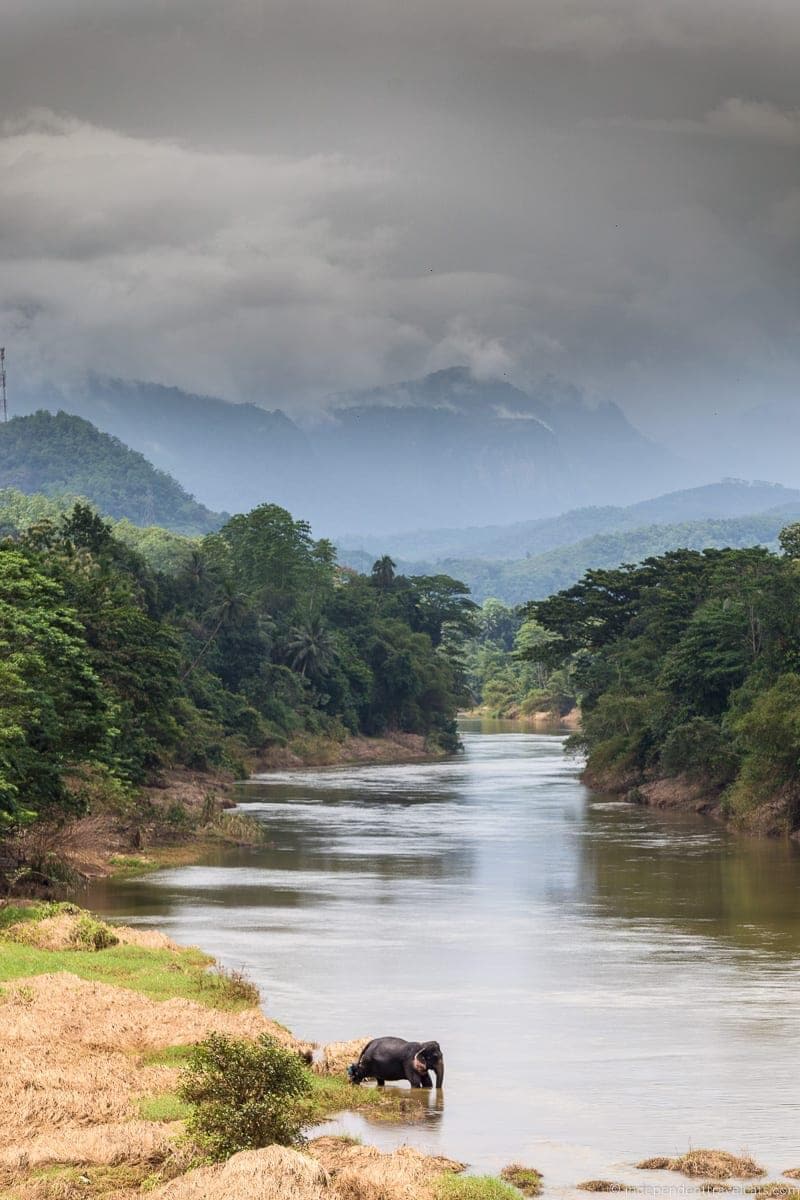 Staying at Ceylon Tea Trails
Ceylon Tea Trails is probably the most coveted place to stay in Sri Lanka, and for us it was the perfect place for history and tea lovers like us who were seeking some pampering and romantic time alone. The private luxury resort is comprised of five colonial-era tea planter bungalows nestled in the tea-carpeted hills of the Bogawantalawa region. Each of the bungalows offers 4 to 6 unique rooms and a dedicated butler, chef, and house staff, and each has its own unique history and character.
Ceylon Tea Trails was the first Relais & Châteaux property in Sri Lanka and remains one of the only ones in the country. We also loved that there are plenty of activities on offer and our stay was worry and bill free as rates included all meals, most drinks, laundry, taxes, and transfer services.
We had an absolutely blissful 2-night stay at Ceylon Tea Trails (this is the minimum night stay), which wasn't long enough, so we'd recommend 3 nights which is what we included in this itinerary. You can read this very detailed review of our stay at Ceylon Tea Trails which should tell you all you need to know to decide whether Ceylon Tea Trails is a good choice for you.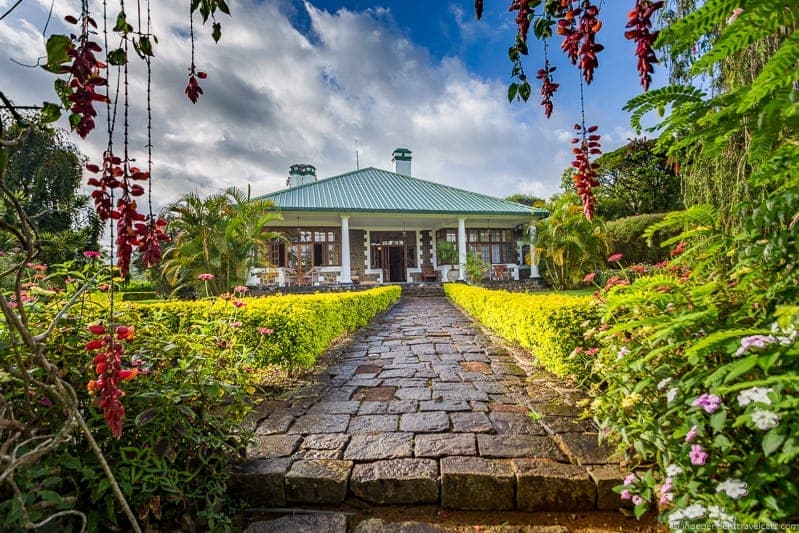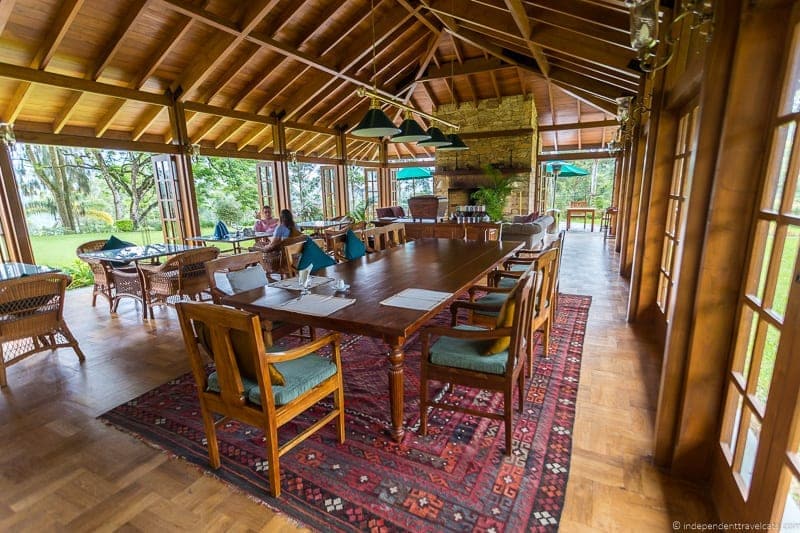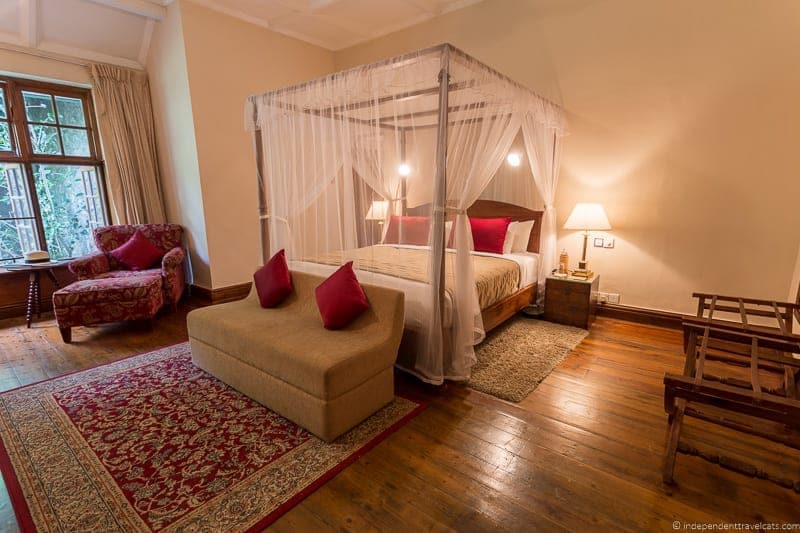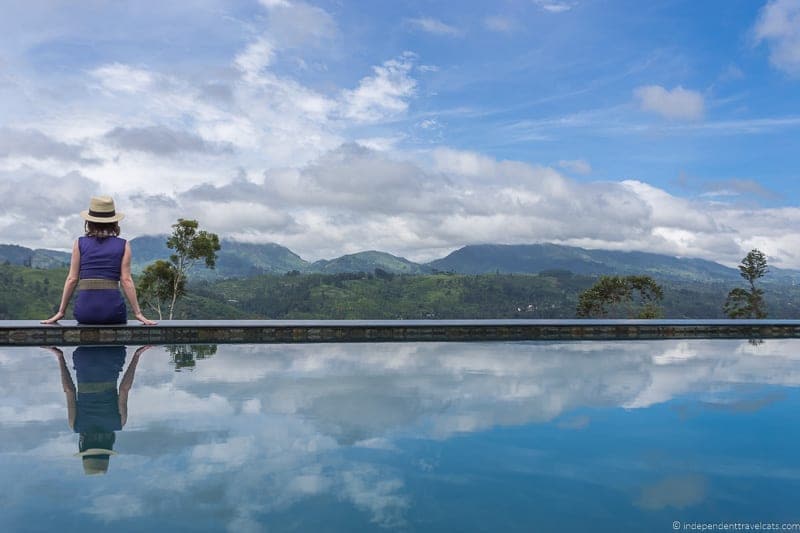 Where to Stay in Sri Lanka's Hill Country?
Ceylon Tea Trails is an absolutely wonderful property and one of the highlights of our trip; however, if the room rates are a bit more than your budget allows or if they happen to be fully booked during your trip dates, there are a lot of other mid-range and luxury properties in the area that are easier on the budget and can still provide a romantic escape.
You can also compare best prices for hundreds of Nuwara Eliya District hotels here for your travel dates, which range from hostels and guest houses to luxury resorts.
Some other romantic luxury properties located in Tea Country include Mandira Craig Appin Bungalow, Jetwing St. Andrew's, Governor's Mansion, Warwick Gardens, and Heritance Tea Factory.
Sri Lanka Itinerary Days 3 & 4: Enjoy Tea Country & Relax at Ceylon Tea Trails
After a couple of days of traveling and sightseeing, we'd recommend two entire days filled with lazy pursuits, good food and drink, and luxurious pampering surrounded by lovely scenery. Most activities are included in the resort fees, although you'll pay extra for special things like guided trips, spa treatments, and city sightseeing tours.
The choices are vast and there is so much to do at Tea Trails that most people never leave; however, most do leave their own bungalow to explore the other bungalows and take part in other activities (for instance tennis at Tientsin, hot tub at Dunkeld, or kayaking at Summerville). If you do want to leave, it is easy to arrange transfers to nearby towns, guided hiking trips, and other excursions.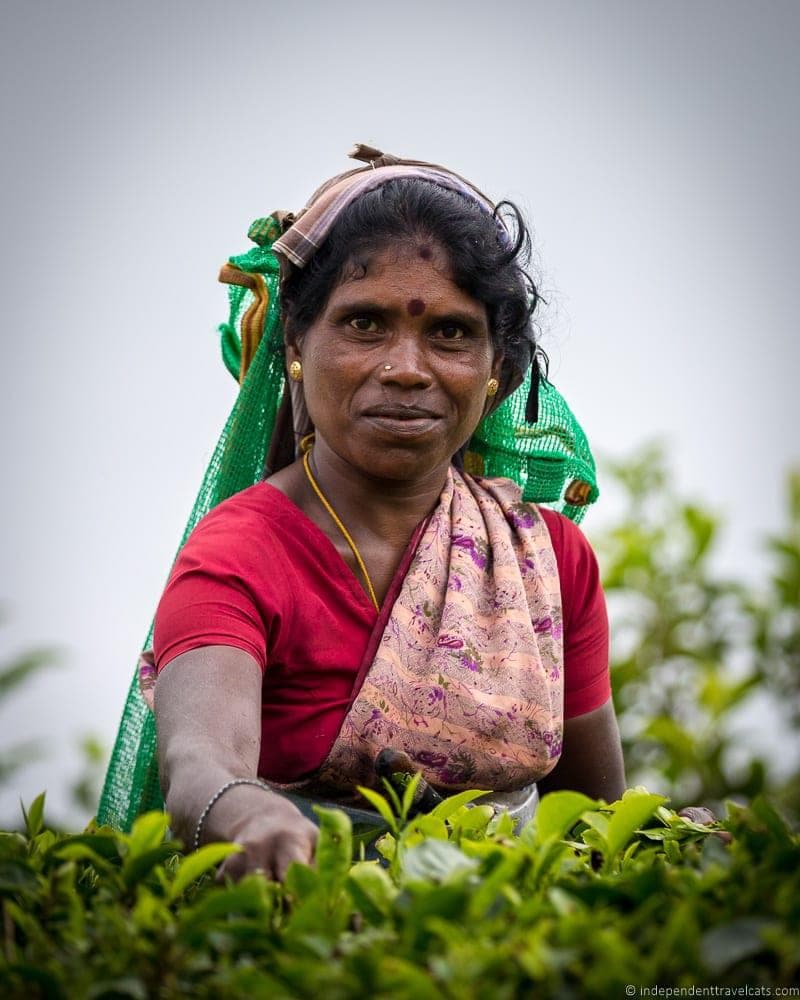 Depending on your interests, you can make your stay at Ceylon Tea Trails fit your tastes, and the house staff is more than willing to help in any way they can. We just recommend asking in advance so they have time to make any necessary arrangements (e.g., you want to arrange a hike to Adam's peak, an in-room massage, or have a special Sri Lankan dinner served in your room).
For those who crave relaxation, we'd recommend waking up late to a cup of tea, relaxing by the pool, reading in one of the paneled libraries, playing board games, cards, or billiards, indulging in afternoon teas, walking in the garden or taking short self-guided hikes to a nearby bungalow, arranging an in-room movie, booking in-room spa treatments, and enjoying evening drinks in front of the fireplace.
For those who crave activity, we'd recommend taking advantage of a guided hike, climbing nearby Adam's Peak, biking, arranging day excursions to nearby towns or a golf outing, visiting a local market, playing croquet or tennis, going swimming, or expending some energy kayaking.
We'd recommend that anyone interested in tea take advantage of their surroundings. Ceylon Tea Trails is owned by the Dilmah Tea family, and you'll be staying in the homes of former tea planters and will be surrounded by fields full of Ceylon tea. For instance, you can arrange to take the daily complimentary guided Dunkeld tea factory tour, learn the history of the Dilmah family and tea growing in Sri Lanka (a nice book on this topic is provided in each room), hike amongst the tea fields, indulge in the daily offered afternoon tea, and try a wide range of Dilmah teas which are on offer throughout your stay. Don't worry if you prefer coffee, coffee is also available!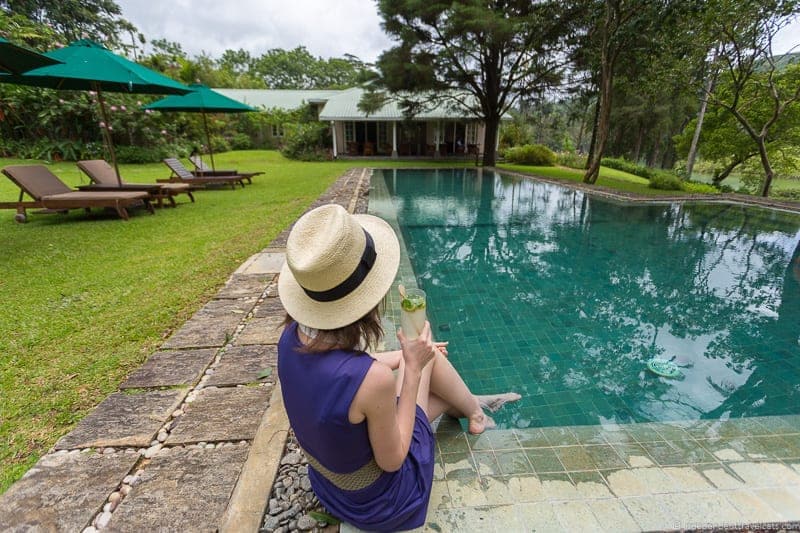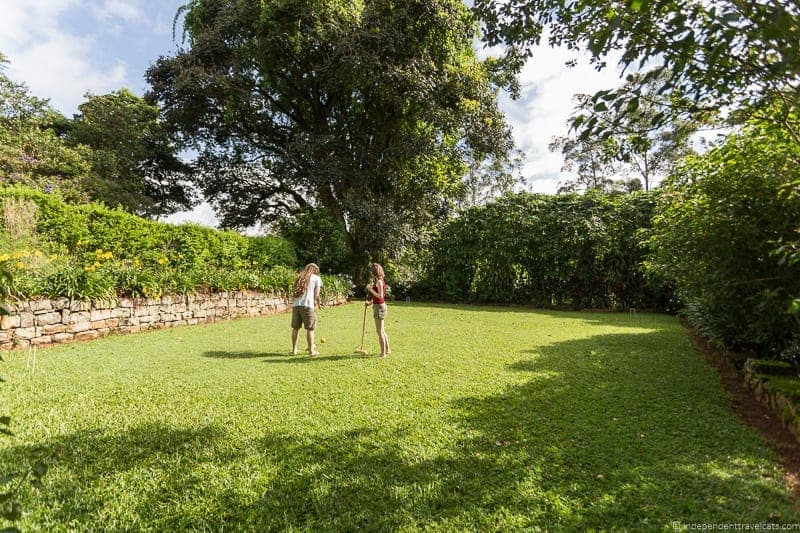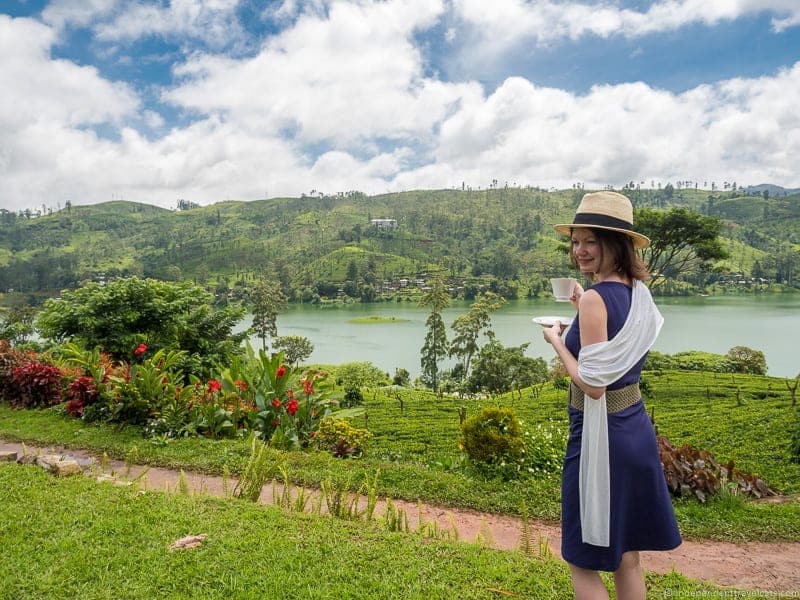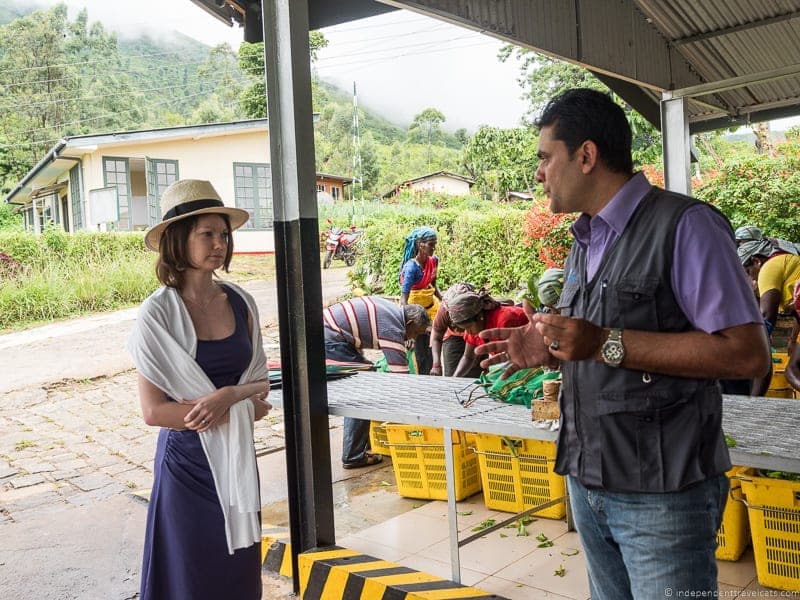 In terms of food, you'll be served bed tea (tea in bed each morning), breakfast, a 3-course lunch, afternoon tea, and a 4-course dinner. Snacks and canapés are also available as you wish in case you get hungry in between meal times! Of course you can also forego meals or tea if you begin worrying about whether or not you'll fit back out the door at the end of your stay!
You also have the option to choose between traditional British/Western options and Sri Lankan for most meals and I'd take advantage of being able to try some local dishes during your stay. Drinks are available to order (or help yourself in the bar area) all day long, which range from tea and coffee to wine and whisky. You can also order mixed drinks as well.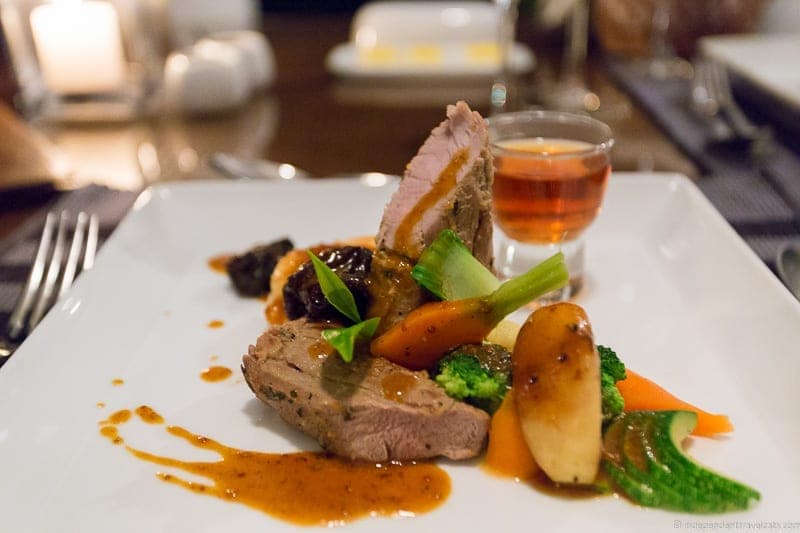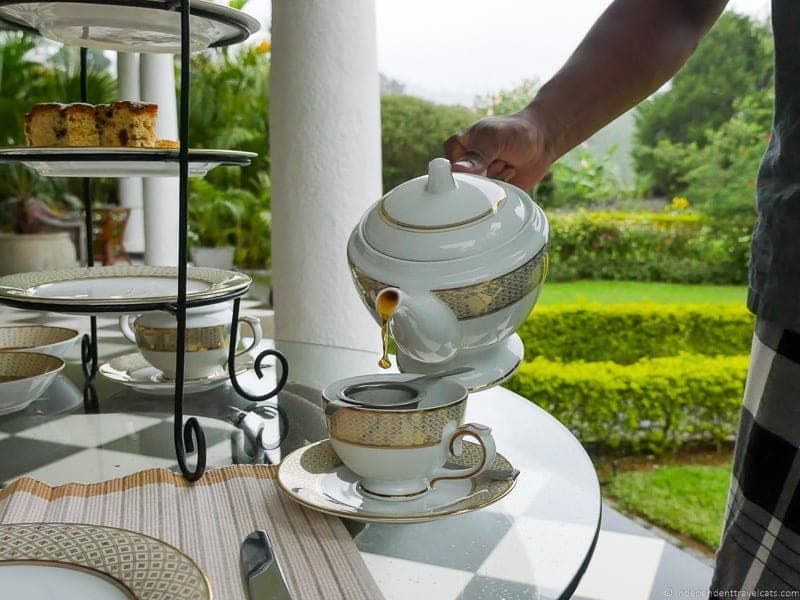 A stay at Ceylon Tea Trail is time to enjoy relaxed luxury among the beautiful Sri Lankan scenery with your partner. The well-trained staff, lush scenery, good food, and beautiful historical properties are great ingredients for a fantastic romantic trip. We highly recommend it as part of any couples holiday to Sri Lanka and you can read an in-depth story about our stay at Ceylon Tea Trails to learn more and see more photos.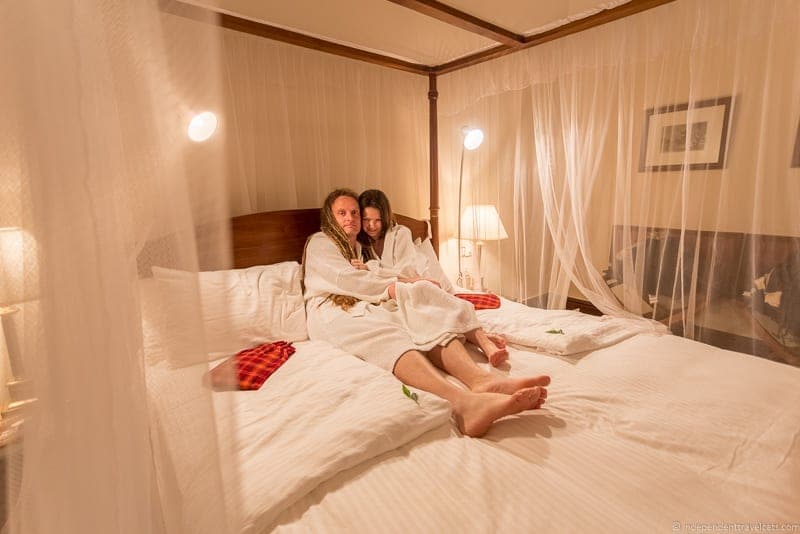 Sri Lanka Itinerary Day 5: Tea Country to Yala National Park
It is time to say goodbye to the relaxed luxury of Ceylon Tea Trails and set out for the more adventurous part of your trip. Off to beaches, sleeping in a tented camp, and some wildlife spotting! You can fly to an airport near Yala (about an hour drive from the park) if it fits your budget (check with Cinnamon Air or local helicopter charter companies) or you can go the more typical route by land. If you are going by land, prepare yourself for a long drive (5 to 6 hours) by having a hearty breakfast before heading off to Yala National Park, which is well-known for having one of the highest density of leopards in the world along with loads of other animals.
You can choose to just drive directly to Yala with stops for lunch and short breaks for toilet and stretch stops, or you can break up the drive with a few stops at attractions along the way. Along the route, there are museums, waterfalls, temples, tourist shops, tea factories, monasteries, and other things to do, including Ravana Caves, Ravana Falls, Buduruwagala, and Dhowa Rock Temple. If you do make stops at any attractions, be sure to plan this out in advance and just note it will be adding to your driving time and arrival at your hotel in Yala.
Our drive took a total of about 7 hours and included stops for a cup of tea in Bandarawela at Mlesna Tea Centre (also a popular place for buying tea) and lunch on the terrace at Ella Mount Heaven Hotel which boasts some great mountain views.
We also chose to stop at two attractions along the way: Ravana Falls (also known as Ravana-Ella Falls and Rawana Falls) and Buduruwagala. We were happy to have the stops to break up the long drive and there was some lovely scenery to keep up from getting too bored on the drive, and both Ravana Falls and the ancient Buddhist rock sculptures at Buduruwagala were both worth the stops.
We actually ended up having more of an adventure than expected at Buduruwagala because of a closed bridge, making it necessary to take a tuk tuk from a local boy to reach the Buddhist rock structures. We arrived at our final destination, Yala Tented Camp, in the early evening. We had time to check in, relax a bit, explore the property, and then have dinner before going to bed early so we could get up for an early morning safari ride.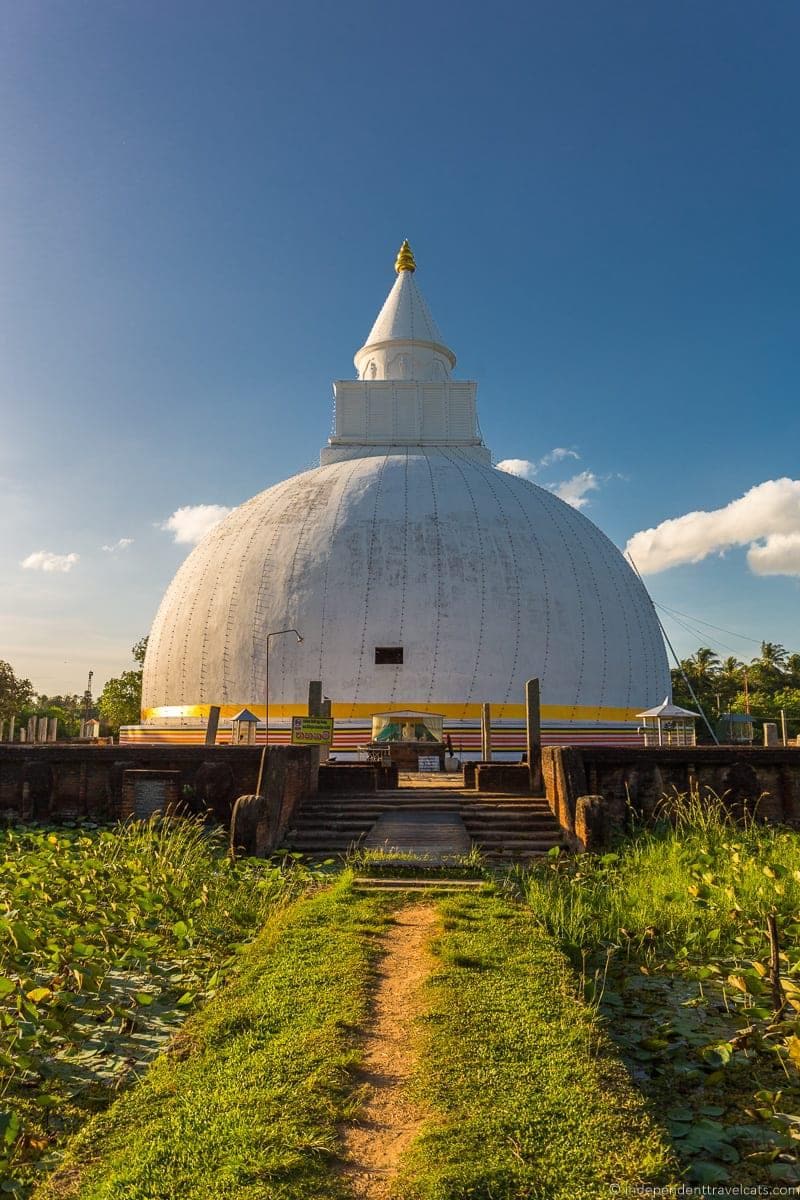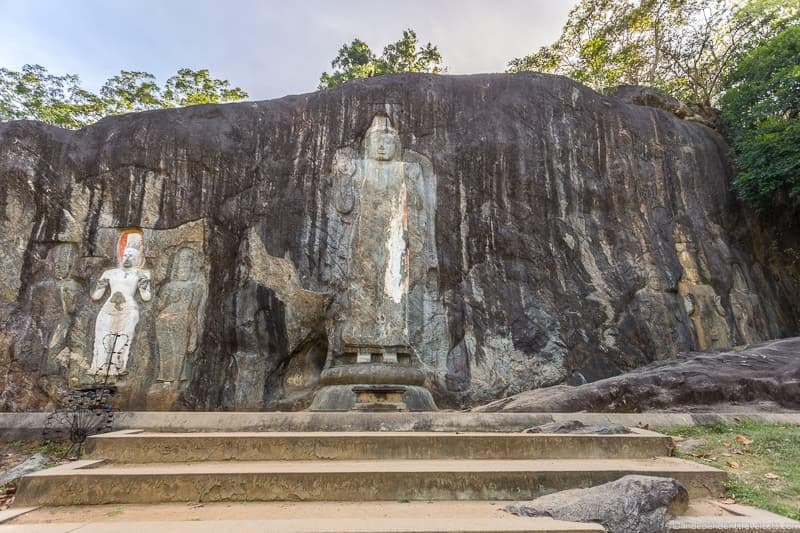 Where to stay at Yala National Park?
There are currently no lodging options inside the park (except for a handful of bungalows meant for larger groups, you can see them here), but you can stay very close to the park. One popular type of lodging is to spend the night at a tented camp or in tented villas, and we chose to stay in one of the tented camps operated by Jetwing. Jetwing Yala offers two types of accommodation. There's a traditional hotel, with the sort of rooms and services you would expect from a good hotel, and the tented camp that is made of tented villas which is where we chose to stay.
Jetwing Tented Villas Camp is perfect for those who enjoy, or want to try, glamping. You stay in a large, private tent that is set up upon a large wooden structure. The walls are made of tent-like canvas materials but it includes a proper floor, a giant bed, wardrobe, mini-refrigerator, lamps, flush toilet, shower, towels, and many of the normal amenities you'd expect in a regular hotel room.
We had our choice of both a regular shower in the bathroom as well as an outdoor shower. Locks are used to secure the tent at night and when you are not inside, and there was a large porch with deck chairs to sit and enjoy the view. Our tented villa also came with a butler, and we were very fortunate to have a fantastic butler named Thilanka who was always available and even made us fantastic towel animals. The hotel also included a swimming pool, hot tub, restaurants, bars, and a beach area.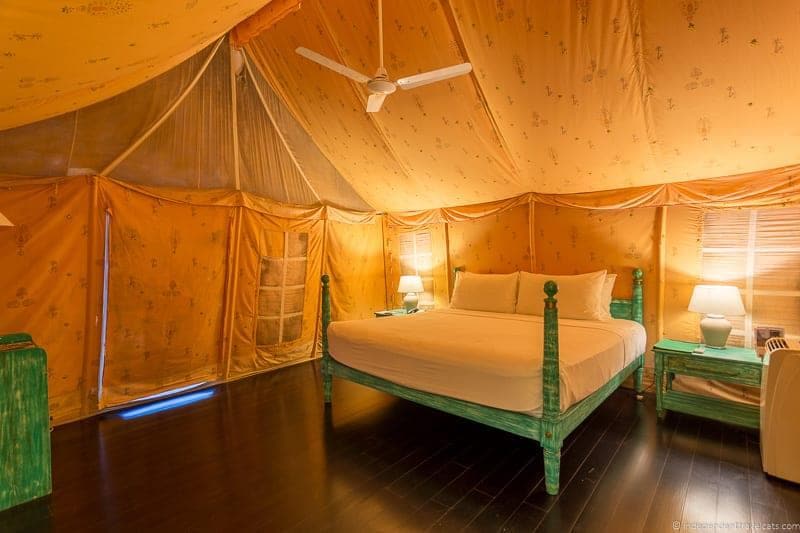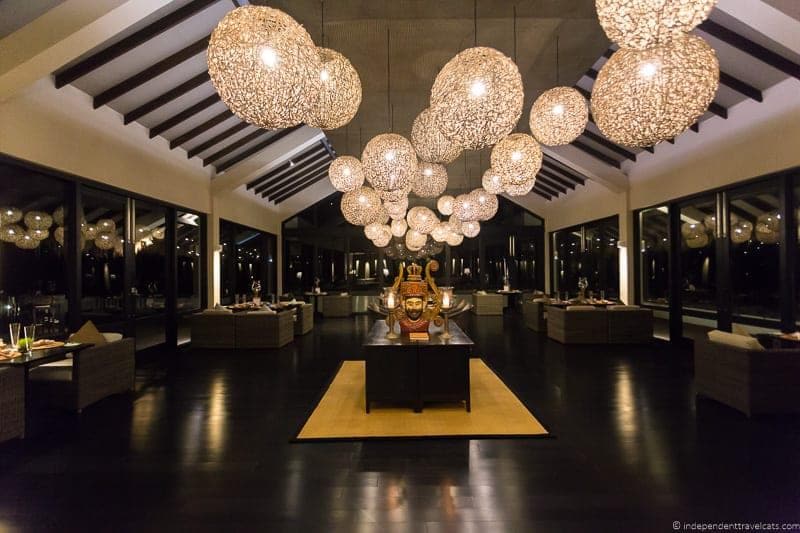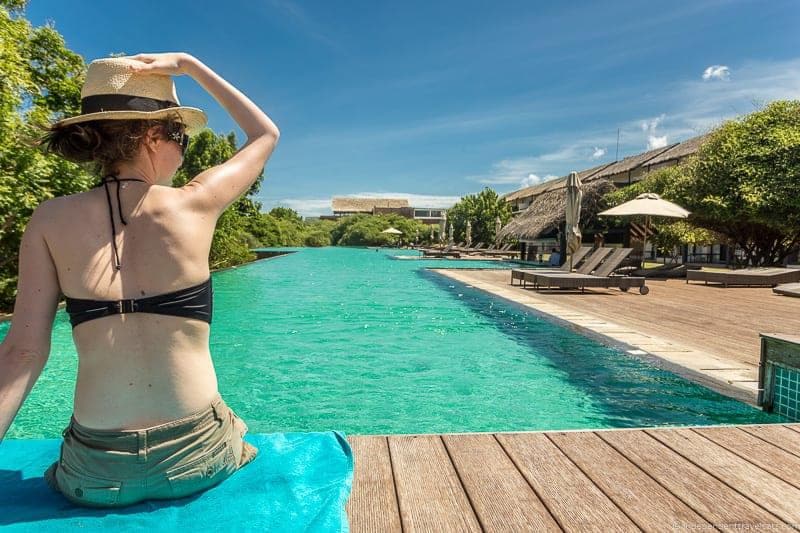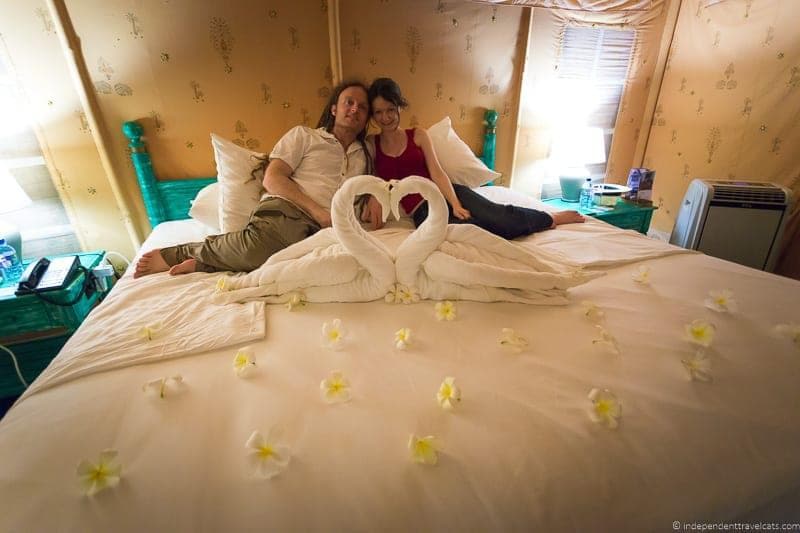 Is glamping in Sri Lanka for me? Now, glamping is fun for us, but it is not for everyone. I am not a huge fan of regular basic camping but we still enjoy "roughing it" a bit and being closer to nature. Tented camps are not a great fit for those who can't stand a bit of heat or cold or an insect bite or two, although they may also not be a good fit for those who'd rather actually have a real basic camping experience.
I have had several glamping experiences, and you should be prepared for the odd insect, lizard, bird, or even rodent to potentially find its way inside your tent, crawl out of the sink, or be perched on your patio in the morning. Also expect to hear animals and birds from your tent in the evening, which we enjoyed but can be frightening or annoying to some people.
It is advised that at any of the camps near Yala that all guests be driven back and forth at night and take flashlights for safety reasons. We saw several larger animals when being driven back to our tent in the evenings by Thilanka in a golf cart, so we definitely recommend not walking alone at night in the area. But if you are prepared for all these things, it is a fun experience to be able to be able to enjoy the stars from your porch and slip into a comfortable bed to enjoy the sounds of the night.
Hotel alternatives to Yala Tented Villas?
If Yala Tented Villas is fully booked or you're looking to compare other alternatives that still fit the sort of tented camp or villa feel, you can check out the luxurious Wild Coast Lodge (run by the same company as Ceylon Tea Trails), Cinnamon Wild Yala, Chena Huts, and Mahoora.
If you or your traveling partner would prefer to be a bit more separated from nature, you can also check out more traditional lodging alternatives such as the hotel at Jetwing Yala (adjacent to the Yala Tented Villas Camp), Thaulle Resort, and Chandrika Hotel. Regular camping options are also available in the area.
Sri Lanka Itinerary Days 6 & 7: Yala National Park
Your priority for the next two days will likely be doing game drives and wildlife spotting at Yala National Park. Yala National Park has one of the highest density of leopards in the world, with around 25 leopards believed to frequent the section of Yala open to the public. So you do have a decent chance of seeing a leopard, but they are fairly elusive wild animals so there is of course no guarantee. However, there is much more to Yala than just leopards, and in fact there are believed to be over 44 species of mammals and over 215 bird species here!
You can arrange jeep safari rides through your tour company, hotel, or independently. Normally, jeep safaris can be arranged for early morning and/or afternoon rides which are the two periods when the animals are most active within the park hours. In the middle of the day, the animals usually rest, sleep, and enjoy an escape from the heat. If you are really short on time, you can arrange an all-day safari but be prepared for a long and likely hot day and you may not see much in the middle of the day.
Our first day at Yala began with our alarm going off around 5am! We were able to make coffee in our room and get dressed by the time Thilanka arrived to drive us to our safari jeep. Nawfer, our Jetwing driver, had switched out our mini-van for a 6-seater jeep. The jeep was much like any other safari jeep, although note that they all have roofs, which are required at Yala to prevent leopards from leaping inside! The seats all had excellent views, so we had plenty of choice in terms of where we sat and stored our stuff since it was just the two of us. The hotel has also prepared box meals for us and our driver so we could eat breakfast while at the park.
Jetwing Yala is only about a 5-minute drive from the Yala National Park entrance so it was a quick drive but we then had to wait for a bit to get tickets. The park opened at 6am, and it is best to arrive a bit before this as there is often a queue of jeeps waiting to get in. Our driver paid the entry fee, and when the gates opened, we were soon inside!
We did both a morning safari drive (from about 6am to 10:30am) and an afternoon one (from about 2:30 to 6:00) and during those drives we saw a large number of animals and birds. Some of the highlights were three leopards, a number of elephants, two Sri Lankan sloth bears, wild water buffalo, crocodiles, a huge crested serpent eagle, many cute blue-tailed bee-eaters, peacocks, and a large number of deer. We were particularly lucky to see a leopard hunting deer (unsuccessfully) and a sloth bear who walked right up next to our jeep.
We had a great time and saw many of the animals that we hoped to see in this one day. For some people one day will be enough, and others will want to devote more time to seeing animals in the park. Personally, we both really love wildlife so we could have easily spent a second day doing game drives but we did not have the luxury of another day.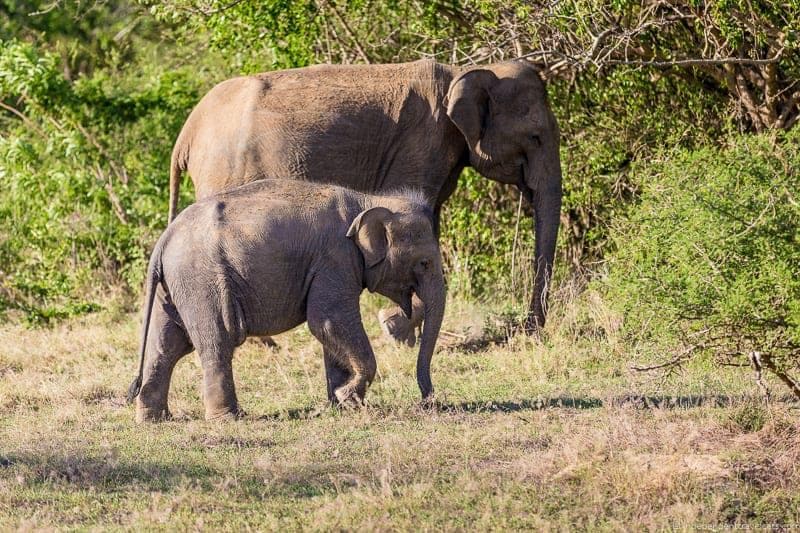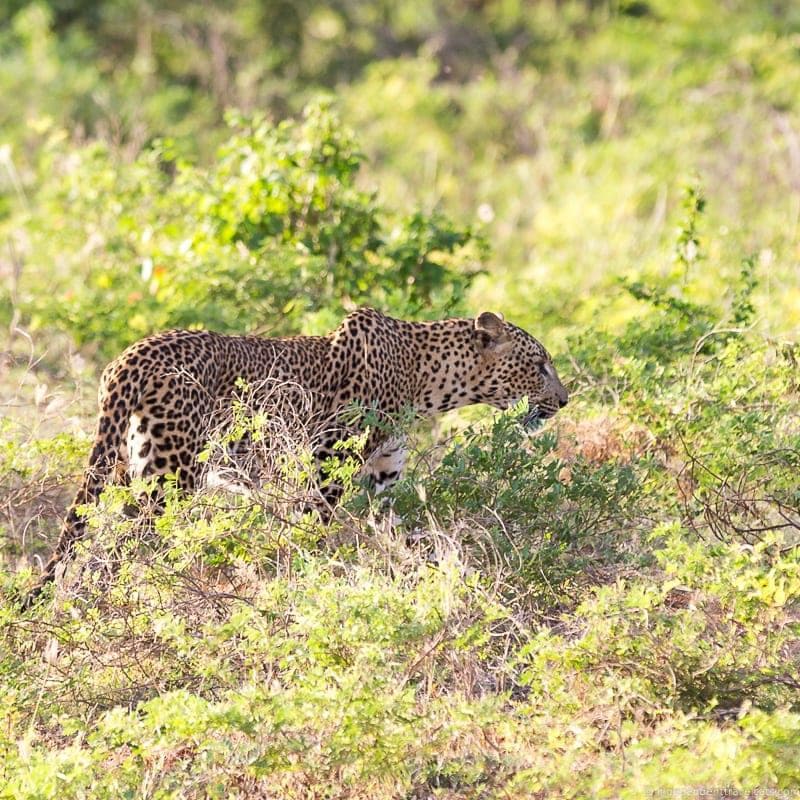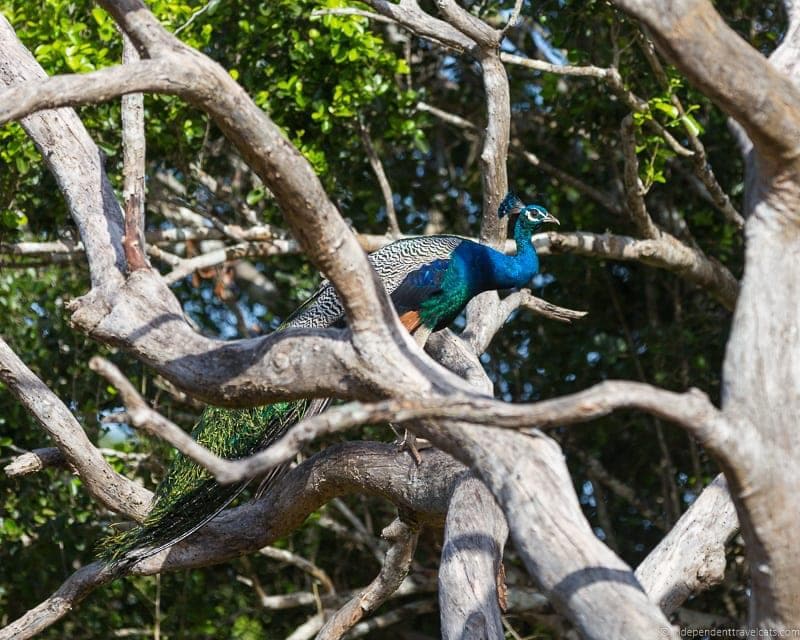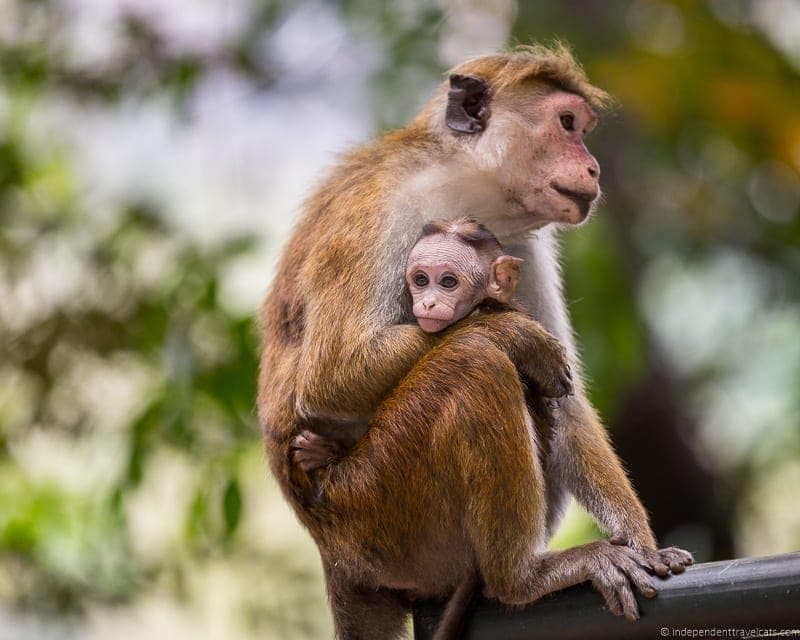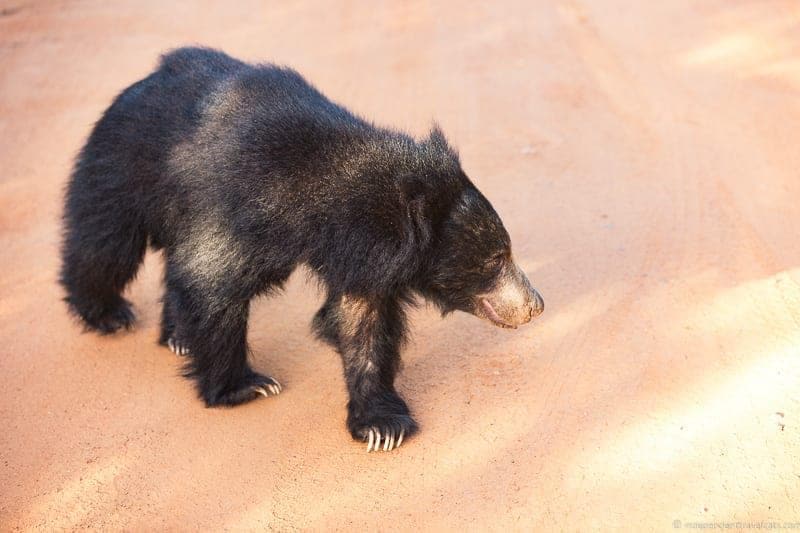 In addition to game drives, you can spend your time enjoying your private tent, relaxing at the pool, and going to the beach. If you are feeling like you want to get out of the hotel, you can also plan a day excursion. Popular excursions include boating and water sport activities or trips to archaeological or religious sites such as Katharagama temple and the Tissamaharama Rajamaha Vihara.
In between and after our game drives, we took advantage of the hotel's giant pool which includes a swim-up bar, the beach area, and our large private porch. We also really enjoyed the outdoor shower after a hot full day of safari! It is nice that Yala National Park is so close to the coast, making it easy to split your time between game drives, hotel amenities, and the beach. If beach time is important to you, be sure to choose a hotel that has beach access like Jetwing Tented Camp.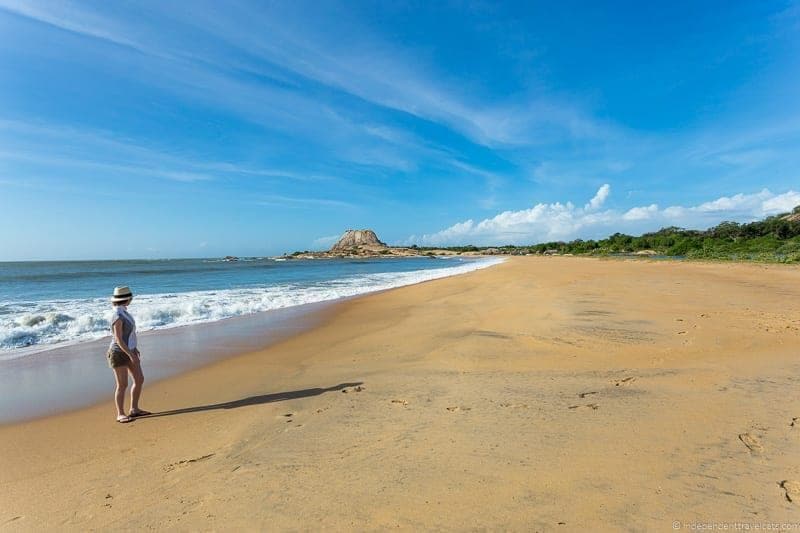 Heading Home: Yala National Park to Colombo Airport
On this final day, it is time for a morning check-out and drive (or you can arrange a flight) into Colombo to fly home from the airport. It is about a 5 hour drive from Yala to the Colombo Airport. Be sure to leave plenty of time to spare to arrive at the airport and check into your international flight as traffic around Colombo can be bad.
We had an afternoon flight booked, so we had to start super early for Nawfer to be able to drive us back to the airport to make our flight. We just had short breaks to eat a boxed lunch (packed by the hotel) and restroom stops along the way. We had an uneventful trip back and easy time getting through airport security, but it would have definitely been a better ending to our trip if we had booked a later flight and been able to leave Yala later and have a more leisurely drive back.
Hope you have enjoyed our 1 week Sri Lanka itinerary for couples!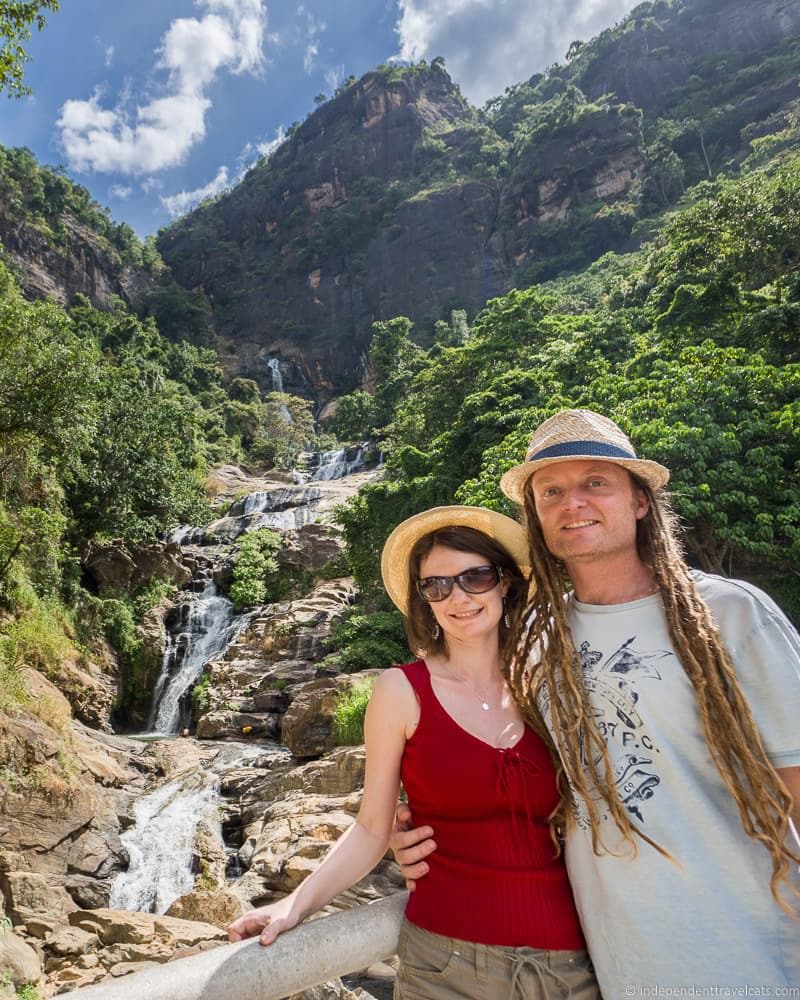 Is Sri Lanka on your travel radar? Have you ever been to Sri Lanka? If so, any destinations or activities you'd add to this 1 week Sri Lanka itinerary that would be a perfect fit for a romantic holiday for a couple or honeymoon? As always, if you have any questions about our Sri Lanka itinerary or any travel related questions about Sri Lanka, just ask us!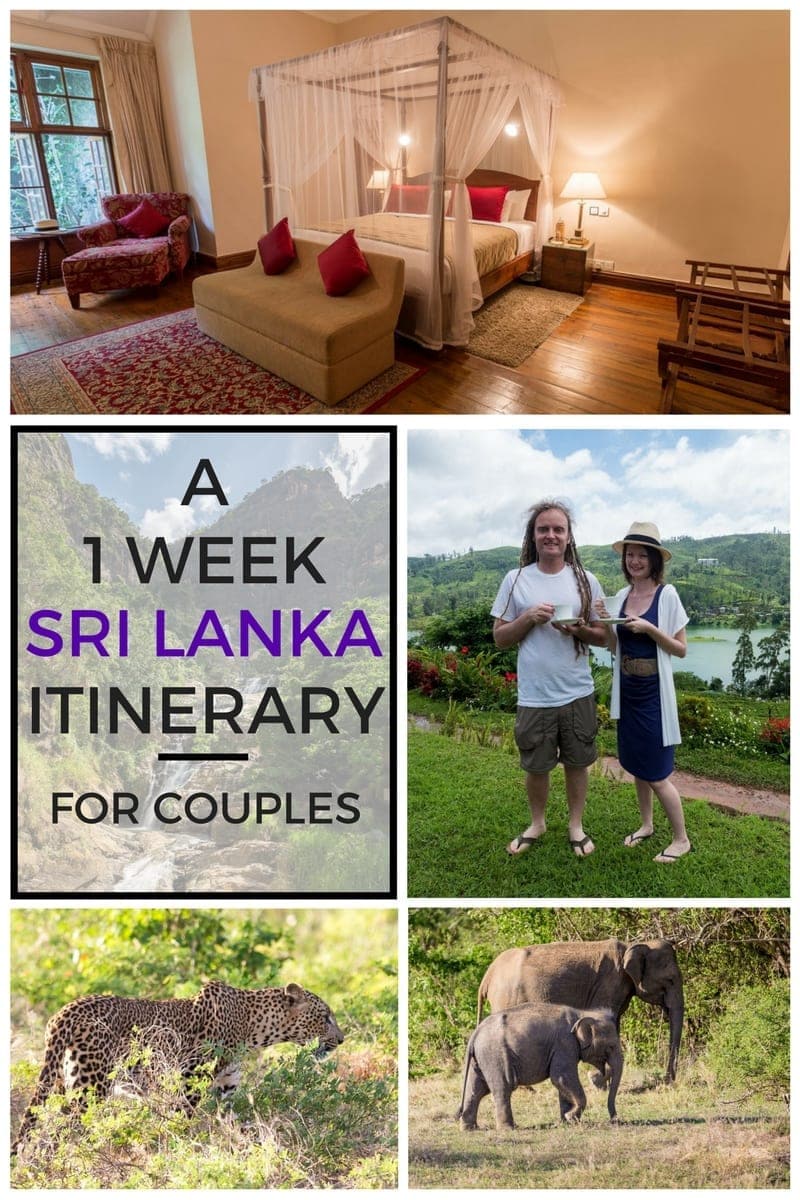 **Disclosure: Jetwing Eco Holidays provided our transport, attraction entry fees, and lodging at Jetwing Tented Camp, and Ceylon Tea Trails provided our food and lodging during our 2-night stay there. We worked with both companies in order to review the mentioned attractions and services as travel writers; however, this article contains only our own honest thoughts and opinions. You can read more in our Ethics Code about how we accept work.**