Oak Alley Plantation is one of over a dozen Louisiana plantation homes open to the public that line the Mississippi River between Baton Rouge and New Orleans. In the mid-nineteenth century, over 300 plantations lined the river in this area, most of the plantations growing sugar cane which became the principal cash crop in this area by the early nineteenth century.
Oak Alley Plantation is often considered the Grande Dame of the Great River Road with a lovely Greek Revival style main house and a number of dependencies built between 1837 to 1839. Oak Alley is no longer a working sugar cane plantation, but the original main house and a few other original buildings remain on the property as well as the famous 300-year-old alley of oaks that gives this plantation its name and photogenic fame. It is also famous for being shown in numerous TV shows and films, including Hush Hush Sweet Charlotte and Interview with the Vampire.
Unknown to many visitors, travelers can not only have a meal at the Oak Alley Restaurant but they can also stay overnight in one of several historic or modern cottages located on the plantation grounds. Laurence and I were fortunate enough to be overnight guests in one of the Oak Alley Plantation cottages which gave us ample time to explore the grounds, sample the food, and get great views of the plantation at sunset and sunrise.
We'll share all the information you'll need to visit and tour the Oak Alley Plantation and also details for those wanting to stay overnight at this famous plantation.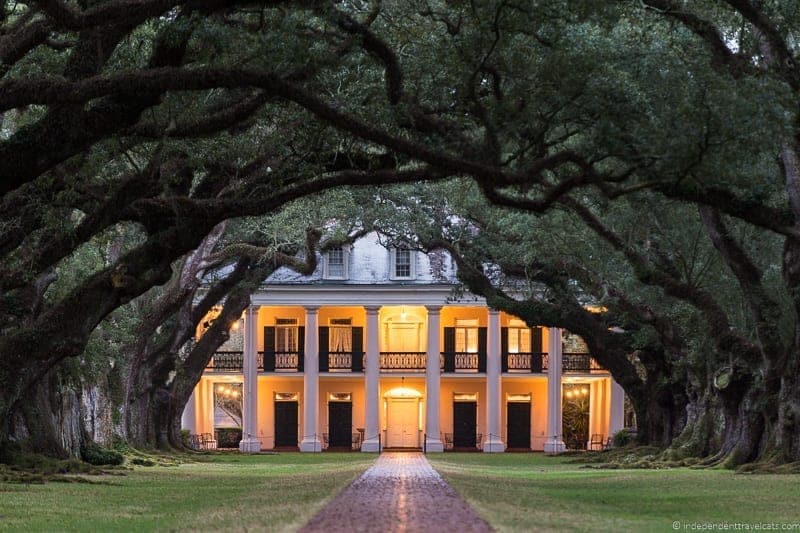 Basic Information for Visiting Oak Alley Plantation
Here is some information and tips to help you plan your visit to Oak Alley.
What is the address of Oak Alley?
The address is 3645 Highway 18, Vacherie, Louisiana 70090
How do I get to Oak Alley?
Oak Alley Plantation is most accessible for drivers by car. It is located about 53 miles (1 hour driving) from both Baton Rouge and New Orleans. The plantation website provides very detailed directions and maps to Oak Alley Plantation for drivers.
Another good way to visit is to join a plantation tour from New Orleans or Baton Rouge that includes Oak Alley Plantation or hire a private car transfer. See next section for a list of tour options.
Note that there are taxis and Ubers; however, many people who have used Uber have been stranded at plantations because there are few drivers who will do pick-ups from this area. So you are better off arranging a day trip, private transfer, or scheduled taxi (with pick-up and drop-off arranged in advance).
Unfortunately, there are no good public transportation connections to Oak Alley Plantation.
Oak Alley Day Tour Options from New Orleans?
Day tours are a very popular way to visit Oak Alley Plantation from New Orleans, both group and private tours are available. Many tours also include visits to a second plantation.
Here are several possibilities:
How did I book Tickets to Oak Alley?
Tickets can be purchased at the Ticket Center on arrival to the plantation at the Ticket Booth located near the parking area. Tickets can not be purchased in advance. Tour reservations are required for groups of 20 or more.
How much are entrance tickets to Oak Alley?
As of June 2021, tickets are USD $25.00 for adults age 19+, $10.00 for children age 13 to 18, and $7.00 for children age 6 to 12. Those age 5 and under are given free admission.
Discounts are available for seniors, AAA members, military, students, and first responders.
Oak Alley Ticket Inclusions?
The Oak Alley Plantation ticket includes a guided tour of the mansion (the "Big House" tour) and access to all the exhibits, demonstrations, and other public buildings at the plantation.
On your own you can visit the grounds, the Alley of Oaks, the Slavery at Oak Alley exhibit with reconstructed slave quarters, the Civil War Interpretive Exhibit, the blacksmith shop, watch a sugarcane video, and see a few other sites of interest.
How long should I spend at Oak Alley?
The mansion tour is about 35 minutes long and is given every half hour. You should allow at least two hours to do the mansion tour, stroll the grounds, visit the gift shop, and see some of the other exhibits.
If you want to eat a meal here, I would definitely allow a bit more time. Similarly, if this is the only plantation you plan to tour in the area, I would spend the afternoon here and enjoy the experience by strolling the grounds, stopping at all the exhibits, having a meal, and enjoying a mint julep.
Where is the Alley of Oaks at Oak Alley?
There is actually an alley of oaks at the back and front of the mansion. The famous Alley of Oaks is a 800-feet-long alley of 300-year-old mature Virginia Live Oaks located on what would have been the front of the house. An alley of younger oaks in the back alley were planted in the 1830's and 1930's. Visitors can stroll along the oak alleys on their own before or after the tour.
Only those with tickets are permitted on the grounds of the plantation.
Food at Oak Alley?
There is both a sit-down restaurant and a cafe centrally located on the plantation. There is also a Spirits Bar that is often open located across from the restaurant.
The Oak Alley Restaurant is open for breakfast and lunch from 8:30 am to 3:00 pm (9:00 – 15:00). Seating is on a first come, first served basis. The Plantation Café offers sandwiches, wraps, snacks, ice cream, coffee, drinks, and even mint juleps from 9:00 am to 5:00 pm (9:00 – 17:00).
Large groups should contact Oak Alley in advance for planned seating.
Overnight Accommodation at Oak Alley?
Visitors have the option to stay overnight at the plantation. There are currently 9 guest cottages on the property, some are 100+ year-old plantation cottages and some are newly constructed modern deluxe cottages. At least one is wheelchair accessible.
All cottages have central air conditioning and heat, refrigerator, microwave, basic kitchen utensils, coffee maker, wireless internet, hair dryer, iron and ironing board, board games, and robes. Two of the cottages are adults-only and contain no televisions for those wanting an extra quiet stay. You can see a photo and description of each cottage online.
Prices for 2 persons currently range from $165/night to $275/night depending on which cottage you rent and all stays include a full country breakfast served at the restaurant. AAA and military discounts available.
Note that cottage prices do not include a Tour ticket which will need to be purchased separately if you want to do the guided Big House tour (the rest of the plantation can be visited by cottage guests without a tour ticket). While there may be last-minute vacancies on the date of your visit, cottages are often fully booked so do be sure to make reservations well in advance if you would like to stay overnight.
Need more Information?
Oak Alley has an excellent informative website, and you can also email them at info@oakalleyplantation.com or call them at (225) 265-2151 or 1-800-442-5539 for more information. They can also provide information if you are interested in holding a wedding or event here or if you are interested in doing professional photography shoots or filming.
For more information about the area, check out the Baton Route tourism website and the New Orleans tourism website; they both provide loads of information for trip planning to this region.
Our Visit to Oak Alley Plantation
The Great River Road in the United States is a series of roads that follow the banks of the mighty Mississippi River across 10 states!
In Louisiana, the most popular stretch is the approximately 100 miles of road that runs along both sides of the Mississippi River as it is still lined by a number of antebellum plantation homes and sugar cane fields. Although now there are also a number of industrial plants and factories as well as suburban strips mixed into the view.
Before the Civil War, Louisiana was one of the wealthiest states in the country and afterward it became one of the poorest as the plantation model collapsed with the end of slavery, and then the mosaic virus wiped out much of the sugar cane in this area in the early 1900's. Whereas hundreds of plantations once lined this stretch of river, there are now only a few dozen left in various states of repair and about a dozen or so of these plantations are open to the public for tours.
Oak Alley Plantation is one of the most popular. If you are looking for a plantation a bit like Tara (or Twelve Oaks) from Gone with the Wind, Oak Alley may be the closest fit among the Louisiana River Road plantations although the fictional plantations depicted in the film (and book) were cotton plantations in Georgia.
Like most of the plantation homes along the river, Oak Alley Plantation has survived multiple owners and times of both plenty and hardship. The plantation was originally established as a sugarcane plantation by wealthy Sugar King François-Gabriel "Valcour" Aimé. Aimé was also the owner of the St. James Refinery Plantation, known as Le Petit Versailles, and is believed to have been the grandest and most opulent plantation mansion ever built in south Louisiana (it sadly burned to the ground in 1920).
In 1936, Aimé sold the plantation to his brother-in-law Jacques Télesphore Roman who built the Oak Alley mansion in front of the already existing Alley of Oaks as a gift for his wife Celina. Originally named the Bon Séjour plantation, the Roman family would own the sugar cane plantation until 1866, when it was sold at auction.
The plantation would be bought and sold numerous times over the years, falling slowly into disrepair. It would be under the ownership of Andrew and Josephine Stewart, wealthy Texan cattle ranchers, that the house and plantation would be restored in the 1920's.
Then in 1972, Josephine left Oak Alley Plantation on her death to the Oak Alley Foundation which continues to run the plantation today.
Tour of Oak Alley Plantation
There are a number of things you can see and check out during your visit and I would recommend that after buying an entry ticket that visitors head to the main house first just in case there are large groups scheduled that can sometimes delay entry to the Big House tour. Then you can plan your visit accordingly.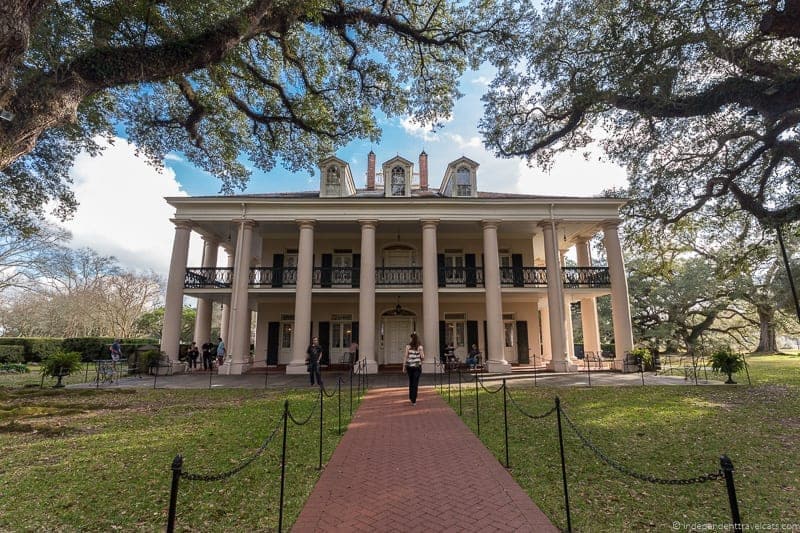 Tours of the Big House
Tours are given every 30 minutes on the hour and half-hour. The group tours are given by guides who are dressed in antebellum period costumes and the tour lasts about 30-40 minutes.
The main house tour provides a guided visit to all the rooms of the house, information about the most significant owners of the house, life on the plantation, the possible ghost activity at the plantation, and a bit of information on the TV shows and movies shot at the plantation. Many visitors find that the inside of the house seems smaller than expected compared to its outward appearance.
The house tour focuses primarily on the house and the families who lived in the house. Interesting tidbits are also woven into the tour such as the use of the courting candle, how pineapples were used in the house to let guests know they'd overstayed their welcome, mourning rituals, and how punkah fans operated. At one point the home was so neglected that birds, cows, and other animals inhabited most of the first floor!
The house is sumptuously furnished and contains a few original pieces but most are period pieces rather than those that belonged to the families who lived here. The furnishings are from the mid-1800's in the period prior to the Civil War and help to illustrate the tales of excessive living, parties, war, and financial crises.
The first part of the tour takes you to all the public rooms on the first floor such as the parlor, dining room, and sitting room. Then you head upstairs (the staircase was completely moved during the 1920's restoration) to view the bedrooms and nursery. You also have the opportunity for some great views from the verandah towards the Alley of Oaks and river (actual view of river blocked by levee).
We learned that although the house is rarely used for filming these days as it is open for tours almost every day of the year, several movies have been shot here including Hush Hush Sweet Charlotte with Bette Davis, The Long, Hot Summer with Paul Newman and Joanne Woodward, Primary Colors with John Travolta, and Interview with the Vampire which starred both Brad Pitt and Tom Cruise. Beyoncé fans may recognize the house from her "Déjà Vu" music video.
The house itself was built from 1837 to 1839 using primarily slave labor and is in the Greek Revival style. The owning family, the Romans, were actually related to many of the owners of other plantations along the river as many of the wealthy plantation families intermarried.
The plantation was run as a sugar cane plantation but later was also used as a cattle ranch, being used as an actual residence until 1972 when it was willed to the Oak Alley Foundation by Josephine Stewart. It would be the Stewarts who would start restoring the plantation in the 1920's and Oak Alley Plantation was notably the first plantation along this stretch of River Road to be restored since the ante-bellum period.
Today the clocks in the plantation house are stopped to mark the hour of her death on October 3, 1972 at 7:30 a.m. to honor her memory. It is likely that without Josephine Stewart, visitors would not be strolling the halls of this mansion.
TIP: If you want to avoid crowds without staying overnight, try visiting at opening time and do the first house tour of the day and then consider having a leisurely breakfast at the restaurant! You'll also usually find fewer crowds towards the end of the day.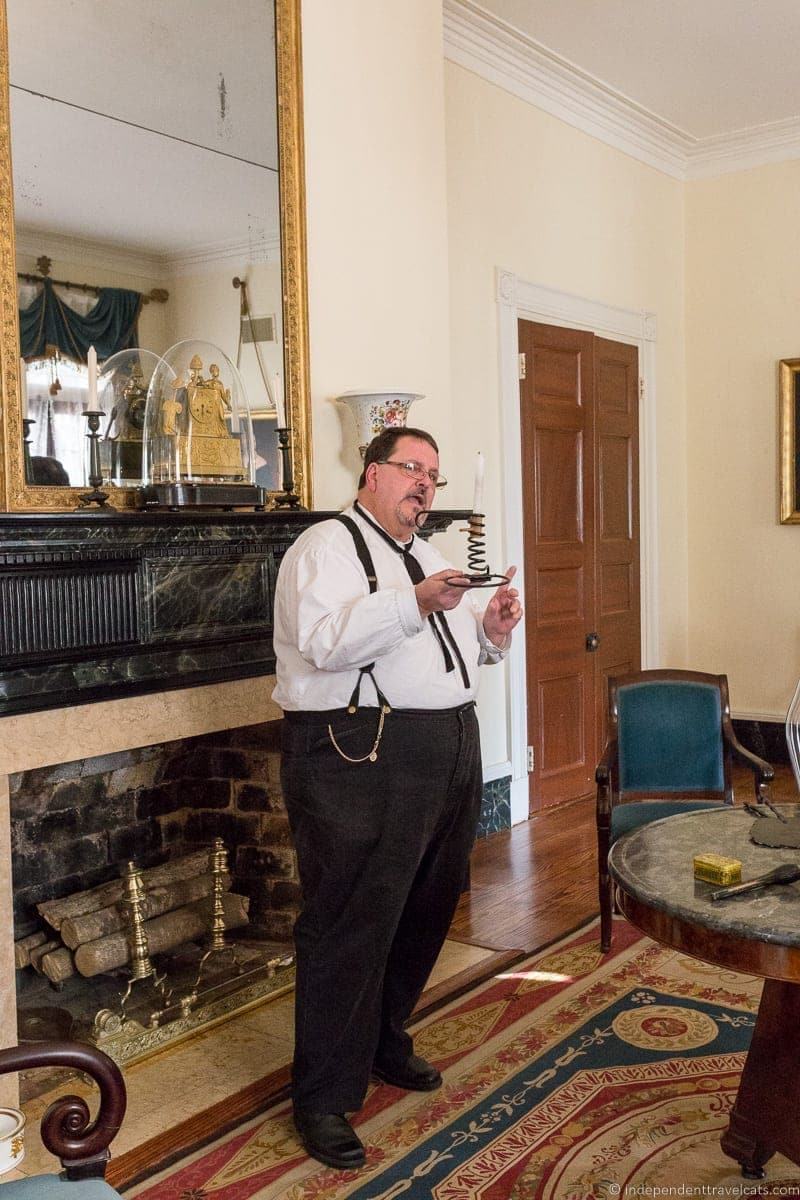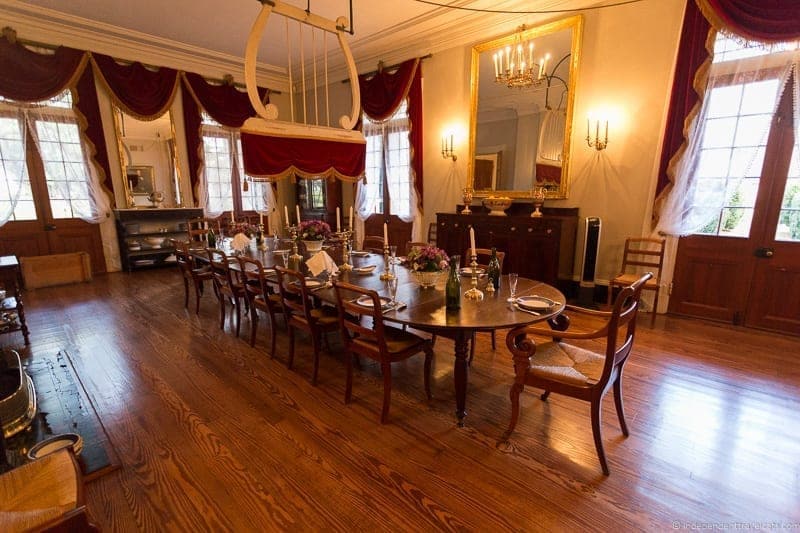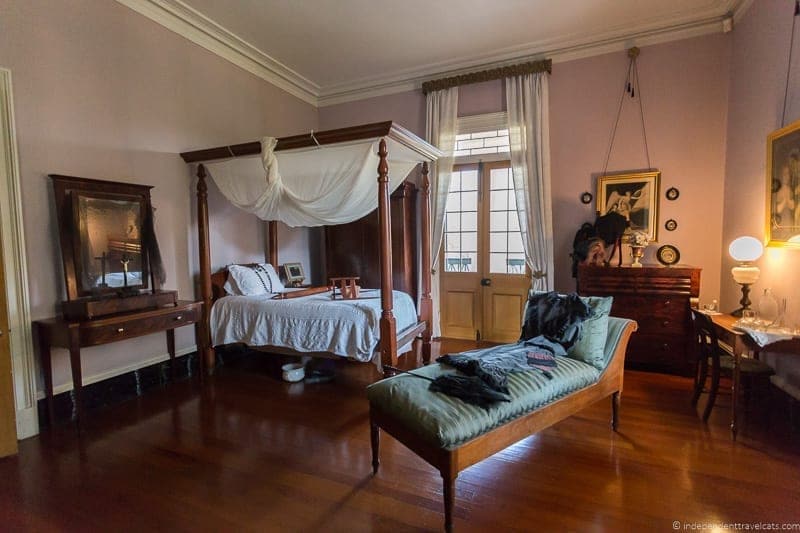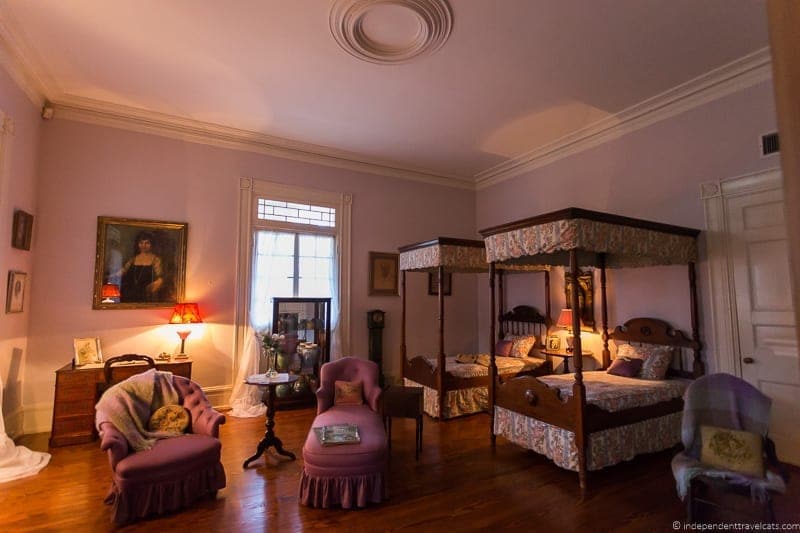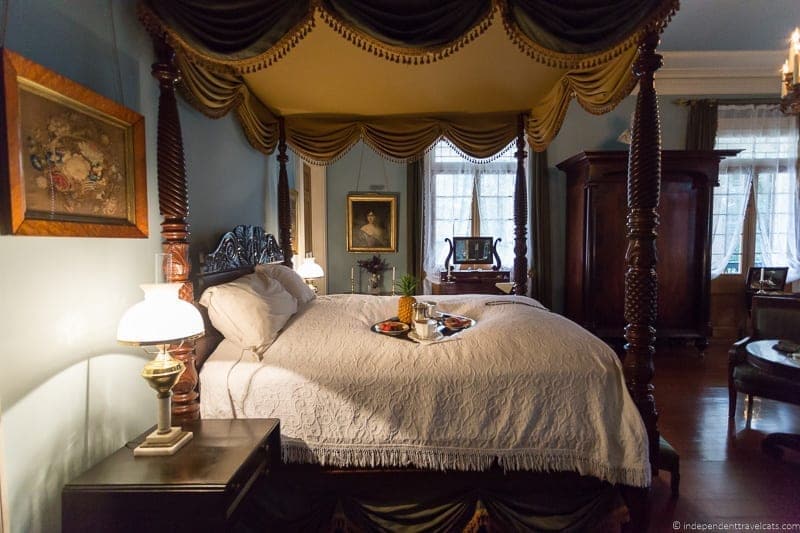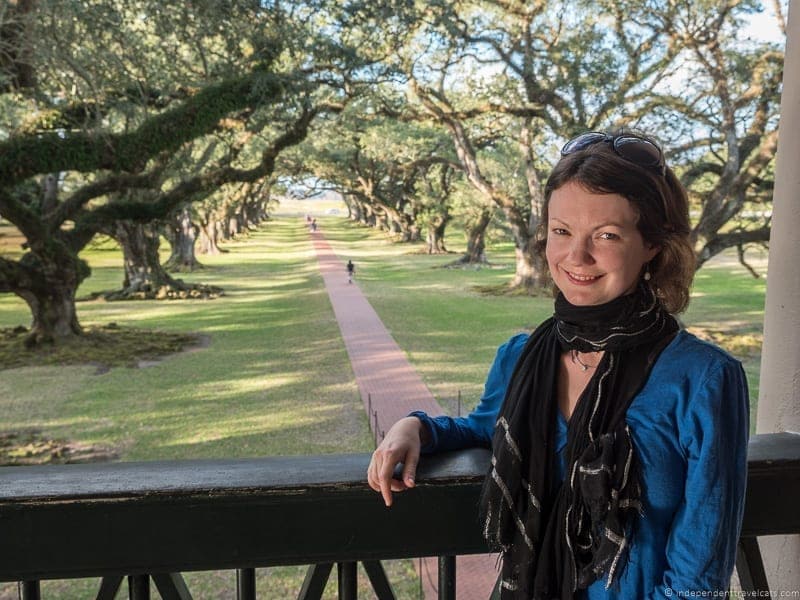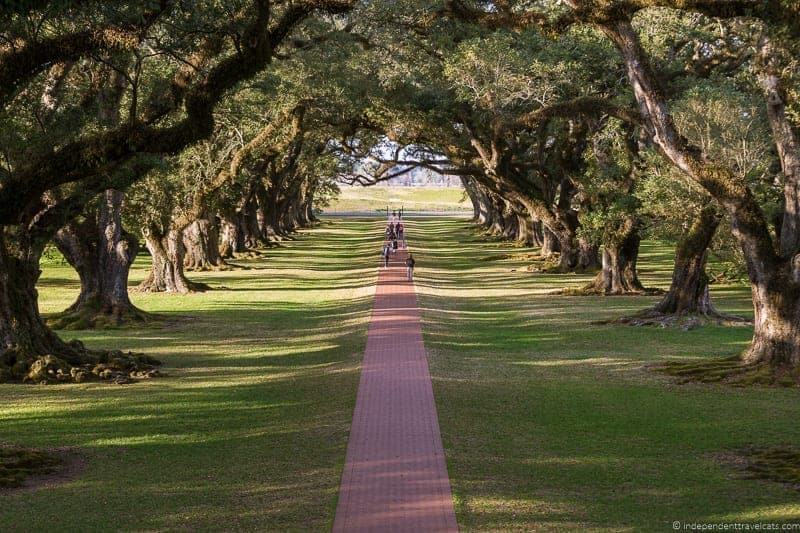 The Alley of Oaks
The grand Alley of Oaks has helped make this plantation one of the most photographed sites in Louisiana. This alley features a double row of 28 live oak trees that extends from the house to the road (not all the way to the river) and is about 800 feet in length.
There are a few interesting facts about this famous alley of oaks. First, these trees were here well before the Romans built their home in 1837 and it is unknown who actually planted the live oak trees, why they were planted, and when exactly they were planted. It has been determined by the tree's age that they were planted between about 1725 to 1750, making them almost 300 years old. A French settler likely built a home here and planted the trees then but no real information is known. The trees can live up to about 600 years old so they are currently only about middle aged!
Another interesting mystery is why there is no Spanish moss on these trees, which is draped on most of the live oak trees throughout the region. We heard that one of the past owners had it removed because she thought it was creepy, but we also learned that Oak Alley has photos dating back to 1905 that show no Spanish moss on the trees. So even if it were removed it is unknown why it has not returned.
The lack of Spanish moss proved a problem for filming Interview with the Vampire and a lot of time and money was spent draping Spanish moss all over the trees and then removing it to make it look like the grand but eerie estate for Brad Pitt's vampire character.
Lastly, the exterior of the main house features a free-standing colonnade of 28 Doric columns on all four sides and 28 columns were used to match the 28 oak trees in the Alley of Oaks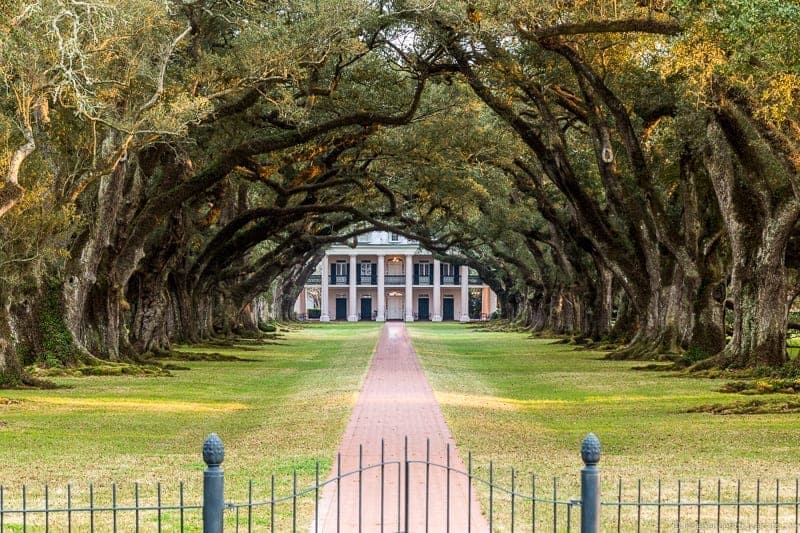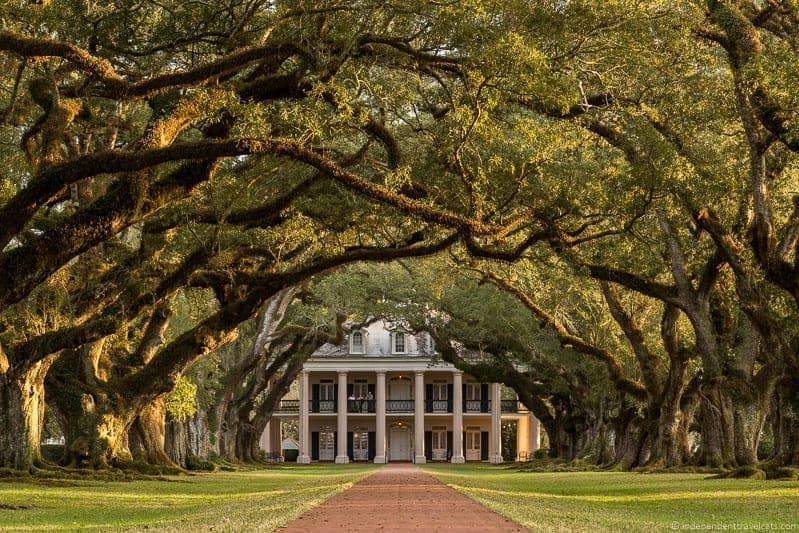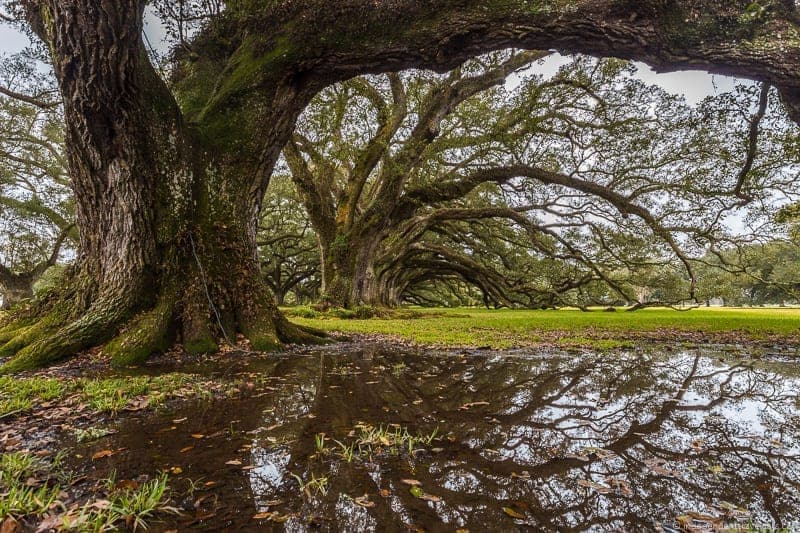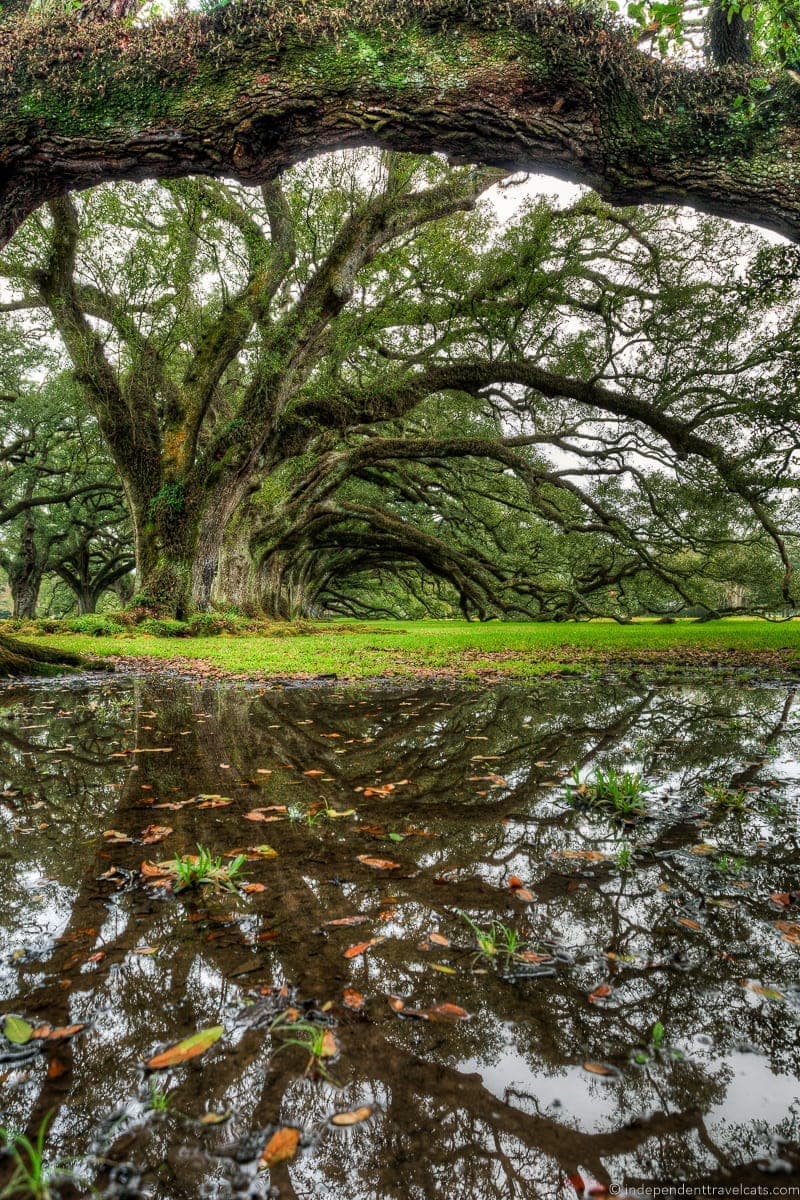 Slavery Exhibit at Oak Alley Plantation
Out of the remaining exhibits and attractions, if you are visiting with limited time, I would make sure to allow about 30 minutes for the Slavery Exhibit which focuses on the slaves that would have lived on the plantation from about 1835 to 1865.
Although the guided tour at Oak Alley is not focused on slavery, visitors should not forget that the plantation system and the wealth of this entire region was possible only with slave labor. The beautiful mansion we toured was built primarily by enslaved labor, slaves maintained the pretty grounds, and planted the sugar cane that gave the plantation owners their wealth until the end of the Civil War.
None of the original slavery cabins survive, but Oak Alley had 6 cabins reconstructed using period-consistent techniques to give visitors an idea of what they would have looked like and four have been furnished to show how they may have been furnished in different situations. Cabins depicts a field slave's quarters, a house slave's quarters, a sick house, and a post-emancipation residence as many of the former slaves stayed on after emancipation. Displays inside the cabins focus on religion, punishment, illness, clothing, food, and family life.
It is perhaps impossible to fully imagine the difficulty and struggles experienced by enslaved persons. In addition to the forced work, life might include violent beatings, being underfed, sexual exploitation, and separation of one's family.
Life on a sugarcane plantation was particularly harsh for those who worked in the fields as sugarcane was one of the most demanding crops to produce and required intensive labor and long hours in hot temperatures. Accidents were frequent when cutting the cane due to close proximity of other slaves, lack of proper protective gear, and working in the fields in the dark. Snakes and rats lived in the sugarcane fields and the standing pools of stagnant water attracted malaria, leading to bites and disease.
Obviously enslaved life was hard and it was dehumanizing, whether one was a field hand or a house slave. However, like all people the slaves also built their own community, participated in things such as religious worship, gardening, and music, fell in love, had families, and experienced grief as well as joy. It is important to remember the human aspect of the enslaved people as they tried to maintain what lives they could despite their living conditions.
TIP: For those truly interested in slavery in America, we can highly recommend a visit to Whitney Plantation which is the only plantation tour in the area that focuses on slavery and is the first museum devoted to slavery in the United States. It is located about a 15 minute drive from Oak Alley, near the Laura Plantation. See our guide to 12 Louisiana plantations along the River Road for comparisons of each.
While little is know about many of the hundreds of slaves that lived at Oak Alley other than a list of names, job duties, and basic characteristics, a bit more is known about a few of the slaves. A few displays focus on the stories of these slaves.
For instance, we know that Louise Patin Roman insisted upon her death in 1836 that slave families should not be separated and that a field slave and cart driver named Zephyr from Congo should be given his freedom. Zephyr was freed by Louise's son Jacques, but his family which included his Creole wife Zaire and two sons, Antoine and Bacchus, were not freed. Zephyr stayed on the plantation with his family and was paid a wage to work. In 1846, Zephyr would buy freedom for his wife Zaire for $350 and the two would continue to live on the plantation until their deaths.
Zephyr and Zaire's son Antoine would be a gardener at Oak Alley and perhaps become the most famous slave to live on the plantation. Antoine became skilled at grafting trees and in 1846 would become the first person to successfully graft pecan trees, producing a pecan with a thin shell that could be cracked with one's hands.
His work resulted in the first named variety, Centennial, and the first commercial pecan orchard at nearby Anita Plantation (sadly washed away in a flood). The property was designated a National Historic Landmark for its architecture and landscaping, and for the agricultural innovation of grafting pecan trees performed by Antoine.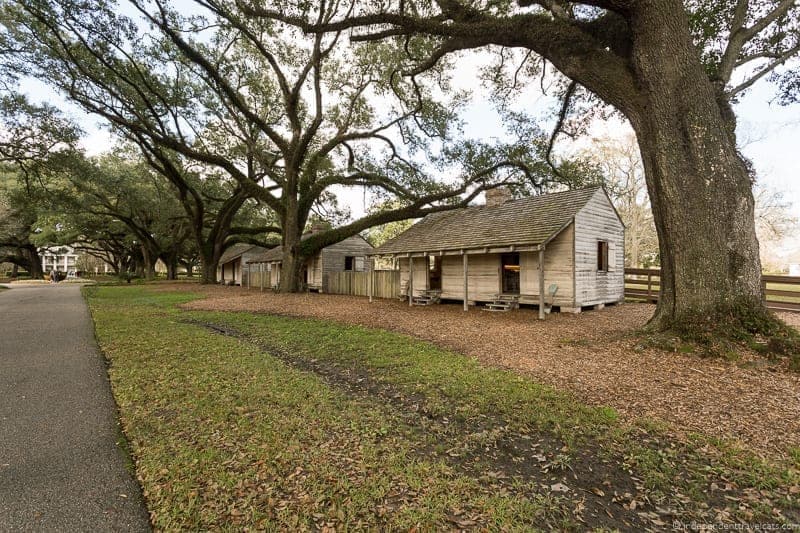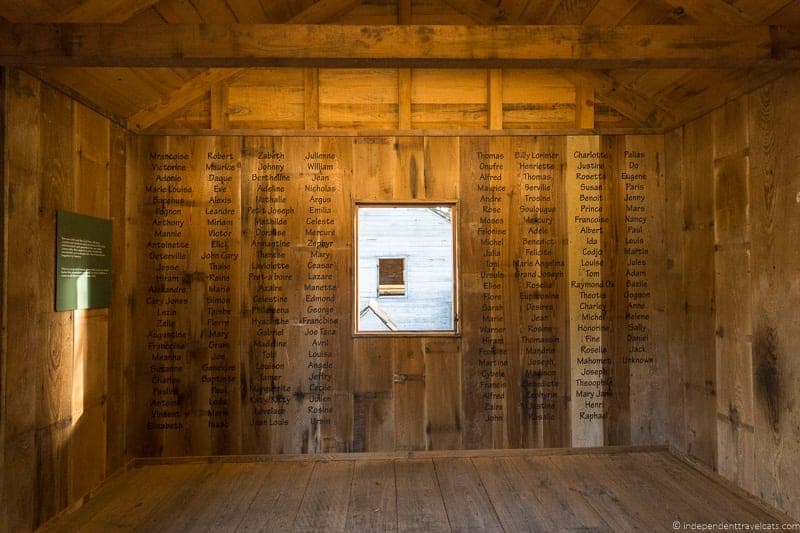 Other Exhibits at Oak Alley
Use the Visitor Map for a self-guided tour of the rest of the exhibits at Oak Alley, which include a sugar kettles, a slave marker, the old plantation bell, the Roman family tombstone, small gardens, a view of the Overseer's House (private property), a sugarcane video, a Civil War exhibit, a blacksmith shop that includes a 1890's era forge, and a nice gift shop.
If you have limited time, I would suggest focusing on the Civil War exhibit, especially if a historical interpreter is present, taking a look at the Sugarcane Exhibit, taking a look at the Stewart Gardens, and checking out the blacksmith ship, especially if there is a demonstration going on during your visit.
Note the sugarcane video shown during our visit in the Sugarcane Theater was produced by the sugar industry so although it is useful to learn about the current industry it is not the most objective information. There are normally information displays on the sugar cane process and slave labor at the theater, but these were not on display during our visit. I had wished for a more informative video about sugarcane production and the difficult process of its production in the time of slavery.
The gift shop attached to the restaurant also offers a quite extensive selection of gifts, souvenirs, food items, and handicrafts and is worth a stop. It is one of the largest gift shops of any of the plantations in the area.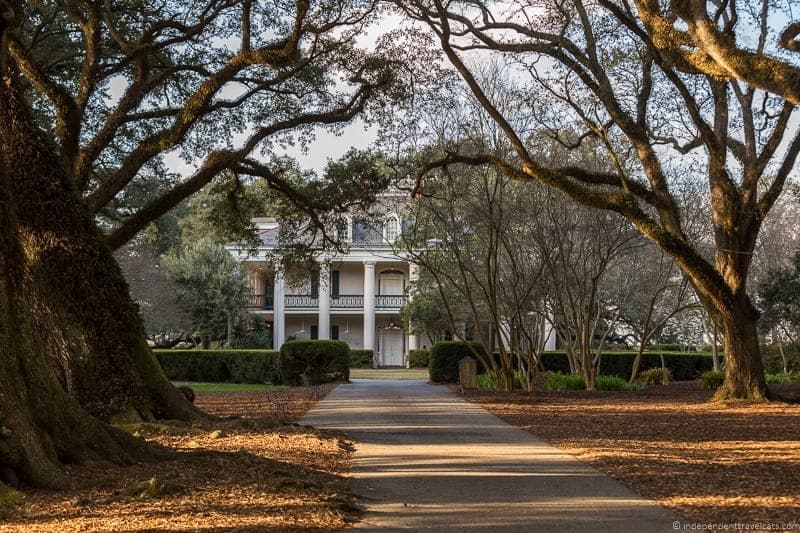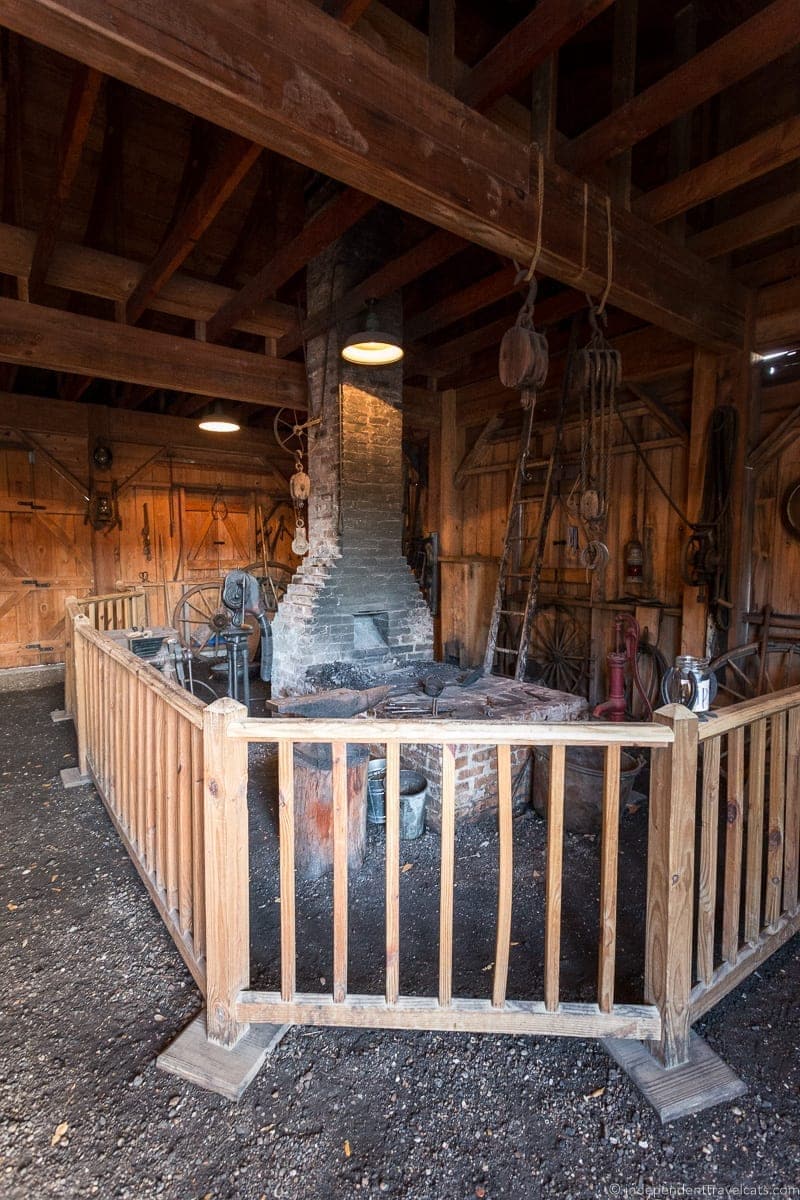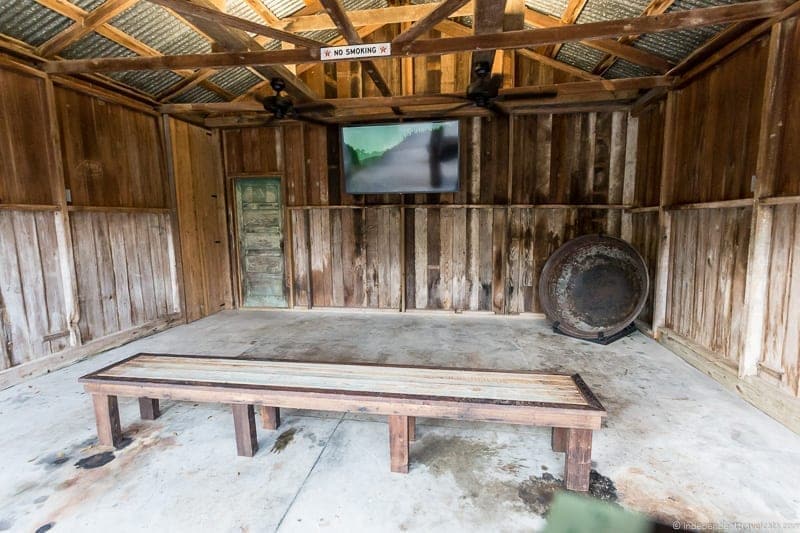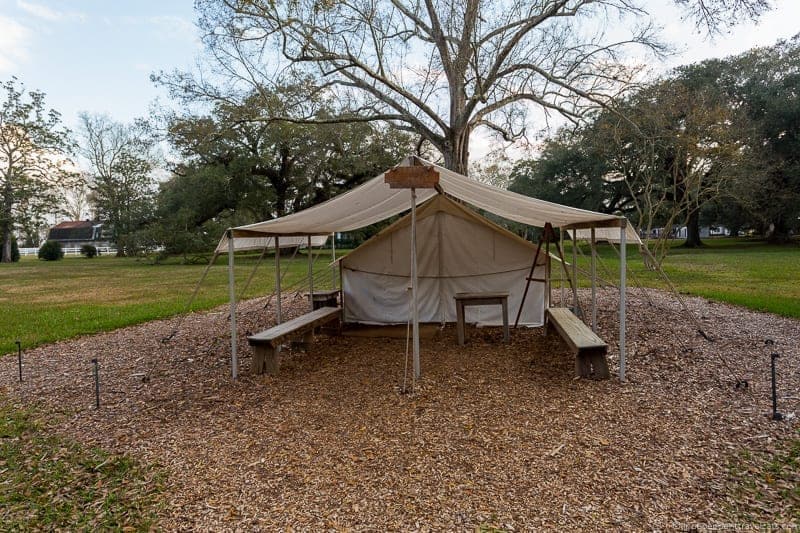 Eating at Oak Alley Plantation
You will certainly not go hungry if you decide to spend some time exploring Oak Alley! There is both a sit-down restaurant and a cafe centrally located on the plantation.
Laurence and I had both breakfast and lunch at the Oak Alley Restaurant and also had dinner prepared by the restaurant for our dinner during our overnight stay in one of the plantation cottages. The food is Southern style with a number of Cajun and Creole dishes, including beignets, gumbo, crawfish étouffée, blackened Louisiana redfish, seafood au gratin, fried catfish, po-boy sandwiches, red beans and rice, bread pudding, and pecan pie.
For lunch, we shared the Cajun appetizer sampler (spinach and artichoke dip, crawfish cake, and fried alligator bites), the special dish of the day which was a Cajun pork filet, Cajun rice, mustard greens and a tossed salad, and the crawfish étouffée dish. Everything was good and we recommend trying the house speciality dishes (recipes are available and there is also a cookbook for sale in the gift shop).
We were actually too full to eat dessert at lunch but we were presented with a tray full of very tempting desserts! We would have to wait until dinner to try the bread pudding.
For breakfast which is included in all cottage rentals, we decided to try the sweeter dishes, having both the pain perdue (Cajun French toast) with ham and the beignets with bacon, along with the locally roasted coffee from family-owned Community Coffee based in Baton Rouge.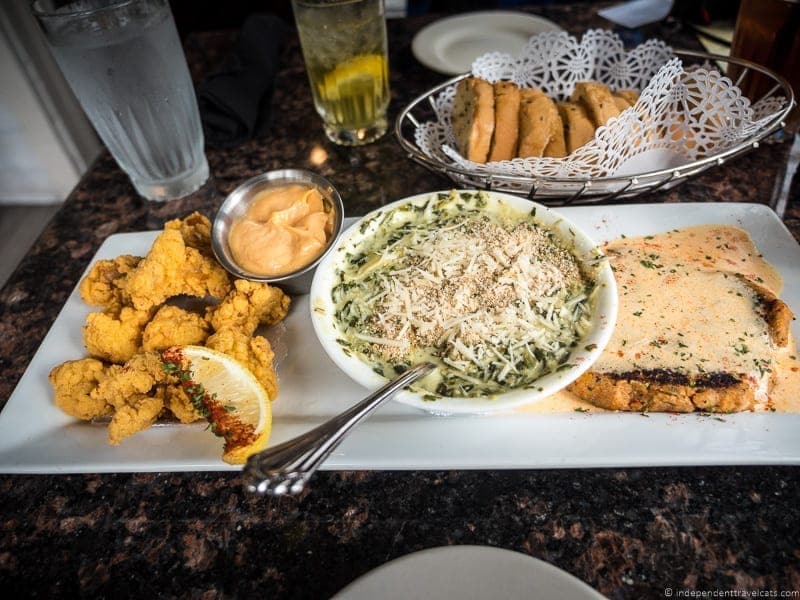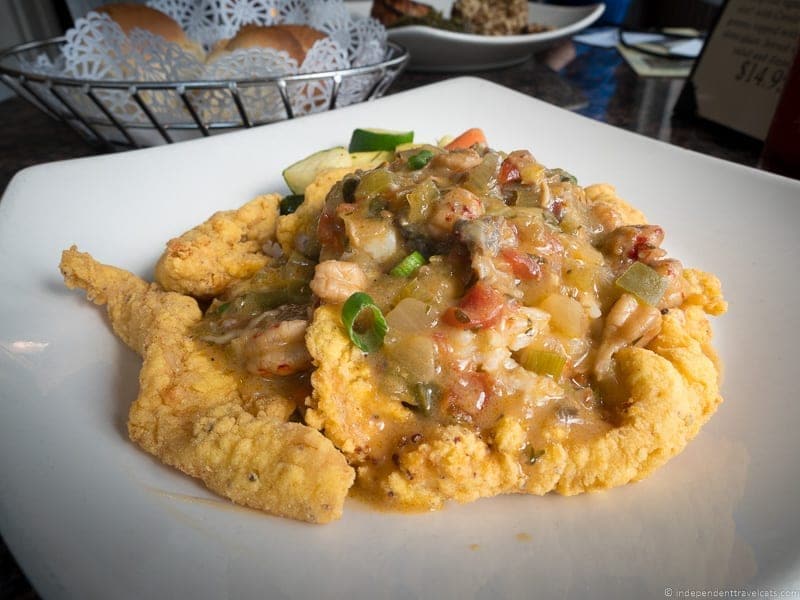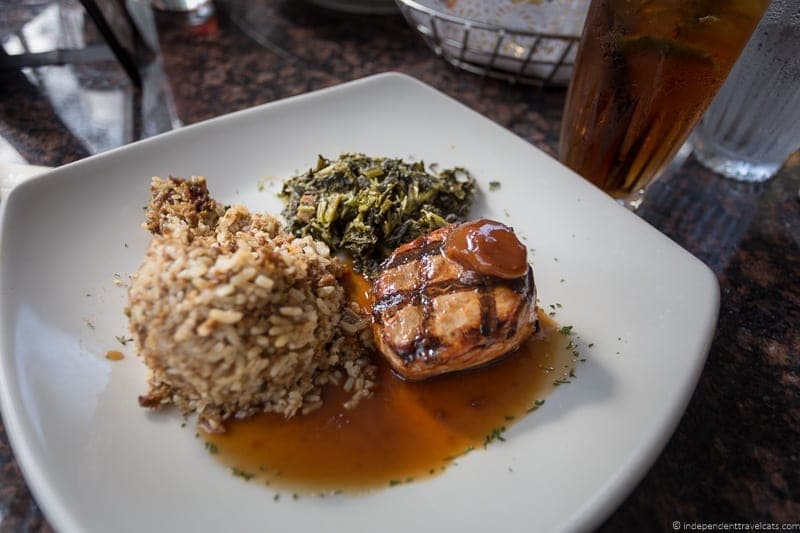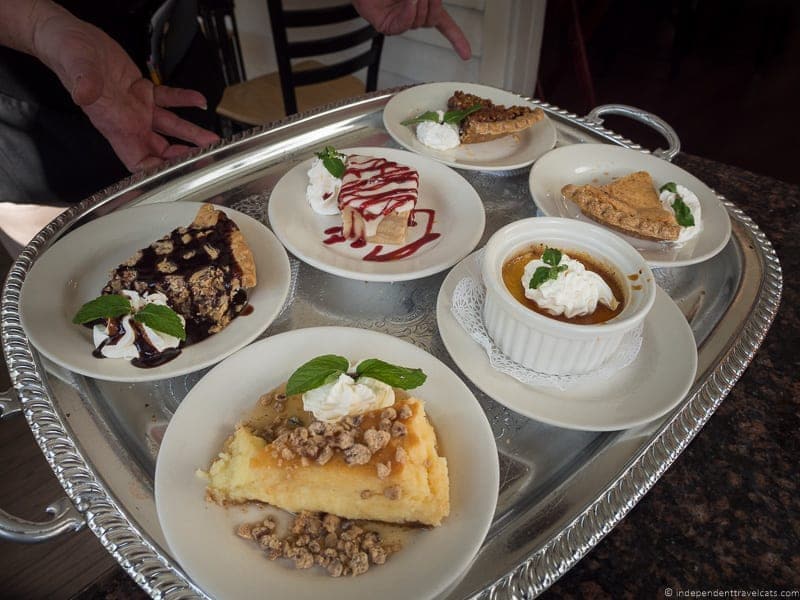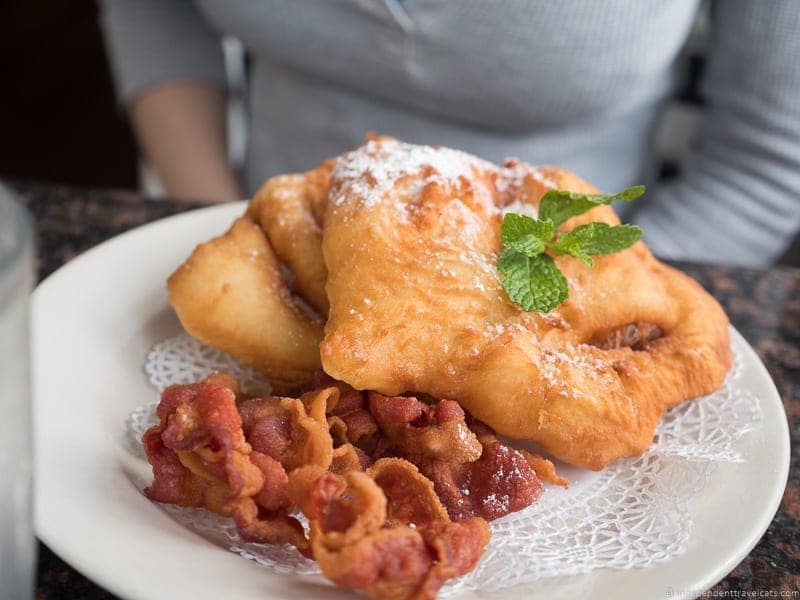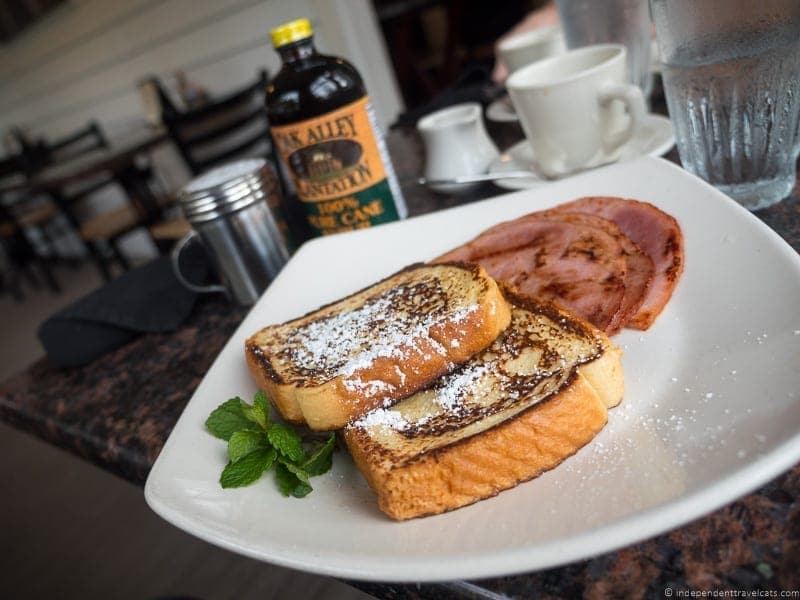 Oak Alley is also known for its mint juleps which are served in both dining areas as well as at a small outdoor pop-up bar just outside the mansion. A traditional mint julep contains mint, bourbon, sugar, and water.
There were three types of mint juleps available when we visited (original mint, lemon, frozen blackberry) plus a non-alcoholic mint julep. You can sample all three mint juleps as a flight which we of course did at the restaurant! My favorite was the lemon and Laurence really liked the sweet frozen blackberry and the original.
We can also recommend the sweet mint tea for those looking for a refreshing non-alcoholic drink.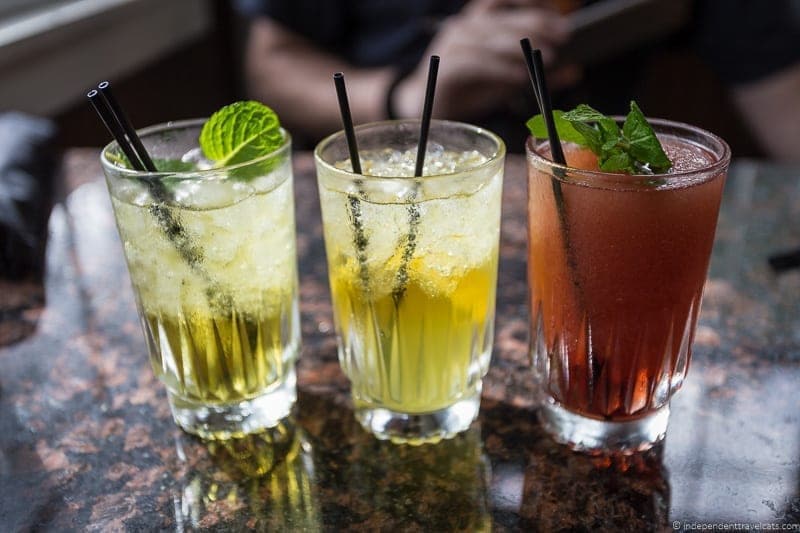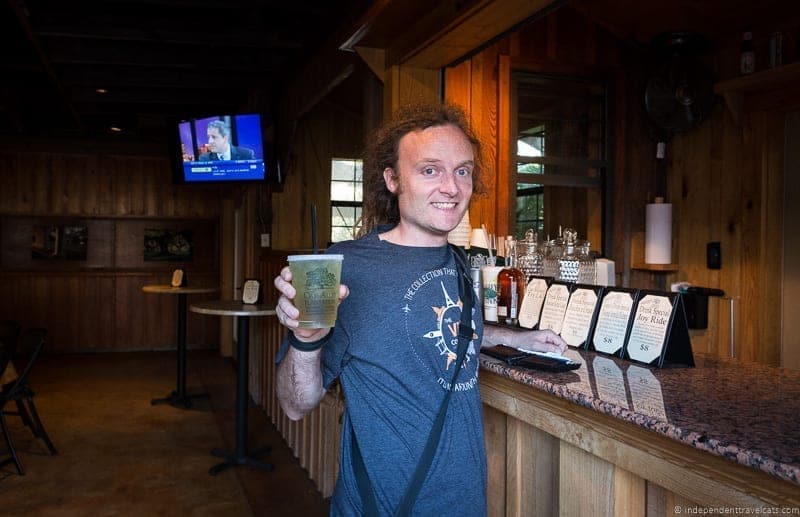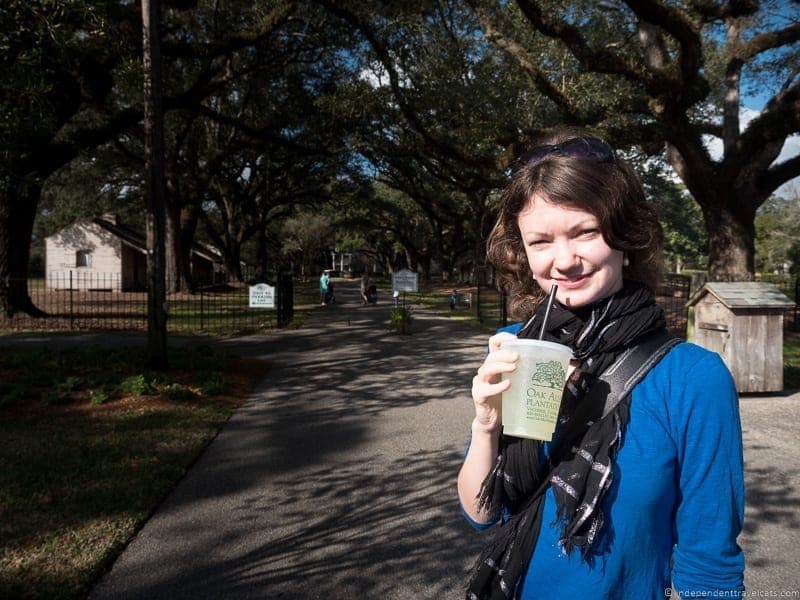 Spending the Night at Oak Alley Plantation
Check in for the cottage was easy at the Restaurant Office (white building across from the restaurant) and two staff members actually escorted us back to the main parking lot and led us to the private access road that leads to the cottages.
There is a parking space for guests near each cottage and your key gives you access to be in the cottage area of the plantation and to stroll the grounds after hours so be sure to have it on you at all times. There are both historic and newly-constructed 1 and 2-bedroom cottages; we were given Cottage #8 which is one of the newly built deluxe 1-bedroom cottages.
The staff members showed us around the cottage and explained how the Smart TV, fireplace, heating, and other things worked in our cottage before leaving. Our cottage was nicely furnished and very clean and comfortable.
We had a king-sized bed, sitting room with an electric fireplace, cable Smart TV, and a comfortable sofa, a kitchenette with a microwave, refrigerator, coffee maker and basic utensils, a bathroom with a walk-in shower, hair dryer, and basic toiletries, and a screened front porch with two chairs. Each cottage has a different layout and slightly different amenities so you should read the descriptions before booking.
Although we didn't watch TV, we used the Smart TV to play music which was nice while sitting outside and the waffle robes were very nice to relax in after dinner. The screened porch is a great place to sip some iced tea or a mint julep in the afternoon or a coffee in the morning.
TIP: Note that mosquitoes can be a nuisance throughout Louisiana (and much of the South), especially between the months of March and October and between the hours of dusk and dawn so be sure to pack some mosquito repellent (and sunscreen!) if visiting Louisiana during this period. We visited in January and February and still experienced a few bites during our travels in Louisiana.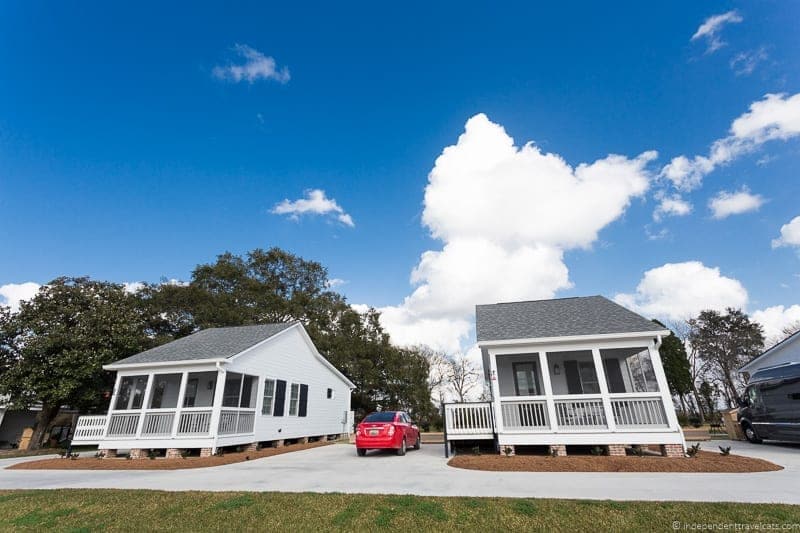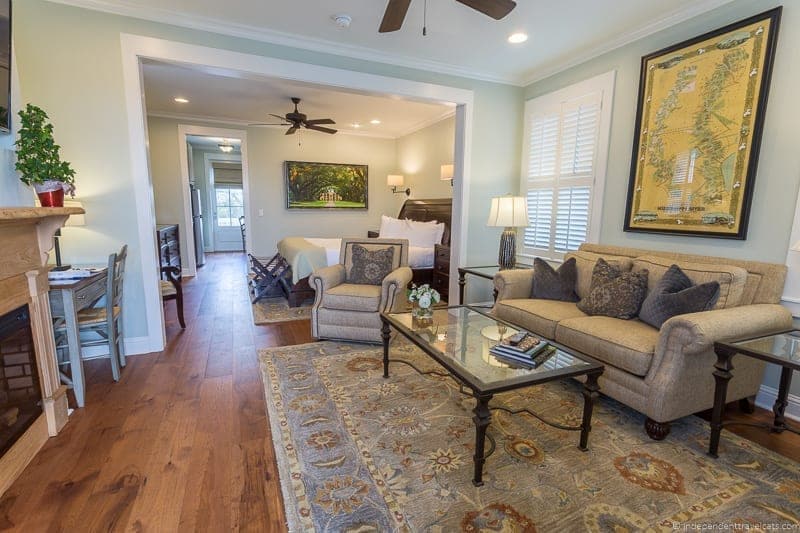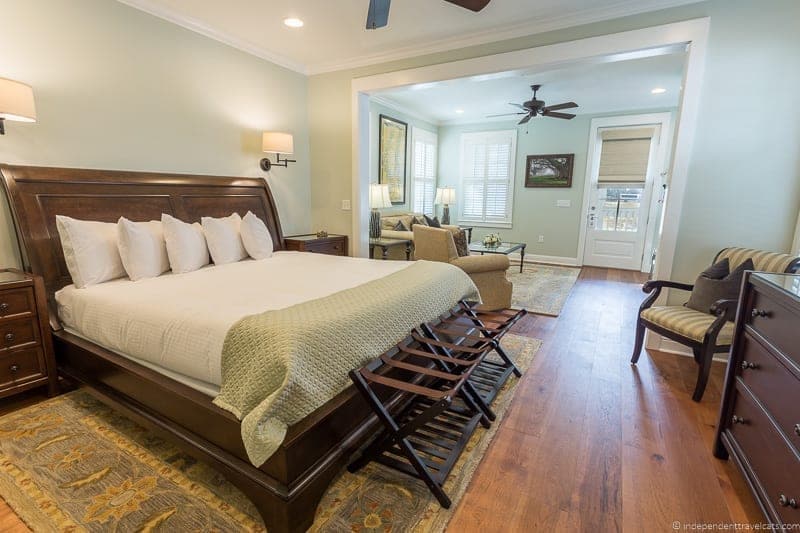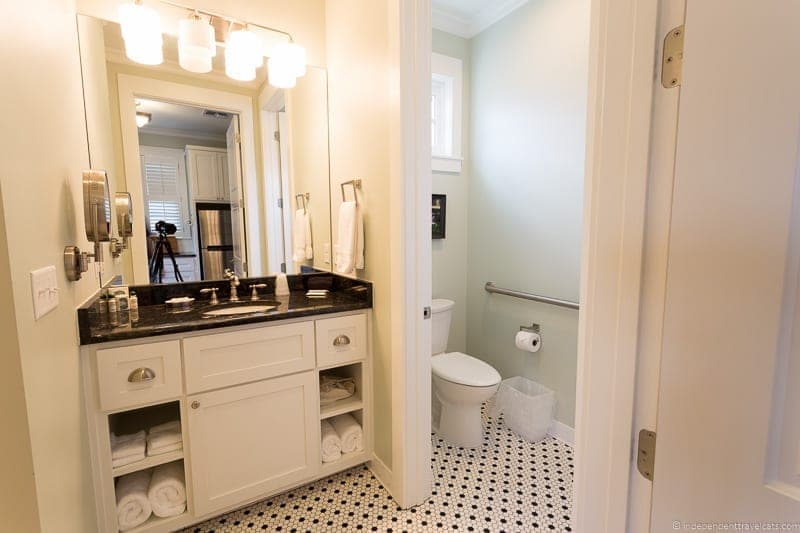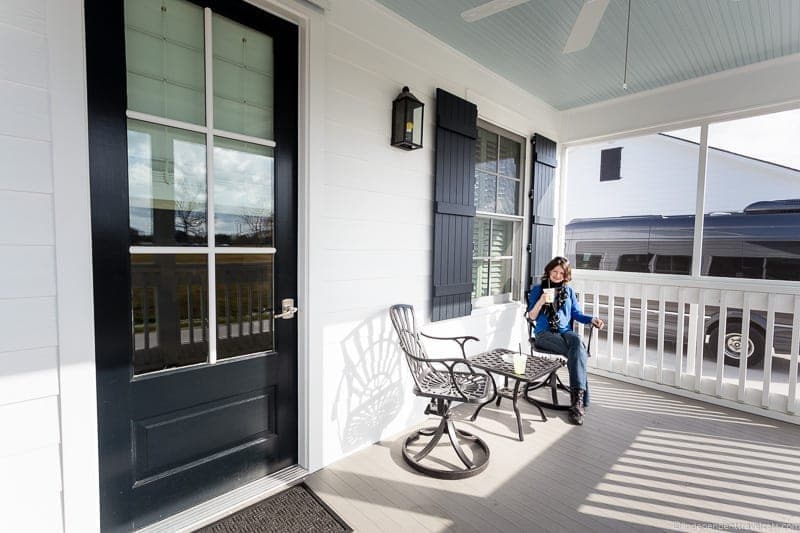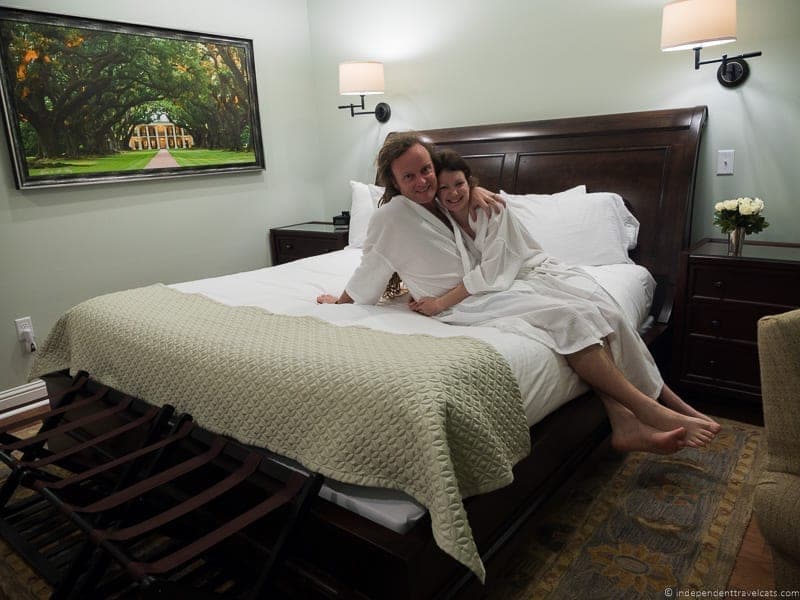 One privilege of staying overnight at Oak Alley Plantation is that you have access to the grounds for the length of your stay. While a couple of areas of the plantation are private property, you have access to the gardens, area around the mansion, oak alleys, picnic area, graveyard, and most of the grounds even after it closes to the general public.
You do not however have access to the inside of any of the buildings as the mansion, restaurant, gift shop, slavery exhibits, and other buildings are closed after the plantation closes to the public so be sure to see these during regular opening hours.
But you can explore the rest of the plantation slowly and at will. Read a book on a bench under an oak tree, stroll the grounds with a mint julep, take photos without a bunch of people in them, power walk the Alley of Oaks, or walk across the levee to watch the mighty Mississippi!
We were able to get sunrise and sunset photos of the mansion and Alley of Oaks when no one else was around and we took a walk to see the Mississippi River around sunset as well. The plantation becomes very quiet after closing time and before 8:00am with only a handful of staff and other guests on the plantation.
We were stopped a few times by polite security staff during our wanders and just had to show our cottage key.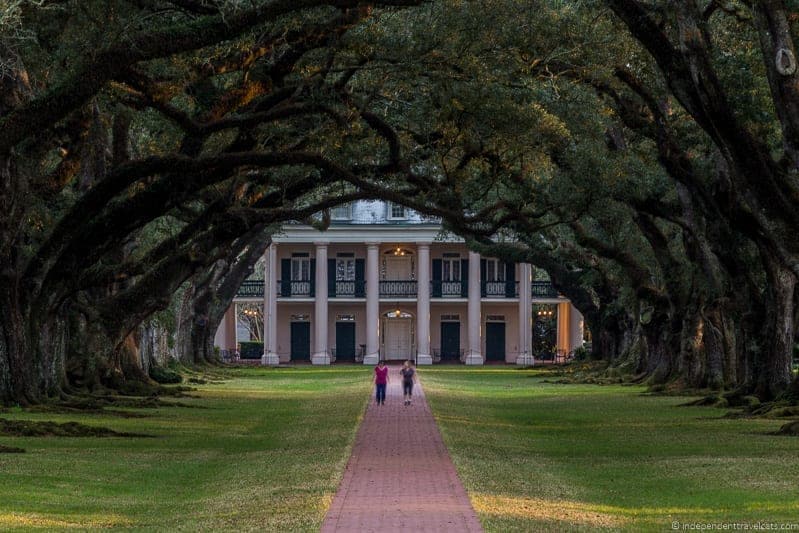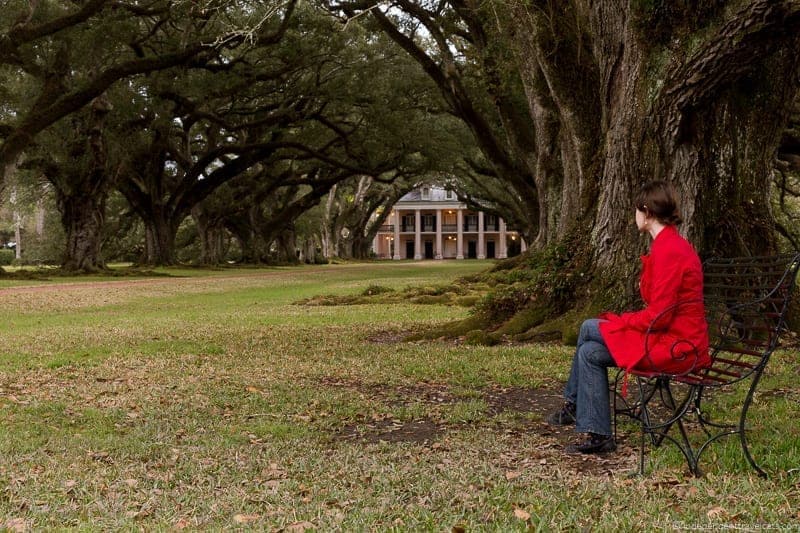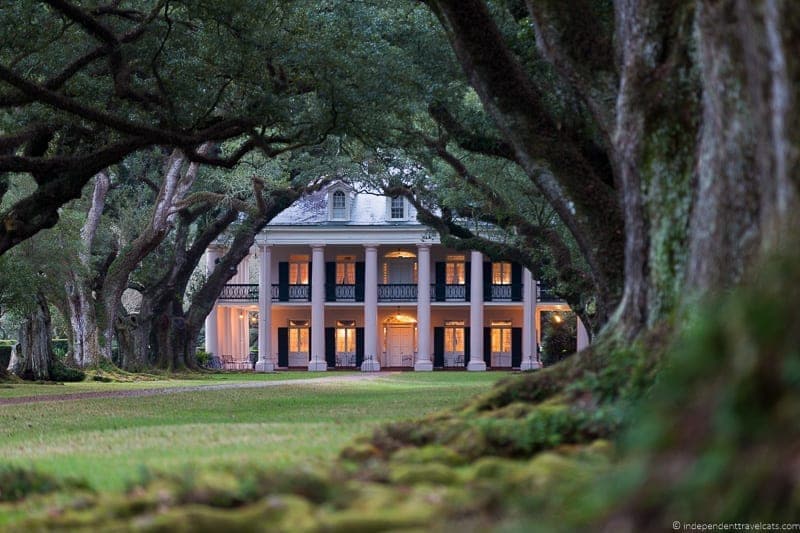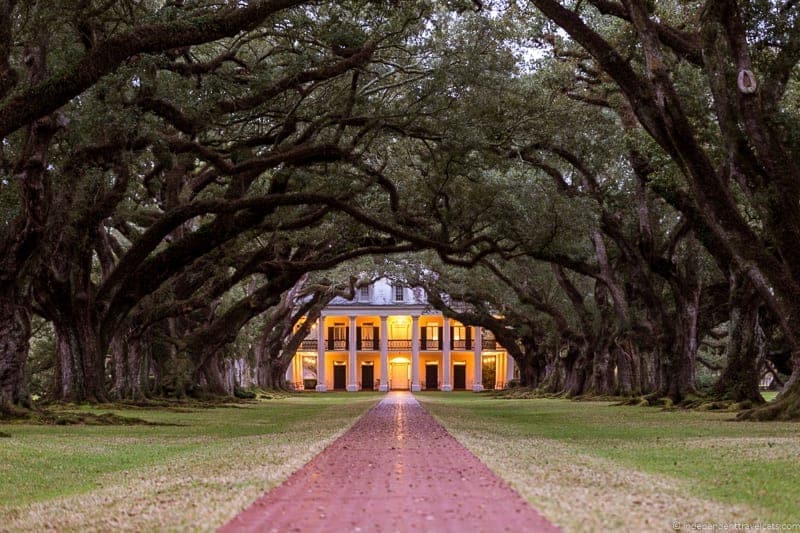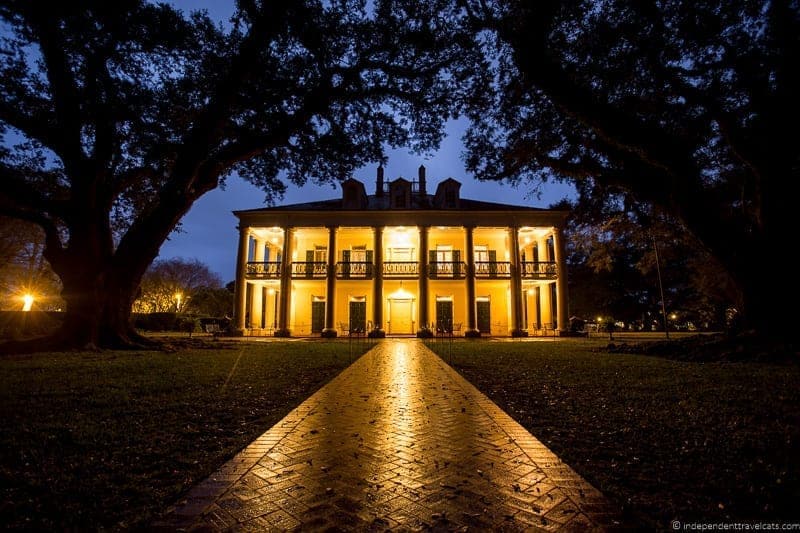 TIP: if you stay overnight, I would plan what you want to do for meals prior to your visit as options are a bit limited, especially in the evenings.
Lunch is easy to have at the plantation restaurant or café; however, the restaurant is not open in the evenings. The cottages give you the option to bring your own food (some include a full kitchen and some only a kitchenette so check ahead if you plan to cook), visit a local restaurant, or book food in advance from the Oak Alley Restaurant that will be left for you in your cottage to reheat.
Most grocery stores along the River Road are not open very late so I would pick up any groceries prior to check-in. There are no restaurants within walking distance so you will need a car and it can be up to a 30-minute drive, but there are a few recommended restaurants in the area although most require reservations and the hours and days open vary widely so do call ahead before going.
If you want to try a local restaurant, Nobile's Restaurant & Bar in Lutcher is a 20-minute drive (currently serves lunch Monday to Friday and dinner Thursday to Saturday only) and there are two restaurants open for dinner at Houmas House Plantation & Gardens in Darrow which are a 30-minute drive, offering a more casual dinner at The Carriage House Restaurant and a formal dining experience at Latil's Landing Restaurant (reservations required for both). Ormond Plantation in Destrehan also offers dinner at its restaurant on certain evenings (currently only on Fridays, reservations required) and is about a 40 minute drive away.
Although a nice dinner at Houmas House was tempting, we had decided to order the evening meal service in order to review it and to spend more time on the plantation.If you would like the evening meal service at Oak Alley, you just need to order it by 2:00pm the day before you arrive. We ordered the tossed salad, the chicken, sausage, and andouille gumbo served with steamed rice and rolls, bread pudding, and a pitcher of sweet mint iced tea.
Everything was placed in our cottage refrigerator on the afternoon of our stay and was all prepackaged in containers with directions on how to heat or prepare each dish. Staff had even set the table for us and put out most of the items we needed for our meal. Even re-heated the gumbo was really tasty as was the rich bread pudding with whiskey sauce!
It was really cozy and nice to have a dinner in the cottage and not have to worry about cooking ourselves or driving somewhere. Definitely recommend this if you are looking for a no-fuss option.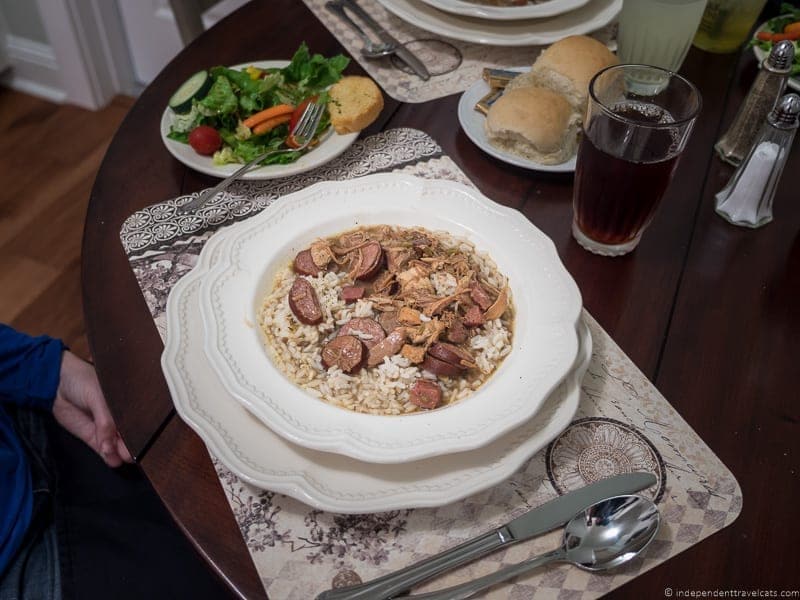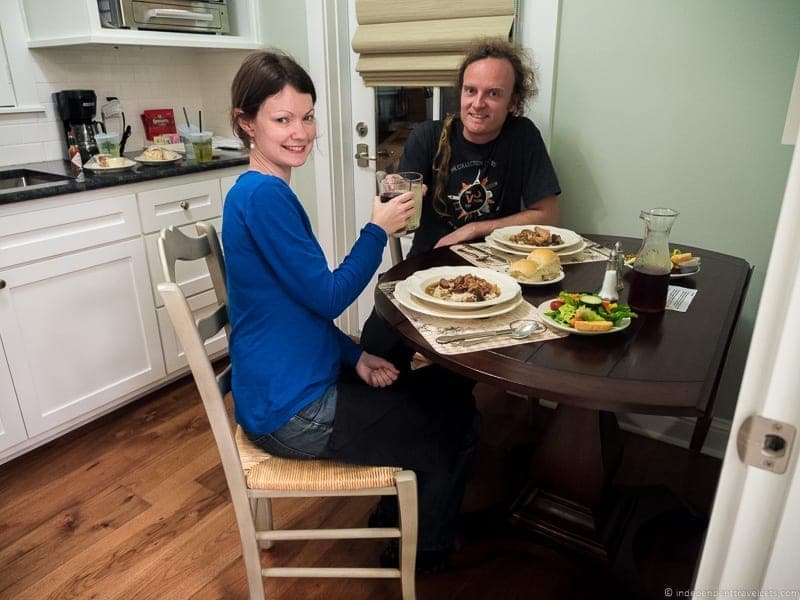 Overall Thoughts on Our Visit to Oak Alley Plantation
Oak Alley Plantation is one of the most famous plantations of the dozen or so Louisiana plantations that line the Mississippi River, and it was not difficult for us to see what attracts so many visitors. The mansion is beautiful, the Alley of Oaks is breathtaking, and the views are romantic and bucolic. In addition to the mansion, there are also several exhibits and attractions to explore as well as good food to eat and mint juleps to drink!
Most visitors are satisfied with a house tour and a quick walk around, but for those who want to experience the plantation when it is quiet and uncrowded, I would highly recommend an overnight stay. An overnight stay gave us so much more time to visit the exhibits, enjoy a long lunch, stroll the property with a mint julep in hand, take photos in the evening and morning, and have a cozy romantic stay in a nice cottage on this beautiful property.
If you want to stay in this area but Oak Alley is booked, there are several other plantation houses where you can stay the night (as well as a handful of motels, B & B's, and hotels) and I'd highly recommend spending a couple of days in this area rather than rushing through on a day trip from New Orleans. We actually spent almost four days in the area and visited 12 Louisiana River Road plantations to be able to write a comprehensive visitors' guide.
We can highly recommend an overnight stay at Oak Alley Plantation and would love to return to this region some day!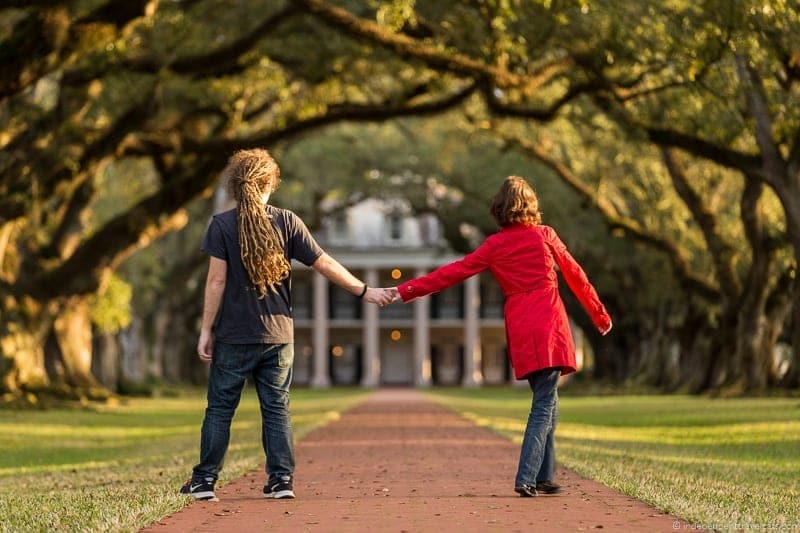 Do you think you would enjoy a visit to Oak Alley Plantation? Have you been to Oak Alley or any of the other Louisiana plantations? Feel free to share your own thoughts, tips, and advice. If you have any questions about our visit or overnight stay at Oak Alley Plantation, just ask!
**Disclosure: We were provided complimentary tours, meals, and cottage by Oak Alley in order to write a review and provide feedback; however, this article contains only our own honest thoughts and opinions. We specifically chose to visit and stay at Oak Alley Plantation. **