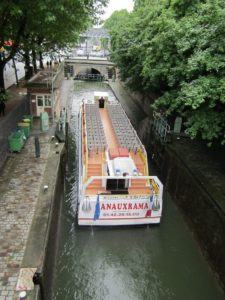 Sometimes our perfectly planned travel days don't work out as we planned. Sometimes the weather, public transportation, or our own health derails a perfectly planned day. And sometimes we just get lost and miss our reservations for a boat ride down the Canal Saint Martin. This is what happened to us during our last visit to Paris.
During our first trip to Paris, we had taken the obligatory boat ride on the Seine River. We saw all the major sites – the Louvre, the Eiffel Tower, the Musée d'Orsay, Notre Dame, etc.—as we plied along the famous river. So we wanted to do something a little different on our second trip to Paris together. We decided to take a boat ride down the Canal Saint-Martin, which is a 4.5 km long canal in Paris that connects the Canal de 'Ourcq to the Seine.
I am much more of a planner than Ethan. I once asked Ethan a couple of years ago what he would do as far as planning if he had been given free plane tickets to Paris. "I would book a hotel close to the airport and then figure it out once I got there." As you can imagine, as someone who is generally pretty organized this left me flabbergasted.
While I don't plan every moment of our trips, I like to plan for the big things and I like to buy tickets in advance, especially if I can get a discount. So this is what I did for our trip down the Canal Saint Martin. I had booked the discounted tickets online and printed them before we left. Our tickets were valid for any day during our visit. So while in Paris, we chose a day we would take the cruise and set our alarms to wake up to board the boat for our 2.5 hour cruise down the canal. I had looked up the boarding point and we would be able to walk to the arena—located in the 12th arrondissement—in about 20 minutes. Perfect!
Well, at first things went well enough. We got ready, ate breakfast. Then I decided to double-check the schedule online. Oops! The online Canauxrama schedule only showed one departure that morning from a Saint Martin Canal dock all the way in the 19th arrondissement, not the 12th. It showed us getting on in the 19th and getting off at the 12! We'd have to take the metro and it was many, many stops away.
So we rushed off, thinking we still had enough time. We get to the metro, join the work-bound Parisians, and silently wish the metro would go faster. Our metro trip takes much longer than anticipated. We finally get to the station closest to the boarding point and have about 5 minutes until the boat is supposed to leave! We run madly around the Jaurès station, not being able to figure out which way to go.
I spot the canal! Yes, now we just need to take the stairs downwards and run along the Canal Saint Martin! So we run around like chickens, expectantly looking at any little boat that might let us have a ride. But we don't see our Canauxrama boat anywhere. We run and run until we finally stop and ask a woman walking her dog. She points in the opposite direction and makes a motion that seems to mean it is far away. Oh no, we are going the wrong way along the canal!
So we run the other way. After another good ten minutes we finally do indeed find the Canauxrama boat dock. Unfortunately it is sans boat. We check inside the office and are told that we "missed the boat". Not only had we missed the boat by about 5 minutes, there had in fact been a second boat that departed from the location in the 12th, the place we had originally planned to depart that is only a 20-minute walk from our apartment. "What!" I say to the lady in the office. "No, there was no boat there this morning as I had checked the schedule online". The women in the office replies, quite certainly: "But there are always two boats, every day." The online schedule was just not well updated it seems.
So we walk out of the tiny office and take a seat on a nearby bench. Despite the cool morning weather, we are both hot, sweaty, and tired from all the running around. I feel upset about missing the boat and disappointed that I'd let Ethan down with my poor planning. I should have checked the schedule last night. I should have called to see where the boats were taking off. I should have read the map better.
He tells me it's OK. It's not my fault.
But I say that it is and sit quietly to wallow in my self-pity. I think about all the negatives: my poor planning, that it looked like it was going to rain, the fact that we had lunch plans nearby in 3.5 hours and nothing to do until then. I wondered about what to do with the Canal Saint Martin cruise tickets—we were going to have to either cut other things we had planned for our final two days in Paris to take the cruise, or just eat the cost. Either choice annoyed me as I continued to stew in my self-pity.
Ethan suggests then that perhaps we should walk around. At first I just repeat to Ethan out loud all the things that had gone wrong and all the possible negative outcomes of our missing the boat. He listens and says "It's OK, we'll figure it out."
Walking along the Canal Saint Martin we find ourselves in an area of Paris we'd never been before. As I stop being so negative, I begin to actually look around at our tranquil surroundings as we stroll along the edges of the canal.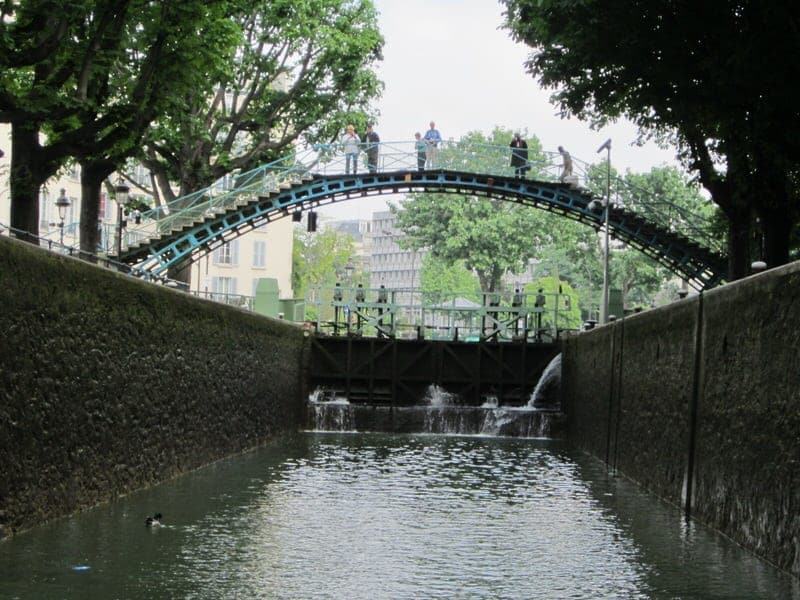 We walk up onto the old iron bridges that span the canal and take pictures of passing boats. We come upon a small empty playground and play briefly on the swings.
Ethan uses one of those automatic cleaning public toilets for the first time. We pondered all the new public urinals in the area—I did not realize there were public urinals still in Paris but apparently they are making a comeback to prevent unsanctioned public urination.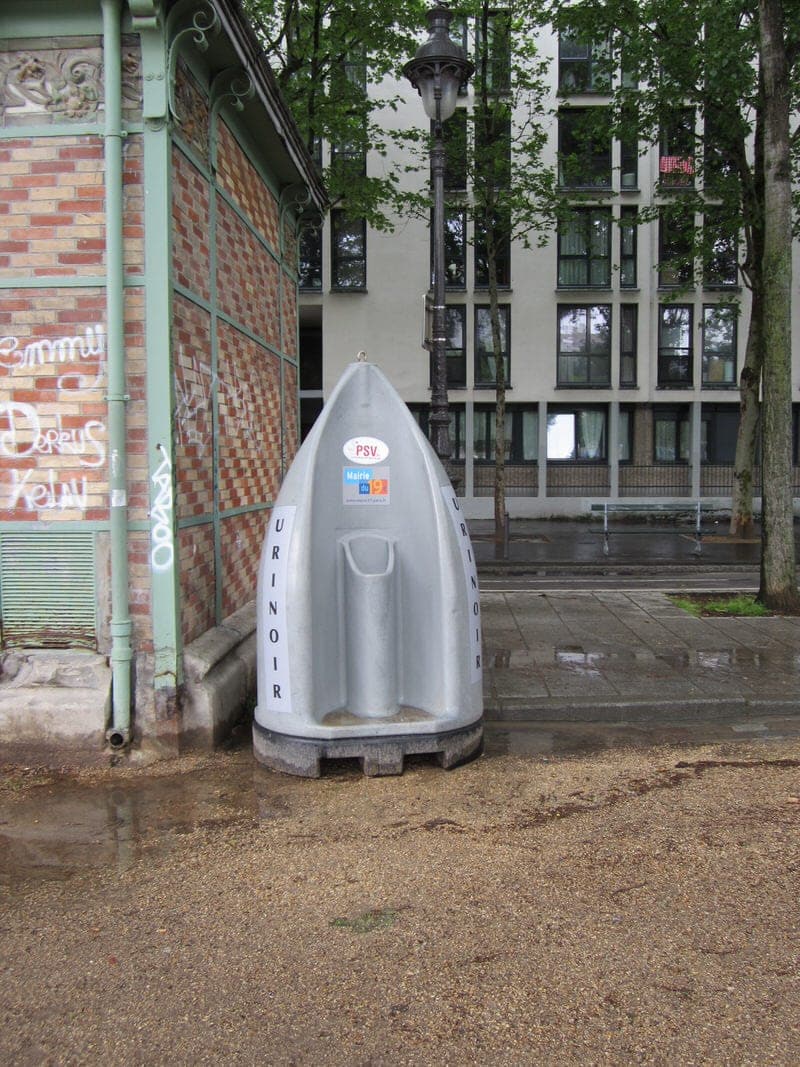 We then leave the side of the canal, and ventured into the neighboring streets and come upon a shop going out of business. Ethan's sunglasses had cracked and broke along the trip and he is able to replace them with a 1 euro pair while I try on marked-down shoes.
We walk beyond the edge of our map (our map just ends in this area), and discover the Parc des Buttes-Chaumont. It is a wonderful, untouristy and unmanicured park that rewards you with good views of the city (especially the Sacre-Coeur Basilica) if you climb to the Greek-style temple on the hill. We then walk back along the canal, pick up a few groceries, and have a good relaxed lunch at Chez Louise-Marie.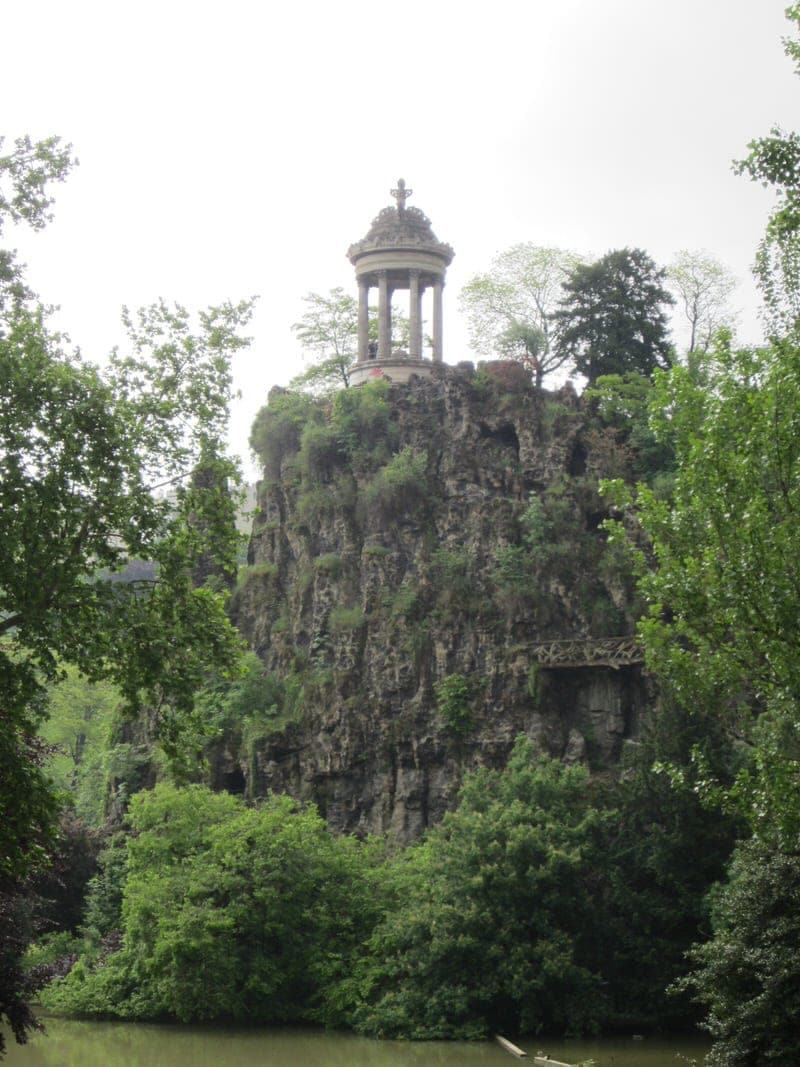 While our morning along the Canal Saint Martin was not perfect (it did rain), we had a very nice time. If we hadn't missed the boat we would not have been able to experience this great new little area of Paris on foot. We would never have discovered the great view from the Parc des Buttes-Chaumont, the 1 euro sunglasses, or even learned about the new public urinals.
Looking back, it was stupid to be so worked up about such a small thing as missing a boat. There are always bumps along the road when you travel, and while it's easy to look back and think about how little it mattered, it's hard not to get frustrated along the way.
It was a great lesson for me in going along with what happens and taking disappointment in stride. Sometimes the unplanned experiences are even better than those things that you plan.
Have similar stories of travel hiccups that ended up resulting in a wonderful experience? Feel free to share as we'd love to hear them.