Did you know that Germany happens to be the only country that serves the McDonald's McRib sandwich year round? I bet that interesting fact about the McRib in Germany isn't in your guidebook! For those of you who don't know, a McRib consists of a boneless pork patty, barbecue sauce, onions, and pickles served on a long roll that was first introduced by McDonald's in the 1980's, but didn't become part of the permanent menu.
McRib sandwiches have a legendary cult following in the United States and the sandwich often appears suddenly on menus to then disappear again with similar gusto with no word on its return. There have been many "Farewell McRib" tours and even a "Save the McRib" campaign, but so far the McRib keeps coming back.
While the McRib (and its variations such as a chicken McRib) have made appearances on menus around the world, I believe that Germany is the only country that includes the McRib on its regular menu year-round.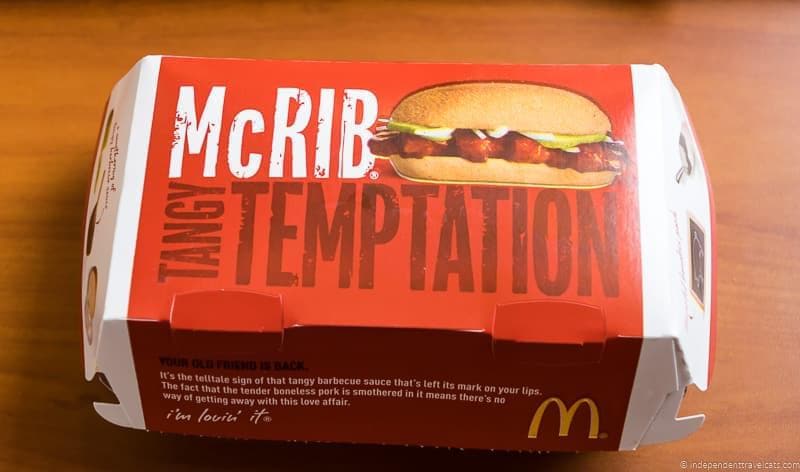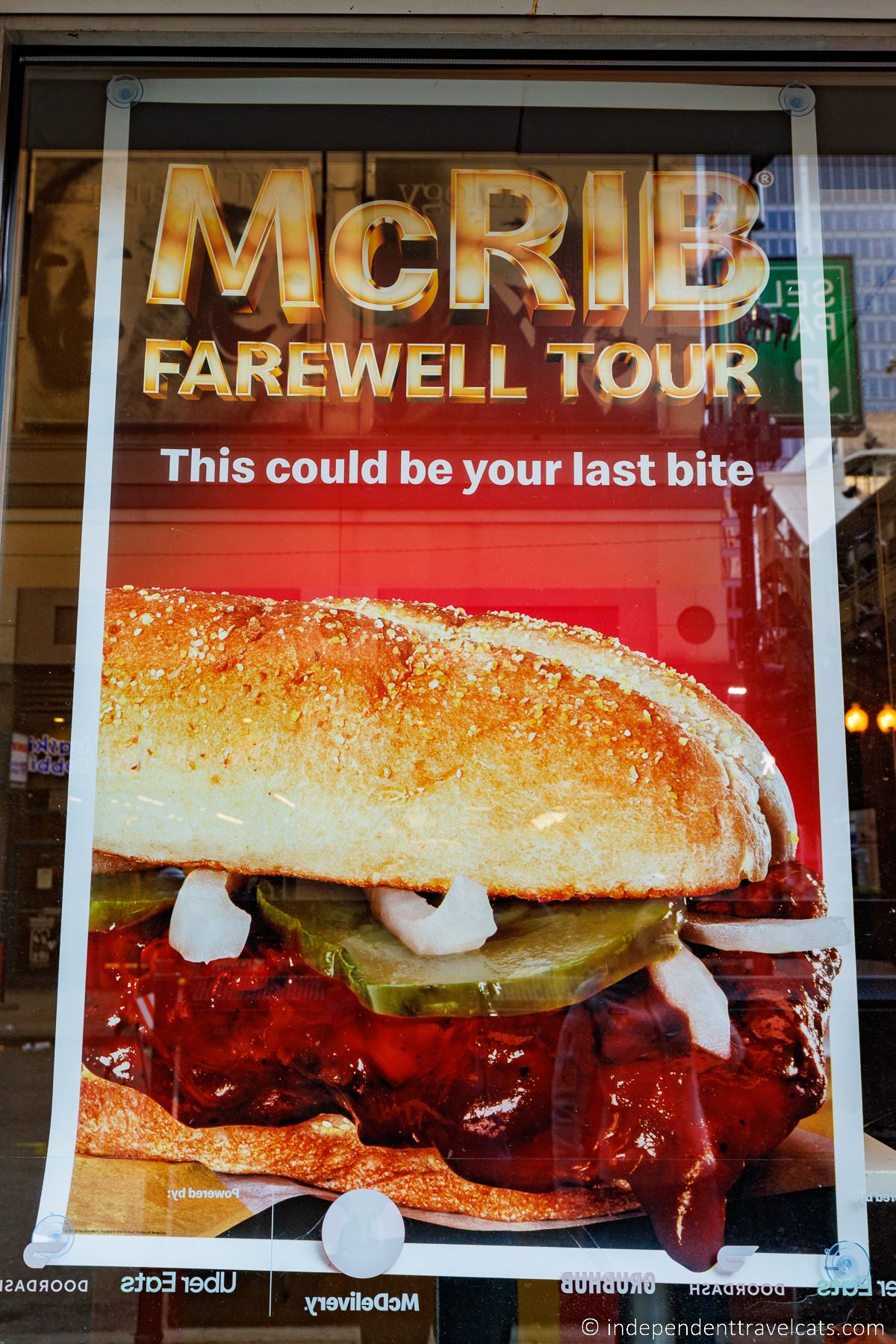 OK, so first let me admit that I get really excited when the McRib pops back up on menus and I always try to have at least one McRib (or three) before they disappear again. Try not to judge me for liking and eating some sort of barbecue slathered rib-shaped pork patty from McDonald's.
I admit it is not the tastiest thing in the world and certainly not the healthiest, but it always makes me happy. Probably because I used to eat them occasionally growing up in the Midwest so it's the nostalgia more than the taste. It is also a sandwich that is hard to get tired of as it keeps disappearing for long periods of time.
The sandwich has a strange cult following because of its erratic appearance and disappearance on McDonald's menus over the past 40 years. Hence this recent reference in the dialogue on the 2018 Deadpool 2 film:
Peter: "I'd like to go home."
Deadpool: "And I'd like. . . the McRib to be available year round, but sometimes dreams don't come true."
The McRib was first officially introduced on menus in 1981 in the United States but has never been part of the regular menu in the U.S., but makes an appearance every so often for a limited amount of time. We had heard that the McRib was so popular in Germany that it was served year round.
So we found ourselves in Germany last year, and tried all kinds of great German food. But after a couple of weeks of mainly subsisting on hearty German food—wursts, sauerkraut, potato salad, leberkäse, spätzle, cakes—we headed to a McDonald's to test out the myth of whether or not the McRib truly exists in German McDonald's year round.
Well, to be honest, it also happened to be that McDonald's was the only place open in the evening on Pentecost Sunday in Friedrichshafen. We got to the counter and were not disappointed—the McRib really is on German McDonald's menus! So I ordered a McRib and some fries and chowed down. There we were eating a McRib in Germany.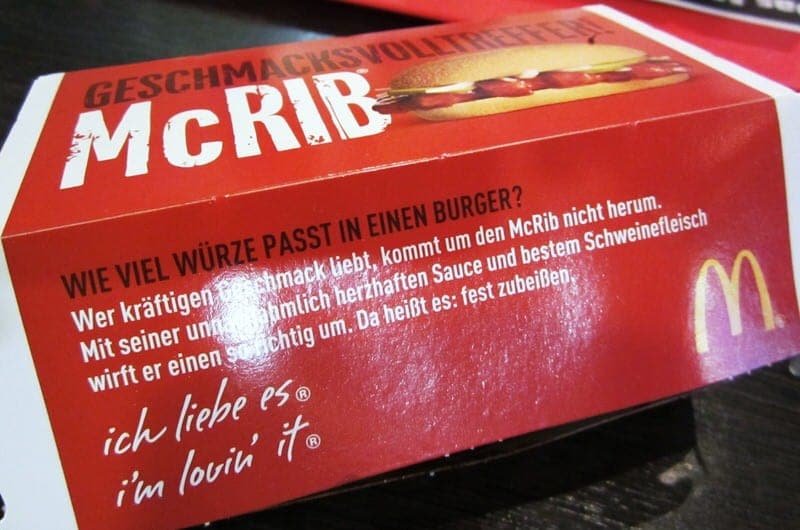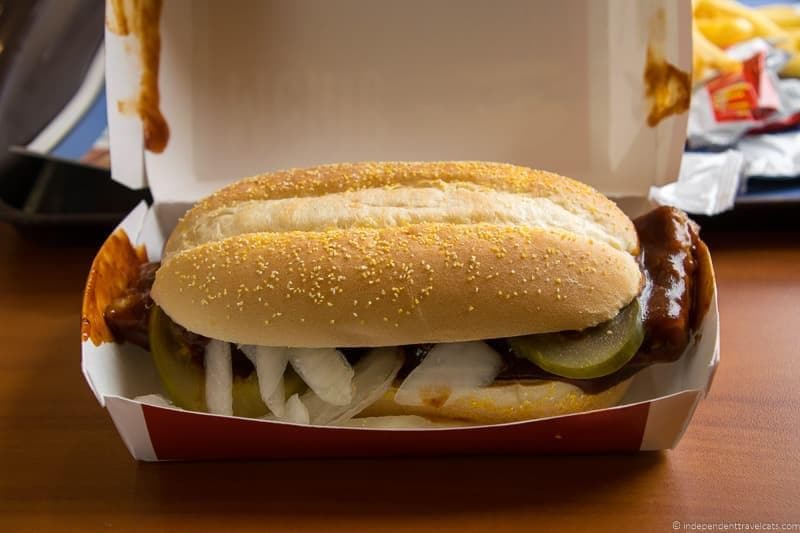 So perhaps it wasn't on my travel bucket list, but I can now say that I ate a McRib in Germany, the only place they exist permanently on the menu. Perhaps it wasn't the greatest cultural experience, but we had a lot of fun and the place had sort of a festive atmosphere with lots of local teens and twenty-something trying to get in some time with their friends during the long holiday weekend. Sometimes it is nice to just sit back with some familiar food in a familiar place and take a break from cultural sightseeing.
And for those wondering if the McRib is still around, yes as of 2022, the McRib is still being served daily at many McDonald's locations around Germany!
Have you seen the McRib in Germany? Or have a similar experience of just needing to take a break to do something familiar during while traveling?