As frequent travelers, we love buying and sending postcards and we were very excited to hear about a new service called Lettr. Lettr allows you to create custom postcards online that are then mailed to anyone worldwide. While traveling, we love sending postcards from awesome locations with short notes to people back home to let them know we are thinking about them. But as much as we love the perfect photos on the front of postcards, we have wished before that postcards could be a bit more personalized. Lettr is a new online service that solves this issue by allowing you to take and use your own photo for the postcard. So instead of sending your mom a postcard of the Eiffel Tower, you can send your mom a custom postcard with you in front of the Eiffel Tower! While you customize the postcard online, a printed postcard is still mailed to your loved one, allowing you to skip all the hassles of buying a postcard, paying for postage, and mailing a postcard. Interested? Read on to hear more about Lettr, read about our experience testing out the service, and enter our giveaway to try out Lettr yourself for free!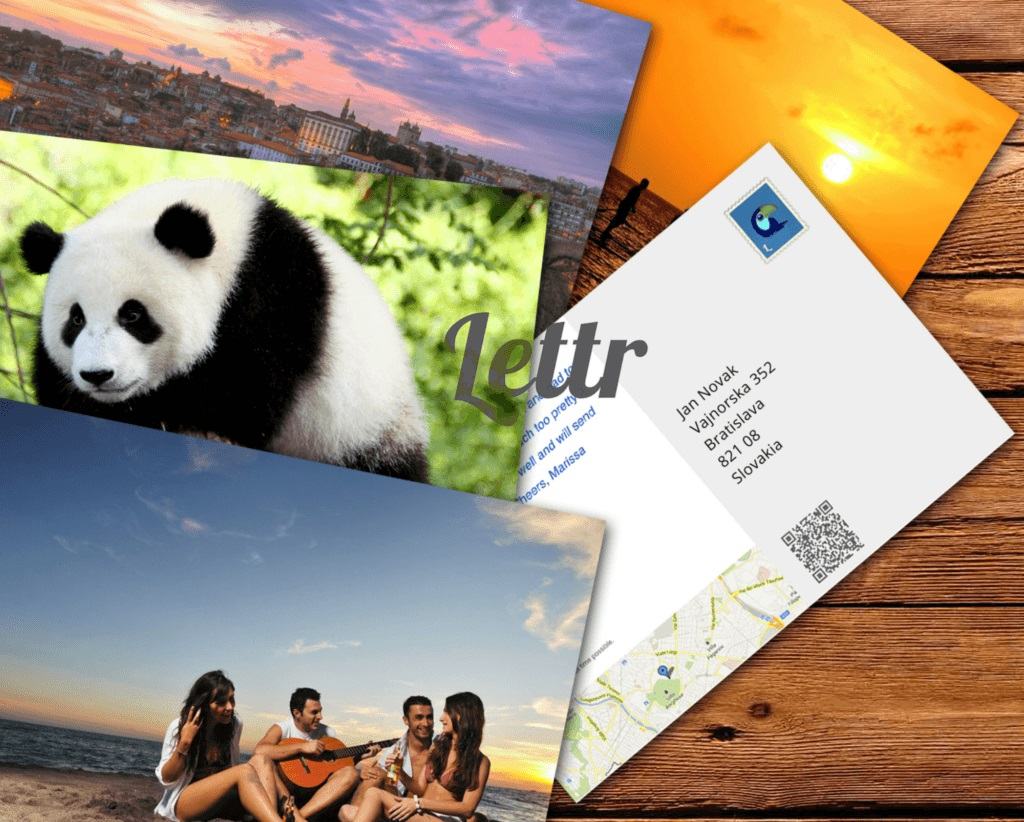 What exactly is Lettr?
Lettr is an online service that allows you to send customized real paper postcards to anyone in the world from your phone, tablet, or computer. All you need to do is upload your own photo, write a message, and fill in the recipient's contact information. After you upload your information and make a payment, the postcard is actually printed on postcard-quality paper, stamped, and then mailed to your loved one.
Cost?
Currently, it costs $2.49 per postcard. The postcard can be sent to any valid mailing address worldwide for the same price.
How Does Lettr Work?
Ethan and I don't review things we haven't tried. So we tested the service not once, but twice! The process is really simple and you can send a postcard in 7 easy steps:
1. Take a Photo and upload it to your phone, tablet, or computer
This step is super easy if you take the picture with your phone. We used a camera on our recent weekend trip to San Francisco, so we then just uploaded it to my laptop. Below is a picture from our recent Segway adventure in Golden Gate Park.
2. Go to Lettr.co
Just click the little yellow pencil icon in the top right corner on Lettr.co to get started customizing your postcard. You can also sign in via Facebook, but you don't need to do so. Depending on the Internet browser you use, your browser may ask if it can verify your location, the Lettr service uses this to help create your postcard so just click Allow.
3.) Upload your Photo
The system is pretty flexible about the size of the photo you upload and it will just resize it to fit the area. You can upload a photo that is in portrait or landscape orientation, but it will just show what fits into the frame. One minor issue is that you can't adjust the frame, so you can't decide which part of the picture is showing if the photo is too big for the frame.
Don't forget to put in a caption of where the photo was taken!
4. Write your message
You can write a message that is up to 250 characters in length.
5. Add your signature
You can add your own handwritten signature using your mouse or your touchpad. I just signed mine using my finger on my laptop's touchpad.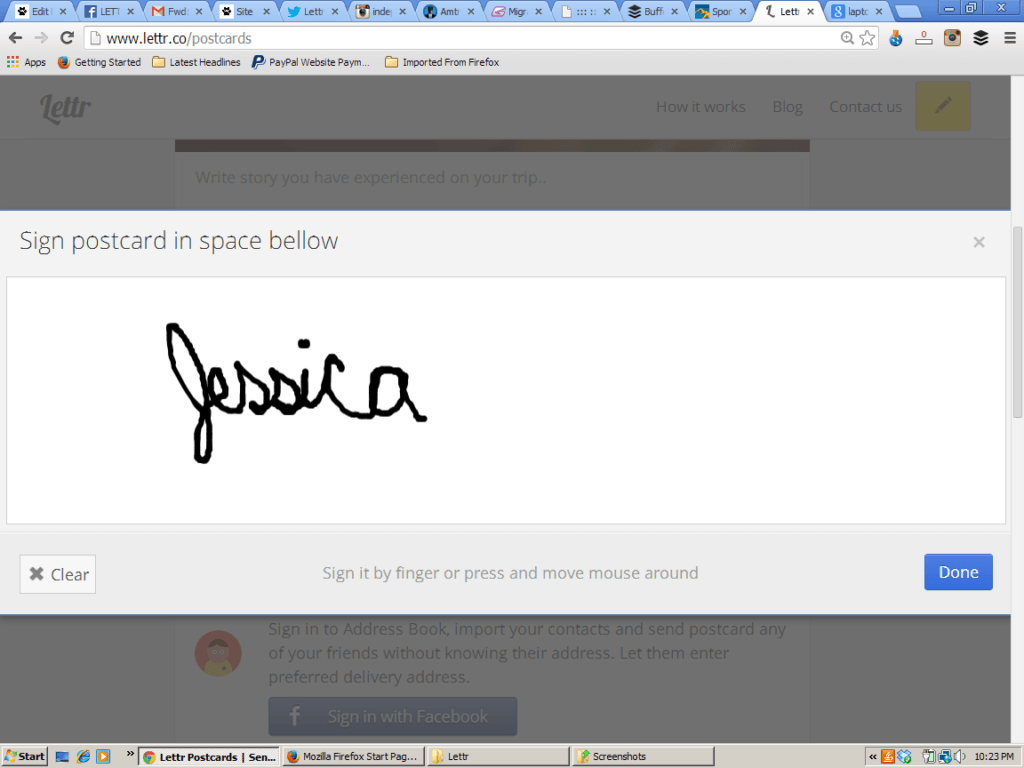 6. Put in the Recipient's Contact Information
If you know the recipient's contact information, this is simple. But if you don't, you can sign into Facebook and select the person from your Facebook contact list and a message will be sent to your friend or family member asking them to provide their preferred mailing address. Later, once the person provides his or her address, the postcard will be mailed.
7. Make your payment and send it!
You can pay using Paypal, a debit card, or a credit card. Then just click "Mail Postcard" and away it goes to be printed, stamped, and mailed to your loved one! Delivery times will vary depending on where you are sending it but Lettr is hoping to get all delivery times down to 3-6 business days.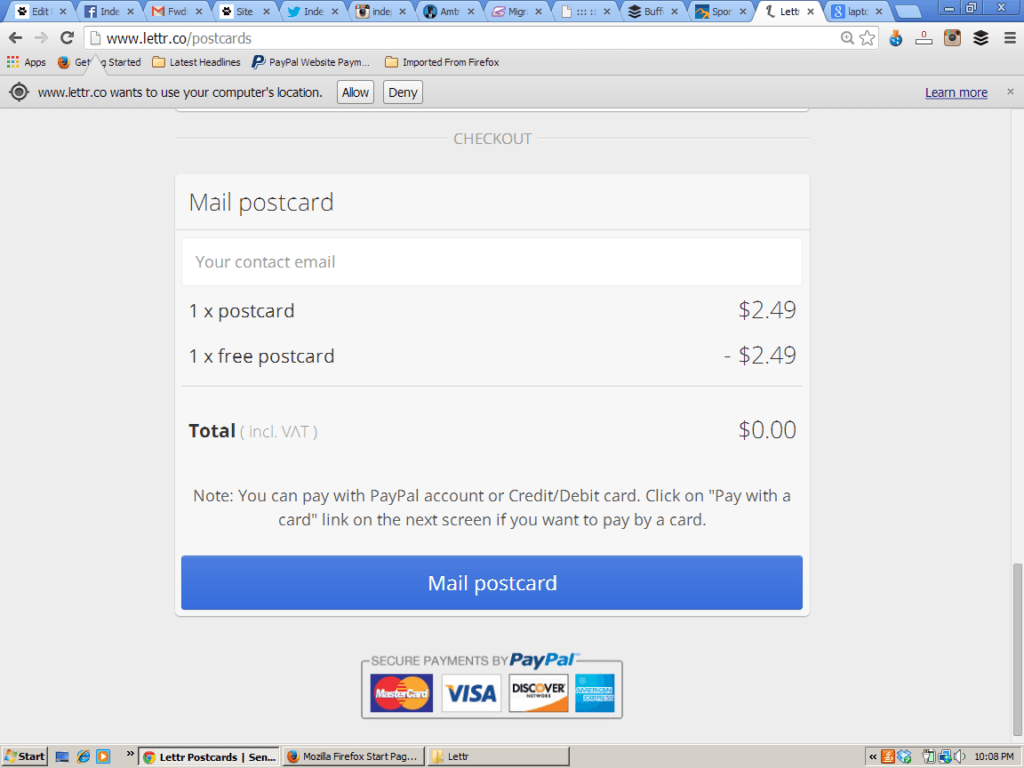 Our Experience Sending Custom Postcards with Lettr
Using Lettr to send our custom postcards was a super easy process. It took us about 10 minutes to send our first postcard to my grandmother (as shown above). I also sent a second one secretly to Ethan as I wanted to check out a printed postcard firsthand as my grandmother lives on the other side of the country. The second time using Lettr it only took me about 5 minutes to send the second postcard as I already knew the system and what to expect. Both of the postcards arrived as promised with good quality printing and card stock. Best of all they showed my grandmother and Ethan that I was thinking of them!
Lettr is a new company and is still working on adding more information to their website, adding new features, and making the service even better. We have been partnering with Lettr for over a month now and in that time they have already made quite a few changes to their website, such as adding the Facebook functionality. They have been super responsive when I have had questions and seem very receptive to feedback. For instance, they are currently gathering more data on real-time delivery worldwide to add to their website and are trying to ensure postcards are getting mailed and received in a timely manner. So if you have comments, questions, or suggestions, I would not hesitate to contact them.
Reasons we recommend using Lettr: 1) easy to use online interface, 2) can create personalized custom postcards, 3) saves time by not having to buy a postcard, get postage, or find a mailbox, and 4) has good customer service. While I still love old-fashioned postcards, I do think I'll be sending a lot more using Lettr as it is just so much simpler and allows us to really personalize and customize our postcards. If you are in a place that doesn't have postcards or just want to send a postcard of something wacky or mundane, it's no problem with Lettr. These are definitely the postcards of the 21st century!
The Giveaway: Your Chance to Try out Lettr
Lettr has graciously provided us with a total of 10 free postcards to give away to our readers. Two winners will be chosen and will receive a link code that will allow them to each send 5 FREE postcards!
**UPDATE: GIVEAWAY IS NOW CLOSED!! GIVEAWAY ENDED MARCH 25, 2014 CONGRATS TO OUR TWO WINNERS ALANA & MICHELLE!**
So what do you think about Lettr? Have you used it, or do you think you would use it to send custom postcards in the future?
**Disclaimer: We were provided a link to send complimentary postcards in order to review this service; however, this article contains only our own honest thoughts and opinions. We did not receive any financial compensation for the writing of this post and do not work for Lettr. We do receive a nominal part of the proceeds if you purchase a postcard using the link from our website. **