Do you want to set up a travel blog? Or perhaps you are thinking about overhauling or moving your current blog? Given that we just went through the process of creating a new blog ourselves and it is fresh in our minds, we wanted to share the experience with you.
This article discusses a step-by-step process for those who are new to blogging about how to set up a travel blog. We provided detailed information to take you through the process of setting up a travel blog in 10 easy steps.
We also give you all the information about our own choices at each step as an example. While there is no "right" or best way to set up a travel blog, this will hopefully give you a good overview of the steps and options that are available.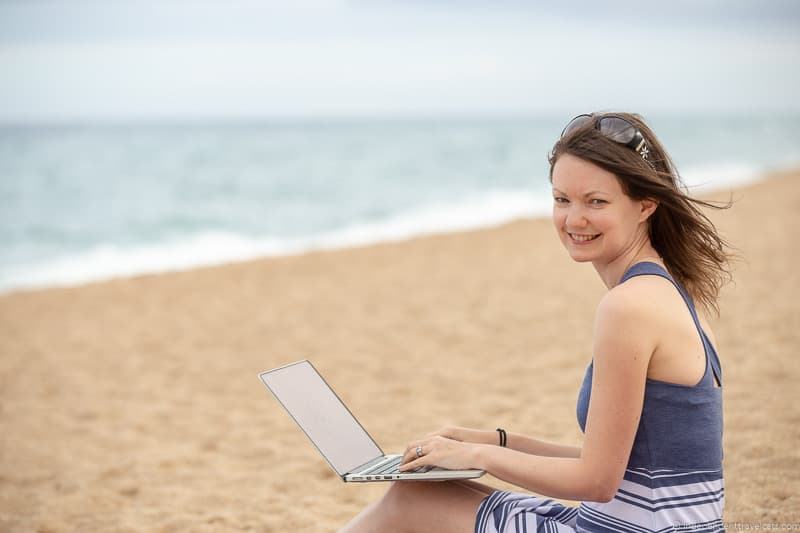 How to Start a Travel Blog in 10 Easy Steps
We've broken down the process of setting a travel blog into 10 concrete steps. We've tried to make the process of starting a travel blog or vacation website as easy as possible!
This article was originally written back in 2013 within a couple of weeks of starting our first travel blog Independent Travel Cats when everything was fresh in my mind. Over 5 years later I am still blogging and my husband Laurence and I run two successful travel blogs, the other is Finding the Universe. Although a lot of the steps and information about starting a travel blog has remained the same now as it was in 2013, we've updated this post to ensure it is still as relevant today as it was back then.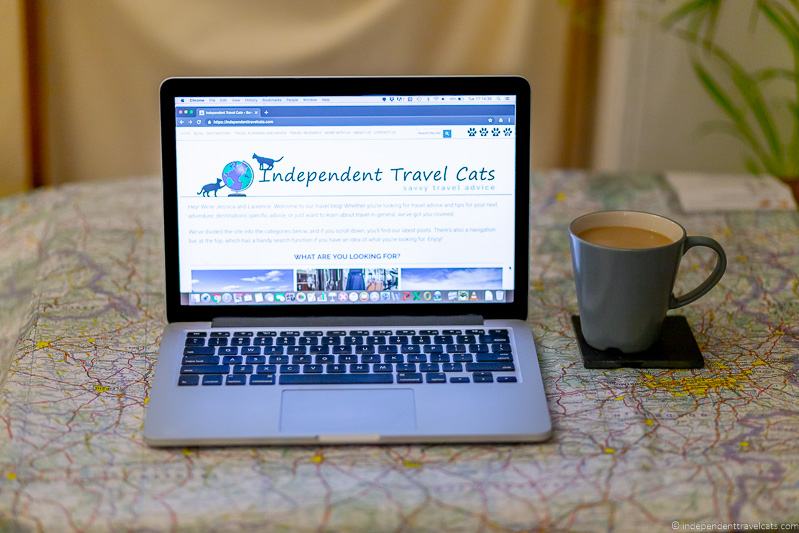 Here we go into the steps for how to start a travel blog:
Step # 1: Define The Purpose and Goals of your Travel Blog
The absolute first thing you'll want to do is to sit down and define the purpose and major goals of your website. You probably have more than one goal, so think about your primary goal and then think about any secondary goals.
For example, do you want to provide how-to information about travel within the United States? Or maybe you want to have readers follow you along on your trip around the world. Perhaps you want to persuade readers to buy your travel products, talking about adventure activities in Australia, or inspire your readers to travel to Africa. As you can see, there are lots of options!
If your primary goal is traffic and/or to make money, we'd recommend focusing on a niche or a geographical location if you can. It is much harder to write and get traffic to a global travel blog these days as there is so much competition. Writing a blog about your home town of Philadelphia or Melbourne is likely to grow much faster than writing about far flung destinations all over the globe. Or maybe your favorite vacation spot is southern France or Alaska, consider these as places to start.
Similarly, if you are interested in a specific niche (e.g., RV travel, airline points, boating, wine regions, traveling with pets, LGBT travel, budget travel, SCUBA diving), these can help set your blog apart as well. Think about what types of travel you do and what you like to do best. Budget travel, cruising, and luxury travel are also larger popular niches but just note there are a lot of blogs out there with these same niches so think about how you can stand out.
As well as the type of content you want to create, you also need to decide on the type of audience you want to attract (e.g., budget backpackers, Baby Boomers, cruisers) and the overall tone of your website (e.g., informational, funny, inspirational, professional).
Our Example: Our primary goal with Independent Travel Cats is to provide useful information to other travelers based on our own real world experiences.
The site is also a writing outlet for me as I have always wanted to be a writer. We want our website to be focused on providing good information, but with a friendly tone. Easy navigation is important to us. When we set the site up, our focus was on independent travelers who want to plan and organize trips on their own, which is the audience we have created.
Later, after I met Laurence, our goal was to have our two sites (Finding the Universe & Independent Travel Cats) be our main source of income so we could do this full time. That is now the case. However, monetizing the sites was never the primary original purpose for setting them up.
Step #2: Choose a Domain Name for your Travel Blog
Once you have the basic ideas down for your website goals, tone, and audience of your website, you need to decide on a name for your website. This will be useful in choosing a domain name—the website address—as you want the two to match or be very similar if at all possible.
You will want to spend some time on this and come up with a few possibilities as it's likely your first choice may be already taken. While there are ways to buy an already taken domain, it is simpler and less expensive to find an available domain. While there are a lot of possible web address extensions out there (.org, .net, .biz, .co), it is best to get a .com if possible as this is the most memorable for users.
You will also want to be sure that the travel website name you come up with is also available on all the social media channels you want to be on. Whilst an exact match isn't necessary, it is a good idea to have the same username across all your social media channels so it can be easily found. You can check if your chosen username is available across the major social media channels with this tool.
If you are wanting a free domain name, you can get one by getting one through WordPress.com, Blogspot, or Weebly but your website will be a subdomain of that website if you choose to use the free version (e.g., www.independenttravelcats.blogspot.com). Now, don't purchase or create your domain name just yet, proceed to the next stop.
Our Example: We came up with a long list of possibilities, and rated each one. We spent about a week thinking about this. Then we went through the list to see what was available (we just typed them into godaddy) and decided on independenttravelcats.com.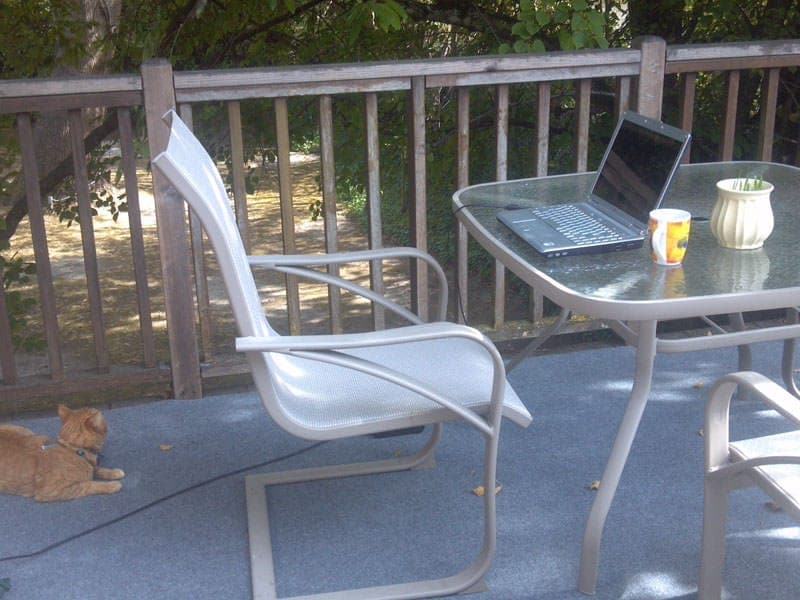 Step # 3: Choose a Content Management System or Website Builder
Next, you need to decide on a content management system (CMS) or website builder. A CMS is what you use to build your website, insert content and images, etc.
The choice of a CMS or builder will influence how you build your website and how much you can edit and add to it (e.g., plug-ins, available templates, how customizable your site will be). While some platforms offer a more intuitive drag-and-drop interface (e.g., Weebly, Wix), others may require you to learn some coding (e.g., Joomla, Drupal).
WordPress, one of the most popular blogging platforms, is not a drag-and-drop platform but is fairly intuitive and user-friendly and doesn't require any advanced coding knowledge.
Our suggestion is to use WordPress unless you have a good reason to use a different platform. It is the most popular of all the blogging platforms, and has the most support. It's hugely customizable and sites can be optimized for speed and to rank well in search engines using SEO (search engine optimization) techniques.
Another option is Google's Blogger platform, which is one of the most popular free publishing platform choices. This is fairly easy to use, although you are limited in terms of customization choices.
A quick note on the two major WordPress versions: WordPress.com and WordPress.org.
WordPress.com offers the ability to set up a free website, modify the content, and have free hosting; however, it is more limited than using WordPress.org as far as being able to change templates, add plug-ins, and change coding.
WordPress.org offers free download of the WordPress CMS with more options for customization (e.g., more control over the actual code, ability to install plug-ins) compared to hosting your website on WordPress.com, but you have to find and pay for your own host.
Our Example: Before launching Independent Travel Cats we played around with the free Weebly and WordPress websites for about a week. Whilst we found Weebly easier to use to design a website (I really like the drag-and-drop features), we ultimately decided to go with WordPress as a platform as it has increased functionality in customizing the website, and seemed like a better long term investment.
WordPress has a bit steeper of a learning curve, but over time you will become familiar with it. We also decided to go for the WordPress.org option (not WordPress.com) and have it hosted by an outside web hosting company. So that led us to looking into web hosting services (see below).
Laurence actually launched Finding the Universe on Blogger, and ran it on that platform for a number of years. Finally though, the restrictions of the platform held us back from achieving what we wanted, and we had to go through the complex process of migrating from Blogger to WordPress.
Step # 4: Choose a Web Hosting Service for your Travel Blog
The most tricky part for us was when we started this site was deciding on a web hosting service. A web hosting service is a type of Internet hosting service that allows you to make your website accessible online and provides space for your website on their servers.
What we didn't understand at the onset is that your domain name, web host, and publishing platform should all be thought about in conjunction rather than choosing one at a time.
For example, many WordPress hosts will include free domain name registration when you host your site with them. So it makes sense not to purchase your domain name on its own, but to buy it as a package.
There are hundreds of possibilities when it comes to a web host (e.g., Blue Host, Blogspot, 1&1, DreamHost, Godaddy, Weebly, iPage), and you should do some online research about which one might be best for you – see below some of the factors you need to consider. We also recommend reading our guide to choosing a WordPress host which has a lot of helpful tips on what to look for.
Our advice based on our experiences is to pick your domain name, choose self-hosted WordPress as your platform, and pick a hosting platform like Blue Host which will allow you to register your domain and host your site for one low price.
Some things to consider when choosing a web hosting service:
Cost?: When you start out, most web hosts will charge between $3 to $10/month to host a website on a shared server with better rates if you purchase a longer contract. There are places where you can get a free domain name, host, and publishing platform (e.g., Blogger/Blogspot, Weebly, WordPress.com); however, these generally provide limits regarding choices and functionality (e.g., less flexibility in domain name, less able to make advanced changes to layout of website) but can be great places to get started if you are new to blogging. Once your website starts getting a larger audience you'll want to think about moving to a dedicated server or cloud service, but these services are much more expensive, and only required when you start to scale your blog.
What is included?: Is the space and upload capacity unlimited? Are there limits on the number of webpages you can build? Do they provide 24/7 support? Is there any sort of money back guarantee? Are e-mail accounts included? Is a domain name included? Can you choose any domain name or must you use a certain extension (e.g., the free domains at WordPress.com and Weebly.com have a WordPress.com or Weebly.com domain although you can still purchase a domain name of your choice and have free web hosting)?
What are other users saying?: Check out reviews online. Ask friends and other bloggers what they are using and what web hosts they would recommend. You don't want to pick a host with poor customer support or whose servers are always going down. Is it fast and reliable? How good are the support options? Is it a good choice for those who will be doing a lot of daily or weekly posting?
What CMS, web builders, and publishing platforms are supported? So this is important to consider if you have a CMS or web builder in mind (e.g., WordPress, Joomla, Drupal, Weebly). For instance, if you want to use WordPress, you need to make sure it is will work well with your web hosts. If you use Weebly for your host, you may not be able to use WordPress as Weebly has its own built-in web building platform that I do not believe is compatible. Some hosts also have one-click or easy installers for certain CMS or website builder platforms (e.g., Blue Host supports all the above platforms with easy installs) that can make it easier
Our Example: We decided to go with Blue Host because it is one of the recommended hosts if you are using WordPress.org and the reviews by users were generally positive. Blue Host was also advertising a price discount at the time and offered a money-back guarantee. Independent Travel Cats was hosted on Blue Host for about 3 years.
We still recommend Blue Host to new users as the pricing is very competitive and we found the support to be excellent, especially when we were starting out with WordPress, which can be quite overwhelming. Currently we use Cloudways, which is a great option once your site has grown a bit. You can see our full Cloudways review here.
Step #5: Fit Together your Domain Name, CMS, and Web Hosting Service Choices and Commit
At this point you should have a domain name chosen, a good idea of your web hosting site and its pros/cons, and a general idea of the type of platform you want to use to build your website and manage your content.
It's now time to take stock of how these three things fit together, commit to a decision, and start setting them up. For some people, these three things may be a package that are all set up together (e.g., you set up a free WordPress, Blogger, or Weebly blog with their free domain names), while for others these three things may need to be set up in series of steps.
Our Example: First, we purchased our domain name through Godaddy. While we could have purchased the domain name through Blue Host, we instead found it was less expensive to do so from Godaddy.
Then we purchased web hosting services from Blue Host and redirected the godaddy webaddress to the Blue Host server. So, if you purchase an outside domain name, you'll have to have it redirected to your web host. Your web hosting service should provide instructions on how to redirect your domain name if you need to do this.
Next we installed WordPress.org through our Blue Host account. At this point we were then ready to choose a website template and start building our website and publishing content. Yeah, the fun part!
Note, over time this process has gotten a lot easier, especially with WordPress being so popular. Services like Bluehost come with dedicated WordPress packages, and the domain name is included. So the process is a lot simpler, and the customer support will be able to help you out if you have any problems.
Step #6: Set up a File Transfer Protocol Program for your New Website
One thing that you will probably need to do is to set up a File Transfer Protocol (FTP) program.
While it's possible you won't need this, especially if you are using a free hosting and website package, in most cases this is useful as it provides a simple way to transfer files from your computer to your website and vice versa. You can also edit files through the FTP without having to actually log into your website.
There are a lot of options out there (e.g., Filezilla, Cyberduck, Smart FTP, FTP Voyager) so check the options in relation to your computer and operating system compatibility, level of security needed, transfer needs (e.g., do you need to be able to transfer very large files), and how easy it is to use with your web host.
Some of these programs are free open-source downloads and some come with a small fee.
Our Example: We chose Filezilla based on recommendations from family and friends, and it was a free easy install through our Blue Host control panel. We then configured Filezilla to connect with our Blue Host hosted website following directions from Blue Host.
Step #7: Pick a Theme For Your WordPress Site
Once you have your domain name and hosting package setup, you have nearly everything you need in order to continue.
If you have chosen WordPress, as we suggest, your site will most likely be set up with the default WordPress theme. This default theme changes every year, and is named for the year. For example, when we set this site up on WordPress, the default theme was called 2012.
Our Example: We actually used the default theme for a number of years, all we did was customize it through the WordPress dashboard to add our header logo and change the fonts and various site colors to match the look and feel we wanted.
The default WordPress theme is usually very fast, designed to be responsive (so it works across multiple types of device, from mobile to desktop), and is also easy for search engines to access and index.
However, you might find that it doesn't look exactly how you want. When we migrated Finding the Universe from Blogger to WordPress, we took a long look at the available themes (there are countless WordPress themes available!), and settled on a Studiopress Genesis theme that we then customized ourselves.
We liked the Studiopress themes as they were easy to customize, there is extensive documentation to help with any changes, and the framework is regularly updated. They are also very fast and great for SEO. They are not free, but in our experience, the best themes rarely are – the fee helps ensure that you receive regular updates, and is well worth paying in our experience.
Step #8: Pick Some Plugins
If you are using WordPress, which is our recommended option for anyone starting a travel blog, you should consider installing some plugins.
A plugin is a pre-created piece of code that adds functionality to your website. Ideally, you don't want to install very much plugins, as the more you add to your site, the more potential there is for it to run slowly, which is bad for both user experience and for ranking well in search engines.
However, there are a number of plugins that we highly recommend that definitely enhance the functionality. These are as follows:
As mentioned, there are thousands of plugins out there that do all sorts of things, but these are four we recommend that ever new travel blog considering using when getting started.
Plugins can be installed from the plugins section of your WordPress dashboard. They just require you searching for the plug in, adding it, and completing any set up process as instructed. Many plug-ins are free but some have a small fee, or some are free but have premium versions that have a cost.
Adding plug-ins is not a necessary step to get started and you can always skip it at first and come back to it. You will likely be adding and removing plug-ins over time as your blogging needs and designs change over time.
Our Example: We started out with just a couple of plug-ins initially which included Akismet Anti-Spam and Yoast SEO (still using both over 5 years later). Over time, we gradually added several more. We also regularly go through our plug-ins to remove out of date and inactive plug-ins.
Step #9: Set up a Backup Schedule
The worst thing that can happen to your site is for it to crash and somehow lose all your data. This can be the result of the site being hacked, hardware failure, or just user error on your part.
To mitigate this, we recommend you set up a regular backup schedule. Most hosts should provide automatic backups so you don't have to worry about it, but if not, there are plugins (such as Updraft Plus) that will let you backup your content and WordPress database on a regular basis so you can restore if anything goes wrong.
Our Example: We started out using Updraft Plus for a few years. Today we have a back-up system that came with our serving package that is managed remotely by our server host which performs daily back-ups of both of our blogs.
Step #10: Start Creating and Publishing Content
Now you have your travel blog up and running, it's time for the fun part – creating content! There's no hard and fast rule to this, some sites publish multiple times a week and others just once a month. Once a week is a good initial goal and you can increase or decrease that over time. Our suggestion is to find a routine that works for you and stick to it.
And don't forget, travel blogging is a long term venture! There's no such thing as overnight success, it takes a lot of time and work to make it. But we think it's definitely worth sticking at, and wouldn't want to do anything else!
Our Example: We started writing our first posts as soon as the blogs were set up and running. Over time, we have developed a schedule where we try to each publish a new article once a week.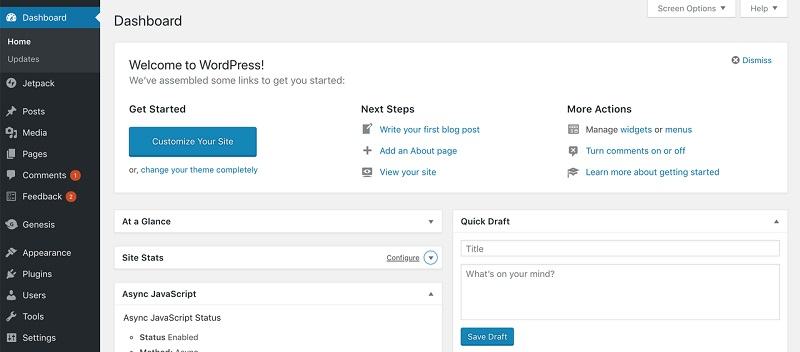 There you go! A quick run-down of the basics of how to start a travel blog. I hope this is helpful and will get you started.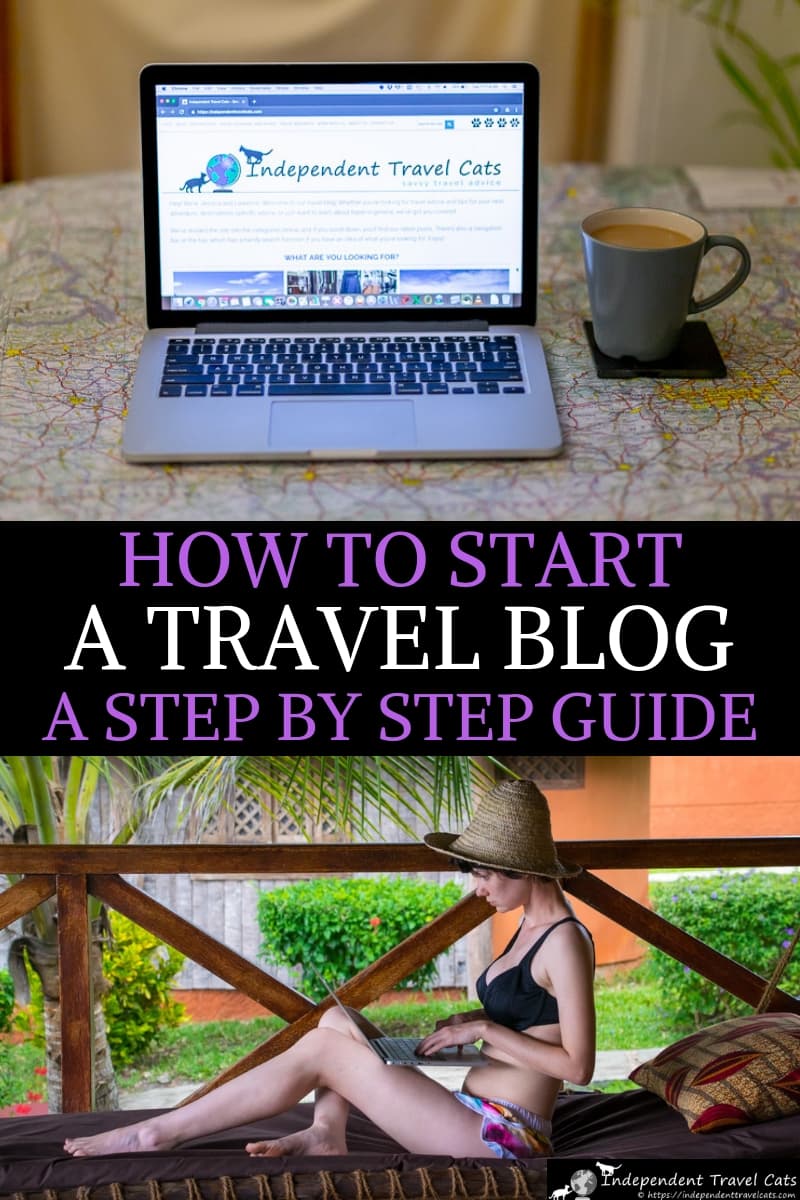 Do you have other tips about how to set up a travel blog? Opinions or experiences you want to share in setting up your own travel blog or website? Questions about how to set up a travel blog? Feel free to post them below.