Recently we've been needing to apply for several international visas for travel in Asia and Africa, which means we've been filling out application paperwork for each country and obtaining a lot of visa photos.
Even though biometric passport and visa photos are just simple digital photos, most people have them taken professionally because they need to meet the country-specific requirements of the destination and in the case of passport photos, may be accompanying a person for a full 10 years.
Ethan and I have each needed almost a dozen visa photos over the past several months, and we became very frustrated with the cost of passport and visa photos at our local drugstores. After paying almost $50 for 8 photos (ridiculous!), we started researching the various places where we could get visa photos taken and exploring the do-it-yourself options where you can take and print your own photos. After our research, we have vowed to never pay $11.99 for two passport photos again!
In this guide, we'll give you a list of places where you can have your photos taken, give advice on the cheapest options, tell you about how you can print your own passport or visa photos for free or little cost, share some tips of how to ensure you get the best passport or visa photos possible, and provide some additional visa photo advice aimed at long-term and frequent international travelers.
Note that some of this information is specifically applicable to those living in the United States, but the discussion of online services and the general photo tips are applicable to anyone.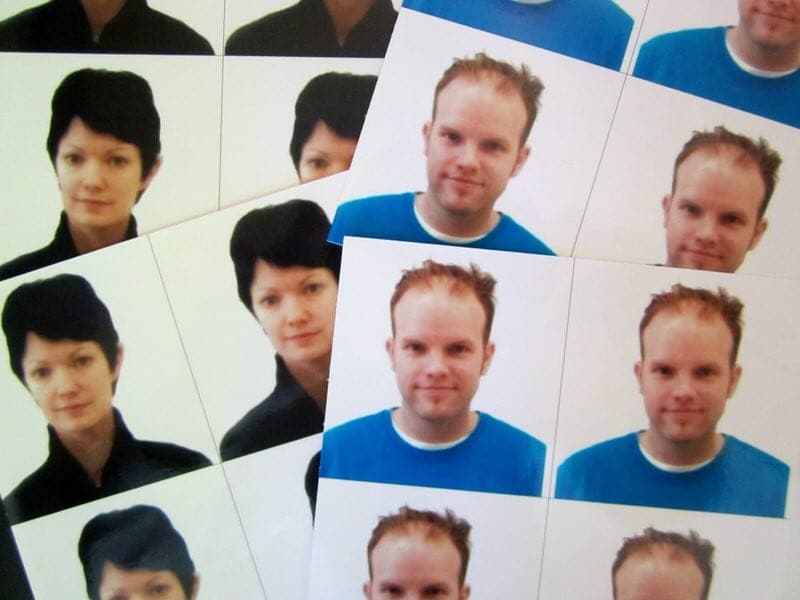 Where to Get Passport Photos and Visa Photos Taken In-Person?
Now, it should be noted that most places in the United States advertise their services for passport photos and prices are generally provided for a set of 2 passport photos that comply with the U.S. Department of State guidelines for those wanting to apply for a new U.S. passport or renew an existing U.S. passport.
Many places can also print visa photos that differ from the size requirements of the U.S. passport photos, but you need to be very clear of the needed size dimensions and any other requirements (size of head, background color, etc.) that may differ.
I would call ahead if you need visa photos of a size other than the standard 2 inches X 2 inches (5cm X 5cm) as some places may not be able to print photos of any given dimension.
Drugstores and Pharmacies
Many drugstores and pharmacies offer passport photo printing, such as Walgreens, Rite-Aid, and CVS. We checked some prices and found that current prices (2017) were $8.99 at Rite-Aid and were $11.99 at both our local Walgreens and CVS for two passport photos. Prices across store locations may vary but expect to pay about $9 to $12 at a drugstore for 2 passport photos
Check websites and store flyers for potential coupons as we saw discount coupons online for both Rite-Aid and CVS. Drugstores are convenient as they can usually take the photos immediately and can have the photos printed and ready within a few hours; however, they generally do not offer the lowest prices.
Warehouse and Discount Retail Stores
Most Costco, Sam's Club, and WalMart stores offer passport photo services. Costco and Sam's Club offer rates as low as $4.99 for two passport photos and Walmart stores offer passport services as low as $7.99 for two passport photos. WalMart also offers an online service on their website where you can upload and create your own passport photo and have them delivered to your home.
Other retail and department stores with portrait studios are also likely to offer passport photos including Sears, JCPenny, and some KMart and Target stores.
The warehouse and discount retail stores such as Costco, Sam's Club, and WalMart are likely going to be your cheapest place for getting your passport or visa photos if you want them taken professionally. I would start here if you have these stores nearby as you're unlikely to find a better price unless you decide to take and print the photos yourself.
Local Post Office
Many USPS post office locations offer passport services where they provide passport applications and accept and review applications at the post office, and many of these locations also offer passport photo services. This generally requires an appointment be made in advance and the photos will cost about $15.00.
Post offices generally just do this for U.S. passport photos. You could ask if they would also do visa photos if they are the same size, but while this can be convenient for your passport photos if you are already going to be in the post office for the application anyway, it is probably not your least expensive option.
AAA Offices
Many of the AAA branch offices offer passport services and can be a great deal if you are a member as many memberships come with a free set of passport photos. Some of the higher tier memberships also come with additional or even unlimited free passport photo services so check your plan. Otherwise, it is generally $15 for members and $20 for non-members for a set of 2 passport photos.
Printing and Shipping Stores
Many printing shops and shipping stores offer passport photos services, including UPS stores and Fedex Kinkos stores. The prices here generally vary from about $12 to $15 for a set of two passport photos.
Photo Booths
These are not common places for passport photos within the United States as it is first difficult to find a photo booth outside of a shopping mall and they don't necessarily conform to passport or visa standards.
However, this is a common source of passport and visa photos in certain countries, such as the United Kingdom and France. In fact, most booths in the UK specifically offer a UK passport photo option and some even offer photos compliant for United States and India visa or passport photos. So if you are an American traveling Europe, look for a photo booth which are common in train and metro stations, as well as in large supermarkets.
Other Places to Consider
Your local photography stores, print shops, universities, or newspaper offices may also be places that offer passport photos. It never hurts to call and ask if you are having difficulty finding a place nearby or want to check for better rates.
Help, I Can't Find a Local Place to Take My Visa or Passport Photo!
Now, for those living in small towns and rural areas, your options for in-person passport photos services may be limited. Consider any local drugstores, discount retail stores, photography studios, newspaper offices, printing offices, and local photographers.
If your post office doesn't take photos but accepts passport applications, they can probably direct you to someone who can take your photo. I grew up in a tiny town and our local post office, local newspaper office, and local portrait studio all offered these services. If none of these are available, you should consider the do-it-yourself option.
Do-it-Yourself Passport Photos and Visa Photos
For the best prices, you should consider taking your own passport and visa photos. There is no requirement (at least in the United States) that the photos be professionally taken, they just need to meet the specified requirements for that particular passport or visa. This is a great free option for those applications you can submit online with a digital photo, and a very cheap option if the only cost is printing the photos on good quality photo paper.
This is a no-brainer for those with a little bit of photography skills as even a photo taken with your phone can be edited to be an acceptable passport or visa photo. But even if you don't have any photography or photography editing skills, you can still take your own photos, you just need to know the requirements and use some photo editing software.
For any editing, you can use photo editing software you may have on your computer such as Adobe Lightroom, Photoshop, Illustrator, iPhoto, or use a free online editing tool such as Canva. If it is for a U.S. passport, you can also use the free passport photo crop tool on the U.S. Department of State website.
If you need printed photos for the application, you'll need access to a color printer and a sheet of good quality photo paper. Alternatively, you fit them to an 8″ X 10″ or 4″ X 6″ space and have them printed as 1 photo at your local drugstore or discount store for next to nothing (under $1.00).
Online Free (or Cheap) Services to Consider
You can just take your own photo, use your own editing software, and print them off in the specified size on your own, but for those who want a bit more guidance or who would like the use of professional printing services, there are actually several free or very cheap services online that will help you take a passport or visa photo and edit it online to meet requirements.
Depending on the service, you have the option to use the photo free digitally (online passport or visa applications), print it yourself, have it printed at a local drugstore for a fee, or mailed to your home for a fee. Two of these services are ePassportPhoto.com and Make Passport Photo.com. For some countries (including UK and France), you can also order passport photos from Snapfish.
We specifically used ePassportPhoto.com which allows you to upload a photo you've taken with either your phone or camera. I like that they offer the free do-it-yourself option where you can print the photos yourself, although you do have to look around a bit on their webpage for the link but it is there. The photos were actually printed by Snapfish.
Otherwise you can have it printed at a local drugstore or mailed to your home for a low rate, and you get additional discounts if you order more than one set of photos.
Instructions were provided online on how to best take and upload the photo and the instructions are easy to follow. We used this service and paid $19.18 for 16 photos (8 for each of us) and this included shipping to our home. We were very happy with this service and would recommend it, and it can be used internationally for almost any country's passport requirements.
Just note that when using ePassportPhoto.com for visas, you'll need to just know the actual size requirements and then just select the size you need and disregard the actual country information as they are set up for passport photos not visa photos. In our case, we just ordered United States passport photos as the visa size requirements were the same as those for a U.S. passport photo.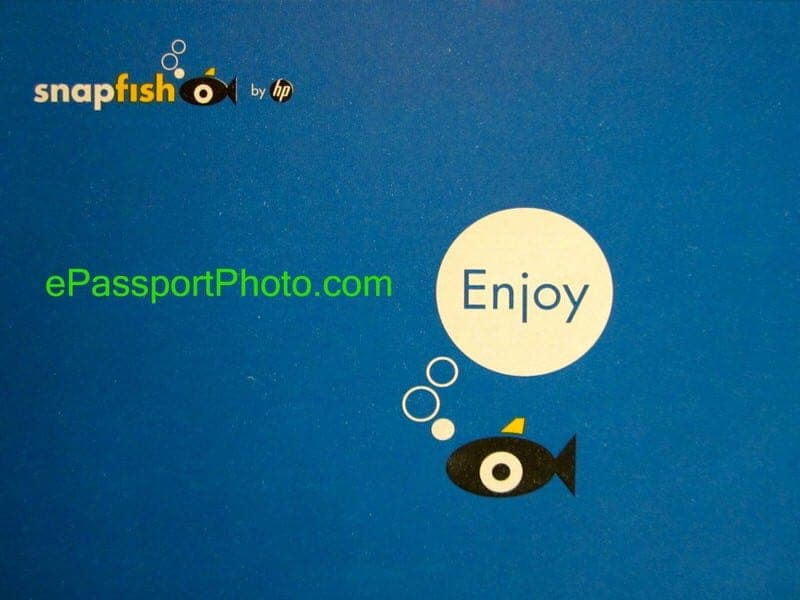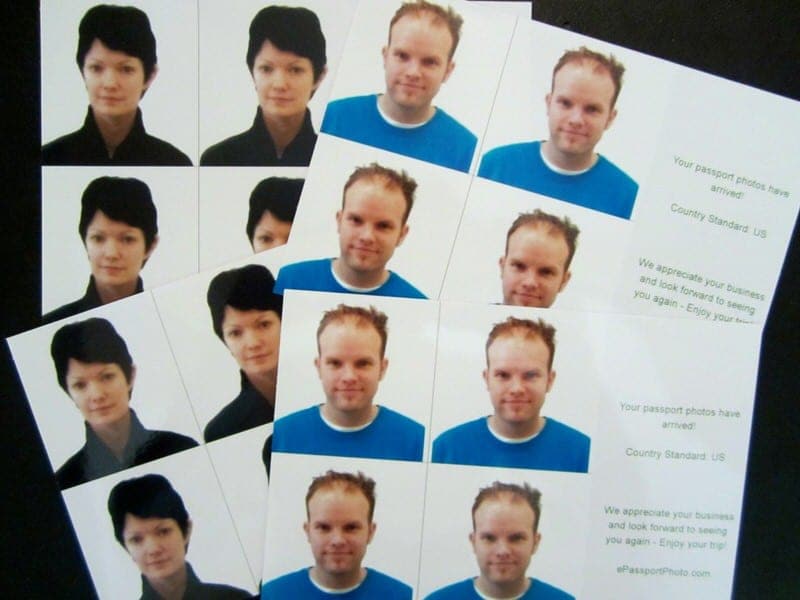 Tips for Taking your Own Passport or Visa Photo (or being Prepared to Have your Photo Taken Professionally)
1.) Know the passport or visa photo requirements and double check them. There is plenty of outdated and inaccurate information floating around on the Internet, so make sure that you get the most updated and reputable information (check embassies and government websites or call your local embassy for the latest guidelines) to prevent a lot of wasted time and effort. Be sure to note that the passport photo and visa photo requirements for the same country may differ so be sure to look up the correct information. Currently for a U.S. passport, the photo must be 2 inches-by-2 inches (5cm X 5cm) and in color. You must stand in front of a white background, face the camera directly and have a neutral expression. In the final photo, your head must measure between 1 inch and 1 3/8 inches from the bottom of your chin to the top of your head.
2.) Put a little thought into what you are going to wear. Most passport and visa photo requirements specify a white, light colored, or blue solid background. Try to avoid wearing white or black, but choose a solid colored shirt that will stand out. Remember this is a professional identification photo so try to avoid shirts with messages, emblems, religious or political connotations, etc. and don't wear anything that might be considered overtly sexual. Hats, scarves, and other head coverings not worn for religious reasons must be removed. The rules on head coverings for religious reasons vary by country so check on these, but generally you will need to ensure that if a head covering is worn that it does not cover or create shadows on one's face and you may need to obtain a letter stating that it is worn for religious reasons.
3.) Make up is fine but don't wear too much. Wear your hair down and as natural as possible and try to tame any flyaways before taking the photos with gel or hairspray. Prescription glasses should be worn only if they are normally worn, but you may need to tilt them down on your nose a bit to avoid a glare in the photo.
4.) When taking the photos, stand facing the camera and try to be at least 4 feet from the camera. Stand against a white or off-white wall or covering and in a place with good lighting. To avoid shadows on your face, try to avoid standing directly under a light and stand as close to the wall as possible. When posing, keep your shoulders down and back, have a neutral expression on your face (keep mouth closed, no big smiles), and stick your chin out a bit. The photo should include your shoulders, full head, and some space above your head. If you are taking them yourselves, you'll need to enlist the help of a friend or family member or set up your camera or phone's timer.
5.) If you are doing it yourself, upload and view your photo on your computer or phone. Use editing software such as those programs mentioned earlier so that the photo complies with the stated passport or visa photo requirements. If the photo is going to require a lot of editing, you may want to just try again and take some more photos. Once you get an acceptable photo, you can either print it yourself on photo paper or have it printed professionally.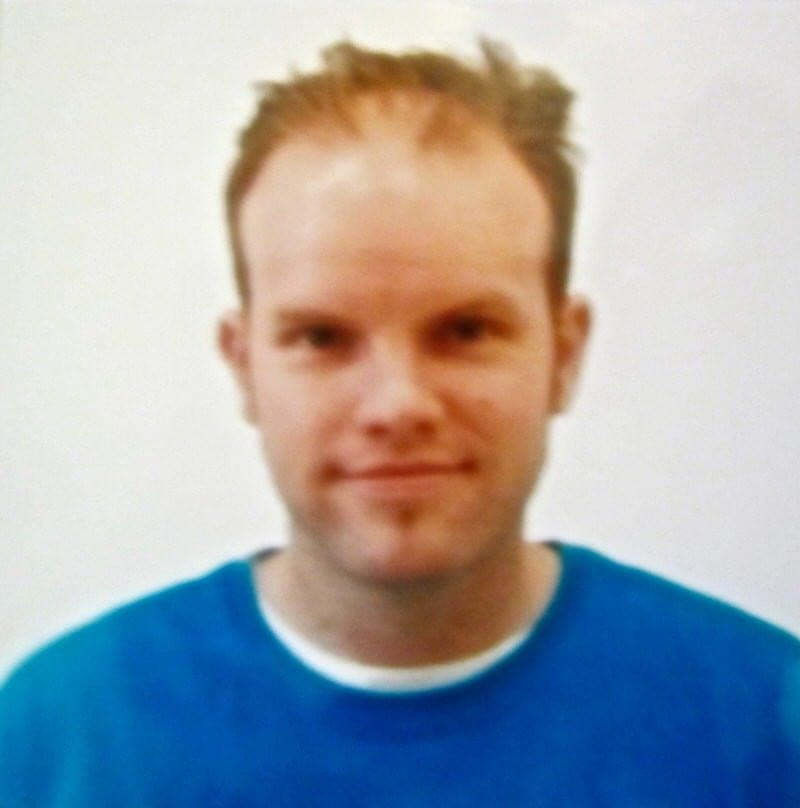 More Tips for Passport Photos and Visa Photos
No matter whether you are getting the photos taken professionally or doing them yourself, pay close attention to the photo requirements. If you get it done professionally most photographers will be aware of the requirements for a U.S. passport, but they likely are not familiar with all the international visa requirements so come prepared and be able to specify the exact requirements. You should also double check the prints to make sure they are correct and take them back and get them redone if not.
This is not specific to photos, but you should travel with copies of your passport and visas (paper and digital if possible) and have a copy saved somewhere at home. We generally travel with printed and digital copies and leave a copy with a friend or family member in case of an emergency. This can be extremely helpful if your passport is ever lost or stolen.
You should also have back-up passport or visa photos available, especially if you travel a lot. If your passport, ID card, or visa gets stolen while traveling, having these available may speed up the process of getting them replaced. These can also come in handy if you need to get a security or identification card done in a country for any reason. You'll also be in the position to apply for visas as you go and not need to get a new set of photos printed each time you head to a new destination.
If you are traveling long-term, it can be difficult to keep obtaining visa photos, especially while you are traveling. Having a number of extras around will save you time and money. You'll also be in the position to apply for visas as you go and not need to get a new set of photos printed each time you head to a new destination. For instance, if you're planning a long international trip, some countries only allow you to apply for a visa 30 days in advance of your intended date of arrival. If you are already on the road, you won't have to worry about getting photos taken or printed abroad as you'll already have extras with you.
If you pay for a professional printed copy of your passport photo, ask if you can also get a digital copy. We actually paid to have printed photos done at Walgreens for a past visa application, then we scanned the photos into an editable PDF file which has allowed us to edit the photos and store them digitally. We now use these photos for both paper and digital visa applications and it has saved us a lot of money over the past few months.
The photos are important, but don't forget to pay attention to all the other details of the passport or visa application! Some applications can be fairly simple, whereas others are more time-intensive affairs and may require the gathering of personal data, trip information, financial information, and supporting letters about your travel. So just plan ahead and leave yourself enough time to gather all this information and for the government office or embassy to process your request.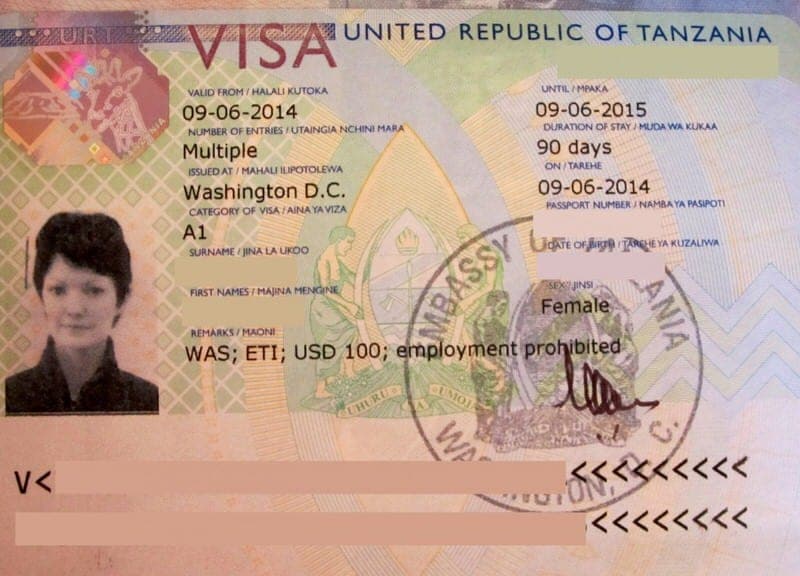 Well, that's our guide to passport and visa photos. We hope this was useful for any of you looking for advice and tips on how best to get your photos taken and printed. We are really happy to now have digital copies of our photos that we can print as we wish as this has saved us a lot of time and money recently. Passports and visas are expensive enough without wasting extra money on simple digital photos!
Any additional tips, tricks, or advice to share related to passport or visa photos? Any questions about passport photos or visa photos? As always, we'd love to hear from you!