The Friedrichsbad Baths, located in Baden-Baden Germany, is an elegant bathing complex that originally opened in 1877 as one of the most modern bathing establishments in Europe. Originally catering to European aristocracy, this beautiful neo-Renaissance style bathing house is still open to all looking to soak in the curative mineral waters or just enjoy a quiet few hours of relaxation.
Sitting upon the ruins of baths used by Roman generals, those who visit Friedrichsbad will follow a 17-step Irish-Roman bathing ritual that includes a sequence of hot air baths, steam rooms, showers, pools, and optional massages.
Perhaps the best part is that your 2-3 hours here are spent within a steamy haze of marble, brass, colorful titles, and majestic domes. Friedrichsbad is also the place where Ethan and I got up the courage to go completely nude in a co-ed place for the first time.
Interested in visiting or just hearing about our experience? We'll tell you how you can visit the Friedrichsbad Baths in Baden-Baden, provide some tips, and then share our own awkward but fabulous experience at the baths.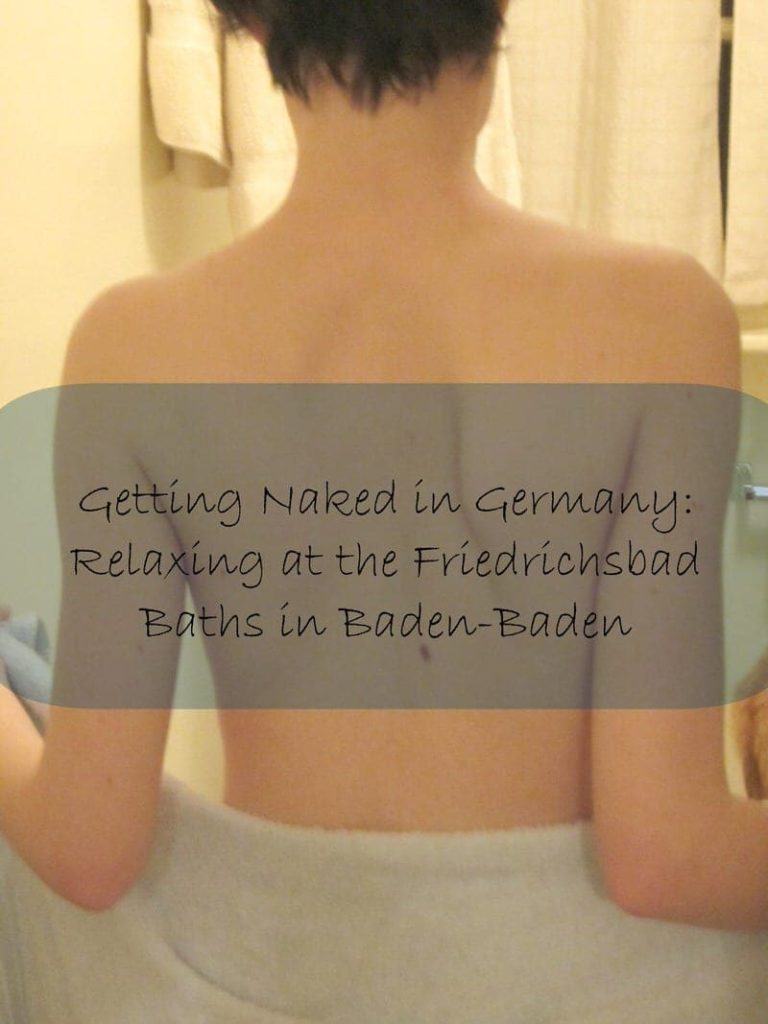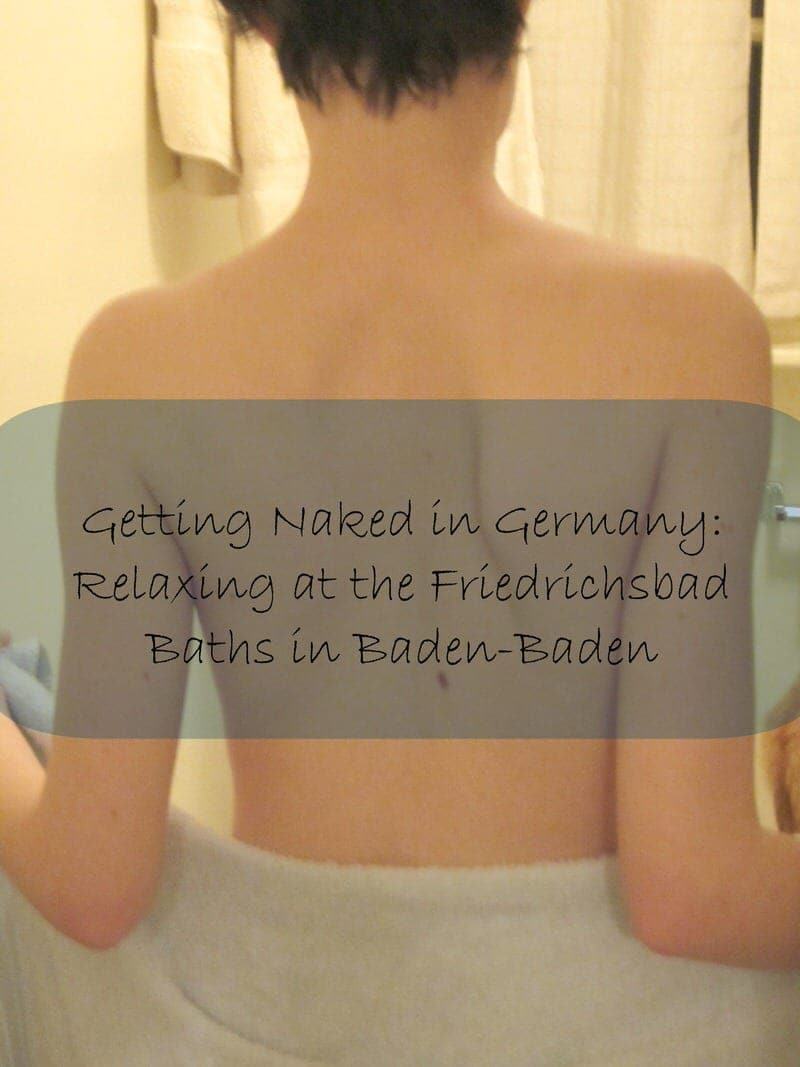 Basic Information on Visiting the Friedrichsbad Spa
Where?
Friedrichsbad is located in the middle of downtown at Römerplatz 1, 76530 Baden-Baden.
Getting there?
By Car: If driving, you can park in the huge underground parking garage shared by both the Caracalla and Friedrichsbad Baths. To get here, head for Rotenbachtalstrasse and the entrance for the garage is located off this street. Follow signs for Bädergarage to get to the garage. You get a parking discount for the first two hours if you are visiting one of the spas, just validate your parking ticket before leaving the bath.
By Train: A number of trains arrive at the Baden-Baden train station, but you'll want to drive or take a bus or taxi to reach the town center.
By Bus: Buses travel regularly from the Baden-Baden railway station to the town center, and you can check the local bus routes and schedules. The 205 Bus will take you almost directly to the spa if you get off at the "Caracalla Therme" stop and it is then only a 2-minute walk to Friedrichsbad. However, you can also take the 201 Bus and get off at the "Baden-Baden Leopaldsplatz" stop. It is about a 5 to 7 minute walk from Leopaldsplatz (main town square) down Sophienstrasse to the baths.
Opening Times?
Friedrichsbad is normally open daily from 9:00am to 10:00pm (9:00 – 22:00). Last entry is 2 hours before closing although you should probably try to allow yourself the full 3 hours so you don't feel rushed.
Cost & How to Purchase Tickets?
The main 3-hour package is 23 euros/person. You can add an 8-minute soap-and-brush massage and/or an 8-minute cream massage for 12 euros/each. Discounted prices are available to those traveling groups of 10 or more. If you are spending the night in Baden-Baden, some hotels also offer discounted admission tickets.
You can purchase tickets from the front desk of the spa on the day of your visit or you can purchase a redeemable voucher online prior to your visit.
Do I have to be completely naked?
Yes, this is a nude bathing complex and everyone but the attendants will be completely nude. However, you can choose whether you want to mingle with members of the opposite sex. Friedrichsbad has both separate and mixed sex days. Currently, the separate sex days (men and women go through the identical bathing stages separately except stages 10 and 11) are Monday, Thursday and Saturday. Mixed sex days, or co-ed days, are on Tuesdays, Wednesdays, Fridays, Sundays, and holidays. I would check the schedule prior to going to ensure they are open and double-check to see if it will be co-ed or single sex bathing during your visit.
Looking for an alternative spa experience?
Baden-Baden is known as a spa resort town, and there are other baths in town. Caracalla Therme is located next door to Friedrichsbad. Caracalla Spa is a much more modern bathing complex complete with outdoor and indoor swimming pools, hot tubs, and steam rooms. Most of the public spaces at Caracalla require swimwear (although there are nude areas) and it is very family friendly. If you are looking for massages, spa treatments, and couples wellness packages, you can also check out the CaraVitalis services.
Need more Information on Friedrichsbad?
The service company CARASANA owns Friedrichsbad, Caracalla, and some other facilities in Baden-Baden. You can call them +49 (0) 7221 27594, visit the Friedrichsbad webpage, or visit the CARASANA website. You can watch short YouTube videos in German that highlight parts of the bathing ritual and give you an idea of the inside of the baths.
I also want to give a shout out to Rick Steves and both his Baden-Baden article and his video (he and his family visit both Friedrichsbad and Caracalla in this "Black Forest and Cologne" TV episode). It was his TV show that made me aware of this great bathing complex a few years before we actually visited. This is also great for a good view of the interior of the baths where photos are not allowed.
Other Tips for Enjoying your Time at Friedrichsbad?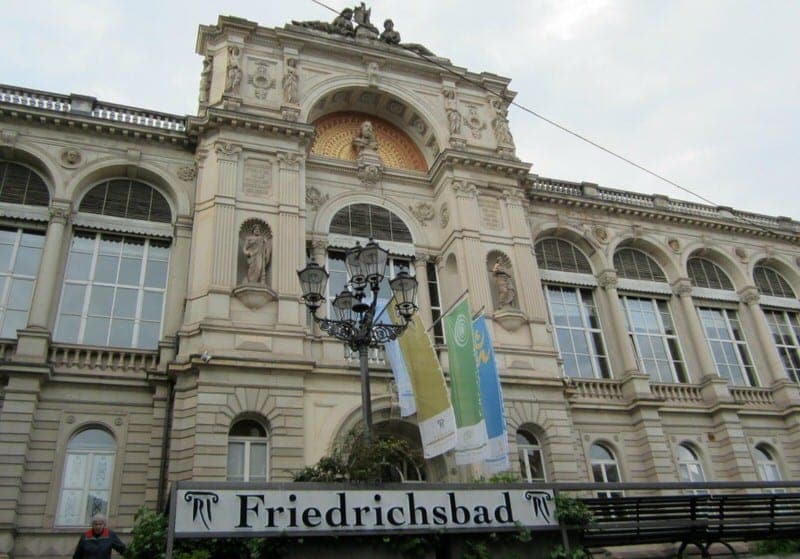 • You don't need to bring anything to Friedrichsbad other than money for the admission price or your online voucher. A locker, sandals, towels, liquid soap/shampoo, lotion, hair dryers, etc. are all provided with the admission price. Things I would suggest bringing: deodorant, any essential hair care or cosmetics, a brush or comb, contact case and solution (if applicable), and clean socks and underwear.
• If you are going on a mixed sex day, just note that the co-ed nudity begins in the locker room not in the actual spa area.
• There are curtained individual changing spaces, lockers, mirrors, and even hair drying stations located in the locker rooms. After taking off your clothes in the changing area, you can stow all your things in a locker located right across from it. Lockers are opened and closed with your electronic wristband so do remember your locker number. Other than eyeglasses (which you can decide whether to take or not) you'll need to leave everything else in your locker before you enter the spa. We each had a clothes hanger and a towel in our locker, but we noticed not all lockers had towels in them.
• If you are going on a separate sex day, the locker rooms and spa areas will be segregated except for Steps 10 (thermal whirlpool) and Step 11 (kinotherapeutic bath). You can of course skip these steps (or really any of the steps minus the first shower), but you'll miss being able to swim below the beautiful dome. If you are feeling particularly uncomfortable but want to see the dome, you might want to wait until another person of the same sex is heading into the mixed sex pools or try to head out when the pool is empty.
• The wristband you are wearing keeps track of your time at the spa. The normal allotted time is 3 hours but if you added on the option cream massage or soap-and-brush massage you'll have extra time (30 minutes added for each). To check your time, there are a few little meter stations where you can check it. You could complete all 17 steps in much less than 3 hours (probably an hour if you rushed) so I would not be too concerned with time, but you will be charged extra if you go over the time.
• Note that children under age 14 will not be permitted at Friedrichsbad (Caracalla next door is a great family-friendly alternative), although child care services can be arranged.
• It is very quiet and peaceful here and guests are asked to only talk when needed and to do so in low tones. Ethan and I whispered occasionally to each other and talked to the attendants as needed, but otherwise kept our mouths shut. It was very nice to be around people, but to be quiet and not have to make conversation.
• This experience is probably best enjoyed when it is not very crowded. We went later in the afternoon during a weekday and there were maybe 20 other bathers spread out across the 17 steps. We never had to wait for a chaise lounge or share a pool with more than 2 to 3 other people. It is probably least crowded at opening, end of the day, and on weekdays. If you have a couple of days you could potentially visit, you might call and ask about best times and days to visit to avoid crowds.
• Is it creepy, romantic, sexual, etc.? No to all three of these. It is neither creepy nor romantic. I can't say that no one will check you out, but in our observations everyone kept to themselves and there was no overt ogling, no sexual behavior, no kissing, and no touching. You are likely to not even talk to the other bathers. If going with your partner, it is also not a romantic couple spa as you also won't be touching, kissing, or doing much talking. This is a place to go for peace and relaxation. During our visit, the other guests were mainly older single men and middle age and older heterosexual couples, but there was one other young couple and two single women.
• Now if after reading all of this, you are thinking there is no way I am going to be able to enjoy this and I am going to be worried the whole time about the nudity or the routine, then this might not be the best place for you. There are lots of people (including us) who came in being anxious and left totally relaxed, but you know yourself best and it is not worth the money if you know you will just spend 3 hours being anxious and uncomfortable.
• It may sound tricky to follow a 17-step ritual, but the numbers and signs are posted all over the place. However, since it is not a direct straight path and it requires backtracking and such, just note you are likely to be a little confused at one point or another. Similarly, it is not always obvious when you need a towel or plastic slippers and when you don't, but just go with the flow. Attendants are around and were quite helpful to use. They will give you towels, slippers, and generally keep you going in the right direction. Also don't be worried about not doing everything in order. We mainly followed the order initially, but then went back to repeat some of our favorite steps out of sequence. For more on the 17-steps, you can read about our experience below.
• Before or after you visit, you should take a quick peek at the Renaissance Hall upstairs (free admission) where you can see a few Roman artifacts and even taste some of the hot thermal water from the fountain.
Our Experience Getting Completely Naked at Friedrichsbad Baths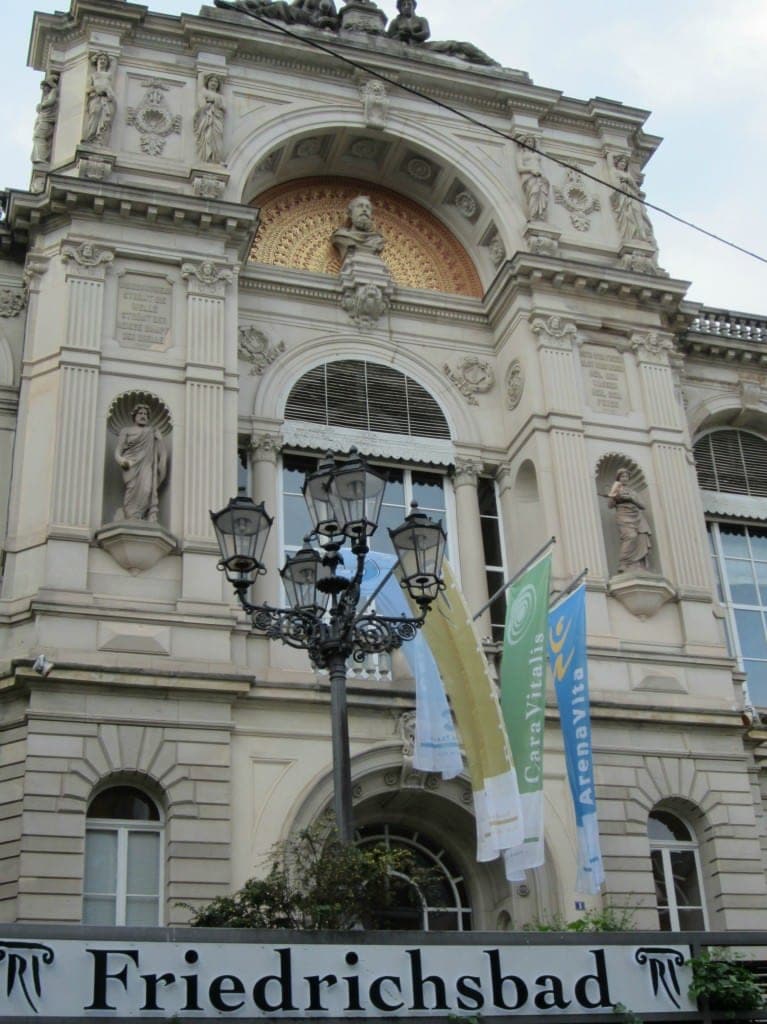 Now, I would like to say we are enlightened and hang-up free Americans who had no issue with getting completed naked in front of others. However, we are not and had never done something like this before. In fact, Ethan after learning that not only were we going to be naked but it was going to be in a co-ed place, stated we should not go. My issue was feeling uncomfortable for myself and his was more he didn't want men to leer at me. But we went anyways and here is our experience.
We were coming from a pleasant morning spent in Heidelberg, and arrived by car in Baden-Baden later in the afternoon. I had the address to Friedrichsbad in our GPS; however, I had not written down the name of the underground garage or where the street entrance to the underground garage was located. After driving on a couple pedestrian-only streets (we did this in a few German cities), we did eventually figure it out and parked. Don't be like us, have this info with you (all above in the Getting There section). We followed signs from the garage and walked to Friedrichsbad.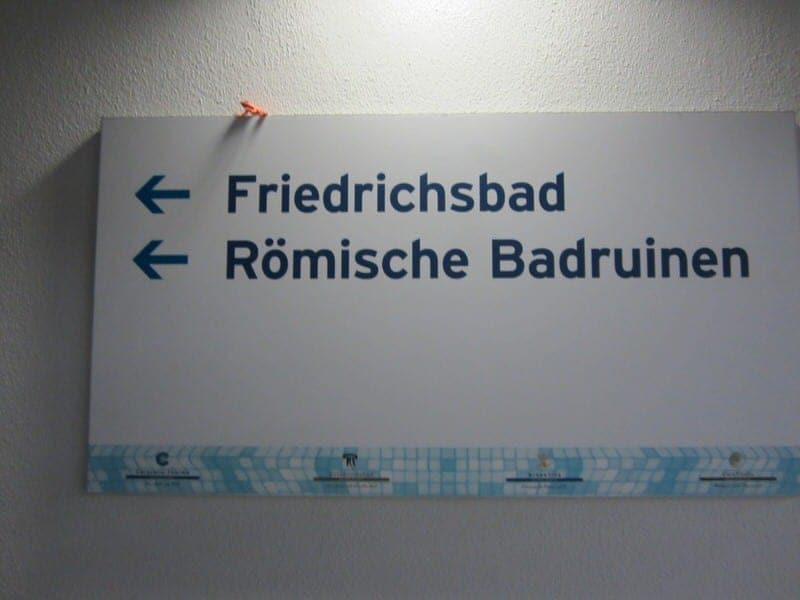 We had purchased vouchers online (they send a PDF file to your e-mail that you print off), so we just had to give them to the lady at the front desk and received the electronic wristbands. We put them on, climbed the grand stairway, and headed to the locker room.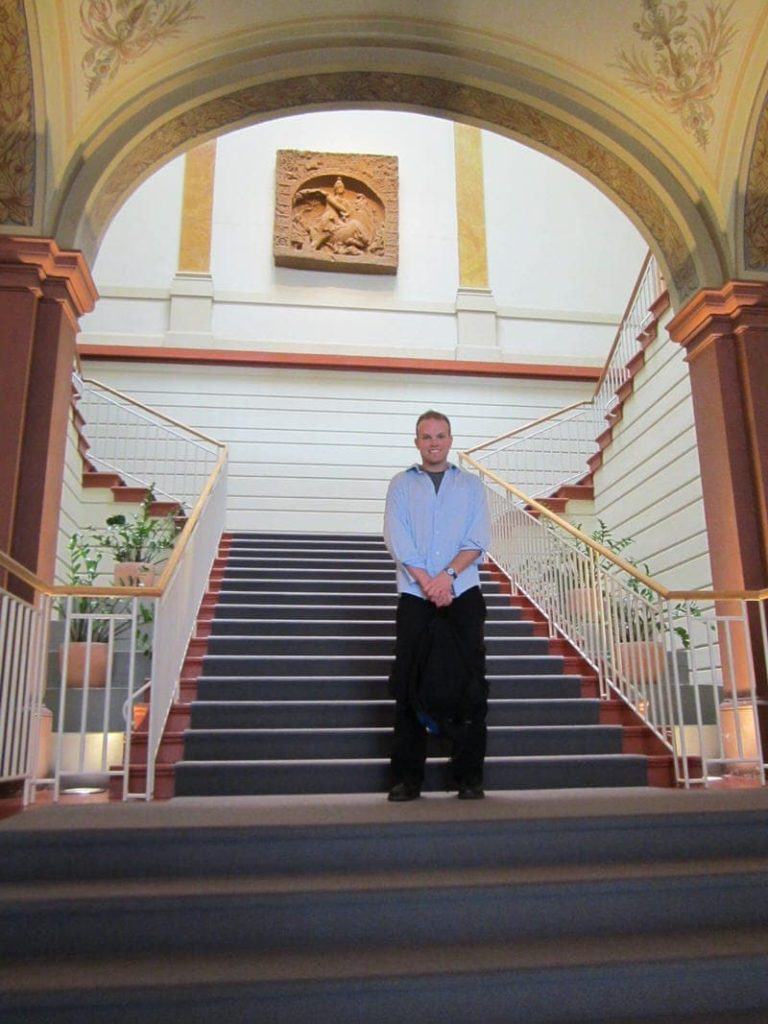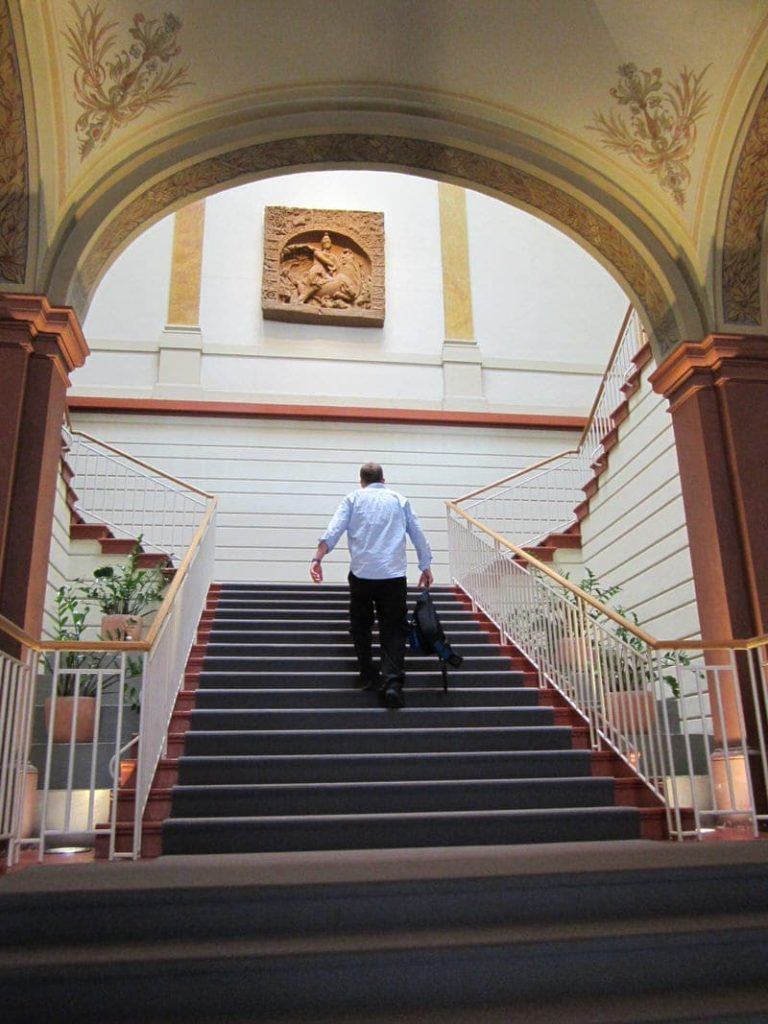 We went to Friedrichsbad on a mixed-sex day so men and women were using the same locker room. For some reason this surprised us as we were anticipating separate locker rooms. To enter or leave the locker room, you just use the electronic wristband. Once in, we located lockers in the back closer to the entrance to the actual spa. We each changed in these little curtained changing rooms. We seemed to take quite a long time undressing as we were both nervous about coming out naked. But we were lucky because there were clean towels in both of our lockers so we went from our clothes to wrapping ourselves in our towels, which just served to prolong the inevitable nudity for a few more minutes.
After stowing all our things in the lockers, we said our locker numbers a few times to ourselves to try to remember them and headed into the spa. We were greeted by a nice female attendant who motioned for us to lose our towels. We reluctantly parted with our towels and our modestly, and were directed to Step 1: Shower. There are several large shower heads along the wall and you just walk up and get started. The water is warm and there is soap/shampoo dispensers on the wall. This step is meant to get you clean and hygienic. However, it also serves as a good place to get used to being naked and start to get a lay of the land. After the shower, you'll want to grab a towel (likely will be handed to you by the attendant) and plastic slippers. You need these as the floor tiles and chairs are quite hot in the next couple of rooms.
In Step 2: Warm-air bath, you'll lay down your towel on the wooden lounge chair and then lay down on your towel. This was one of my favorite rooms as there are beautiful flowers and birds on the walls. However, I think we were both still getting used to our nudity so there was some uncomfortableness, especially with laying out flat in front of others fully exposed. Then for Step 3: Hot-air bath, you walk into the connected smaller room where there are more wooden lounge chairs but the room is much hotter. Even with my towel down, I had a hard time staying in this room for more than a few minutes as I found it too hot. However, Ethan loved it in here as did another guy we noticed who spent quite a bit of time in here beyond the recommended 5 minutes. Now, for Step 4: Shower you'll head back to the same showers as before. Give your towel and slippers to the attendant and take another shower in the warm thermal waters. After the shower, you'll get a new towel to dry off but you won't need the slippers and you don't need to take the towel with you. If you paid extra for the Step 5: Soap and Brush Massage (optional), you'll stop at the massage station for an 8-minute massage followed by Step 6: Shower (only if you do Step 5). We didn't buy this, so we just headed to Step 7: Thermal steam baths. Here you'll pick up a clean little sitting pad and then find a place on the marble to sit and enjoy the steam. Then move on to the slightly hotter room for Step 8: Thermal steam baths. These again were quite relaxing and were not too hot. Now, get rid of your sitting pad and take another shower here before moving onto the pools.
Then onto a progression of pools that begin warm and become increasingly cooler. Step 9: Thermal full bath and then Step 10: Thermal whirlpool bath. Now get ready for the beautiful, majestic dome at Step 11: Thermal kinotherapeutic bath. So this pool at Step 11 is not that special as far as the actual water goes (reminds me of just a regular indoor swimming pool), but it has the best view in the place. I just kept looking up at the dome while Ethan swam some laps. This is the area of the spa when you can best imagine the former majesty of one of the grandest bathing houses in Europe in the late 1800's. This is also a great place to check on how much time you have left. To check your time, just go to the wall and put your bracelet against the digital scanner. The rest of the steps go rather quickly and if you still have a lot of time you might want to decide if you want to revisit any of the other steps you've already done.
We went ahead and continued to Step 12: Shower and headed back to those original showers in the front. We noticed that people sometimes skip Step 13: Cold water bath. This little step is located right across from the main showers and is easy to miss. There is only room for one or two people at a time. Ethan actually wanted to chicken out of this, but I said we had to do all the steps to get the full experience. Who can argue with such logic? So in we plunged into what felt like icy cold water. It is actually not that cold but it feels freezing after all the steam baths and warm showers. After our cold but invigorating plunges into the cold water, we ran back over to the showers for some warm water. Now since we knew we still had a lot of time left, we went back to do some of the prior steps we enjoyed. We decided to split up at this point and Ethan headed back to the Step 7 & 8 thermal steam baths and I asked the attendant for slippers and a towel to go lay on the wooden chaises at Step 2. It was much more relaxing the second time around as I was no longer concerned about my nudity at this point and was able to better take in the pretty bird titles and peacefulness. The attendant didn't seem to mind we were repeating steps, in fact we noticed a couple of older German men who appeared to have their own routine that didn't appear to correspond to the stated steps.
After joining back up again, our sadomasochistic sides had us dare each other to jump back into the Step 13 cold water bath. This craziness done and out of our systems, we finally relented to Step 14: Drying Off. Just note once you do Step 14, you are now done with the water portion of the spa so if you do want to repeat anything, do it prior to Step 14. An attendant will give you a warm towel, which feels particularly good after a cold bath, and you are given time to sit and dry yourself off. Next you'll head to Step 15: Application of moisturizing cream where you'll be able to apply some nice smelling moisturizing lotion all over your body. If you purchased the optional cream massage, you'll do that now. I have to say I enjoyed the lotion but there were a bit too many mirrors and lights in this room for me. A bit of the earlier awkwardness came out here for some reason.
Now the final two rooms are for pure relaxation. The weirdest part of the ritual for me is Step 16: Relaxation Room where you will be quietly guided by an attendant into a dark room that is filled with raised beds (sort of like padded doctor office beds you lie on) covered in clean sheets and blankets. You are then each individually wrapped into a warm, soft cocoon to relax and sleep. It reminded me a bit of the sleeping pods on the Alien movie which is probably not the most relaxing image. Ethan actually fell asleep and while I tried I was too concerned about neither of us waking up and our time running out. In hindsight, I should have just asked the attendant to wake us up in 30 minutes and she probably would have done so. After we broke out of our warm little cocoons, we were then directed to the final room Step 17: Reading room. This is a sunny room with chaise lounges, big warm towels, magazines, and warm tea. There is also a small sunny terrace that you can walk out onto as well. We enjoyed about 20 minutes or so here sipping the tea and flipping through magazines. Most were in German, of course, but I think there were a couple in English. Two small complaints here: it would be nice if the tea was hotter (it was lukewarm) and it would be nice if they provided some sort of light snack. After 3 hours of bathing, we were quite hungry and a light snack of any kind (fruit, a warm cookie, pretzels) would have been very welcome.
Finally, we headed back to the locker room, opened our lockers with our bracelets, and changed back into our clothes. Thankfully, we had brought clean underwear and socks so we didn't have to get back into the prior dirty ones. You feel so clean after all that bathing! I was impressed that there were mirrors and several hair dryers, so I was able to sit and blow dry out my hair before we left. We left with about 15 minutes left of our 3 hours. We did make a stop visit on our way out to the Renaissance Hall to see some Roman artifacts for a few minutes. We were not able to do the traditional tasting of the thermal waters as there was a sign saying not to drink from the fountain at this time. Before leaving, make sure you have returned your wristband.
Looking back this was such a wonderful experience and it was definitely the highlight of our time in Baden-Baden. We got rid of a lot of inhibitions about being naked by Step 5 and were really able to relax and enjoy the baths. A lot of our trip had us doing things and being active, but here we had to be quiet, reflective, and stay in our own heads. We were able to look around and enjoy the beautiful surroundings and have an experience we had never had before—together but also very separate. There is no question we would definitely do something like this again. We are not really the typical spa/resort kind of people and this may not be what many people are looking for if you are used to contemporary first-class resort spas with all the trimmings. The optional massages are quite short (8 minutes) for instance, and the sequence of steps may not feel relaxing to some. You are bound to be a bit confused at some point about which step is where, whether you need the towel or slippers, and all that, but if you decide to go, I would suggest that you just go in and relax. Reading over our experience and tips should tell you all you need to be prepared and anything else you'll be able figure it out while there. For us, Friedrichsbad was a place that was both anxiety-provoking with us stepping out of our comfort zones to be completely naked in front of others and incredibly relaxing.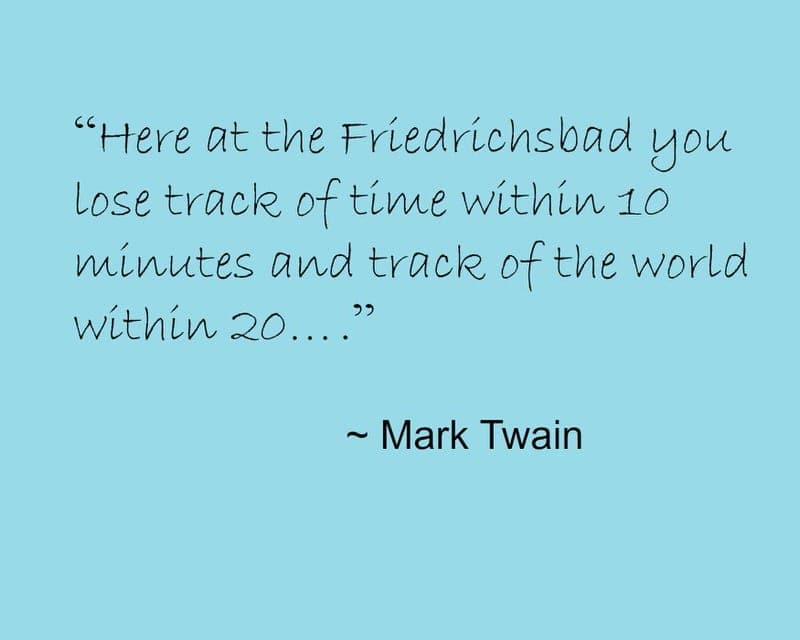 Have questions for us about our experience? Do you have your own experience to share about your visit to Friedrichsbad baths or a similar spa experience? As always, we'd love to hear from you.