On our first full day in Korea, we made a morning visit to the Noryangjin Fish Market in Seoul. Its official name is Noryangjin Fisheries Wholesale Market and it is open 24 hours a day, 7 days a week. This is Seoul's oldest and largest indoor seafood market, housing over 700 vendors with fish brought in daily from fishing ports all over Korea. Throughout the day, you can find on display hundreds of edible underwater critters from sea cucumbers to sea bass, including every possible type of seafood of Korean origin as well as plenty of imported seafood. While it attracts plenty of tourists, this is a real wholesale fish market with hundreds of serious buyers and sellers conducting business throughout the day. The major transactions happen in the early morning at the wholesale auctions, which begin around 1:00am and are generally over by dawn. Yes, you have to get up real early if you want to catch in on that action, but you can get bargain-priced seafood throughout the day and evening as well. We missed the auctions but got here in time to pick out some fresh fish and then eat it for breakfast. Interested in a unique experience and some fresh seafood while in Seoul? Keep reading and we'll fill you in on the details of how you can plan your own visit to the Noryangjin Fish Market.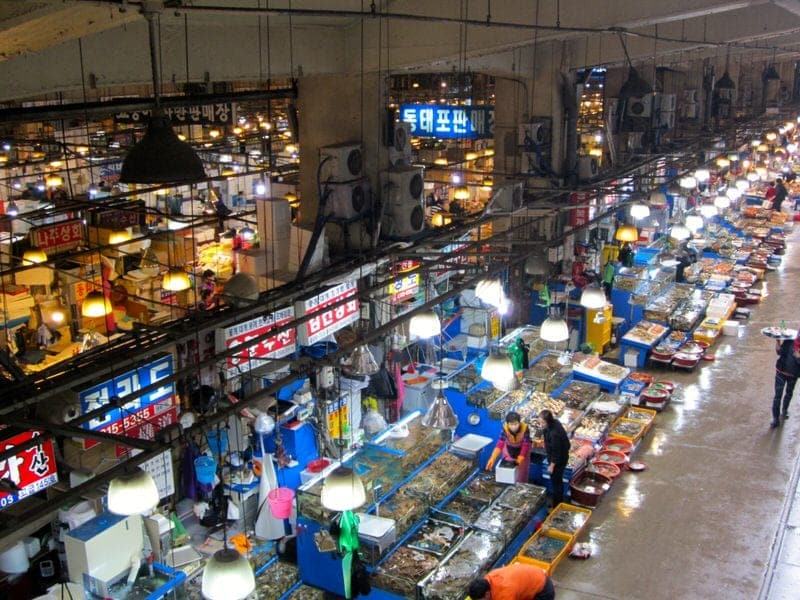 Basic Information on Visiting Noryangjin Fish Market in Seoul
Where?
Address: 674, Nodeul-ro, Dongjak-gu, Seoul
Phone: +82-2-2254-8003
How to Get there?
Car: There is a paid parking lot to the side of the market; however, I would suggest taking public transit or a taxi to avoid traffic.
Metro: If taking the Seoul metro, get off on the Noryangjin station (Line 1/Blue Line or Line 9/Dark Yellow Line). Then exit the station (look for signs for the Fish Market) and take the stairs leading upstairs to a foot bridge across the railroad tracks. After crossing the footbridge, you'll be in the Noryangjin Fisheries Wholesale Market Parking Lot. Head to the right and follow signs to a stairway leading down to ground level and from there you can enter the warehouse.
Bus: Noryangjin Station stop (check bus routes, I believe several of the blue and green line buses make stops here). If you arrive at the metro station, follow directions above.
Hours of Fish Market?
The fish market is open 24 hours a day, 7 days a week. The early morning wholesale seafood auctions start around 1:00am and auctions end around dawn.
Cost?
There is no cost to enter the warehouse. Fish prices vary by market demand and most prices are negotiable. Restaurants housed within the warehouse typically charge 10,000 KRW to 20,000 KRW per person to prepare, cook, and serve your fresh seafood for you to eat with an added cost for extras (rice, soup, soju, noodles). Note that since the move to the new facility, there seems to be increased prices reported by visitors which are likely related to the increased rental costs for the sellers.
Website?
Noryangjin Fisheries Wholesale Market official website: http://susansijang.co.kr/ (Korean, but now an English option)
Some Tips for Visiting the Noryangjin Fish Market
UPDATE

:

The Noryangjin Fish Market has recently moved (March 2016) to a new modern building next door to the location which it occupied for 50 years (the facility we visited), and the new building is just next door to the old one. The new building has new retail facilities, restrooms, etc. and is more modern and reported as more clean than the prior market. This was a very controversial move as many vendors were strongly opposed to the move to the new building and protests and opposition continued for a long time here.
Dress appropriately. It can be chilly in the warehouse, the floor is wet, and things can be a bit messy or dirty. Keep your best shoes and clothes at the hotel ,and make sure to wear closed toed shoes that won't be damaged if they get a little wet.
The Noryangjin Fish Market holds its late night/early morning seafood auctions daily with the shellfish auctions starting at 1:00am and then later the fresh and live fish auctions. Generally these are over by dawn so you do have to get up really early if you want to watch the fierce buying and selling of the wholesale seafood. Early risers (or perhaps better yet those who never went to bed at all) will also be rewarded with being able to see the fresh seafood arrive from the docks and the merchants preparing the new catches.
Even though the prices are quite good here, you can still bargain, particularly if you are buying more than one item from the same vendor. Typically you can get about 10% off, but the prices are not always negotiable. Note that prices have been reported to have increased since the move to the new facility.
Most signs are in Korean and most vendors speak little English. But if buying something, most sellers are quite resourceful using fingers, calculators, pencil-and-paper, and even showing you actual money to let you know how much items cost. You might want to bring along a pen and paper just in case to clarify cost and if you want to make any bargaining a bit easier.
We came for breakfast on our first morning in Korea so didn't feel like being too adventurous or eating anything raw, so we played it safe with grilled and steamed seafood. But many of the fresh fish can be very good sashimi or hoe style (this is the way most Koreans will be eating the fish, as grilling is pretty uncommon here), which means they will thinly slice the raw fish or other seafood for you and then it will come with a spicy red chili, wasabi, or/and soy sauce for dipping and lettuce leaves for wrapping. For those looking for something different ,you might try sannakji, which is where they chop up a live baby octopus. The octopus is dead when it arrives on your plate but still moving and you eat it in a hot sauce or with sesame oil. Also, if you haven't tried soju, the popular local liquor, this is a good place to try it.
There are a dizzying array of options, so It might be good to come here with some general plan of what you want to buy (e.g., sea scallops, frozen tuna, octopus, abalone, red snapper, King crab), how you want to buy it (e.g., frozen, fresh, live), whether you plan to have it cooked at the market, and how you want it to be prepared if cooked. Looking up the names in Korean and writing them out can also be really useful. This way it makes it easier for you and the sellers to make sure you get what you want. But if you just wander in without a plan, it is easy enough to just go with the flow as we did.
Most visitors come during the late afternoon or evening and have lunch or dinner here, but really just about any time will work. The crowd is a bit more rowdy in the evenings as the beer and soju (very popular Korean liquor) flow more freely.
If you are knowledgable about seafood and have the space and equipment to cook your own seafood while in Seoul, you'll be able to get great deals and then save on all the cooking costs which can really add up.
If you want to visit and want to try some Korean style seafood without going through the process of buying it yourself, you can just head up to the restaurants in the market or nearby and enjoy a great fresh seafood dinner. This will actually likely cost you much less. but comes without the experience of buying it yourself.
Our Experience of Buying and Eating Fish at the Noryangjin Fish Market
Ideally, we'd have loved to have gotten up at the crack of dawn to watch the Noryangjin Fish Market auctions, but having just flown in the previous afternoon this was not really going to happen. So we got up at 6:30am instead, which I felt quite proud of us for doing so after having just arrived in Seoul the prior afternoon. We left our hanok guesthouse round 7:00 and made our way to the Noryangjin Station via the Seoul metro. Riding the Seoul metro in the morning was interesting as there were no tourists at this hour and people heading to work are so quiet and composed, but at the same time they were so kind to us. We could not figure out where to go for one metro connection and I would say at least 5 people stopped to help without us asking while we were looking at the metro map. In fact, just about any time we opened a map in Korea, we had Koreans politely asking us if we needed help! People went out of their way to actually walk us to the right platform before going back to the correct one for themselves.
Anyway, we arrived at the Noryangjin station and then exited the station. You should see signs for the Fish Market in both Korean and English leading you outside and to a set of stairs. Take the stairs up and across the footbridge that crosses over the railway tracks. If you are here in the late morning to evening, there will likely be a number of vendors set up here selling food and souvenirs. We didn't encounter any at 7:30am but we saw them starting to set up as we left. Once you get across the footbridge, you'll be in the Noryangjin Fisheries Wholesale Market parking lot, head to the right and follow signs to a stairway leading down.
Once you reach the bottom of the stairways, you'll be right outside the Fish Market warehouse, so just head to your left to enter the warehouse. You'll soon be in the midst of the bustling market with its narrow walkways, wet floors, and buzz of trolleys and people whisking by with fresh seafood.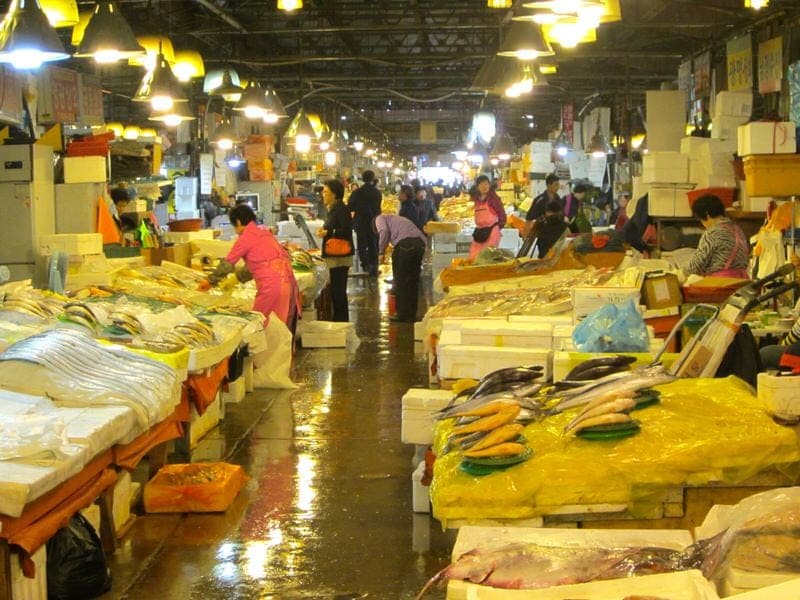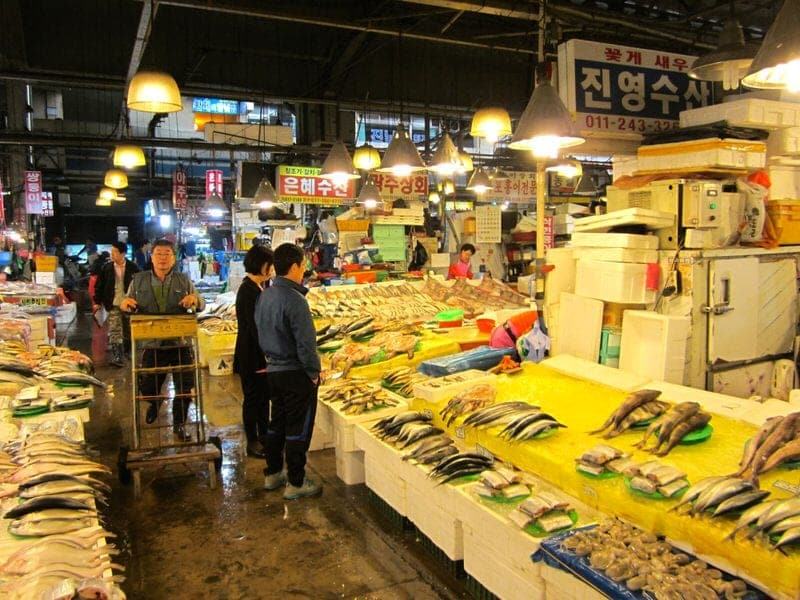 It's definitely not a sterile environment—it's a giant fish warehouse—and most of the "real" participants were more appropriately attired in waterproof boots, but we were fine in closed toed shoes. We learned that we needed to watch our step as vendors do unload buckets of ice water on the floor, sea food occasionally spills (or crawls) over and goes thrashing about, and some of the fish killing happens right on the floor. So the floor can be a bit messy and wild; I was definitely splashed a few times by flailing fish.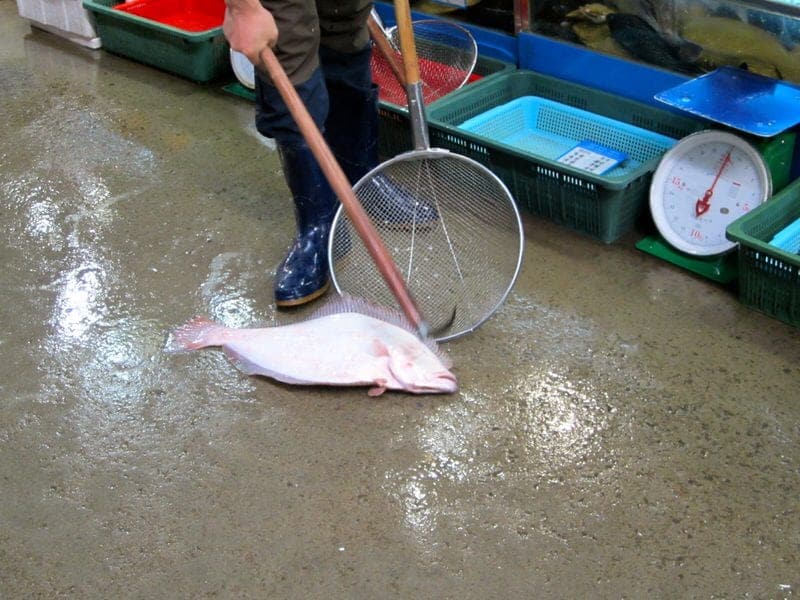 We walked about for about 20 minutes or so and were surprised that the vendors, who were busy setting up their booths, mainly ignored us unless we approached and looked interested. We had expected based on other visitors' reports that vendors would be actively trying to persuade us to visit and buy from their booths and we were pleasantly surprised this was not happening. Perhaps with the auctions over and it being too early for most visitors, they just felt we were not worth the effort, haha. Most foreign visitors come in the late afternoons or evenings and then have lunch or dinner upstairs at the restaurant. But this unexpected lack of interaction also left us wondering what should we do? Neither of us knows much about seafood and we rarely buy fresh or live seafood in the United States, so we knew little about what was being sold (signs are almost exclusively in Korean) and what was a fair price.
A plan was needed so we decided we wanted to buy a fish and a crab. This was the limits of us being able to plan as we know very little about identifying actual types of fish or crab. First we headed to the fresh fish section and chose a table full of fish that looked good to us. The lady behind our chosen fresh fish table came to life and starting pointing at all the fish and speaking to us in Korean. I imagine she was asking us what kind of fish we wanted as we stared stupidly trying to decipher the types of fish in front of us. After a couple of minutes of Ethan and I trying to decide, we just pointed at one of the reddish fish and we negotiated a price of 12,000 KRW (from 15,000 KRW) using a hand calculator since we didn't speak a common language. She then went about prepping and scaling it for us and then put it in a plastic sack. I believe now that this was a red snapper (anyone know for sure?) we purchased, but at the time we had no idea. We then headed down another aisle and found a booth that had a lot of crabs. We pointed and bought a crab by weight for 10,000 (we didn't bargain for the crab) and acquired a second plastic bag – our seafood buying mission was complete for the morning!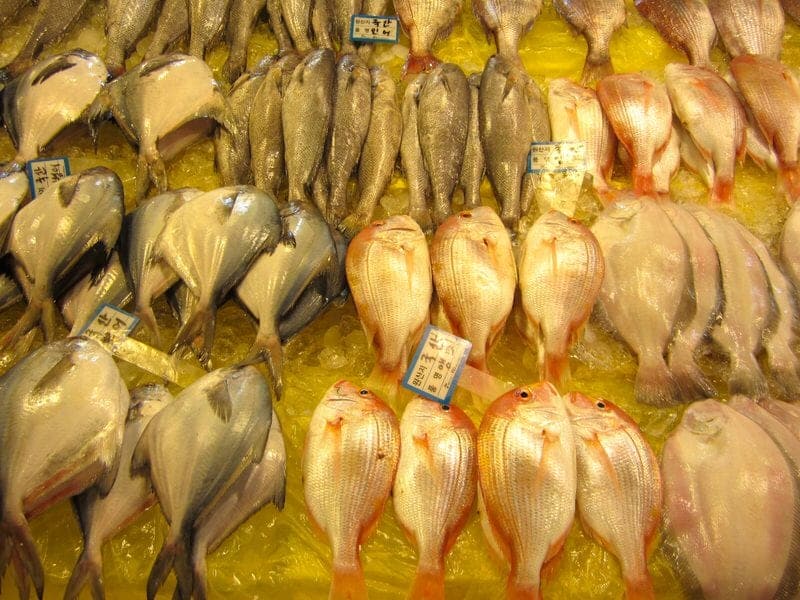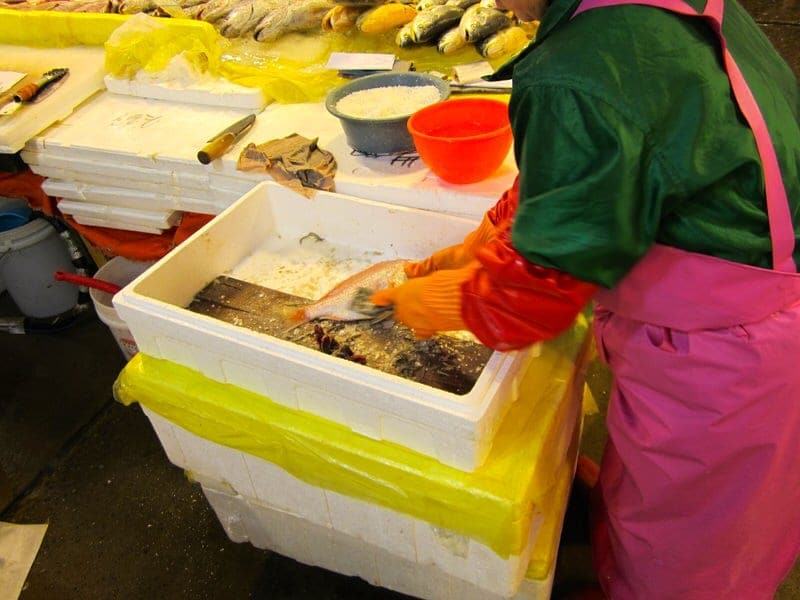 Now it was time to eat. We asked our crab seller, who spoke a few words of English, about cooking our food and she gestured for us to head upstairs. A man she motioned to met us at the foot of the stairs and led us upstairs to a restaurant. We didn't walk around to any of the other restaurants, but I think ideally you may want to check around a bit to explore other options. At this hour (it was 8:00am), it was dark upstairs and we didn't see any other restaurants open. The restaurant we went to was Ttosune Restaurant and seemed friendly to tourists. We handed the man our seafood purchases and he pointed to prices and walked us through the steps. We had the options to steam, sashimi (hoe), or barbecue (grill) our purchases. Given that it felt a bit early for us to have raw fish, we decided to have the fish grilled and the crab steamed, although I would have loved to try it hoe style on a future visit. We had the option to add on several side dishes or drinks, such as maeuntang (hot spicy fish stew), rice, soju, beer, soda, etc. We added one bowl of steamed white rice to share but none of the other extras. The total for preparing the two purchases and the rice came to 16,000 KRW. We then took off our shoes and were led to a low table and sat on cushions on the floor. Water, soy sauce, and cutlery were already on the table.
We were very excited when the food came out about 10 minutes or so later as we were very hungry. The cost also included several side accompaniments (lettuce leaves, kimchi, wasabi, fish sauce/paste, etc.). However, for some reason, we had not taken into account that given that we asked for a grilled fish and steamed crab, that these would both involve work prior to eating. So we both set upon the task of slowly removing all the edible meat from the fish and crab. Why do fish have so many tiny bones!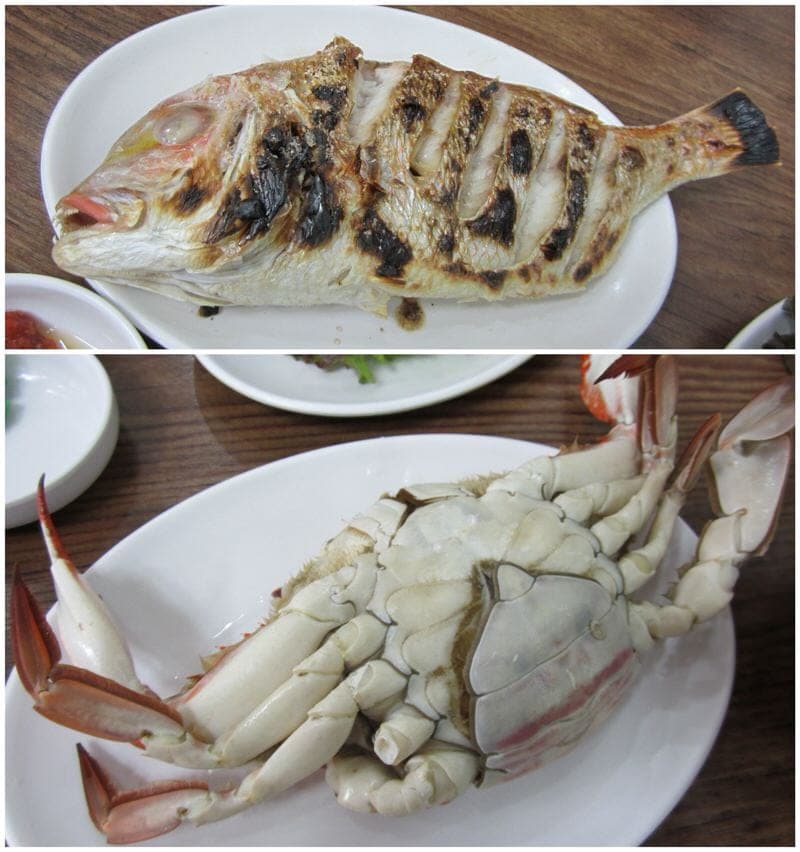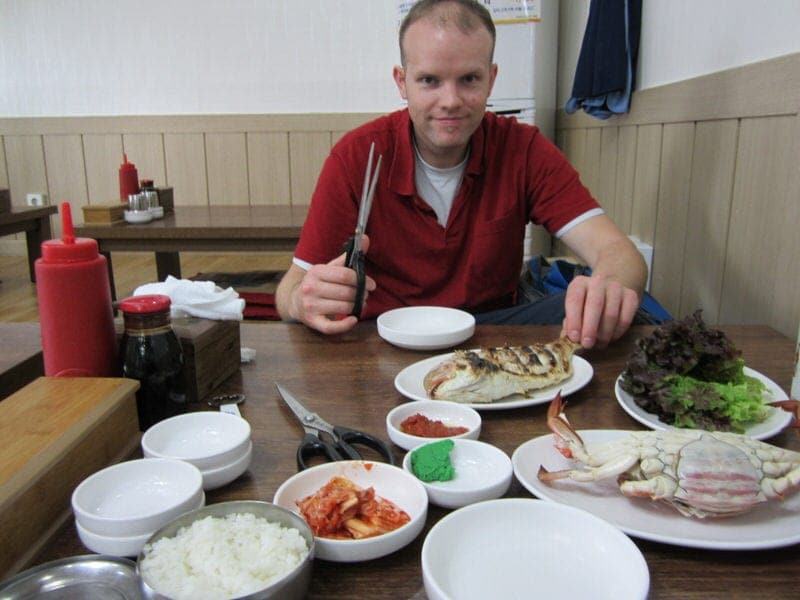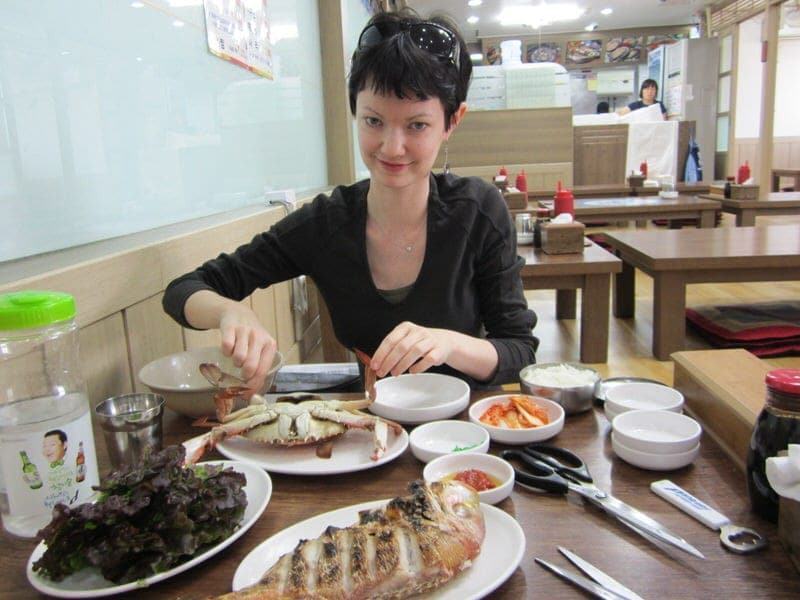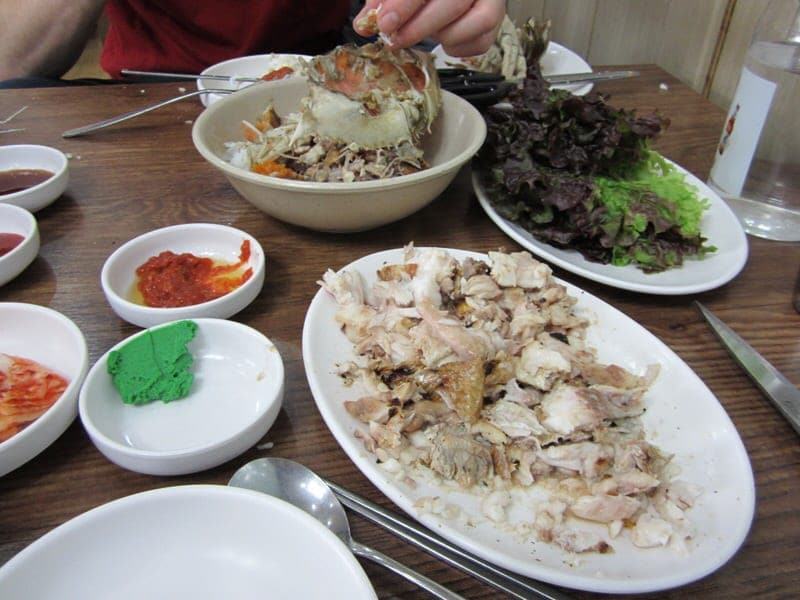 But in the end all the hard work was worth it as we enjoyed the fish and the crabmeat was particularly delicious with a slightly sweet taste. Yum! Now, at the end of the day this was not a cheap meal with the added cooking costs, so it is definitely a better value if you can cook it yourself. But the whole experience of buying the seafood, having it prepared, and eating it in the Korean restaurant upstairs at the Fish Market was worth it for us. After this big meal, we headed off to walk off the meal and explore the beauty of nearby Yeouido Park and Yeouido Hangang Park.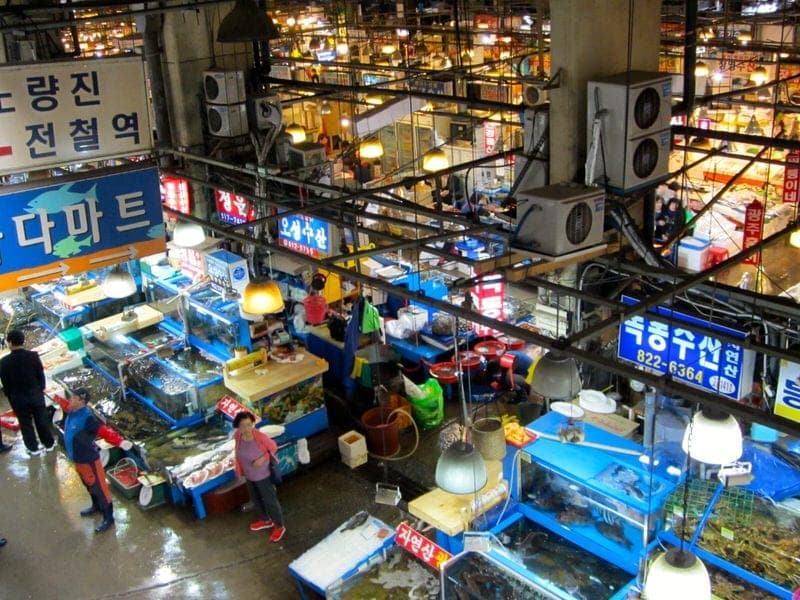 What do you think about our visit to the Noryangjin Fish Market in Seoul? Would you visit or have you visited? If you have any tips , comments, or questions, we'd love to hear from you.